Want to know if the Epcot Party for the Senses is worth the price? I'm sharing a complete review + food pictures + 3 things we didn't love about the event.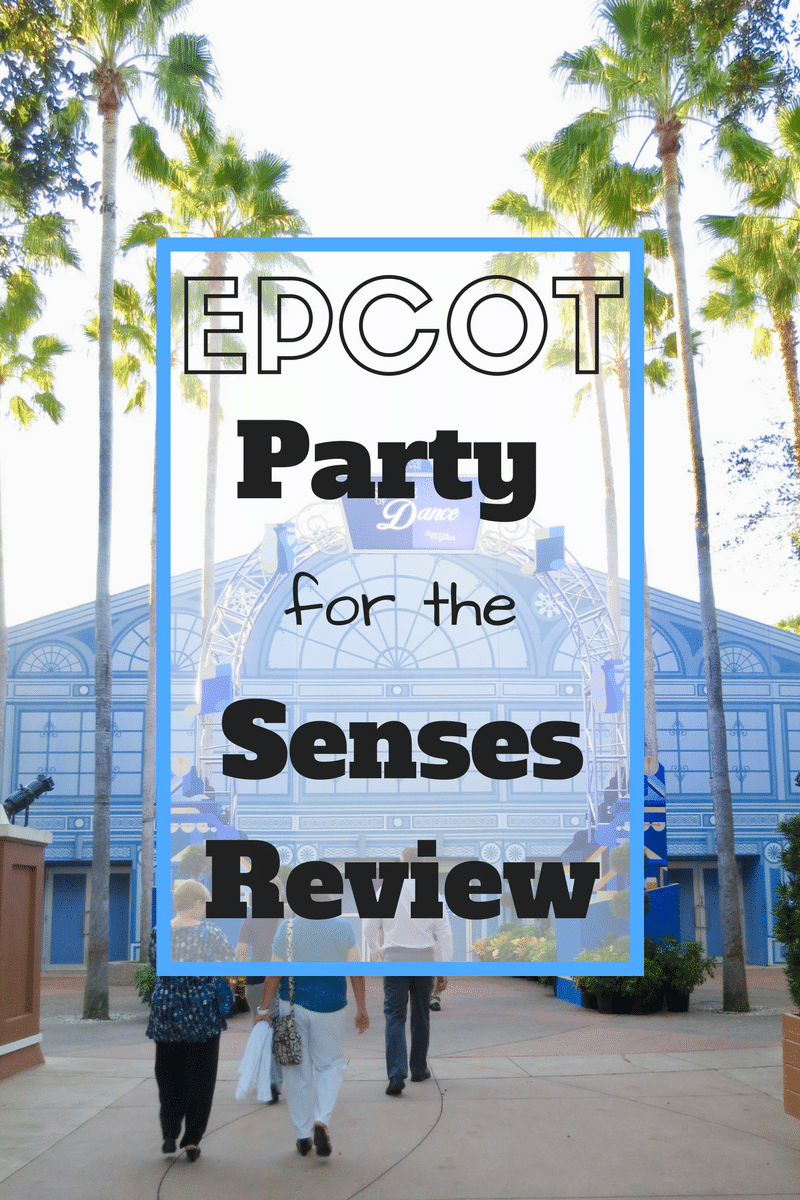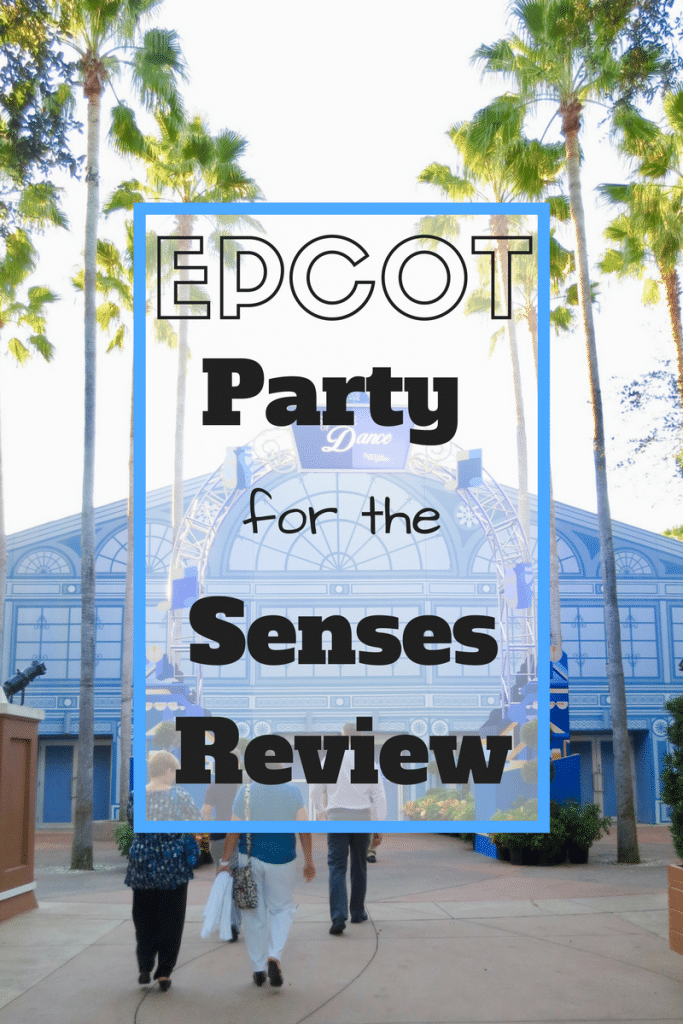 The countdown is on!
We're so excited for the Epcot Food & Wine Festival to start this year, it's our #1 favorite event at Disney World all year long.
Okay, we love all of the Epcot festivals (Have you been to the Festival of the Arts or the Flower & Garden Festival yet?) but the Food & Wine Festival is the most fun because they have special dining events that go along with the festival.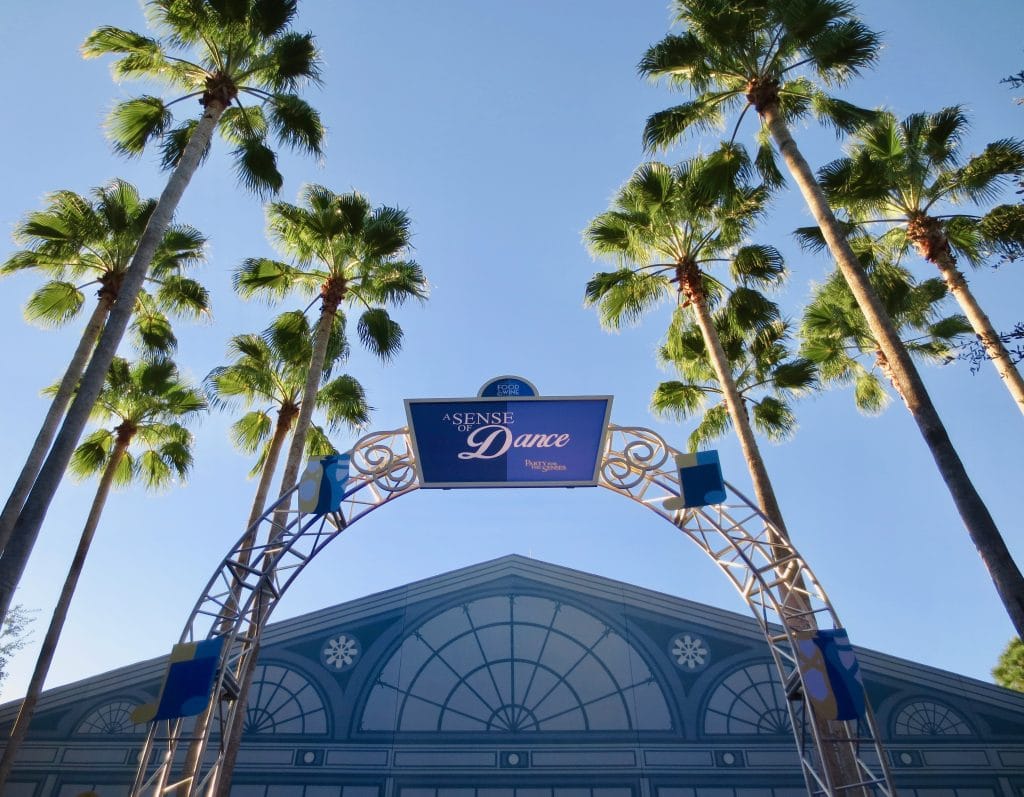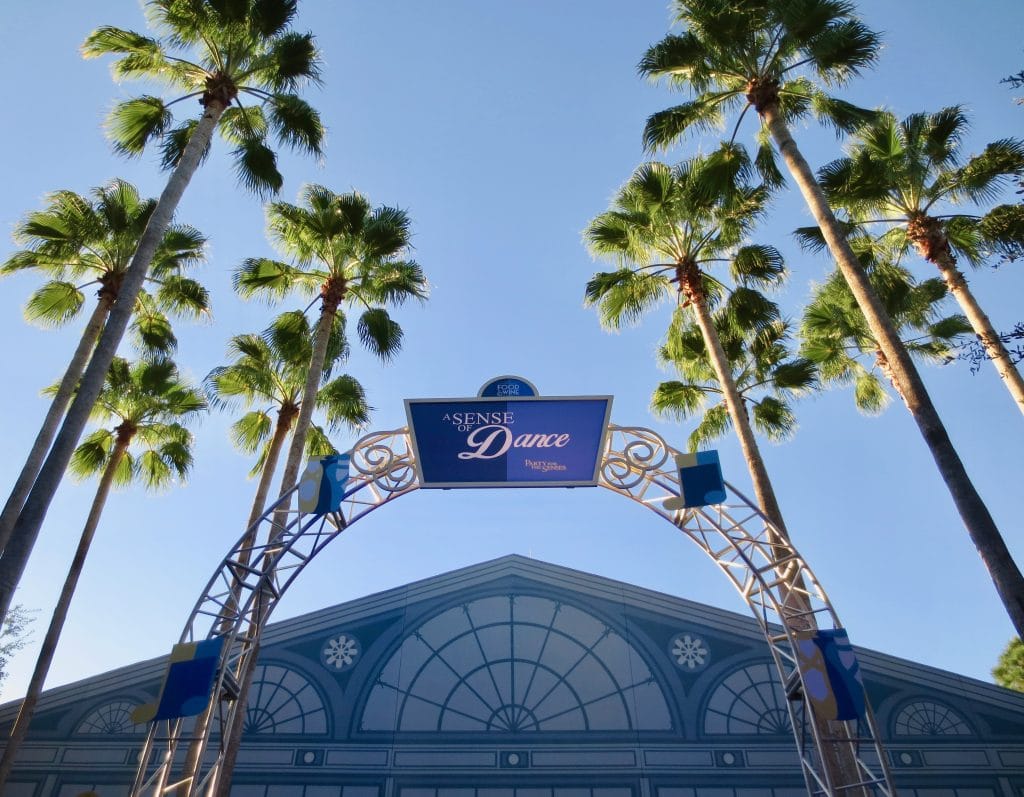 Last year, we attended the Mexican Tequila Pairing Luncheon, the French Family Meal Traditions, and the Party for the Senses, plus two full days at the Food & Wine Festival. It was awesome!!
Last week, we booked the special events that we're going to attend this year at the Food & Wine Festival. I'm super excited to get to go back to (my favorite event!) the French Family Meal Traditions, and we were lucky enough to book the Parisian Breakfast and the Italian Food & Wine Pairing Luncheon!
I'll be posting reviews of each new event after the festival. However, if you're interested in booking any of these events, make sure to call Disney ASAP to reserve your tickets. These special events sell out fast! If you missed out on this years events, start planning for next year. Booking generally opens the last week in July, so keep an eye open for updates!
Epcot Party For the Senses Review
To kick off the countdown to the festival, I thought it would be fun to share our experience of the Epcot Party For the Senses event that we attended last year.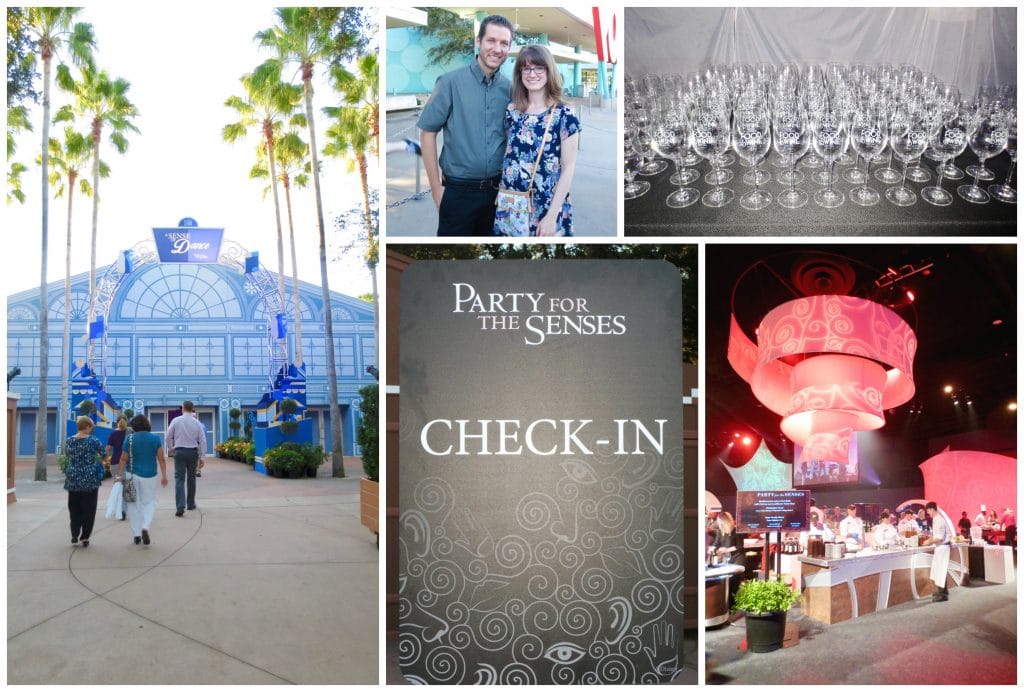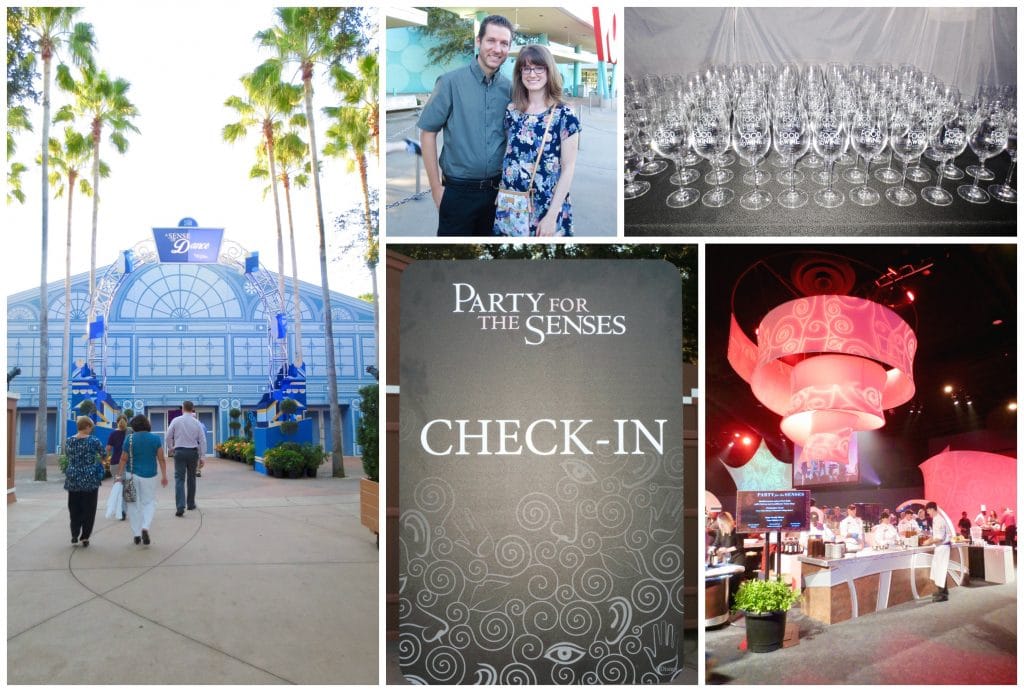 The Epcot Party for the Senses is a very popular event and it's only offered on five select Saturday nights during the Food & Wine Festival at Epcot (Note – you have to purchase a ticket to get into Epcot too if you're not an annual pass holder).
There are different ticket levels that you can purchase for the event: general, reserved seating, or wine view lounge.
It's basically like you have your own Food & Wine Festival in one huge tent (the tent is located between Canada and the United Kingdom) and you can eat and drink as much as you want for one set price. The food is served tapas style, the portions are small-ish but we still ended up sharing a lot of the bites so we didn't fill up too fast.
Plus, there is entertainment during the event too. Cirque du Soleil was at the first event I went to and the second event had multiple singers. It's a really fun party that you should attend at least once!
This was my second time going to the Epcot Party for the Senses event and both times I purchased a ($169) general ticket. The event is pretty pricey so I was just happy to get in the door!
Event Check-In
Travis and I arrived one hour early so we could get in line and be close to the front. The first year that I went we had to wait in line outside, so I was happy to find that they let you wait inside this year.
As soon as you arrive, you check in and get your wristbands, pick up a plate/wine glass set, and a menu booklet. There were a few singers and dancers performing on one side of the room to entertain the crowd but be prepared to wait. Only the wine-view lounge ticketed guests are allowed in early, the gates are opened for the general ticket holders right at 7 pm.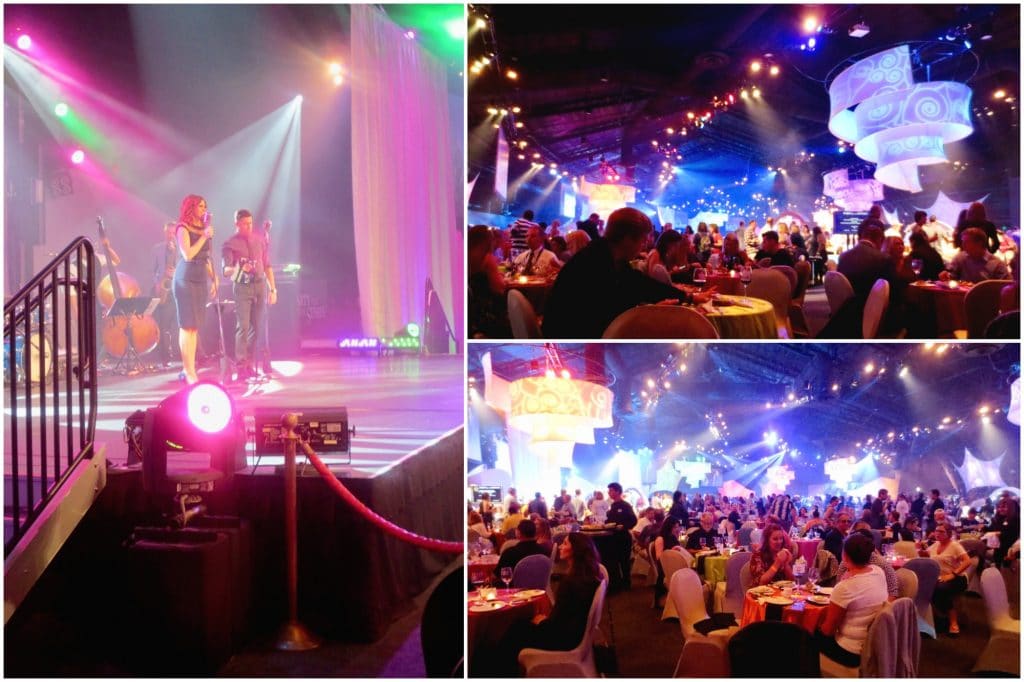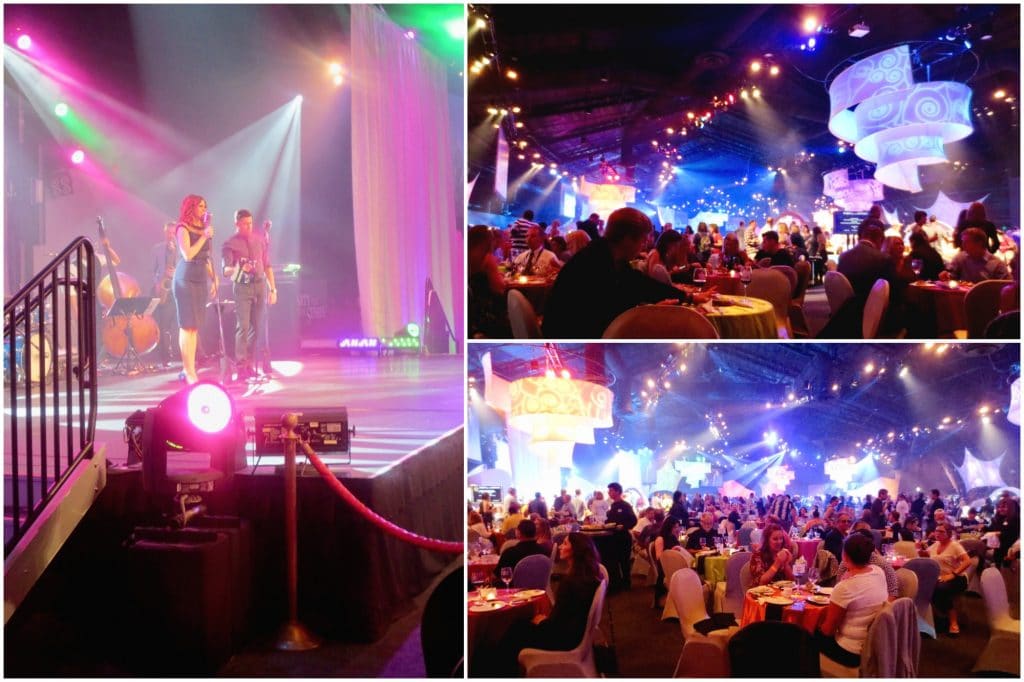 Even though people were running around us, Travis and I walked and we still found a table towards the back of the tent. If you sit at a table for four then more than likely, other people will just sit down with you. So, be prepared! We didn't mind, we just made some new friends!
Epcot Party For the Senses Food Booths
There were twenty-one "bites" to try and we tasted all of them! We were extremely stuffed by the end of the event but we powered through so we could share all of the food pictures with you!
There were also beer and wine "sips" to try at each booth. We tried most of those as well but I can't seem to remember which ones were our favorite! I'm going to say that there weren't many sips that we didn't enjoy. Try to remember to hydrate, there are coffee, tea, and water carts floating around for you to serve yourself from.
Okay, let's get to the good stuff…the food!
Epcot Party For the Senses Menu
Artisinal Cheese Selection
Mediterranean-spiced Pork belly with Pork Jus and Cauliflower Three Ways
Fried "Chik'n Biscuit with Pickle and Maple Apple Butter
Root Beer and Ginger-braised Short Ribs with Mashed Root Vegetables
Sauteed Florida Spiny Lobster over Quinoa and Hearts of Palm with Spicy Citrus Mojo
Octopus, White Beans, Smoked Peppers, Pickled Fennel, and Chorizo
Seared Rabbit Loin over Young Leeks with Smoke Bacon & Roasted Garlic
Tangine of Lamb with Apricots and Toasted Walnuts
Quail with Red Wine Apple Puree
Lump Crab-stuffed Deviled Duck Egg with Crisp Bacon, Lemon, and Truffle
Seared Soy-Herb-glazed Wagyu Ribeye with Togarashi-blistered Fingerling Potatoes and Braised Ginger Gai Lan
Green Peppercorn-crusted Tuna Au Poivre with Creamy White Corn Polenta
Cuban Pork Picadillo Empanadas with Tomatillo Salsa Verde and Fermented Curtido
Gardein Chick'n Parmesan with Roasted Cauliflower Risotto
Lamb Crepinette served with Oven-roasted Ratatouille and Garlic Thyme Jus
Caramelized Verlasson Salmon, Daikon Radish Cake, and Miso Mustard
Sonoma Lamb Riblettes, Roasted Cauliflower, Charred Tomato Chermoula, and Bulgarian Feta
Honey-Caramel Mousse Candy Bar, Peanut Cluster, and Banana Brulee
Brown Butter Nutmeg Cake with Sweet Potato Gelato, Candied Applewood Smoked Bacon, and Cinnamon Redhot Candy Sauce
Spice Cake in a Jar
Assorted Chocolate Truffles
Epcot Party for the Senses Notes
Overall, we had a great time at the event.
We enjoyed tasting all of the different bites and sips at each booth, the entertainment was great, and it was a fun activity for us to do together. Travis loved all of the meat dishes and I enjoyed the sides, cheese selection, the different wines, the two vegetarian offerings, and the delicious desserts.
All of the small bites that we tried were hot, unique, and artfully prepared. The event was well organized and ran smoothly. I really liked that they gifted you a wine glass and plate to use for the event. If I didn't have the plate that held my wine glass it would have been really hard to eat and walk at the same time.
Is the event worth the price?
I would say, yes, it's worth the price, but only if you're a foodie who truly enjoys trying unique, fancy food and you drink alcohol. The unlimited drinks made it worth to us because we enjoy pairing the drinks with the creative bites that were offered at the festival event.
However, I would rate the Epcot Party for the Senses a 4/5 and this is why…
If you purchase a general ticket (wine view tickets get into the event a little bit earlier) then you have to line up with everyone else at the entrance to the event. When the event starts, they pull the drapes open and lots of people start running to get a table.
I wasn't going to risk getting trampled in a crowd, so I refused to run. I walked at my own pace and consequently got hit with a few elbows from people running and pushing past me.
There aren't enough vegetarian and vegan tastes available at the event. I would say 90% of the dishes available to try had meat and dairy in them.
I only found two booths with vegetarian bites as the main dish. There are many people with special diets and food allergies so I can imagine it would be difficult for them to attend an event like this.
Two and a half hours is not enough time to visit every booth and really enjoy everything that the event has to offer.
In my opinion, the event needs to be at least three hours long for the price you're paying for a ticket. By the end of the event, we were really rushing to try to taste everything. Some of the more popular booths have long lines so having to wait 5-10 minutes in line really ate up valuable time.
If these three issues are corrected then I would easily give the event 5 stars.
Good news! I was very happy to learn that for this years Epcot Party For the Senses event there will be seating available for every guest, no matter what ticket level you purchase. Unfortunately, I don't think that the event will be any longer than last years.
We decided to put our festival money towards doing other special festival events instead of going to the Epcot Party for the Senses again this year. If you decide to attend the event, let me know if they offer anymore vegetarian or vegan bites, please!


13 Epcot Party for the Senses Pro Tips
Keep checking the Disney website for the date that you can call and reserve your event tickets. In previous years, the tickets have gone on sale the last week in July.
Arrive one hour early to the event so you're close to the front of the line.
Bring a small purse or small backpack. You might just want to walk around the whole night and you don't want to be lugging stuff around with you. Pack light!
While you're waiting in line, read through the menu booklet that they pass out and figure out with tastes you think will be the most popular. Go to those booths first. The most popular booths always have long lines and you don't want to waste your time standing in line.
Leave the heels at the hotel! It's a dressy-casual event but there's a lot of walking to get to the event (thru the park) and then you're pretty much walking all night long. Your feet will be pretty sore by the end of the night if you wear heels.
Use the plate/wine glass combo that they will give you for a souvenir. It's much easier to balance each taste on the special plate if you're walking around.
Keep your eyes open for celebrity chefs, they might be there. We saw Robert Irvine last year!
Don't be afraid to ask for extra of something or just a side. I was obsessed with the creamy white corn polenta but not the tuna so they server gave me a whole plate just of the polenta. It was fabulous!
If you find a taste that you love, make sure you go back right away and get a second helping. I loved the mozzarella balls at the cheese station (I guess everyone else did too) and by the time I made it back they were all gone!
Try all the desserts, each one was fabulous!
Grab a cup of water on your way out, the food is well seasoned so you'll definitely be thirsty after you leave the event.
Make sure you take your souvenir wine glass home with you and grab a goodie bag (chocolates) on the way out.
After the event, take the back exit out of Epcot and walk around the lake. Work off all the decadent food and drinks that you just and enjoyed.
More Disney World Posts to Help You Plan Your Next Trip!
Guide to Eating Vegan on a Disney Cruise
5 Free Disney World Christmas Activities
159 Disney Cruise Tips I Wish I Would've Known Before My First Cruise