We just got back from the Epcot Food & Wine Festival in Walt Disney World! We ate so much delicious food and I'm going to share all of our favorite tastes with you today! You can still visit the festival through November 14th!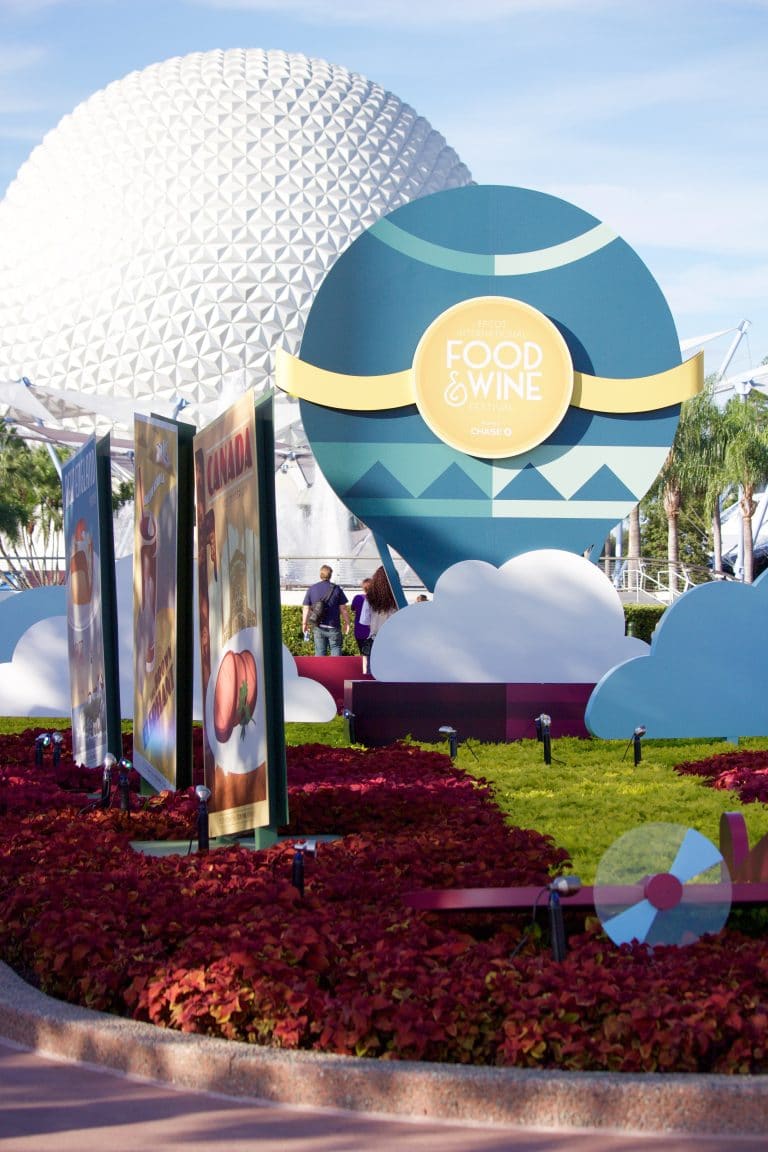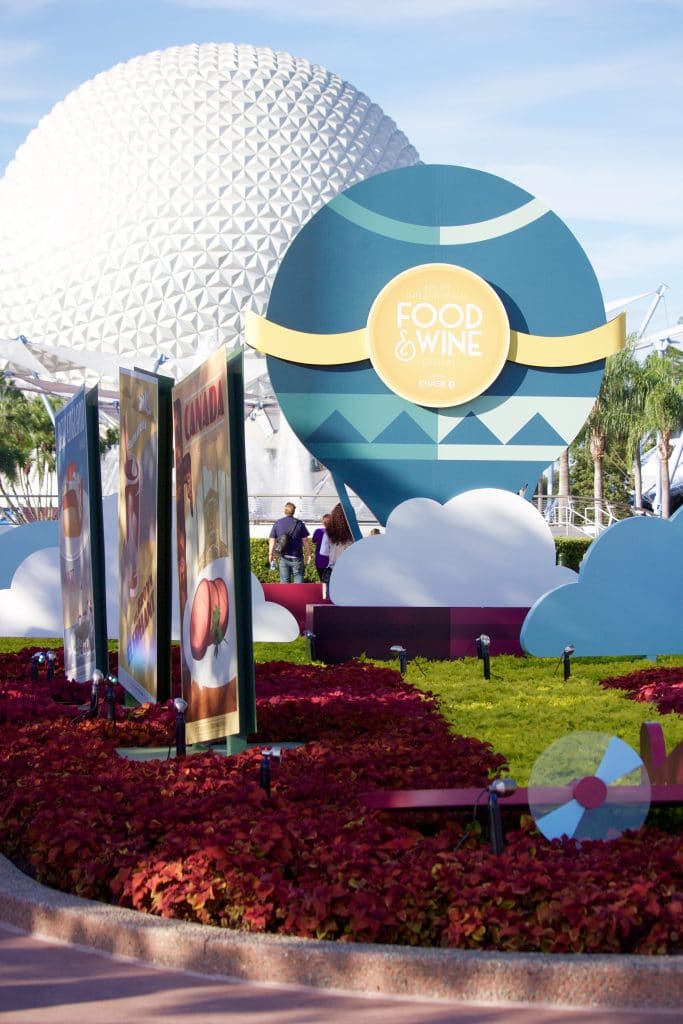 We just got back from an almost week-long vacation at Walt Disney World! We had the best time, we got so lucky to have a cool front go through while we were there so the weather was just perfect in the 60's and 70's.
We were able to go to the Tequila Lunch at La Hacienda de San Angel in Mexico, the French Family Meal Traditions at Monsieur Paul in France, a beverage seminar, and the Party for the Senses this year in addition to a full day at the Epcot Food & Wine Festival.
I loved all of the special events but the french lunch was my favorite by far! I'll be sharing reviews of each event over the next week, so make sure to check back! Skip down to the end of this post to see all of my best Food & Wine Festival tips for when you visit!
Epcot Food & Wine Festival Tastes
Make sure you pick up a passport book before you start so you can keep track of what you ate. They stopped doing the stamps like they have in previous years, now the books all have stickers that you stick on yourself.
We like to start each Epcot Food & Wine Festival trip off with a frozen margarita from the margarita stand in Mexico. We were shocked to discover that the margarita stand wasn't where we left it last year, so after a little investigation, we learned that it was temporarily moved while the construction of the new Frozen area is being completed. Have no fear– for the time being, they're serving the margaritas at the La Cantina quick service.
I was a wee bit disappointed to see that the cranberry bog didn't return this year but all the delicious food more than made up for it! There were quite a few new tastes to try so let's dive right in!
[tweetthis]What to eat + what tastes to skip at #Epcot Food & Wine Festival at @waltdisneyworld [/tweetthis]
Farm Fresh + Margaritas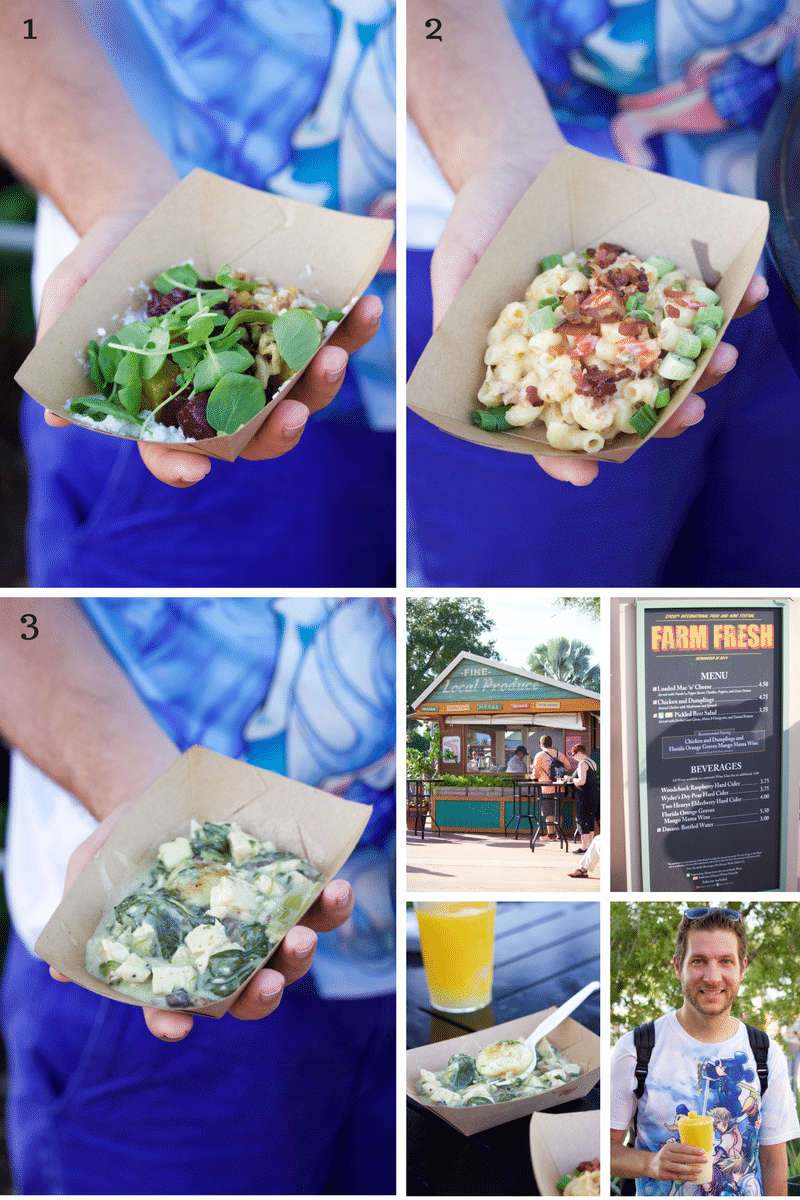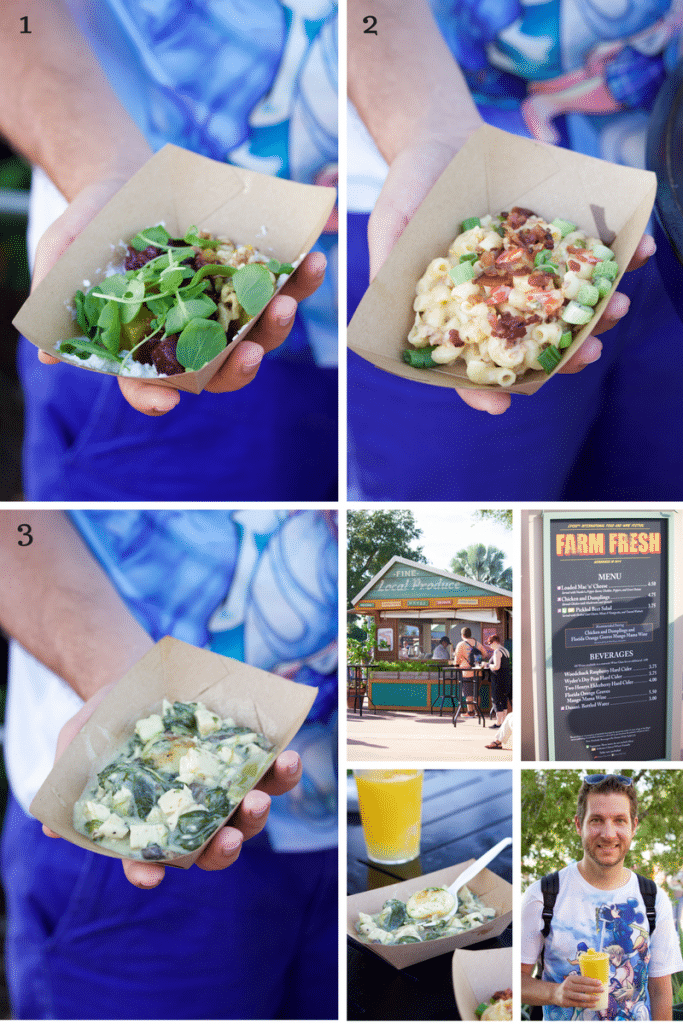 After we got a frozen mango lime margarita, we made our first stop at the Farm Fresh booth because we couldn't resist the delicious smells wafting from the booth. It was intoxicating!
Pickled Beet Salad with Herbed Goat Cheese – The red beets were cooked perfectly but the golden beets were slightly hard but not inedible. I loved the flavor of the beets with the goat cheese.
Loaded Mac 'n' Cheese with Bacon, Cheddar Cheese, Peppers and Green Onions – If you're a macaroni and cheese fan, you're going to love this version! Extra cheesy with lots of bacon and green onions.
Chicken and Dumplings: Stewed Chicken with Mushrooms and Spinach – I was really surprised by this dish. I wasn't expecting much but the chicken was tender and the two dumplings were like little fluffy clouds swimming in the sauce. Delicious!
I loved all three of these tastes and would definitely get them again. I forgot to take a picture of the beers but Travis really enjoyed the cider beers they had on tap. Farm Fresh is the only booth with cider beers so if that's your jam make sure you stop here a few times so you can try them all. Unfortunately, they don't offer a flight so you have to buy them individually.


The Chew, Guru Greenhouse, and Wine & Dine Studio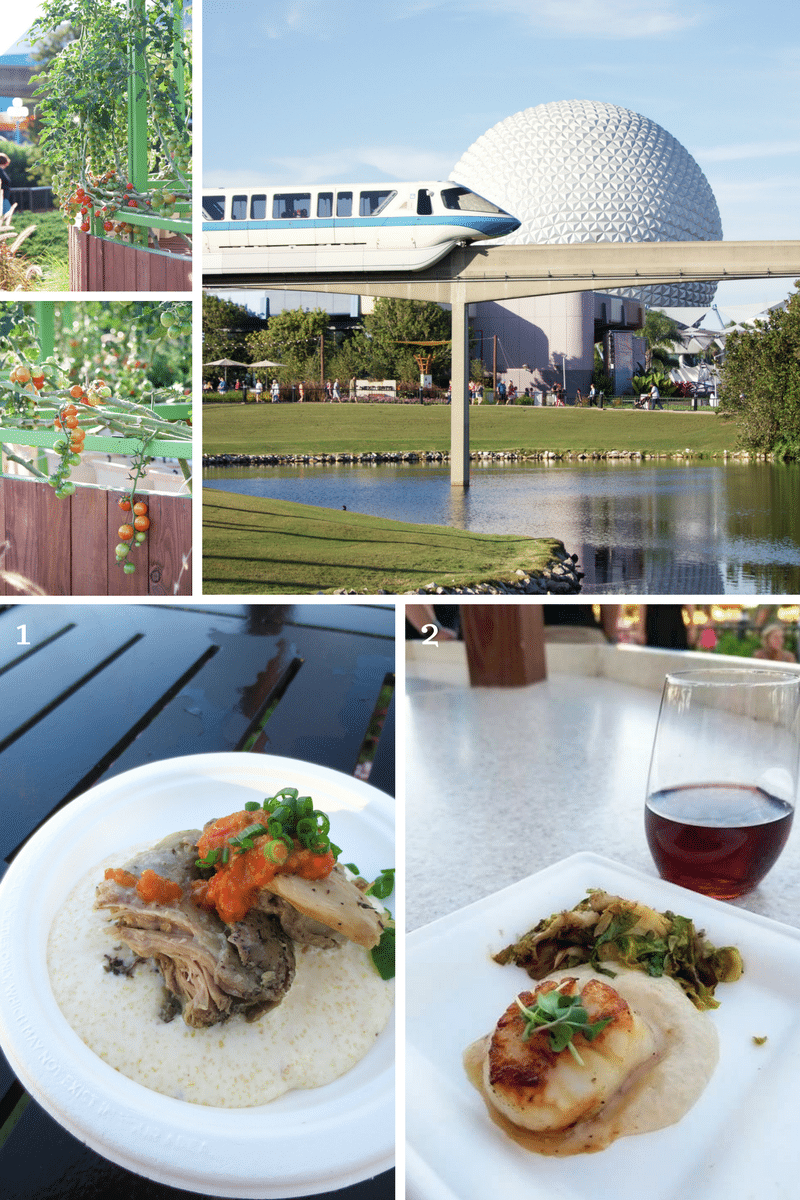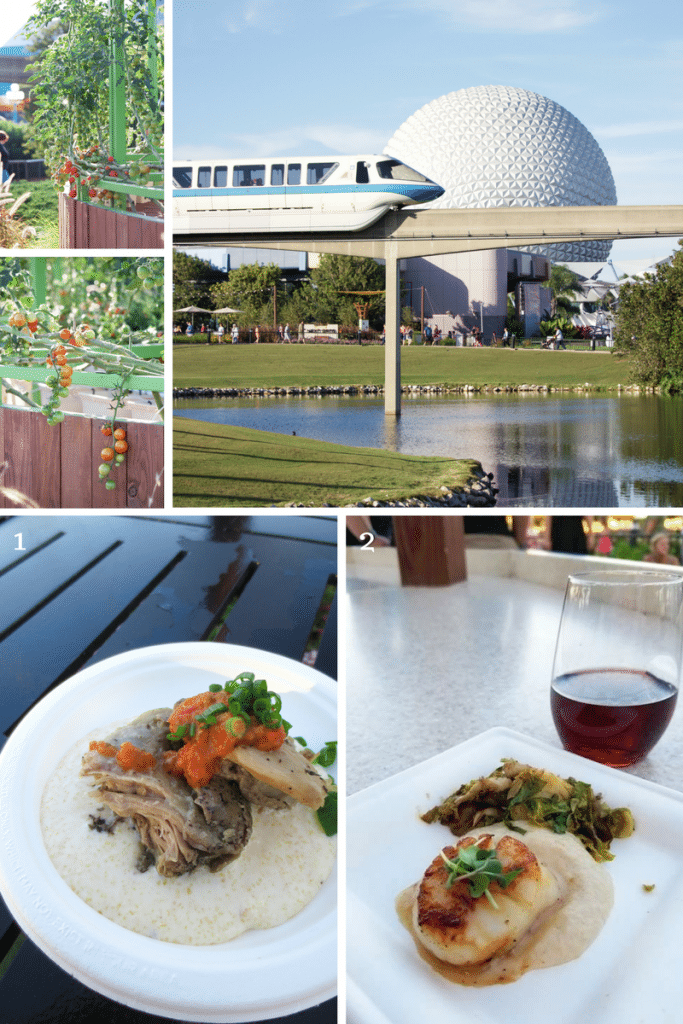 We back tracked a little bit to go to the Greenhouse Guru booth because it's where the butterfly garden usually is at the Flower & Garden Festival. The area they had setup for The Chew booth was beautiful! There was a seating area with lots of tables and a wall around one half that was covered with vine ripening tomatoes. All different shades, shapes, and sizes were hanging from the wall. So pretty!
Duck Confit with Creamy Polenta and Fire-Roasted Salsa – The duck was cooked perfectly and shredded easily with my fork. I also found out that I love creamy polenta… who knew?! The salsa was a nice touch to swirl into the polenta for an extra flavor boost. I would get this again!
Seared Scallop with Truffled Celery Root Puree, Brussels Sprouts and Wild Mushrooms – Every year we get the scallop and it's perfect every time! It's always hot, fresh and cooked perfectly. The brussels were tasty too. I had a glass of the Vinum Cellars Pinot Noir with it that I enjoyed. I forgot to ask but it seemed like a bigger pour than what I found at any of the other booths.
If you follow along the trail, you'll run into the Wine & Dine Studio. We got there around 4pm when it was still bright and sunny out so it was a nice place to take a break and eat under some shade for a bit.
Pro tip – If you' want to see what the taste looks like or what the portion is, go up to the head of the line where they hand you the food and look at the food they pass out or ask if you can see a specific item. I've never had an issue doing this and they never give me a hard time for asking to see before I buy.
Hawaii, Greece, Canada, and Ireland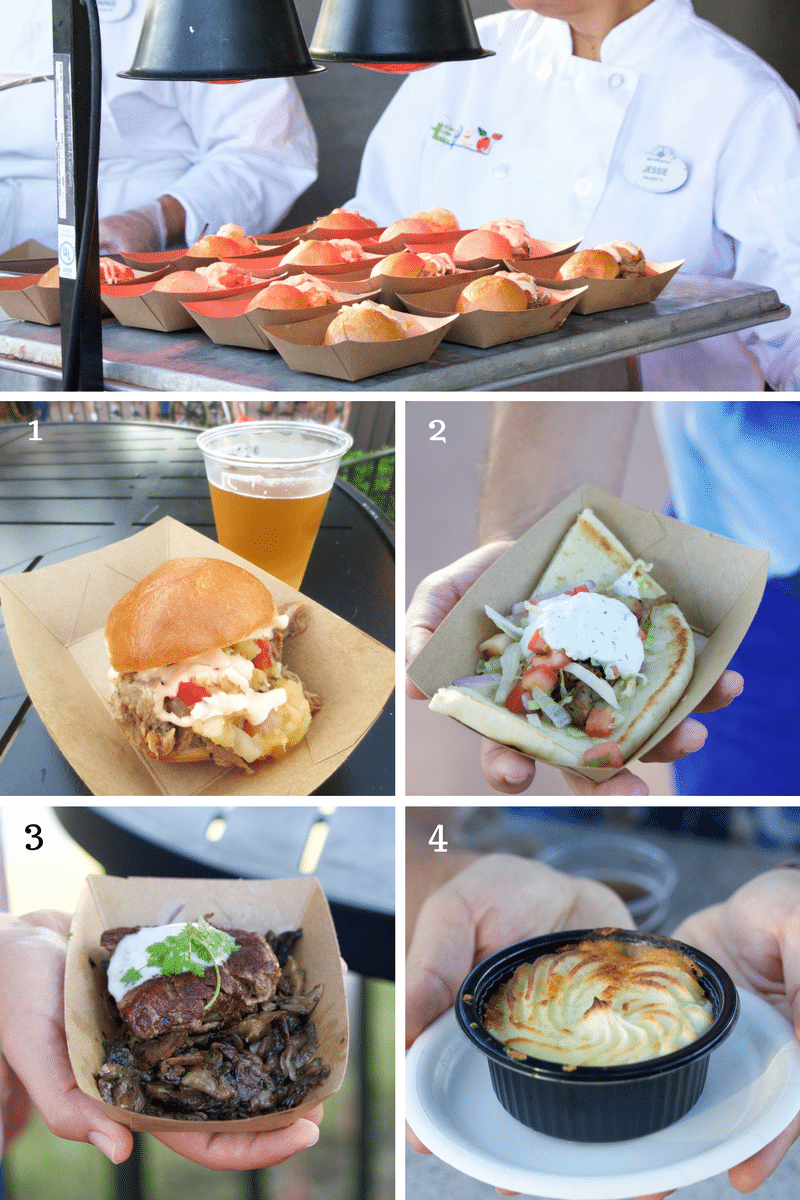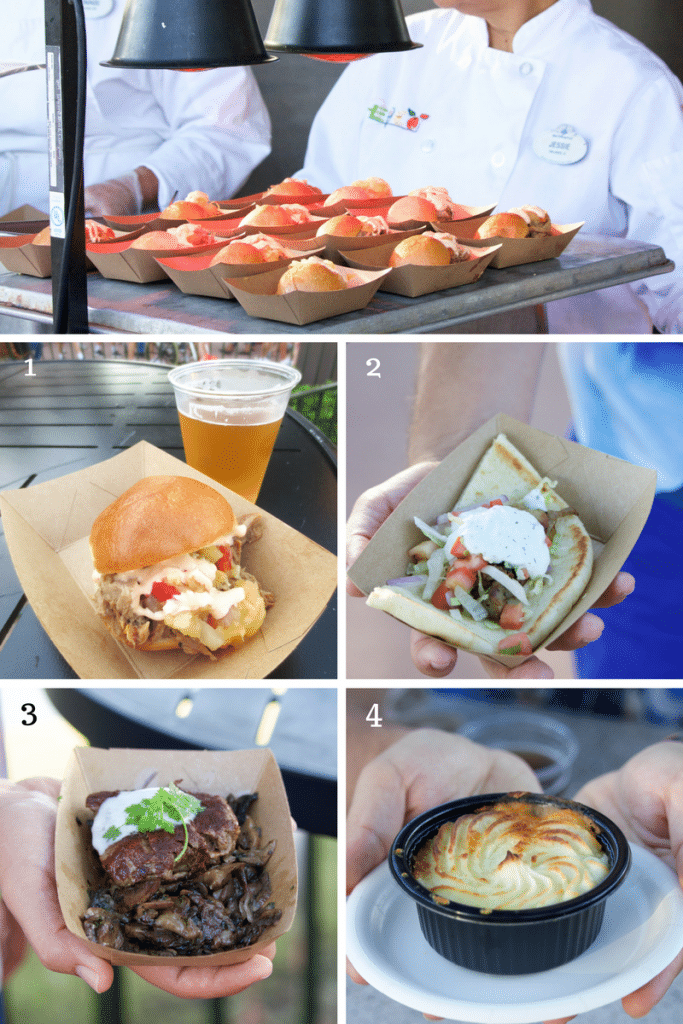 Kalua Pork Slider with Sweet and Sour Dole Pineapple Chutney and Spicy Mayo – This slider had been at the festival for as long as I've been going. It's always hot, fresh, and delicious, I guess everyone else loves it too! We loved the pineapple chutney and the pork was fork tender.
Chicken Gyro with Tzatziki Sauce – The chicken was tender, the tzatziki sauce was flavorful, and it's a good-sized taste for the price.
"Le Cellier" Wild Mushroom Beef Filet Mignon with Truffle Butter Sauce – This was our favorite taste! The filet is so tender, they give you a ton of mushrooms (extra if you ask politely) and they cook it to your preference if you don't like it medium. It's a little pricey but so worth it, I highly recommend it!
Seafood Fisherman's Pie – This taste is a repeat favorite on our list too. It has big chunks of shrimp and lobster hidden underneath that cloud of creamy mashed potatoes. MmmMmMmmm!
Pro tip – There's a small shaded courtyard overlooking the water to the left of the restaurant in United Kingdom. It looks like it would be seating for the restaurant but it's not! Anyone can grab a table there to enjoy their tastes from surrounding booths.
Japan, Italy, Germany, Brewer's Collection, and China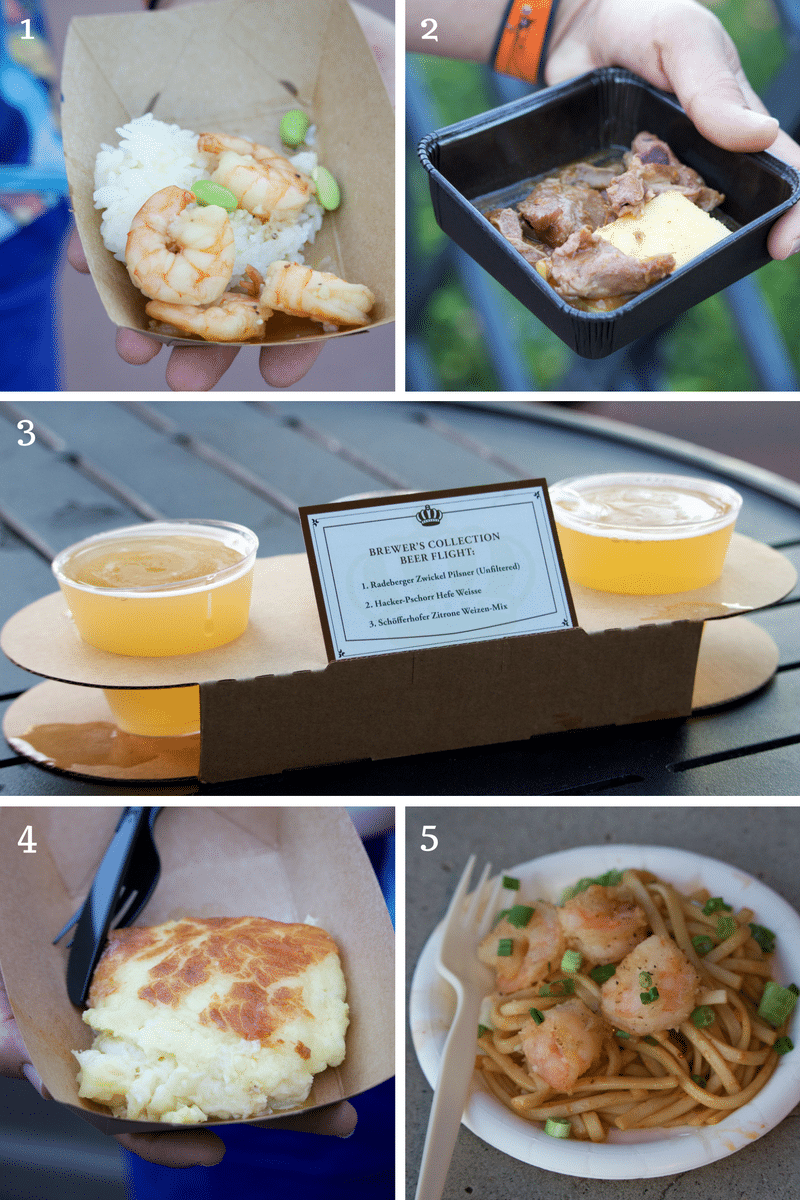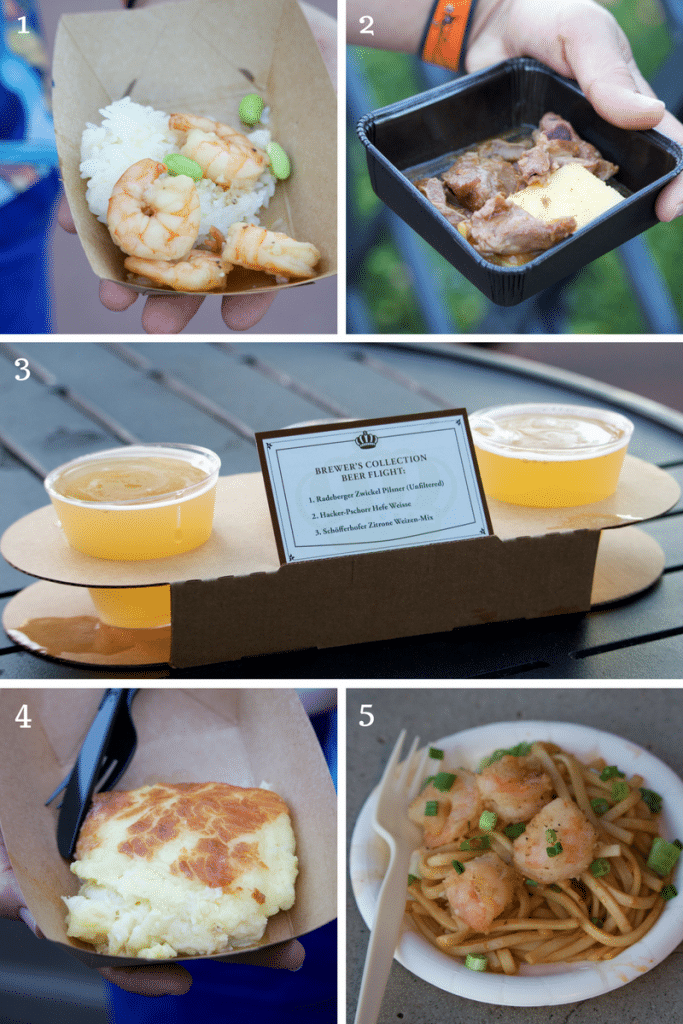 Garlic Shrimp: Marinated Shrimp Sauteed with Garlic and Butter, Served Over Rice – This taste was a little bit of a letdown, it just looks so plain and boring. It had a little garlic and a lot of butter. Maybe if it had more garlic and less butter it would have been better. Or if they served it over fried rice or something, it just needed something to spruce it up! It was around $7 so I was hoping for a lot more.
Spezzatino alla Toscana con Polenta: Tuscan-style Stew with Carrots, Mushrooms and Crispy Polenta – This was my least favorite taste. I ordered it thinking it was vegan but it's definitely not. It doesn't say veal in the description but that's what's in it. Also, we didn't get any carrots or mushrooms with it and the polenta had a very strange flavor. I was not a fan, I would skip it.
Beer Flight – In previous years, Travis really liked getting the beer flights so we could sample a variety. This year, we only found them at 2 booths. Germany and the Craft Beer booth inside…bummer! They also reduced the flights from 4 to 3 beers. However, Travis did like this flight, the Zitrone Weizen-Mix was his favorite.
Nudel Gratin – This is from the quick service counter in Germany, not from the Germany festival booth. I love it and get it every time we visit Epcot. It looks like a blob but if you're a mac 'n' cheese fan, you'll love it! They have a similar dish with ham at the Germany food booth but I think this is much better and you get a bigger portion!
Black Pepper Shrimp with Garlic Noodles – This taste has been served at the Epcot Food & Wine Festival for years but the last 2 years we've gotten it, its been cold. The shrimp are seasoned well but they're on the small side. You do get a lot of noodles so if you just want something that will fill you up with decent flavor– try this.
Pro tip – It started to get busier around 5pm-6pm when the sun was going down, but the lines still weren't more than 10 people long (on a Monday). If you don't want to wait in long lines (I'm talking 50+ people deep) then definitely don't go on the weekends.


New Zealand, Australia, and Craft Beers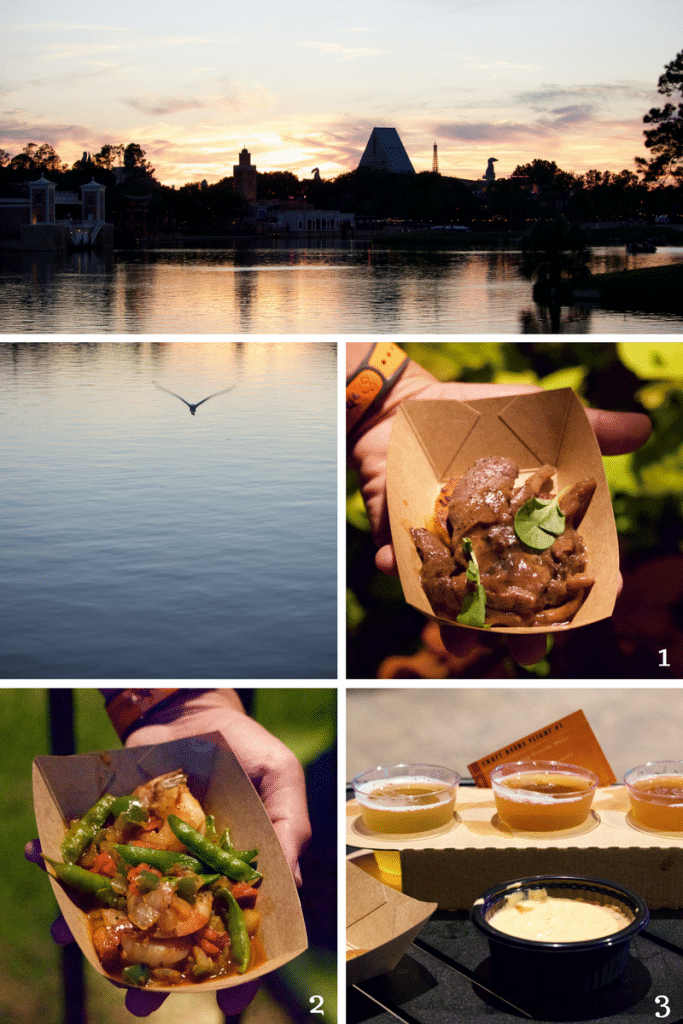 Seared Venison Loin with Wild Mushroom Marsala Sauce and Kumara Dumpling – This taste was another disappointment. The venison was tough and tasted gamey to me and the "dumpling" was not like any dumpling I've ever had. It was like a solid, hard block of dough, nothing like the light and fluffy dumpling we had at the Farm Fresh booth earlier in the day. Definitely skip this one!
Grilled Sweet and Spicy Bush Berry Shrimp with Pineapple, Pepper, Onion and Snap Peas – The shrimp were large, seasoned well and we really enjoyed the fruits and veggies with it. The sauce was flavorful and there was enough to coat everything, not just a few drops. I would definitely get this taste again!
Beer Flight + Pimento Cheese Dip with Pretzel Crisps – Travis liked the beer flights, he tried both. The only beer he didn't like was the one that tasted like chocolate, it was really bitter. We got the pimento cheese dip with it because we'd never tried it before but it just wasn't for us. Something about the spicy cold chunks of cheese wasn't too appealing, and they served it with thick pretzel crisps that tasted like they'd been sitting out for hours. I'd skip the food at this booth and just get the beer.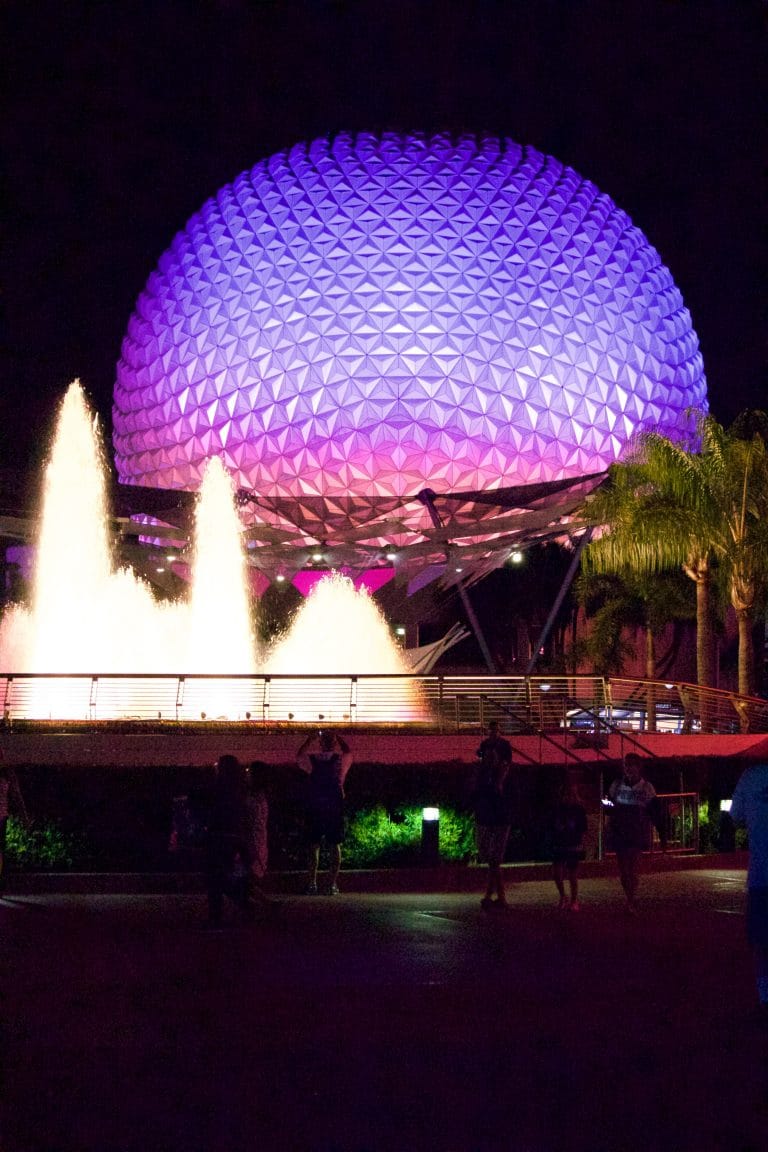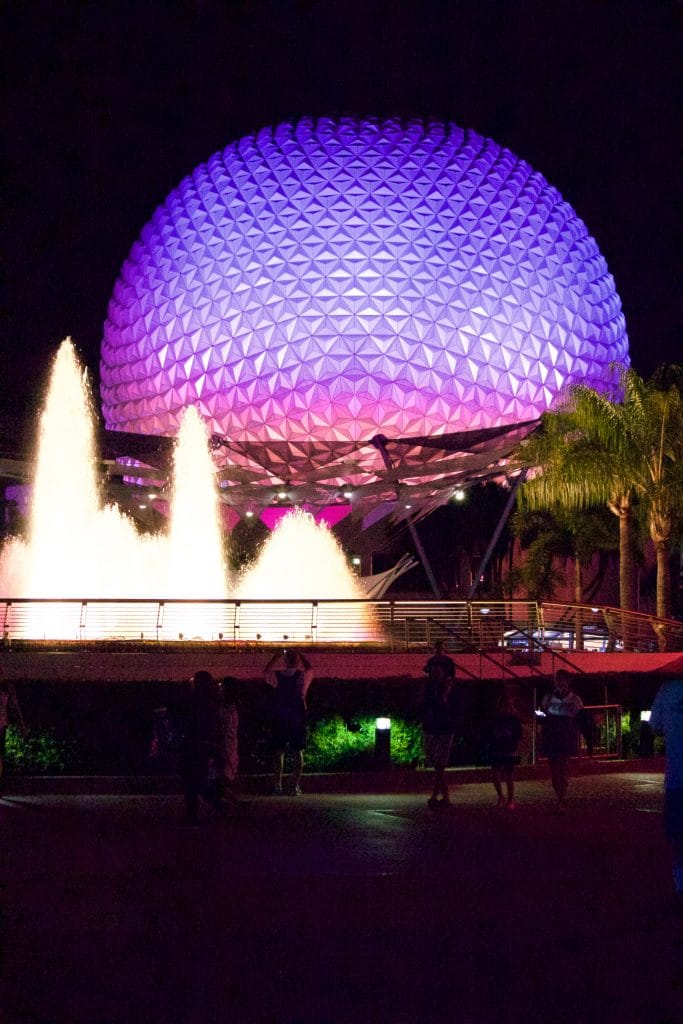 We were more than stuffed by this point and we only tried tastes at half the booths! If your goal is to try one or a few tastes from every booth make sure you give yourself at least two days to try everything!
Epcot Food & Wine Festival Pro Tips:
Take the bus from the hotel so you don't have to worry about drinking and driving.
Start later in the afternoon to beat the heat or go back to the hotel from 12-3 so the sun won't drain your energy.
Load an Epcot Food & Wine Festival wristlet gift card with money so you don't have to keep taking your card out of your wallet.
Pack light, only bring the necessities.
Don't carry around a heavy water bottle in your bag. You can get a free cup of ice water from any park stand that sells tap sodas.
Wear sunscreen and bring it with you so you can re-apply.
Take a break at noon by walking to one of the other hotels on the loop (Boardwalk, Beach & Yacht Club, or Swan and Dolphin) that connect to Epcot so you can be in the air conditioning for a little bit to cool off.
Wear comfortable sneakers and whatever you do NEVER wear heels!
Pace yourself, drink a lot of water to stay hydrated.
Get your card stamped 3 times to get a free souvenir glass.
Grab a map and a passport so you know where you want to go based on what food you want to eat.
For shorter food lines, go on Monday-Thursday. Avoid holidays and weekends.
Don't be afraid to try new things!
Share tastes with family and friends, that way you won't fill up as quick.
Check out the food at the head of the line before you buy it so you won't be disappointed.
I hope you get to visit the Epcot Food & Wine Festival before it ends on November 14th! Follow my pro tips and you'll be leading your group through the festival like you've done it a million times!
More Disney Posts You'll Love!
Epcot Food & Wine Festival Tequila Lunch Review