This shop has been compensated by Collective Bias, Inc. and its advertiser. All opinions are mine alone. #PackInMoreMemories #CollectiveBias Get ready for Christmas by planning out your elf on the shelf gift ideas now!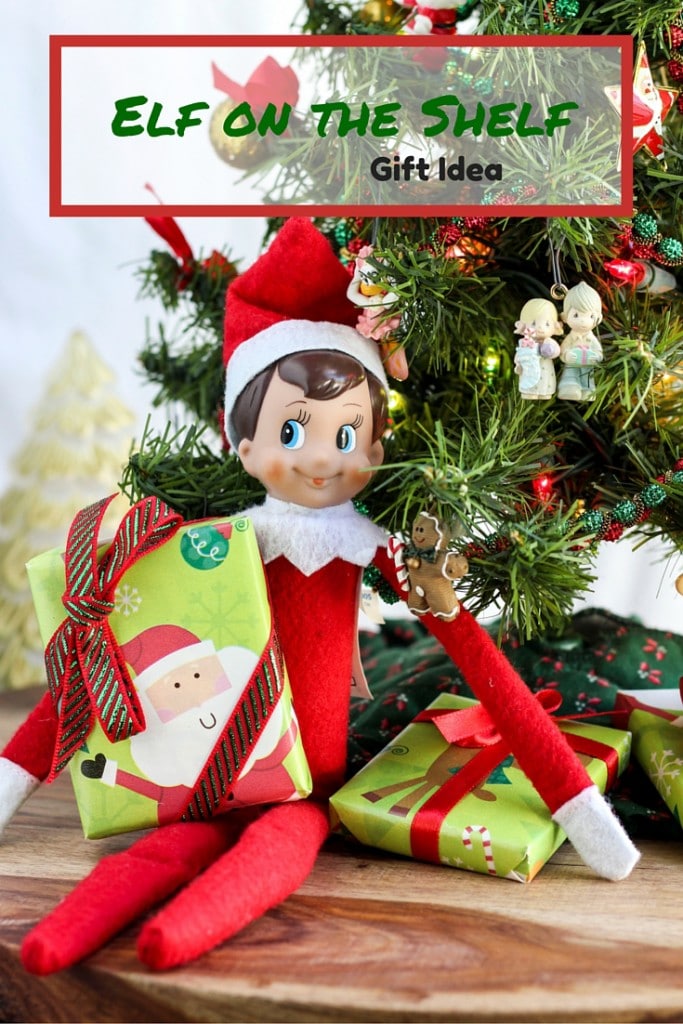 Fa la la la la la la la laaaa!
Yep, that's me singing Christmas songs on November 2nd. Don't hate on me though! I like to enjoy the season and celebrate it as long as possible, what's wrong with that? I love Thanksgiving too, but I would be completely happy just celebrating Thanksgiving dinner with family while my house was fully decked out for Christmas! Unfortunately, my fiancé insists on decorating for the harvest.
Stupid harvest, I hate the harvest. Grr.
I just want to skip right to Christmas!!
My mom told me I have to compromise with Travis, I guess that's what happens when you're going to marry someone. Bleh. So, I'm secretly shopping for and planning all my Christmas gifts and activities right now while Travis is at the office. Hehehe.
Elf On The Shelf: Kringle
A few years ago, Travis surprised me with an elf on the shelf a few weeks before Christmas. Needless to say, I was thrilled. A cute little elf that brings me treats, small gifts and he gets into mischief while I'm sleeping, what's not to love?
I know, I know, you're going to say that an Elf on the Shelf
is for kids, not for adults. Well, I don't care you big party pooper! Kringle is so much fun, and I'm counting down the days until Thanksgiving because that's the night he makes his big debut!
Travis and I take turns surprising one another with Kringle and his antics. It's my turn this year, so I'm trying to come up with new ideas that we haven't done in previous years. Besides thinking of funny situations for Kringle to be in, like riding the train around the Christmas tree or spelling out a message in candy on the dining room table, I like to wrap small treats that Kringle can bring for us.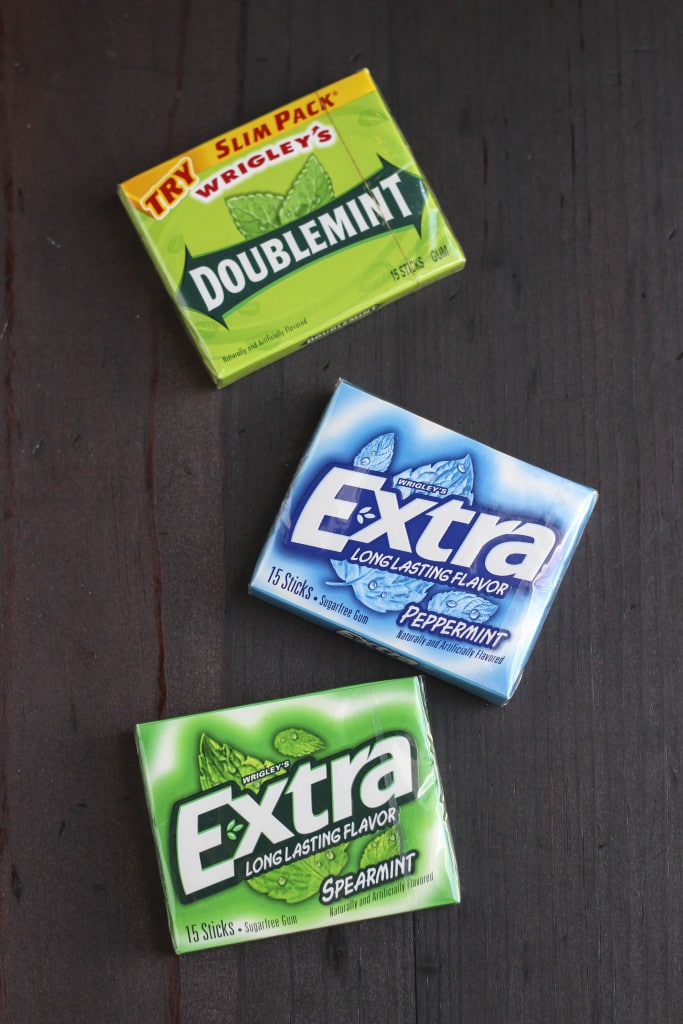 We do something different with Kringle every night, so I wanted to start working on my ideas and surprises now. I stopped at Dollar General and picked up a few packs of Extra® and Doublemint® gum to wrap as a small gift from Kringle. The slim packs are the perfect size to wrap as a small gift from Kringle!


Christmas Traditions
See this little Christmas tree? It's a little scraggly and about 25 years old, but it still lights up and is beautiful. It's one of my favorite Christmas decorations. When I was little, my mom used to put it next to my bed a few weeks before Christmas and let me fall asleep to the glow of the twinkle lights.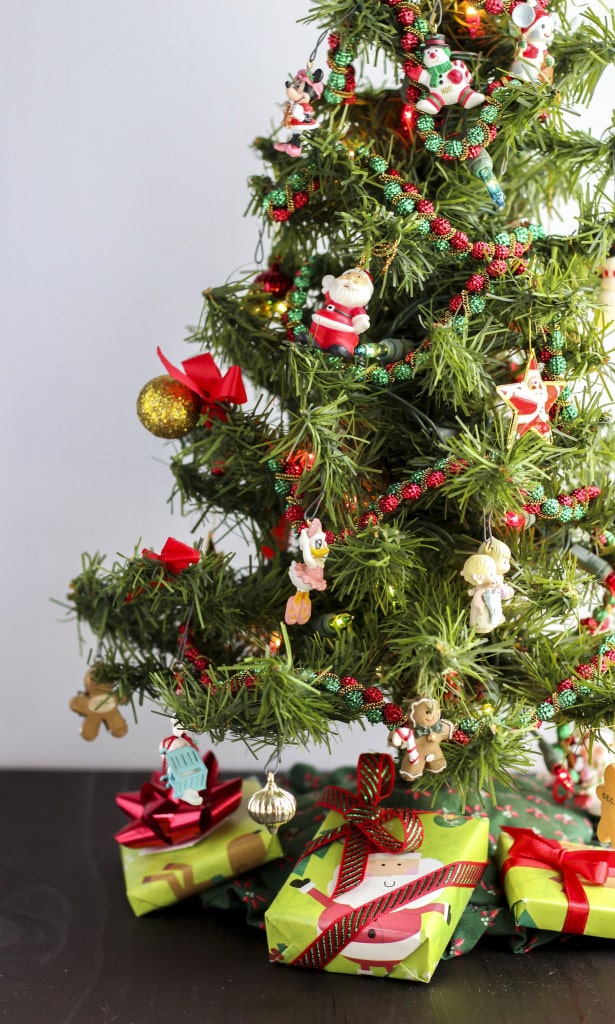 She decorated it with tiny ornaments and would tell us that if we were good, the elves would see and tell Santa. Maybe, just maybe, they would bring us a small treat! Every morning, I would wake up, and excitedly check underneath my mini tree. Sometimes a small gift would be there! My mom was the original elf, before Elf on the Shelf
came around!
Now that I have my own home, I still put my little tree out for Christmas and hope that our elf, Kringle, will leave us treats under it.
Other Elf Gift Ideas
(See pictures below!)
Elf-Sized Gifts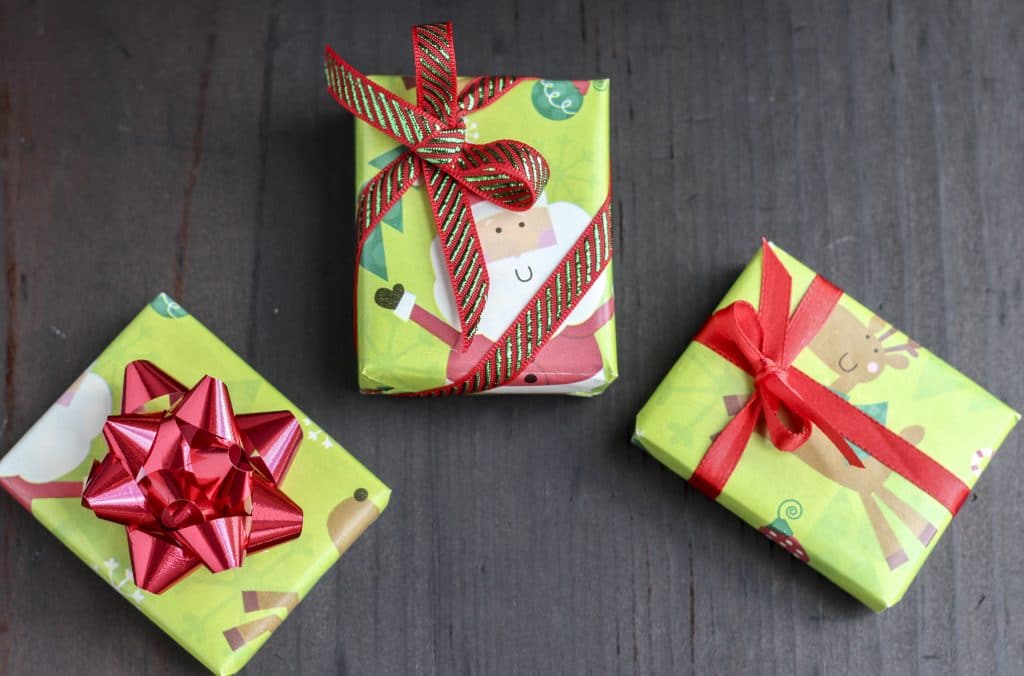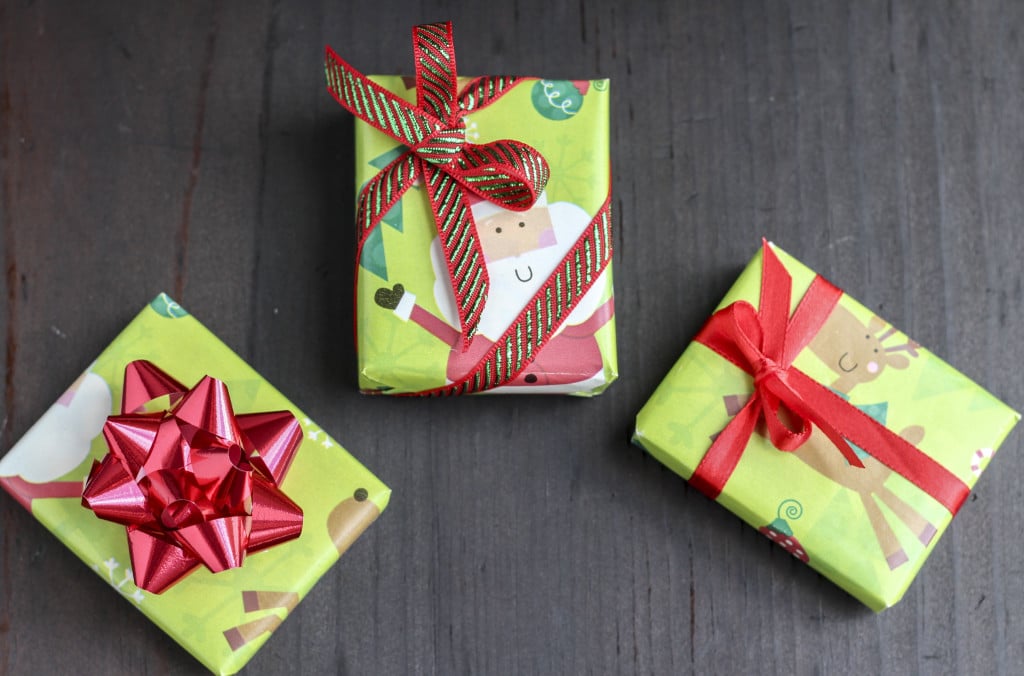 The Extra® and Doublemint® gum packs are the perfect elf sized gift, and I know Travis will love to find it under the mini tree one morning before Christmas. You can wrap a single pack or tape two packs together to make the gift a little bigger.
I'm sure most of you are awesome gift wrappers, but I know a few people who must wrap like Travis does. He likes to tape the two ends together in the middle and twist the two ends so it looks like a big piece of candy. Yikes.
So, for all the Travis wrappers out there, here are a few wrapping tips for ya!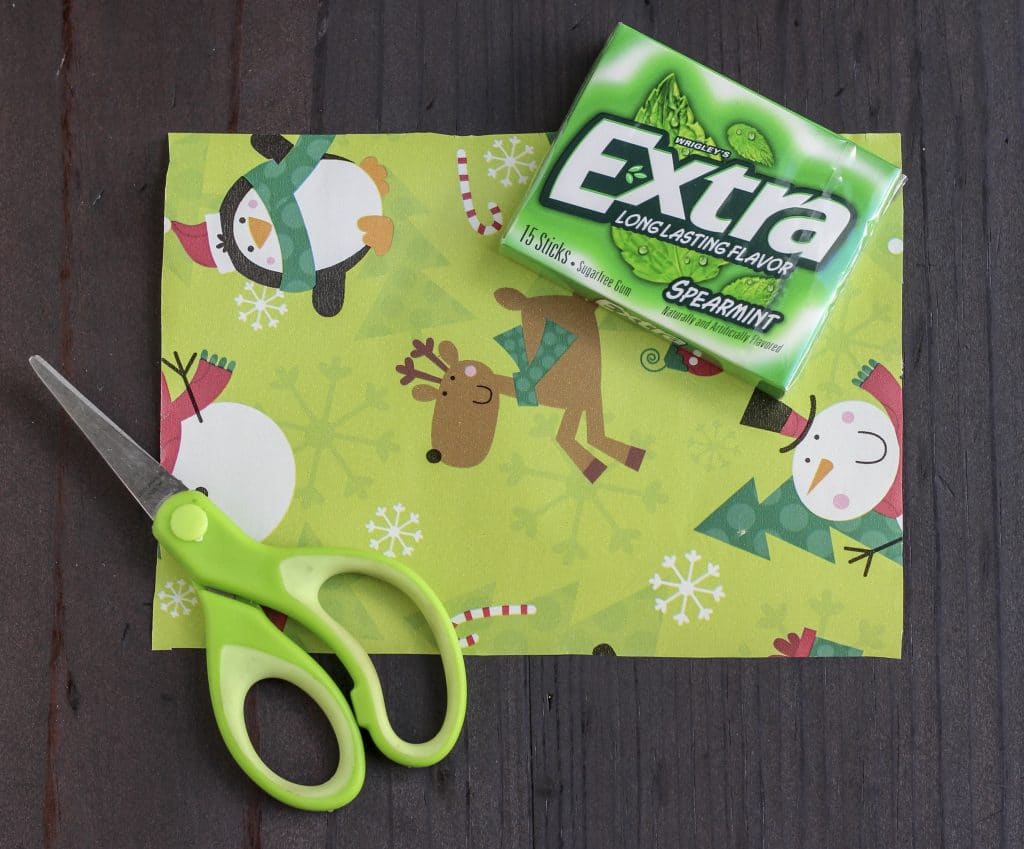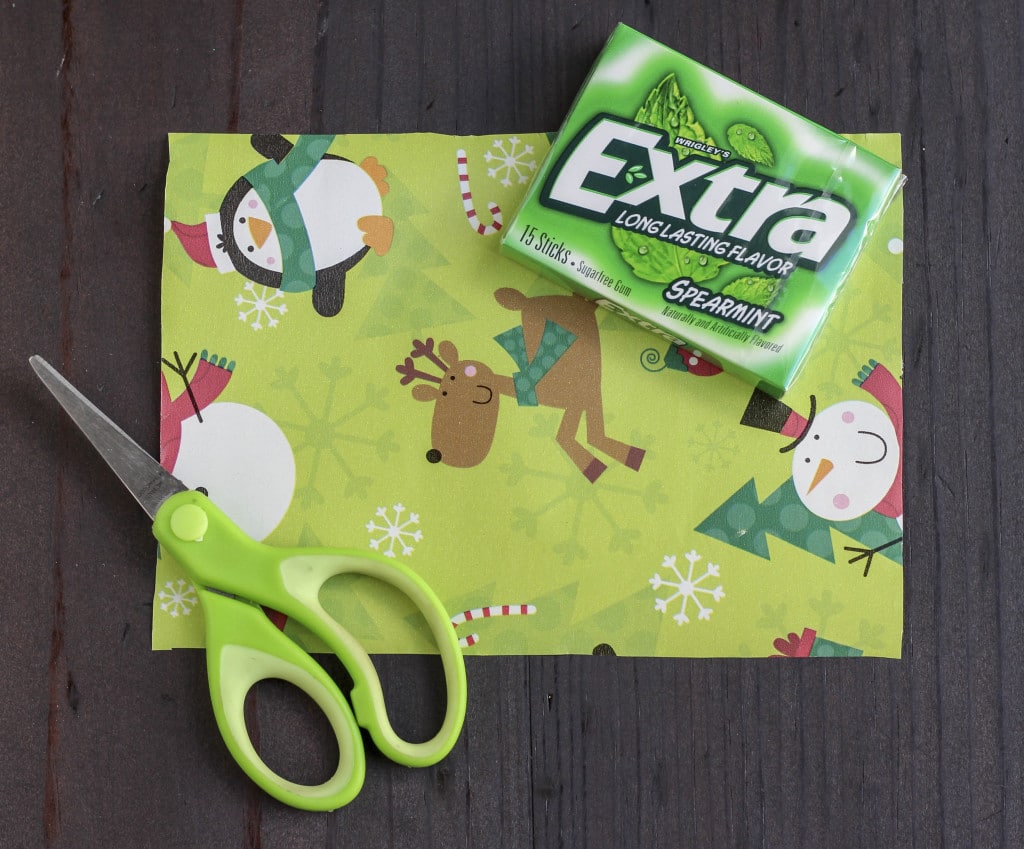 Step 1 – Look at the wrapping paper and pick the area you want to be on the top/front of your gift. Center the image and cut the paper to size around it. I wanted the reindeer on the front of my gift. Can you see how it's centered to fit the gum pack?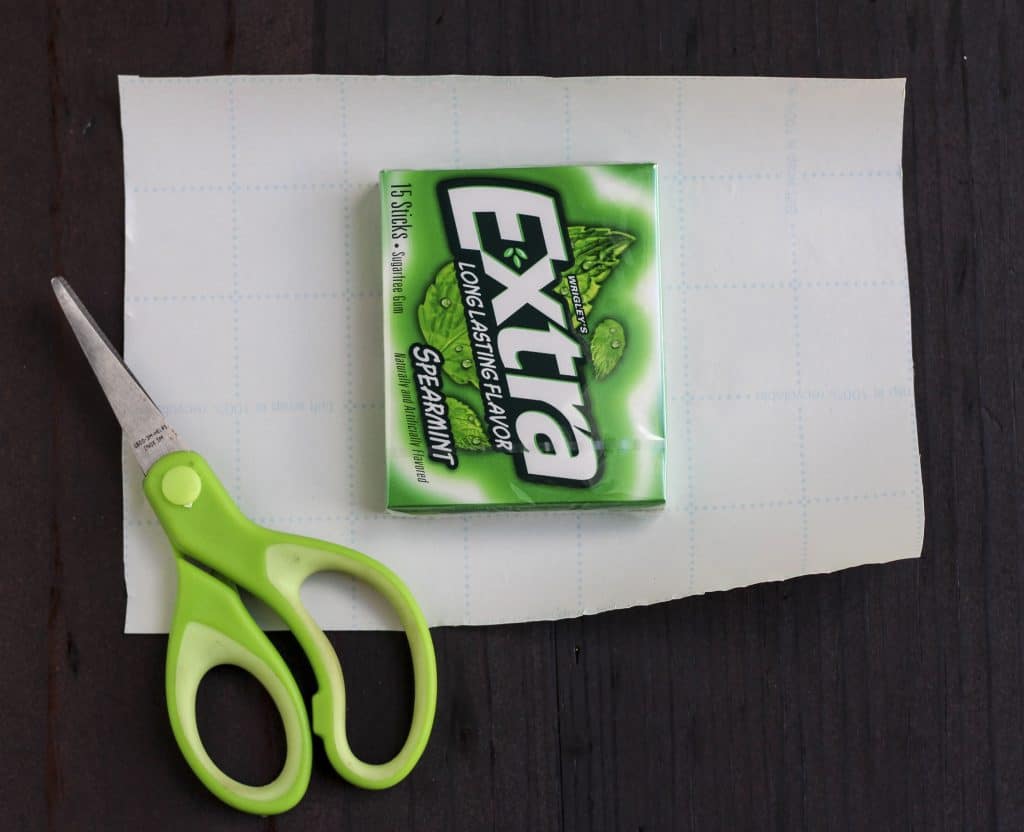 Step 2 – You can use any type of wrapping paper, but if possible, buy the wrapping paper that has the squares on the back. It makes it so easy to cut straight and measure if you're wrapping a bunch of boxes that are the same size. For the gum packs, I knew I needed to cut a 7 x 5 square piece. So, after you find the image you want to center, you can count the squares around the centerpiece, and it will be perfectly centered!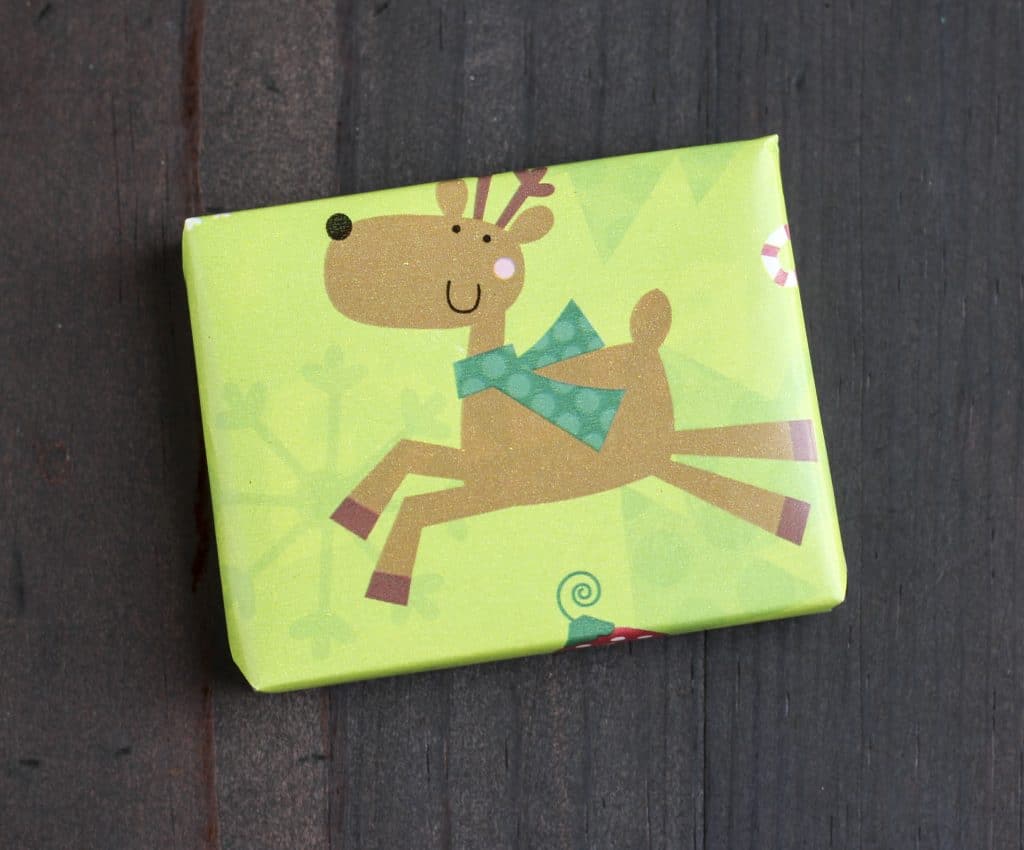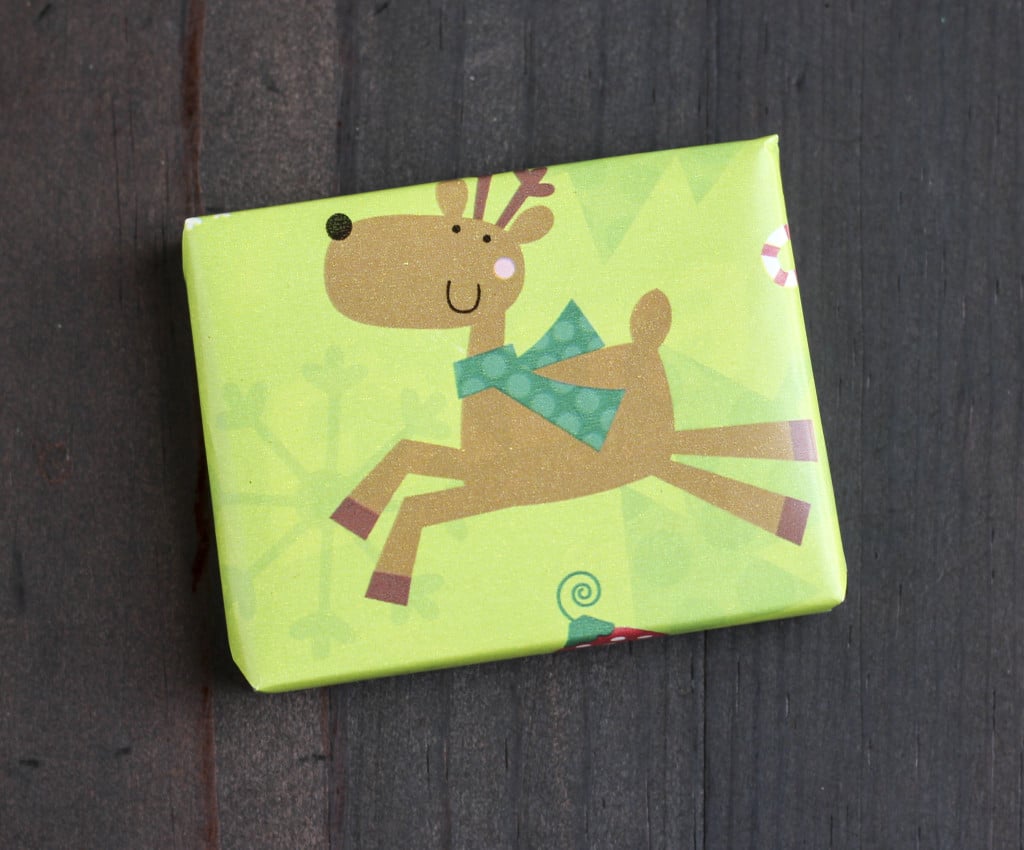 Step 3 – Admire your super cute wrapped gift! That reindeer is too adorable!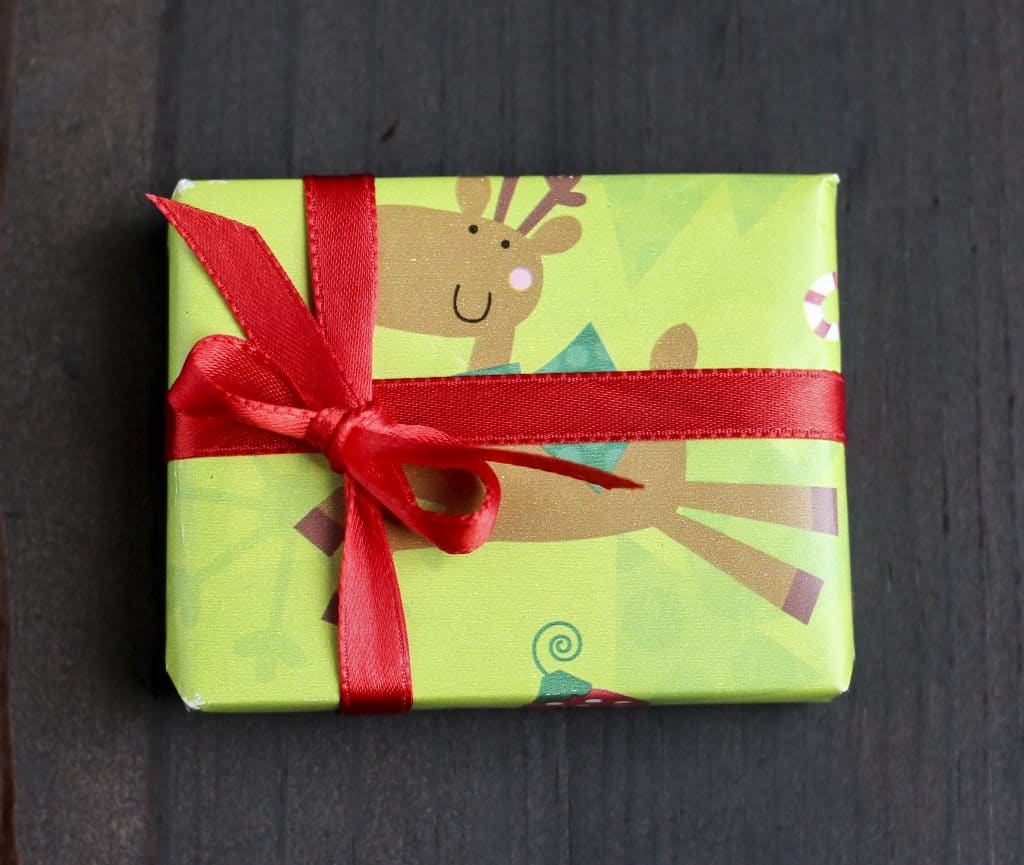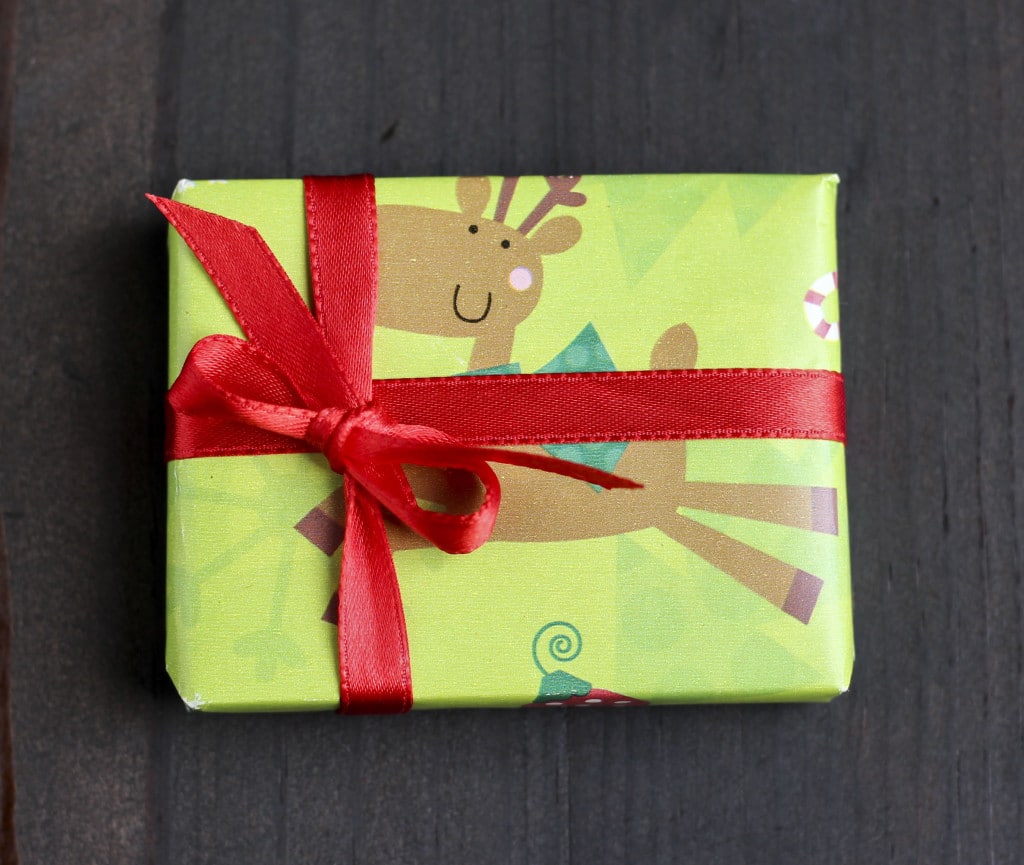 Step 4 – Pick out a matching ribbon and tie into a little bow on top. Lay the ribbon down flat, put the gift face down on the ribbon, wrap the ribbon around both sides to the back and cross the ends. Wrap the ends back around the front and tie into a small bow. If you have trouble keeping the bow tight, tie a knot first and then tie into a bow. You can use this same technique for large gifts too!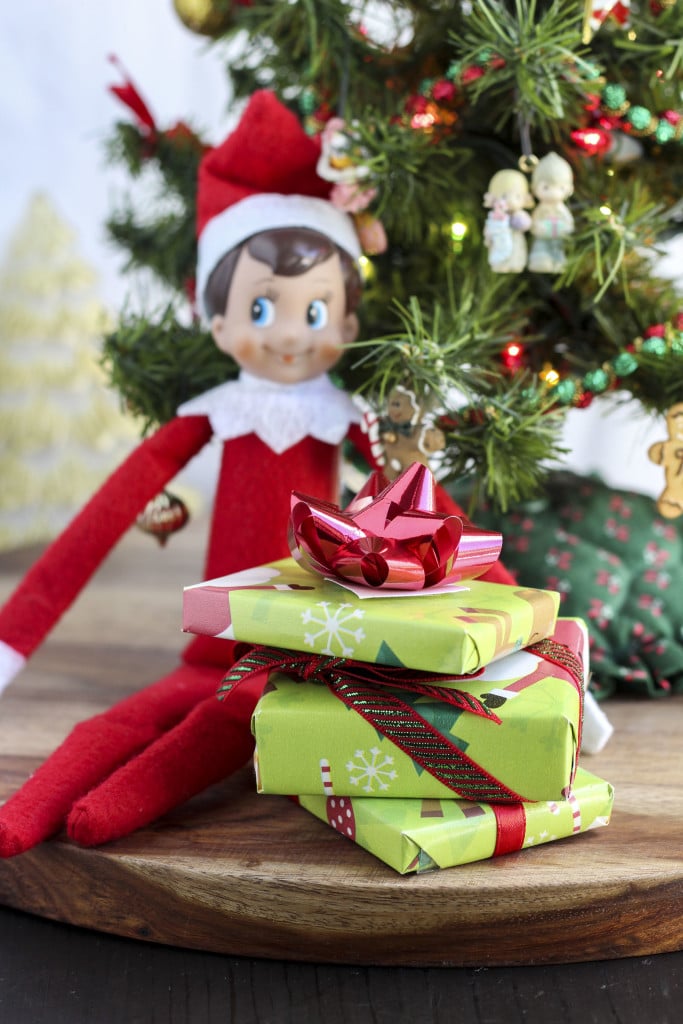 See the gift in the middle of the stack? I wrapped two gum packs in that one to throw Travis off. If they're all the same size he would think he knew what was in all of them after he opened the first one. I'm gonna fool him!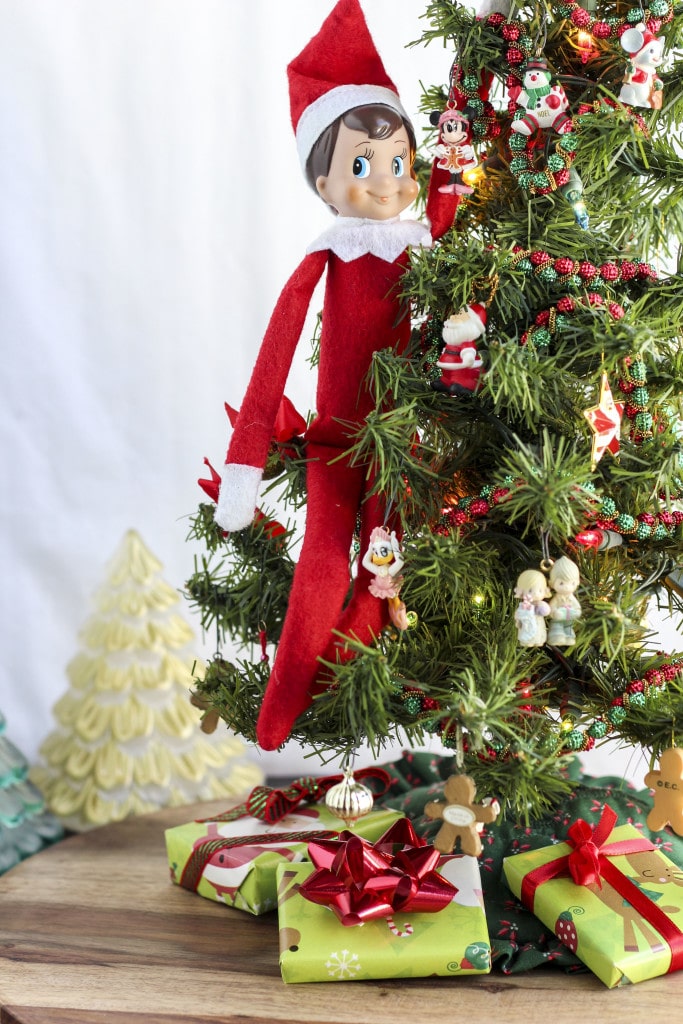 This idea is great for kids and adults, and you don't have to leave it under a tree. You can leave it anywhere they might see it during the day. Having an Elf on the Shelf
really is just about making the other person feel happy and special. You don't have to spend a lot of money to do that. These packs of gum were only $1 each.
What's your favorite Christmas tradition? Let me know how in the comments!
**This post contains affiliate links.
Never miss a Stacey Homemaker creation!
FACEBOOK / INSTAGRAM / PINTEREST / TWITTER
You might also like…
How to Turn Small Bow into a large Bow