The BEST easy vegan quesadillas with loads of creamy cheese, zucchini slices, fresh spinach, and juicy artichoke hearts. These quesadillas will please everyone in the family! Vegan.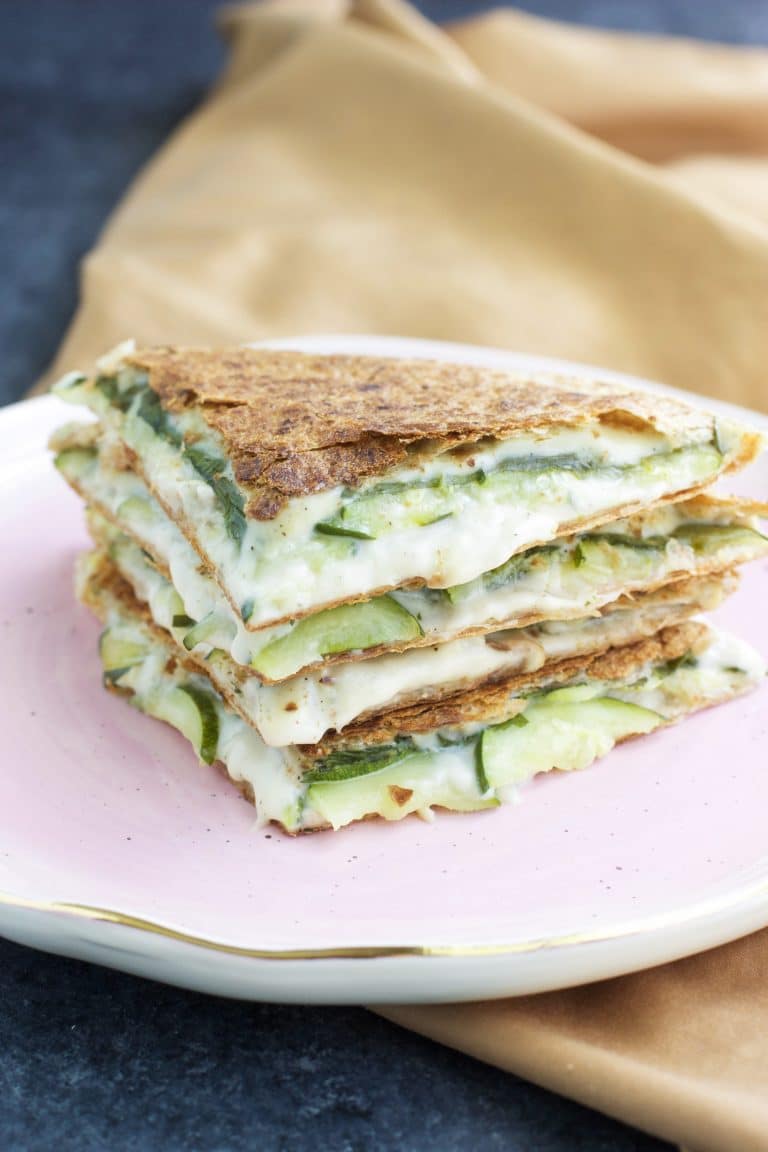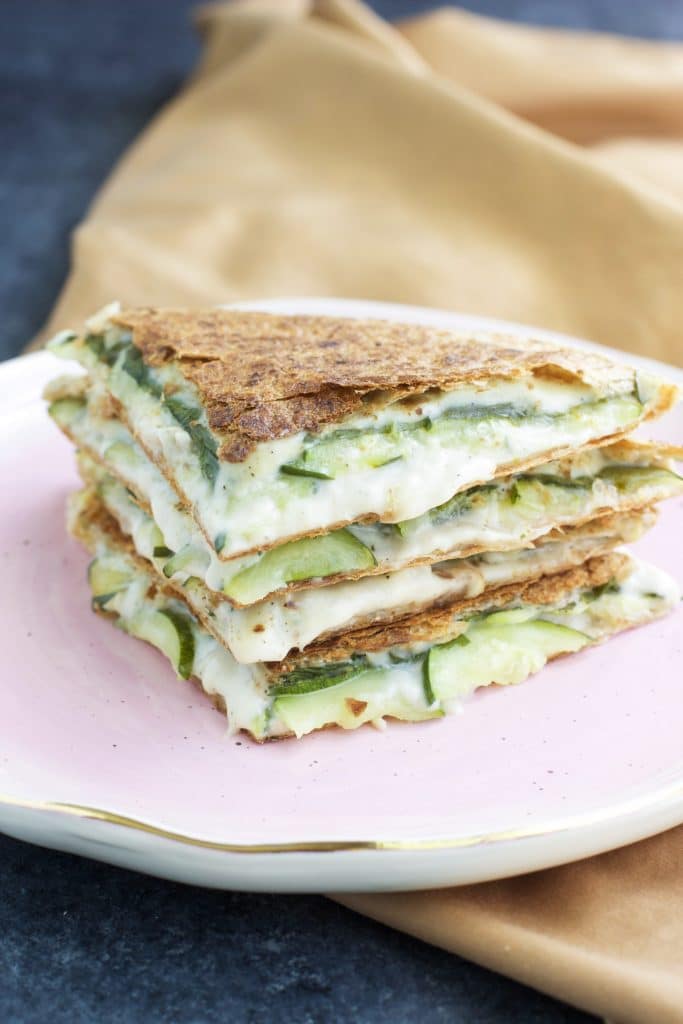 Over the last year, Travis and I have been working really hard on cutting all dairy products out of our diets.
I would like to tell you that we gave up cheese overnight but it's really hard to give up something that you've been eating for the last 28 years of your life.
I mean, my favorite food since I was a tiny tot was macaroni and cheese. I loved it!
Over the last year, I've been working on veganizing my favorite cheese recipes. This is my favorite vegan mac 'n' cheese recipe so far and these broccoli stuffed potatoes with cheese sauce are to die for!
Vegan Cheese
On my search to veganize cheese pizza, spinach artichoke dip, and quesadillas, I tried some of the store-bought vegan cheeses. They were okay, edible, but not amazing. They had a cheese-like quality but they didn't melt and they all had an off taste that wasn't exactly the traditional cheese flavor that I was looking for.
I stopped trying store-bought cheese and started trying different recipes to make my own.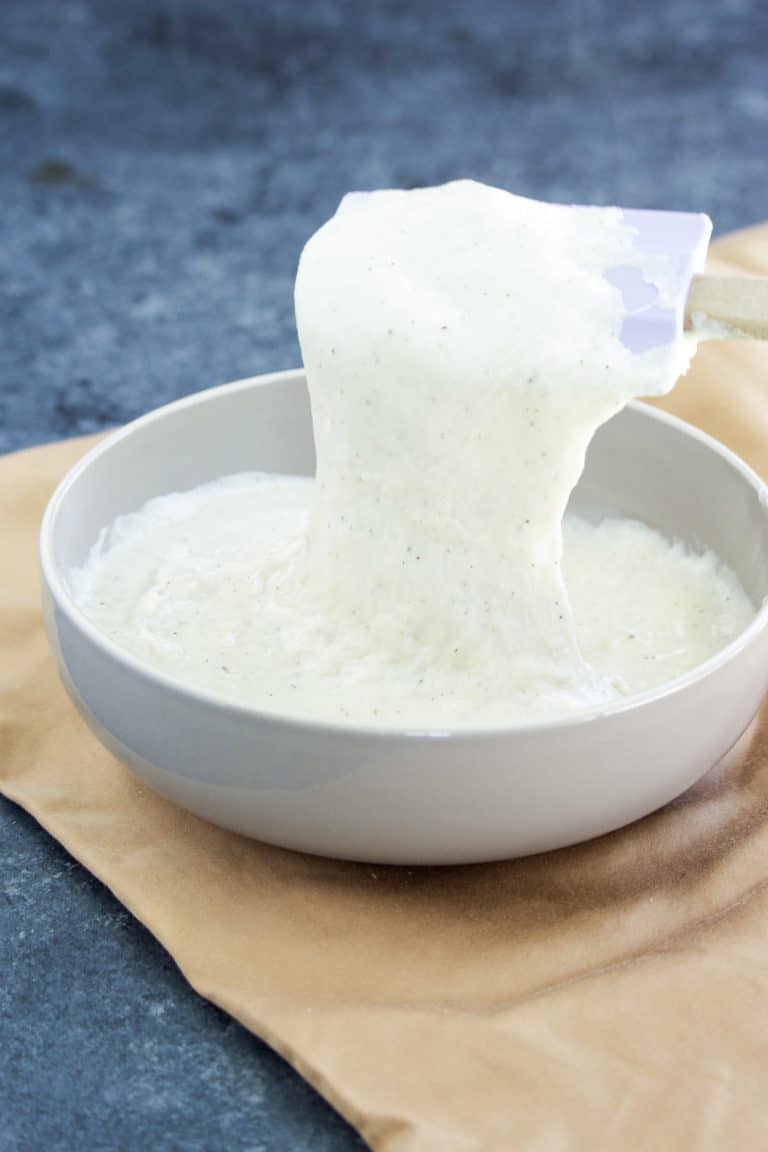 Vegan Mozzarella Cheese
After many failed cheese attempts, I found this cheese recipe from Flowers and Carrots. It's freakin' delicious!
It has a cheese-like consistency, it melts well, it's spreadable, it's exactly what I've been looking for! I would say that taste-wise it's similar to mozzarella cheese and it's perfect for easy vegan quesadillas, pizza, and veggie burgers.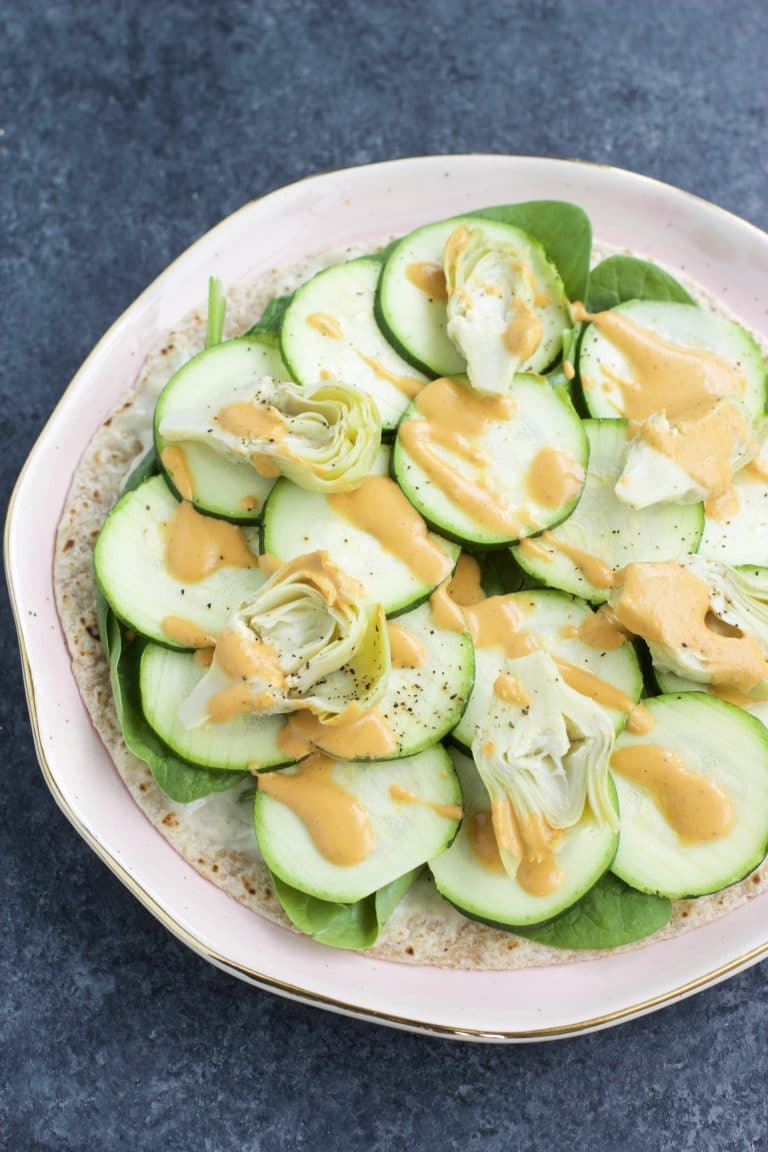 Easy Vegan Quesadillas
You only need a few ingredients to make the cheese for the easy vegan quesadillas. It's so easy, and it only takes 5 minutes to make the creamiest, cheesiest, tastiest vegan cheese you'll ever taste!
Tapioca flour (aka tapioca starch) is the ingredient that was missing from all of my other failed cheese attempts. Tapioca flour (this is the organic tapioca flour that I use) is made from the crushed pulp of the cassava root; it's gluten-free and often used as a thickener in recipes. It's what gives vegan cheese the stretchy factor!
When you blend the tapioca flour with blended cashews, garlic, and seasonings, you get the creamiest, gooey, vegan cheese ever! It's absolutely perfect for easy vegan quesadillas or pizza!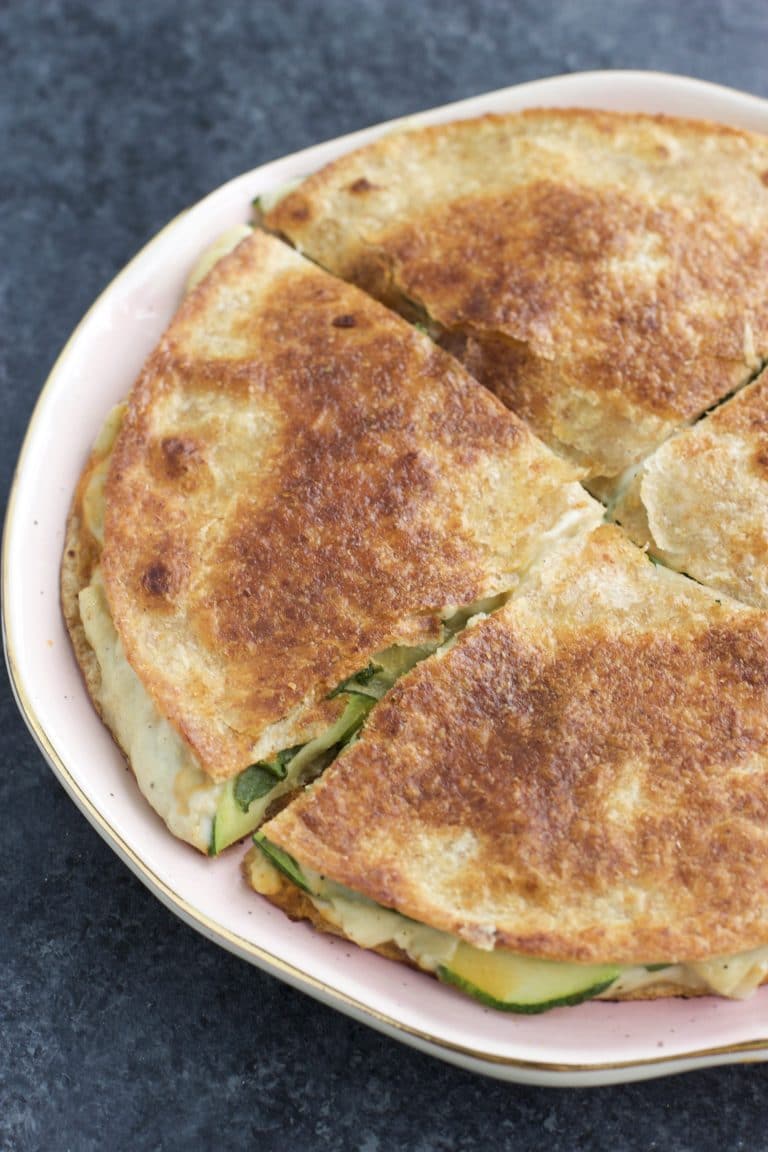 What Does Vegan Cheese Taste Like?
I swear you won't be able to tell the difference. If I hadn't made the quesadilla myself, I wouldn't have known it was made with vegan cheese. It's seriously delicious, it really tastes just like dairy cheese. It's so creamy!
I didn't tell my husband either. I just gave it to him and asked him what he thought about it after he ate it. He was shocked when I told him that the quesadilla was made with vegan cheese!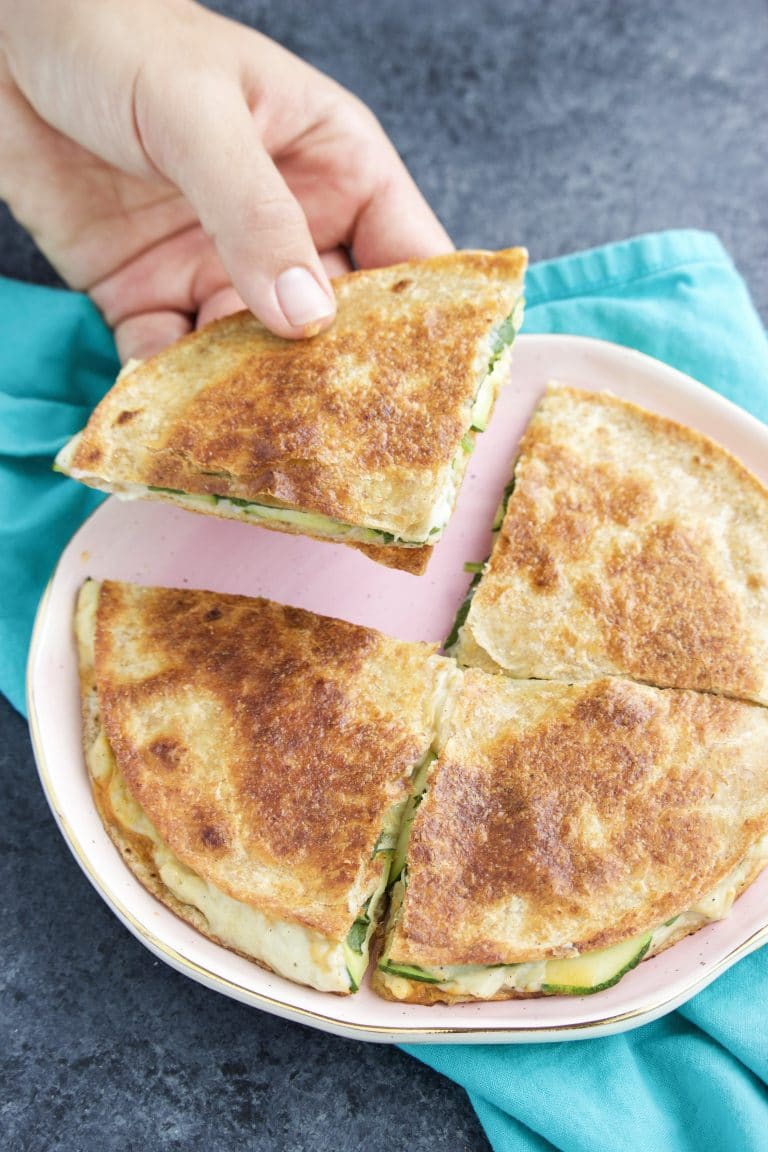 What Should You Put In The Quesadillas?
You could always make a cheese-only quesadilla but we prefer to load it with fresh veggies!
I like to use fresh spinach, thinly-sliced raw zucchini, and juicy artichoke hearts. Sometimes I throw in all the leftover veggies from our dinner the night before.
Last week, I made vegan crab cake burgers with spicy chipotle sauce for dinner. I had a little bit of the chipotle sauce leftover so Travis dunked his quesadilla slices in the chipotle sauce and I drizzled the last of it over my quesadilla. You could also use hot sauce, pesto sauce, teriyaki sauce, or whatever sauce you prefer.
More Vegan Cheese Recipes You'll Love!
Vegan Macaroni and Cheese (Without Butternut Squash)
Broccoli Stuffed Potatoes with Vegan Cheese Sauce
The Best Vegan Broccoli Cheese Soup
If you make these easy vegan quesadillas recipe, please share your picture on Instagram and tag @Stacey_Homemaker so I can see your delicious creation!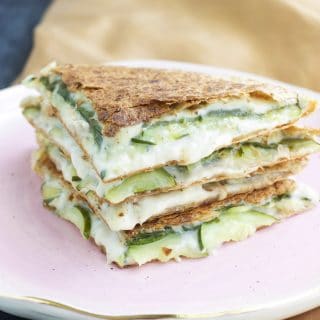 Cheesy Veggie-Loaded Easy Vegan Quesadillas
The BEST easy vegan quesadillas with loads of creamy cheese, zucchini slices, fresh spinach, and juicy artichoke hearts. These quesadillas will please everyone in the family! Vegan.
Print
Pin
Rate
Ingredients
Quesadilla Filling-
1

large zucchini,

thinly sliced

Spinach

(I used about one generous handful per quesadilla)

1

cup

artichoke hearts,

sliced in half

Optional - chipotle sauce, hot sauce, pesto sauce to drizzle in the quesadilla or for dipping.
Instructions
Get the recipe instructions how to make the cashew cheese

HERE

.

Once the cheese is prepared, start to assemble the quesadillas. Spread 2-3 tbsps on one of the tortillas, add a handful of spinach, zucchini slices (use a

small hand mandolin

to slice the zucchini thinly and evenly), and artichoke hearts. Spread 2-3 tbsps on a second tortilla and place it on top.

Put the quesadilla in a pan and saute it until browned and crispy on both sides, 3-4 minutes per side.

Slice and serve with dipping sauce of your choice.
Notes
Get the recipe for the vegan cheese, here.
The cheese recipe makes enough for three regular-sized quesadillas.
Make sure you use thinly-sliced zucchini so it cooks while you're sauteeing the quesadilla. I use a small hand mandolin to slice the zucchini so they're all the same size.
Get the recipe for the vegan chipotle sauce, here.