Read this Disney cruise review before you book your next Disney cruise! This review contains everything that you want to know about a Disney cruise on the Fantasy, from the restaurants and the ports to the best activities for adults, this guide covers everything!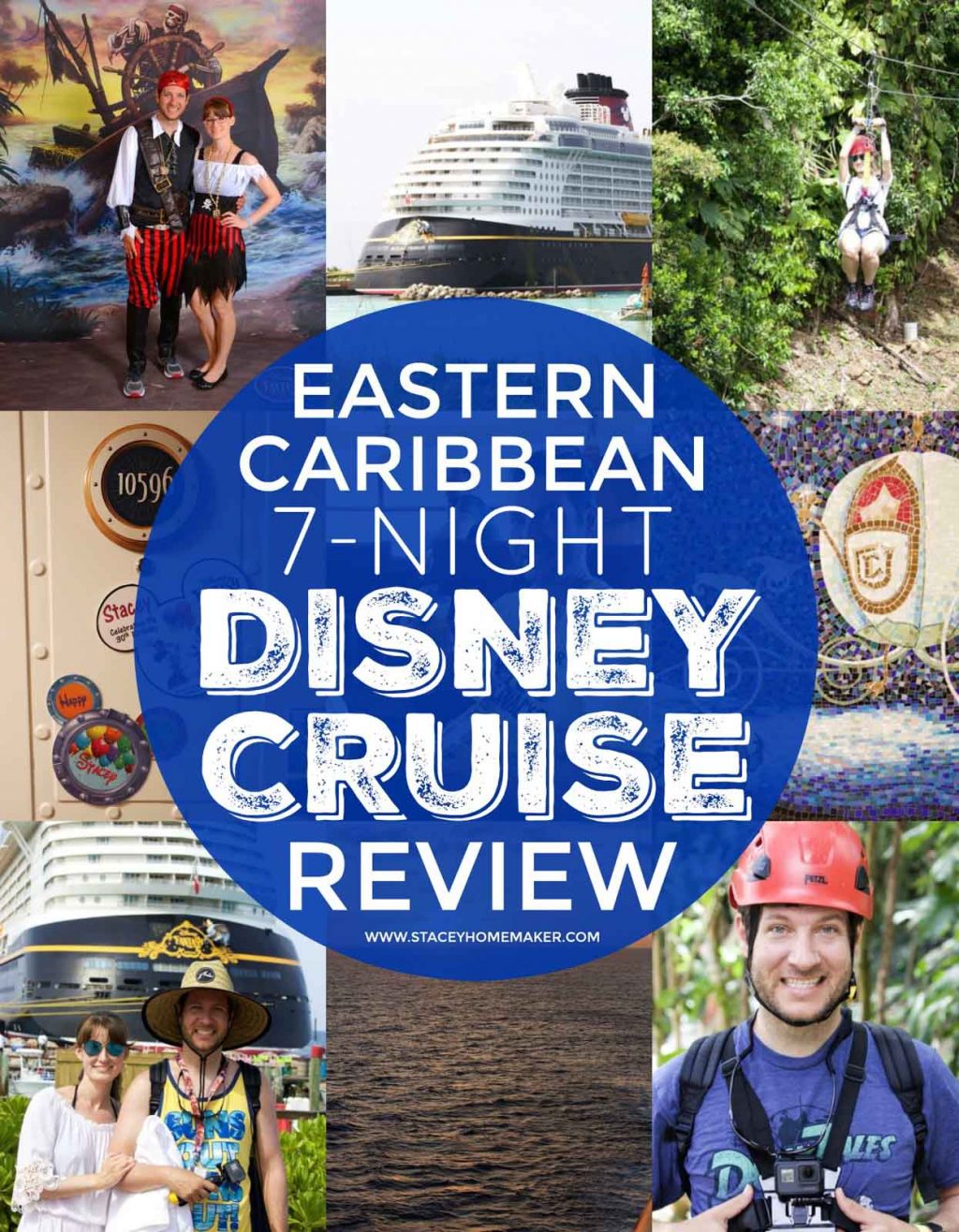 We just got back from our Disney cruise honeymoon, and I want to share all the magical details with you! I hope that reading this Disney cruise review of the Disney Fantasy will help you to pick the best Disney ship, the best ports, eat the most delicious food, and have the most incredible vacation on your next Disney cruise!
Disney Cruise Research
Let's start at the beginning with the research that we did to plan our honeymoon cruise...
We did a lot of research before we chose which ship we wanted to take for our honeymoon after our Cross Creek Ranch wedding (in February 2017).
We learned that the Disney Magic and Disney Wonder are the original, smaller sister ships. The Disney Fantasy and Disney Dream are the newest, bigger sister ships.
At this time (2017), the Disney Fantasy had a second adult pool area (Satellite Falls has since been added to the Disney Dream too) and, according to our friends, they preferred the layout of the adult-only area on the Disney Fantasy vs. the Disney Dream.
However, the biggest selling points to pick the Disney Fantasy over the Disney Dream was the length of the cruise and the itinerary. The Disney Fantasy offered week-long cruises, while the Disney Dream only had 3-4 night cruises.
What is the Best Disney Cruise Ship For Adults?
Due to the larger size of the ship and the adult-only sections compared to the smaller and older Disney Magic and Disney Wonder, we think that the Disney Fantasy is the best Disney cruise ship for adults. The Disney Fantasy edges out its very similar sister ship, the Disney Dream, because of the longer itineraries it offers.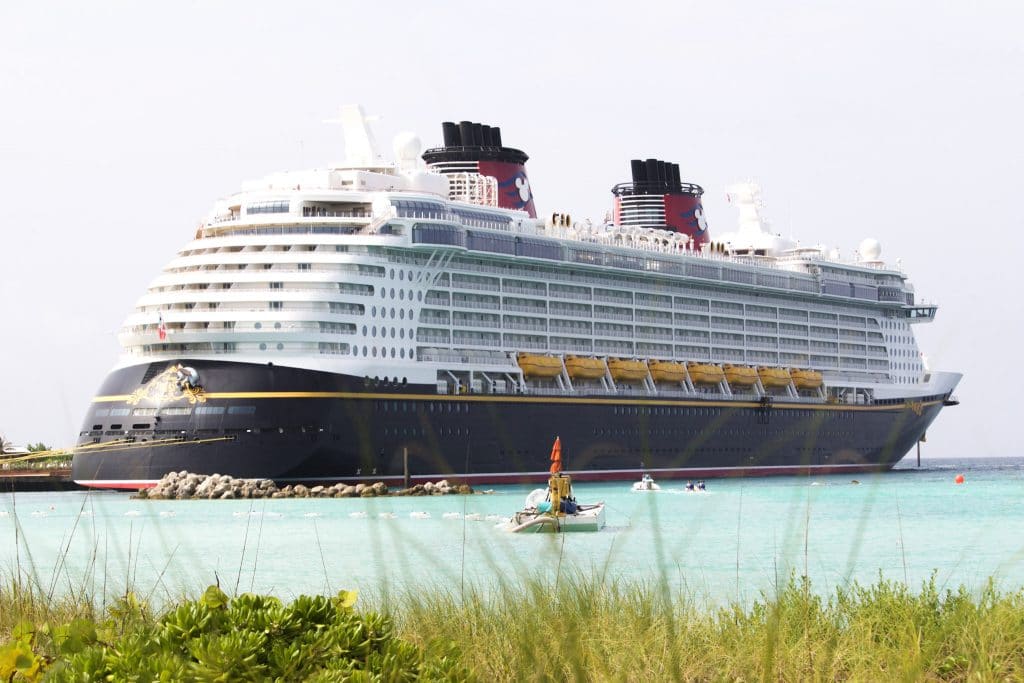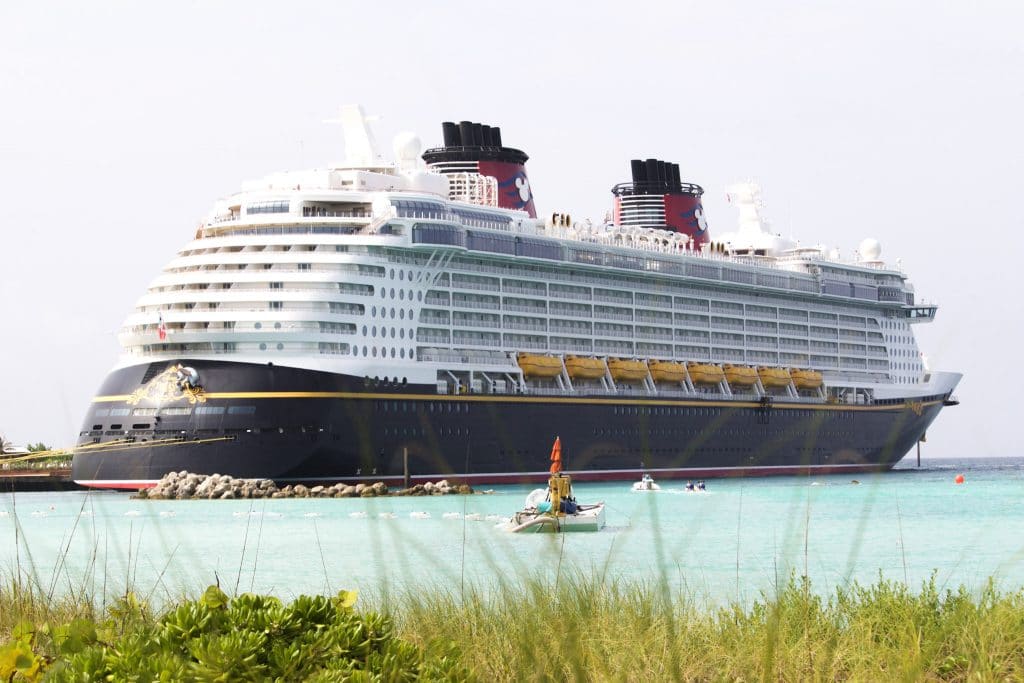 Once on board, we were very excited to find so many adult-only activities offered on the Disney Fantasy. We definitely made the right ship choice for us!
Want to see what adult-only activities are offered on a Disney cruise? Read this post, 11 Fun DCL Activites that Aren't for Kids!
Are There Any Adults Only Cruises?
As of October 2019, there are no adults-only Disney cruises. I wish! Maybe one day there will be, fingers crossed. I will say that we spent most of our time in the adults-only section so we really didn't see too many kids the whole cruise.
What is the Cheapest Month to Take a Disney Cruise?
The cheapest month to take a Disney cruise is September because it's peak hurricane season. If any storms coming off of Africa actually make it across the Atlantic ocean and develop into a hurricane, they have a higher chance to impact the islands that the Disney cruise ships usually visit.
We got married in February, so even though the prices are much cheaper in September, we didn't want to wait that long to go on our honeymoon. Also, we wanted to cruise during the summer so the water would be warm. May was the perfect month to cruise for what we wanted to do, but it wasn't cheap.
UPDATE - Since this Disney cruise review was written, we've been on two more Disney cruises, one during the first week of September because we got such a great Disney cruise deal!
Are Disney Cruises Cancelled Due to Hurricanes?
Guest safety is of the utmost importance to DCL. They will re-route a cruise, shorten a cruise, add days to a cruise so they can sail around a storm, or cancel a cruise completely if it's not safe to sail due to a hurricane in the area.
However, it's very rare that DCL will cancel a cruise completely. In my opinion, the risk of a hurricane possibly occurring during your cruise is worth the hefty discount you get.
How Much Does a Disney Cruise Cost?
Depending on when you sail during the year and what type of stateroom you book, it will determine how much your Disney cruise costs. Our 7-night eastern Caribbean Disney cruise honeymoon in a verandah stateroom (in May 2017) cost around 5K. Keep in mind, you can almost cut that price in half by sailing during peak hurricane season due to the high risk.
Are There Any Disney Cruise Deals?
You can get Disney cruise deals if you're a Florida resident, Canadian resident, or if you served in the military. You can see Disney cruise packages special offers, here.
You can also get a 10% discount for your next Disney cruise by booking a placeholder while you're still on board a Disney cruise.
What to do Before Boarding the Disney Fantasy
Join a free Disney Cruising Facebook Group so you can ask questions and learn from other experienced cruisers.
Read other Disney cruise reviews to help you decide which ship, itinerary, and excursions are right for you.
Book your free character call through the Disney Cruise Line website.
Watch

Youtube videos

of other people on Disney cruises so you can see what it's like and get even more excited about your upcoming cruise!
Extensively research the ports that you'll be visiting on your cruise before booking any excursions.
Book all excursions, restaurant reservations, and activity reservations ASAP. The window to book closes three days prior to your sailing, so make sure you do it before then. If you wait until the cruise to book something, go directly to Guest Services on Deck 3 when you board the ship to see what's available.
Pack the week before your cruise so you can "live" out of your suitcase and make sure that you packed everything that you'll need for the cruise. Use this FREE Printable Disney Cruise Packing List to help you pack for your cruise!
7-Night Eastern Caribbean Disney Cruise Review on the Disney Fantasy
All of our planning and research paid off because we had the best time on our Disney cruise honeymoon on the Disney Fantasy. I hope that you find all of the information in this Disney cruise review to be helpful in planning your next Disney cruise!
Disney Cruise Itinerary
Day 1 - Board the Fantasy in Port Canaveral + explore the ship + Dinner at Animators Palate
Day 2 - Day at Sea + Palo Brunch + Formal Night + Dinner at Enchanted Garden
Day 3 - Day at Sea + Dinner at Royal Court
Day 4 - St. Thomas, US Virgin Islands - Zip Lining + Pirate Night + Dinner at Animators Palate
Day 5 - San Juan, Puerto Rico + Dinner at Enchanted Garden
Day 6 - Day at Sea + Dinner at Palo
Day 7 - Castaway Cay + Dinner at Animators Palate
Day 8 - Breakfast/Disembark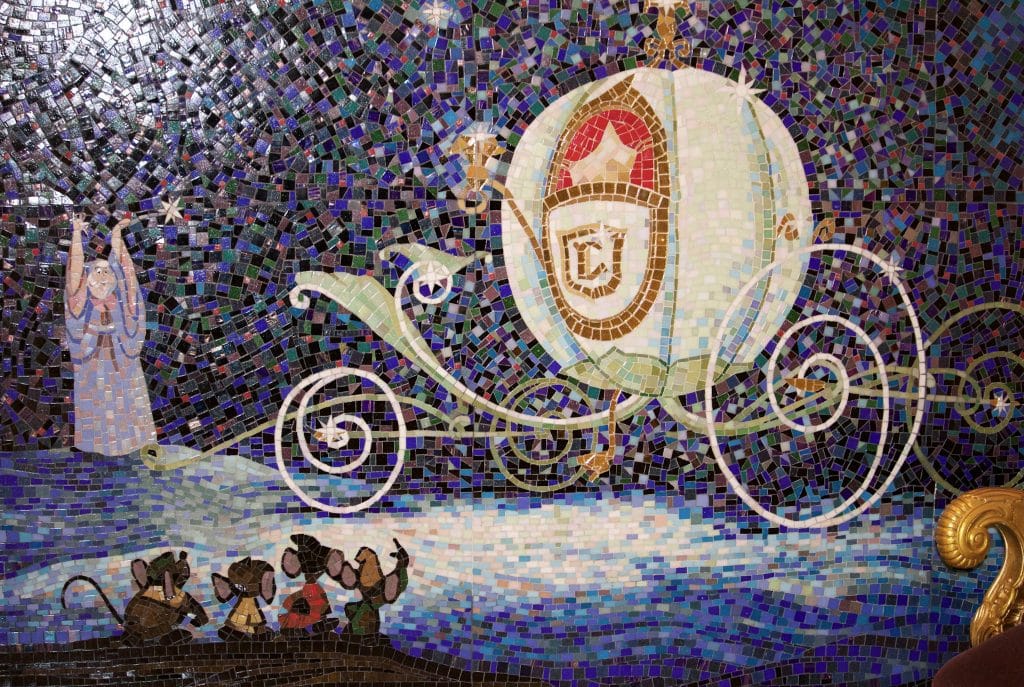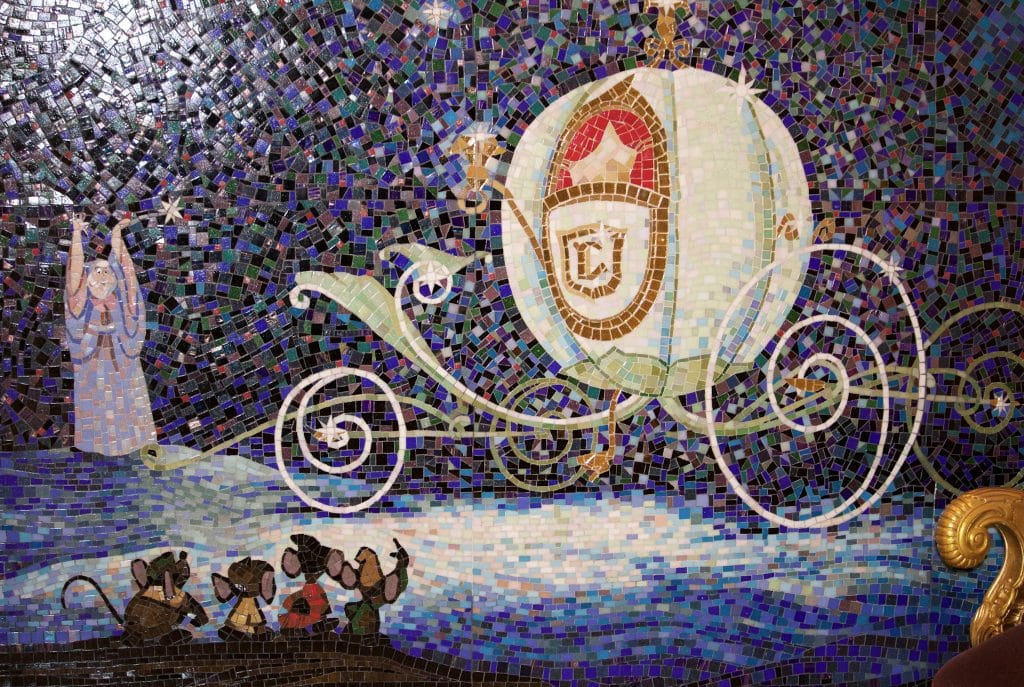 What to do When You First Board the Disney Cruise
Have your video or phone ready when you board the ship because they will announce your family name as you walk onto the ship. It's so cool!
Download the Disney Cruise Line Navigator app on your phone and set your phone to airplane mode so you can use the app while at sea without using the internet.
If you couldn't get reservations for Palo brunch or Palo dinner online, go directly to guest services and get on the waiting list.
Head to Cabanas on Deck 11 or Enchanted Garden on Deck 2 to get lunch.
Grab a drink of the day or specialty coffee (at Cove Cafe) on Deck 12, change into your swimsuit, and head to the adult pool!
Check your Key to the World Card (KTTWC) for where you need to go for the muster drill. Your attendance is mandatory so make sure you don't miss it, they will scan your card at the entrance.
Enjoy the Sail Away Party and watch the ship leave Port Canaveral from the railing on Deck 12.
Check the app to see if there is a walking tour of the ship offered. If there is, go explore the ship! It's beautiful!
Go to your room, unpack, decorate your stateroom door with magnets, and get ready for dinner.
Sign up for the free 50 megabytes that come with the Internet in the Sea Connect package.
Take the Ship Tour & Explore the Ship
As soon as you board, check the Personal Navigator (app or paper) and check if there is a walking tour of the ship offered that day, (there usually is a tour on the first day).
The Disney Fantasy is really beautiful (inside and out!) and it helps to have a tour guide show you the ins and outs of the ship + lots of tips and cool features that I probably wouldn't have known about otherwise! Had I not done the tour, I never would have noticed all of the hidden Mickey's everywhere...you have to try to find them all!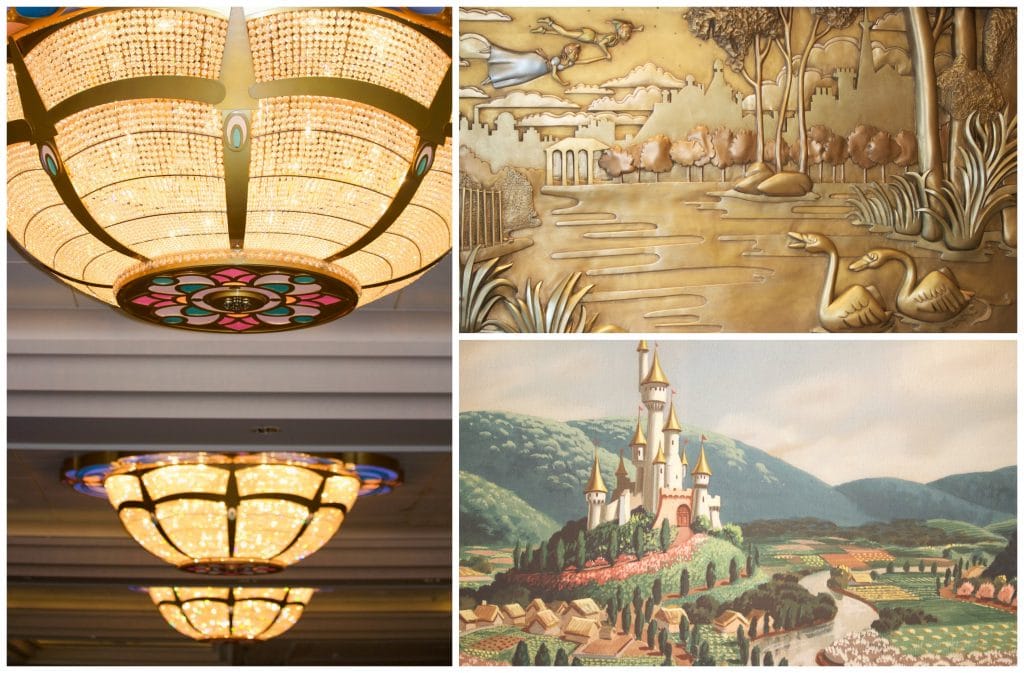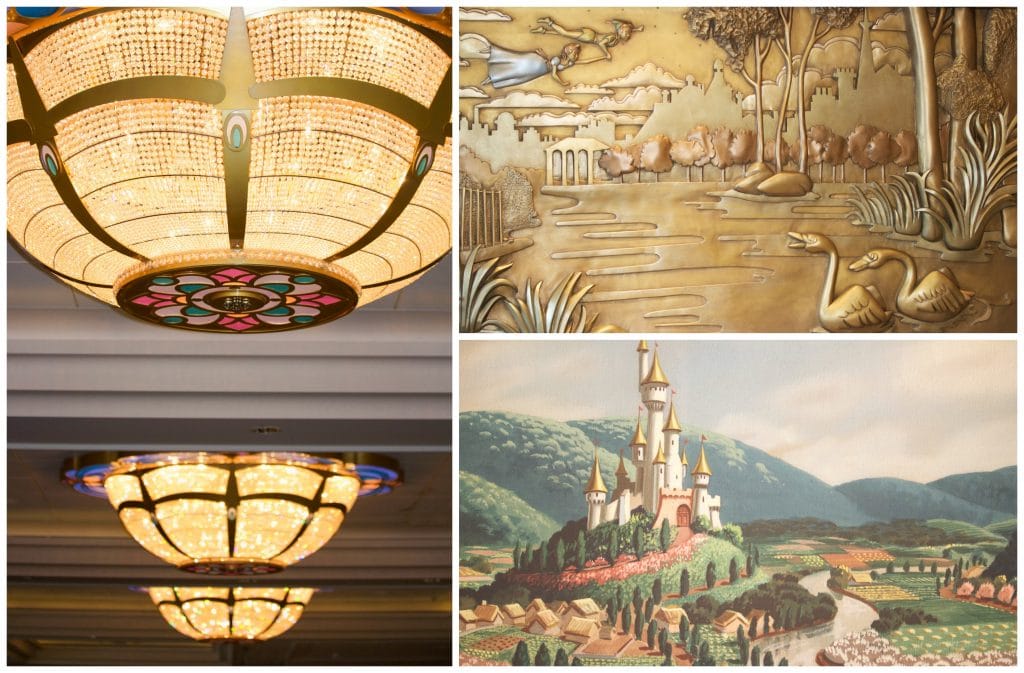 Find Your Stateroom & Unpack
Our deluxe stateroom with verandah (#8552) was on Deck 8 mid-ship on the Starboard side of the Disney Fantasy.
On the first day, completely unpack and store your suitcases under the bed so they'll be out of the way. The super-comfortable queen bed is raised up 13 inches above the ground to accommodate even the biggest suitcases.
Our stateroom had a safe, couch, desk, coffee table, two closets, plus loads of drawers and cabinets to store everything. There's also a TV in each stateroom. We loved that the TV screen haad our names on it welcoming us to our honeymoon!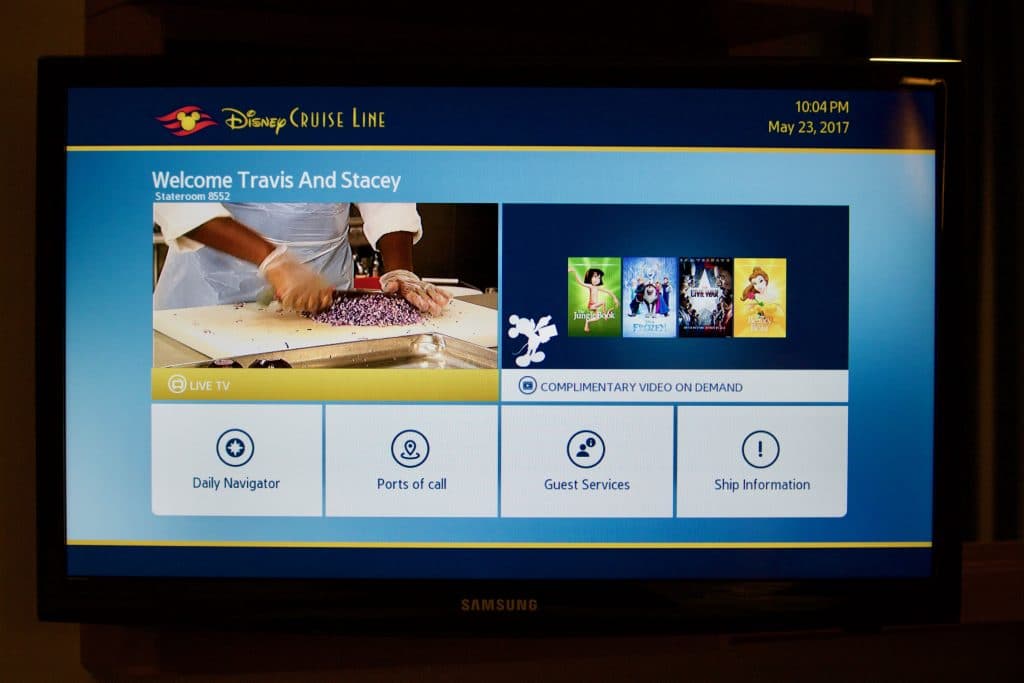 I love that Disney cruise staterooms have a split bathroom layout. That means that each room has one bathroom with a shower, sink and mirror and a second bathroom with a toilet, sink, and mirror. This setup made it so convenient for Travis and I to both get ready at the same time!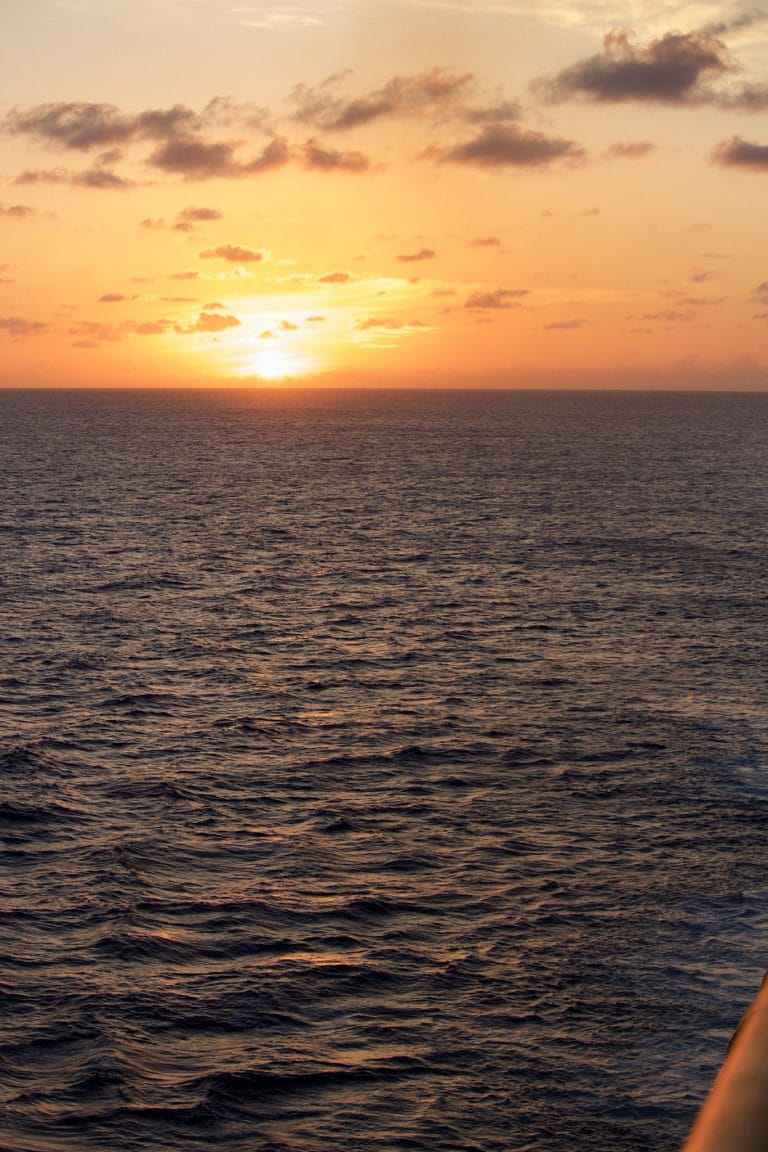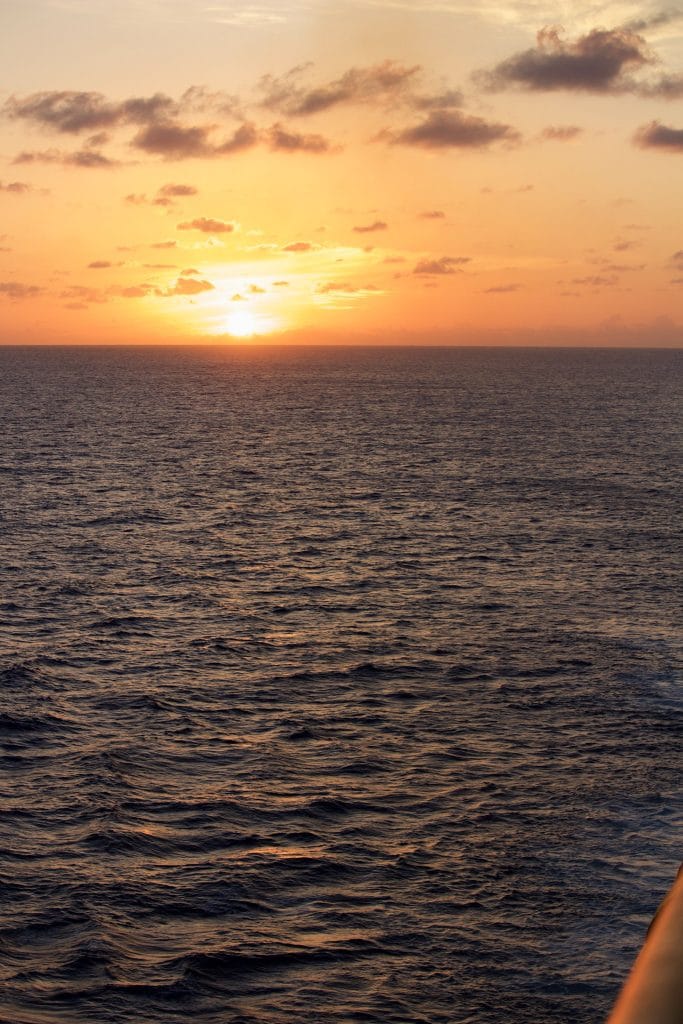 The verandah was my favorite part of the room. We loved sitting out there every morning while drinking coffee, and at night after dinner to watch the sunset. At night, the ocean view of the moonlight reflecting on the water was mesmerizing to watch. I didn't realize how much I loved the ocean until I saw it like this.
If you can swing it, I highly recommend booking a verandah stateroom!
Is Food Free on a Disney Cruise?
Most of the food is "free" on a Disney cruise because you already paid for it with the price of your cruise. However, dining at Palo or Remy, and treats from Sweet on You or a pineapple dole whip are an additional charge.
All of the food that we enjoyed on the cruise was amazing! We dined at Cabanas, Royal Court, Enchanted Garden, Animator's Palate, and Palo! We enjoyed the rotational dining at the MDR restaurants. All three restaurants were so unique but the Royal Court stole my heart!
There are detailed tile mosaics of each Disney princess on all of the walls in the restaurant, I've never seen anything so beautiful! The Royal Court is Cinderella-themed with carriage bread baskets, gold napkins, and crowns engraved on the back of each chair. The details are next level!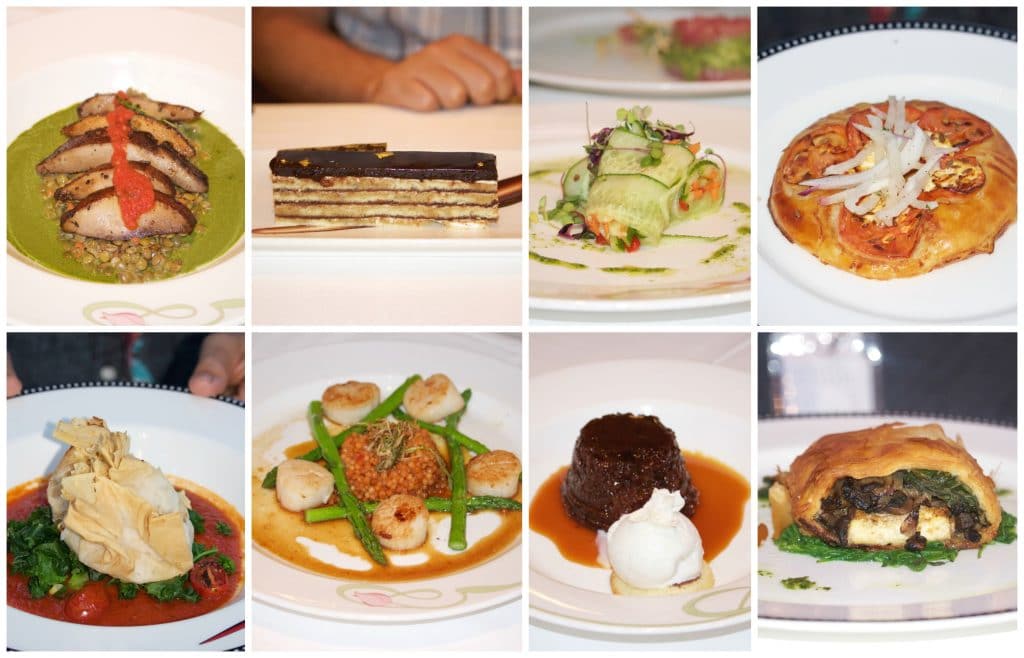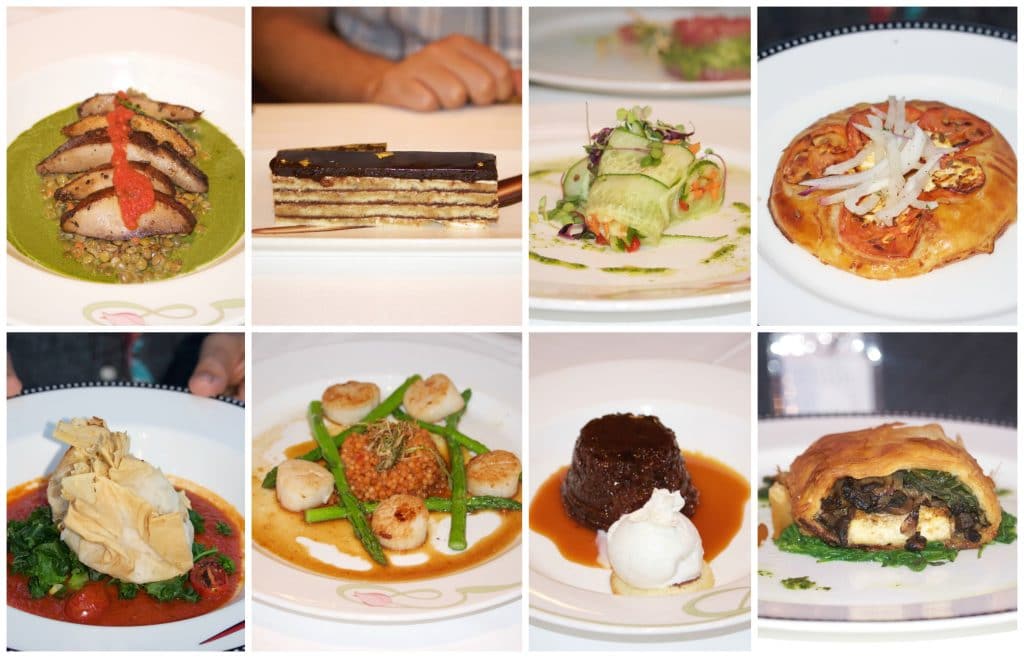 I was extremely impressed with the quality of the food, the flavors, the variety, and the presentation of each dish. I was able to order a different vegetarian dish every single night with no issues. Disney takes dietary food preferences and allergies very seriously.
Want More Information About the Food on a Disney Cruise? Read These Posts!
Disney Cruise Entertainment & Activities
There's so much to do on the ship. We were going, going, going every day and we still couldn't pack everything into 7 nights. I know it's tempting to try to do everything, but try not to pack too much in, this is a vacation after all and you should be relaxing.
Broadway Shows - Aladdin was incredible!
Disney Trivia - The questions are really hard but it's fun to do + they give out awesome prizes to the winners!
Comedy Shows - Match your Mate was our favorite show, the hostess was hilarious!
Magic Act
Craft Class
Mixology Class - This was Travis' favorite class + it's a great value for the number of drinks you get to try!
Tequila Tasting
Martini Tasting - We enjoyed this tasting too but it was our least favorite of the three classes we went to.
Cooking Class
Senses Spa
Pin Trading Night - Bring at least 10 trading pins with you and arrive early. You will find a few cast members to trade with during the cruise (mostly in the gift shops) but most of the trading will take place on this night.
Diaper Dash - All the babies who can't walk yet, line up and race/crawl their way to the finish line. The babies are so adorable and it's fun to watch and cheer on your favorite baby!
Shopping - There are multiple Disney gift shops + a Tiffany's jewelry store onboard the Disney Fantasy to shop at. Remember, the gift shops are not open when the ship is in port, so plan accordingly if you want to shop!
Movie Theater - There are movies playing constantly at the Buena Vista Theater, Walt Disney Theatre on Deck 3, and Funnel Vision on Deck 11. You can also see new movie premieres at sea! We were lucky enough to see the brand new Pirates of the Caribbean movie at midnight on premiere night.
Adult Pool + Aquaduck - We relaxed by the adult pool a few times and we also went on the Aquaduck, it was awesome! The wait is usually around 30 minutes unless you get there really early or late in the day.
Pirate night + Fireworks at Sea
Disney Cruise Excursions at Eastern Caribbean Ports
On our 7-night eastern Caribbean cruise, we visited 3 ports: St. Thomas, Puerto Rico, and Castaway Cay. Originally, we were supposed to visit Tortola, but our itinerary was changed to Puerto Rico instead due to mechanical issues that the ship had on the first day of our cruise.
Port #1 - St. Thomas, US Virgin Islands
St. Thomas was the first port of our Disney cruise. This is the beautiful view that we woke up to on Tuesday morning! It was a little foggy so it really doesn't even do it justice, the color of the water was a stunning aqua.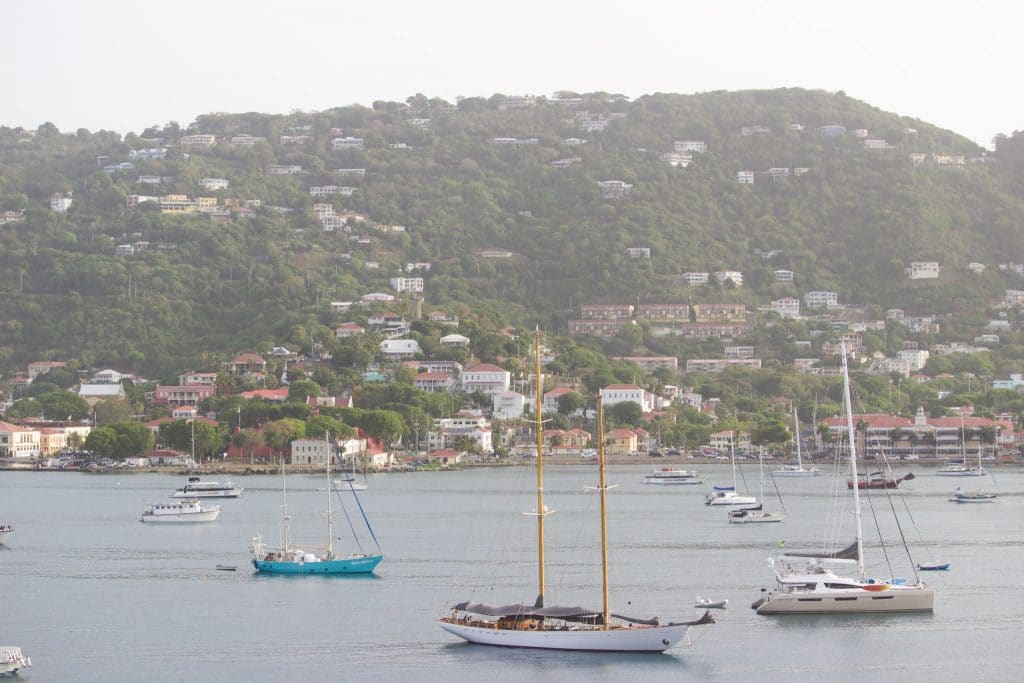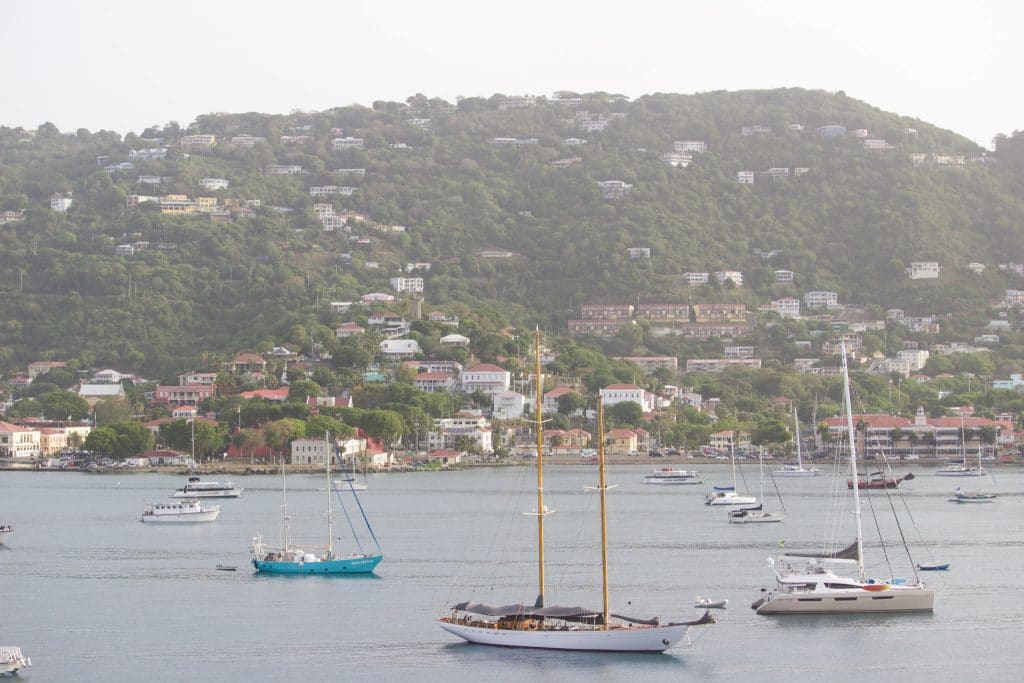 Disclaimer - Tree Limin Extreme Zip Lining gave us two free tickets to go zip lining at their establishment in exchange for my honest opinion. All opinions are my own.
We decided to go zip lining at Tree Limin Extreme Zip Lining because Travis really wanted to do an exciting excursion.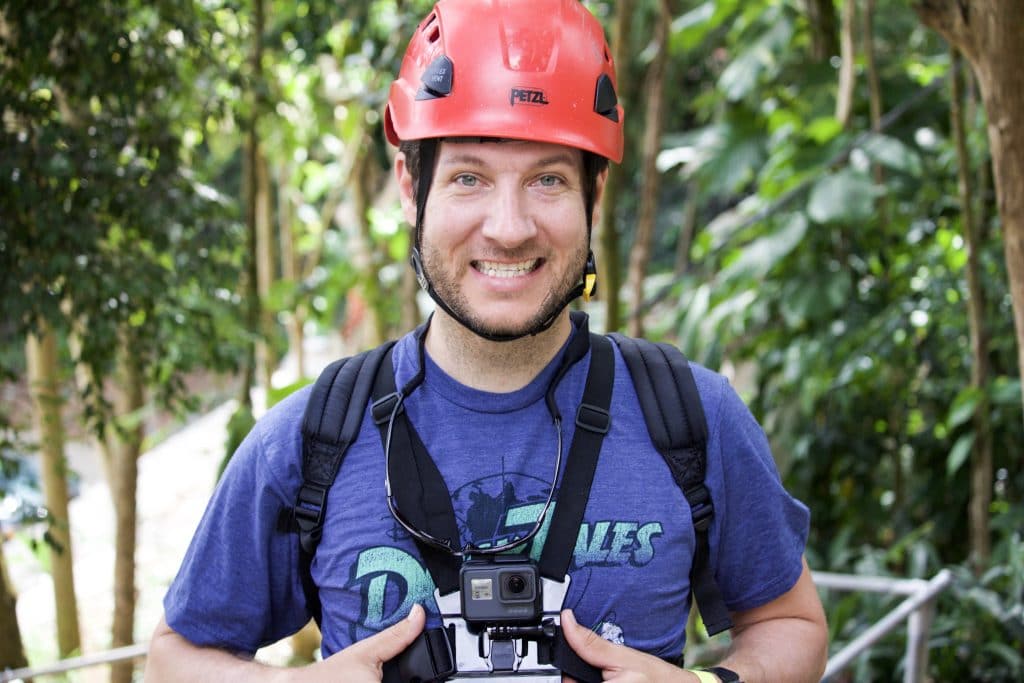 I did lots of research and found Tree Limin to be highly rated with tons of positive reviews. They're extremely focused on safety, which was really important to me. I was a little leery at first, okay, I was really scared to go zip lining. I don't want to have any regrets though, so I pushed through my fears and went for it. It was amazing! I'm so glad that I did it.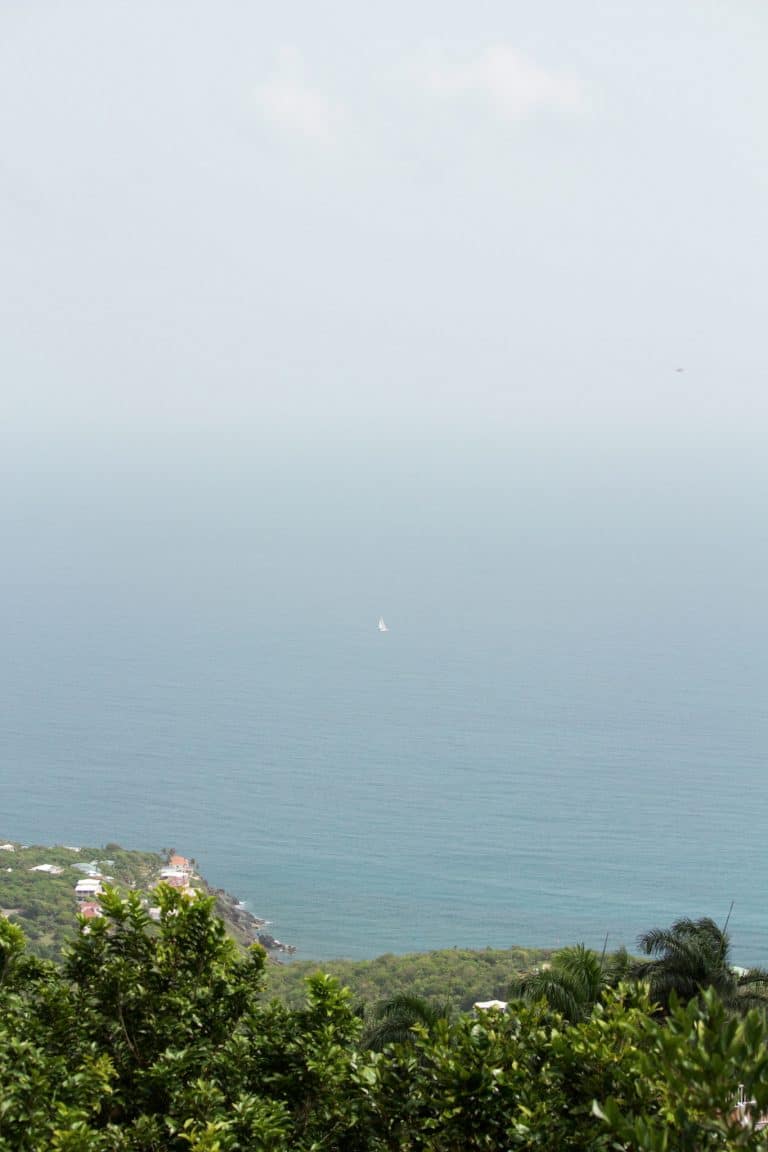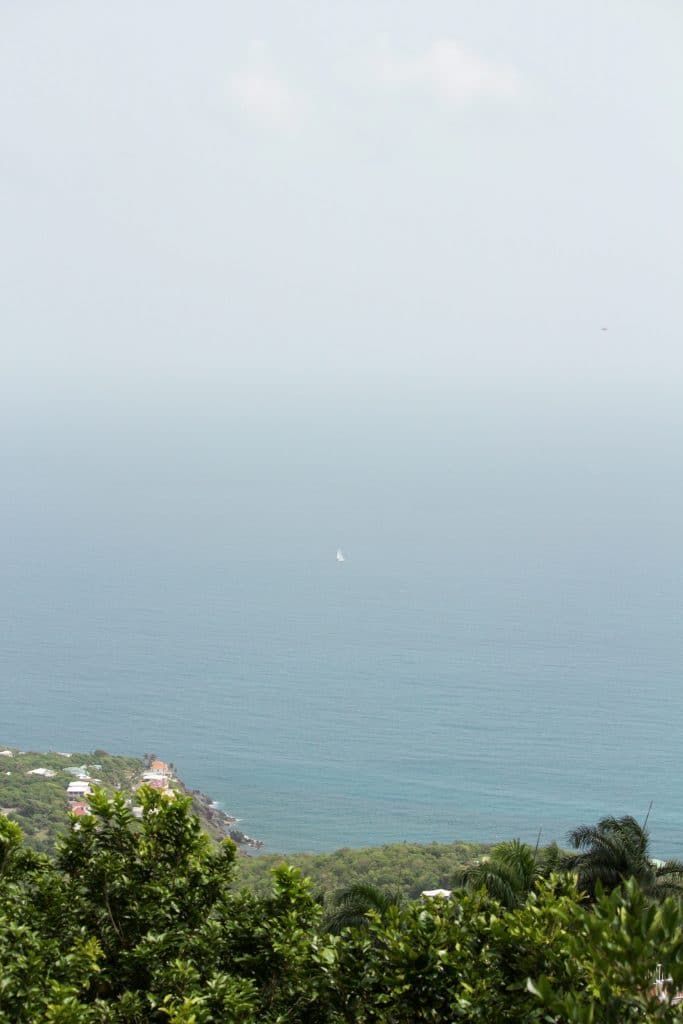 At the course, there are six zip lines, two sky bridges, and acres of jungle to zip through! The views from the zip lining stands are jaw-dropping. I took so many gorgeous pictures from the platforms!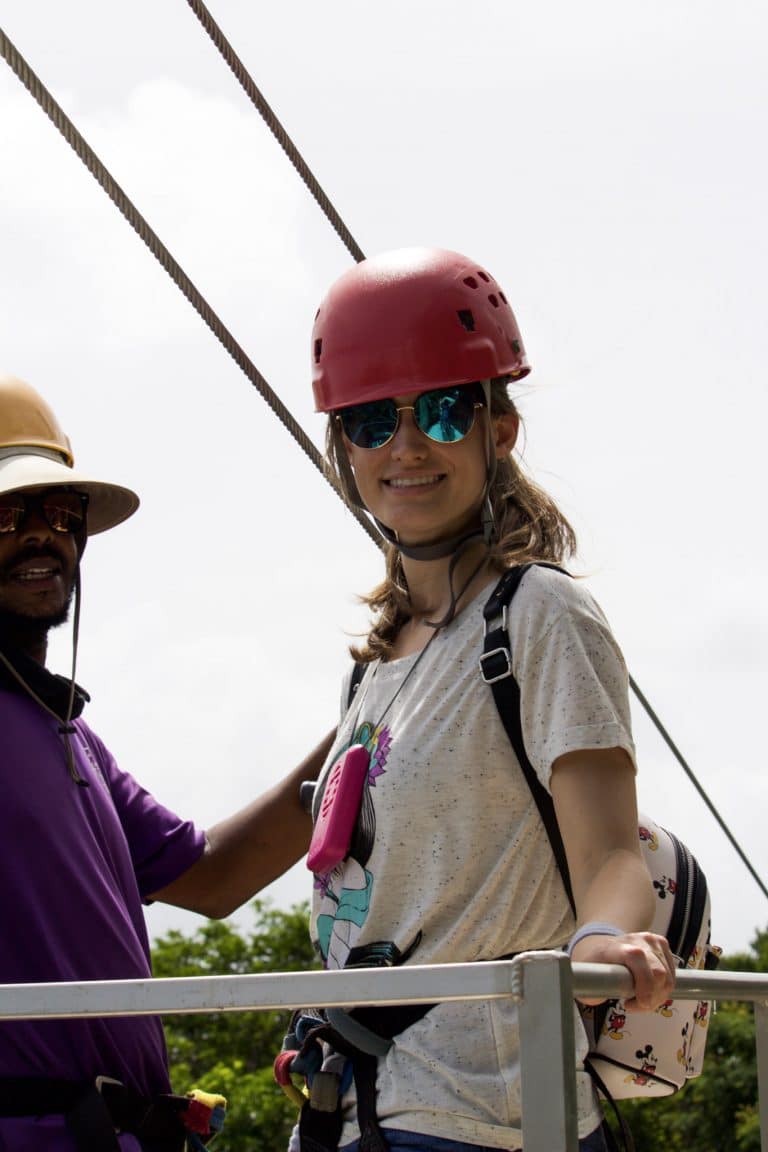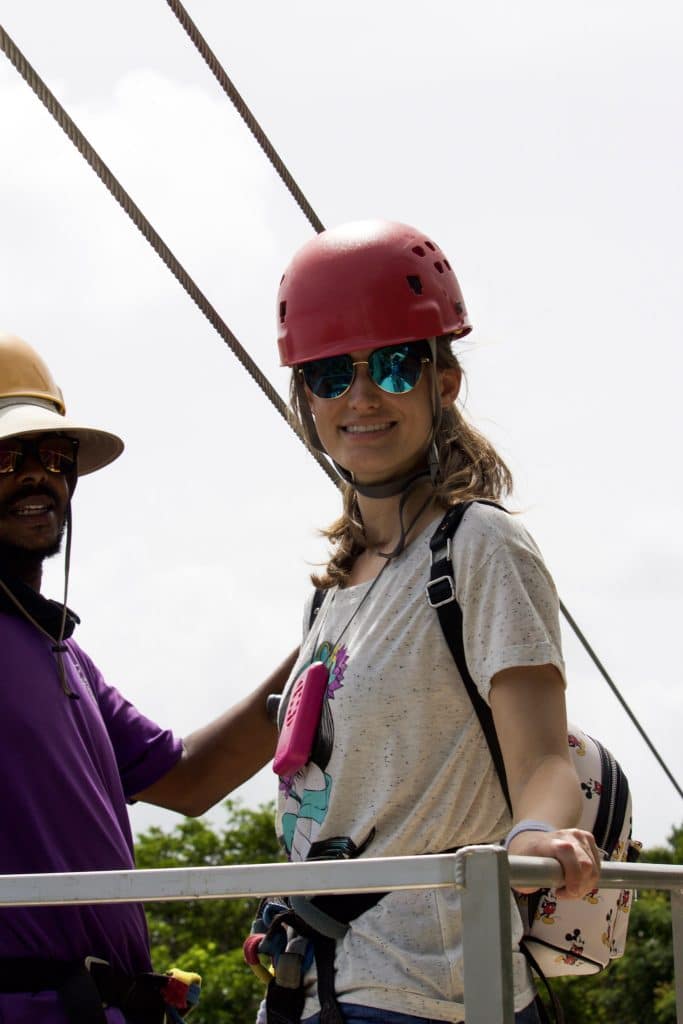 When we first arrived at Tree Limin, we were instantly greeted by Eddie and the rest of the friendly staff. They gave us a quick rundown about what was going to happen, we signed electronic waivers, went to the bathroom one last time (you do not want to have to pee when you're at the top of one of the platforms), and got suited up in a very secure harness and helmet.
We headed up the steps to a very thorough safety session with two of the employees and then up we climbed to the first zip line. I was extremely impressed with the amount of care and time each employee took with us. They counted off and checked each of our safety buckles to make sure we were safe and ready to go.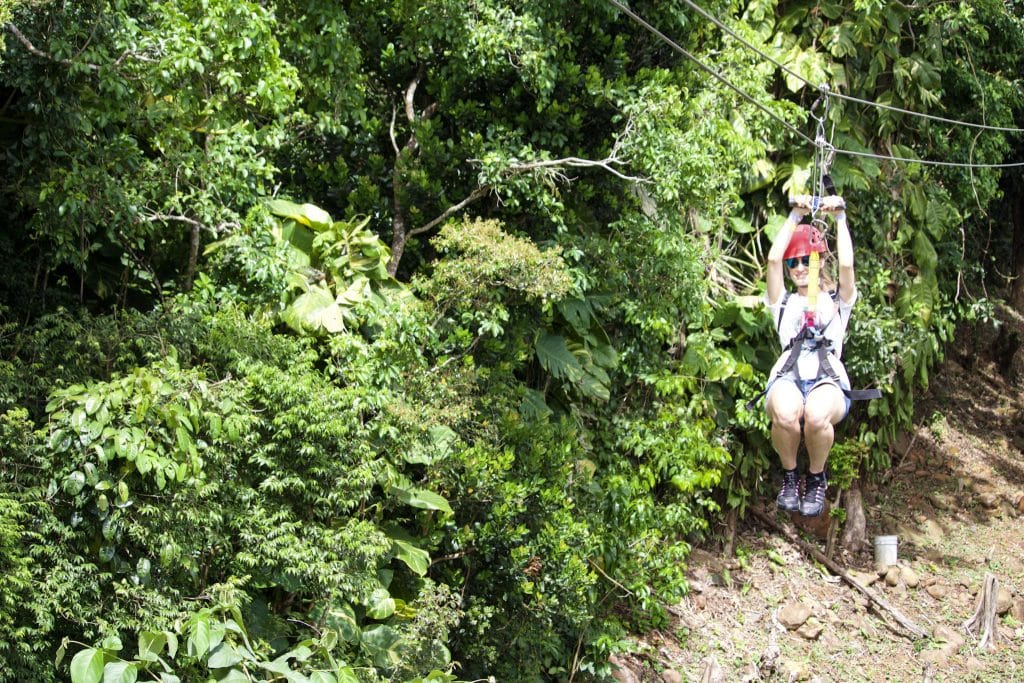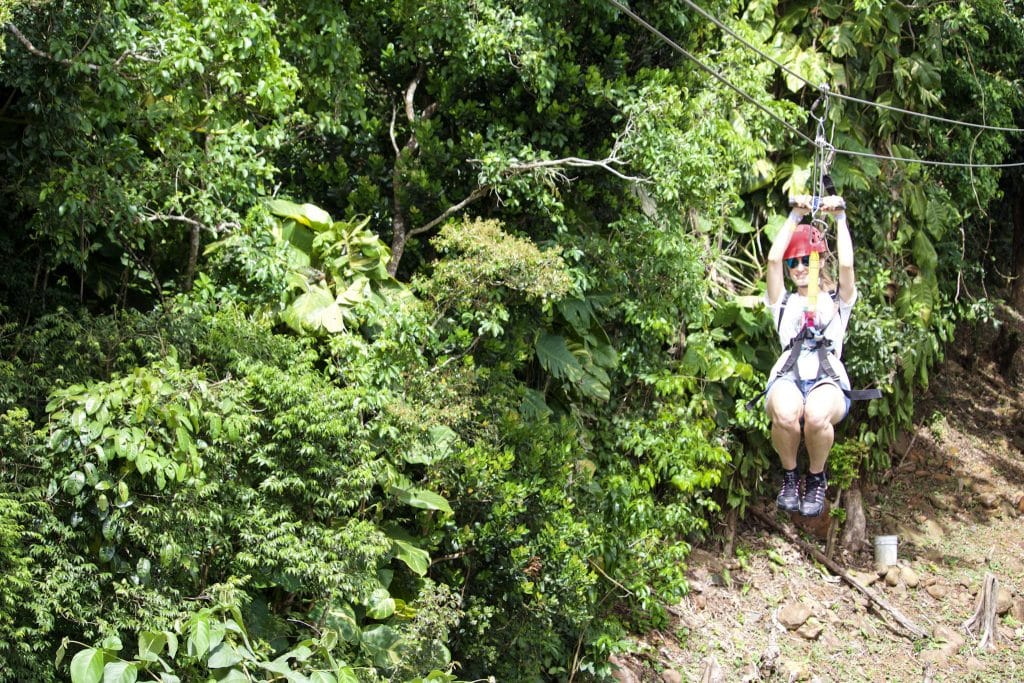 Everyone was so friendly and I think they could tell I was nervous so their jokes really helped me to relax and enjoy the first jump. After the first jump, it was a breeze! I relaxed and enjoyed the scenery flying by me.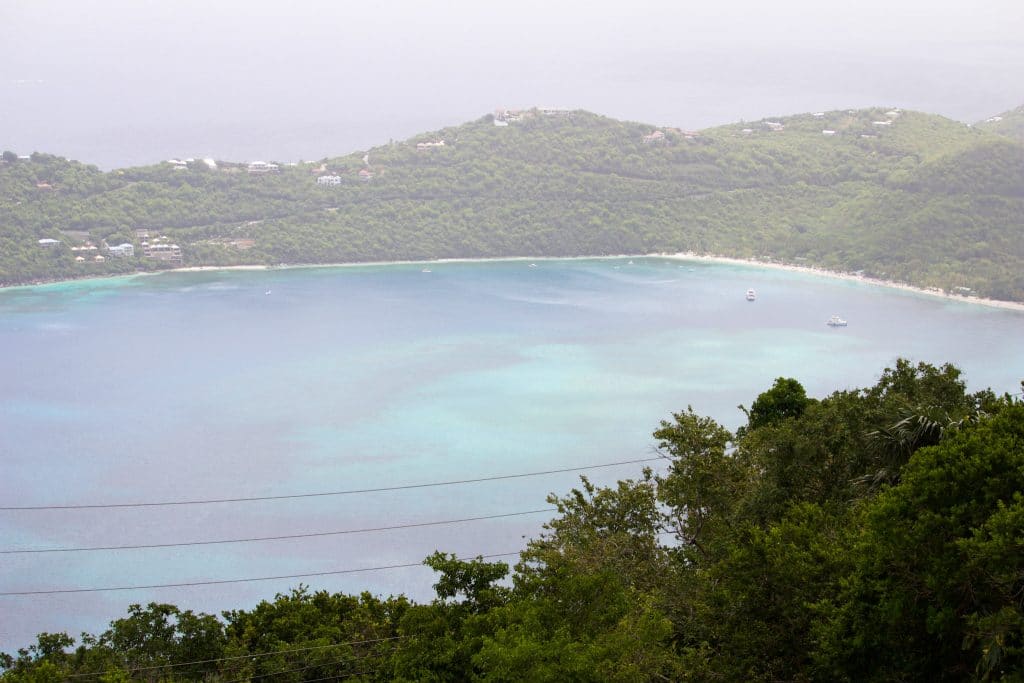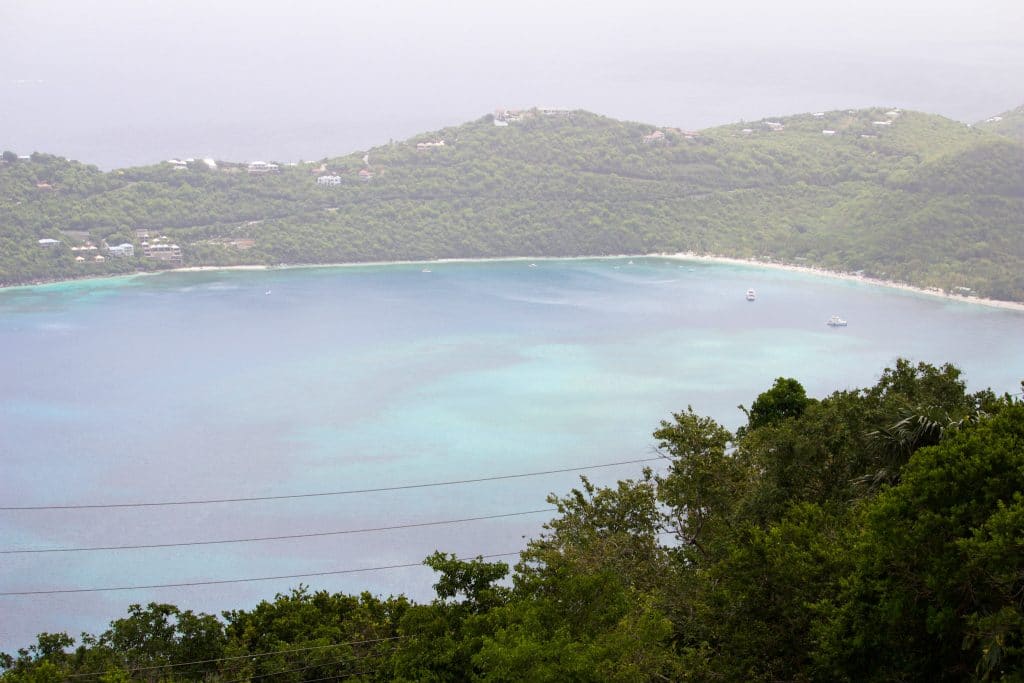 All of the employees (especially Ely) at each stop were so friendly and professional. We really enjoyed talking to each of them as they unhooked us and hooked us up to the next line.
We felt very safe the whole time we were zip-lining and I really appreciated that they have two lines that you're attached to instead of just one, like many other zip lining places. I'll take all the safety backups that I can get!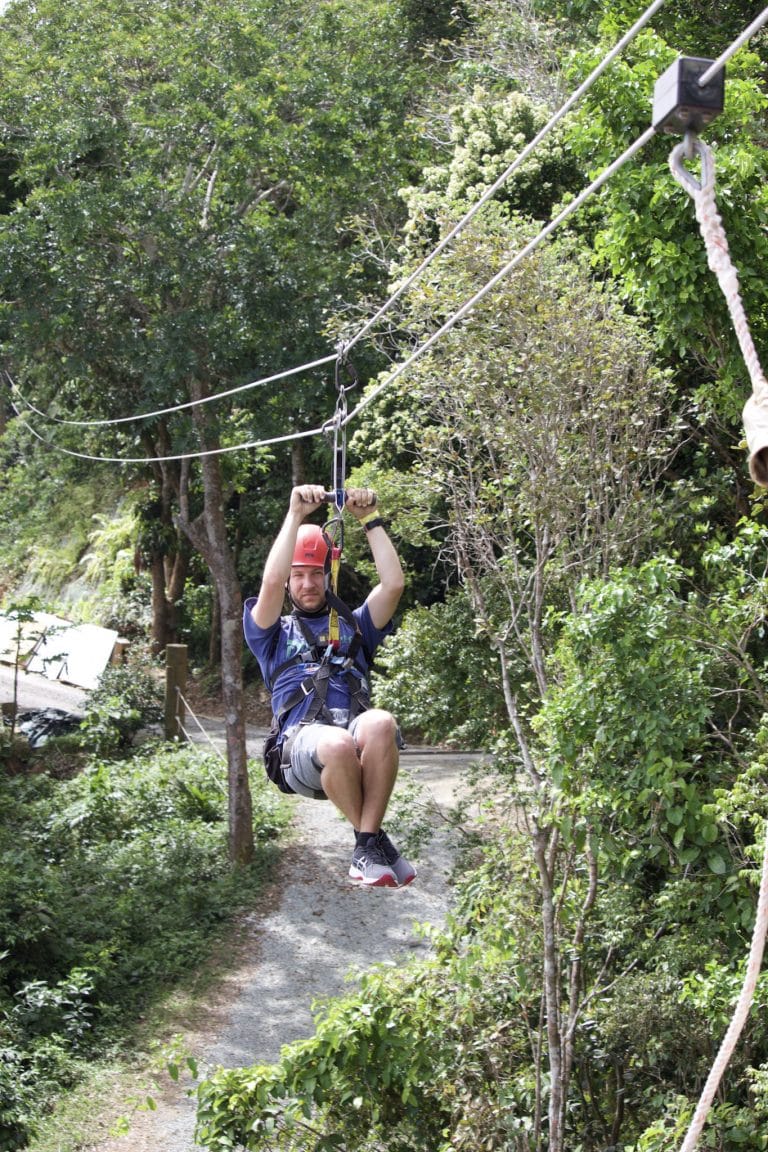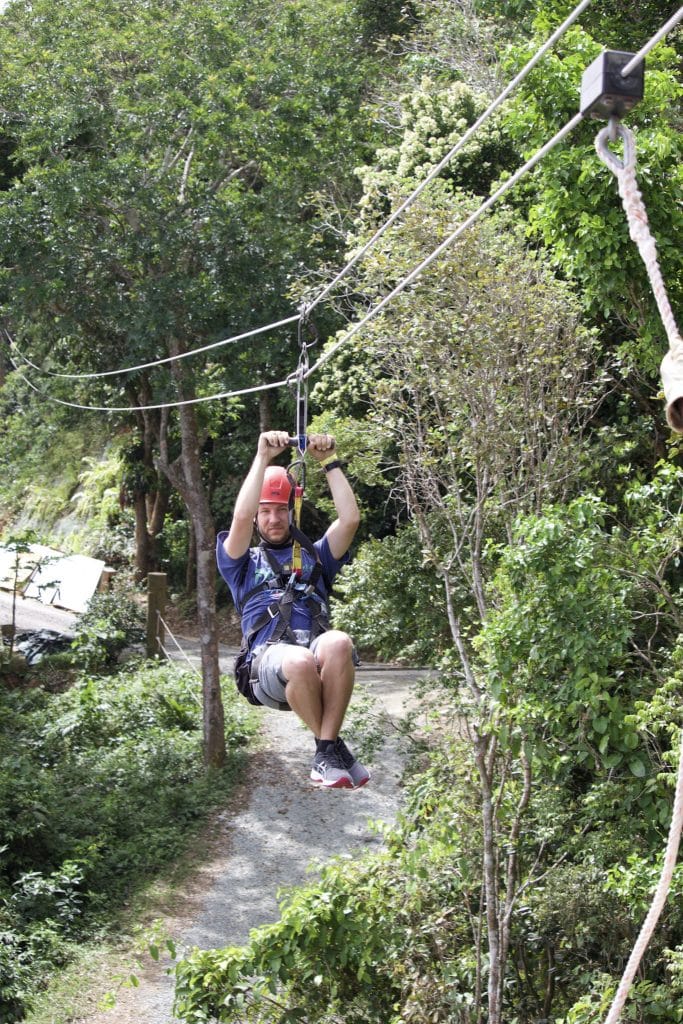 The last zip line was my favorite! You have to climb up a few flights before you jump off the platform, so you go down before you swing out. It was really exhilarating!
Overall, we had a great time, it was a fantastic adventure that we'll both remember forever! If you're interested in zip-lining in St. Thomas, I highly recommend Tree Limin Extreme Zip Lining.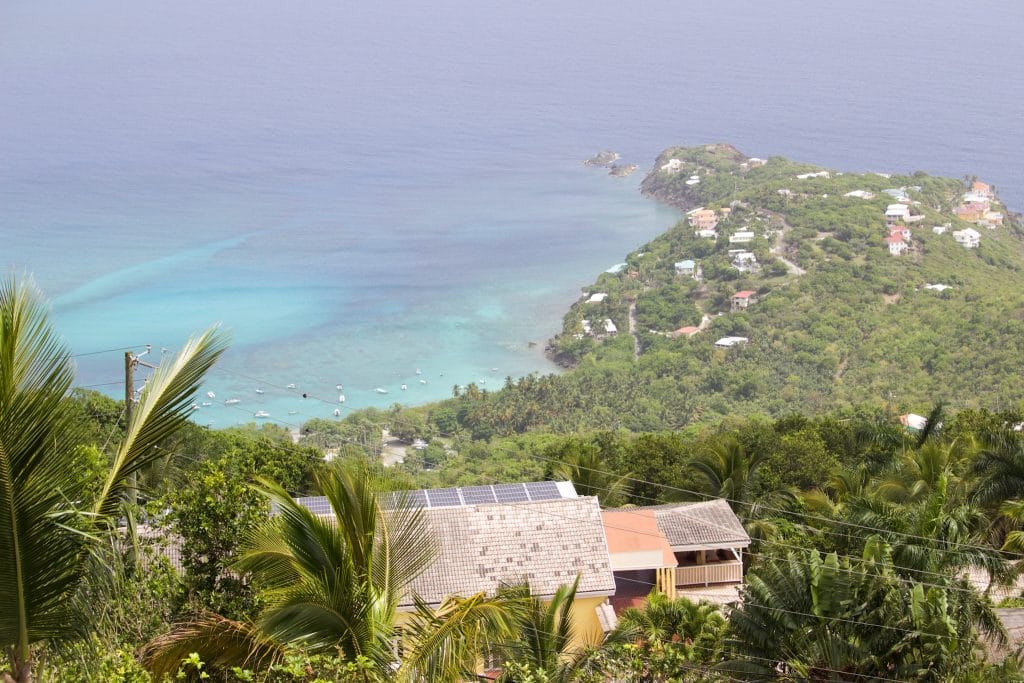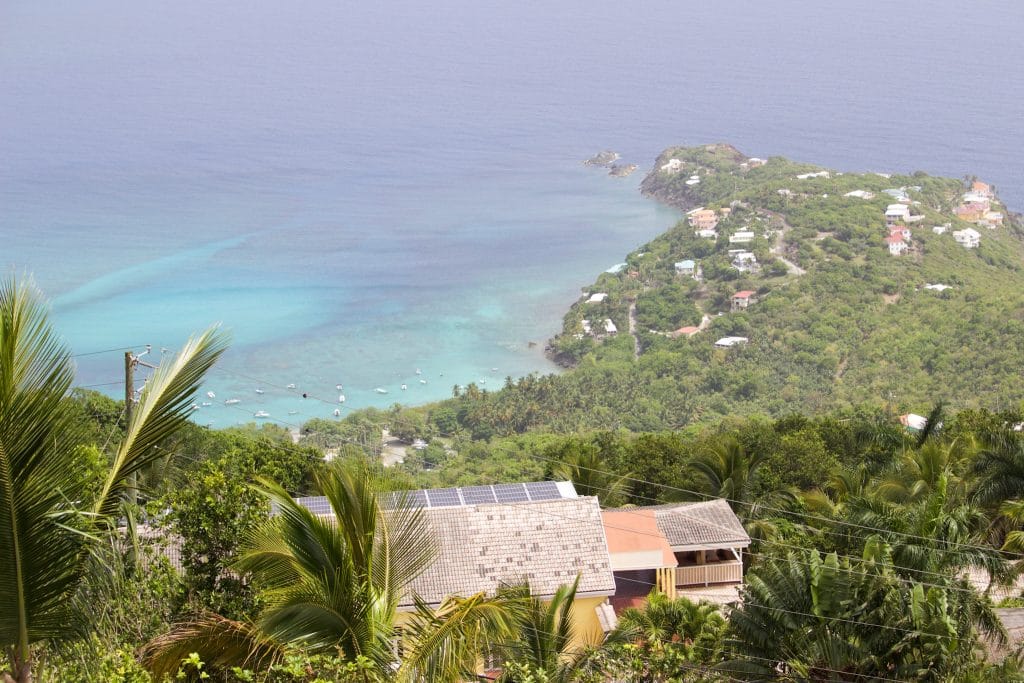 It took us about one hour to get through the zip lining course + a 20-minute cab ride through the steep and winding streets of St. Thomas. The cab dropped us off at a shopping center about one mile away from the ship, so we wandered around a bit before heading back on board the ship.
Port #2 - San Juan, Puerto Rico
We weren't sure what to expect when we docked in Puerto Rico because our cruise schedule was changed last minute from Tortola to Puerto Rico. Since we didn't know that we were going to Puerto Rico, we hadn't done any research about excursions to do or fun places to visit.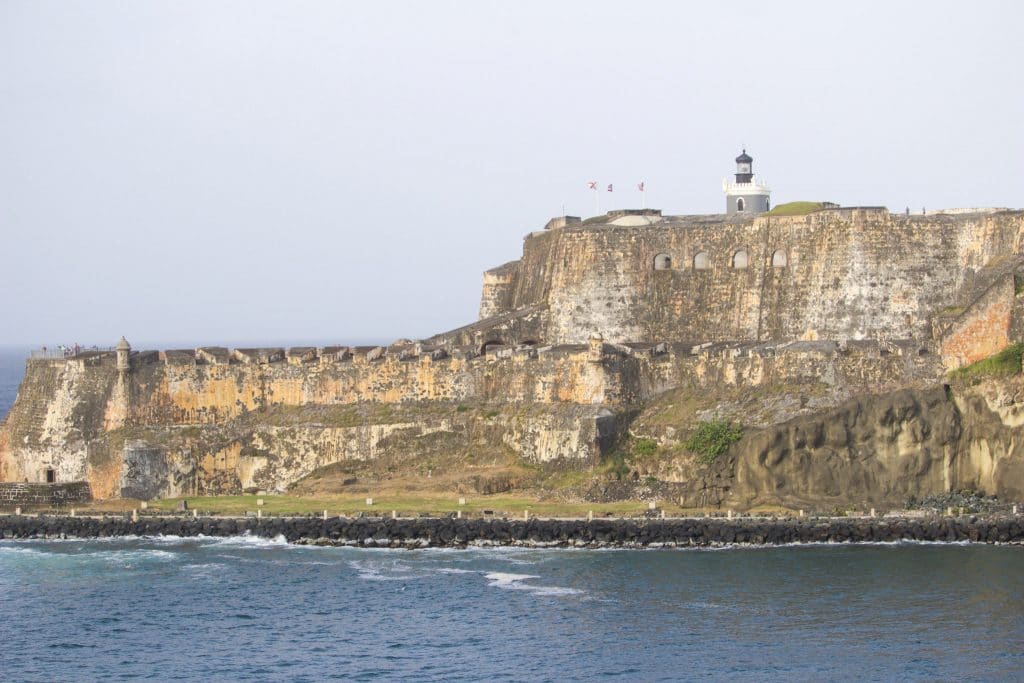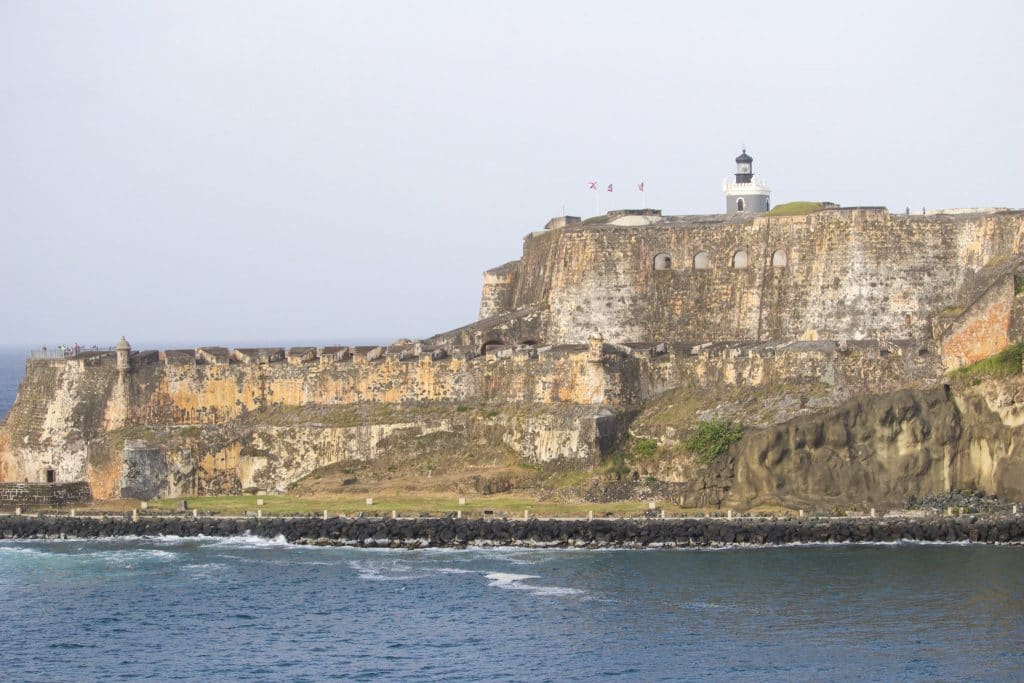 Since we were unprepared, we decided to just explore the city. I was a little nervous when we walked off the pier because there were tons of people trying to get our attention to sell us stuff. I just kept my head down and I didn't make any eye contact with any of them until we made it further into the city.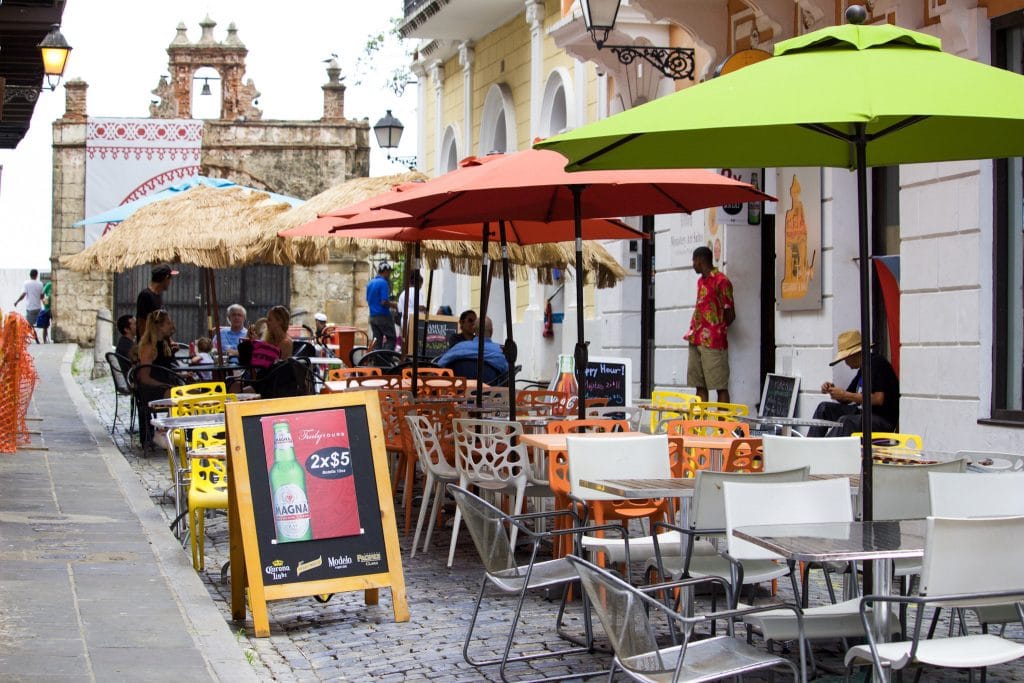 We walked through a historic fort, we stopped at a local restaurant to grab a drink, we wandered through the town square, and we stopped at a few gift shops. Many of the buildings were painted in bright bold colors, it was really beautiful!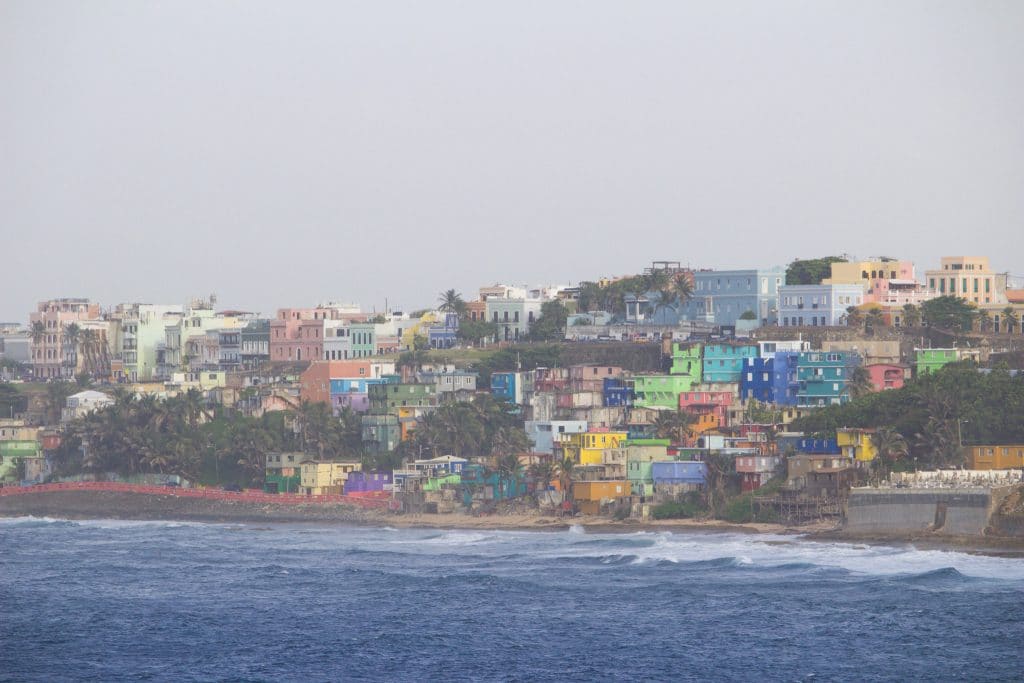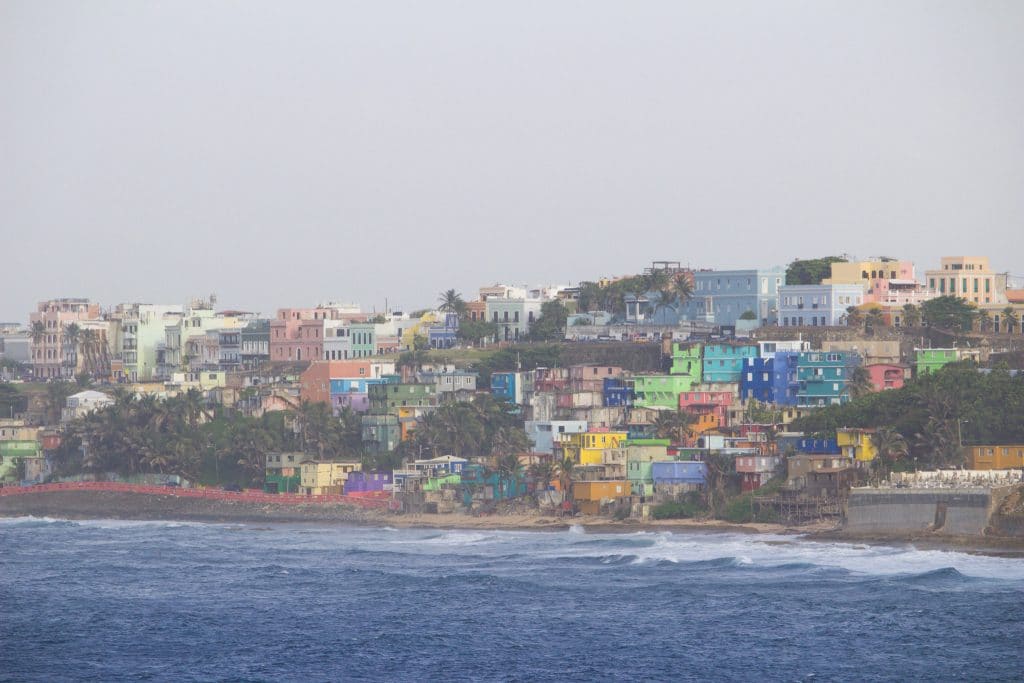 It was fun to explore but I would have liked to have done research before we left home so we could've picked an excursion to go on that was highly rated.
Port #3 - Castaway Cay, Bahamas
Our day at Castaway Cay was our last full day (and my favorite day!) on the ship. We'd heard so many great things about Castaway Cay that we were ready to get off the ship as soon as possible so we could explore Disney's private island!
The island did not disappoint! Castaway Cay is like a small waterpark! You can only visit Castaway Cay if you're on a Caribbean Disney cruise so it really felt like we were on a deserted island.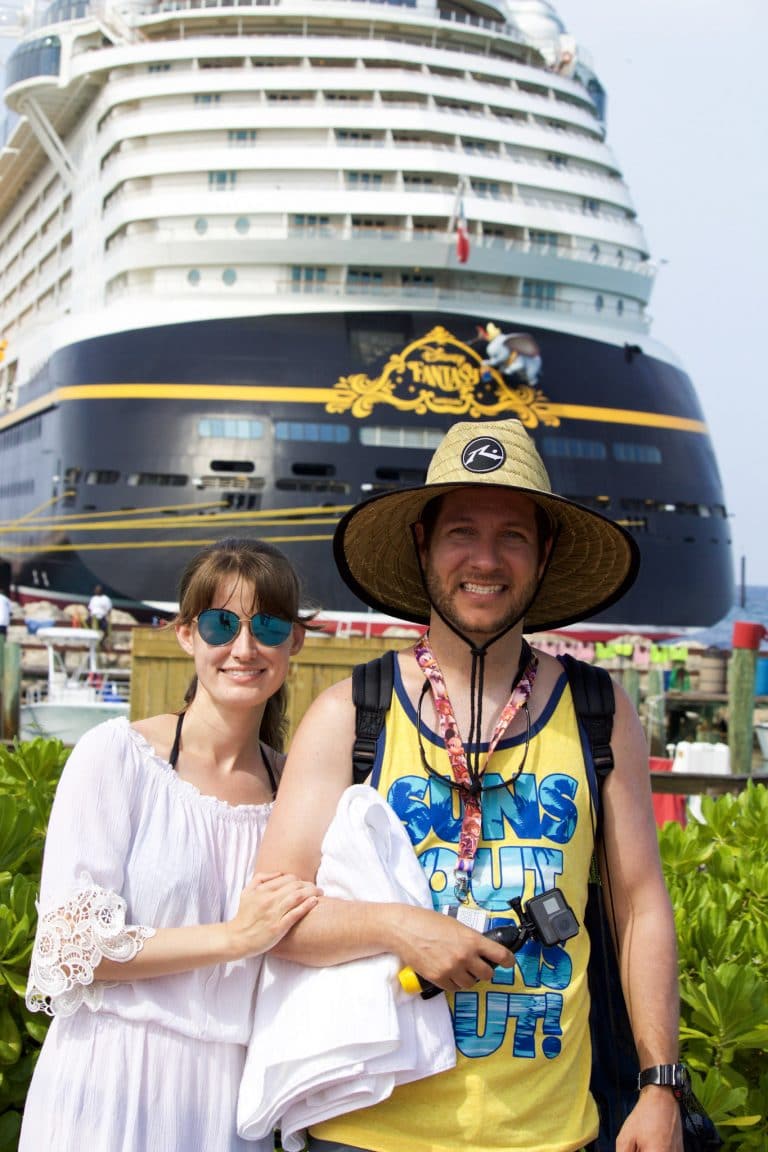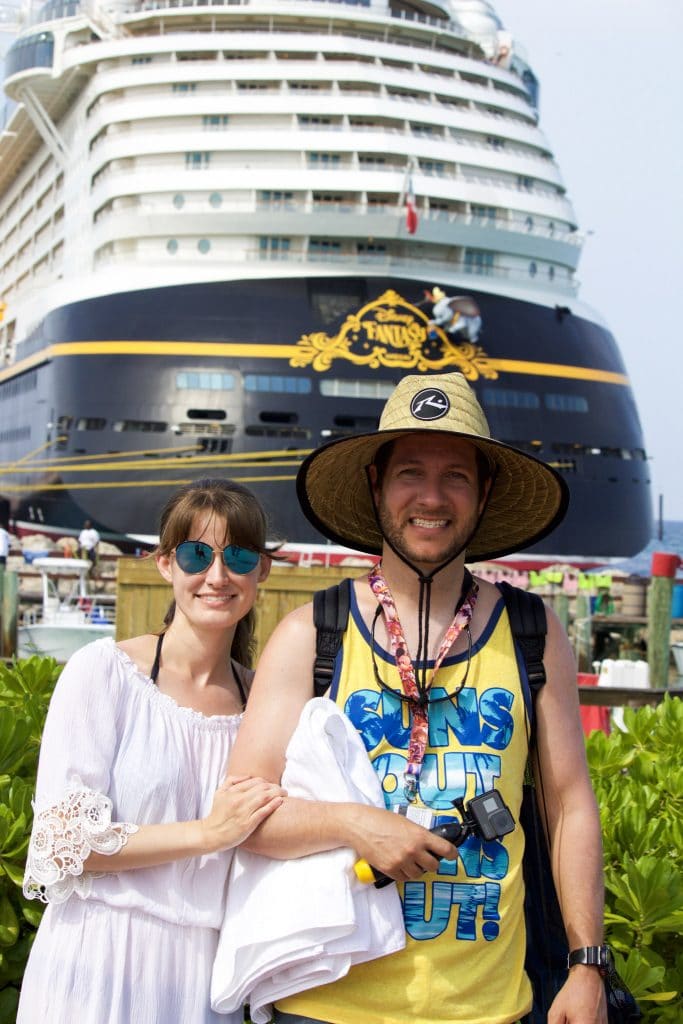 We snorkeled, went on the Pelican Plunge slides, enjoyed lunch at Cookies BBQ, and we explored the adults-only beach, Serenity Bay. It was so much fun! Just make sure to drink a lot of water and reapply sunscreen often, the Caribbean sun is extremely strong.
Don't miss these 13 Fun Activities to do at Castaway Cay!
Pirate Night is for Adults Too!
We weren't really sure what to expect for our first Pirate Night on a Disney cruise, but it was so much fun! I was worried that it would be just for kids, but so many adults dressed up for the event too!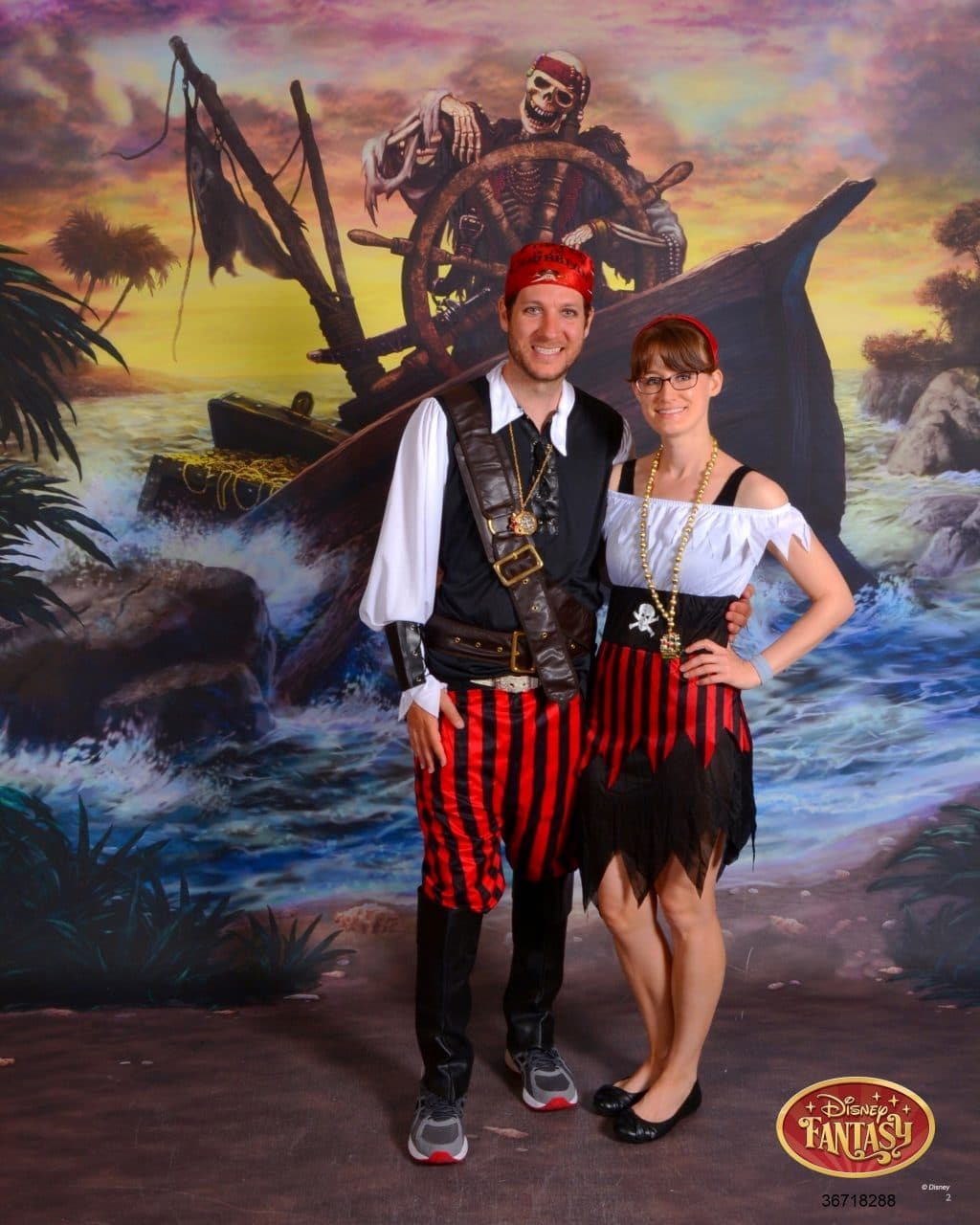 Travis and I both dressed up in pirate costumes (This is the women's pirate costume that I wore and this is the men's pirate costume that my husband wore) for Pirate Night. It was really hot that night, so these lightweight costumes were perfect.
We loved the special pirate photo backdrops that were set up in the lobby, the pirate-themed dinner, the Pirates of the Caribbean stage show, and the fireworks at sea were fantastic!
Read this post to learn Everything You Need to Know About Pirate Night on a Disney Cruise!
What Did We Love About Our Disney Cruise Honeymoon?
Ummm what didn't we love about our Disney cruise honeymoon?
Aladdin Stage Show
High-Quality

Food

Palo Brunch & Palo Dinner

Adult-Only Entertainment
Extremely Attentive Staff
Free Room Service (FREE Mickey bars!)
Aquaduck

Visiting

Castaway Cay

Going Zip-Lining in St. Thomas
Fireworks at Sea
Disney Movie Premieres at Sea
Watching the Sunset
Beverage Tastings
Towel Animals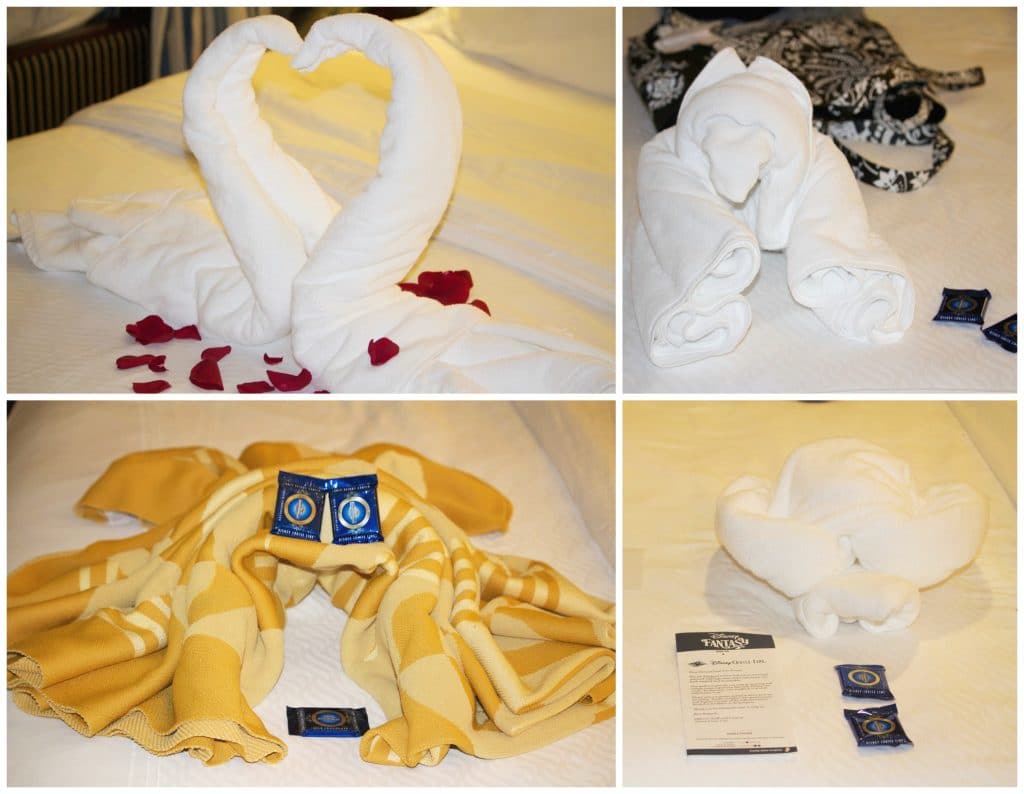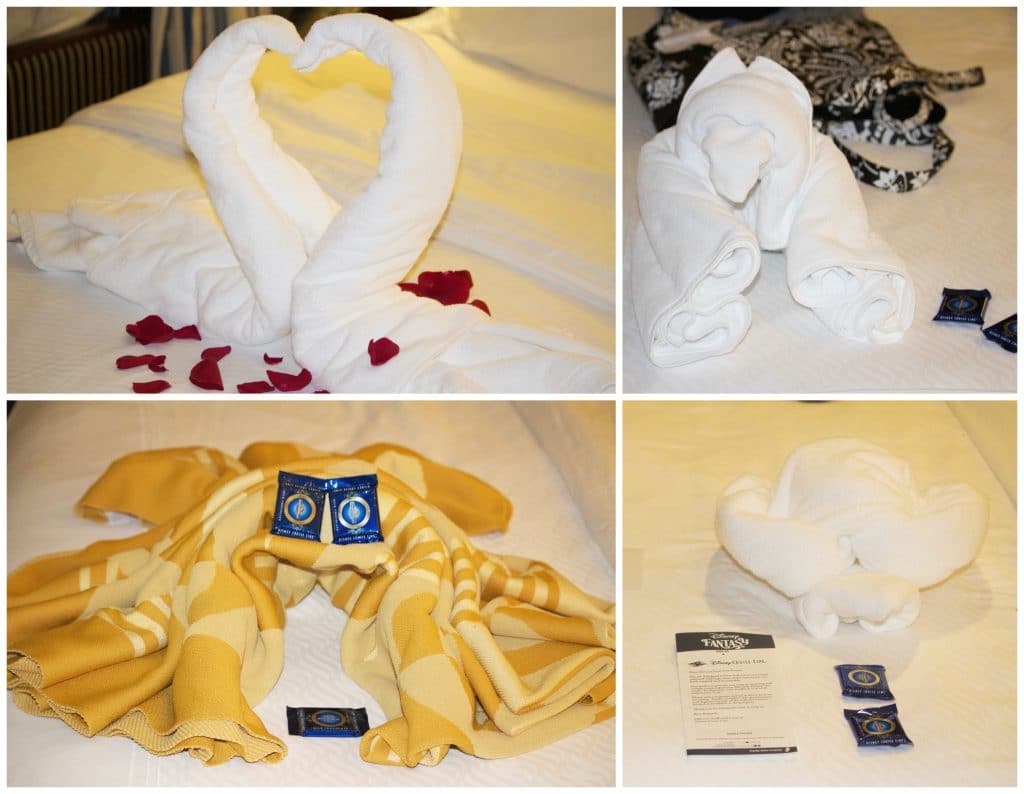 The list could seriously go on and on. I can't say enough good things about our Disney cruise honeymoon. It was pure magic. As they say, the devil is in the details, and Disney knows how to do details. That's for sure!
159 Disney Cruise Tips You Need to Know
Don't book a short cruise, there's not enough time to do everything! Save for the 7-night or longer cruise!
I would book our cruise through Costco next time because you will get a Costco cash card in return for booking with them. We used a travel agent and didn't get any onboard credit.
If you weren't able to get reservations for a beverage tasting, just show up at the tasting and see if they can make room for you! We did this twice and they were able to accommodate us both times.
Book excursions through DCL. We loved going zip lining at Tree limin but it was a nightmare trying to get there. The cab we were in actually stopped at a light and told us to get out in the middle of the street! If you book excursions through DCL, they will take care of everything for you!
Booking a verandah stateroom is worth the money.
Bring a large insulated travel mug (we love these BPA-FREE stainless steel mugs) so you can fill them up with water and keep it in your room.
You can tip with cash but buy if you buy something it will be charged to your KTTWC. Bring at least $100 in $1's and $5's that you can use for tips.
We loved having the second dinner seating at 8:15 PM because we would have been so rushed if we had to make it to dinner at 5:45 PM.
Prior to the cruise, you can

book a one-day Rainforest Pass

to Senses Spa.
The best view of the fireworks is to stand against the railing on the Starboard side of deck 12. If you stand right against the railing, it's like there is no one in front of you so you have a front-row seat to the show!
On the last morning, you don't have to eat breakfast at your assigned MDR restaurant. You can go to Cabanas to eat breakfast if you prefer. We thought the breakfast at the MDR restaurant was skimpy and rushed.
Read the rest of the 159 Disney Cruise Tips that You Need to Know Before Your First Cruise!
Should You Use a Travel Agent or Book a Cruise Yourself?
In the future, I will be booking our next Disney cruise directly through Disney or through Costco. I didn't find any benefit from using a travel agent. We found out too late that we could've gotten a high-value Costco cash card (if you're a Costco member) if we had booked through Costco. Bummer.
If you still want to book through a travel agent, make sure you contact a few different agents and ask what they can do for you. Look for an agent that offers an onboard credit or something worth booking with them and one that responds to emails quickly. We should have done more research on that aspect but now we know better for next time!
Do We Have Any Disney Cruise Complaints?
To be honest, we didn't have any complaints about the cruise itself to share in this Disney cruise review. We had a blast and we loved every minute of our honeymoon. It was worth every penny. If I had to pick something, it would be the issues that we had with our Disney travel agent because she just wasn't there for us when we needed help.
Disney Fantasy Cruise Review Final Thoughts
We are so happy that we chose DCL to cruise with for our honeymoon cruise! We had the best time and made so many wonderful memories. It was worth every penny.
We're already looking into booking our next Disney cruise vacation, we're thinking an Alaska cruise is in our immediate future! We booked our placeholder on board so when we're ready to book we will get 10% off our next Disney cruise.
I hope that this Disney cruise review helps you plan your next vacation! If you'd like to share any helpful tips that you've learned, please leave a comment below. I love hearing from you!
More Disney Posts to Help You Plan Your Next Trip!
Halloween on the High Seas Disney Cruise Review
Very Merrytime Disney Cruise Review
Top 12 Best Restaurants in Disney World!
How to Ride Avatar Flight of Passage Before the Park Opens!
The Best Vegan Quick Service Meals in Disney World