We just got back from our magical Eastern Caribbean Disney cruise honeymoon on the beautiful Disney Fantasy ship. I'm sharing everything that you need to know about taking a Disney Cruise + my personal list of 35 essentials that you need to pack for your next Disney cruise.
I received two tickets to go zip lining at Tree Limin Extreme in exchange for our honest review of our experience.
***This post contains affiliate links.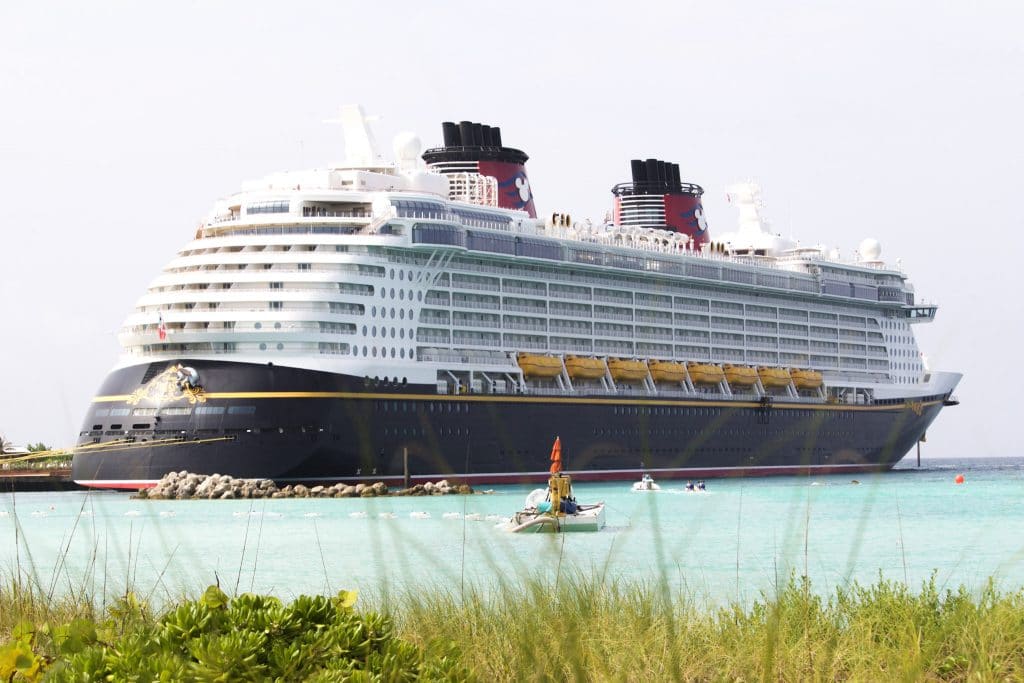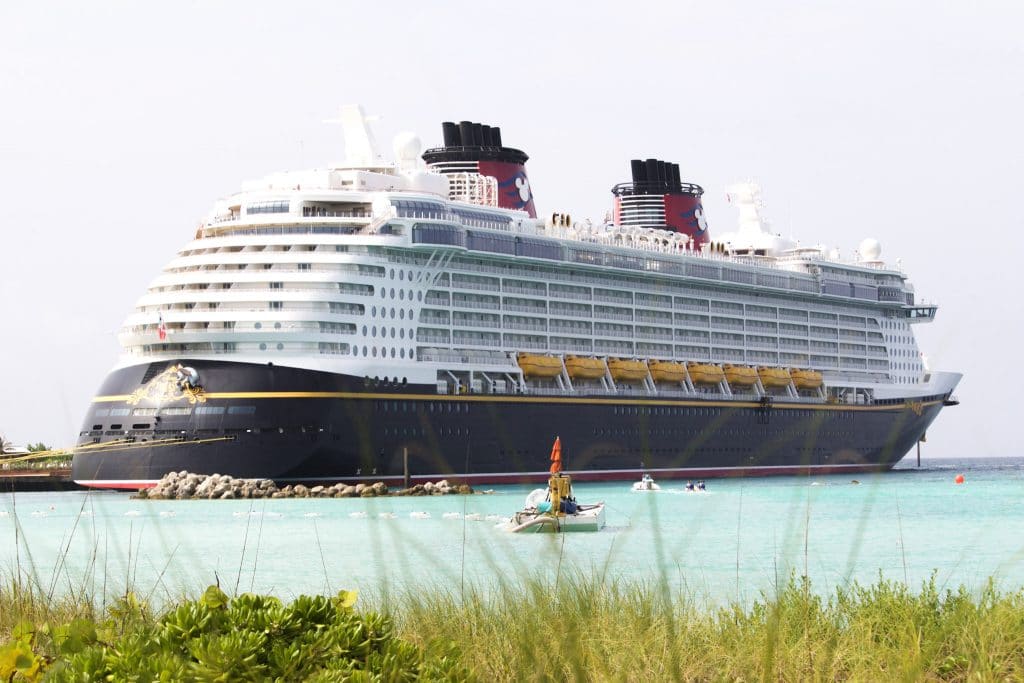 I did tons of research before we chose which cruise we wanted to take for our honeymoon after our Cross Creek Ranch wedding in February. Travis and I love Disney, so, of course, we wanted our first cruise to be a Disney cruise but it was double the price of our second choice, Royal Caribbean. We decided to go for it. Disney's the best, right?
Well, we're back now after a glorious 8 days at sea. Was it worth it?
In our opinion, YES! 100% yes!
If you want to see what it's really like you can watch all of our Disney Cruise (Fantasy) Honeymoon daily videos!
Check out these videos if you're interested in a Halloween on the High Seas Disney cruise (Fantasy).
If a Very Merrytime Disney Christmas cruise is more your vibe then you'll love these videos from our last cruise.
We're already looking into booking our next Disney cruise vacation. We booked our placeholder on board so when we're ready to book we will get 10% off + onboard credit, but more about that later.
What to do Before Your Disney Cruise
Join a free Disney cruising Facebook group so you can ask questions from experienced cruisers.
Book your free character call.
Book all excursions, restaurant, and activity reservations ASAP. The window to book closes three days prior to your sailing, so make sure you do it before then. If you wait until the cruise to book something, go directly to Guest Services on Deck 3 when you board the ship to book.
Pack the week before so you can "live" out of your suitcase and make sure you packed everything you'll need.
Research the ports you'll be visiting. Research places that you want to visit and plan your day around any excursions. Your plans will probably change but I like going in with a plan.
What Did We Love About the Disney Cruise?
Ummm what didn't we love about our Disney cruise?
Cleanliness of the ship
Broadway-style shows
Quality of the

food and restaurants

Adult-only entertainment (comedy acts, craft classes, mixology classes)
The extremely attentive staff
Free room service (FREE Mickey bars!)
The Aquaduck
Castaway Cay (Disney's private island)
Ports + excursions
Fireworks at sea
First run Disney movie premieres at sea
The list could seriously go on and on. I can't say enough good things about our Disney cruise honeymoon. It was pure magic.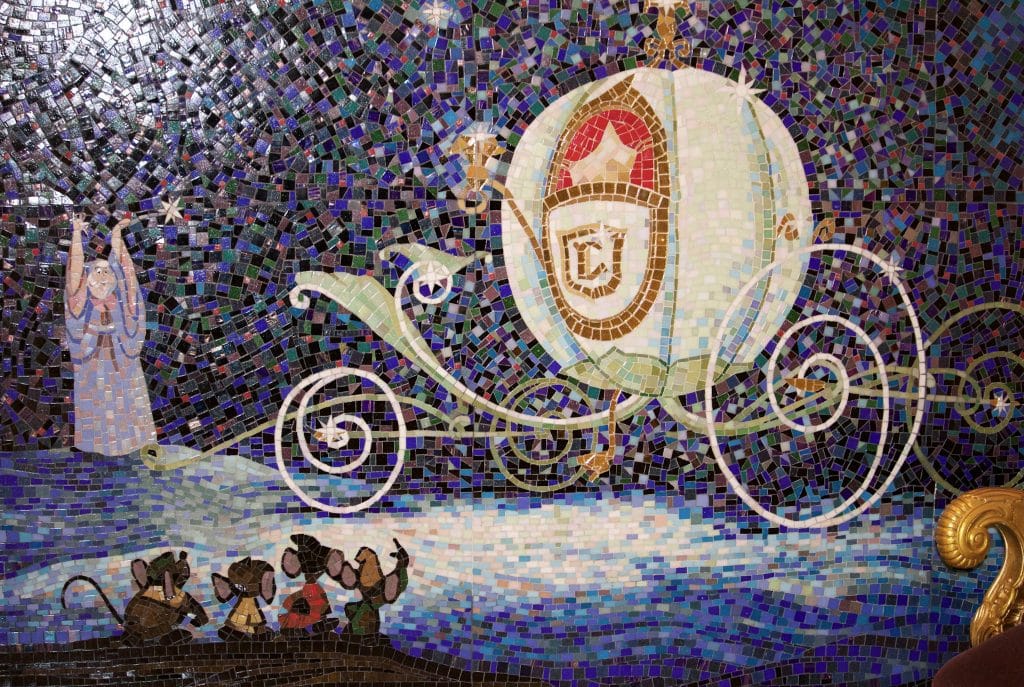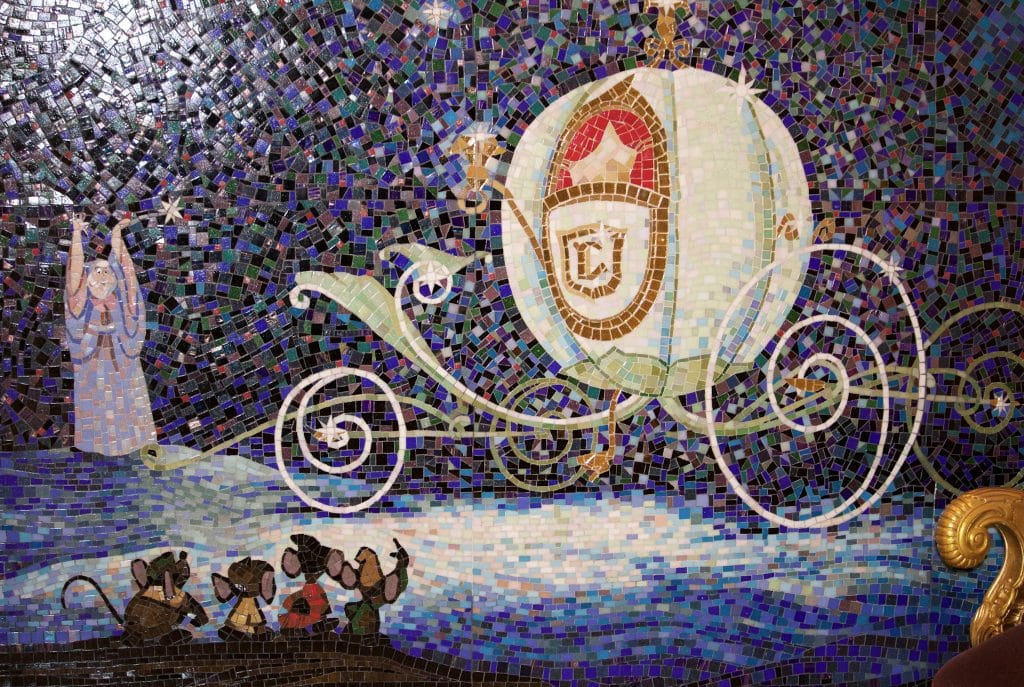 Of course, nothing is perfect. There was one little snafu on the first day of our Disney cruise. Travis and I got up at 6am in order to make it to Port Canaveral by our 11:30 am boarding time. We were excited, packed, and on the road by 8 am.
While we were driving, I checked the Disney Cruise Line Junkies Facebook page to see if anything exciting was going on. I expected to see the usual posts about "what's your favorite excursion in Tortola?" or "Which Disney ship is your favorite to sail on?"
Except, that's not what I saw.
I saw a post from one of the members of the group that was on the Fantasy at that exact moment. The post was about the ship that we were supposed to board in less than three hours, it was having mechanical trouble and was running three hours behind schedule! What?! Noooo, this can't be happening!
I checked my email hoping to see a notification from Disney about what we should do but there was none. We had booked our cruise through a travel agent so the notification email was sent to her instead. Unfortunately, she didn't send us the email until 12 pm after we had already taken a detour at Disney Springs to waste some time and get lunch.
Should You Use a Travel Agent or Book a Cruise Yourself?
In the future, I will be booking our Disney cruise directly through Disney or through Costco. I didn't find any benefit from using a travel agent. We found out too late that we could've gotten a high-value Costco cash card (if you're a Costco member) if we had booked through Costco. Bummer.
If you still want to book through a travel agent, make sure you contact a few different agents and ask what they can do for you. Look for an agent that offers an onboard credit or something worth booking with them and one that responds to emails quickly. We should have done more research on that aspect but now we know better for next time!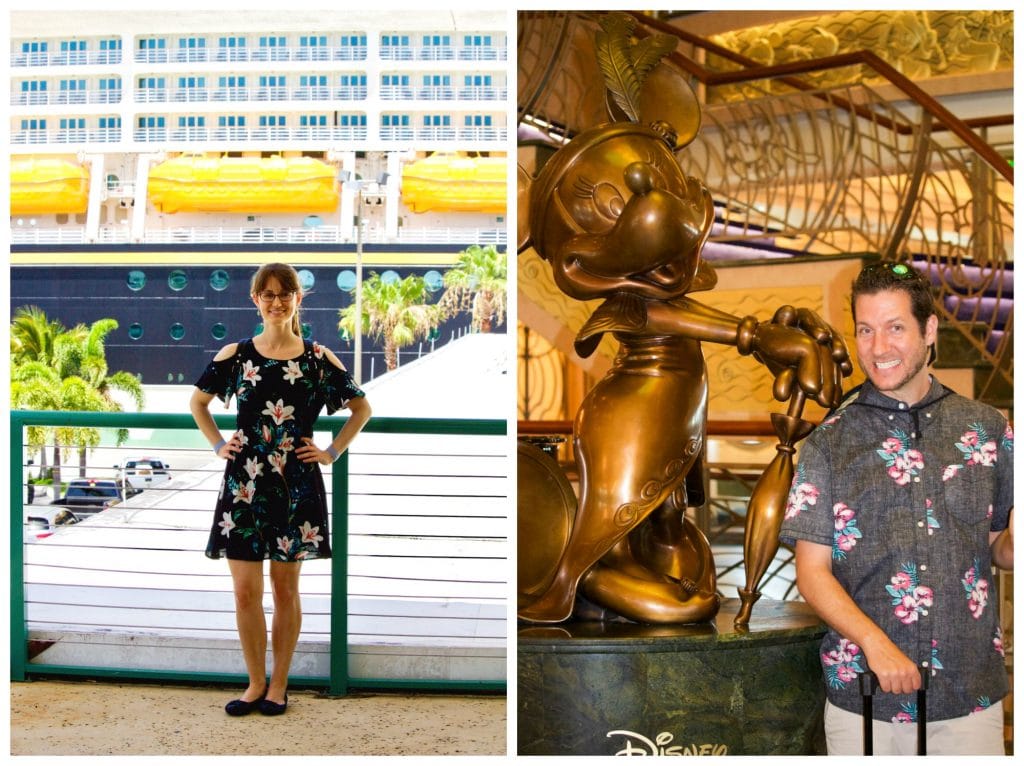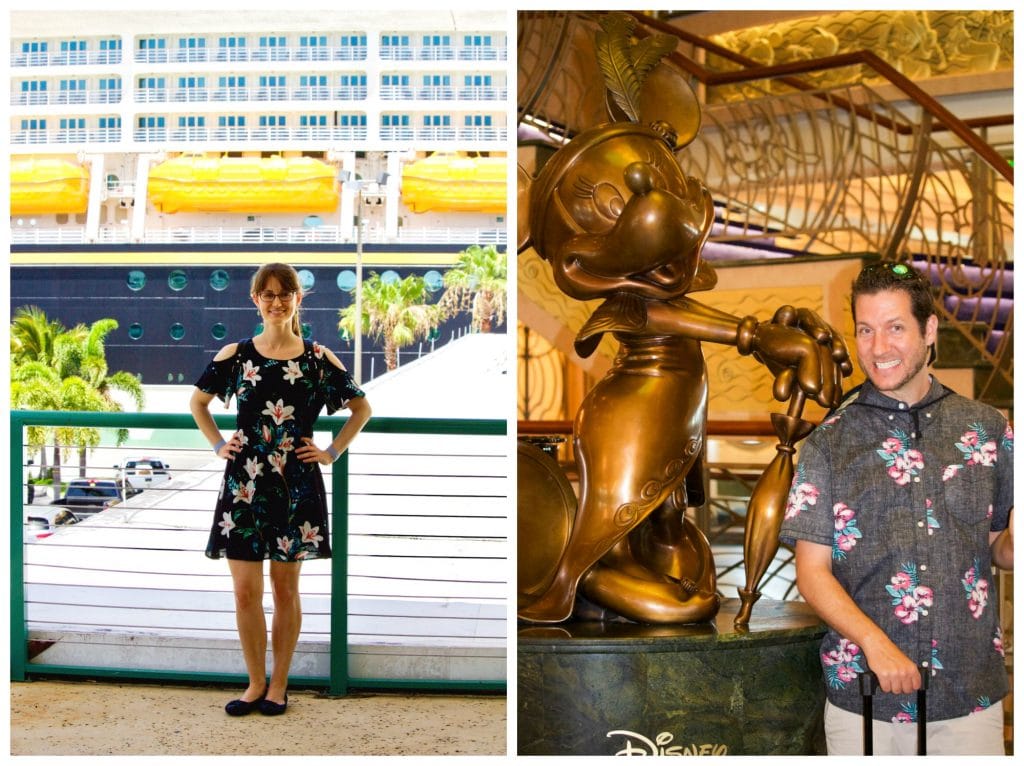 We ended up boarding the ship at 2:30 pm and the Fantasy left Port Canaveral at 11:30 pm that night. We had to wait until they fixed the mechanical problem but it didn't dampen our spirits and everything was perfect the rest of the cruise! We dropped our luggage off at our room and headed to Cabanas for a late lunch.
What to do When You First Board the Disney Cruise
Have your video ready when you board the ship, they announce your family name as you walk onto the ship. It's so cool!
Go directly to Guest Services and book any Mixology, Beverage Seminars or Cooking Classes that you want to buy tickets for.
Head to

Cabanas (buffet)

on Deck 11 or

Enchanted Garden

(sit down) on Deck 2 to get lunch.
Grab a drink of the day or specialty coffee (Cove Cafe) on Deck 12, change into your swimsuit and find the adult pools.
Relax until the Sail Away Party starts! Watch the ship leave port from Deck 12.
Check your Key to the World Card (KTTWC) for where you need to go for the fire drill. Your attendance is mandatory so make sure you don't miss it, they will scan your card at the entrance.
Go to your room (when it's ready), decorate your stateroom door with magnets, get ready for the first show of the cruise and then go to dinner.
Sign up for the free 50 megabytes that comes with the Internet in the Sea Connect package.
Our Itinerary
Day 1 – Board the Fantasy + explore the ship + Dinner at Animators Palate
Day 2 – Day at Sea + Palo Brunch + Formal Night + Dinner at Enchanted Garden
Day 3 – Day at Sea + Dinner at Royal Court
Day 4 – St. Thomas, US Virgin Islands – Zip Lining + Pirate Night + Dinner at Animators Palate
Day 5 – San Juan, Puerto Rico + Dinner at Enchanted Garden
Day 6 – Day at Sea + Dinner at Palo
Day 7 – Castaway Cay + Dinner at Animators Palate
Day 8 – Breakfast/Disembark
Explore the Ship
If you have any free time between activities, dinners, shows, happy hour and port adventures, make sure you explore the ship! The Fantasy is really beautiful and there are hidden Mickey's everywhere…try to find them all! There are beautiful paintings, chandeliers, mosaics, murals, and statues.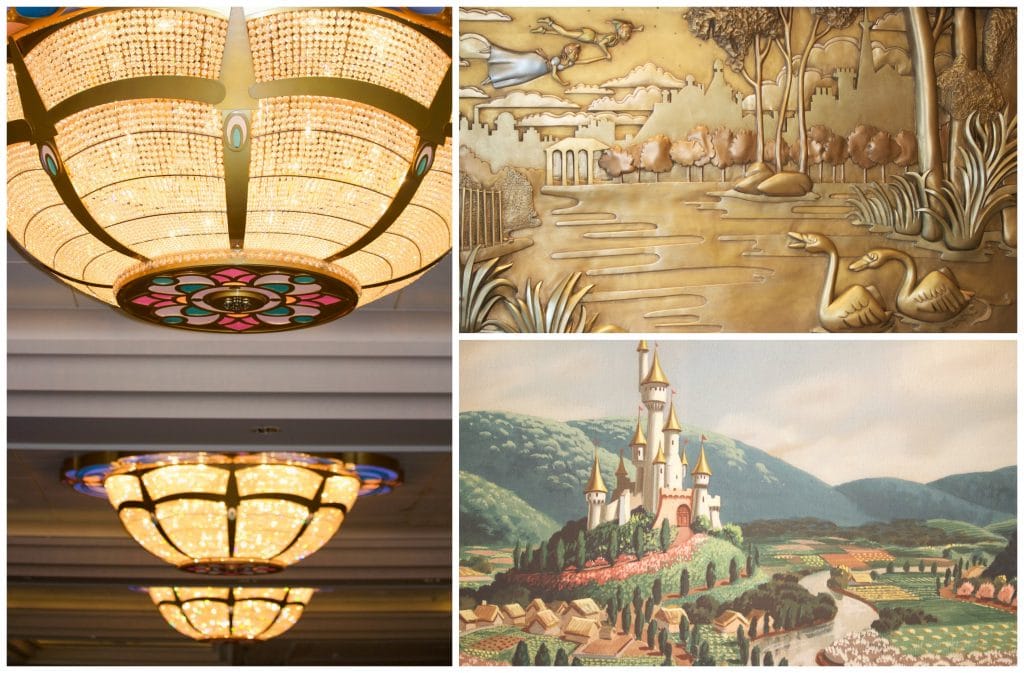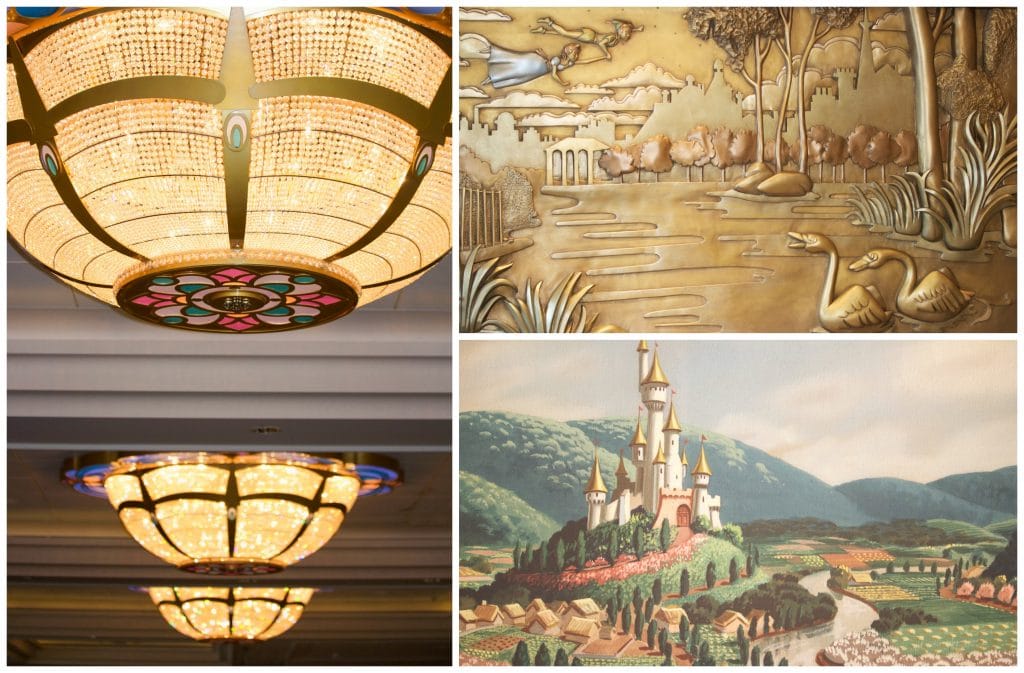 Walk along the outside decks too! You can relax in a lounge chair and enjoy the ocean breeze. I can't believe that I've lived by the ocean my entire life and I've never seen water this beautiful! The water was a deep royal blue…absolutely gorgeous!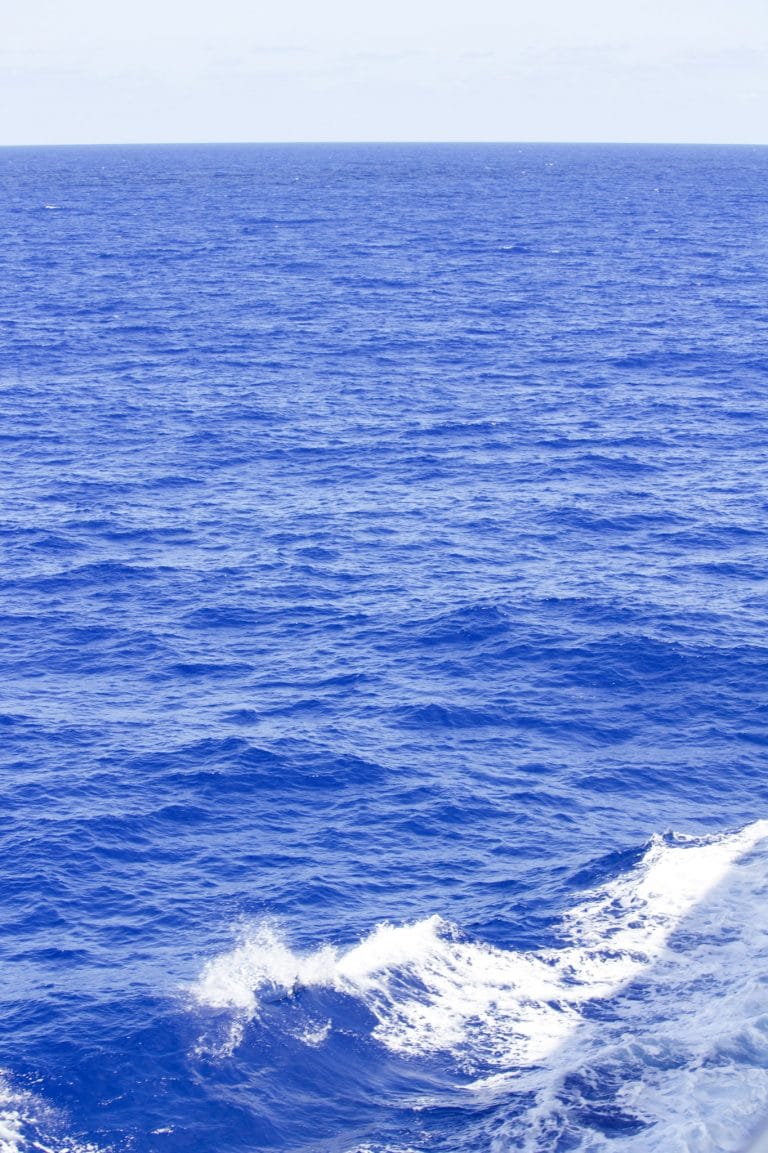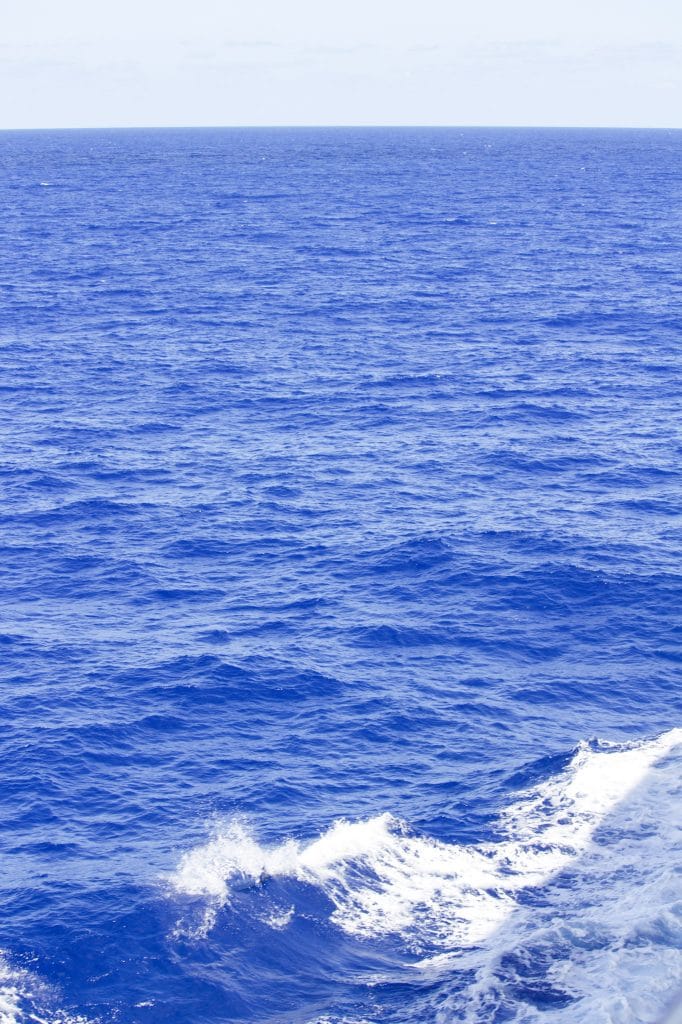 We saw lots of people running on the outside decks. So, if you want to exercise while on the cruise, this is where you should do it! We stuck to sitting in the lounge chairs and enjoying the view!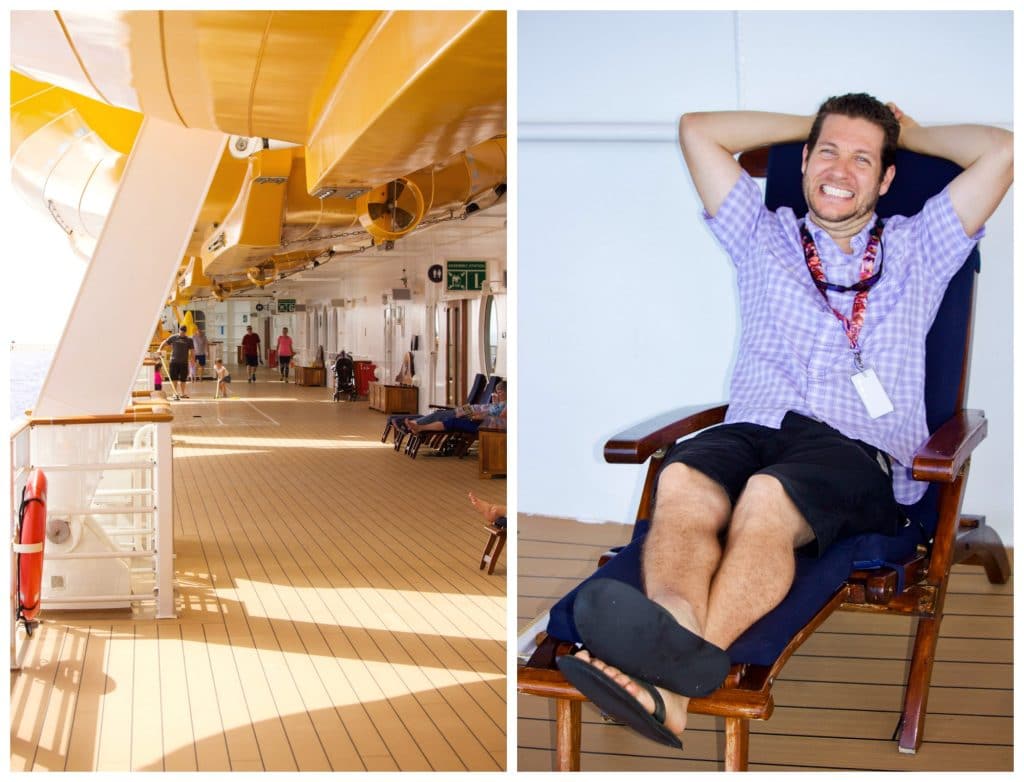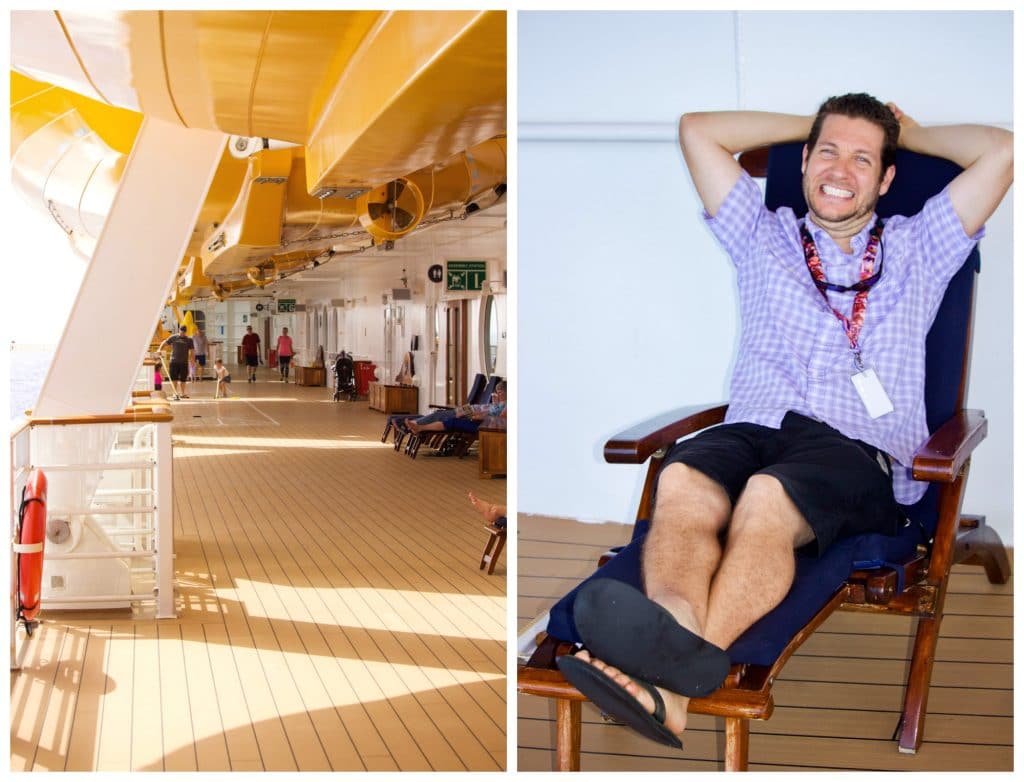 What's the Food Like on a Disney Cruise?
Let's talk about my favorite subject…food!
I bet you're wondering what is the food like on a Disney cruise? Is it better than other cruise lines? Well, this was our first cruise so I can't tell you if it's better than other cruise lines but I can tell you that it's amazing, delicious, and endless!
Read this post if you want to see all of the food we tried at each of the three main dining restaurants: Animator's Palate, Enchanted Garen, and Royal Court.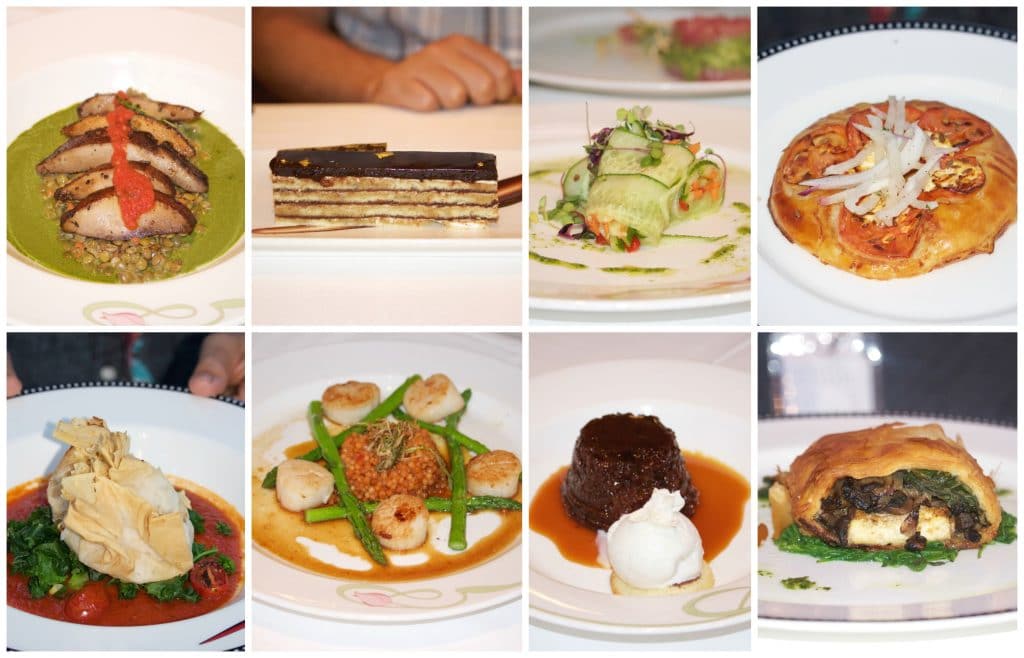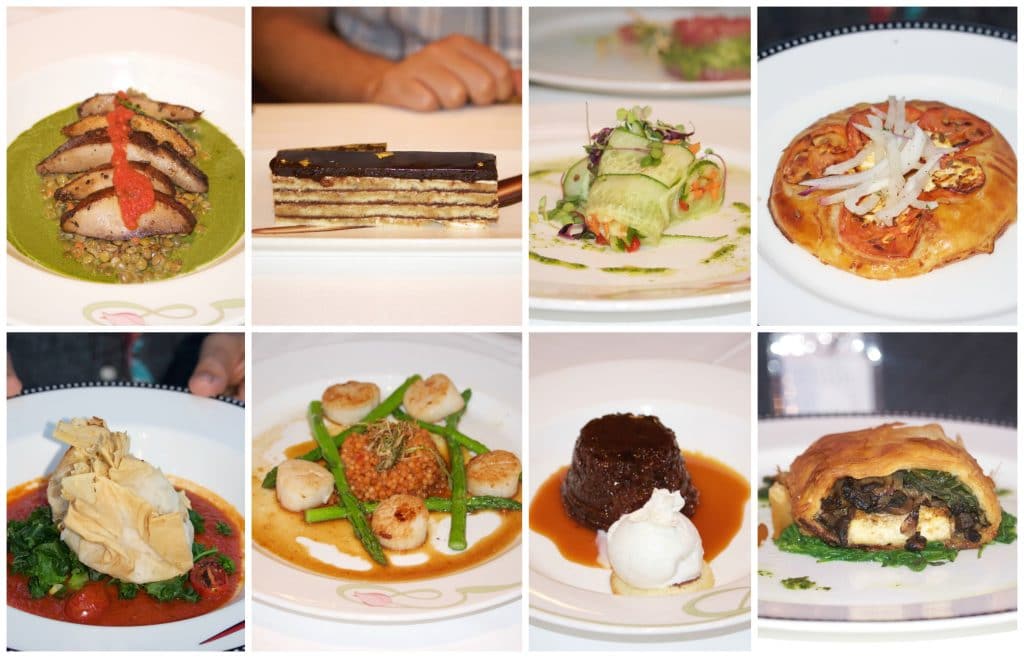 I was extremely impressed with the quality of the food, the flavors, the variety, and the presentation of each dish. I was able to order a different vegetarian dish every single night with no issues. Disney takes different food diets and allergies very seriously. It was one of the first questions we were asked after our server greeted us.
Each restaurant is very different and there was only one meal that we thought was just okay. Every other meal was fabulous– especially the brunch and dinner at Palo!
Cabanas Buffet
We went to Cabanas for breakfast and lunch most of the days that we were on the ship. Cabanas reminded us of Cape May Cafe at the Beach & Yacht Club Resort in Walt Disney World, we really enjoyed it.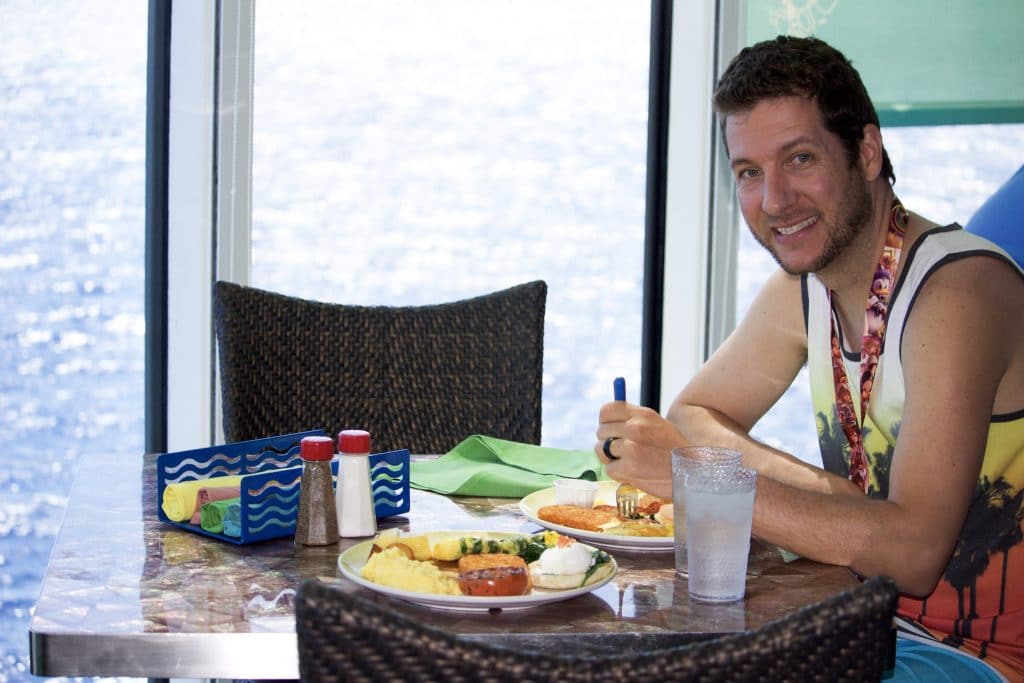 Look at that view! Cabanas is huge, it wraps around both sides and has food stations and tables with this gorgeous view all the way around. We never had a problem getting a table by the window either, even when it felt very busy.
I especially loved the hand washing station at the entrance of the restaurant. I'm a germaphobe and always wash my hands before eating so I really liked that it was required for everyone to wash up before handling the serving spoons.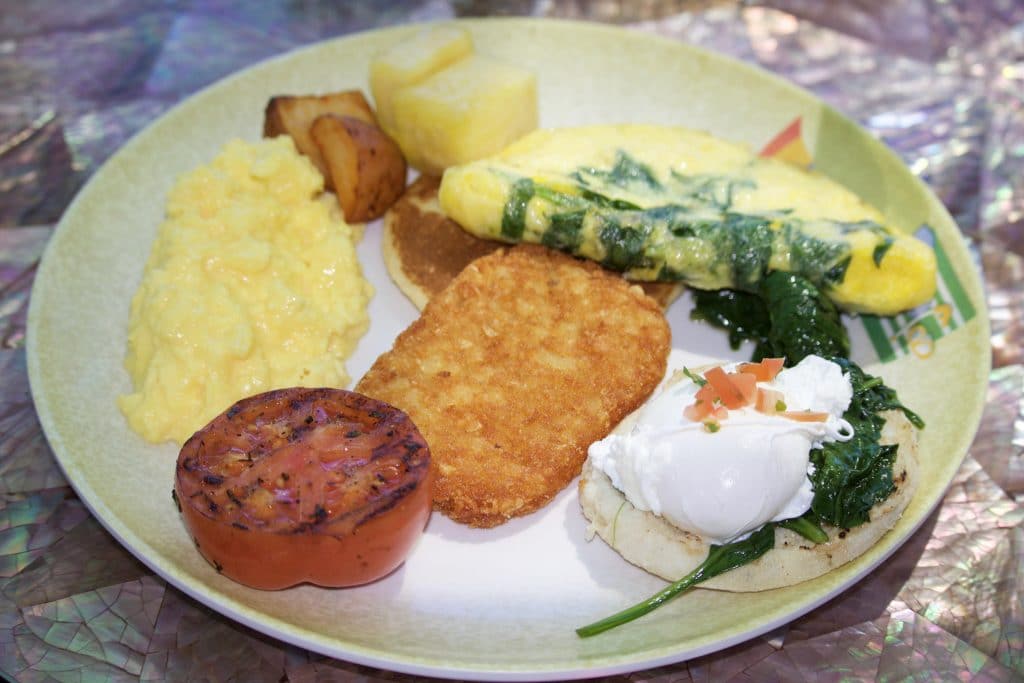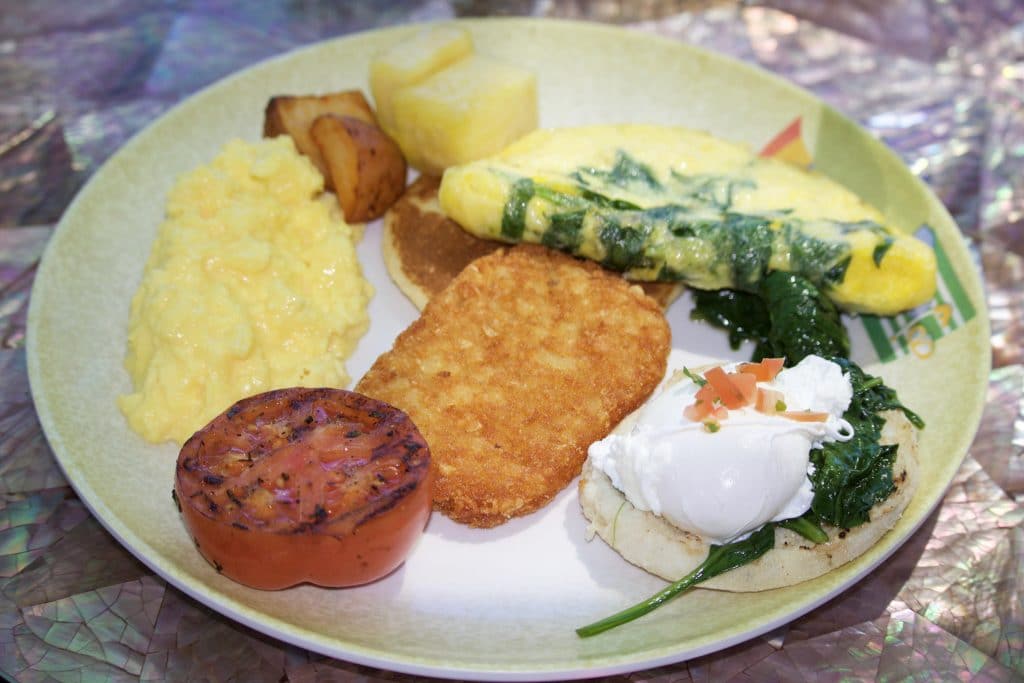 The food was always hot and fresh and the dishes were re-filled quickly. Breakfast was pretty similar every morning. Mickey waffles, pancakes, scrambled eggs, omelets, grilled tomatoes, crispy hash browns, bagels, cereal, oatmeal, pastries, fruit, and desserts. YUM!
Lunch was a little bit different every day with a few staple items like macaroni and cheese, pizza, fries, sandwiches, wraps, soup. Each day the buffet rotated between grouper nuggets, blackened mahi-mahi, grilled salmon, lots of chicken and beef dishes too.
They also always had a fresh salad bar, cold boiled shrimp, crab legs and assorted seafood. With tons of variety, there was definitely something for everyone!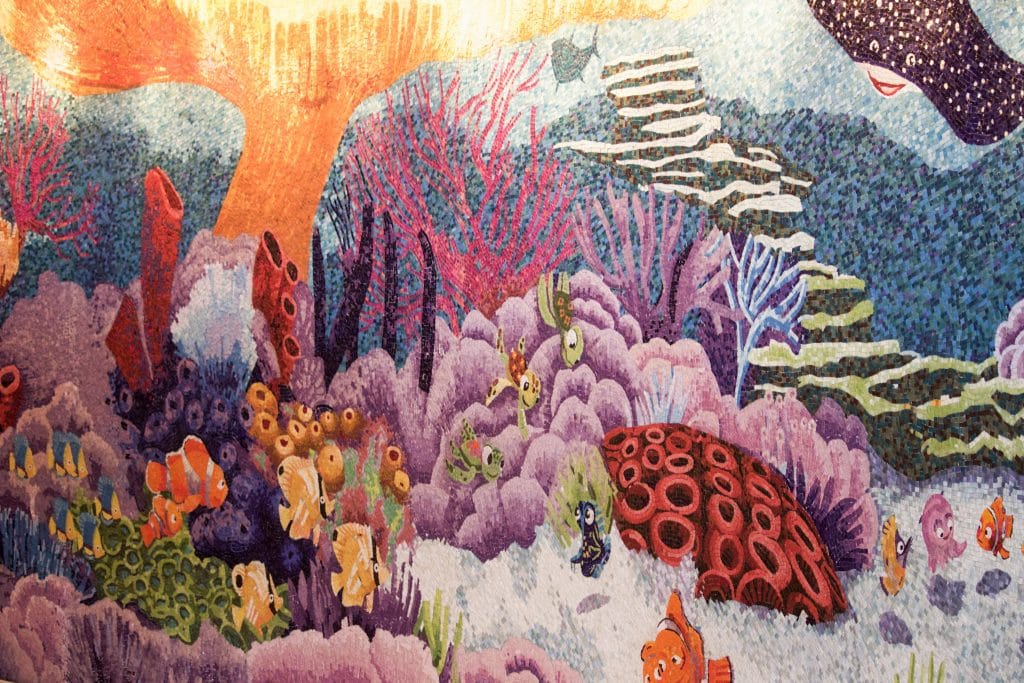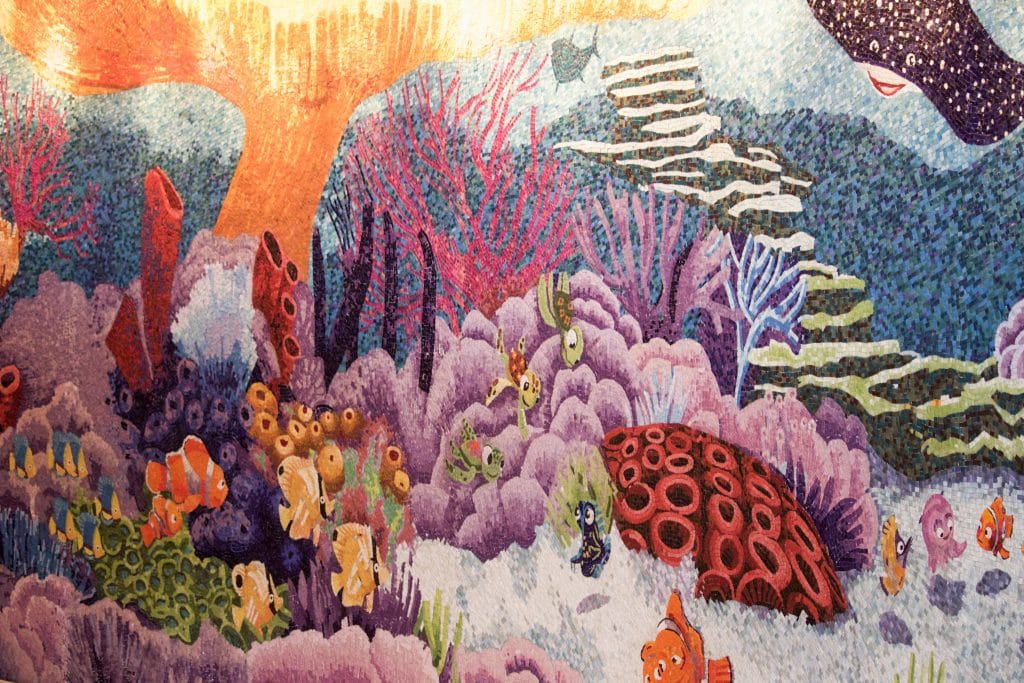 There are gorgeous mosaics of Finding Nemo on both sides of the buffet. Take a few minutes to look at it during a slow time, there are so many details! Did you find Nemo?
Animators Palate, Enchanted Garden, and Royal Court
On the bottom of your KTTWC there will be a row of seven letters like this –> AERAERA
A = Animators Palate
E = Enchanted Garden
R = Royal Court
These are the three main dining rooms on the Fantasy. Every night, you rotate in order between these three restaurants at the dining time that you signed up for. We signed up for the later dining at 8:15 pm and we really liked it.
It's not that we don't like kids but we wanted to be around a more adult crowd. There were older kids with their families but most of the younger ones were sleepy or already passed out in their strollers. Travis and I liked going to the show first and then going back to our room to watch the sun set on our verandah and having a glass of wine before dinner.
The server, assistant server and head server that you meet on your first night will stay with you throughout your cruise. I loved this because they really get to know your tastes and our main server, Gede, was able to suggest dishes for me that I ended up loving.
Animators Palate
Animators Palate was the most creative and unique of the three restaurants. The lighting and screens on the wall change every time you visit. It's like a whole new restaurant each time, it's pretty cool!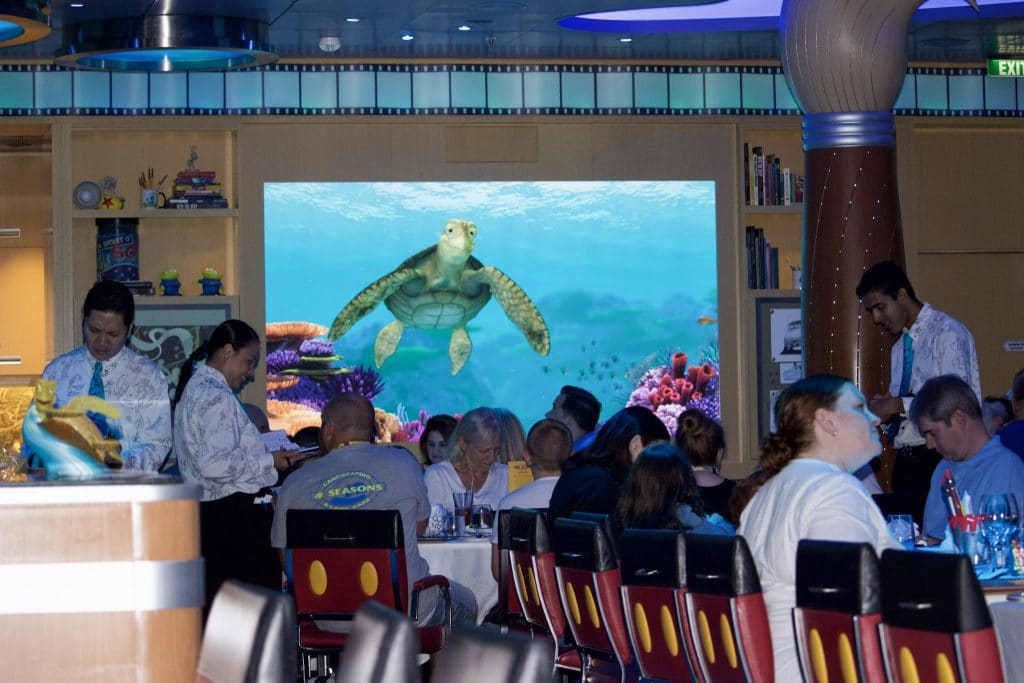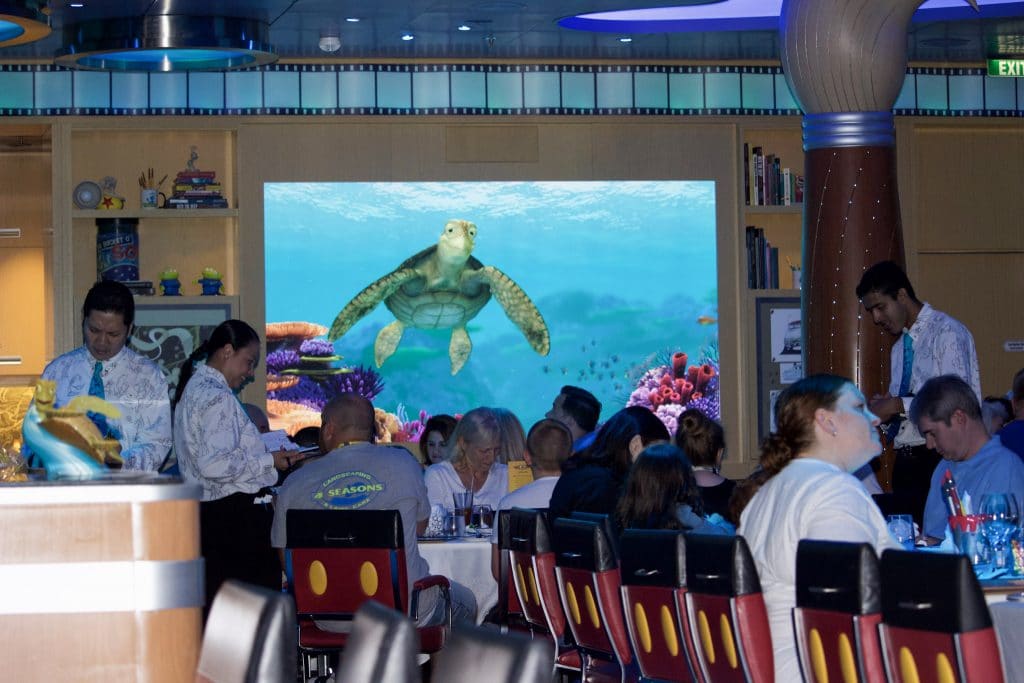 Enchanted Garden
Enchanted garden felt exactly like what the name implies, it's like you walked into a magical garden that's full of delicious food! There's a fountain in the middle of the restaurant with a little Mickey on top, it's really charming. The ceiling makes it feel like you're sitting in a giant atrium even though you're really on Deck 2 of the ship.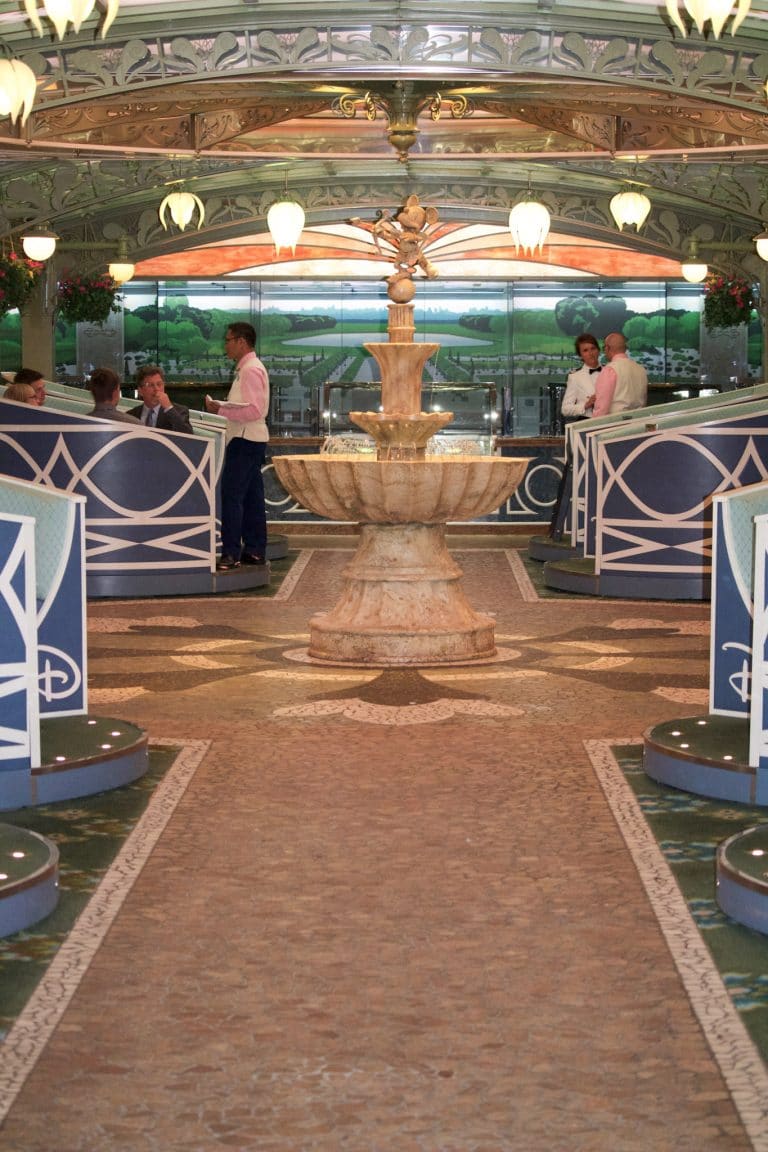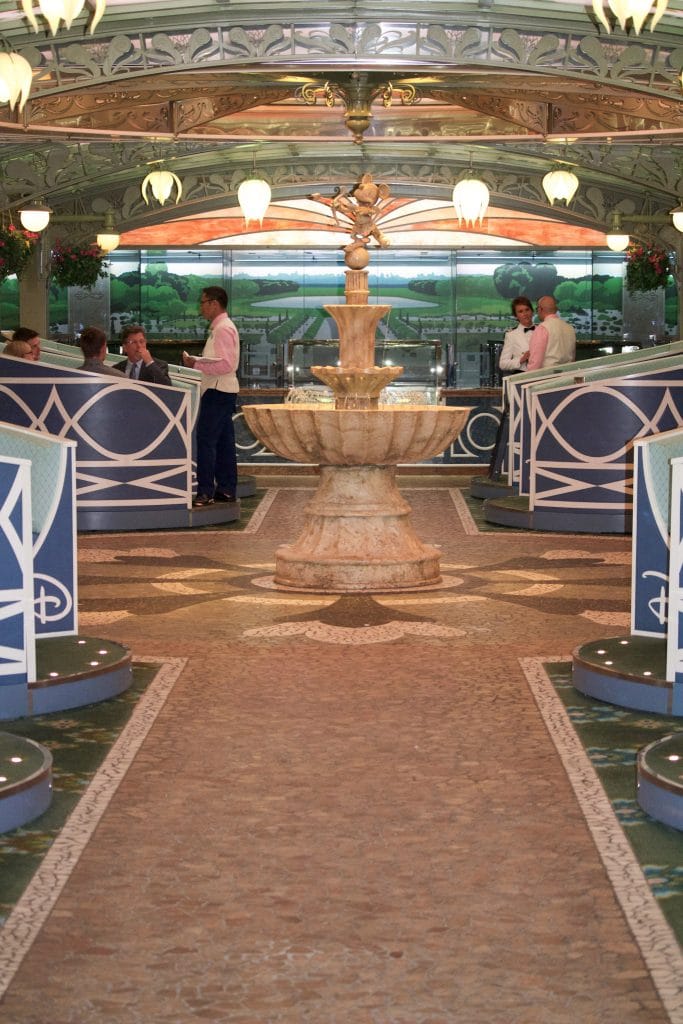 Royal Court
Royal Court was my favorite of the three main dining restaurants. It felt a little bit fancier than the other two restaurants due to the gorgeous princess mosaics on every wall, Cinderella carriage lighting fixtures and the huge royal table in the center of the room. Each table even had a carriage bread basket! It's all in the details.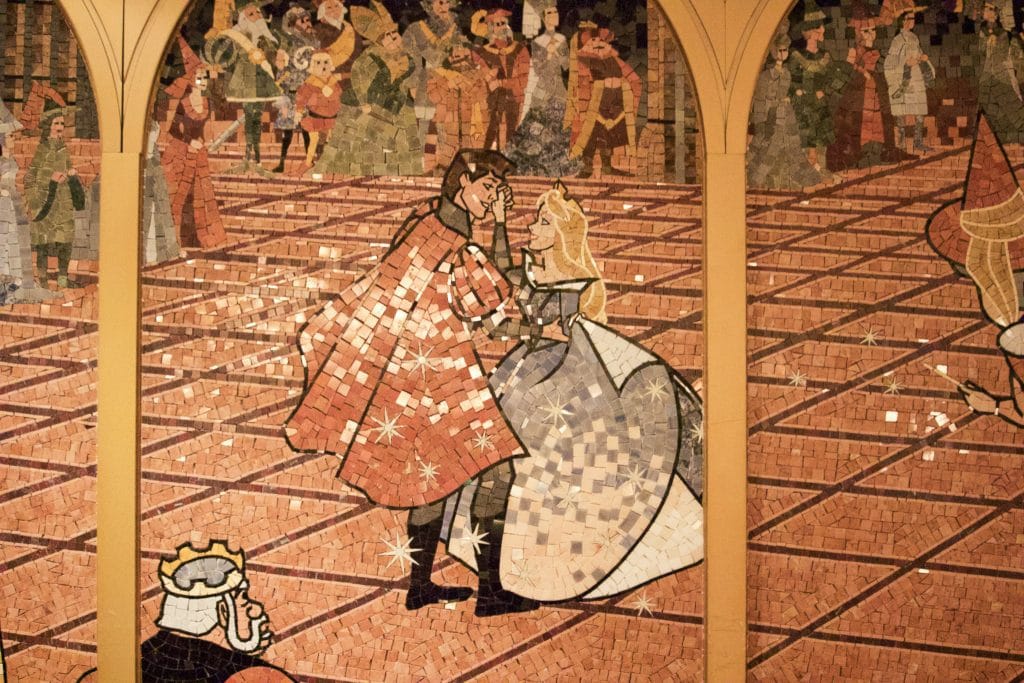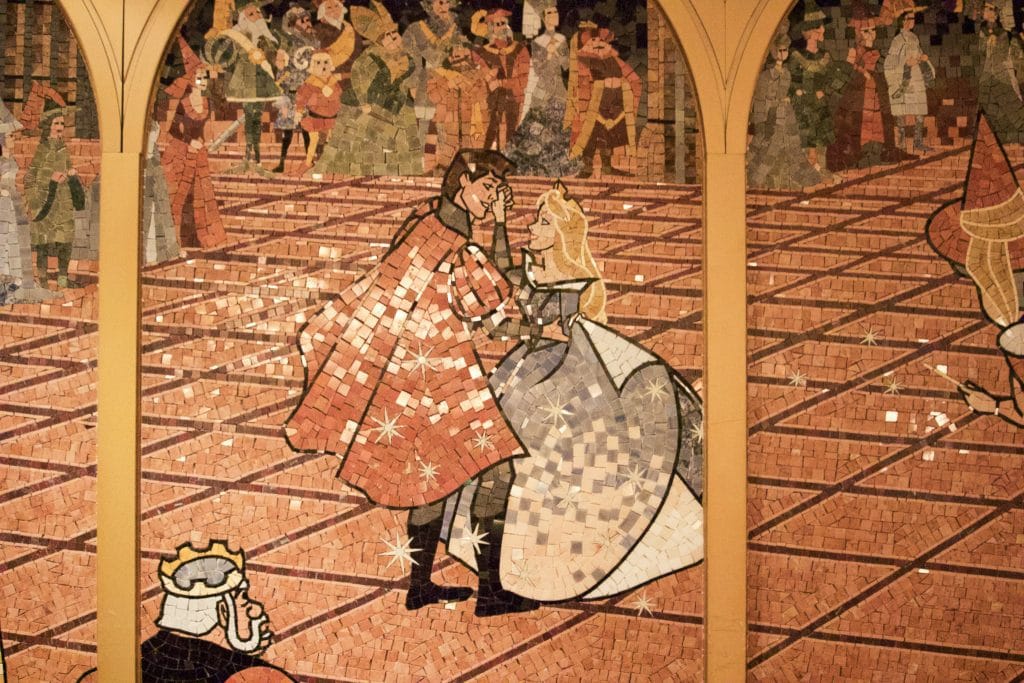 Brunch and Dinner at Palo
We did brunch and dinner at Palo (Click here to find out which we liked better: brunch or dinner?) because we'd heard so much about it and I just had to experience it for myself. Palo is located on Deck 12 and it's a kid-free zone. Palo has a dress code for brunch and dinner that is non-negotiable.
I didn't read the dress code before we went to lunch but I thought that lunch would be a little bit more relaxed about the dress code but it wasn't. When we arrived to check in, they politely asked Travis to go back to our stateroom to change into dress pants and closed toe shoes.
So, make sure you dress accordingly before you show up or they will request that you change!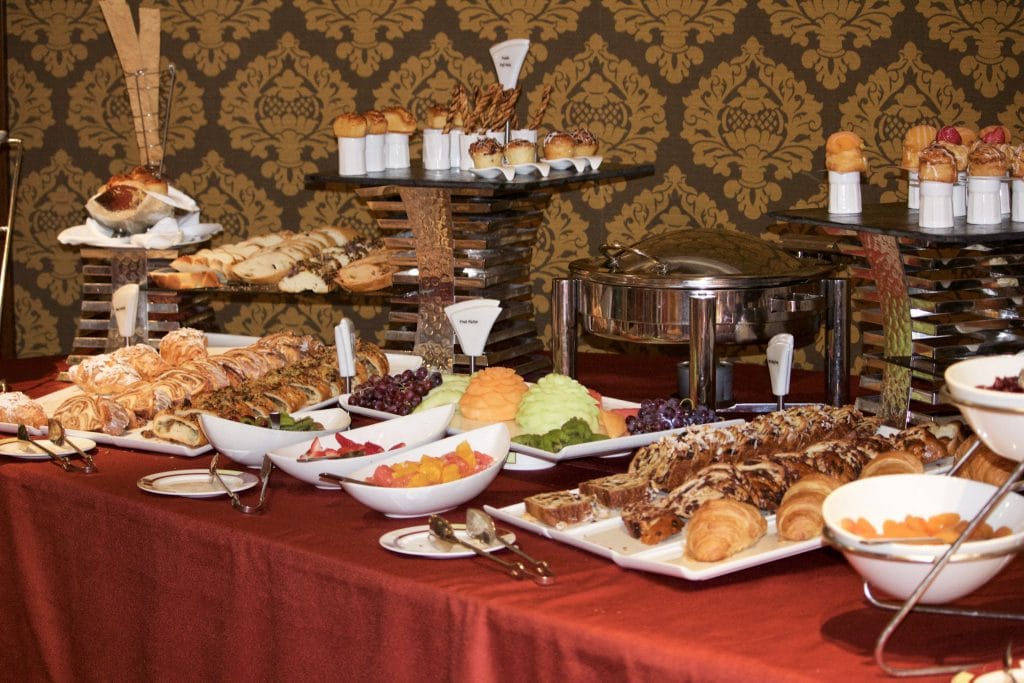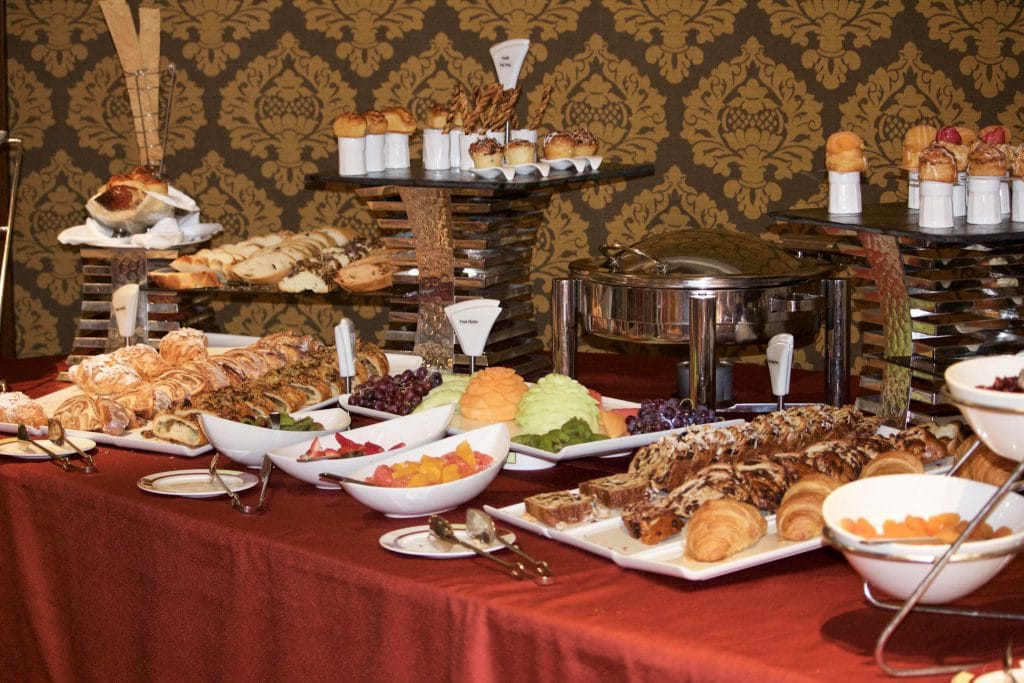 The way the menu works for brunch is they have pastries, cold seafood, small bites and dessert buffet in the back of the restaurant. Once you've had your fill of the buffet, you can order hot dishes off the menu and then head back up to the buffet for dessert.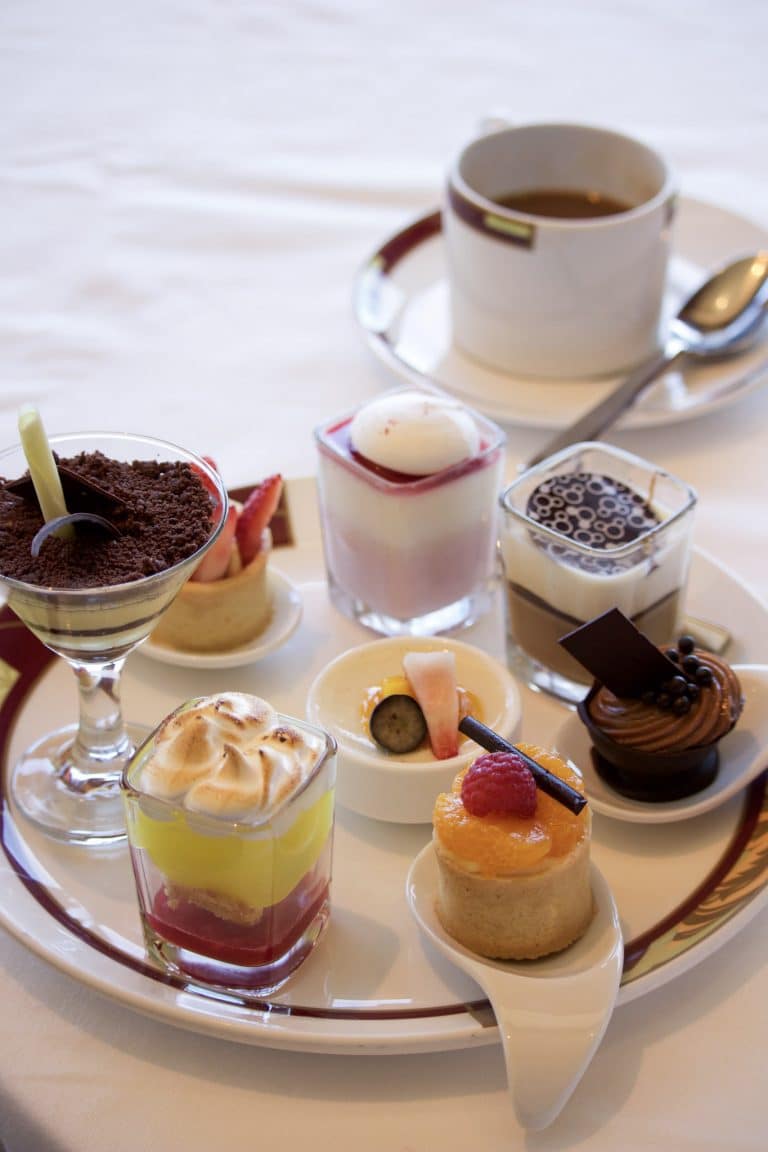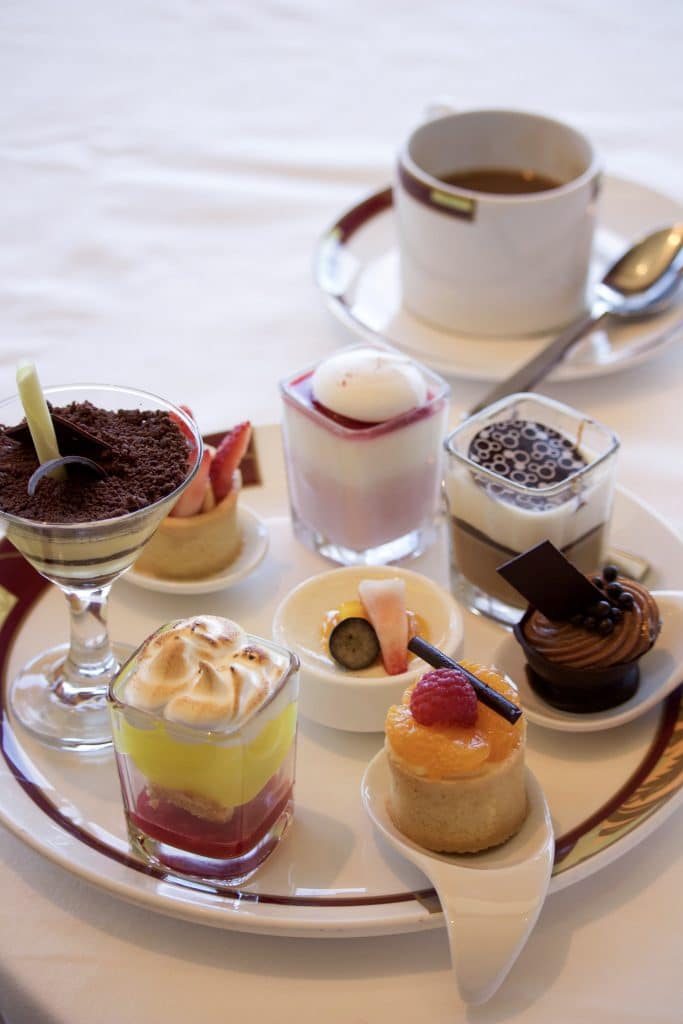 You can also order dishes that aren't on the menu anymore, like the gorgonzola grape pizza. It sounds crazy but trust me, if you're a big blue cheese fan like Travis, you will love it.
Dinner at Palo was our favorite meal of the entire trip! The whole experience is a treat for your tastebuds. Our server, Stefanos, was amazing and so attentive, he really enhanced the dining experience for us.
We had reservations at 7 pm, so we arrived right before the sunset, it was perfect timing. Dinner is fancier than lunch so make sure to dress accordingly. There is no buffet for dinner but the menu is completely different than the lunch menu.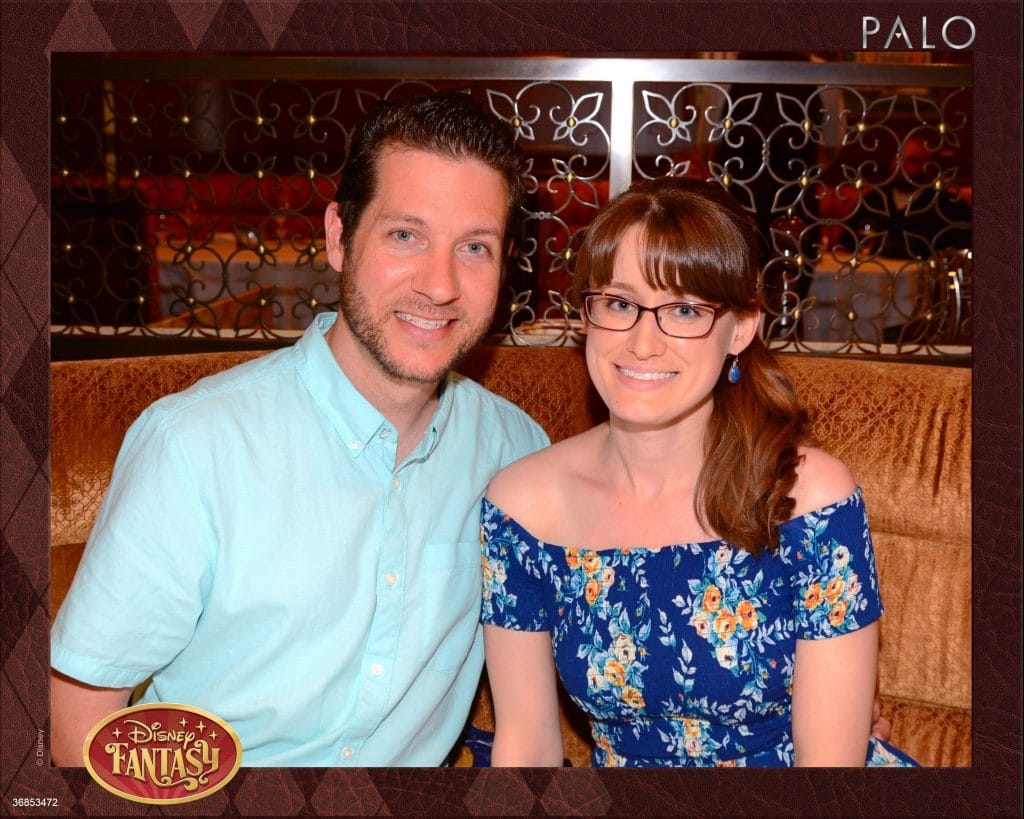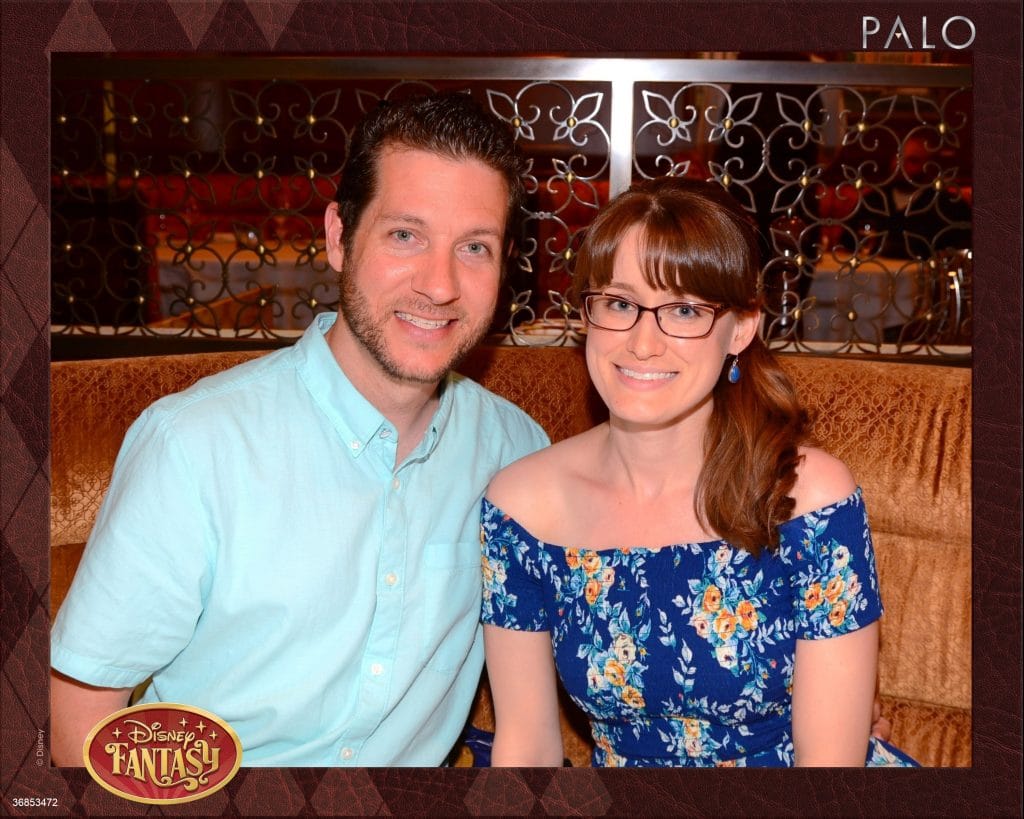 The portions are not small and you can order more than one dish if you like. Just like the other restaurants, you order an appetizer, entree, and dessert. Before the appetizer arrives, your server will bring an antipasto cart to the table and make plates for each of you based on your preference. There will be a bread basket on the table with the most delicious pesto flatbread and breadsticks that are very hard to resist.
The appetizers, entrees, and desserts are all amazing! Make sure you come hungry because you will want to eat everything.
Quick Service Bites
Every morning, I ordered a pot of coffee, a bowl of fresh fruit and water for us to enjoy out on the verandah. It was such a luxury! At home, I do all the cooking, food serving, and cleaning, so it was pretty delightful to have it delivered every morning.
Room service is free but make sure to tip the person who delivers it to you.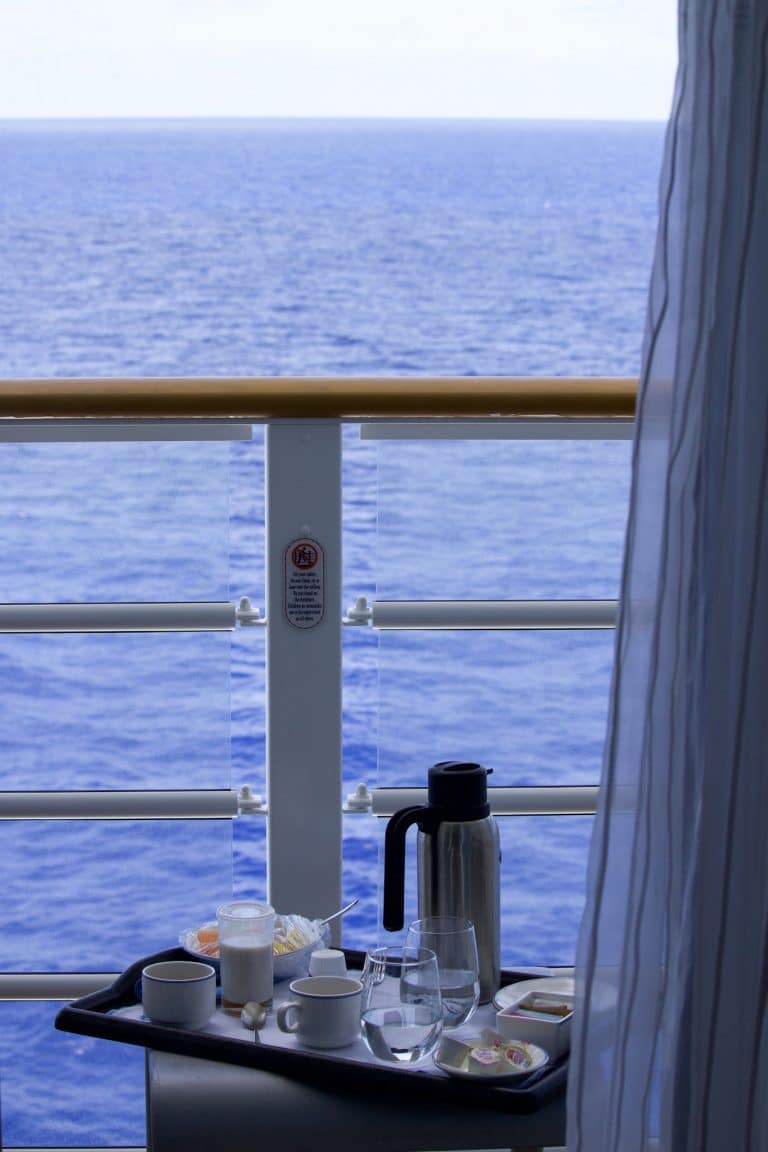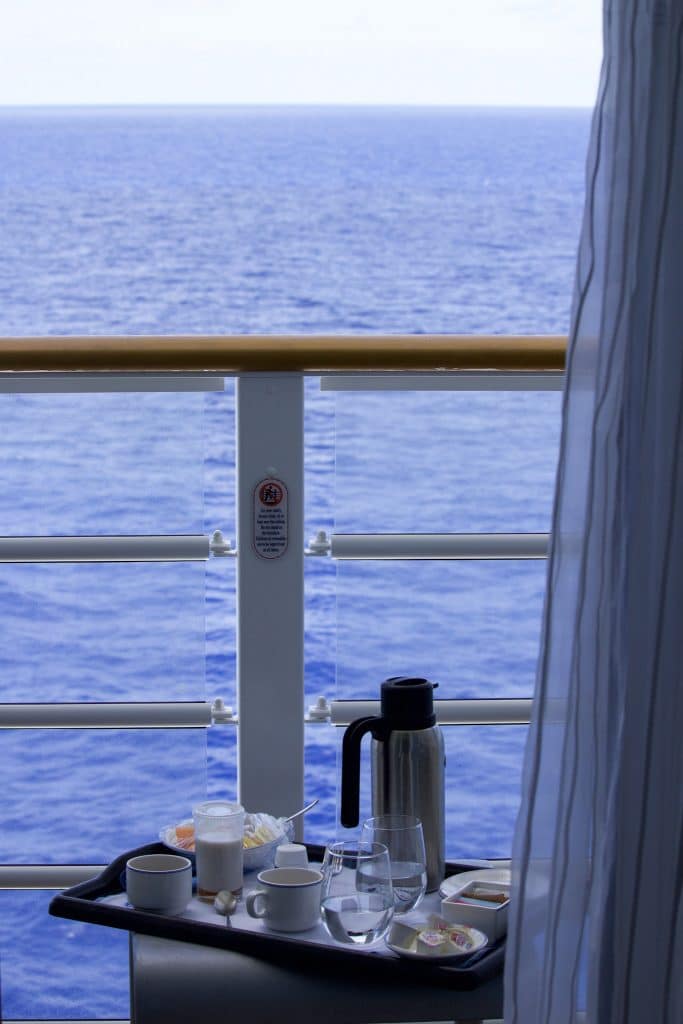 On pool days, we liked to stop at Luigi's Pizza to get a few slices and at Filmore's to get a side of french fries. I know, not exactly healthy but perfect for when you're on vacation!
Almost every time we left Deck 11, Travis had to stop at the soft serve ice cream machine to get a cone to go. He's a master at making the perfect swirl.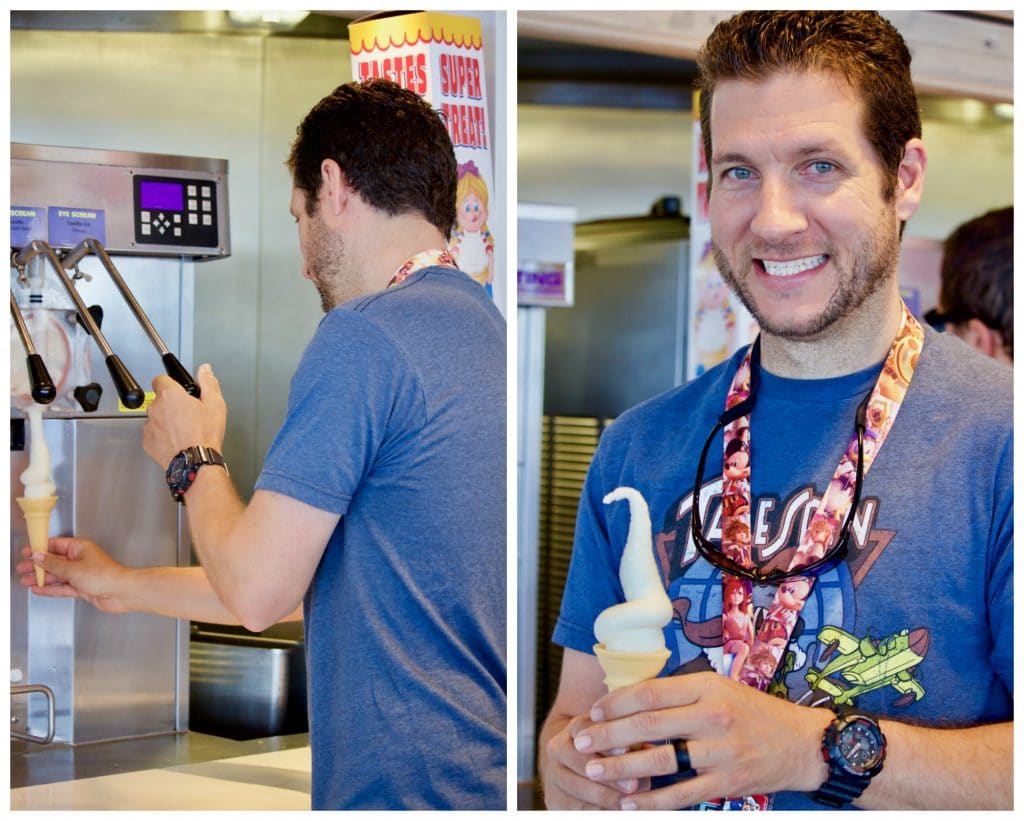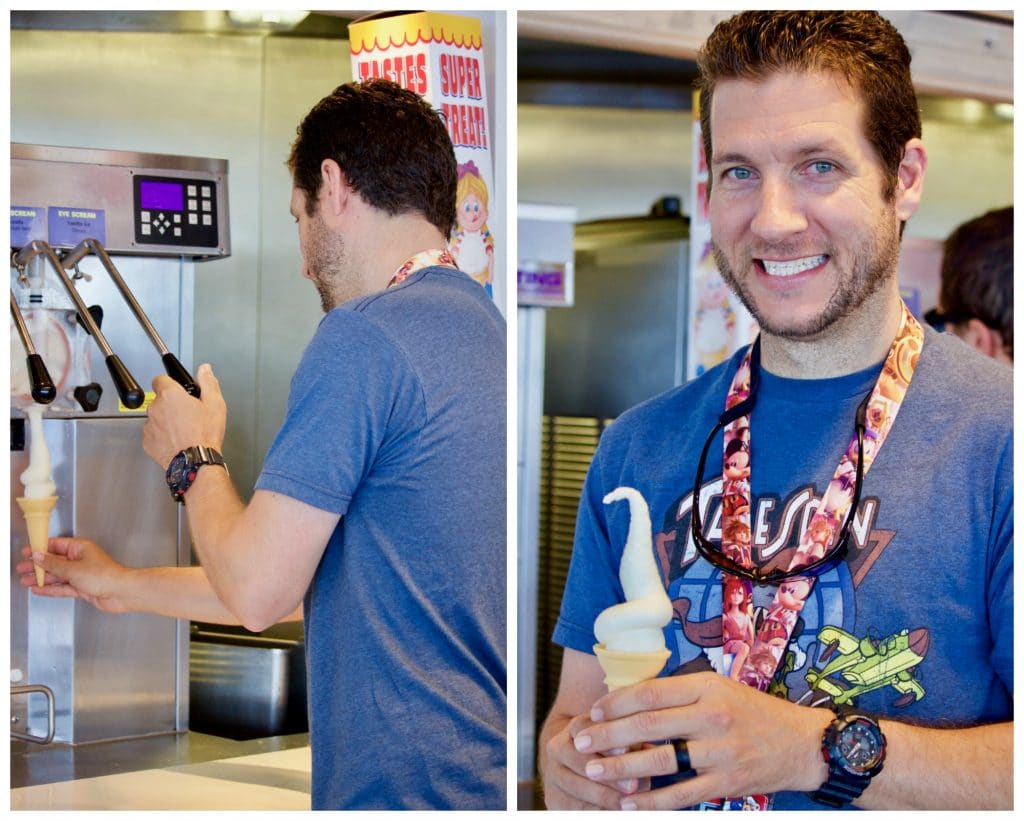 On the last night of our Disney cruise, we stopped in at Sweet on You, the new ice cream and gelato shop. We tasted a few samples but finally decided on a huge, single scoop of the mango coconut gelato. At only $2.95, I thought the giant scoop you get is well worth the additional cost.
Drinks on a Disney Cruise
I'm sure most people think that a Disney cruise is just for kids but it's really not! There are lots of adult only areas and tons of adult activities to do on the cruise. Compared to other cruise lines, their alcohol policy is one of the best. You can bring two bottles of wine or one 6-pack of beer per person onboard the ship.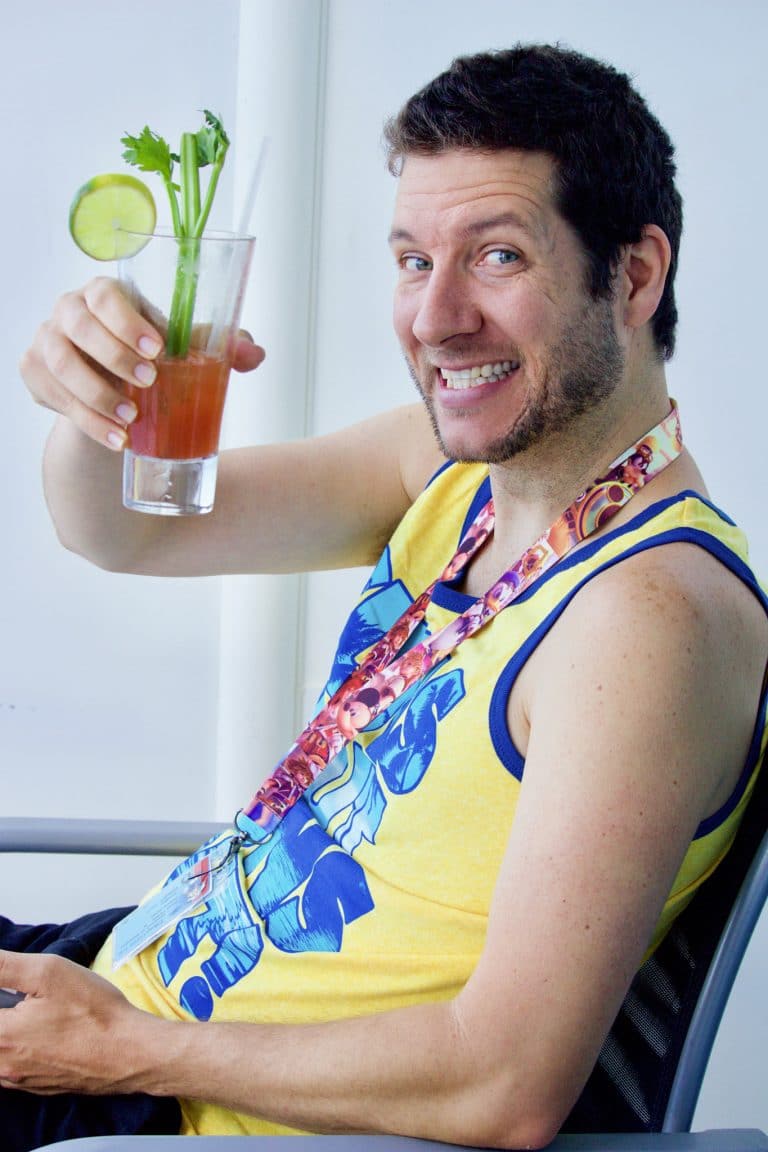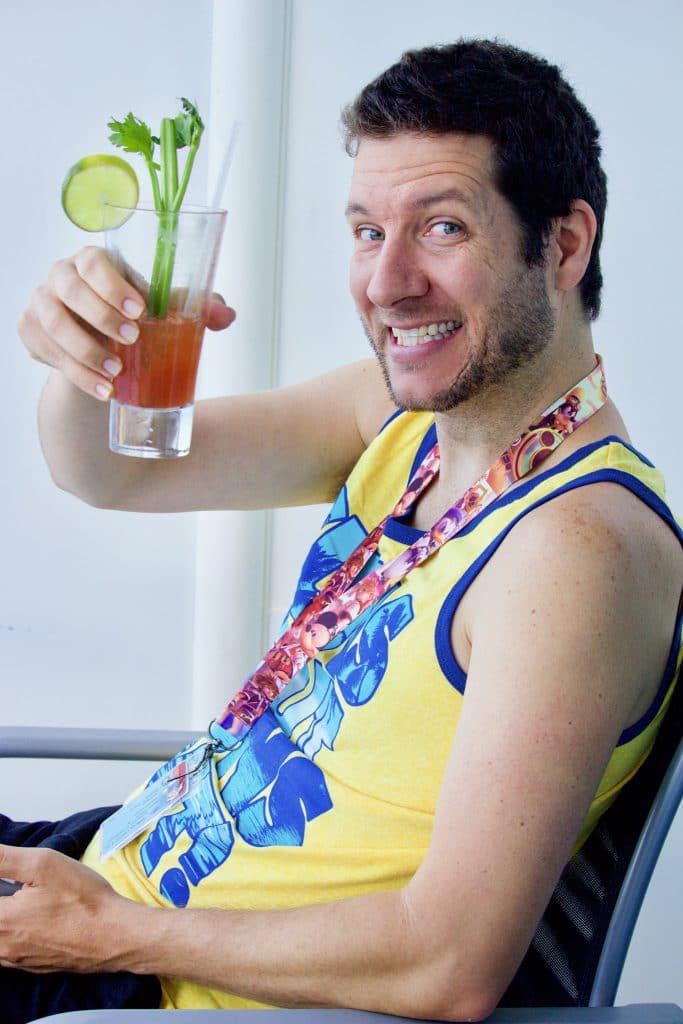 The $4.75 drink of the day (DOTD) is a great deal and they're all pretty delicious, we tried most of them. They're mostly fruity drinks but isn't that what you want when you're relaxing by the pool?
If you plan on trying a bunch of the drinks, buy the souvenir cup for around $9 then use it for DOTD refills. It's a good deal because the souvenir cup is bigger than the regular drink cup. Also, from 8am-12pm, screwdrivers, bloody mary's and mimosas are only $4.25.
Disney Cruise Entertainment & Activities
There's so much to do on the ship. So many activities, so little time! We were going from early in the morning until almost midnight every night and we still didn't even get to do everything on the ship. Combine the activities with all the food you want to eat and the days at port and you just barely have enough time to fit everything in!
You will get a Personal Navigator in your stateroom the night before. Make sure to bring a highlighter so you can go through the Navigator and highlight everything that you want to do the next day! Also, bring magnetic clips to hang on the back of the bathroom door so you can keep track of all the papers you get during the cruise.
Broadway Shows – We saw Aladdin! It wasn't as good as the real show on Broadway in NYC but it was still really enjoyable.
Disney Trivia – Be prepared, the questions are really hard but fun! They do give out a prize to the winner. We didn't win, not even close.
Comedy Shows – Match your Mate was our favorite, the hostess was hilarious!
Magic Act
Crafts Classes – we did a tile coaster class! They have other crafts like scrapbook memory pages and family crafts too.
Mixology Class ($20 per person + tip) – This was Travis's favorite class + it's a great value for the number of drinks you get to try!
Tequila Tasting ($20 per person + tip) – Great value + lots of information. We really liked this one too.
Martini Tasting ($20 per person + tip) – We enjoyed this tasting too but it was our least favorite of the three classes we went to.
Cooking Class – I really wanted to go to the apple strudel or the lobster ravioli class but we just ran out of time.
Senses Spa
Pin Trading Night – Make sure you show up early, the best pins go fast! Bring lots of trading pins with you. You will find a few cast members to trade with during the cruise (mostly in the gift shops) but most of the trading will take place on this night.
Explore the Ship – Try to walk through every deck of the ship, every inch of the Fantasy is beautiful.
Watch the Sun Rise and Set – We watched the sunset three times on our Disney cruise, each one was different but all of them were gorgeous. On the last night, we watched it set from the bow (front of the ship) and it was the most beautiful sunset I've ever seen. The horizon, the water, the clouds…it's absolutely stunning. Make sure you do it at least once!
Diaper Dash – All the babies who can't walk yet, line up and race/crawl their way to the finish line. It's pretty hilarious to watch and cheer on your favorite baby (go Mateo!!!) is really fun!
Shopping – I was really surprised that they only have a few Disney stores to shop at on board, I wanted more! They recently opened a Tiffany's store on board but that's not what we wanted to shop for.
Go to the Movie Theater – There are movies playing constantly at the Buena Vista Theater, Walt Disney Theatre on Deck 3, and Funnel Vision on Deck 11. You can also see new movie premieres at sea! We were lucky enough to see the brand new Pirates of the Caribbean movie at midnight on premiere night.
Pool days + the Aquaduck – We relaxed by the adult pool a few times and we also went on the Aquaduck, it was awesome! The wait is usually around 30 minutes unless you get there really early or pretty late

Pirate night

+ Fireworks – Pirate night was so much fun! Everyone really gets into it and everyone dresses up. Our stateroom attendant left pirate Mickey bandanas and chocolate gold coins in our room, it was a really nice touch. Dinner at Animator's Palate was pirate themed, there were pirate stage shows and a pirate dance party after the fireworks!
More Disney Cruise Posts You'll Love
Read this review before you book brunch or dinner at Palo!
Read my list of 159 Disney Cruise Tips that I Wish I Would Have Known Before Our Cruise!
Is there anywhere to eat on Disney's private island: Castaway Cay?
Did you know that there's a secret pirate-themed buffet at Cabanas on pirate night?
Disney Cruise Ports & Excursions
On our Disney cruise, we stopped at the following ports:
St. Thomas, US Virgin Islands
San Juan, Puerto Rico
Castaway Cay, Bahamas
We were originally scheduled to go to Tortola instead of Puerto Rico, but after the delay on the first day our schedule got changed.


St. Thomas, US Virgin Islands
St. Thomas was the first port of our Disney cruise. This is the beautiful view that we woke up to on Tuesday morning. It was a little foggy so it really doesn't even do it justice, the color of the water was a stunning aqua.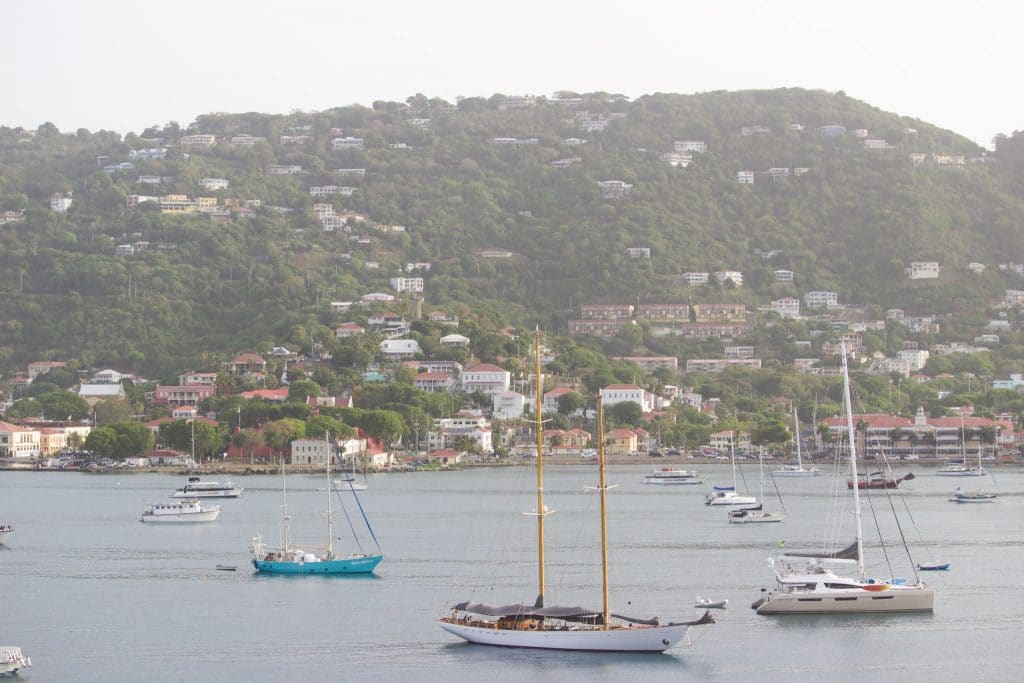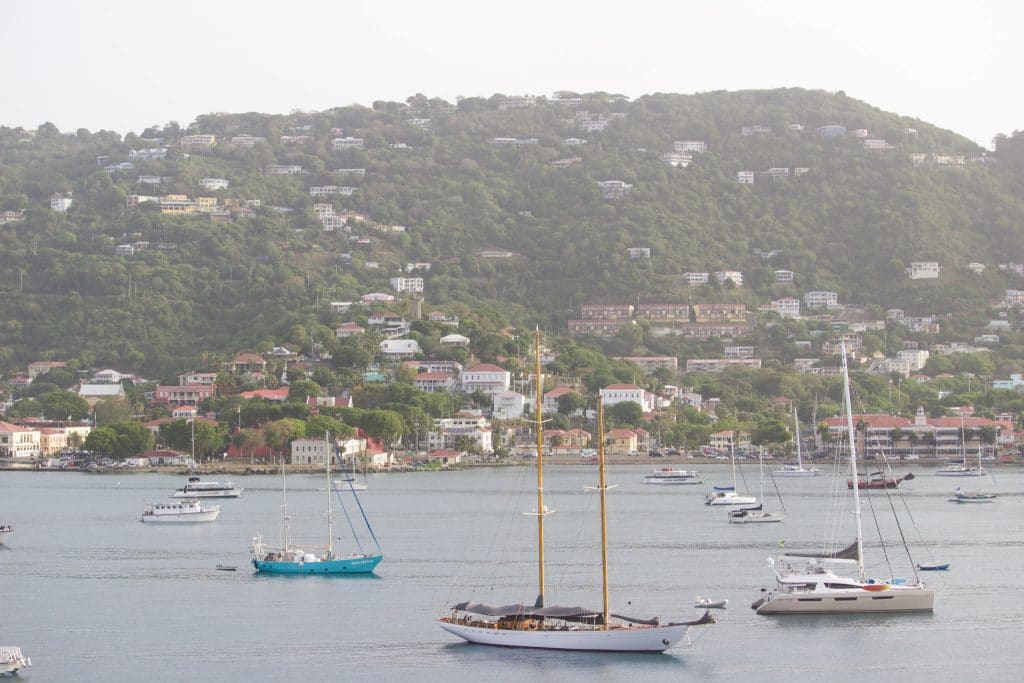 We decided to go zip lining at Tree Limin Extreme Zip Lining because Travis really wanted to do an exciting excursion.
I did lots of research and found Tree Limin to be highly rated with tons of positive reviews. They're extremely focused on safety, that was really important to me. Plus, the six zip lines, two sky bridges and acres of jungle to zip through did sound pretty amazing.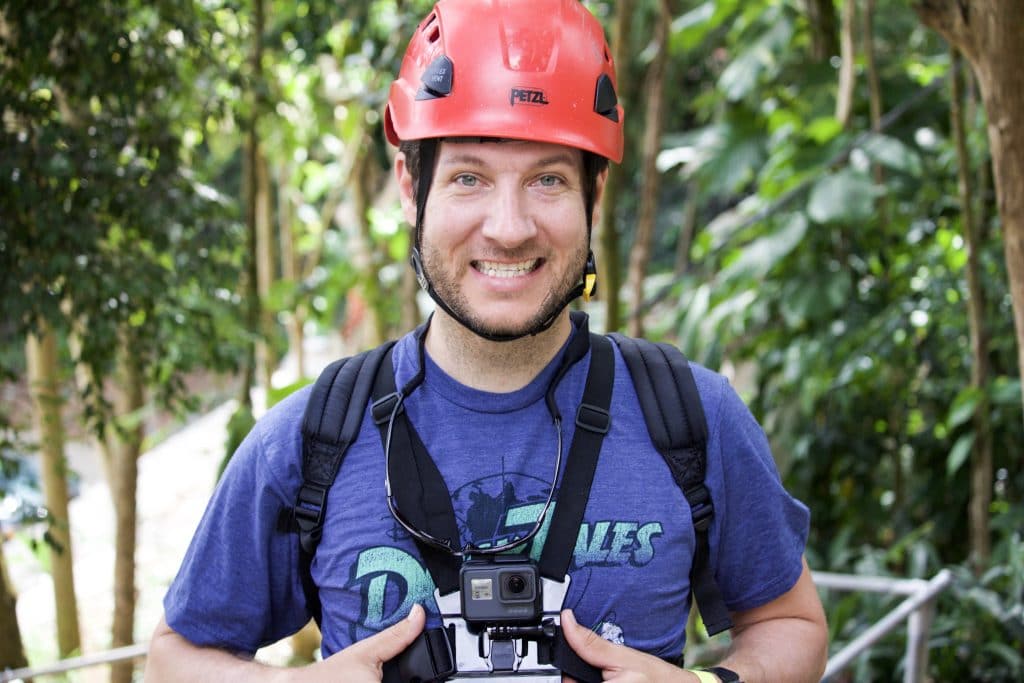 I was a little leery at first, okay, I was really scared to go zip lining. I don't want to have any regrets though, so I pushed through my fears and went for it. It was amazing! I'm so glad that I did it.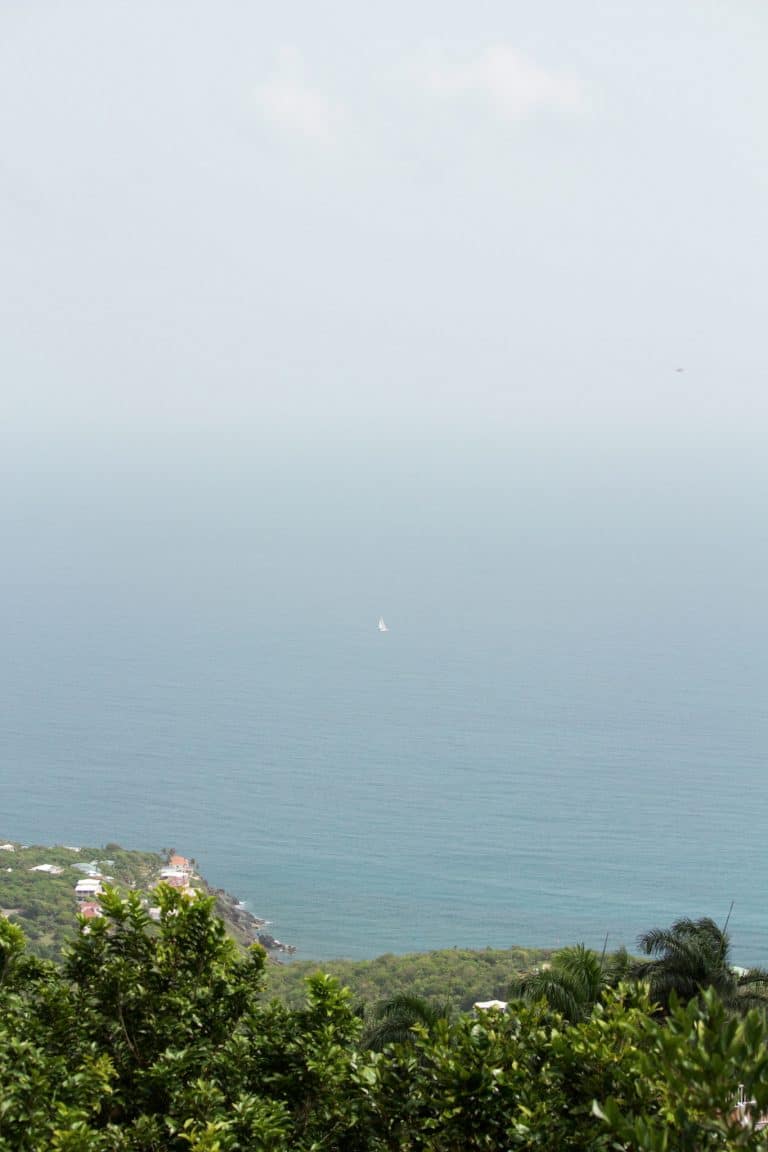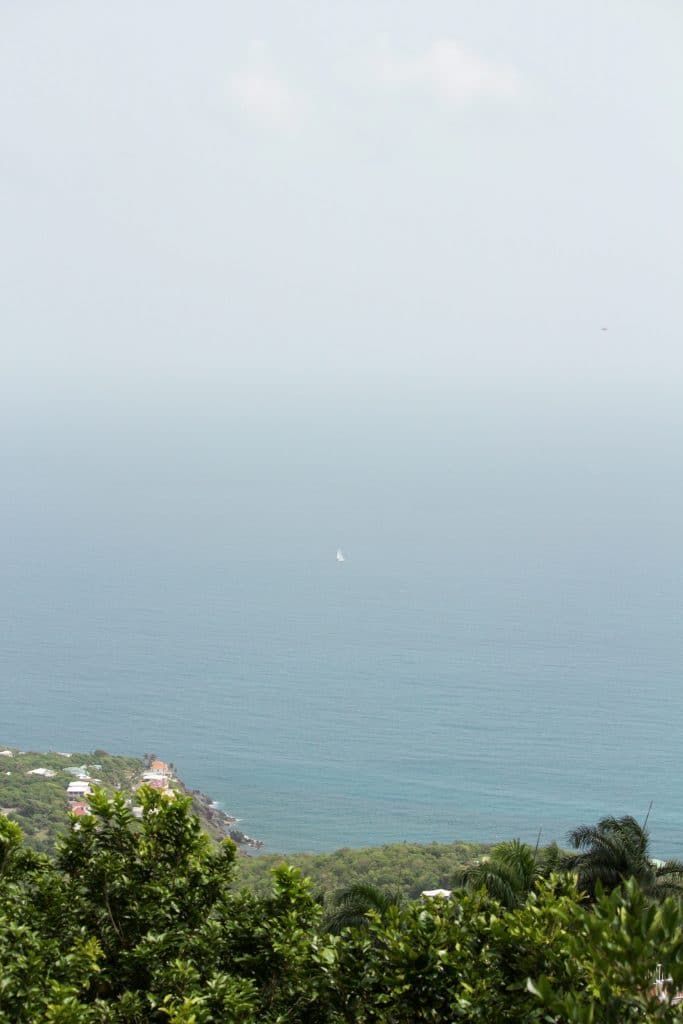 The views from the zip lining stands are jaw-dropping. I took so many gorgeous pictures from the platforms!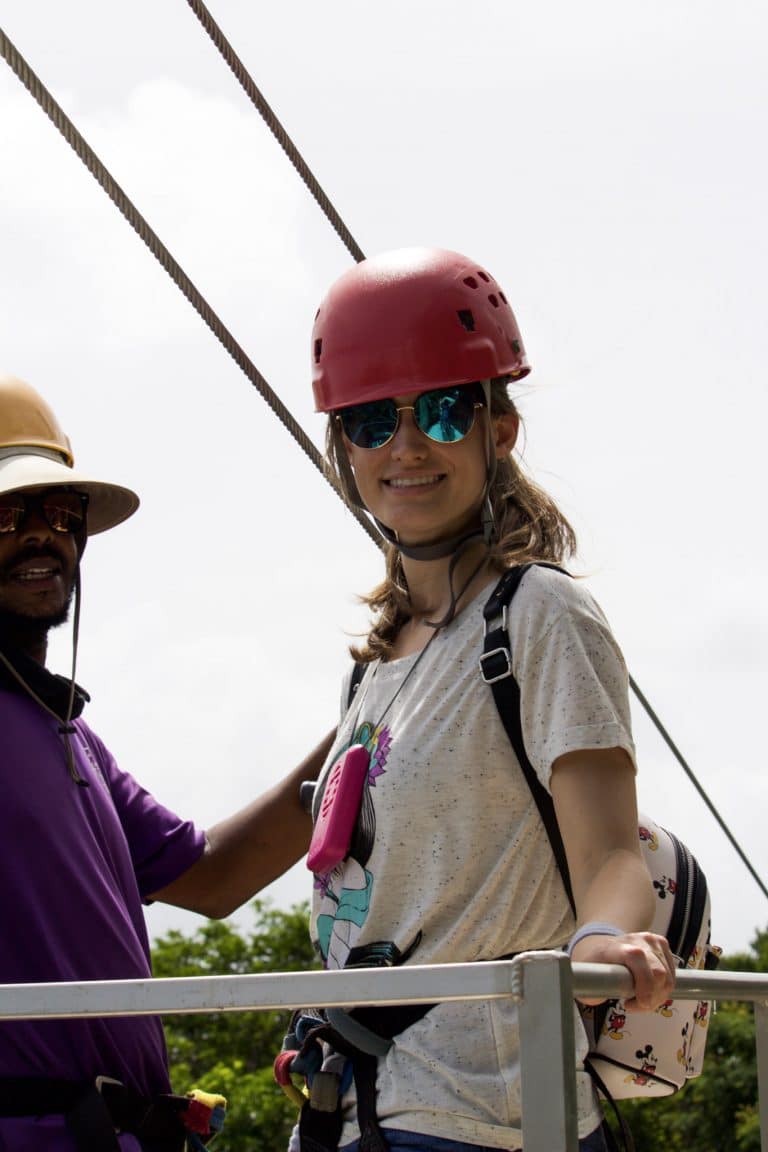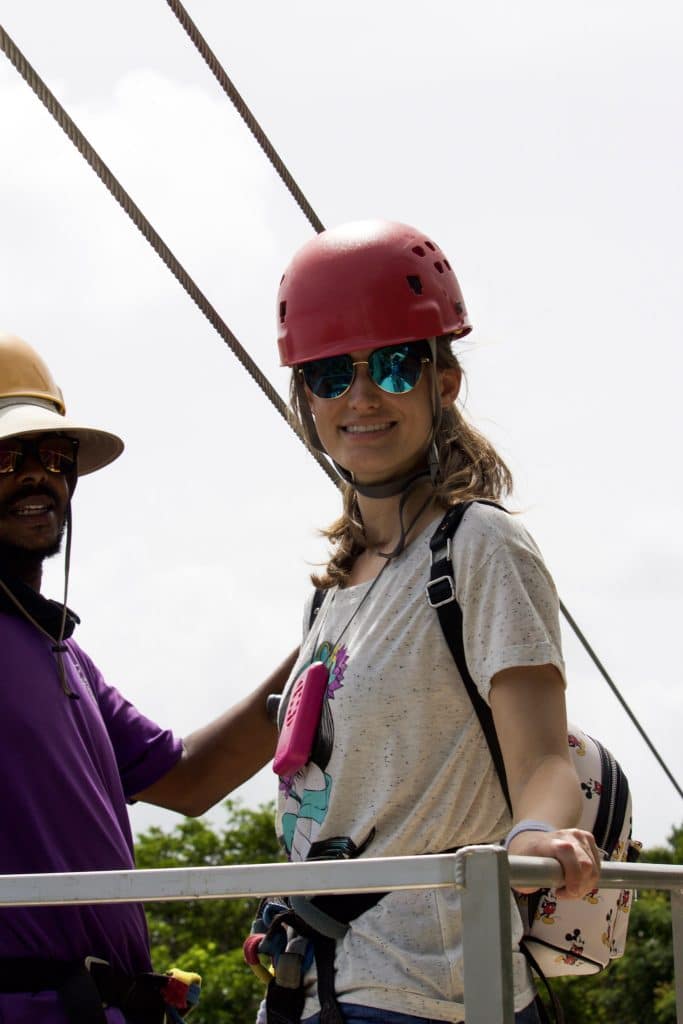 When we first arrived at Tree Limin, we were instantly greeted by Eddie and the rest of the friendly staff. They gave us a quick rundown about what was going to happen, we signed electronic waivers, went to the bathroom one last time (you do not want to have to pee when you're at the top of one of the platforms), and got suited up in a very secure harness and helmet.
We headed up the steps to a very thorough safety session with two of the employees and then up we climbed to the first zip line. I was extremely impressed with the amount of care and time each employee took with us. They counted off and checked each of our safety buckles to make sure we were safe and ready to go.
Everyone was so friendly and I think they could tell I was nervous so their jokes really helped me to relax and enjoy the first jump.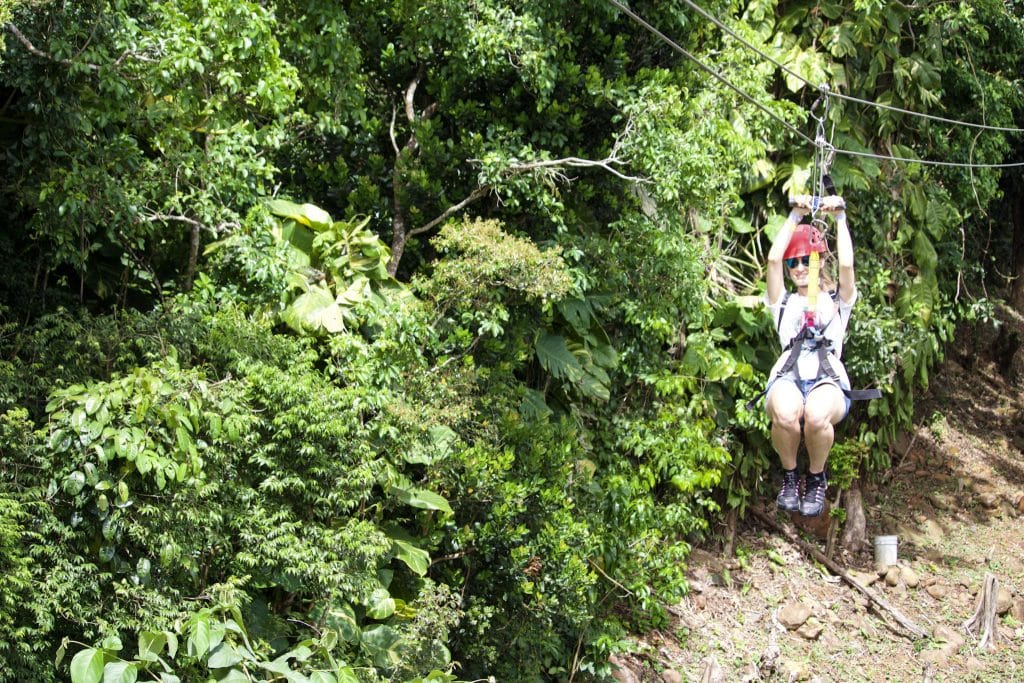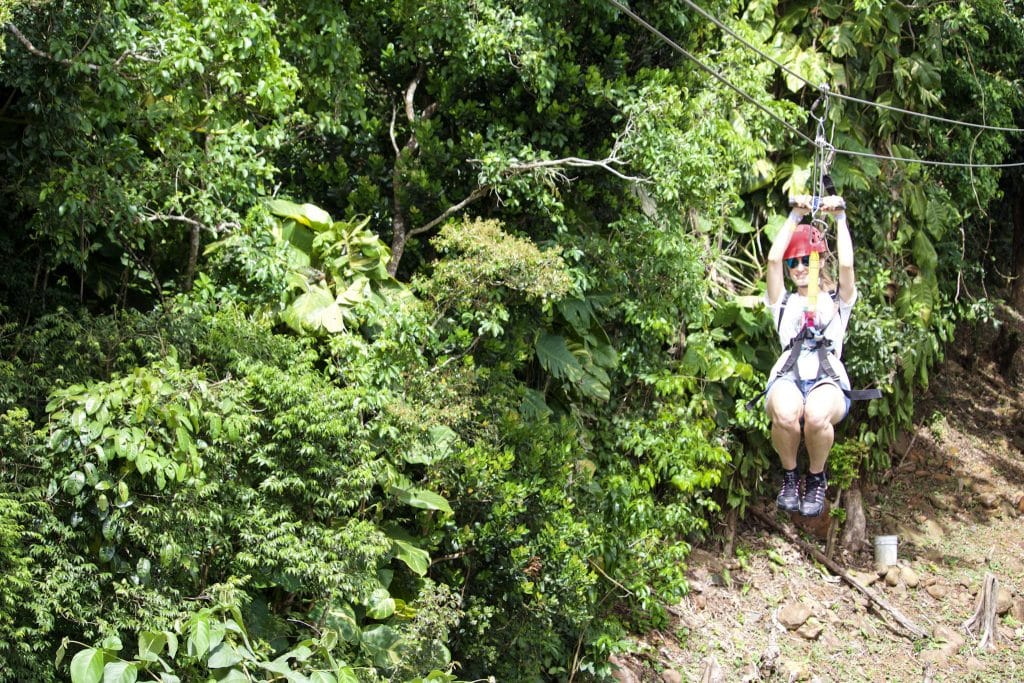 After the first jump, it was a breeze! I relaxed and enjoyed the scenery flying by me. Travis had our GoPro attached to his chest but after we watched the videos later we noticed that the big yellow safety strap was blocking the view of his camera.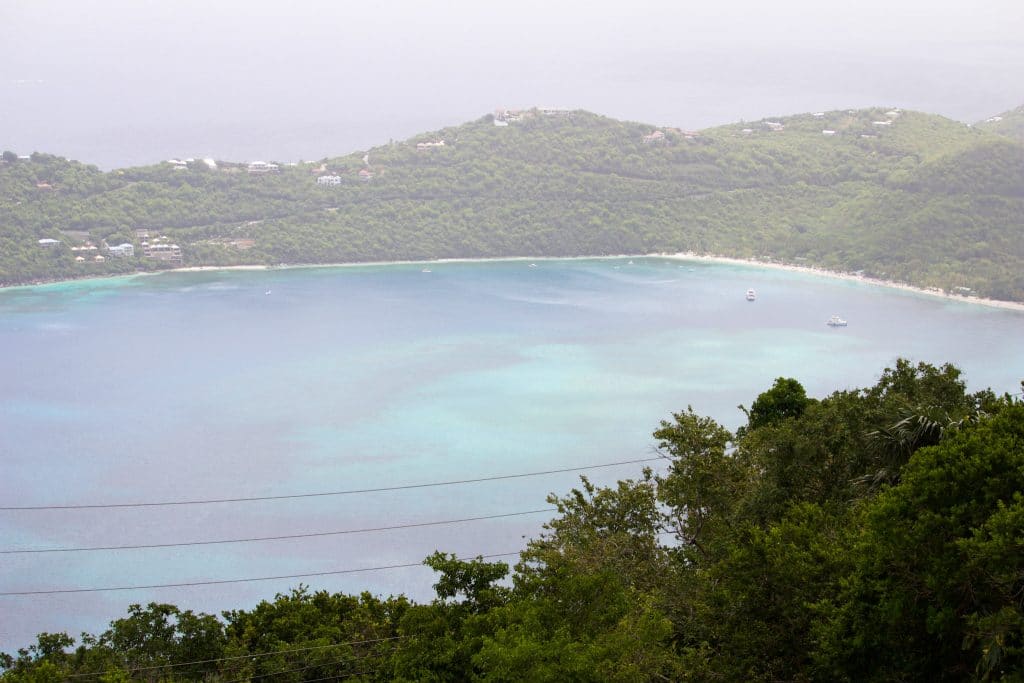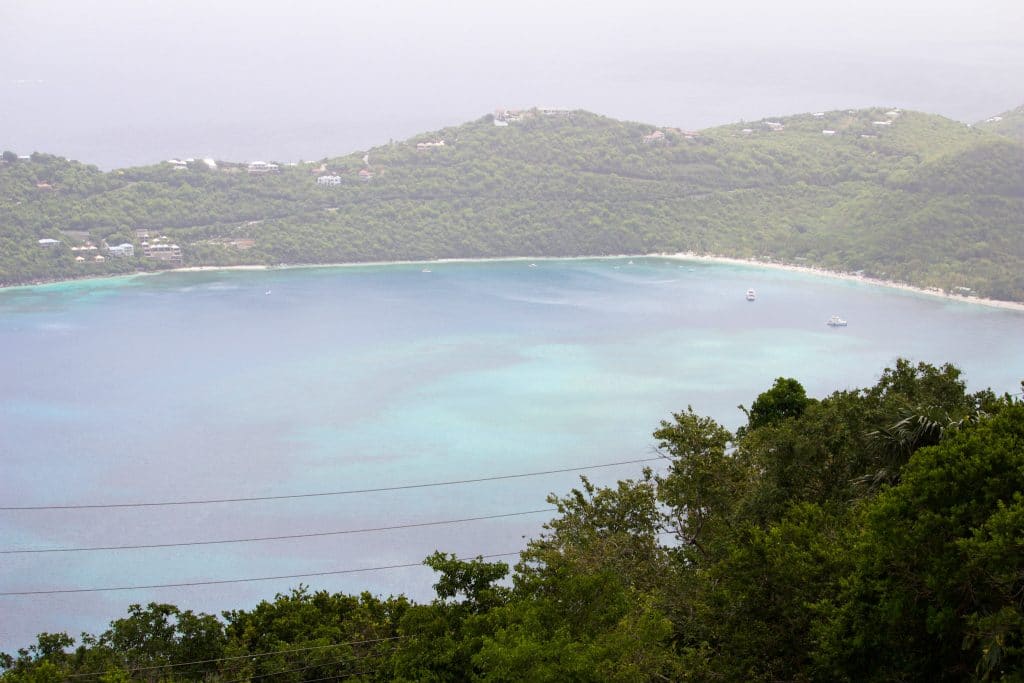 Tree Limin does offer GoPro's to rent that will attach to your helmet, so make sure you place the GoPro on your helmet, not your chest, for the best view of your zip lining adventure.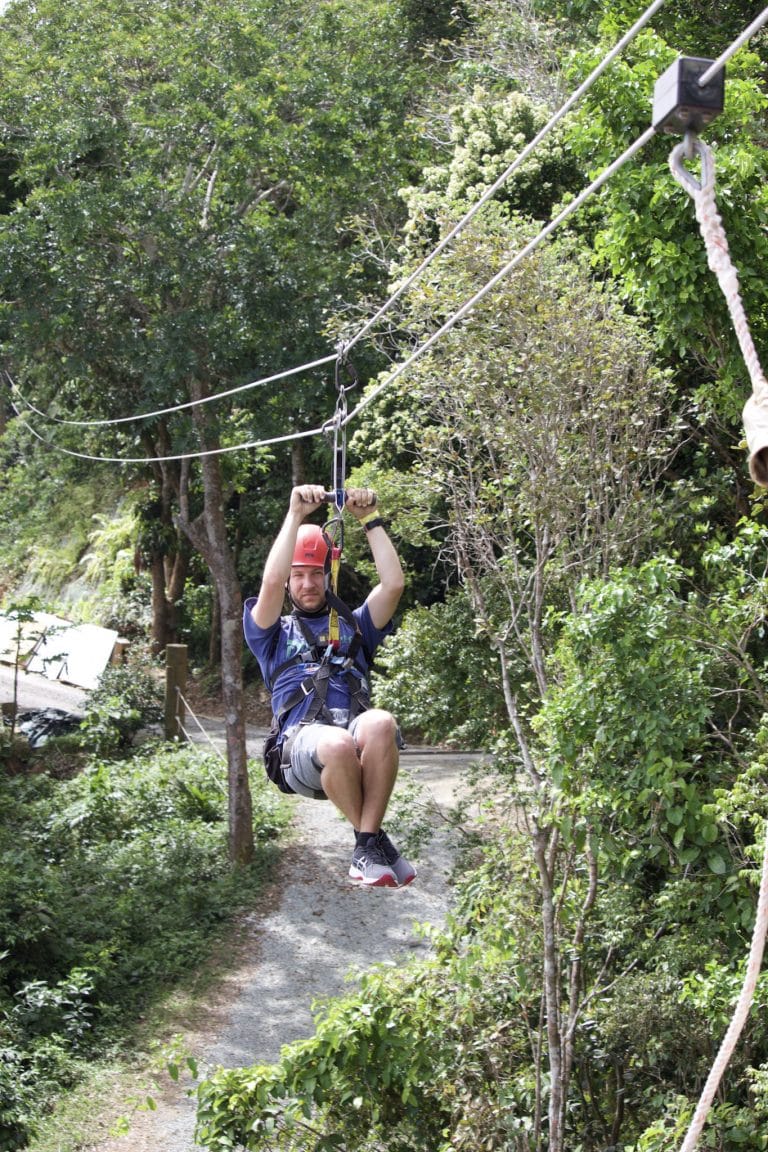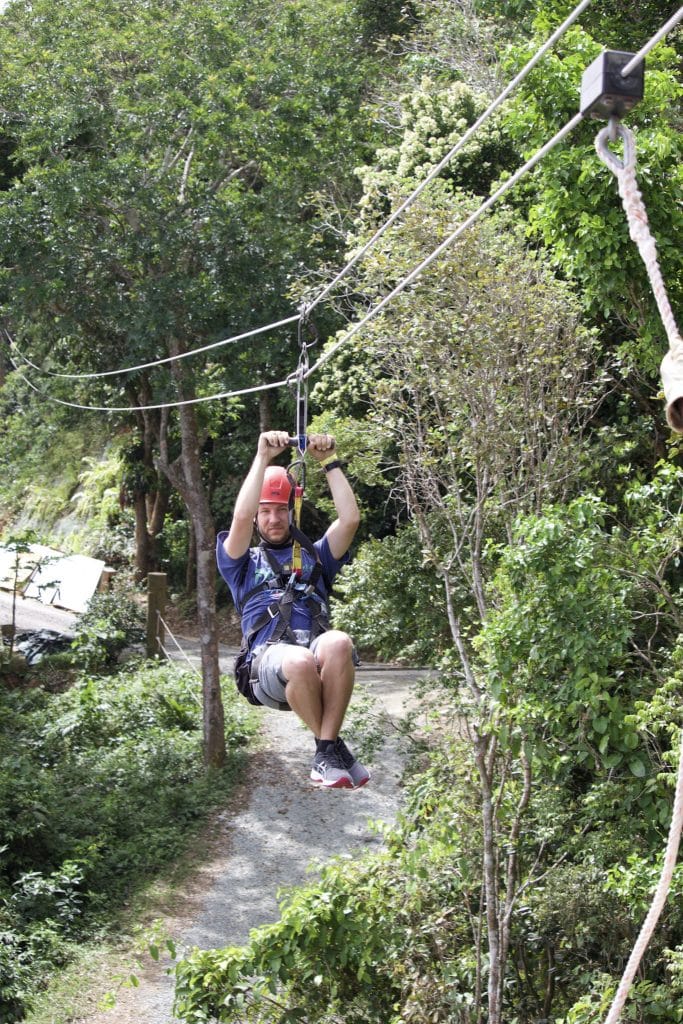 All of the employees (especially Ely) at each stop were so friendly and professional. We really enjoyed talking to each of them as they unhooked us and hooked us up to the next line.
We felt very safe the whole time we were zip lining and I really appreciated that they have two lines that you're attached to instead of just one like many other zip lining places. I'll take all the safety backups that I can get!
The last zip line was my favorite! You have to climb up a few flights before you jump off the platform, so you go down before you swing out. It was really exhilarating!
Overall, we had a great time, it was a fantastic adventure that we'll both remember forever! If you're interested in zip lining in St. Thomas, I highly recommend Tree Limin Extreme Zip Lining.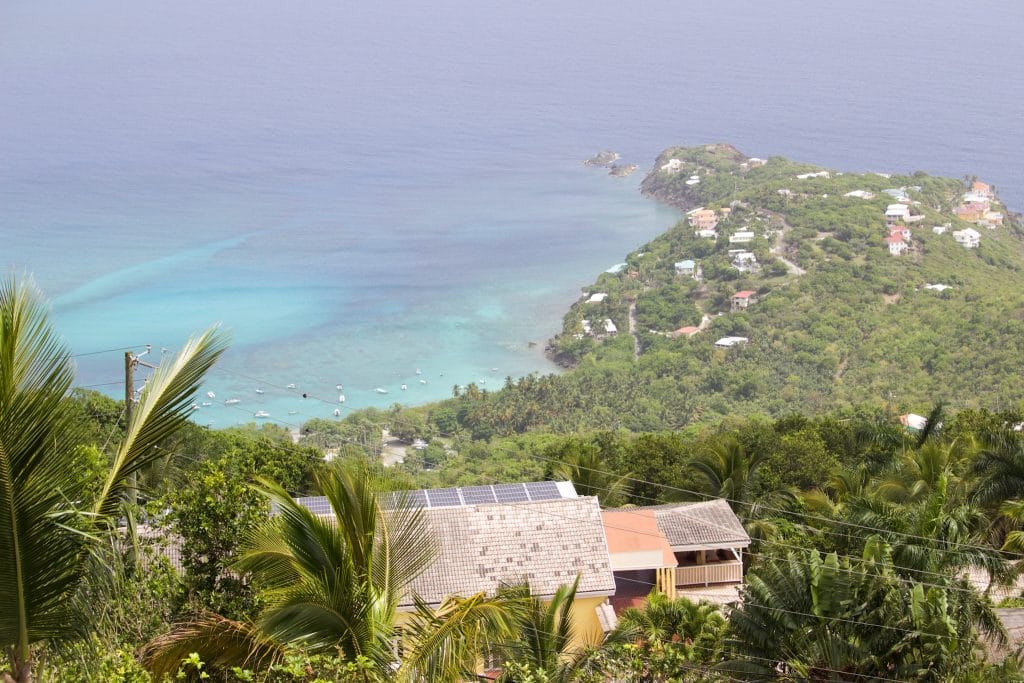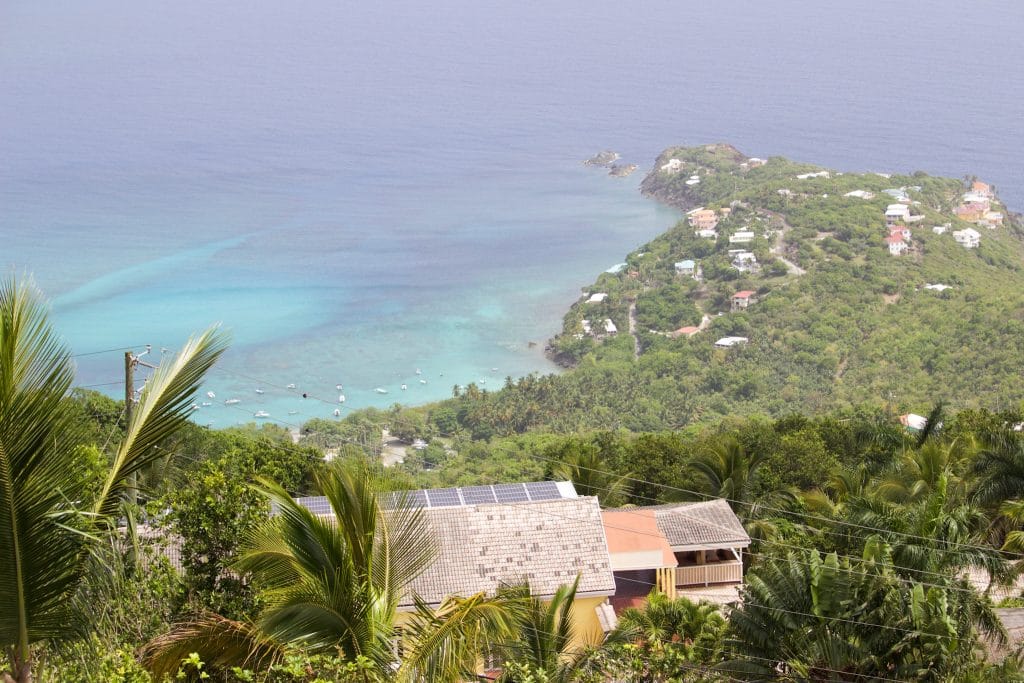 It took us about one hour to get through the zip lining course + a 20-minute cab ride through the steep and winding streets of St. Thomas. The cab dropped us off at a shopping center about a mile away from the ship, so we wandered around a bit before heading back on board the ship.
San Juan, Puerto Rico
We weren't sure what to expect when we docked in Puerto Rico. Since we didn't know that we were going there we hadn't done any research about excursions to do or places to visit. However, the crew said they liked this port better than Tortola, so that was nice to hear.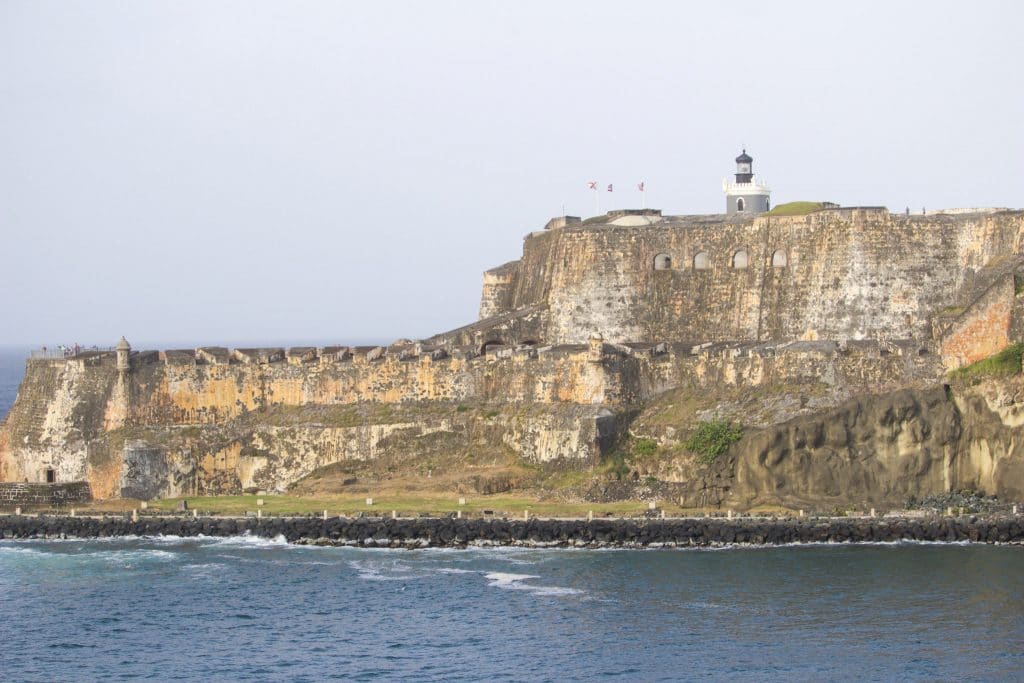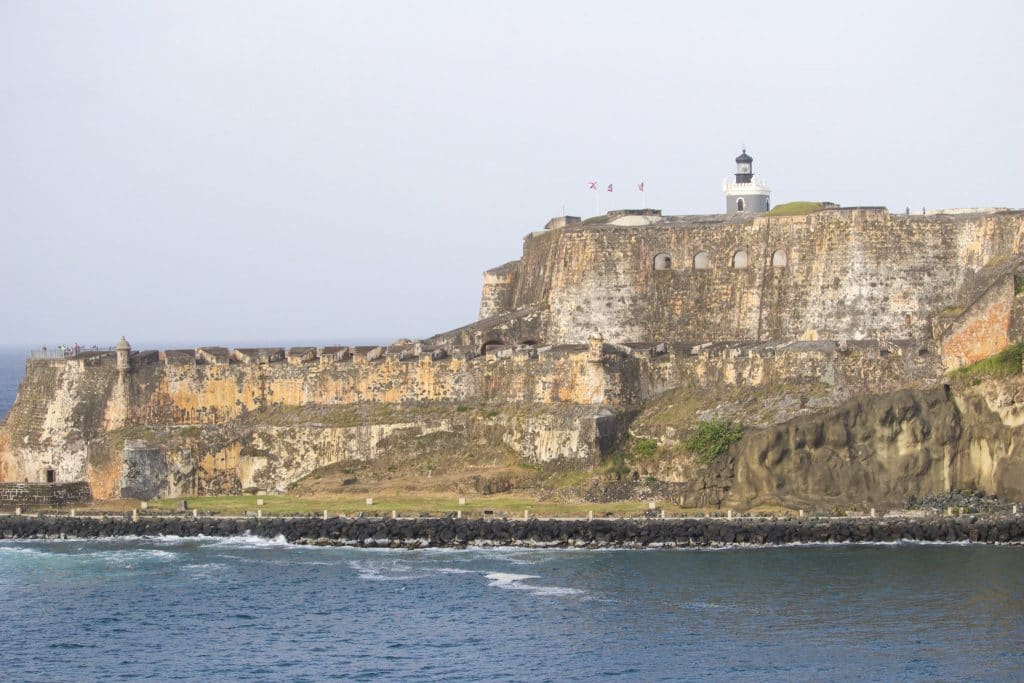 Since we were unprepared, we decided to just explore the city. I was a little nervous when we walked off the pier because there were tons of people trying to get our attention to sell us stuff. I just kept my head down and I didn't make any eye contact with any of them until we made it further into the city.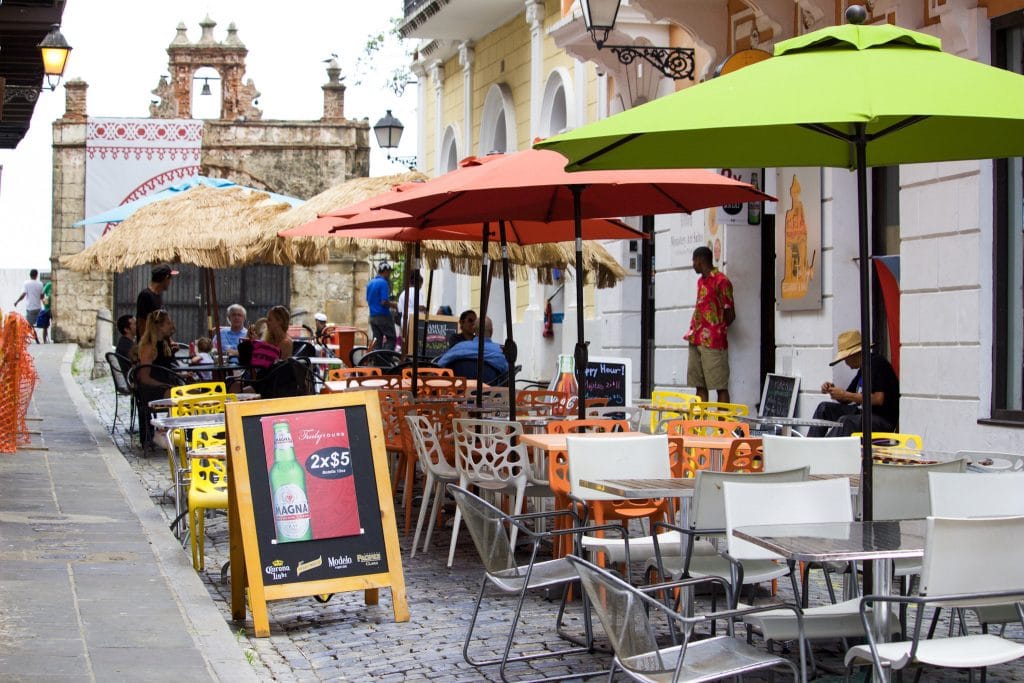 There were lots of stores to shop at, tons of souvenir shops and a few stores that were really unique. We walked through a historic fort, we stopped at a festive restaurant to grab a drink and we wandered through the town square. Many of the buildings were painted bright happy colors, it was really pretty to look at!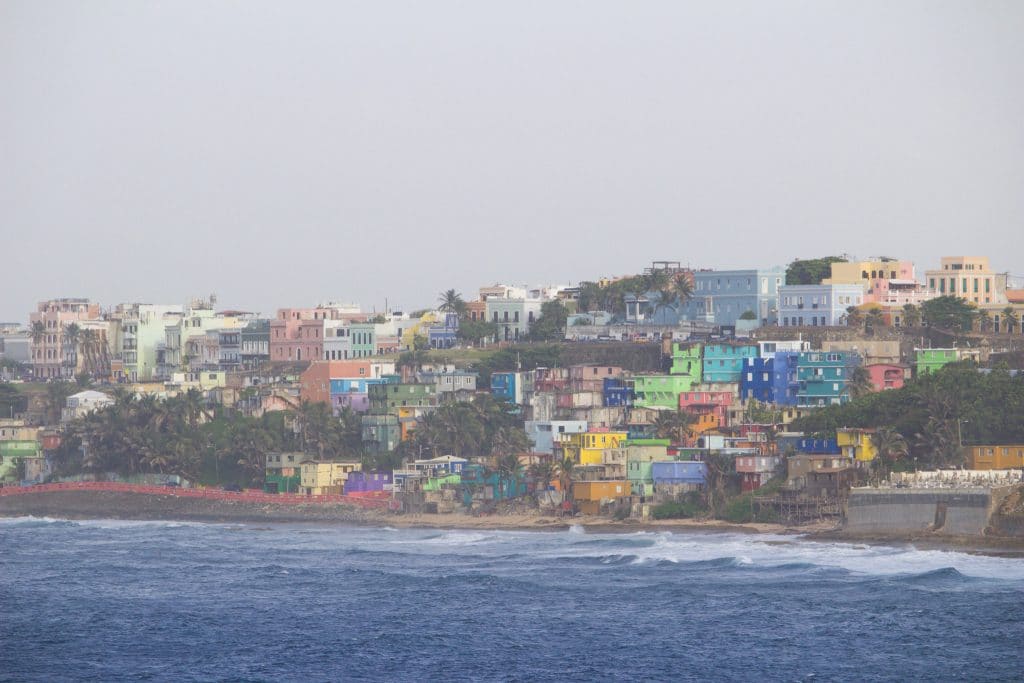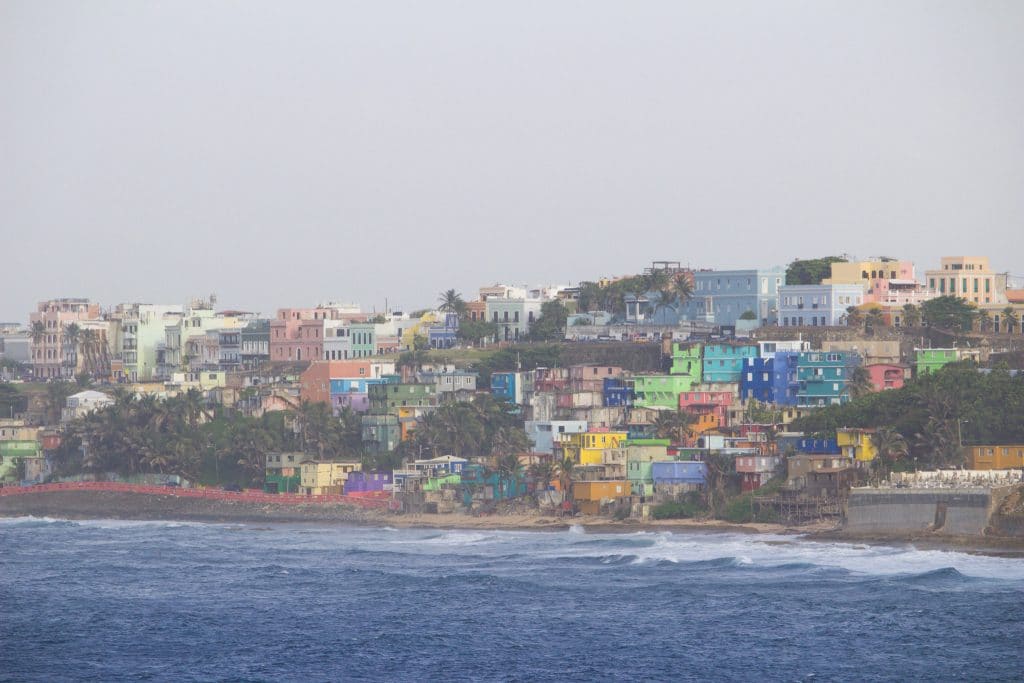 It was fun to explore but I would have liked to have done research before we left home so we could've picked an excursion to go on that was highly rated.
Castaway Cay, Bahamas
The day at Castaway Cay was our last full day on the ship. We'd heard so many great things about Castaway Cay that we were ready to get off the ship as soon as possible so we could explore. (Click here to read 13 activities to do at Castaway Cay!)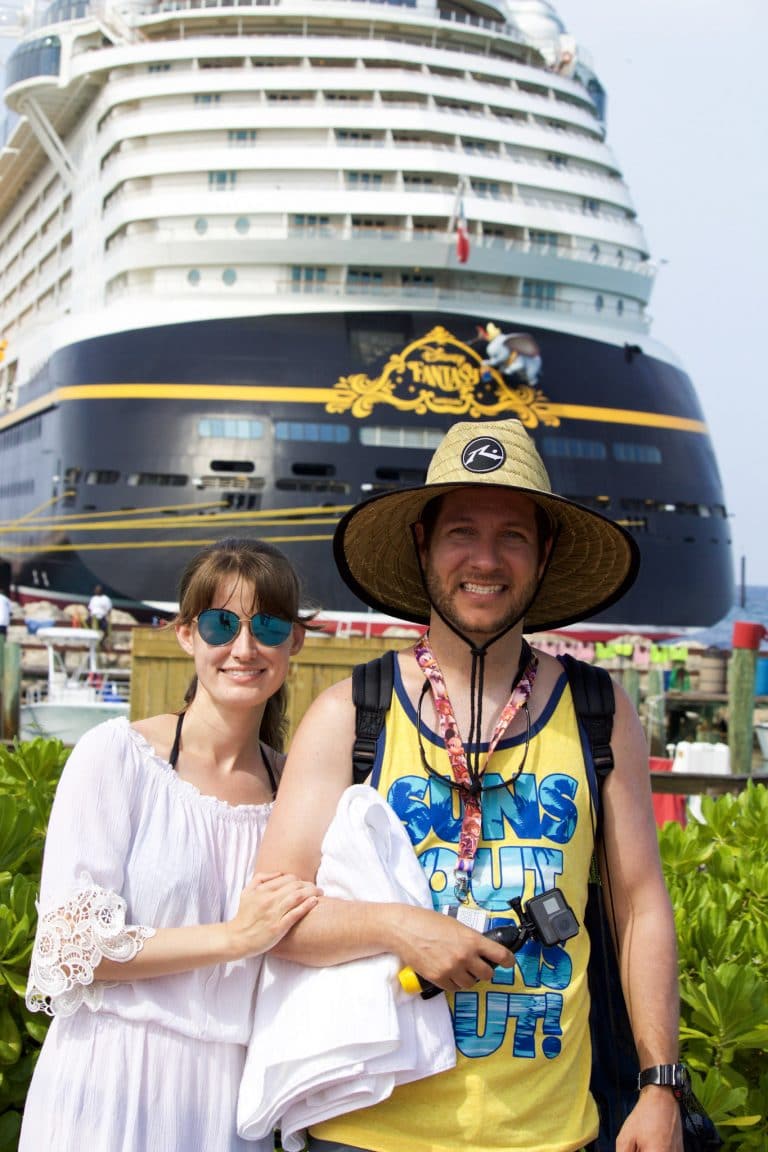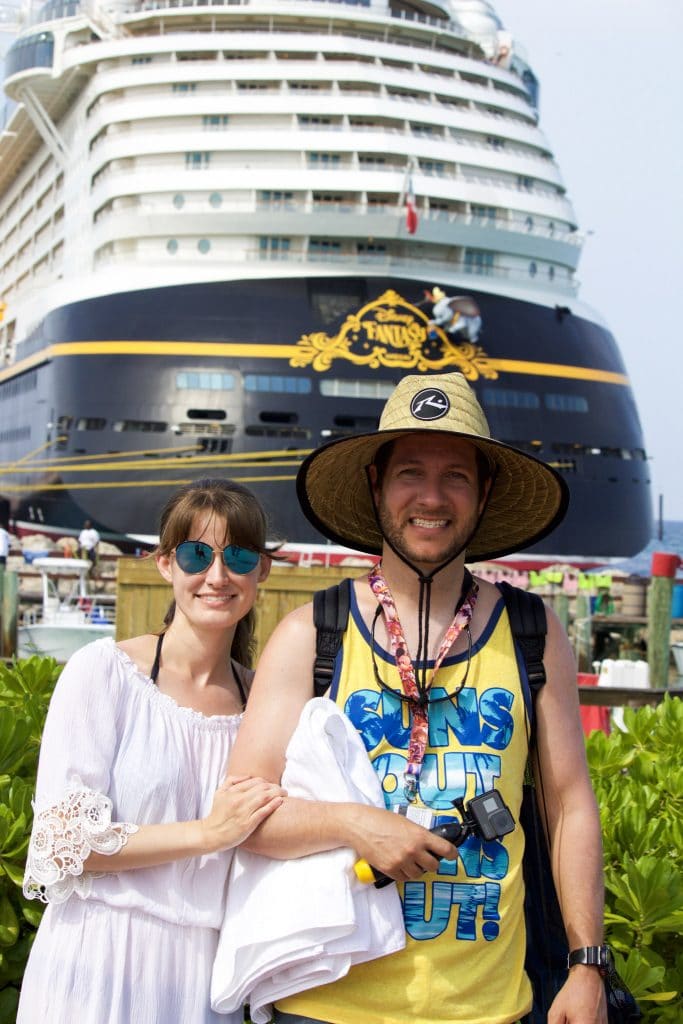 It did not disappoint! Castaway Cay is like a small waterpark! You can only visit Castaway Cay if you're on a Caribbean Disney cruise so it really felt like a deserted island.
I don't know why I was surprised by how amazing the island is, it's Disney's private island after all. Even though the island is decorated to feel like a deserted island, everything is beautiful, clean and inviting. There were many picture spots setup with Disney photographers waiting to take your picture.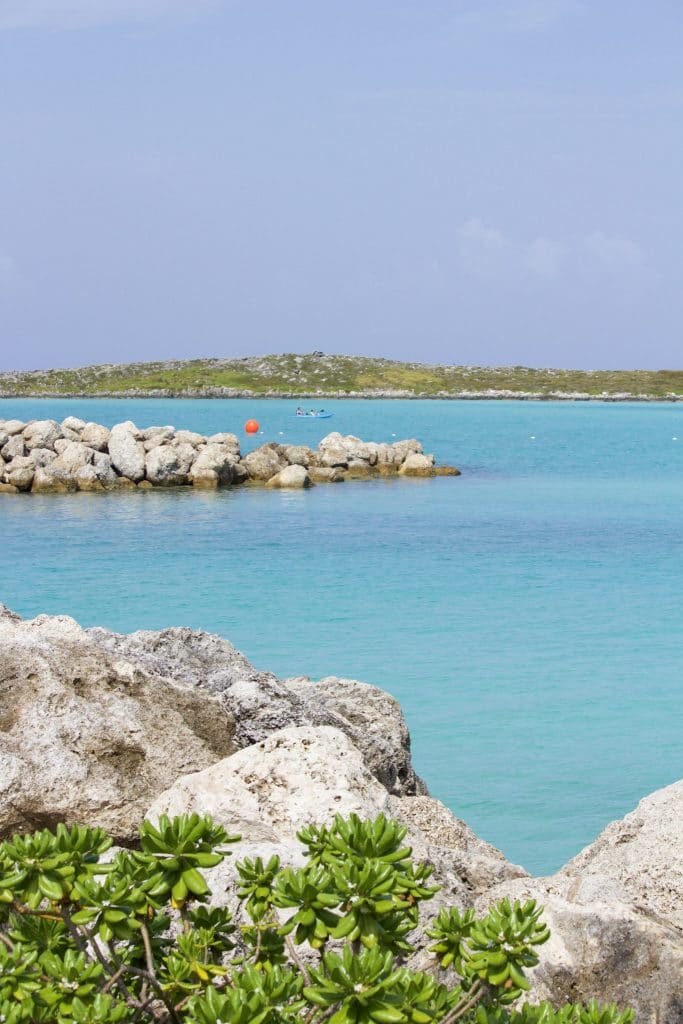 We snorkeled, went on the slides, had lunch at Cookies BBQ and explored the adults only beach, Serenity Bay. It was so much fun! Just make sure to drink a lot of water and reapply sunscreen often, the sun is extremely strong and you will burn quickly.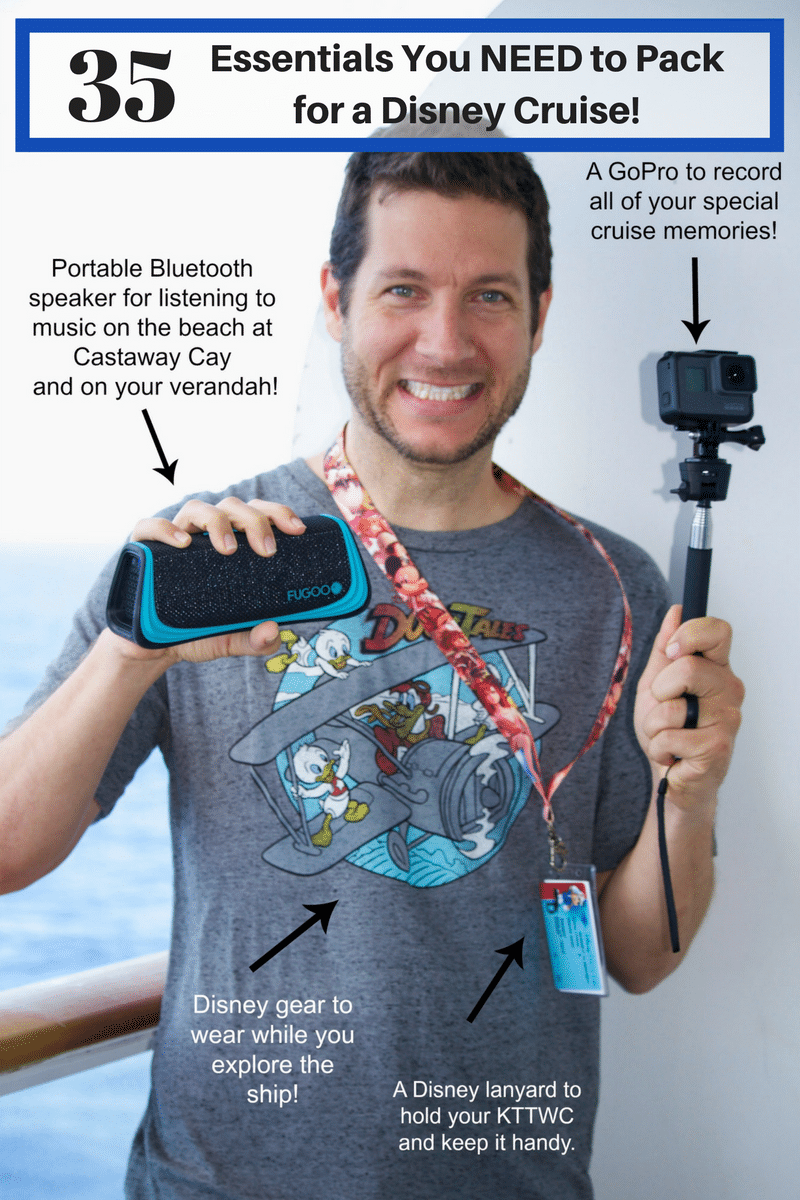 35 Essentials You NEED to Pack for a Disney Cruise
I did so much research about everything to pack for our Disney cruise, I wanted to make sure that we had everything that we would need. We used everything on this list at least once on the cruise so I will be using this list in the future to pack by. The only things on my original list that we didn't end up using were our water shoes and a hanging organizer.
Extra memory cards + batteries – Bring a backup just in case! I took way more pictures and videos than I'd planned on taking so I was happy that I brought an extra memory card.
Passport + ID – I bought one of these RFID wallets that protect against identity theft to hold both of our passports, ID's, cash, and credit cards for the trip. I don't think it's required to have a passport for traveling to the Caribbean yet but it was very convenient for us to have ours and keep everything in one place.
Camera – Take pictures! I know it's a hassle in the moment but pictures = memories and memories are priceless! This is the camera that I brought on the cruise.
GoPro – We got a GoPro specifically for the cruise. We wanted to record everything plus we wanted something that we could bring in the water for snorkeling and at the beach. I'm so glad we brought it, I recorded so many great memories of our cruise!
Floppy beach hat – This was a last minute addition for me but I'm so glad that I brought it to protect my face and neck from the extremely strong sun at the pool and at Castaway Cay.
Sunscreen (this is the brand I use)- You will use tons of sunscreen, bring an extra bottle!
Cash for tips – Mostly $1's and $5's for tipping and for shopping at the ports.
Magnetic clips – We clipped all of our tickets and Personal Navigators to the door to stay organized.
Beach bag – I remembered everything that I need for the beach except I forgot the beach bag to carry it all off the ship. Oops.
Flip flops – We lived in flip flops and sandals on the cruise. You want to be comfortable, leave the heels at home.
Clothes pins – These came in really handy to pin up our wet swim suits on the clothesline.
Lanyard with plastic card holder for KTTWC – Travis wore a lanyard the whole cruise and kept our KTTWC in the plastic holder for convenience. You need it for everything! Getting on and off the ship at port, to buy souvenirs at the gift shop, even to check in at the fire drill.
Refillable water bottle – They have small paper cups for coffee, soda, and water at the drink station on Deck 11 and in Cabanas but I liked to fill up my own big bottle.
Hand wipes + antibacterial spray + hand gel – I'm a bit of a germaphobe so I wiped and sprayed everything down in our room each day. You never know!
Small notebook – You will forget all the details of your Disney cruise by the end of your trip. Each night, I wrote down a quick summary of what we ate, activities that we did and funny things that happened so I can add them to my scrapbook later on.
Reusable shopping bag – If you go shopping at a port, bring a reusable bag to put all of your bags in.
Highlighter – Every night, Travis and I looked over the Personal Navigator and planned out the next day. It was much easier to keep straight when the activities are highlighted and stand out.
Trash bags for dirty laundry + laundry pods – There is a laundry bag in your stateroom but we put our dirty clothes in a trash bag from home so when we get home I know exactly what needs to be washed. If you want to do a load on the ship bring a laundry pod or a small bottle of soap with you.
Wine opener – You can order a bottle opener from room service but it's much more convenient to just bring your own.
Backpack – I carried my small Mickey backpack around the ship and I brought it out on port days too. It was very convenient, I didn't even use any of the purses that I packed.
Old GC to keep the electricity on – You're supposed to put your KTTWC in the card holder when you walk in the room, but it's not convenient if someone leaves the room and takes the card and the power goes out. Glue a small magnet to the back top of any gift card and then you can leave it hanging on the door until you need it for the electricity.
Wrinkle spray – There are very few irons on board and you can't bring your own, it will be confiscated. I brought a small bottle of wrinkle releaser and it worked like a charm.
Ziploc bags – We used Ziploc bags to pack our shoes, put our swimsuits in and stay organized.
Small flashlight – The staterooms get very dark at night, I brought a small flashlight to keep on my night stand so I could see if I had to get up in the middle of the night.
Extra pair of glasses and sunglasses – Don't risk losing your only pair of glasses or sunglasses, bring an extra pair.
Small battery operated fan (Optional) – This one isn't for everyone but if you sleep with a fan at home you might want to think about bringing your own. Disney only allows battery (or rechargeable) operated fans so don't bring one that plugs into the wall. I brought this small one and it was perfect!
Bluetooth speaker – When we sat out on the verandah, we listened (keep it low) to music on Travis' Bluetooth speaker. It was very relaxing. We also brought it to the beach with us.
Sea sick medicine – I was very worried about getting sea sick so I brought a variety of natural medicines to help me. I used Sea Bands, herbal ear patches, ginger chews, and ginger gum. I brought Bonine as a backup but it was my last resort and I didn't need it. The Sea Bands and patches worked perfectly for me.
Bandaids + vitamins/medicine – There is a first aid on Deck 1 but I liked having my own bandaids and medicines in our room.
Snorkel gear – If you plan on going on a snorkeling excursion or if you want to snorkel at Castaway Cay, I would recommend bringing your own snorkel gear. You can rent a set for $32 at Castaway Cay but I just don't like the idea of putting my mouth on a snorkel that someone else has already used.
Travel sewing kit with scissors – I didn't have to sew anything but I did use the scissors a few times. You never know when you'll need to sew on a button.
Magnets for the stateroom door – Everyone (almost) decorates their stateroom door with magnets! It's really fun and helps you find your door easily. The halls are reeeeeeally long with lots of doors!
Sweater – Even though it's summer and it's really hot, when you're on the ship in the middle of the ocean, it's really breezy at night. If you want to watch a movie on the top deck at night, you'll need a sweater!
Pirate costumes for Pirate night – These are the men's and women's pirate costumes that Travis and I wore. Not too expensive, light weight, comfortable, and perfect for the event!
Necklace Fan – This was the most important item to pack for me (it's the little pink box hanging from my neck in most of the pictures), I wore my necklace fan every single day. The ship sways quite a bit and it bothered me sometimes during dinner. Having the fan around my neck with the air blowing up at my face helped to distract me from noticing the swaying. It was also really helpful at the ports because it was extremely hot!
Disney Cruise Staterooms
The staterooms on the ship are beautiful! Our deluxe stateroom with verandah was on Deck 8 mid-ship on the Starboard side. We loved the view from Deck 8 but the stairs to get to that floor are killer. You could wait for an elevator but we didn't want to waste time so we got our workout in by running up and down the stairs every day.
I wouldn't say the rooms are small but they aren't huge either. Every ounce of extra space is used for storage and everything is very organized. On the first day, completely unpack and store your suitcases under the bed. The super comfortable queen bed is raised up 13 inches above the ground to accommodate even the biggest suitcases. Our room had a safe, couch, desk, coffee table, two closets, plus loads of drawers and cabinets to store everything.
I love that Disney cruise staterooms have a split bathroom layout. That means that each room has one room with a shower, sink and mirror and a second room with a toilet, sink, and mirror. So, Travis and I could both get ready at the same time. It was very convenient!
The verandah was my favorite part of the room. I loved sitting out there any chance I got. The calming waves and the ocean breeze was so wonderful. I didn't realize how much I loved the ocean until I saw it like this. The sunsets are to die for.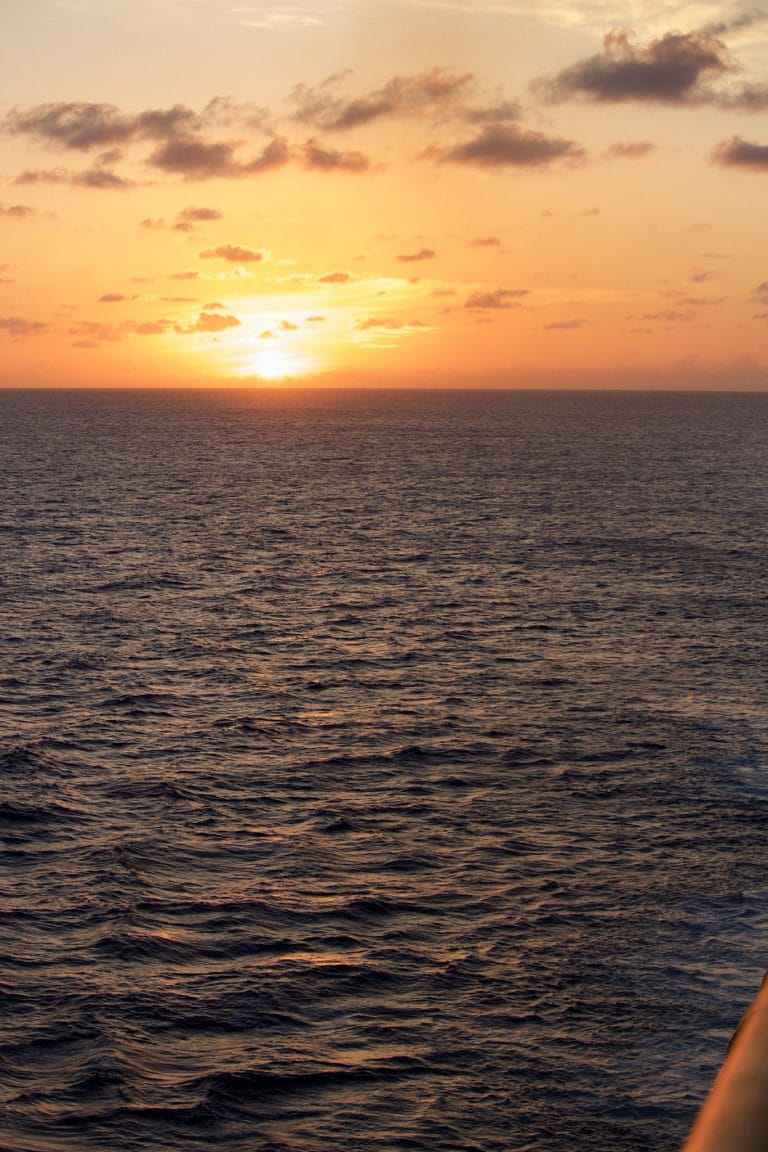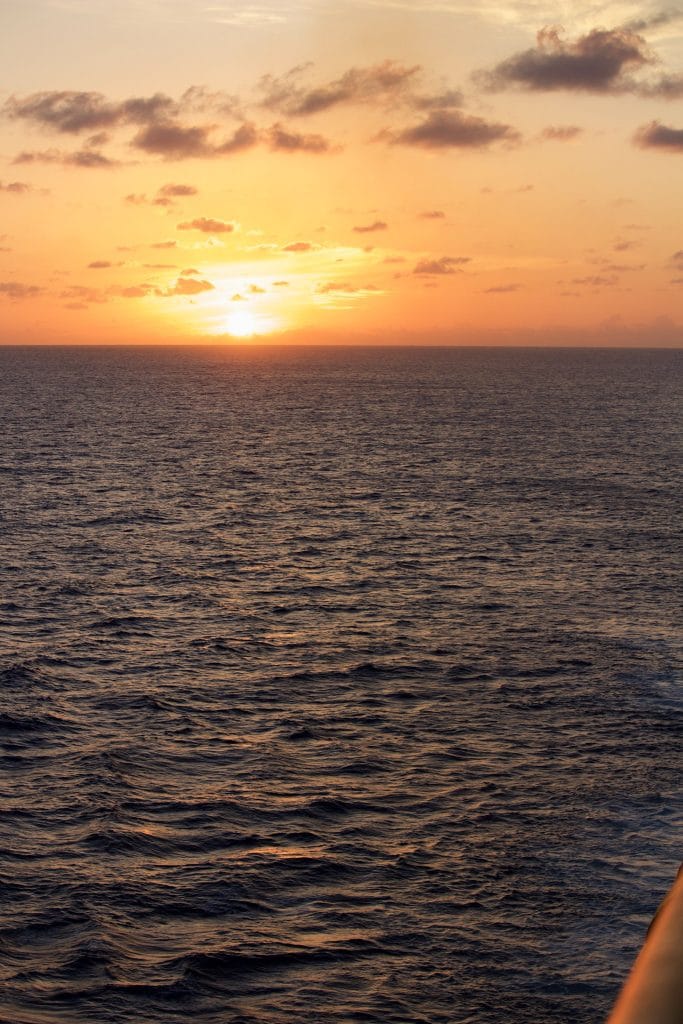 Every night, when we came back to our stateroom, we found a towel animal + two porthole Ghiradelli candies waiting for us every night! We even had rose petals one night and a card congratulating us on our marriage! Our rooms hostess was amazing, she came twice a day and our room was always perfect. Thank you, Tania!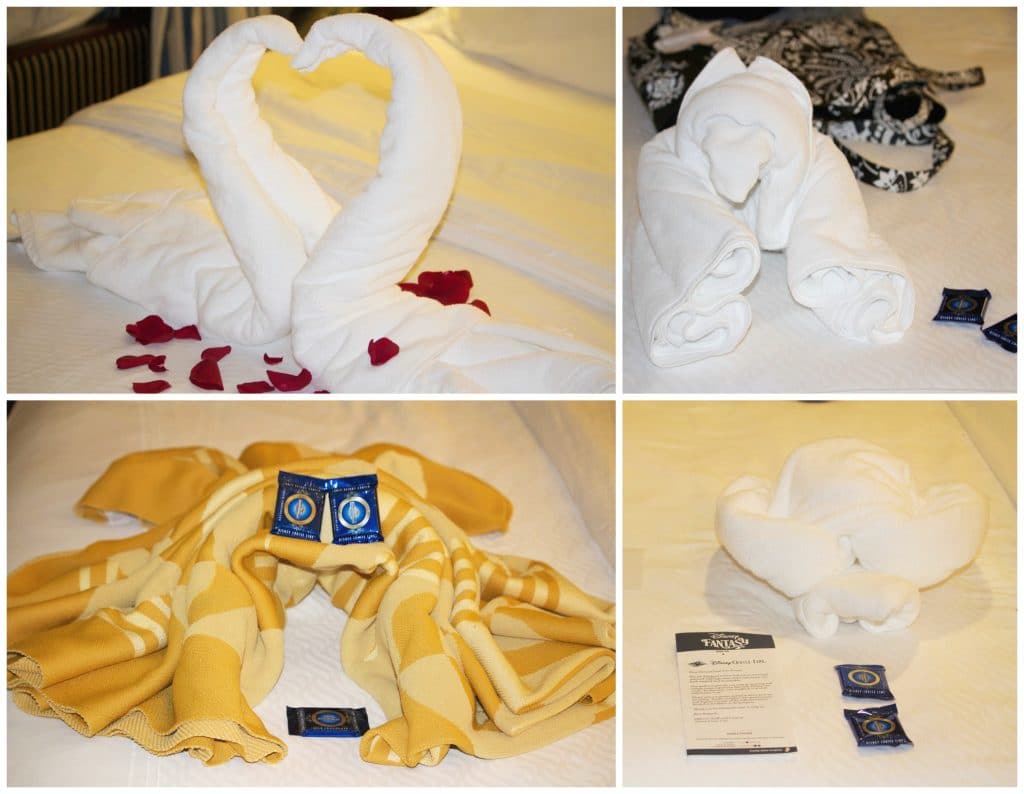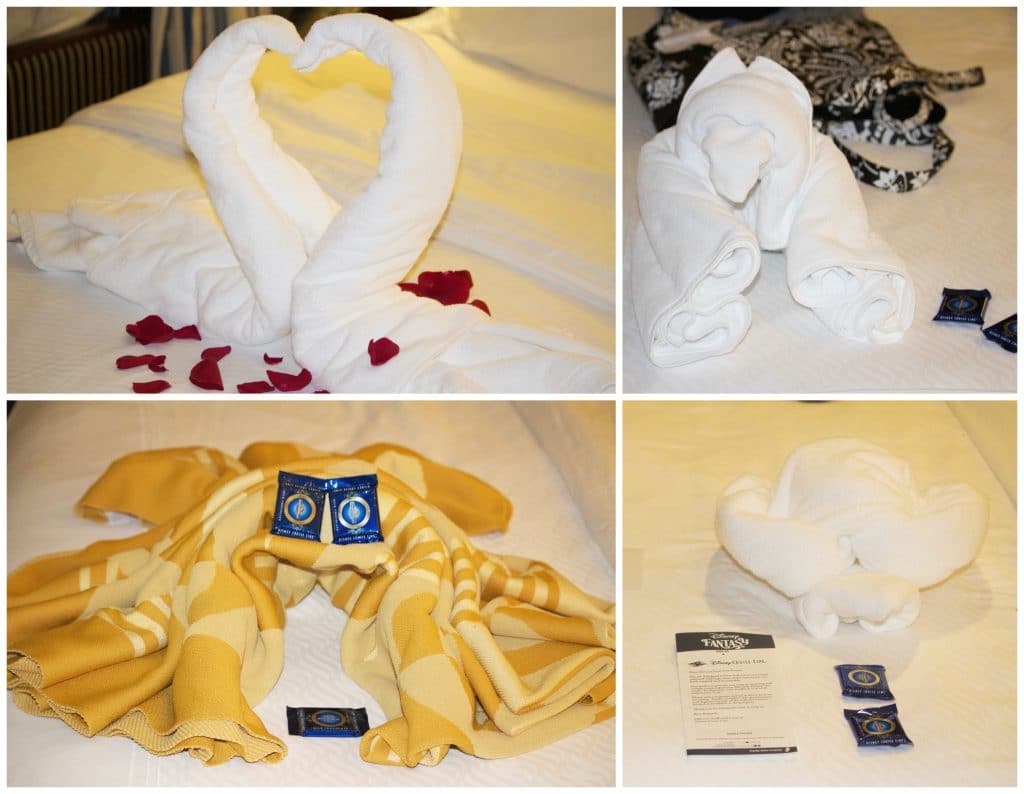 Once you're showered and ready for bed, get comfy, turn on the TV and pick out any Disney movie you like! All Disney movies are on demand, how cool is that?! I loved the personalized welcome on the TV screen too.
I swear Disney thinks of every little detail. That's why we love Disney so much, it's the whole experience. You're in the Disney bubble even when you're in the middle of the ocean.
Photopass + Placeholders
On the last night of our Disney cruise, we went to Shutters to look through the Photopass pictures that we'd taken that week. We didn't buy the package (10 pictures for $150) but we did buy three pictures for around $60. It's expensive but memories are important.
We also booked our placeholder at the vacation planning desk on Deck 4. It's really simple to do. Just fill out the form and put it in the box. $250 will be charged to your credit card and you essentially "book" a cruise for a date within the next two years.
By booking a placeholder you get 10% off your next Disney cruise + an onboard credit based on how long the cruise is. If you decide not to book then you get your $250 back. It's a no brainer!
13 Random Disney Cruise Facts
We had the best time and we can't wait for our next Disney cruise! Before I wrap up this extremely long post, (I hope you're still reading!) here's 13 facts that I bet you didn't know about going on a Disney cruise.
They serve unlimited Joffrey's (my favorite) coffee on Deck 11.
They also serve free soda and water on Deck 11 (Most cruises charge for drinks)
Disney uses a reverse osmosis water filtration system (this was very important to me to find out because we don't drink soda or juice) and it tastes crystal clear.
You can go to Cabanas on the last morning instead of your assigned rotational restaurant.
You can mail a postcard from Castaway Cay, it will have a special stamp!
Gift shops on the ship are closed while the ship is at any port.
There is a magical map onboard the ship, it's so cool!
The Minnie Mouse statue weighs over 1K lbs!!!
There is a special pirate themed buffet in Cabanas on Pirate night right after the fireworks.
The best spot to watch the fireworks is on the starboard side on Deck 12.
You can watch any Disney movie that you want from your stateroom for free!
You can order as many Mickey bars that you want from room service for free!
You can run into characters around the ship at any time! We found them multiple times wandering the halls talking with the guests.
Disney Cruise Withdrawals
Warning! When you come back from your cruise you will have extreme withdrawals, Disney withdrawals! I've been home for two weeks and it's not getting any better. There is only one cure, start planning your next Disney cruise!
Have you been on a Disney cruise before? I'd love to hear what you thought of it or if you have any questions for me in the comments!