I'm sharing our wedding video and all the pictures from our romantic garden themed wedding at Cross Creek Ranch in Dover, Florida.  
All photography and videography by Rad Red Creative.
*This post contains affiliate links.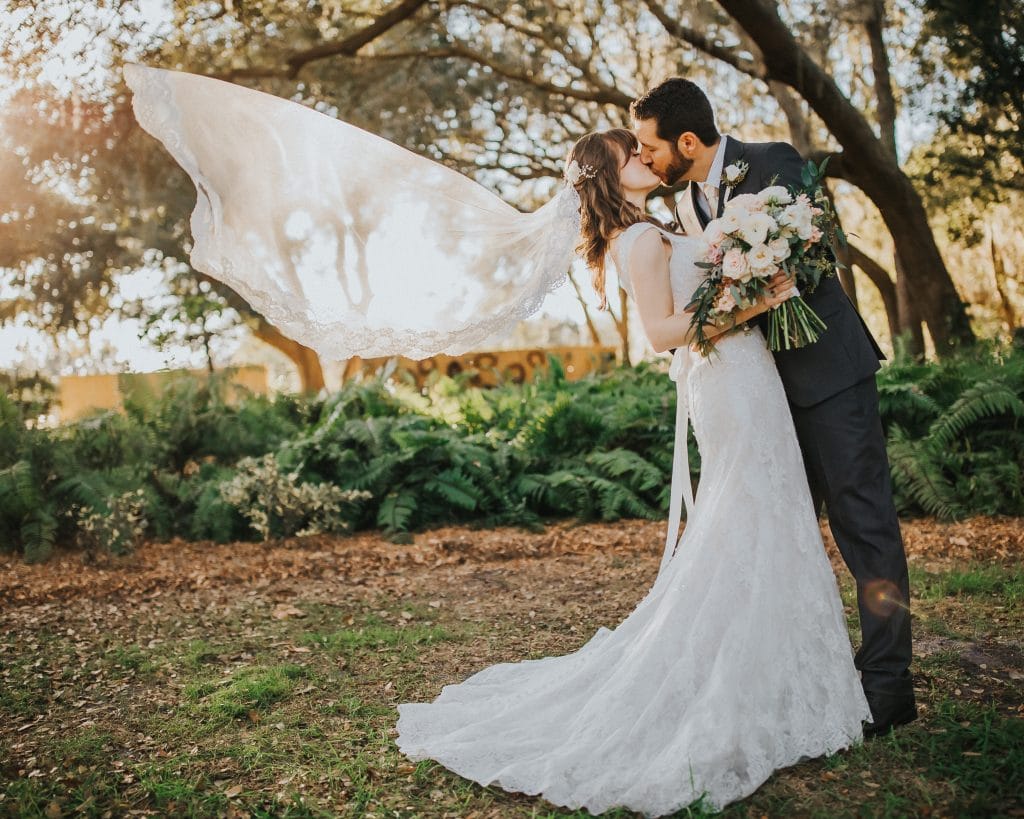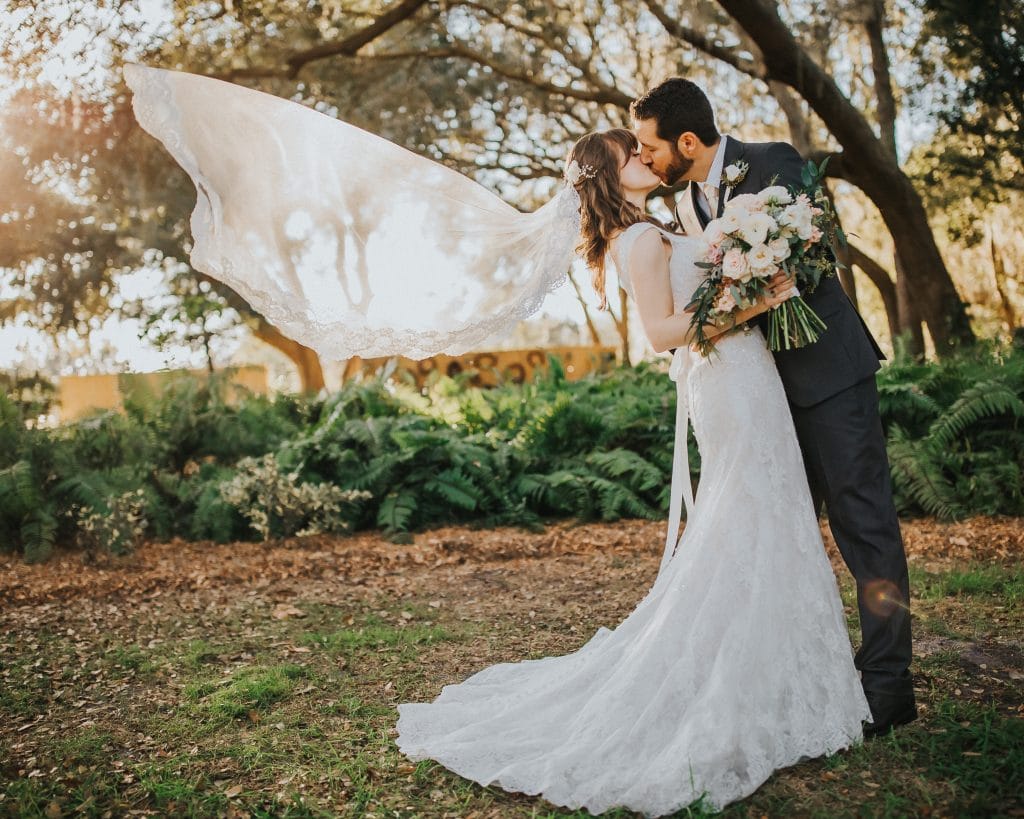 Travis and I finally tied the knot on February 19, 2017, at Cross Creek Ranch in Dover, Florida. We've been together for 10 years and we got engaged three years ago at Disney World during the Magic Kingdom Fireworks, it was pretty darn magical.
Our Wedding Video 
Note – Before you start the video, change it to fullscreen and watch it in HD!
Our Wedding Day
Our wedding day was beautiful, highs in the low 80's, bright skies and a gentle breeze. Everything was lush and blooming at Cross Creek Ranch. The grounds were meticulously kept and ready for our big day.
As our good friend, Jimbob said, it was a day "filled with love and joy!"
I wouldn't describe it any other way.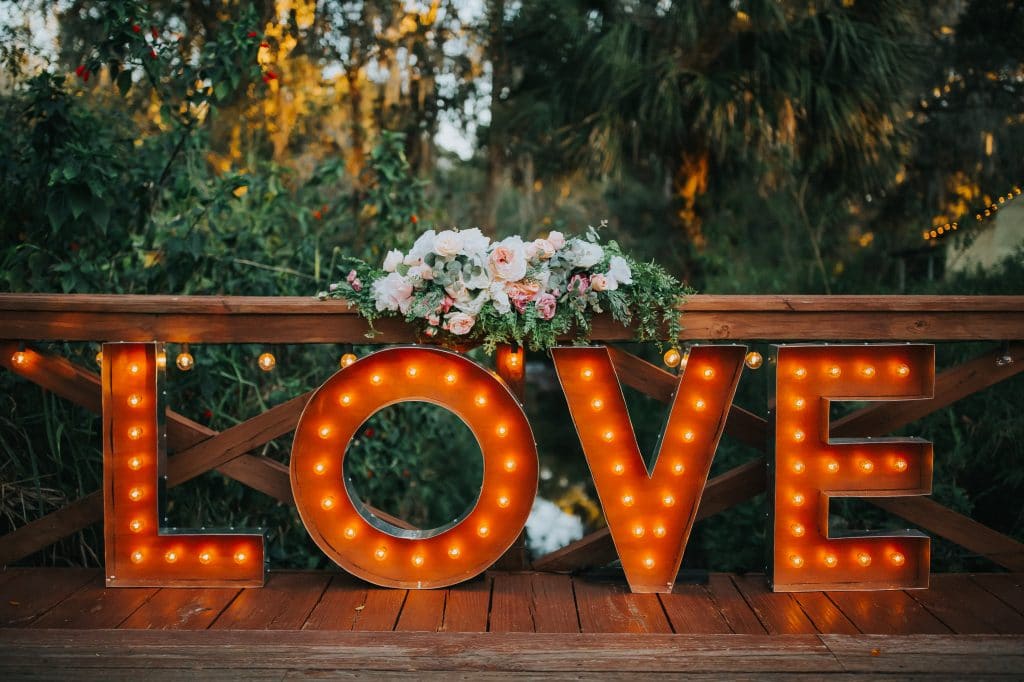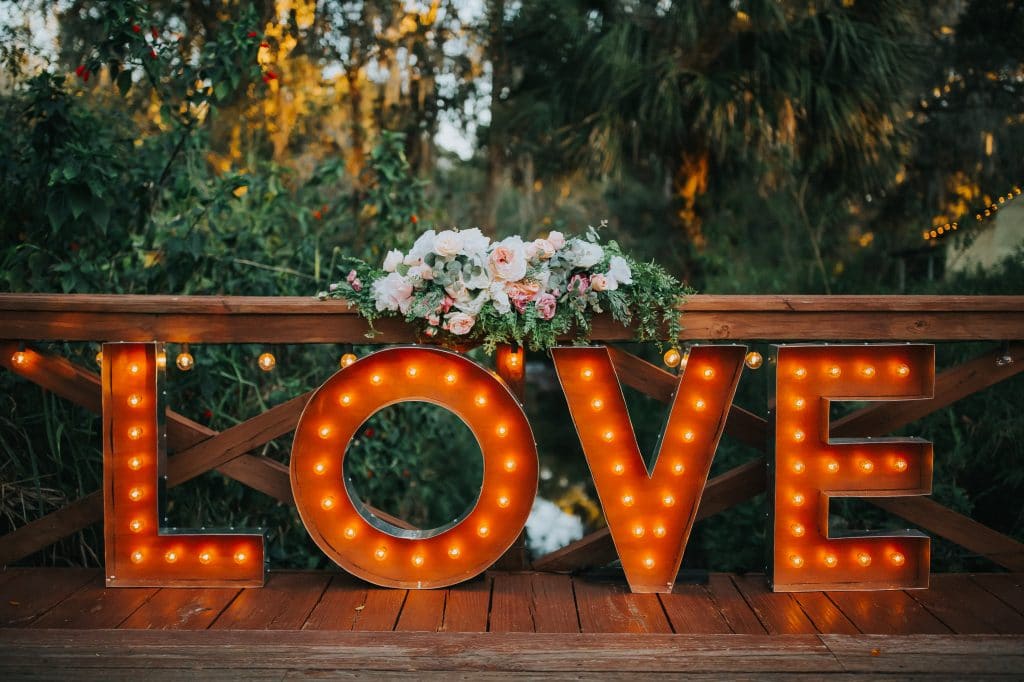 Travis and I have never felt so much love and happiness for us jam packed into one day before and we probably never will again. It was a wonderful feeling to have all the people we love and care about to all be in one place together to celebrate one of the most special days of our lives.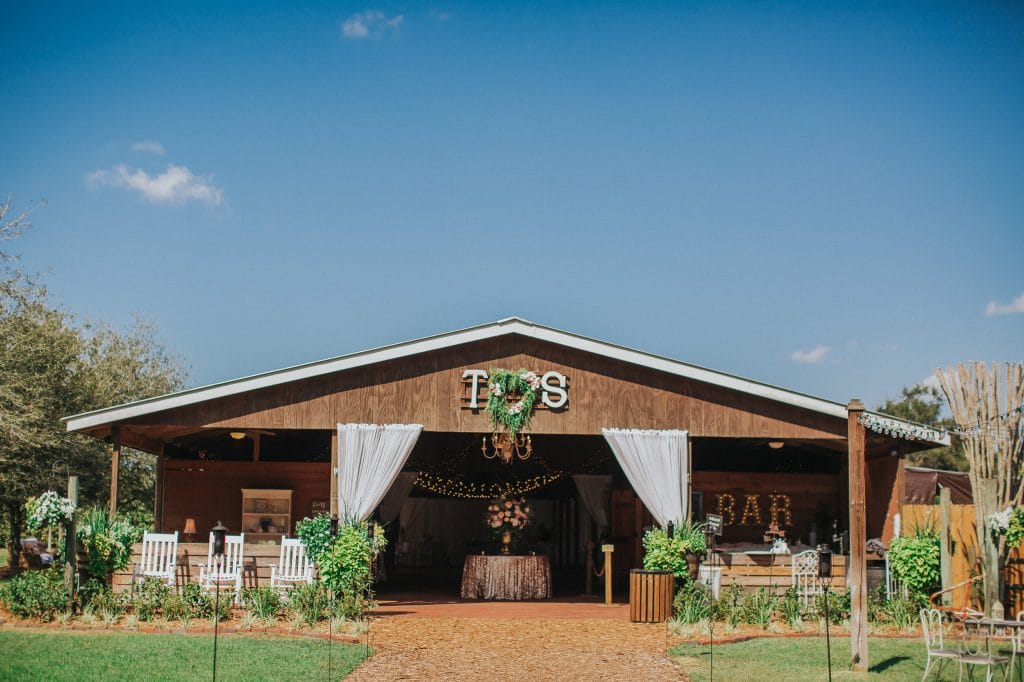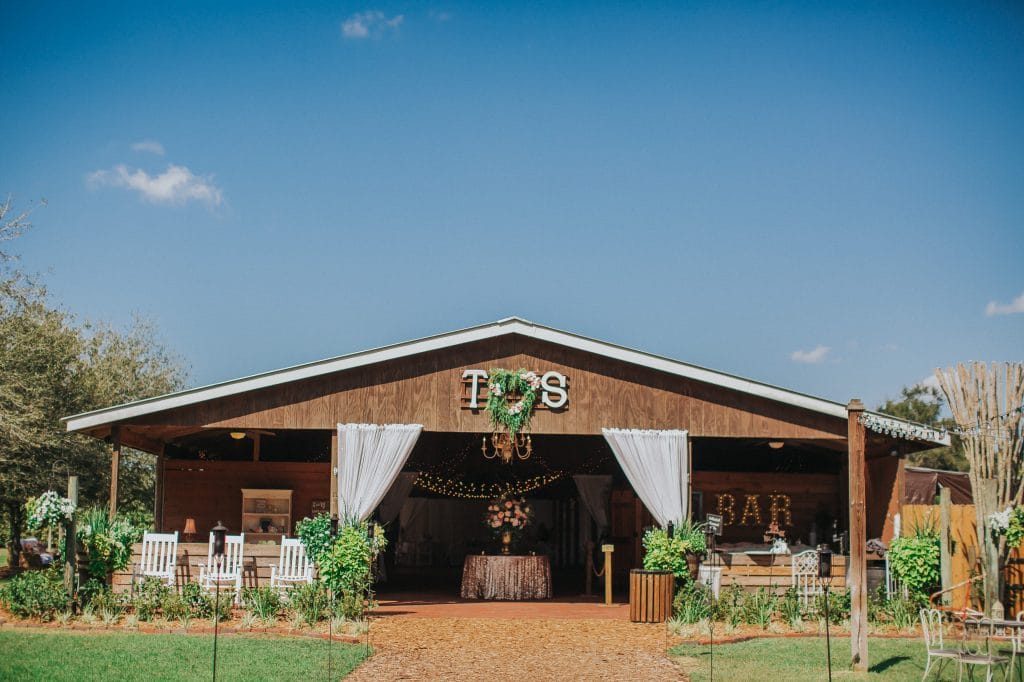 Cross Creek Ranch
The Cross Creek Ranch design team and our main designer, Jean, created the most romantic garden themed wedding we could have ever hoped for. The attention to detail was breathtaking, it was better than anything we could have imagined!
From start to finish, the team at Cross Creek Ranch took care of every single one of our questions, requests, and issues right away. Any idea we threw at Jean, she said she could make it happen for us. She took our thoughts and ideas and turned them into reality!
It was such a dream to just be able to show up on our wedding day and have everything setup and ready for us. To be able to fully immerse myself in the day and enjoy it was an immense blessing!
I have a lot of anxiety and I don't like being the center of attention, so I was already stressed out to the max just waking up the morning of the wedding. I can't even imagine having to deal with all of those feelings on top of trying to make everything look perfect. It would have been impossible for me to do it all!
At the beginning of our engagement, I wanted to just have a small wedding or elope. Travis wanted to have the big wedding and party with all of our friends and family. He pushed me to do it and I'm so glad he did. He was right! It really was worth it. All the stress and work leading up to the wedding paid off tenfold.
It was such a special day that we'll remember forever.
Wedding Day Details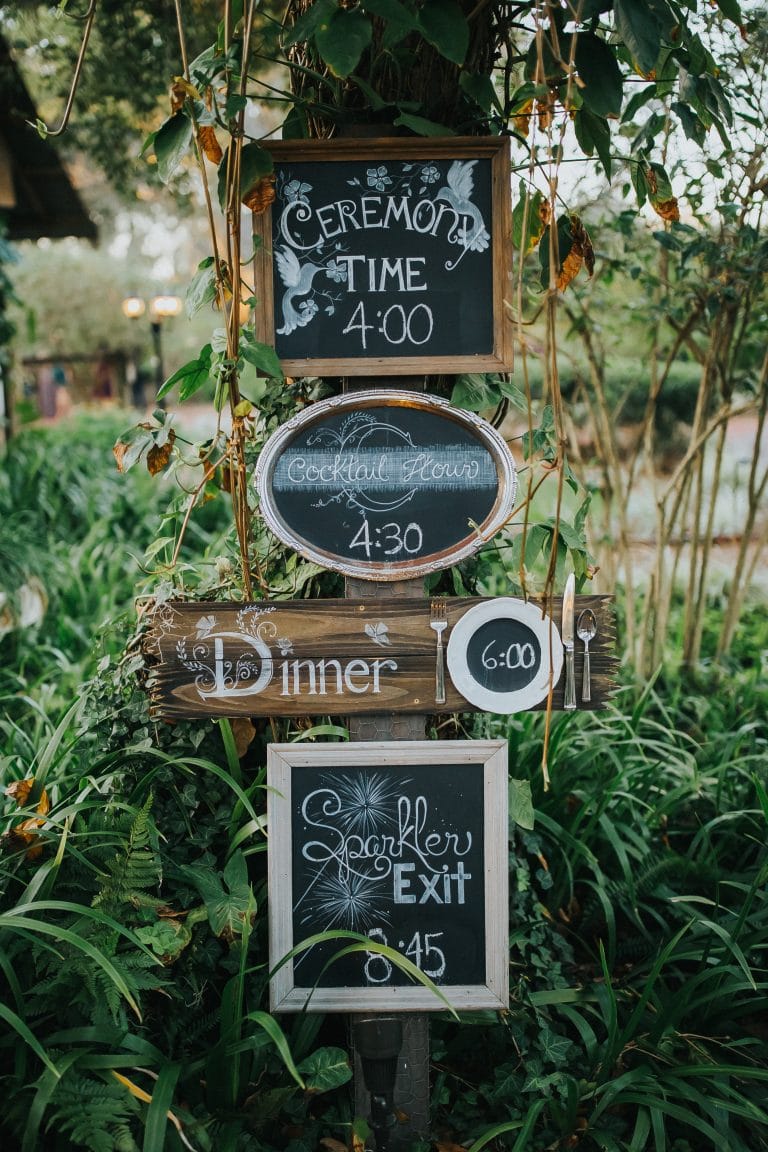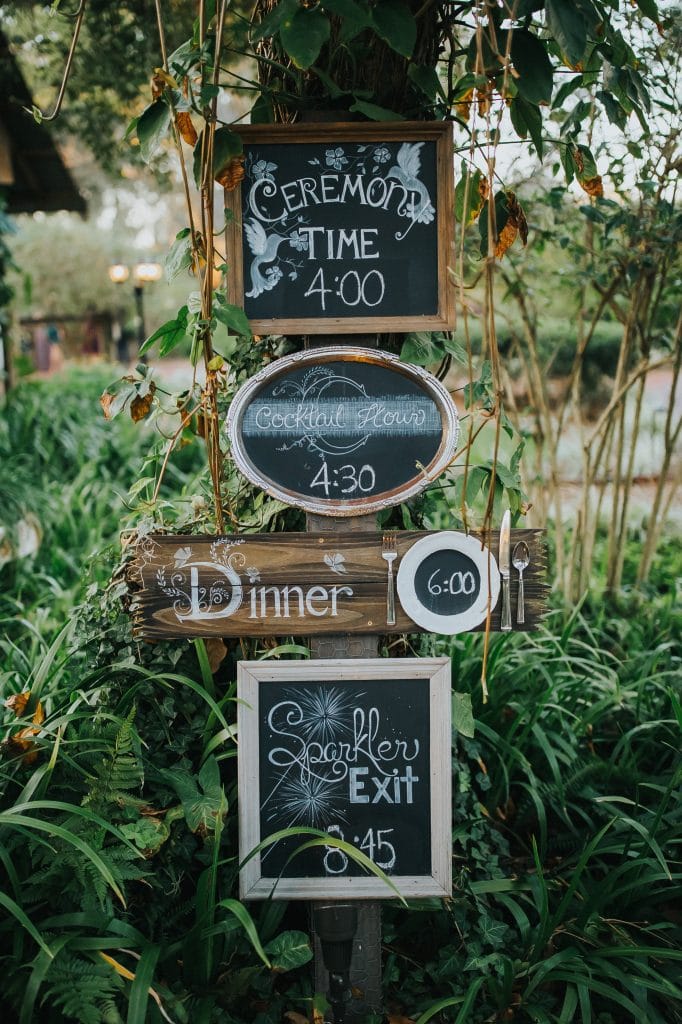 All of the handwritten signs were one of my favorite details! Cross Creek Ranch has a very talented artist who does the lettering for each sign.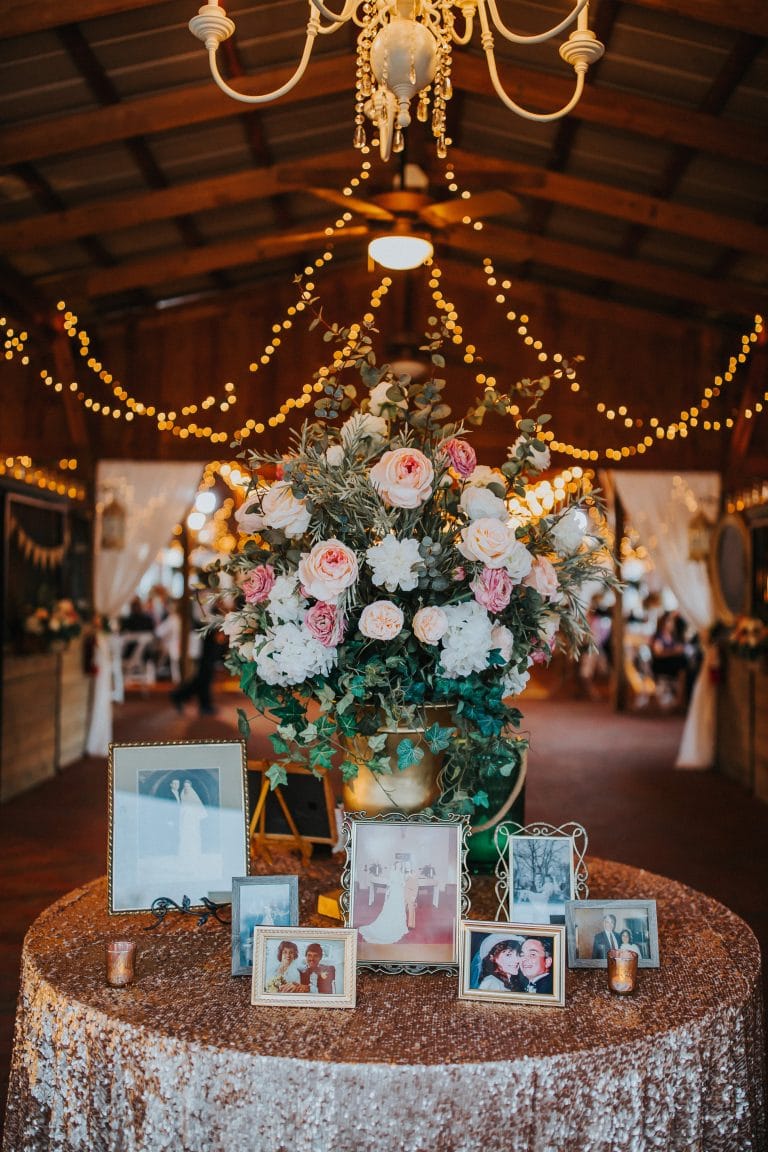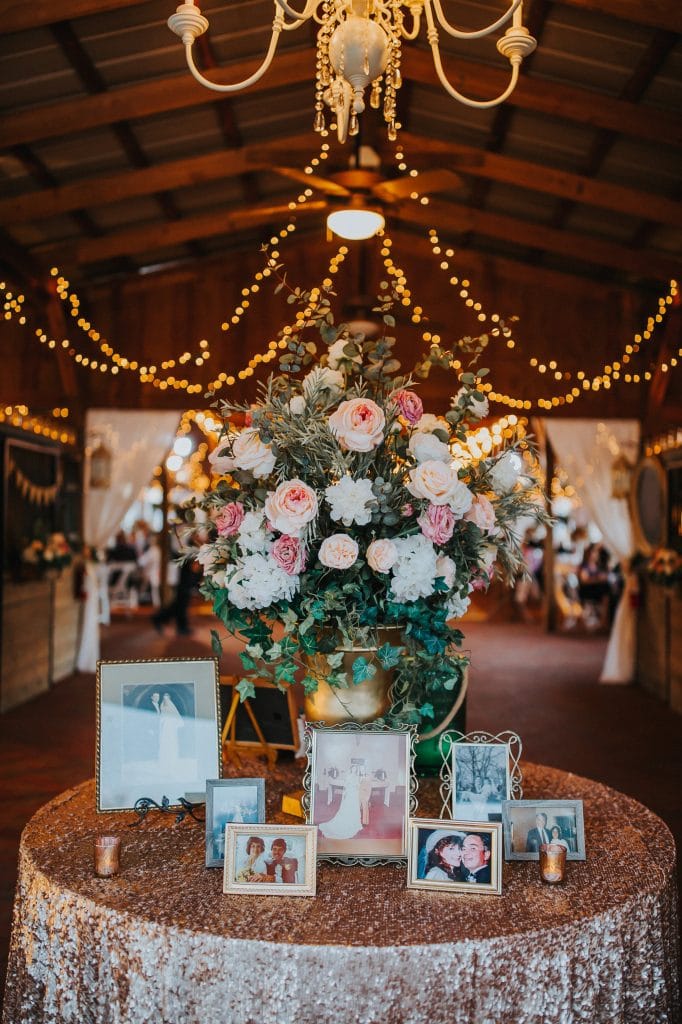 We put our family wedding pictures on the table at the entrance to the carriage stable house.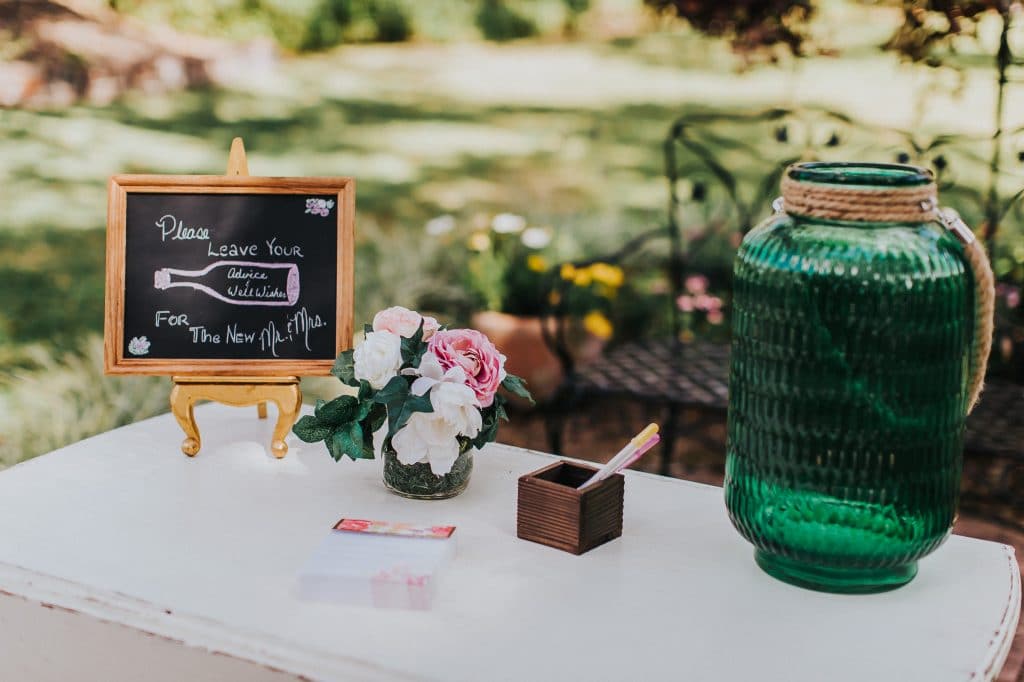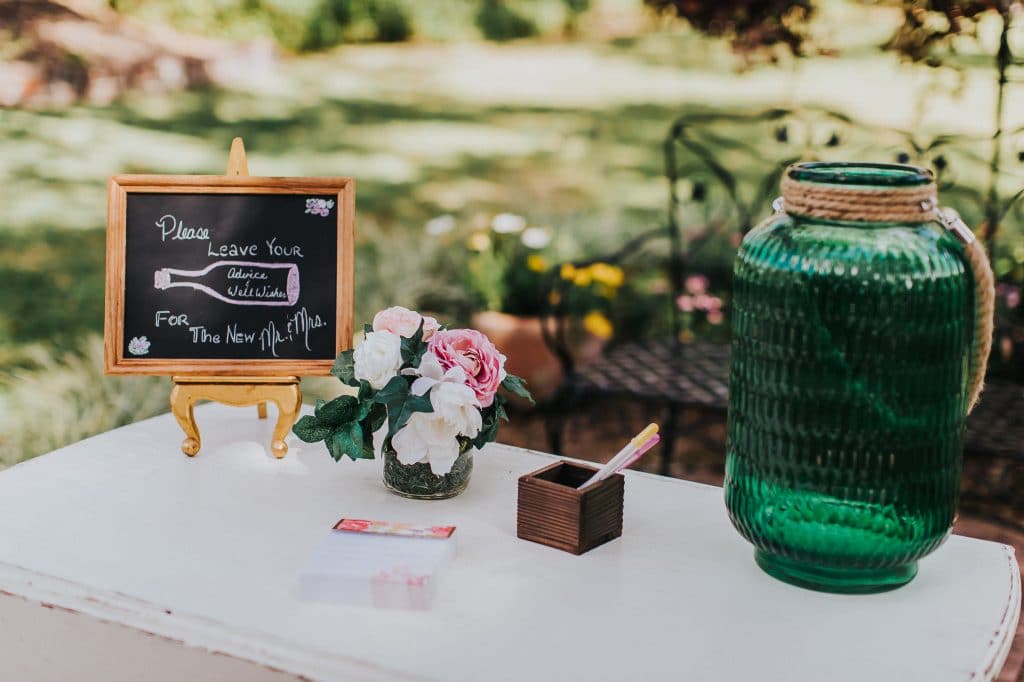 Instead of the traditional guestbook, we opted for a message in a bottle concept. "Please leave your advice and well wishes for the new Mr. and Mrs.!"
We got some sentimental notes and some very funny ones too. I have all of the notes in my wedding memory box now. One day we'll read through them again and I know that the handwritten notes will be even more meaningful then!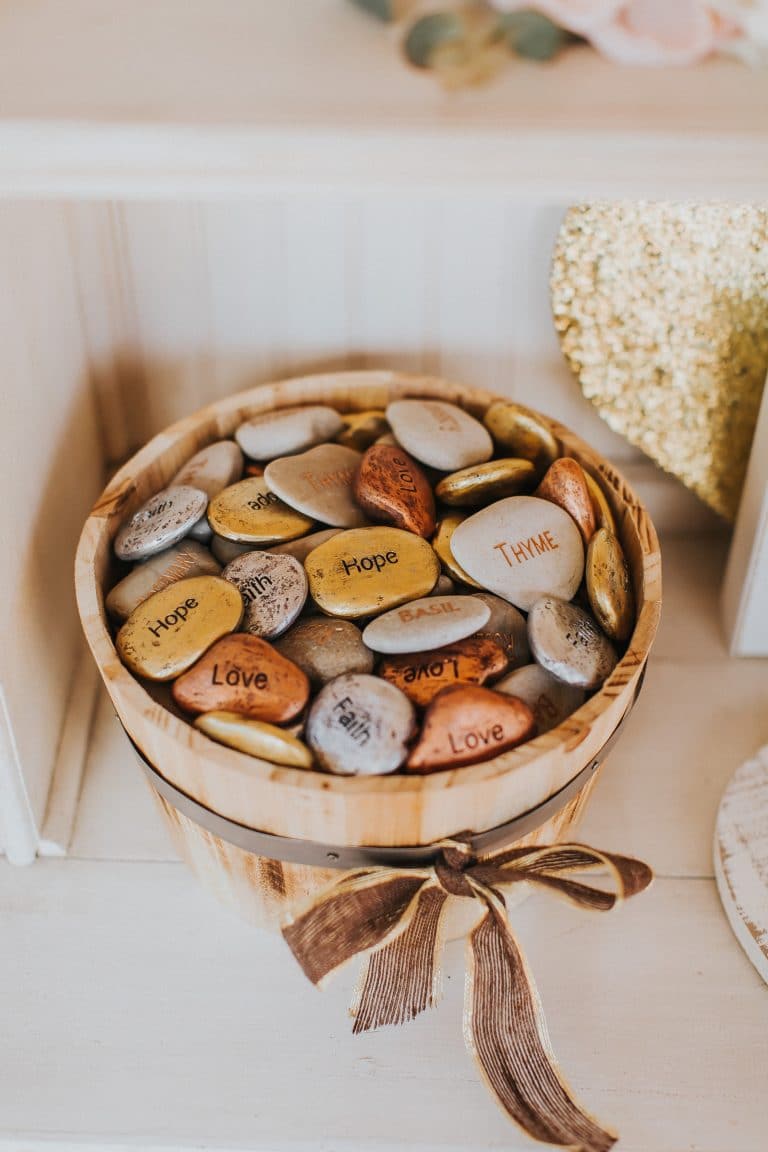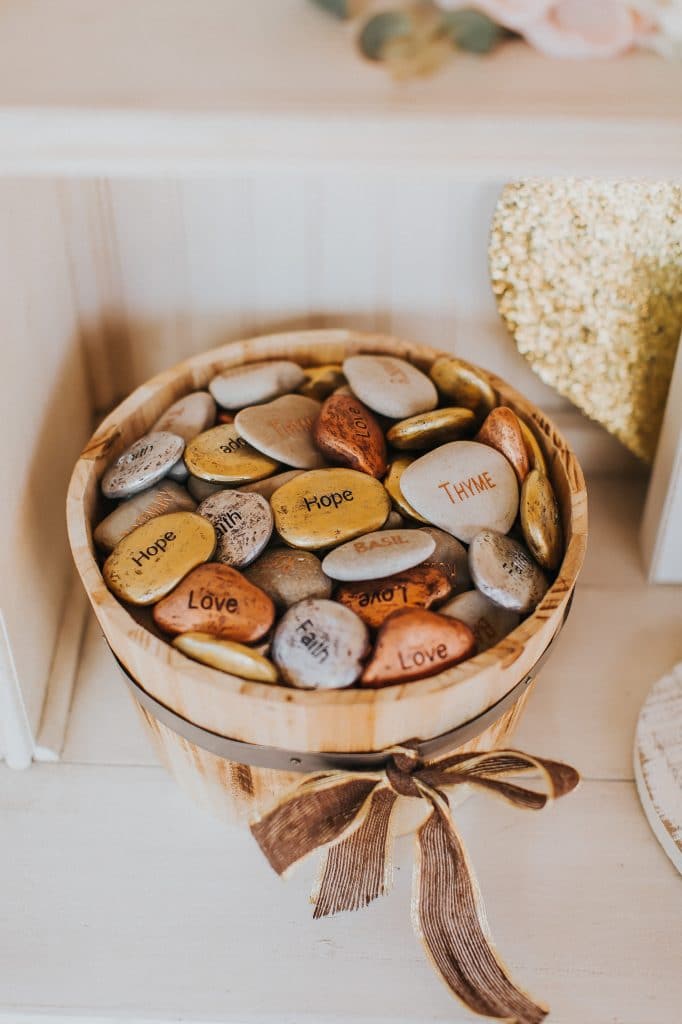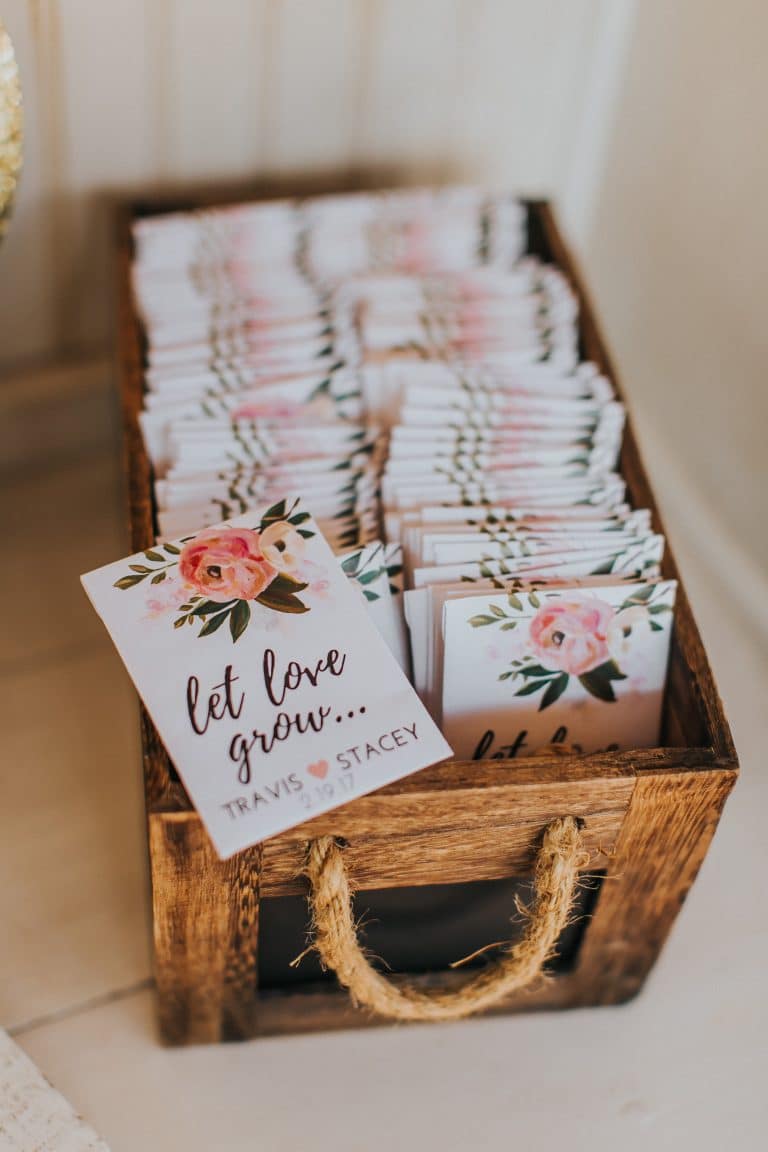 Our favors were wildflower seed packets and garden rocks to match our theme. "Watch our love grow as solid as a rock!"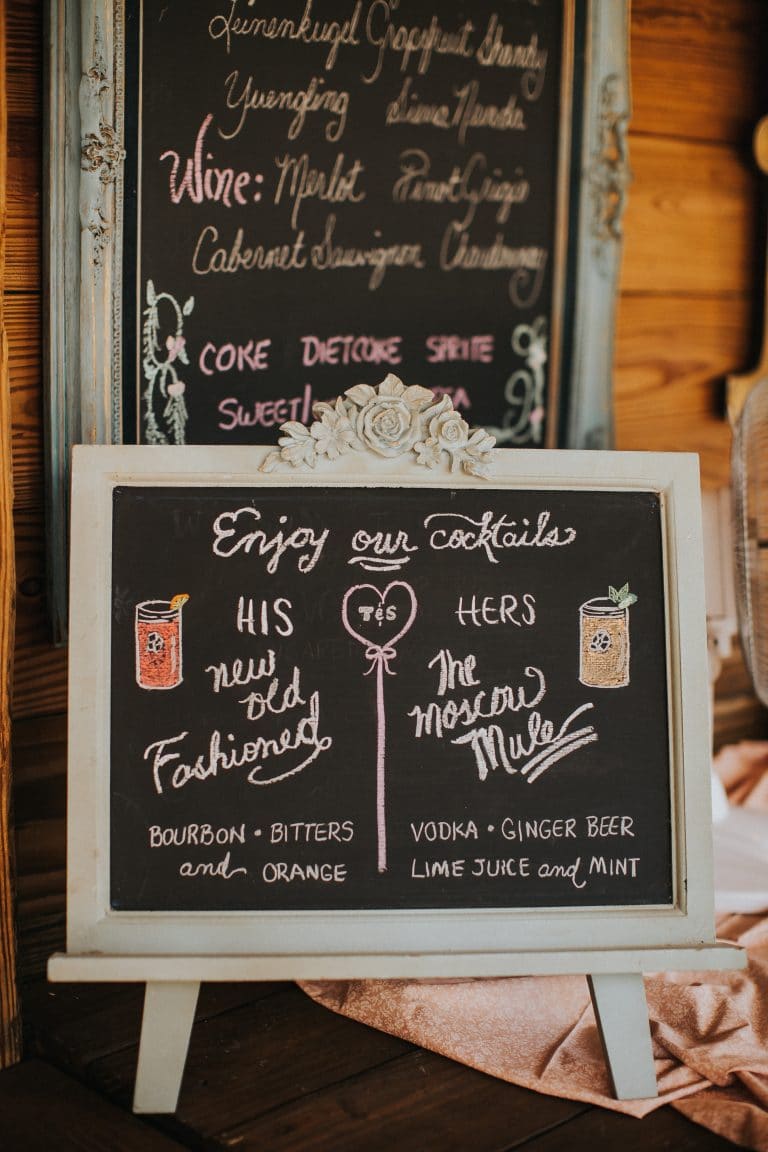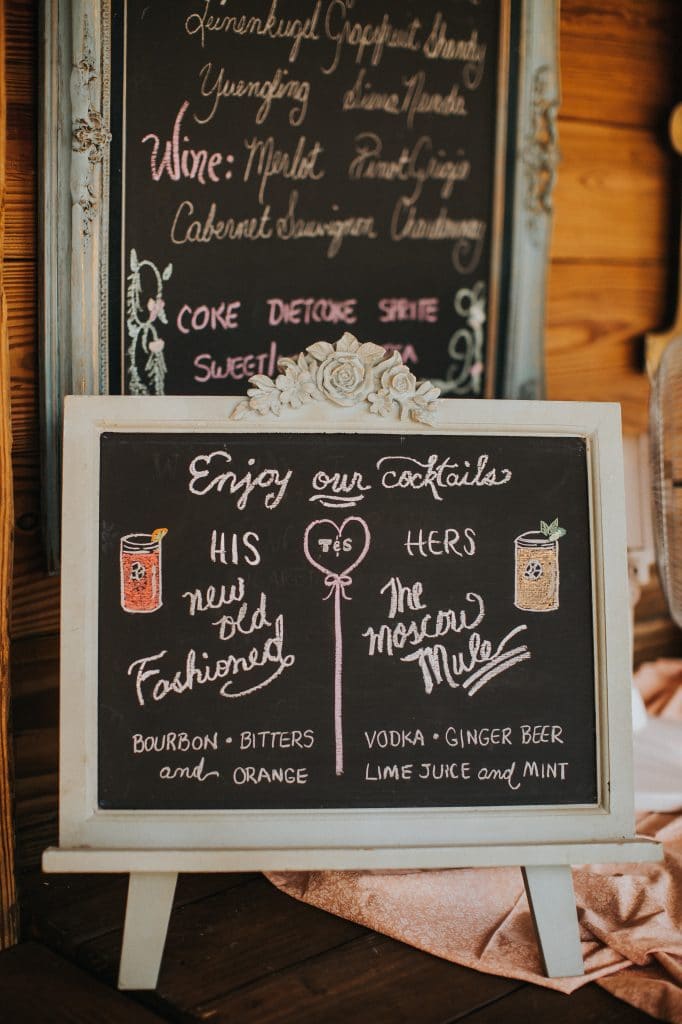 We had 2 signature drinks: Travis chose an Old Fashioned and I picked the Moscow Mule.
Don't you love the sign they made for the drinks?!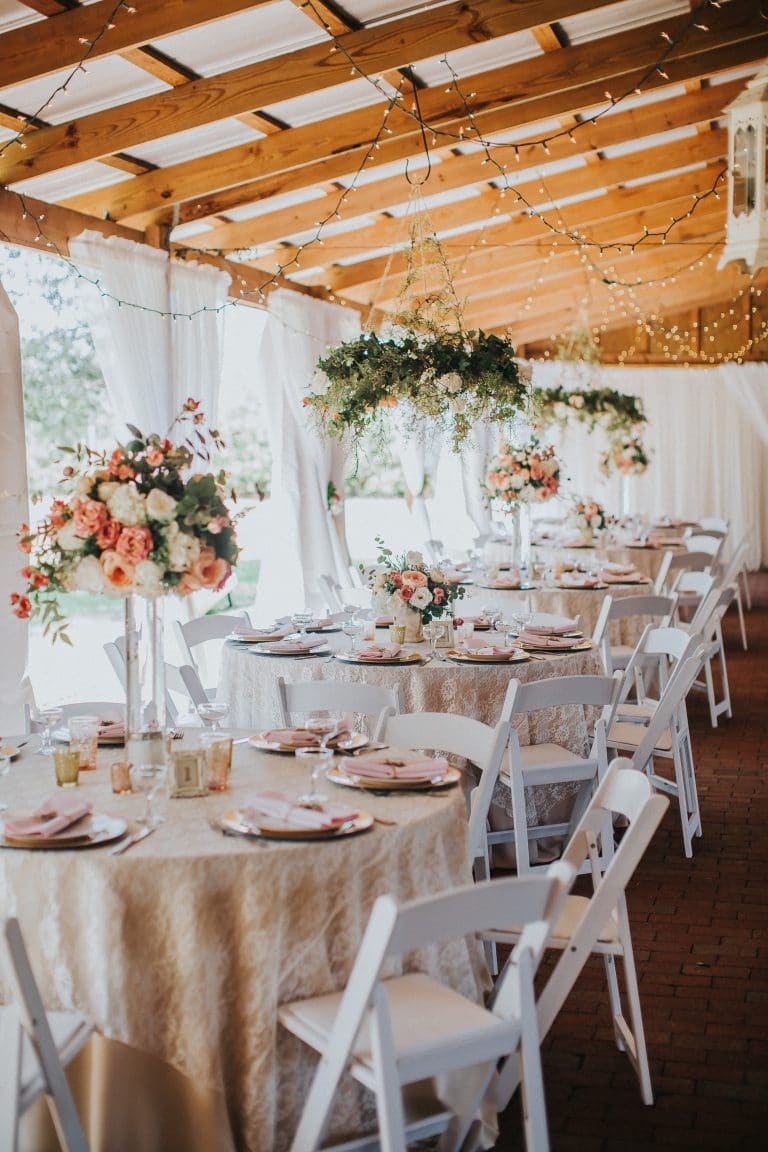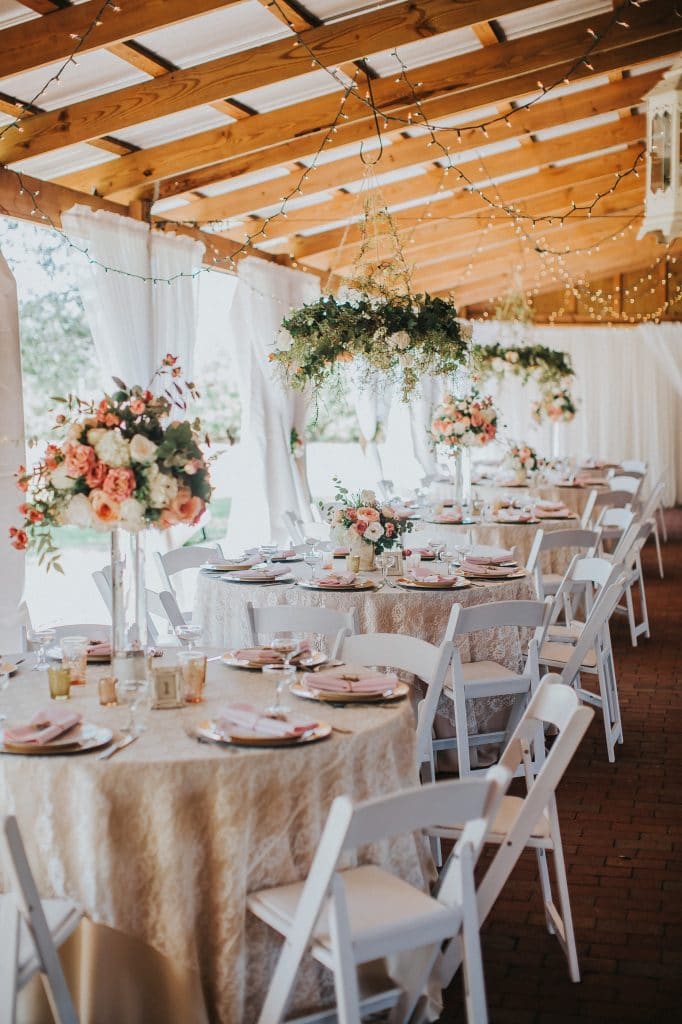 Shades of blush, ivory, champagne, sage, and gold set the tone for our romantic garden wedding at Cross Creek Ranch. Hanging flower chandeliers, mismatched flower-patterned china plates, blush and gold candles, rose champagne and rosemary sprigs in the napkins complimented our theme.

Custom Ombre Flower Curtain
Having a custom centerpiece was an important aspect of the reception for Travis and I. We wanted something special that you don't see at many weddings.
Cross Creek Ranch has amazing vendors that they work with. Their flower vendor, Alta Fleura, created this custom fresh flower ombre pink flower curtain for us. It was exactly what I was dreaming of!
It served as the backdrop for our sweetheart table for the first half of the reception and after we ate, our table was moved and our guests could take pictures in front of it!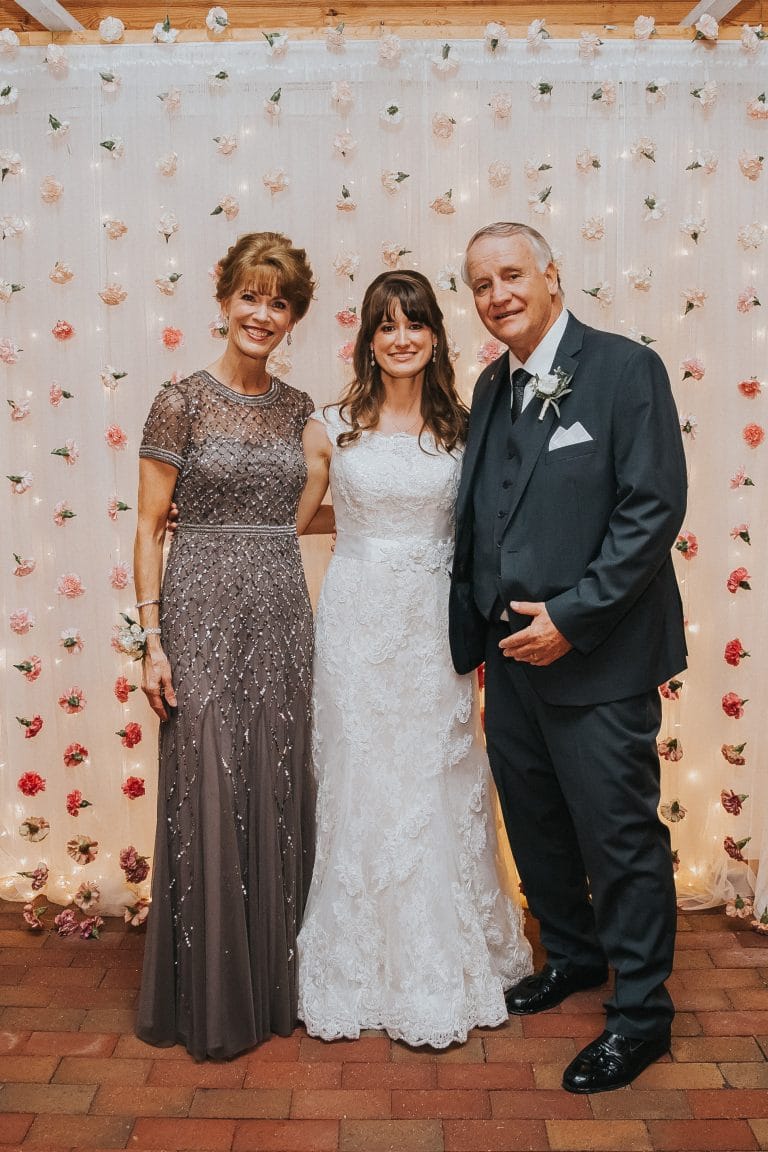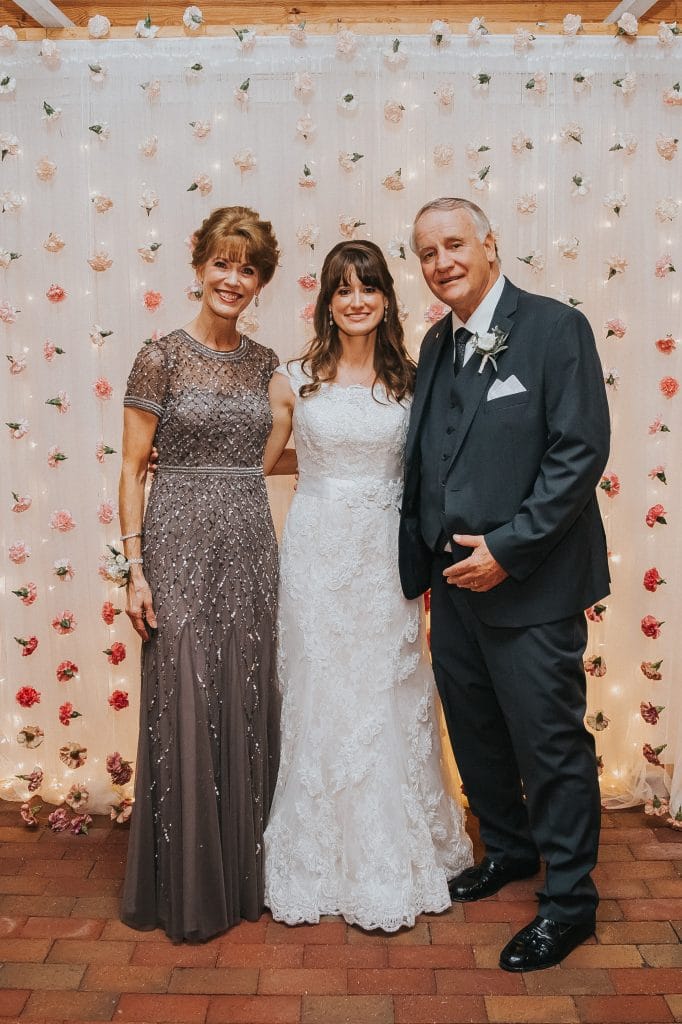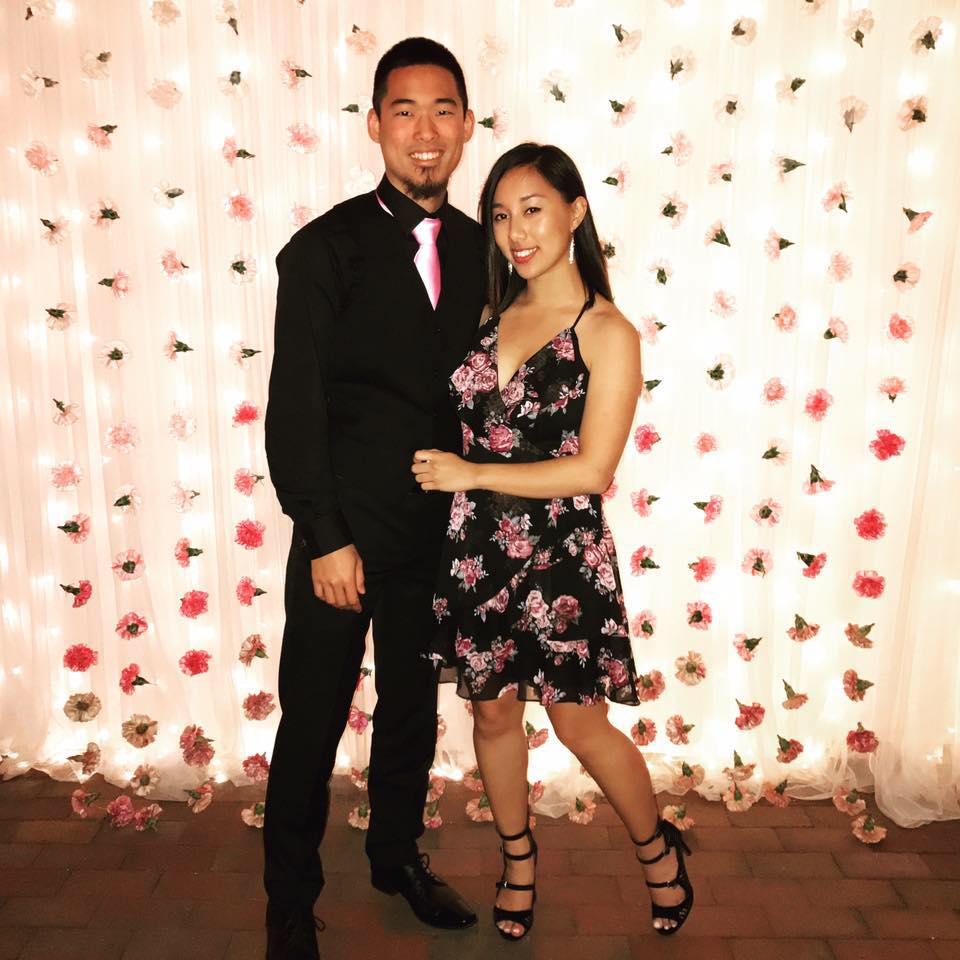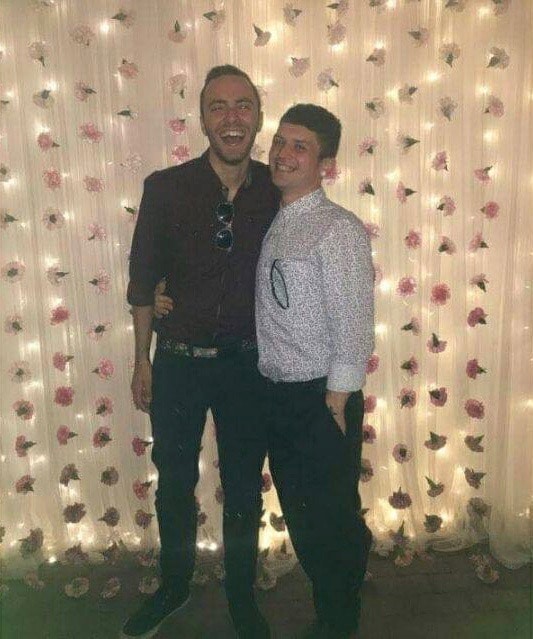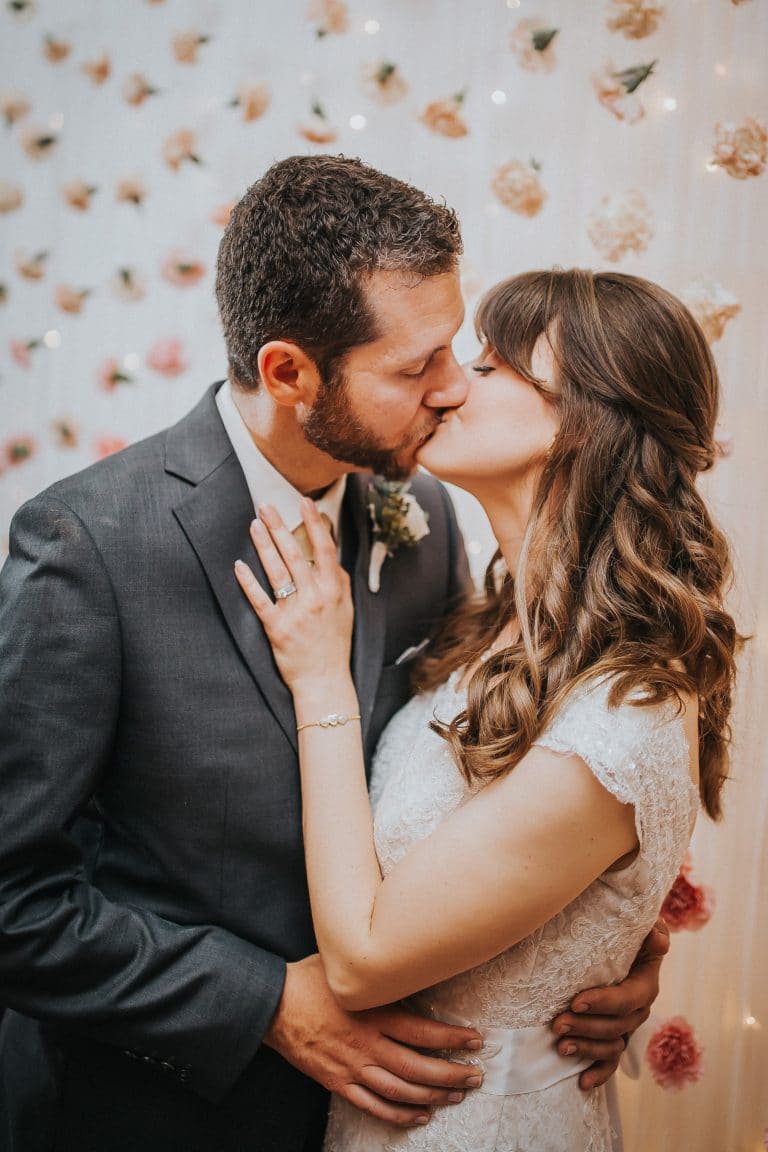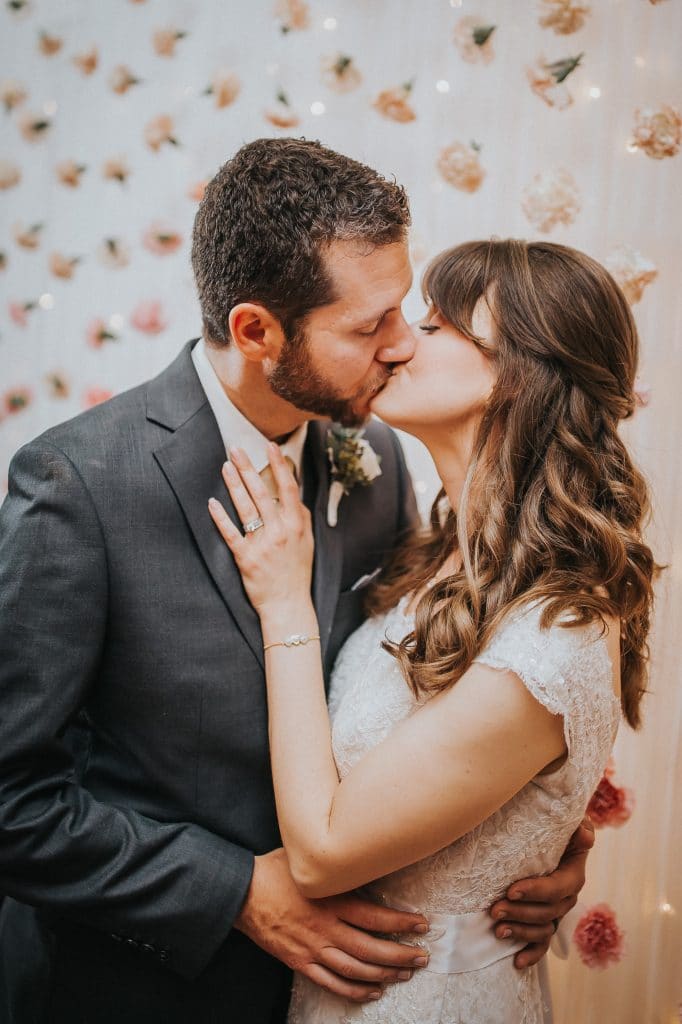 Romantic Wedding Cake + Cinderella Cake Topper
My mom bought our cake topper at Disney World when I was still a little girl. She never told me about it and I never told her that I wanted a Cinderella cake topper. Years before we were even engaged, I pinned this topper to my "Wedding Dreams" board on Pinterest.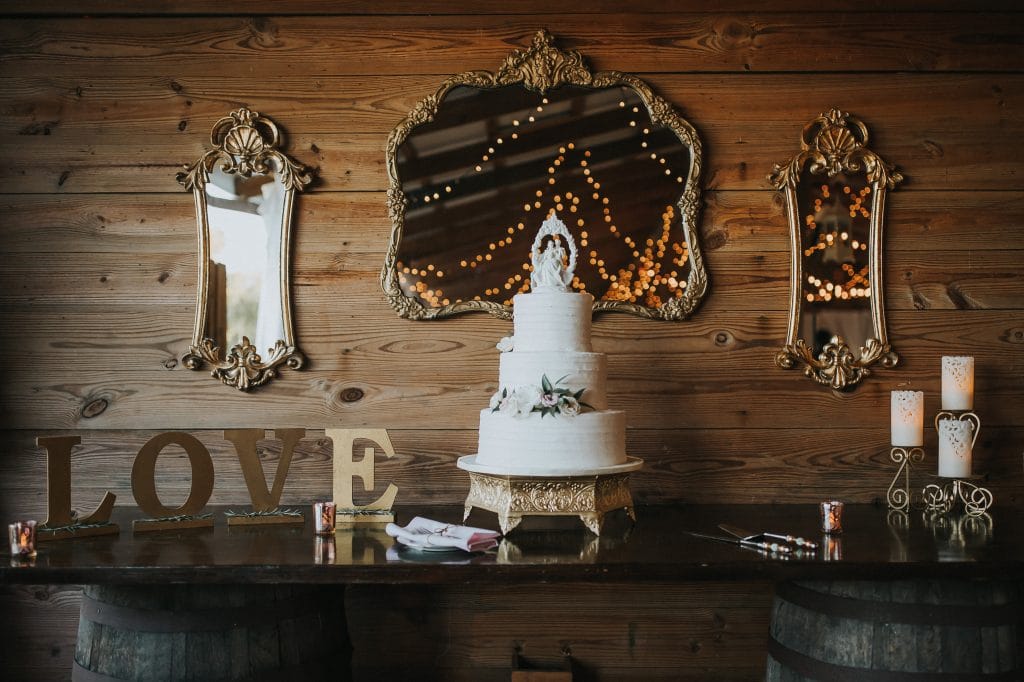 I love Disney but I did not want a Disney themed wedding. Just small touches here and there, like a cake topper and ceremony music.
When Travis and I got engaged, my mom took me out to lunch to celebrate and gave me the topper. Needless to say, I was shocked!
How did she know? It's like we can read each other's minds.
It was perfect and it was exactly what I wanted.
My mom also surprised us with antique forks that have our wedding date engraved on them, they're gorgeous!
The Vintage Chapel
We picked Cross Creek Ranch to be our venue after we visited last year with my parents and fell in love with the property and chapel. My mom and I instantly loved the chapel, it looked like something you might see on Dr. Quinn Medicine Woman. Its walls are open and the sunlight just streams in, it's absolutely gorgeous.
Rustic, romantic, vintage, open, airy, happy…..perfect.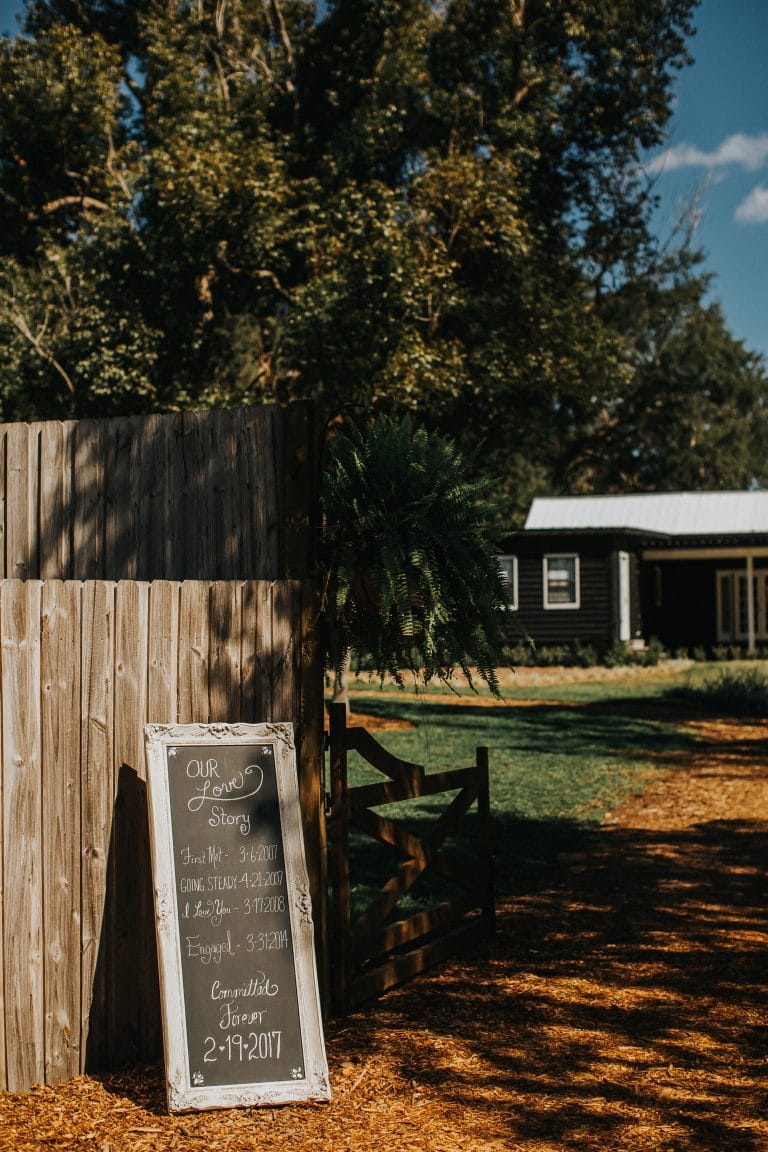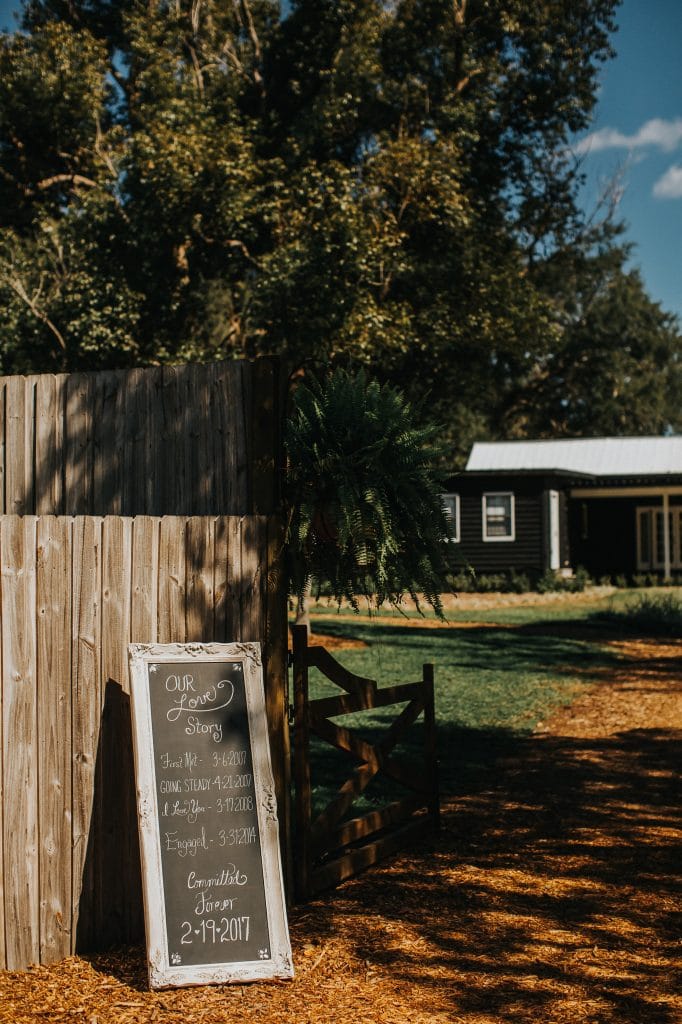 I love the "Our Love Story" sign with all the important dates in our relationship that Cross Creek Ranch made for us! It sat at the entrance of the gate that leads to the chapel.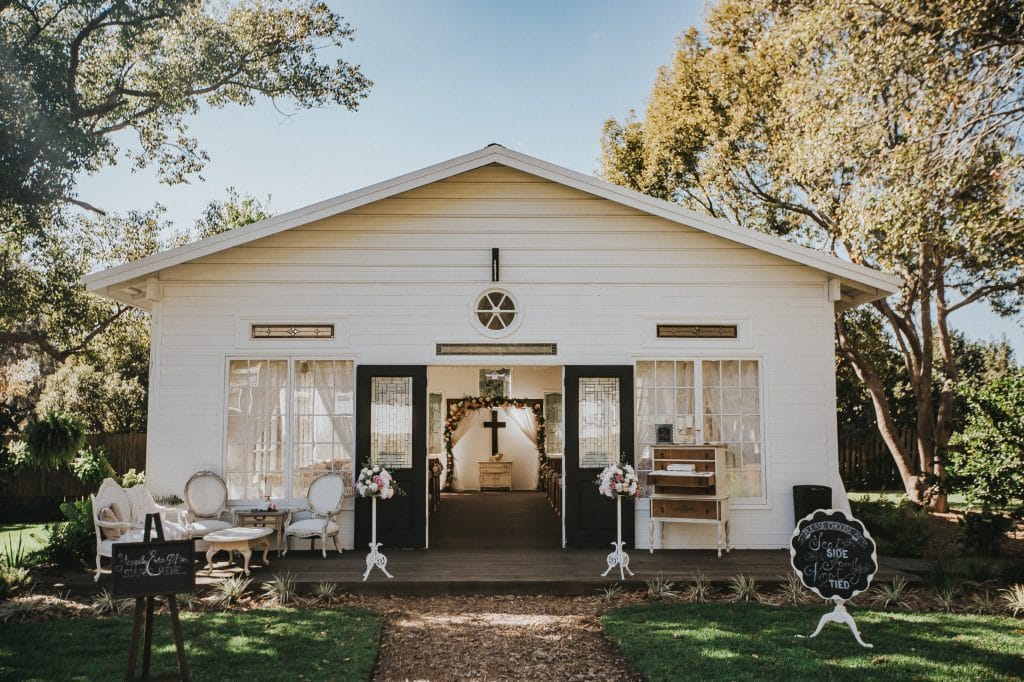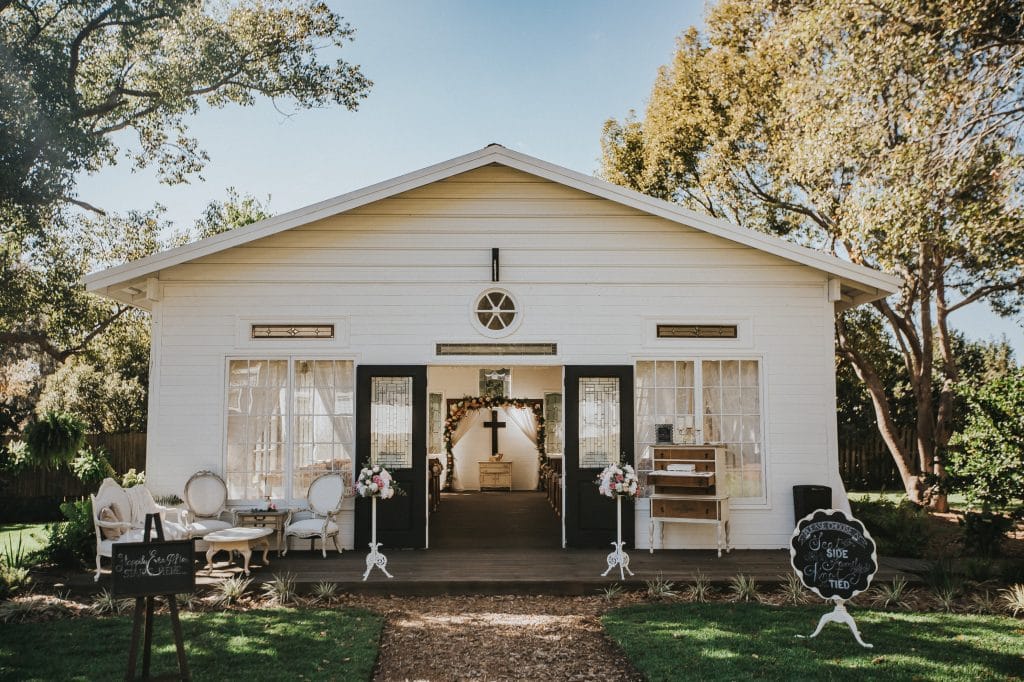 We chose to have an unplugged ceremony because I wanted to walk down the aisle and see all of our friends and families faces, not their phones. Also, I didn't want to see phones and tablets in our wedding video.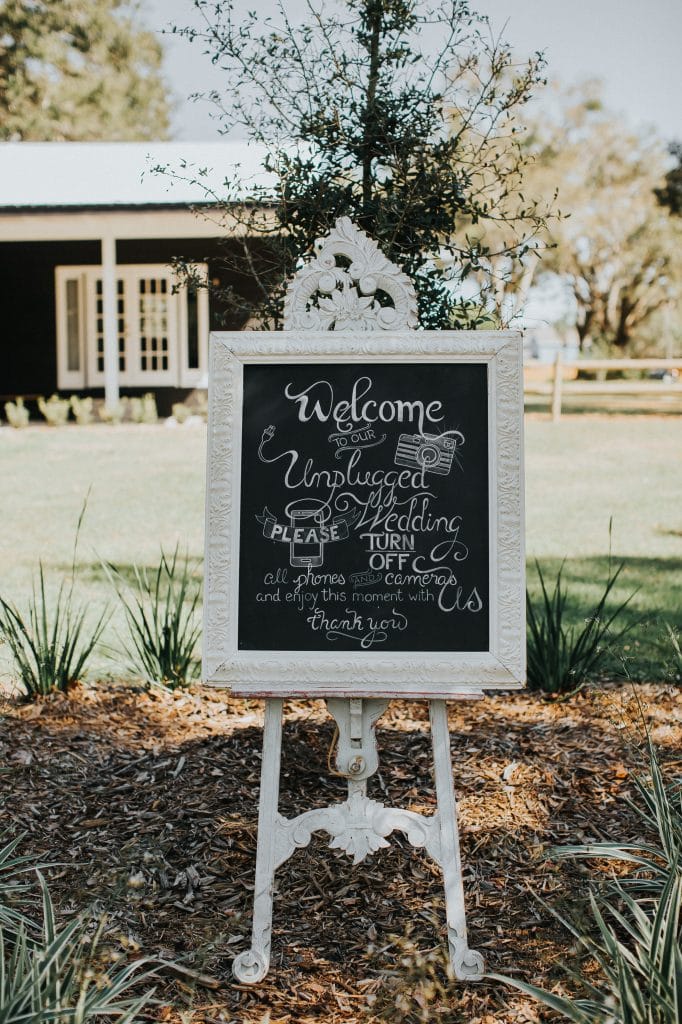 Don't you love the gorgeous flower arch that Jean designed for us? It's so beautiful!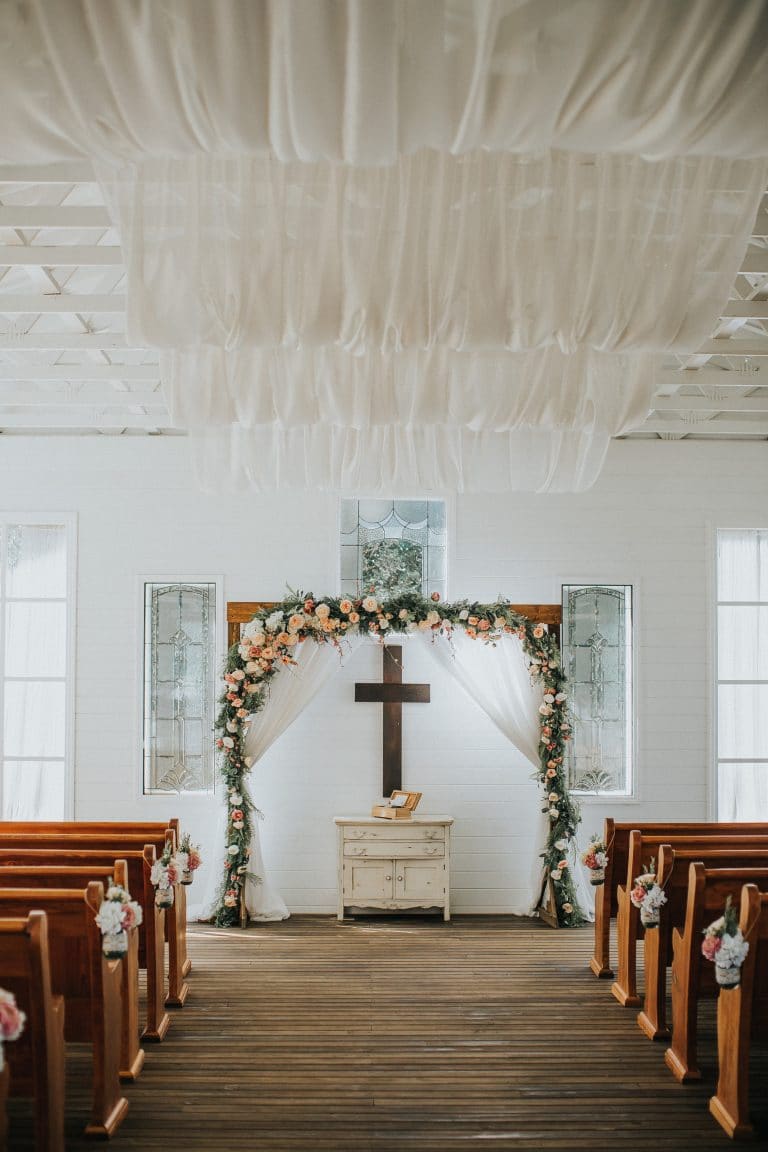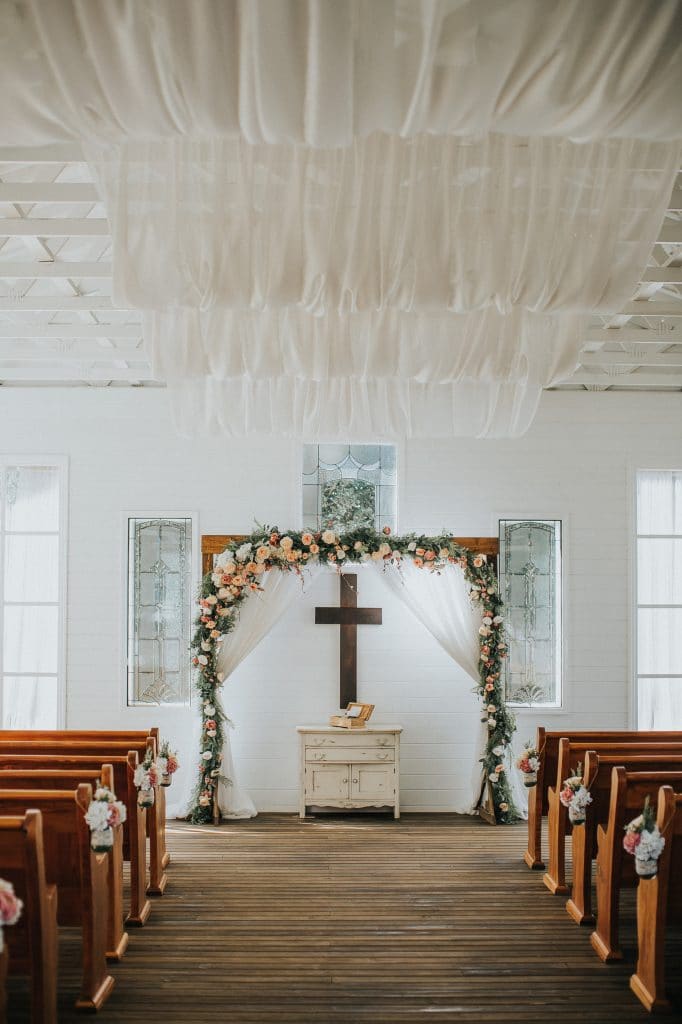 Vintage wooden pews, soft flowing drapery, romantic twinkle lights, stained glass windows that let in all the natural sunlight and a simple wooden cross…..be still my heart!
Can you see why we fell in love with the chapel?
Getting Ready 
While everything was being setup at the venue, Travis and I were at the Hilton Garden Inn hotel (in separate rooms) getting ready.
We picked the Hilton because Cross Creek Ranch works closely with them and another hotel in the area. We visited both but really liked the vibe of the Hilton. They have a few lovely outdoor seating areas (we wanted to use for the after party) and they keep the bar open until 1 am for wedding parties. That was important to us because we wanted to keep the party going after the reception ended!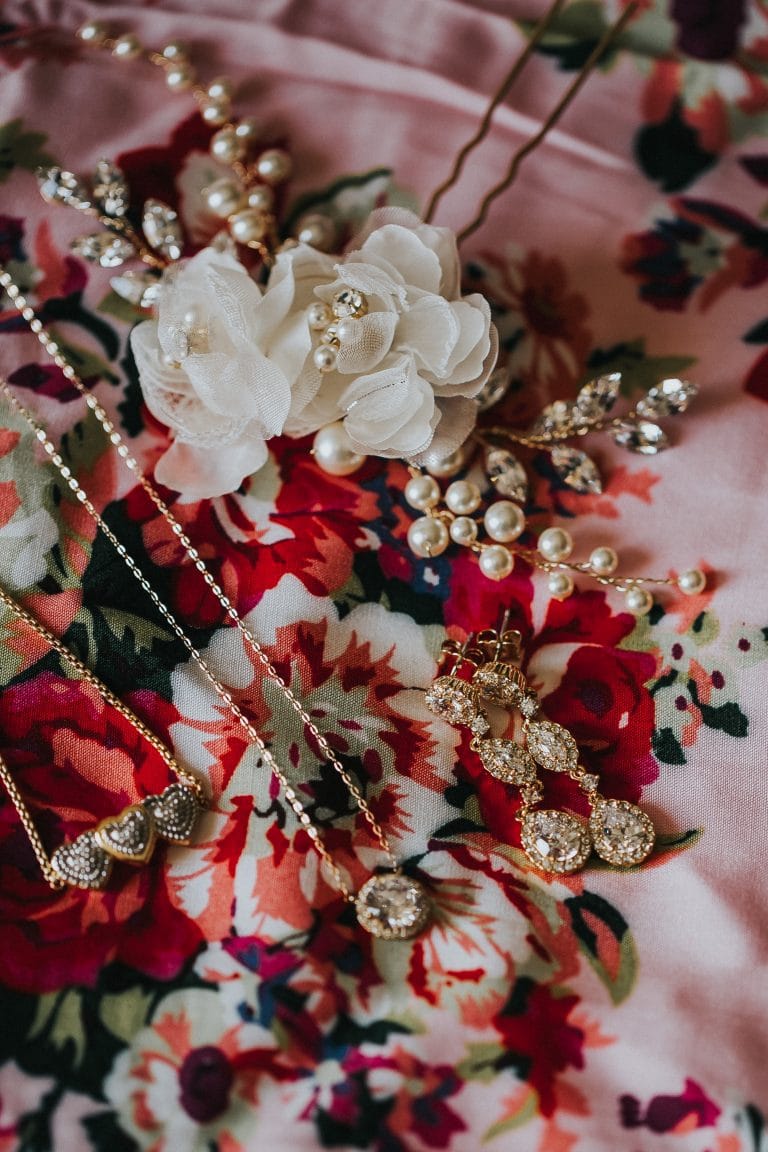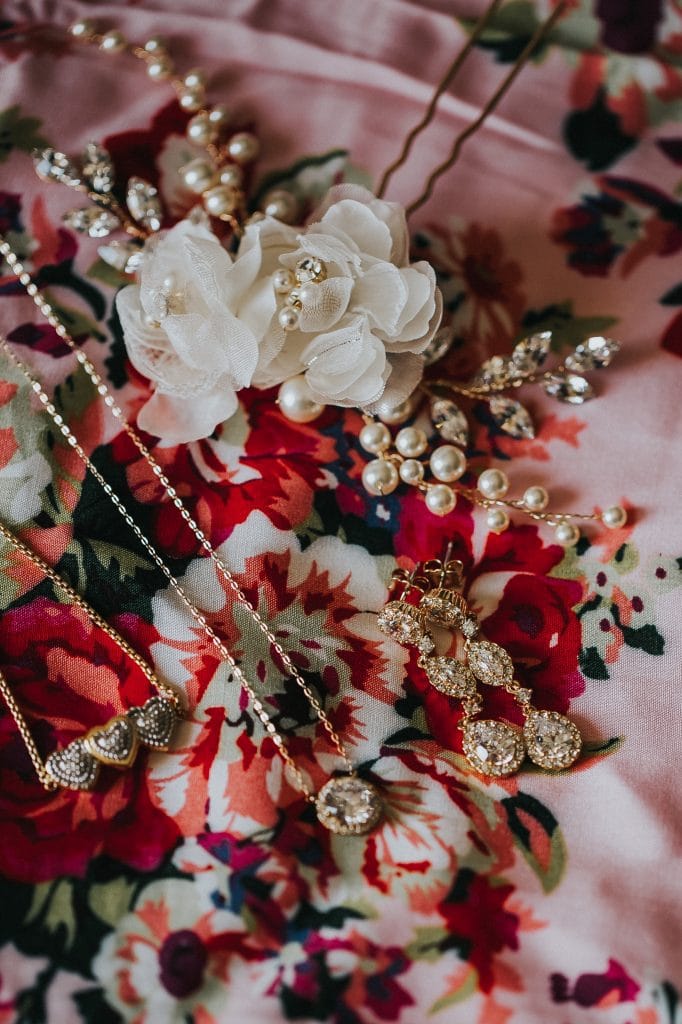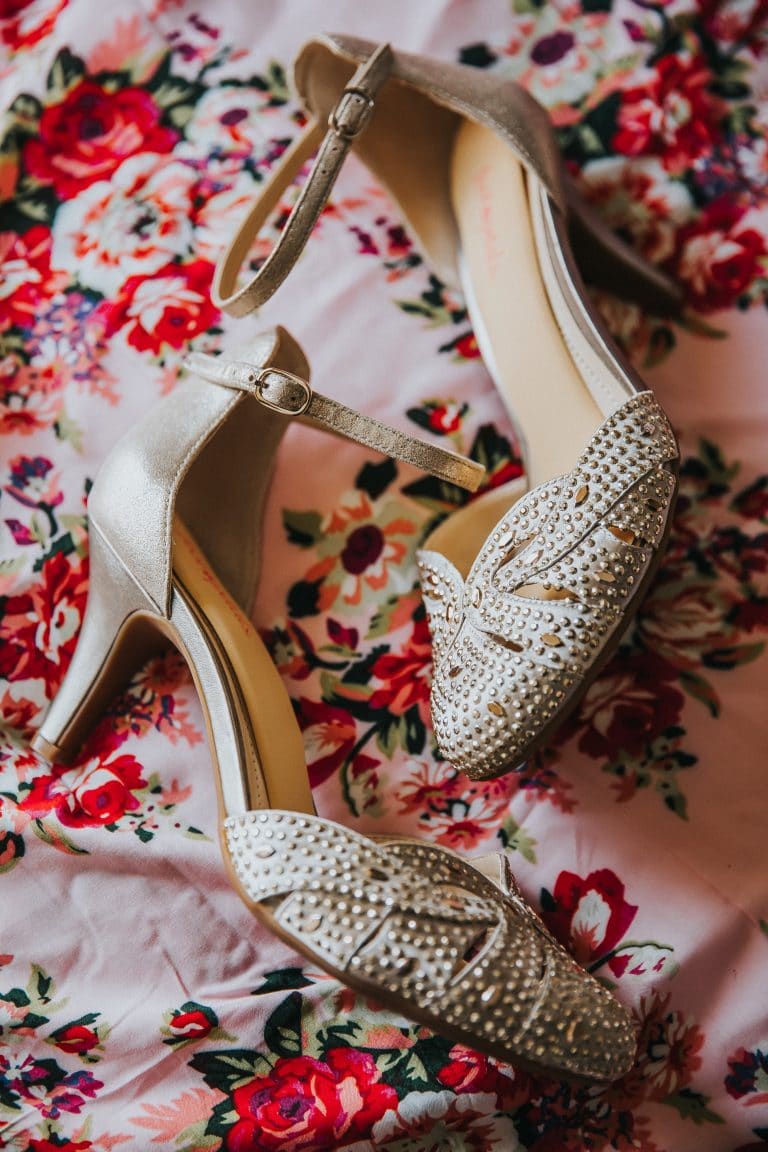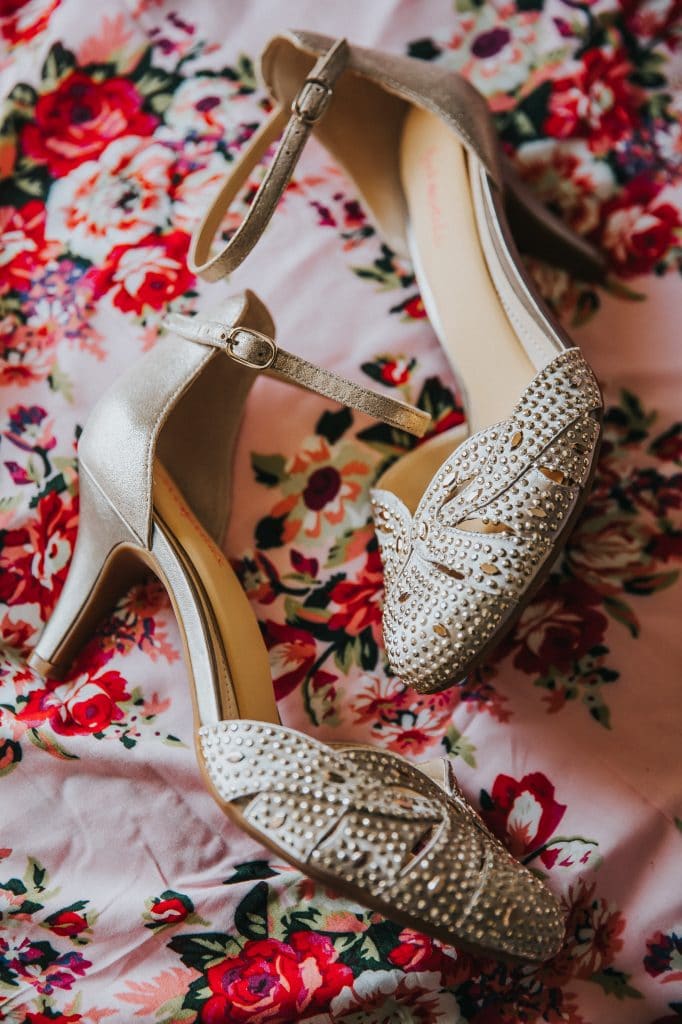 Accessories 
I'm sure you've seen the floral bridal robes all over Pinterest. I love flowers so they were a must for us to wear while we got ready.
Something old & borrowed – My mom's veil.
Something blue – I wore my grandma's ring for my something blue and for luck.
Something new – My wedding dress.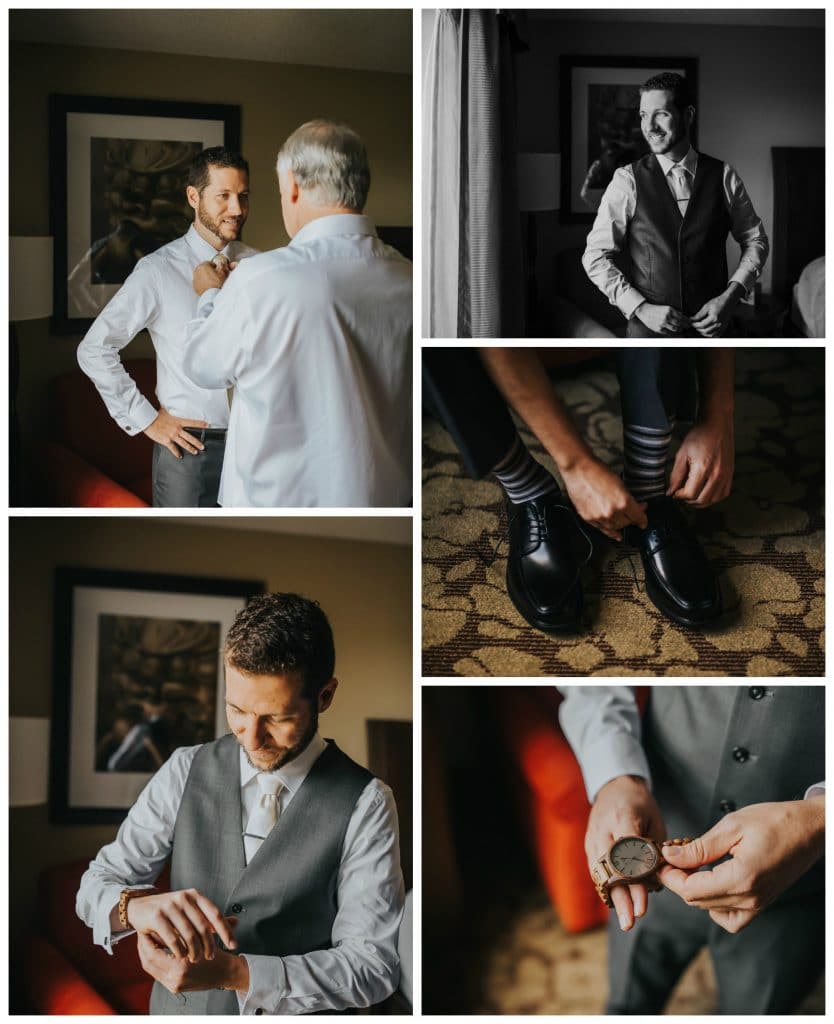 Travis wore the JORD wood watch that I got him for Christmas last year, and he got a similar wood watch for his best man to wear on our big day.
Wedding Day Gifts 
We exchanged cards and gifts while we got ready.
I gave Travis a pair of wood cuff links engraved with his initials that match his wood watch. I also gave him a couples memory journal that I started and we can finish filling out together and a card that said, "I can't wait to be Mrs. Gero!"
You can hear Travis read the letter I wrote in the card in our video.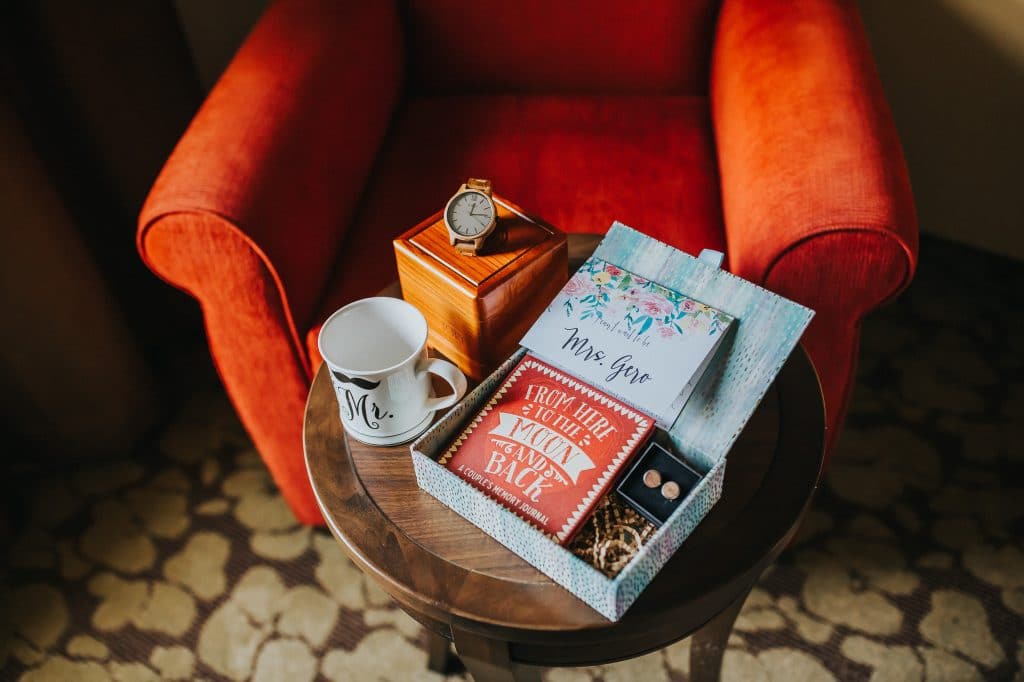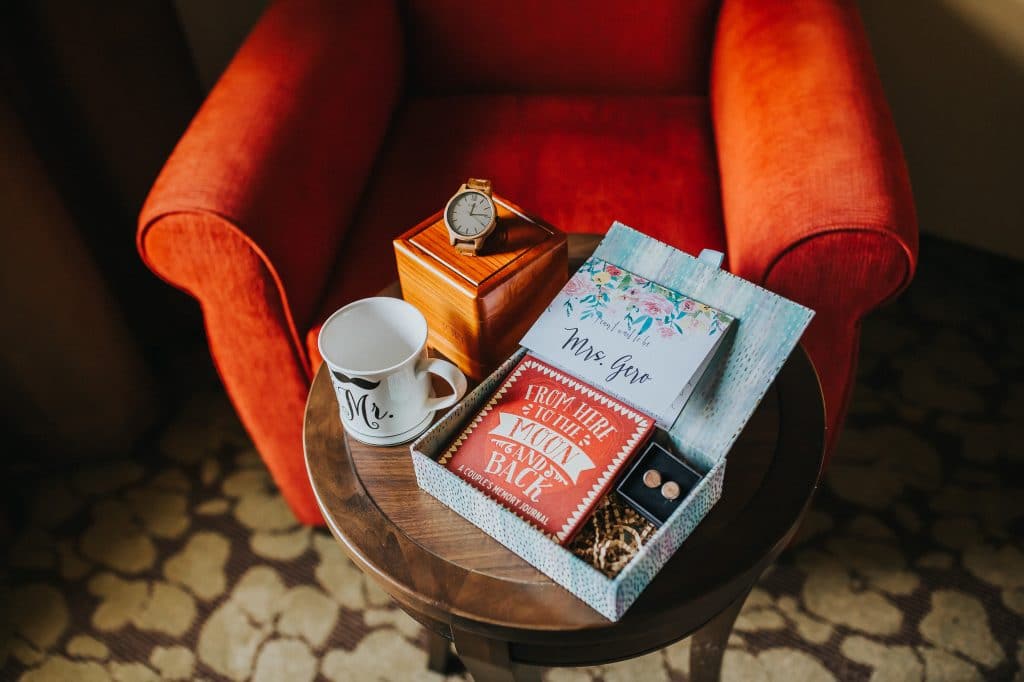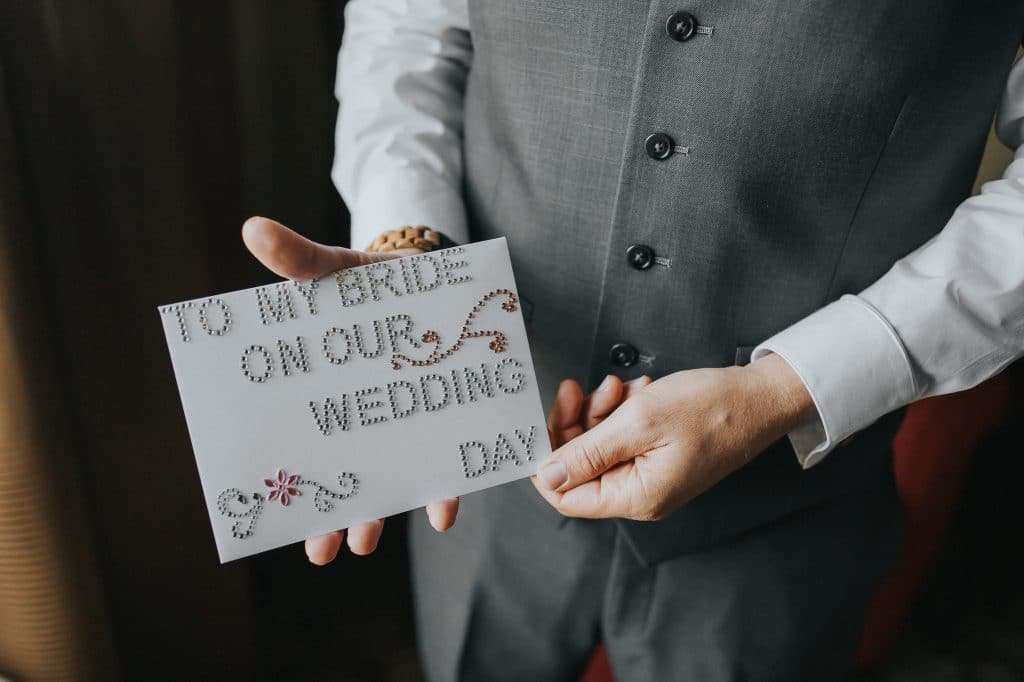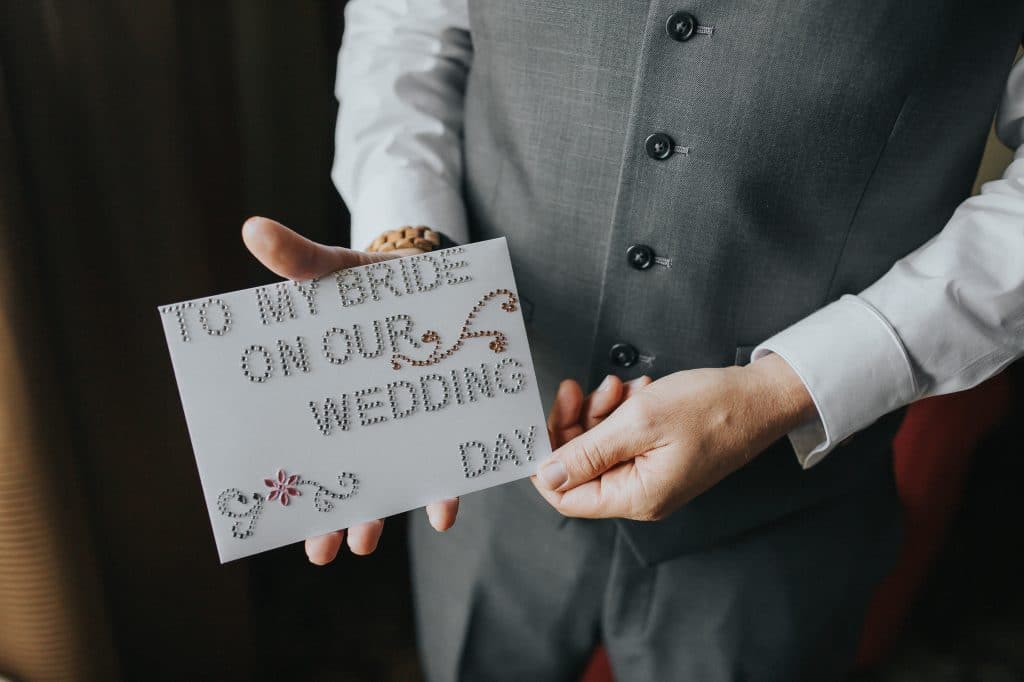 Travis gave me a Lovepop Wedding Card that had a super-detailed and intricate chapel pop up when I opened it. It even had a bride and groom standing in front of the chapel, it's seriously amazing!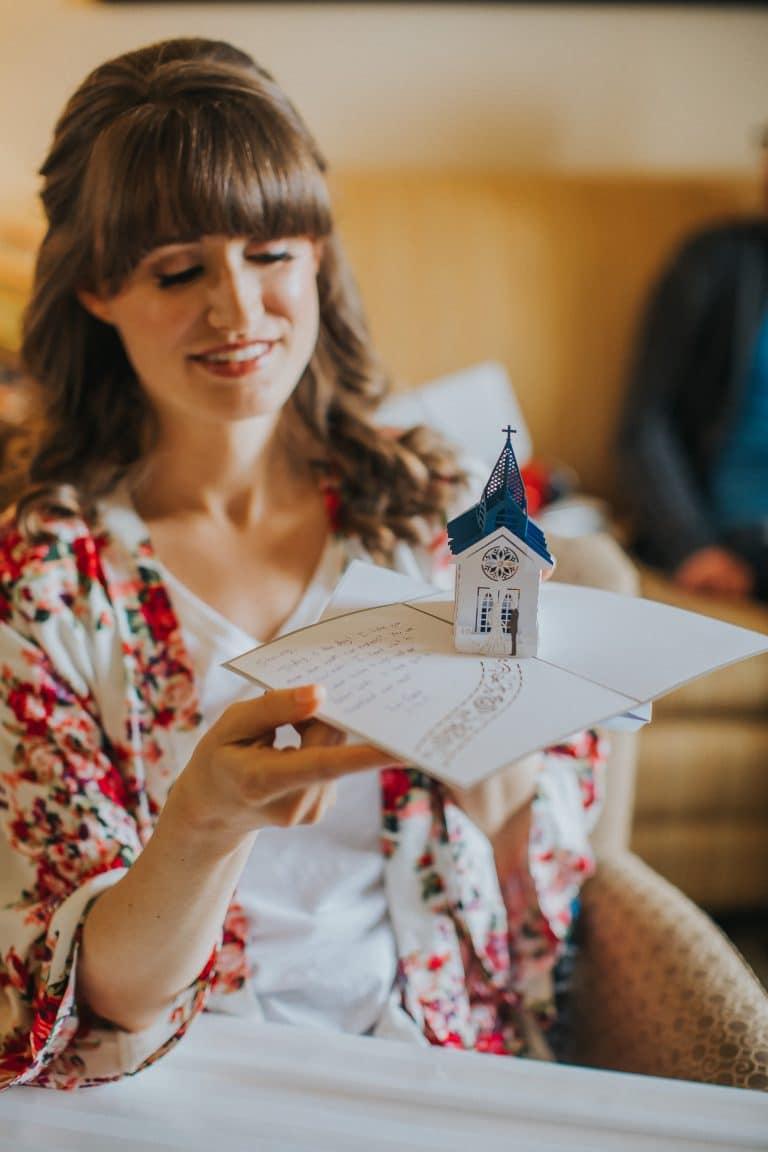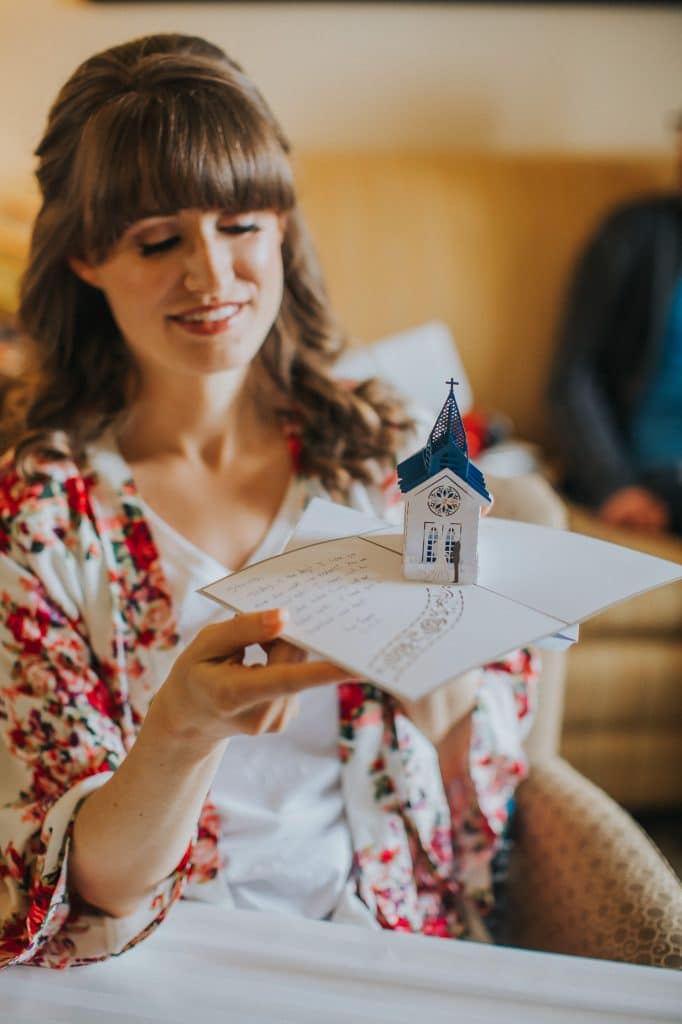 He also made me a handcrafted gorgeous frame that shows our love story. Where we met, where we got engaged and our wedding day.
He wrote our favorite saying on it too, "I love you to Neverland and back!"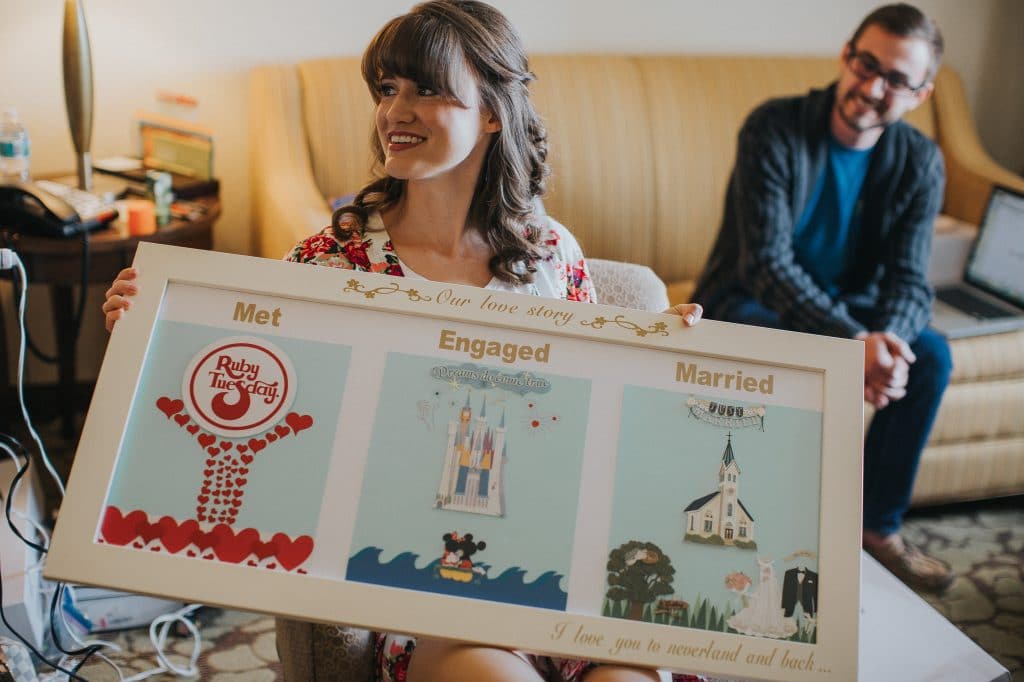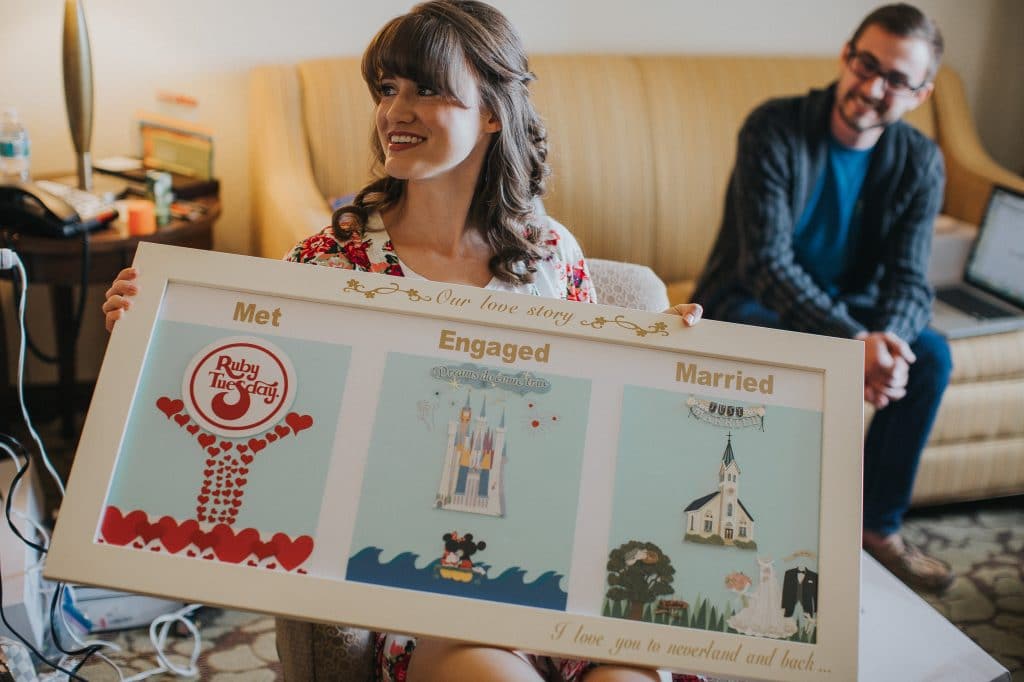 Once we finished getting ready, the hotel provided a shuttle to take our bridal parties over separately to Cross Creek Ranch. Once we arrived, I could get dressed and have the first look with my hubby to be!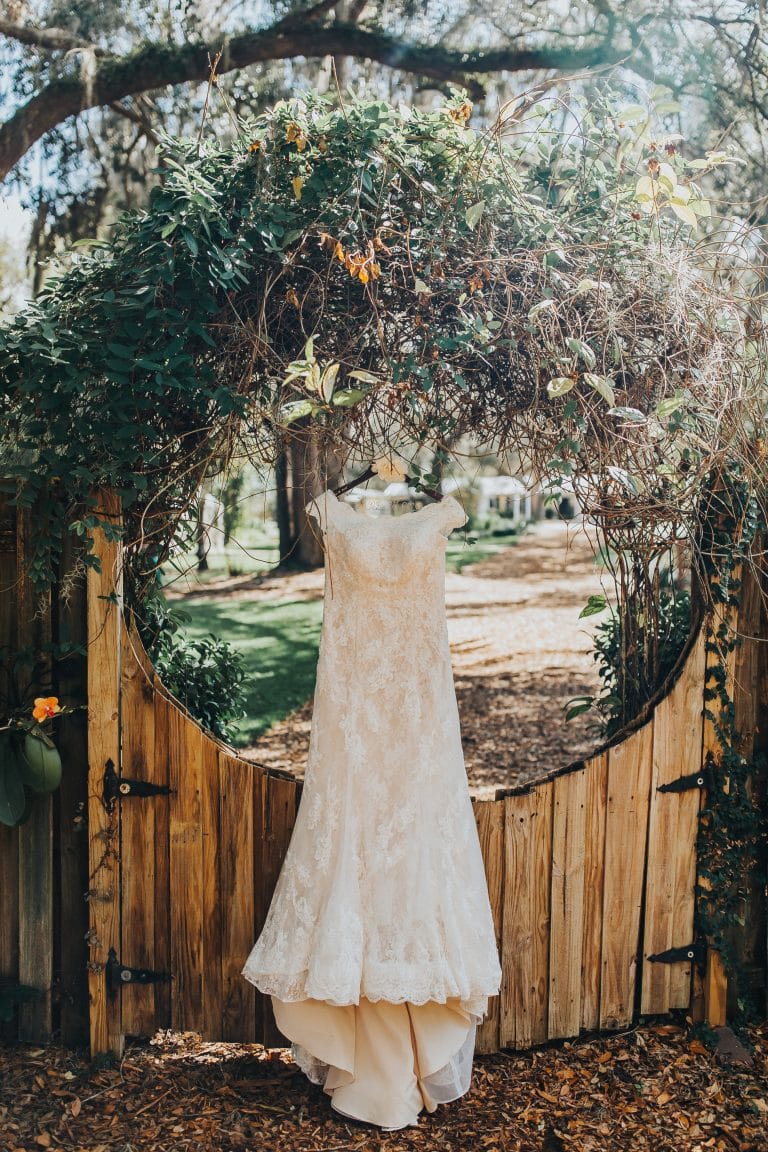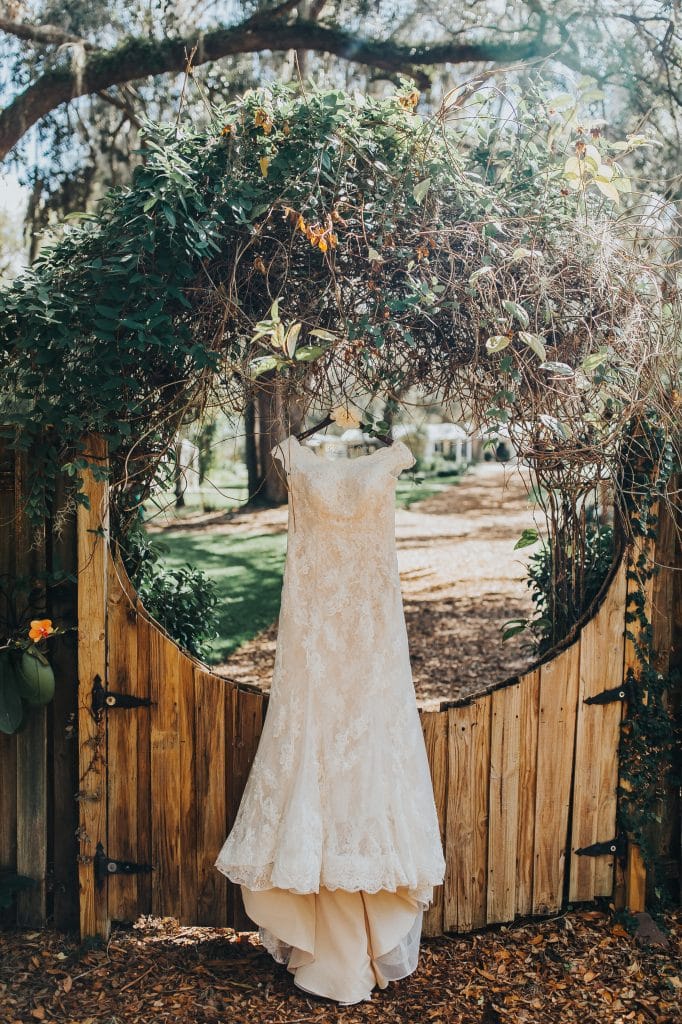 Cross Creek Ranch Bridal Cottage
When we got to the bridal cottage, I met with our day of coordinator, Mary, and my bridal assistants, Holly and Margo. They were all lifesavers and helped me so much! Mary kept us on schedule all day long and Holly and Margo were there for me to help me with whatever I needed. I truly felt like a princess for the day!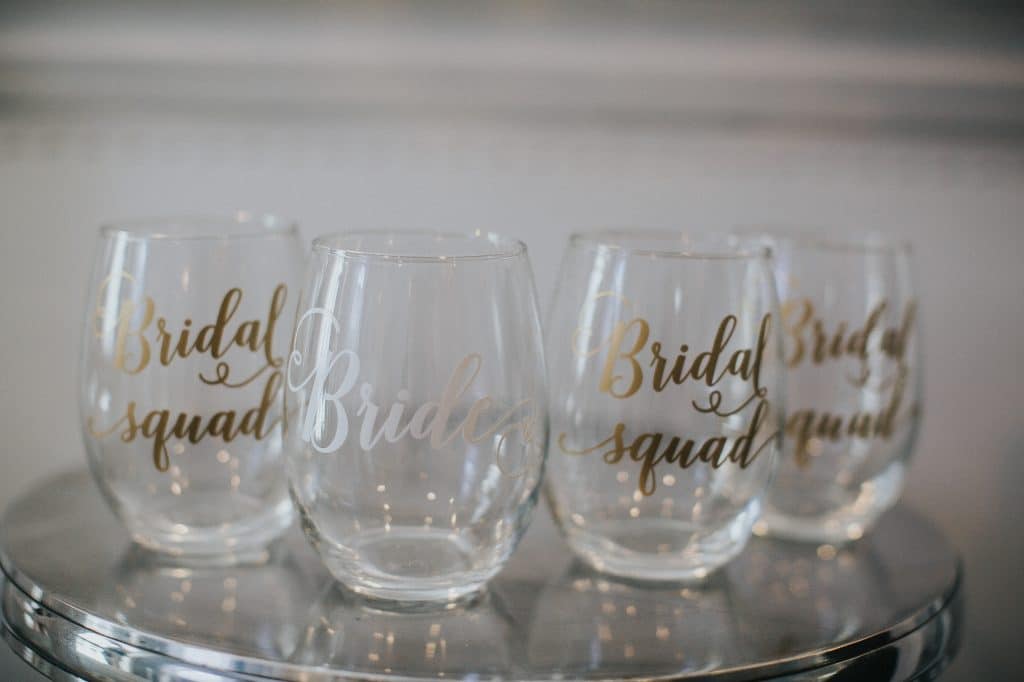 My mom and maid of honor, Beth, helped me get dressed and ready for my first look with Travis!
I had just enough time to have a glass of wine (Make sure you drink white so you don't stain your teeth or lips or in case you spill!), grab my beautiful bouquet, have a quick snack, put my gardenia perfume on and take a few pictures.
Don't you love the Bride + Bridal Squad glasses my MOH got for us?!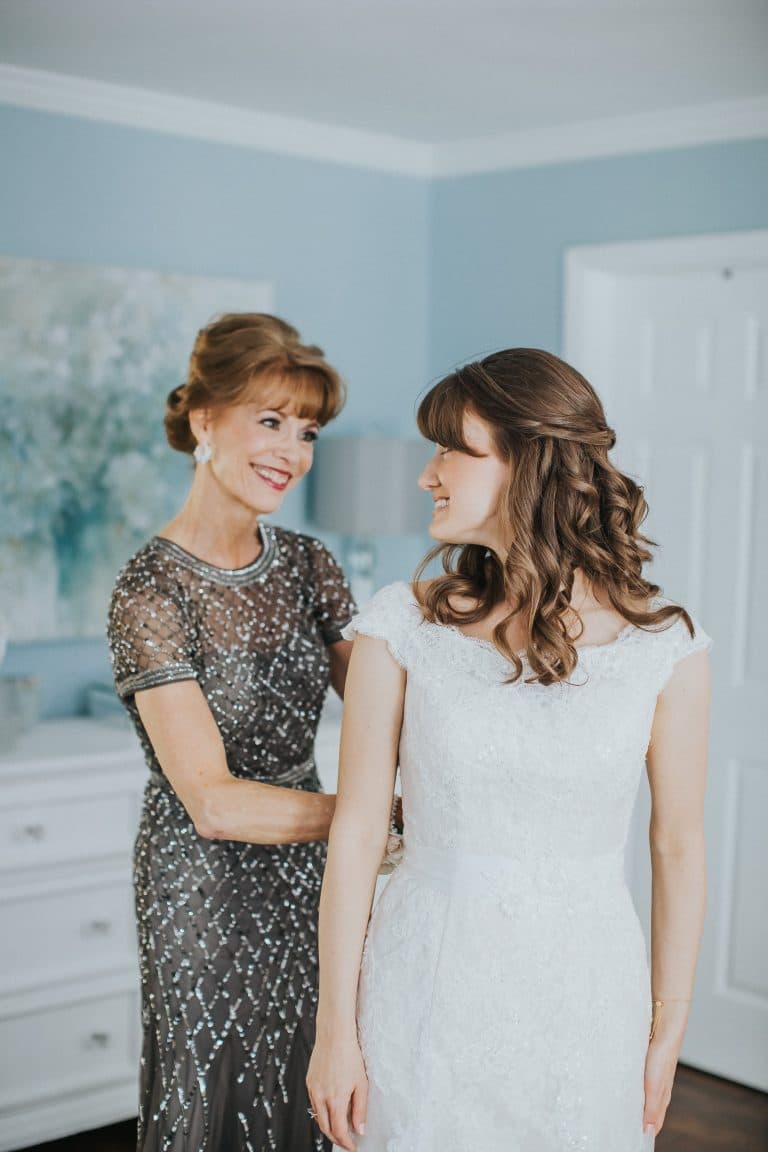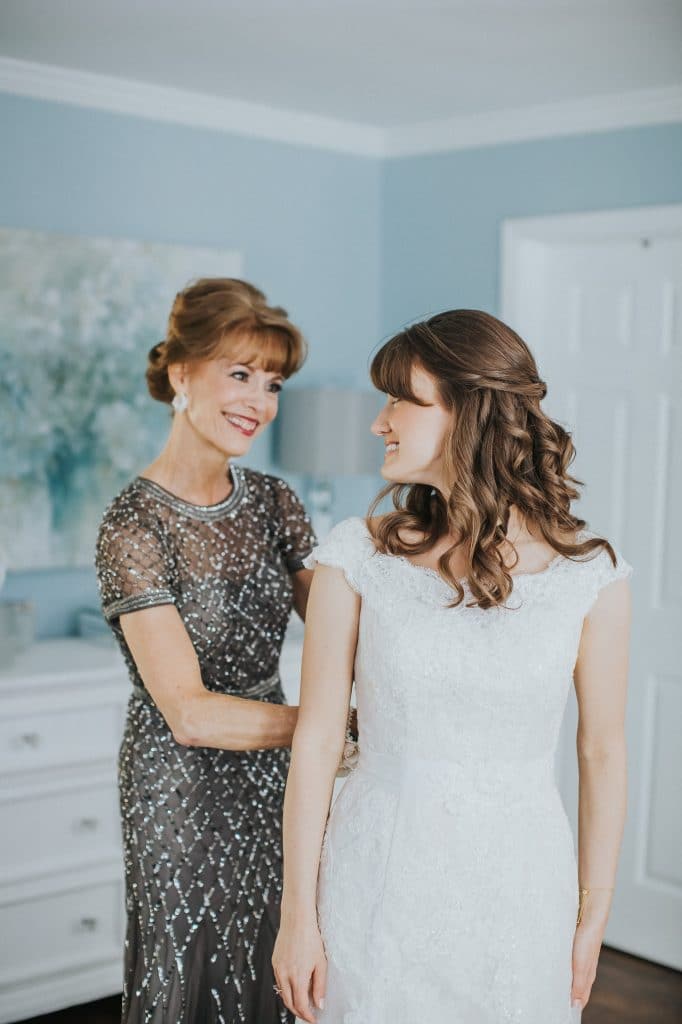 A Lucky Penny Tradition  
If you're wondering what the penny is for, it represents my grandpa. After he passed away, we started finding pennies in the most random places. On the windowsill in the bathroom, on a really high shelf, on my completely empty desk on my first day at work.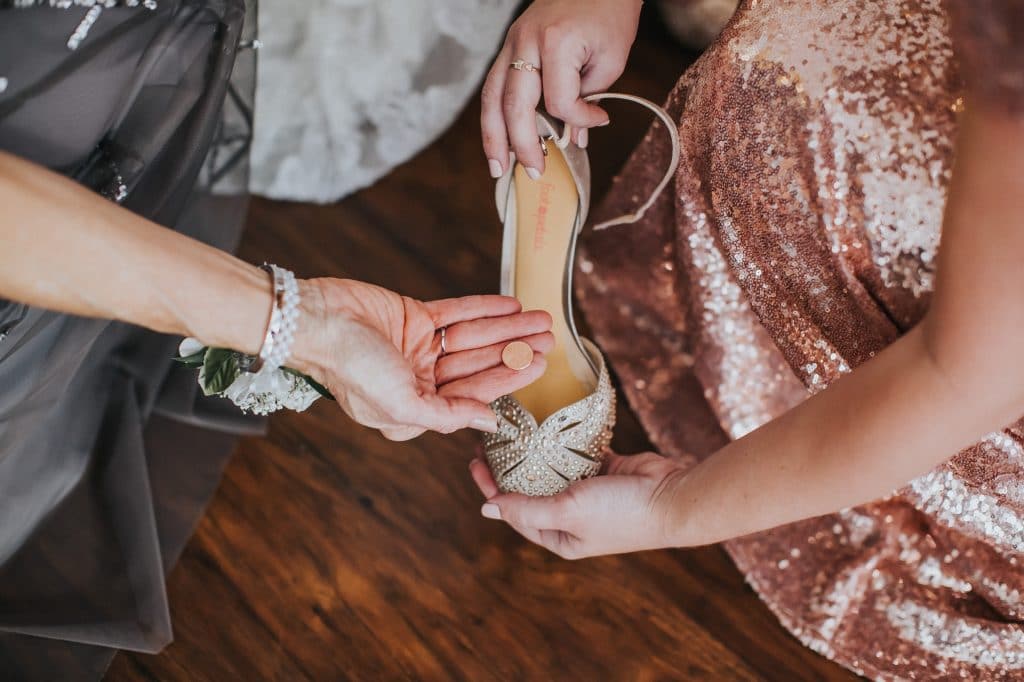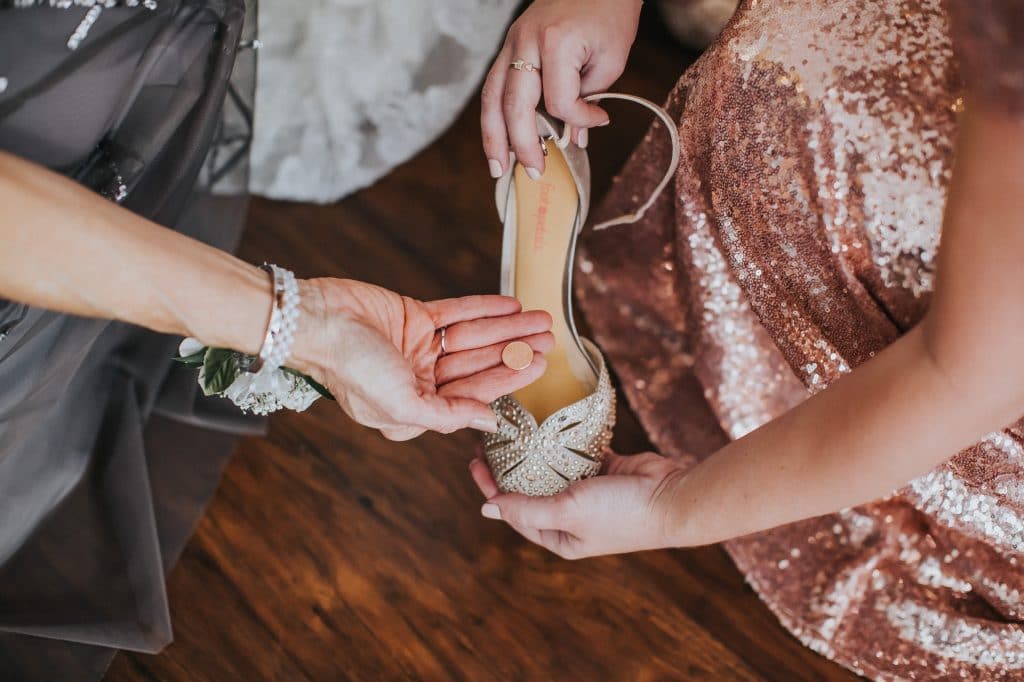 So, my mom got a brand new 2017 penny to put in my shoe so it's like my grandpa was walking with me. I also wore my grandma's sapphire ring for my something blue.
It's also a wedding tradition to put a sixpence in your shoe to bring wealth and prosperity to your marriage.
The First Look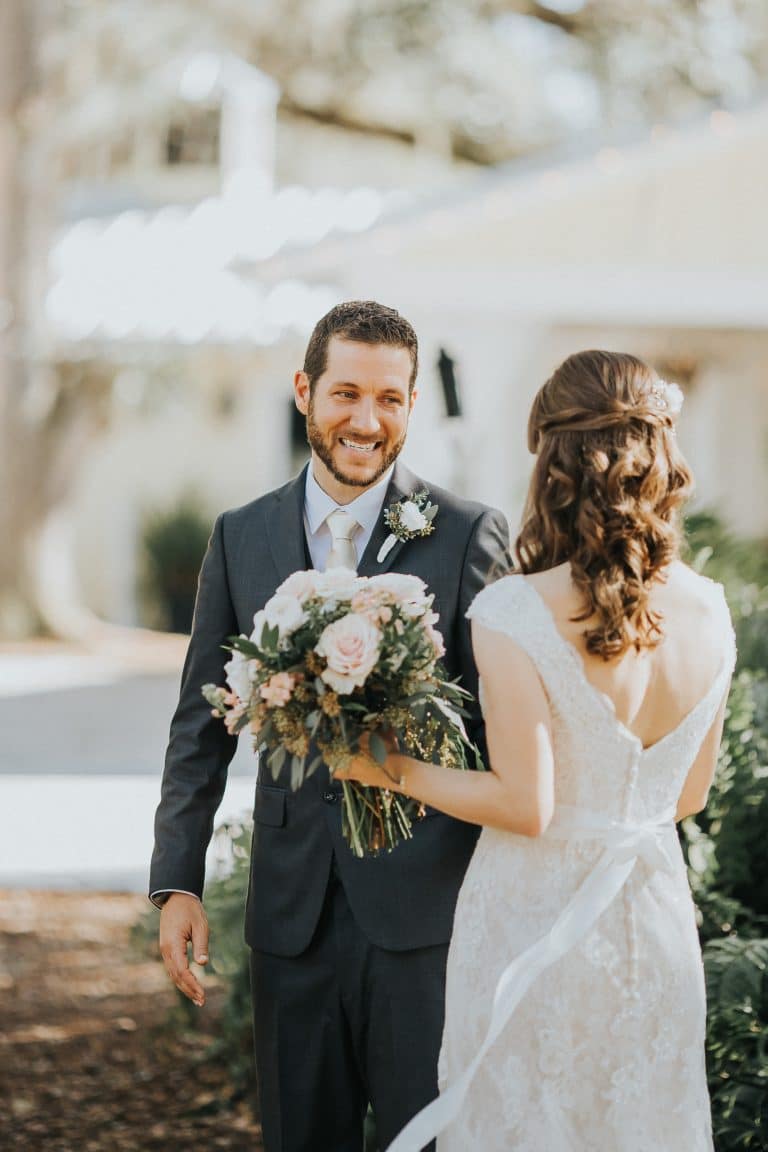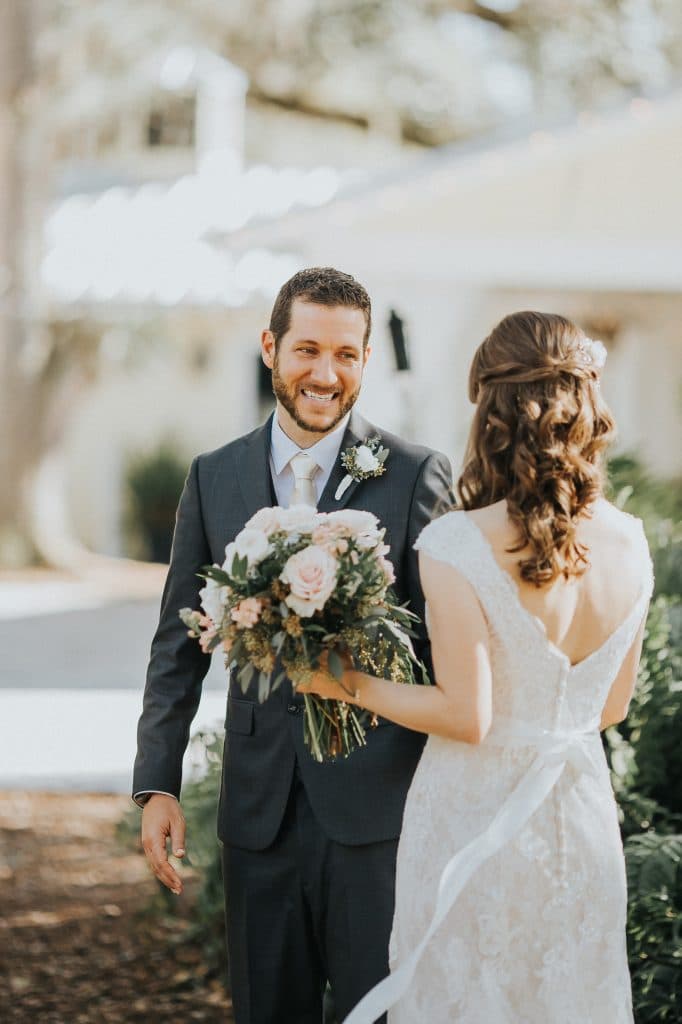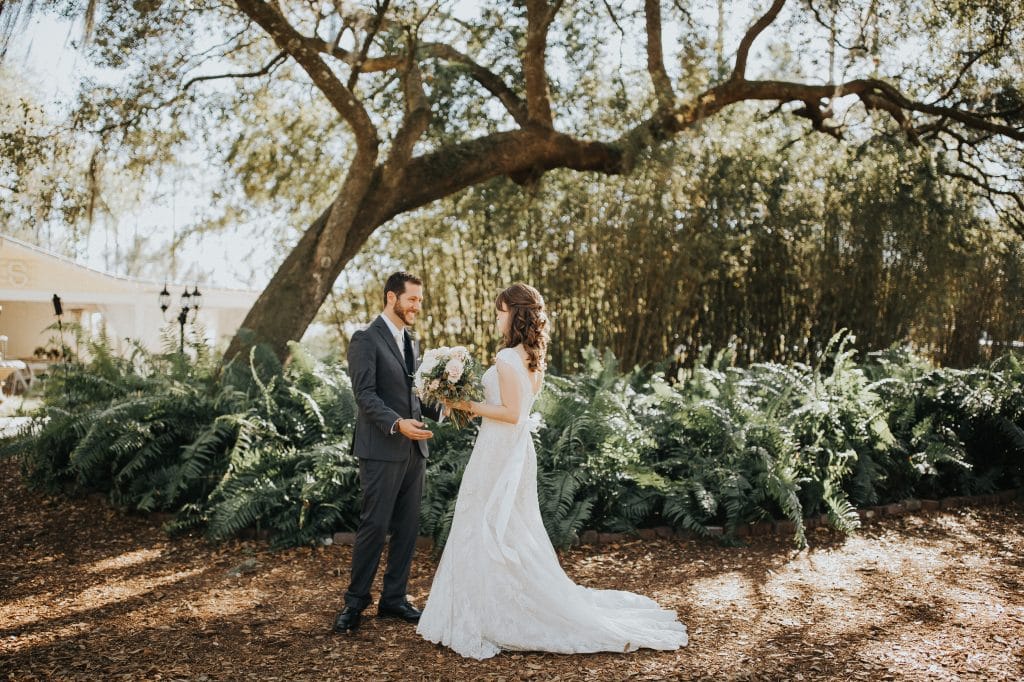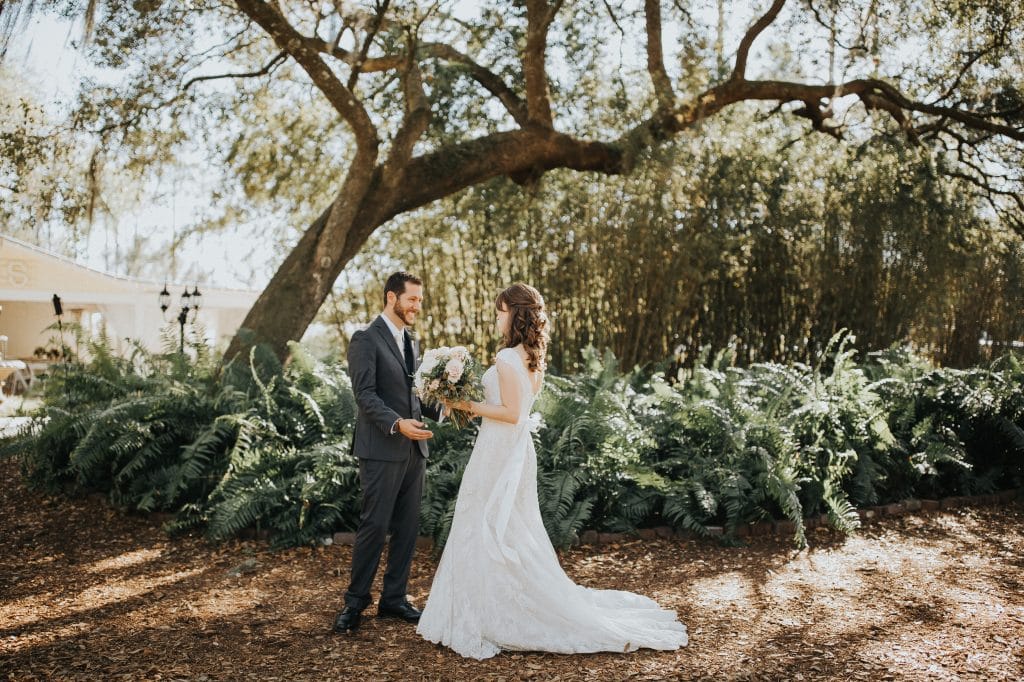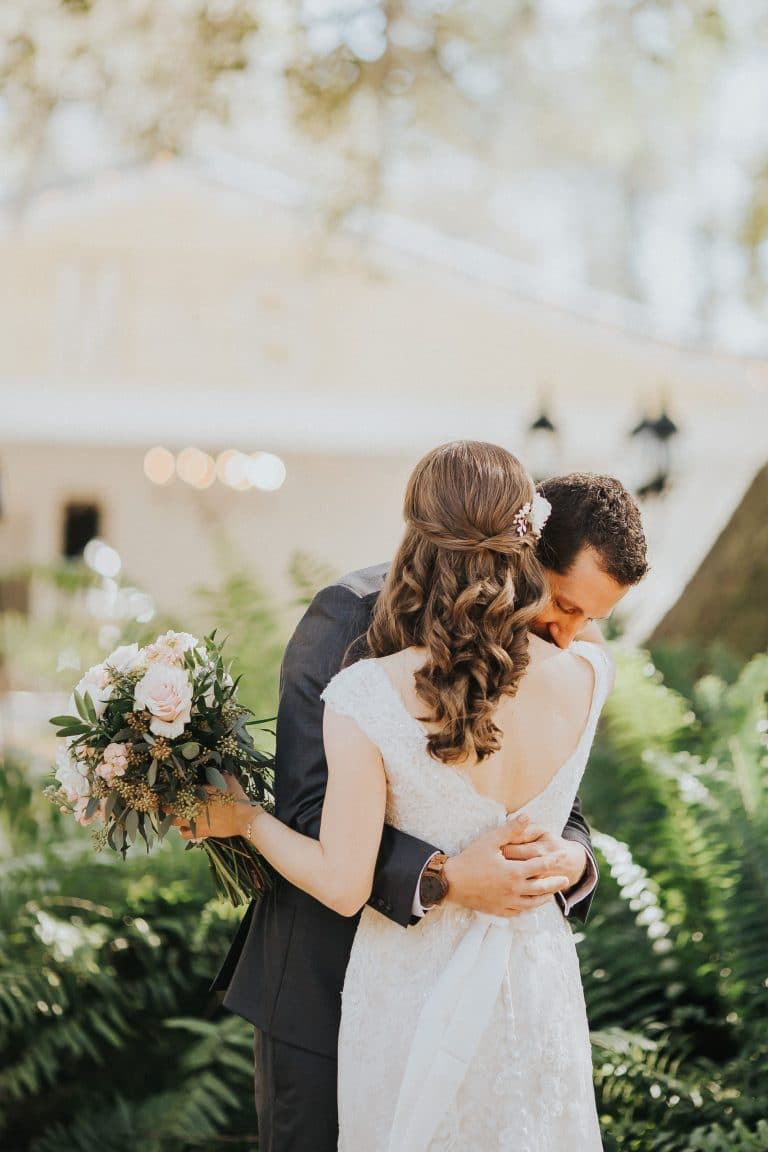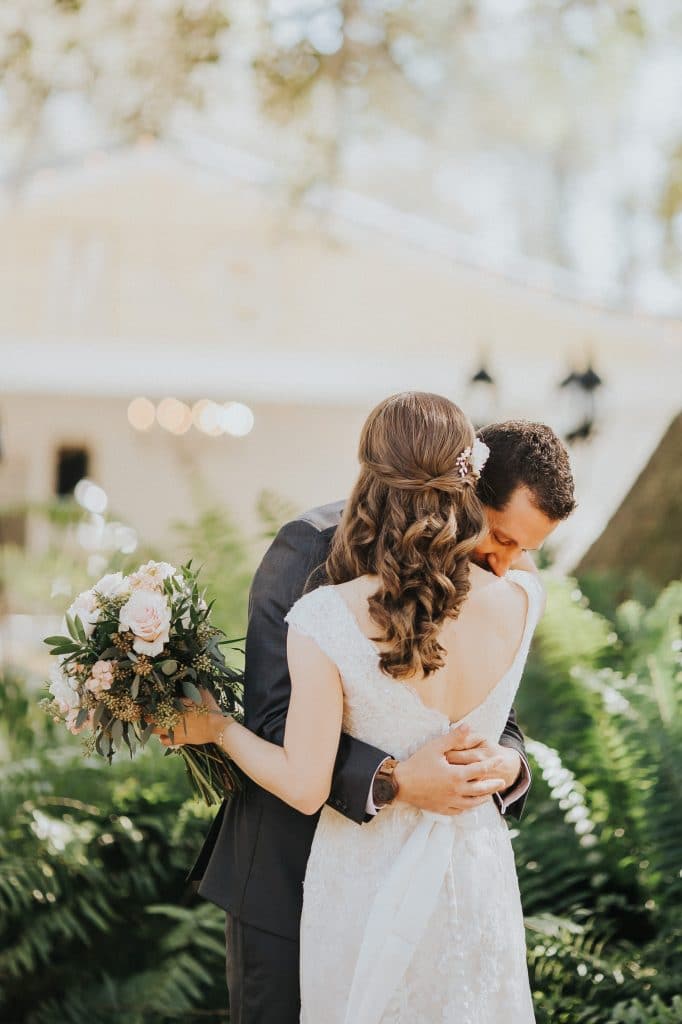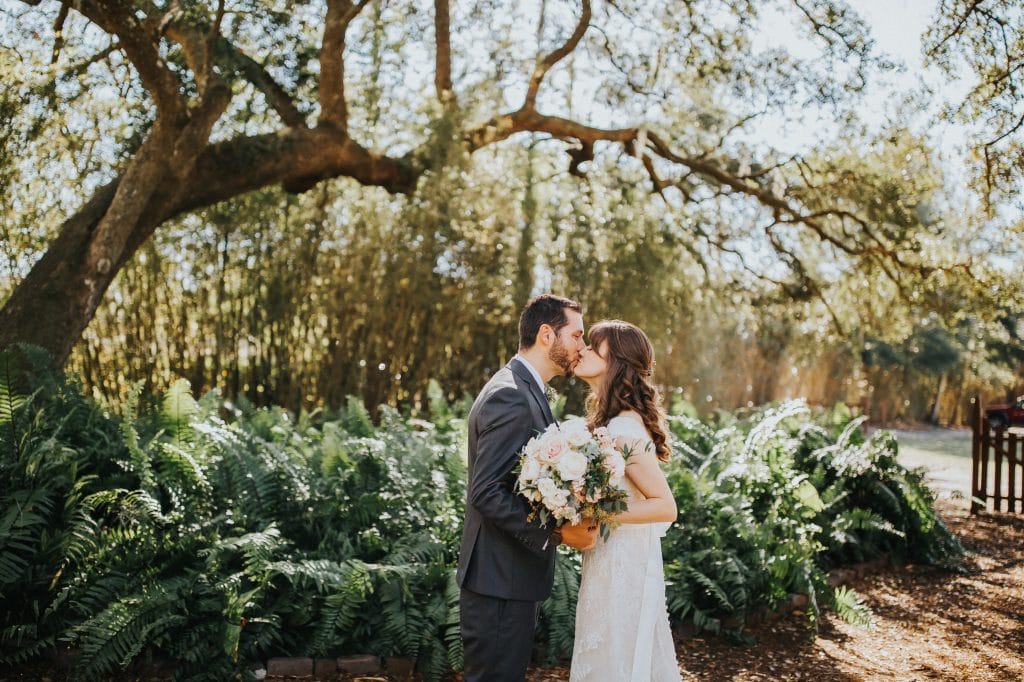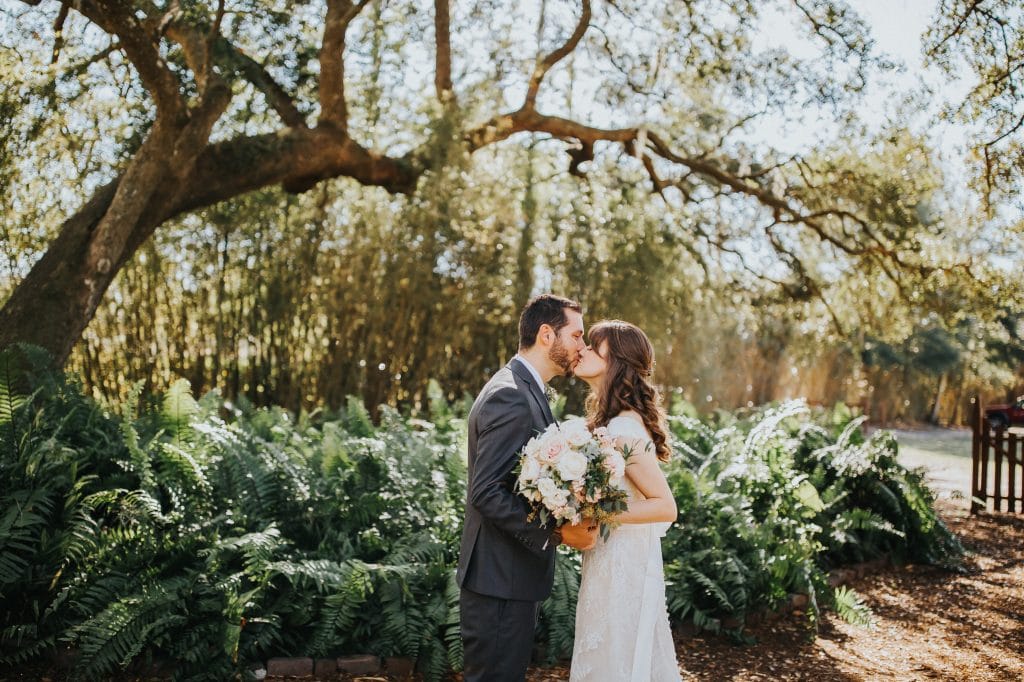 If you're on the fence about doing a first look, I shared 5 reasons you should do a first look on your wedding day that will help you decide if it's right for you or not!
It was my #1 favorite moment of the entire day and I'm so glad we did it because it almost didn't happen! I was against seeing each other before walking down the aisle right up until one month before the wedding.
All the nerves and butterflies dissipated as soon as Travis and I locked eyes. We were in our own little bubble of wedding day bliss and no one could penetrate it.
It was personal. It was intimate. It was magical.
It was everything and more than what we hoped it would be.
I'll never forget the look in Travis' eyes and I'm so glad that moment was just ours and not done in front of everyone.
Our Bridal Party
Our bridal party was a bit unconventional but it was perfect for us. We each had our best friends as our MOH and BM and that was it. It was less stressful for everyone and I'm so glad we did it that way.
Another benefit of doing the first look is that you can do bridal party portraits too so you save a little bit of time! Of course, my mom snuck in there too.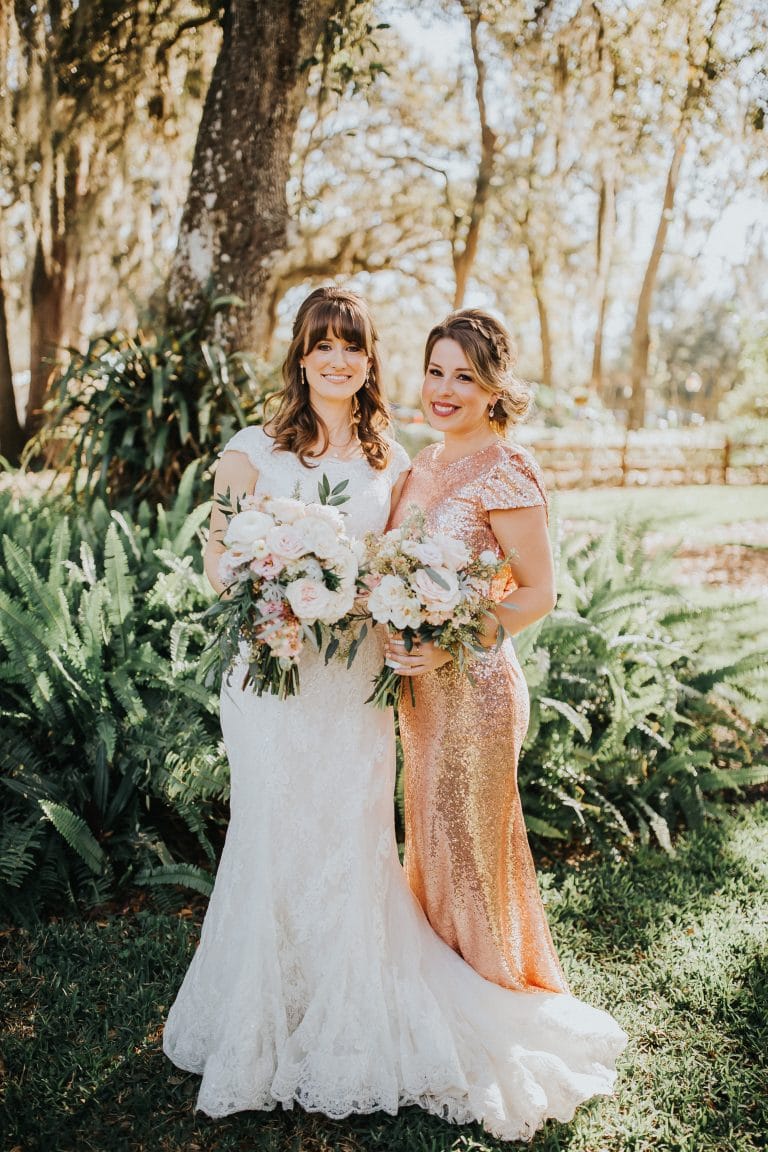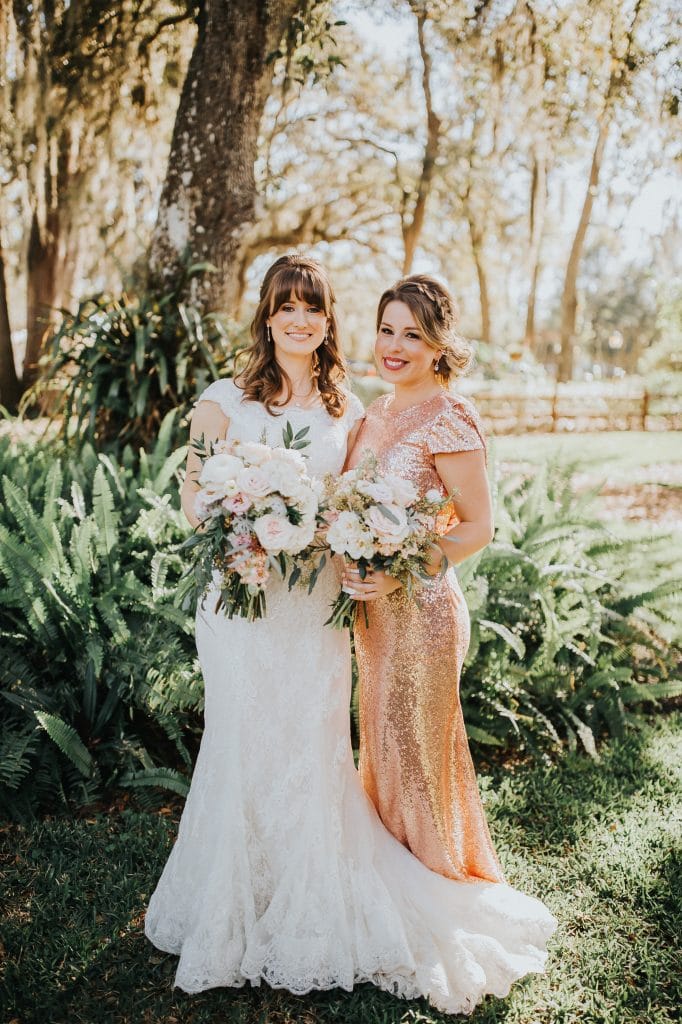 I intentionally picked soft colors for our wedding palette because I wanted a touch of sparkle in our dresses. My dress, my maid of honor's dress, my mom's dress and our flower girl all had an element of sparkle incorporated into their dress.
My MOH's dress (This dress is very similar —> Women's Adrianna Papell Short Sleeve Sequin Mesh Gown
) was so elegant and she looked so beautiful!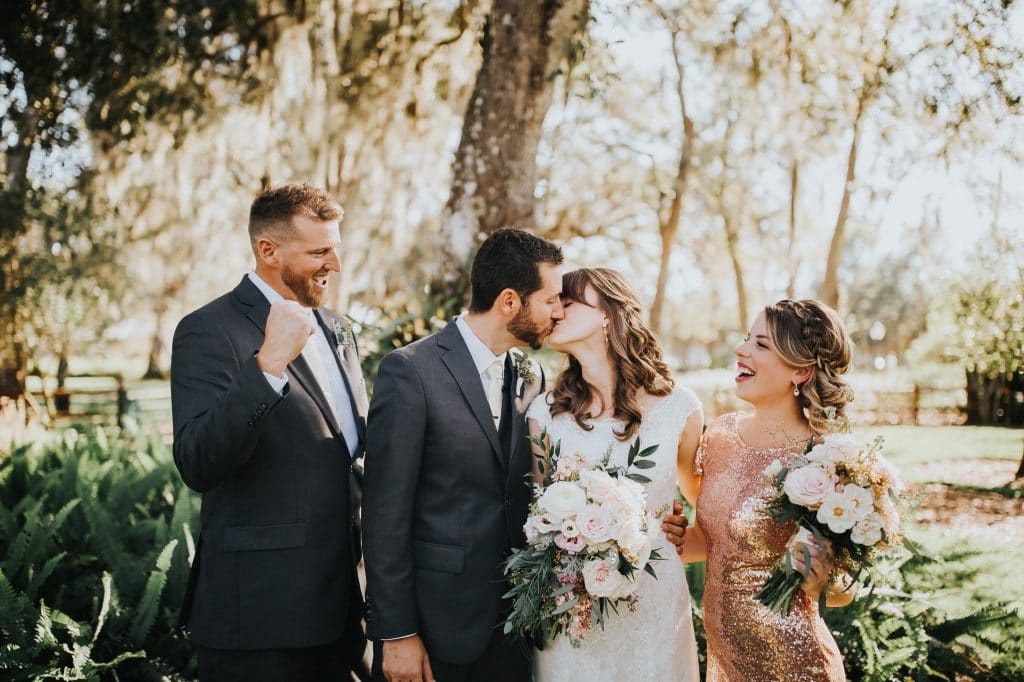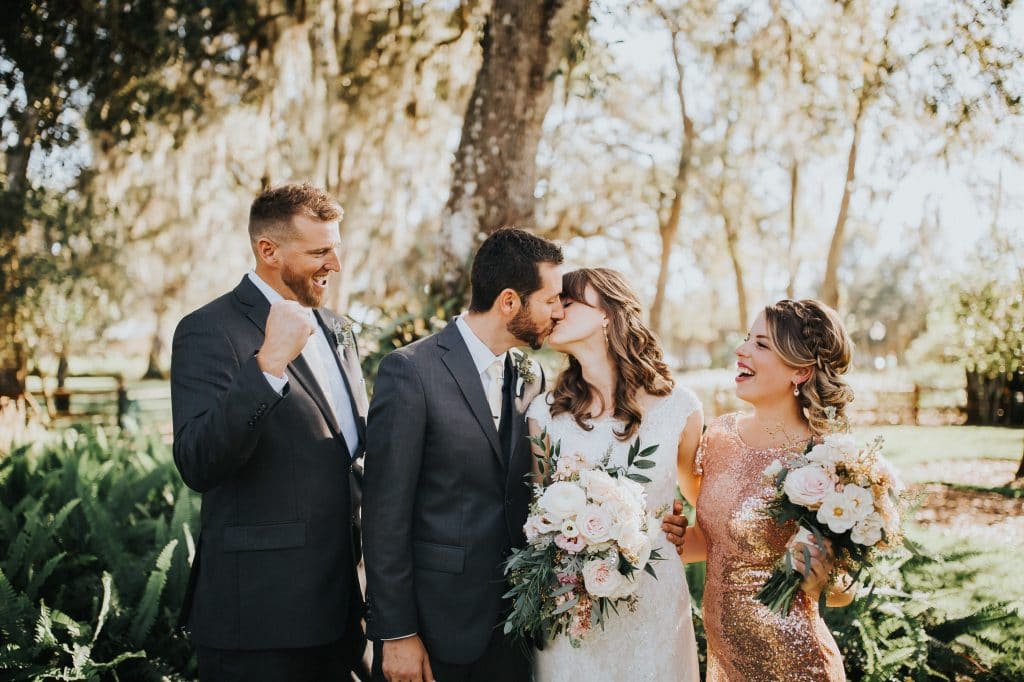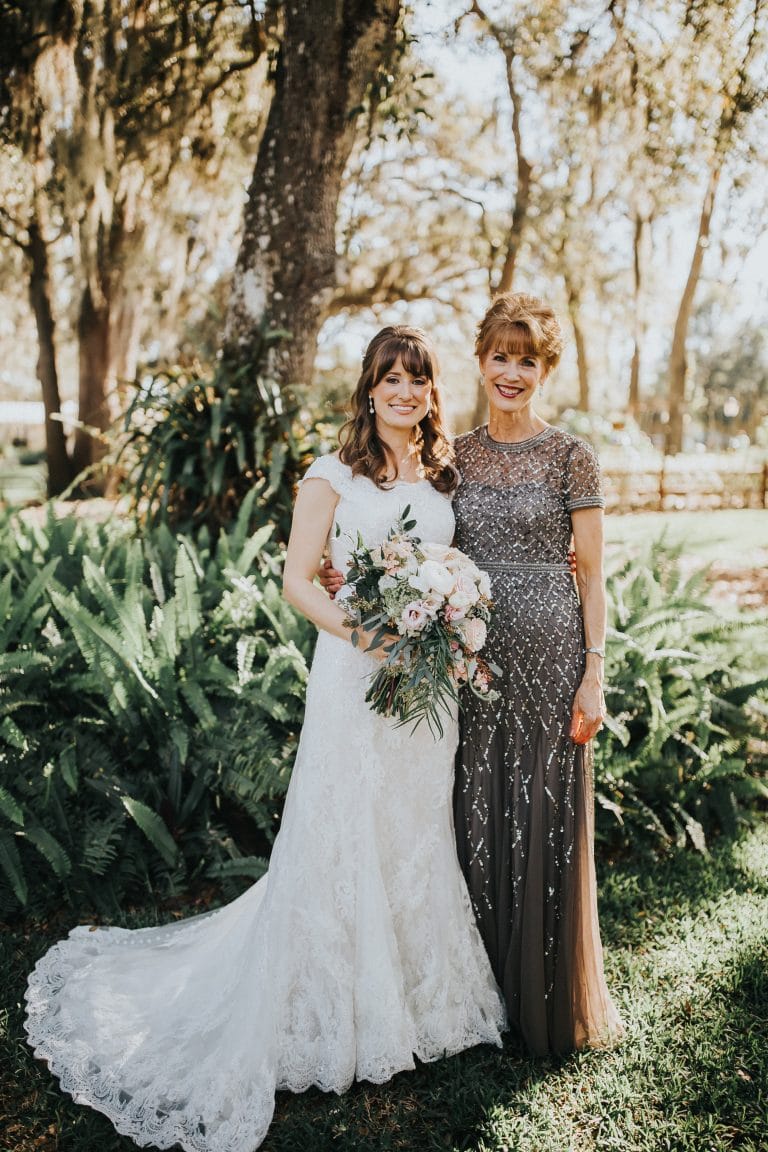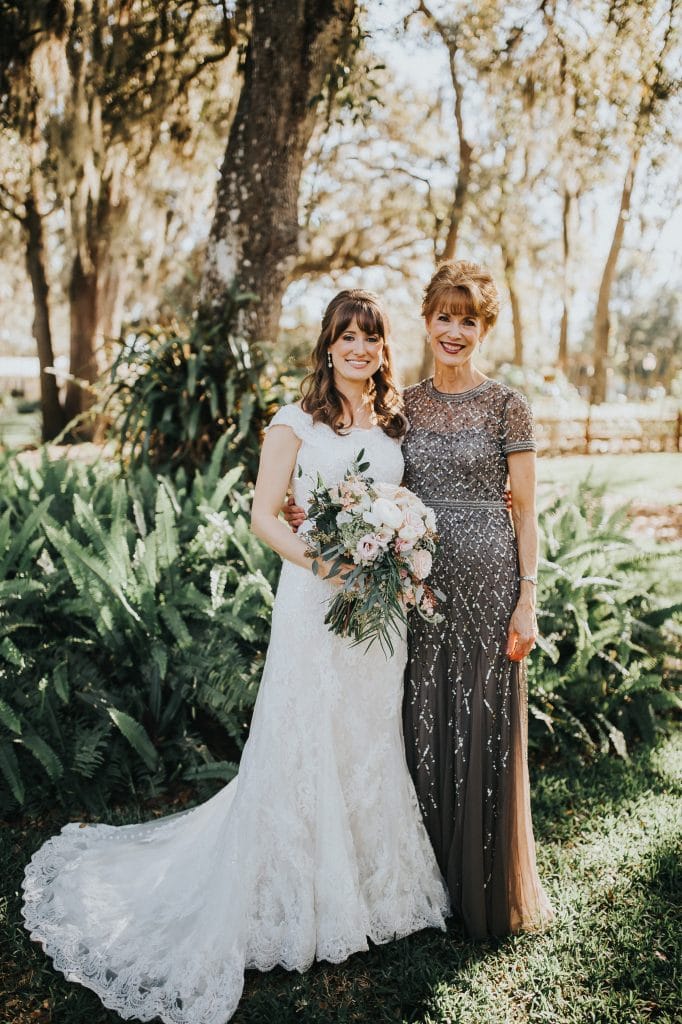 How GORGEOUS does my mom look? Her dress (See it here —> Women's Adrianna Papell Beaded Mesh Gown, Size 4 – Grey
) was so stunning and fit her like a glove!
I loved the slate gray color, illusion neckline and subtle shimmer from the sequins. It matched our blush, sage and champagne color palette perfectly!
It was one of the first dresses she tried on and we knew it was the one right away!


My mom and I wore matching shoes, She wore silver and I wore gold.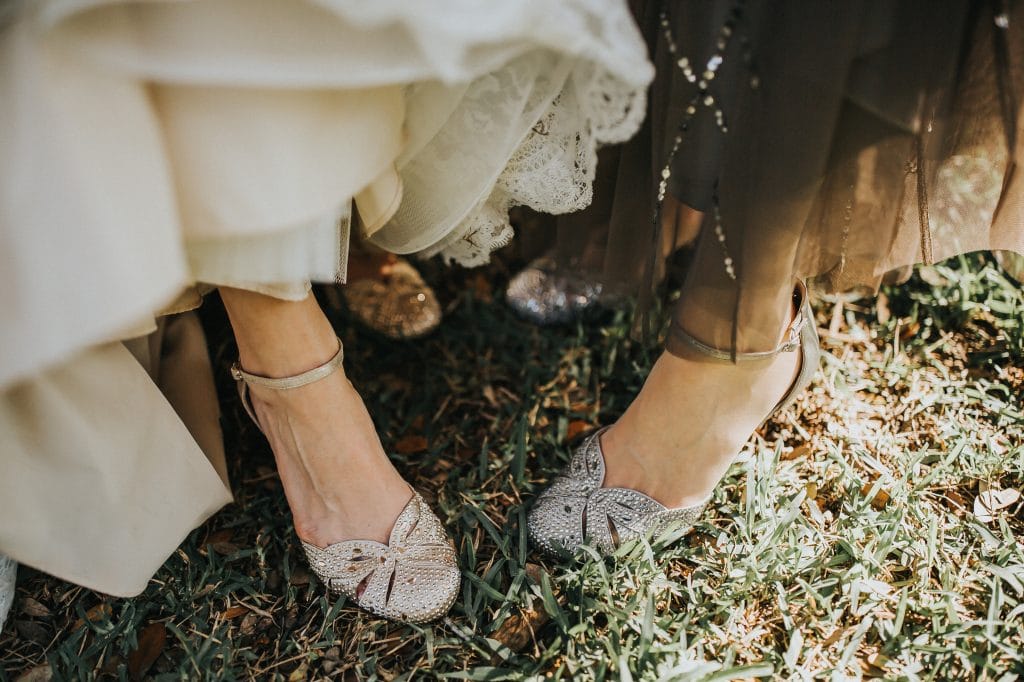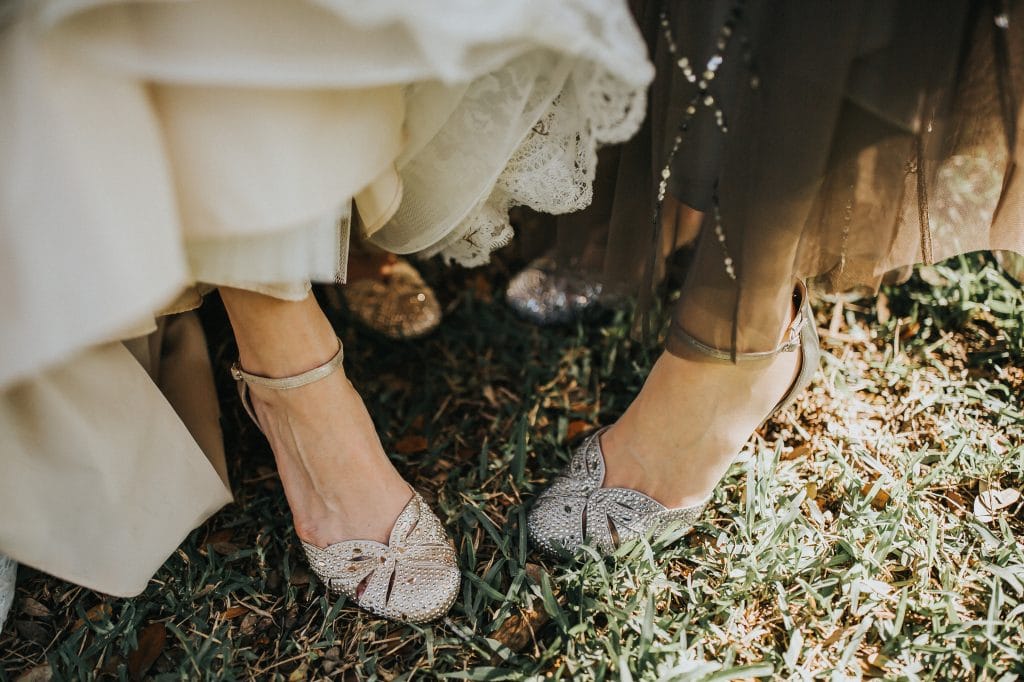 First Look with My Dad
The first look with my dad was so special!
This is another must have moment for all brides! Whether the first look is with your mom, dad, maid of honor, sister, aunt, friend…whoever is special in your life. The element of surprise makes it so fun, sentimental and memorable!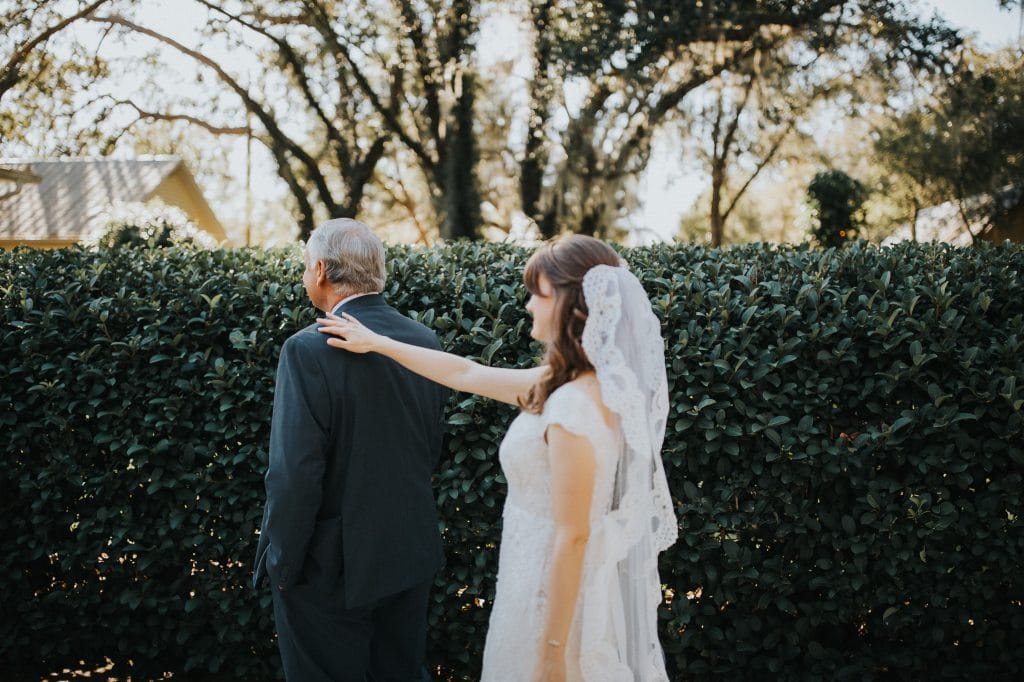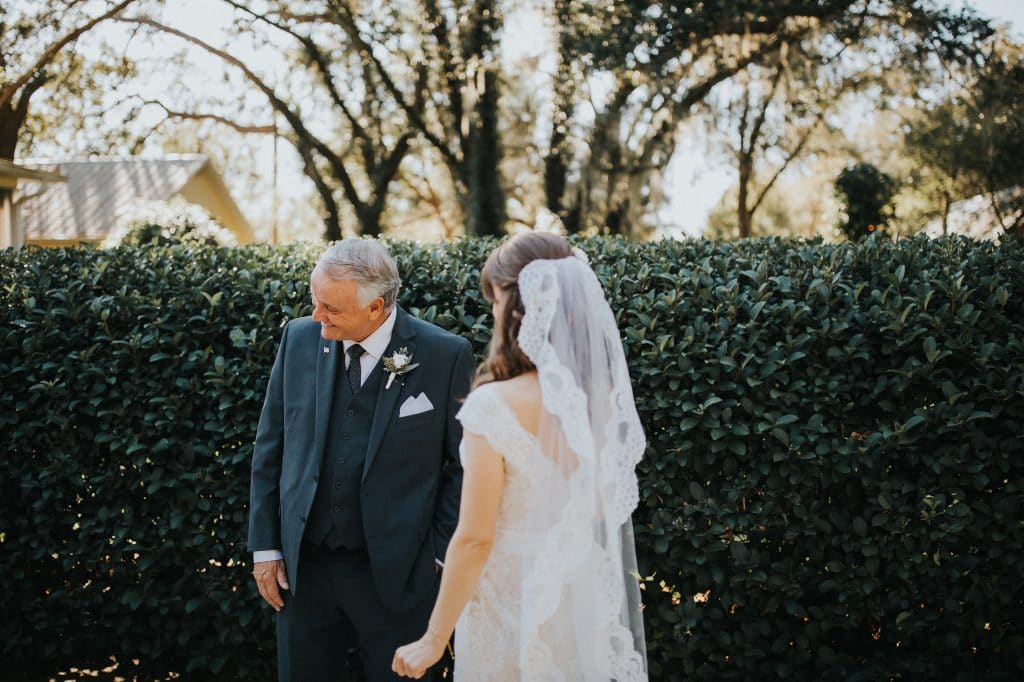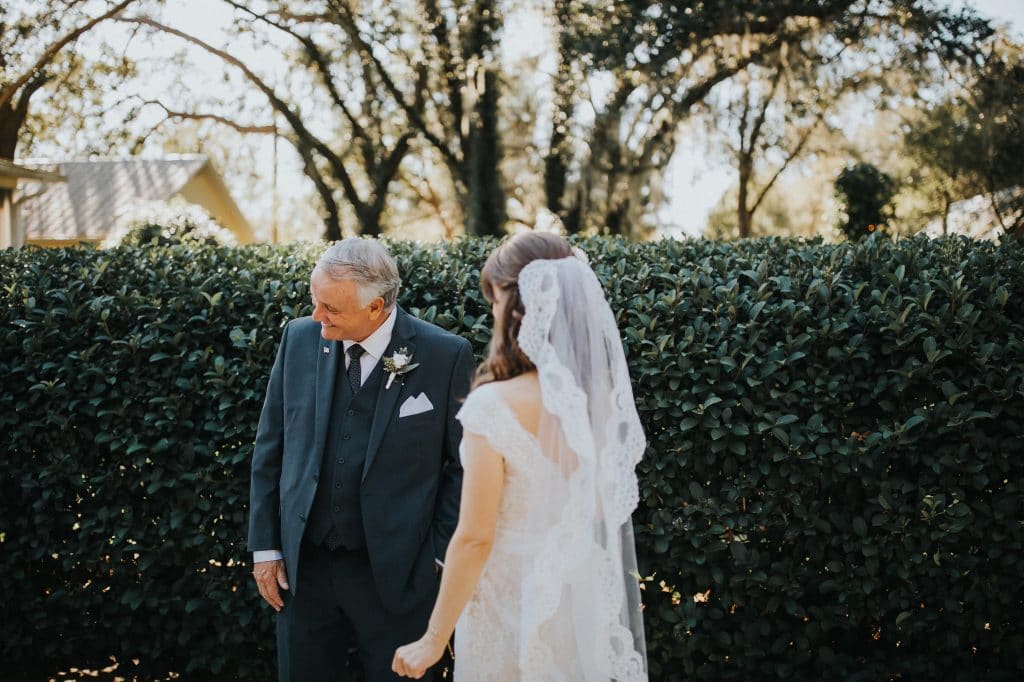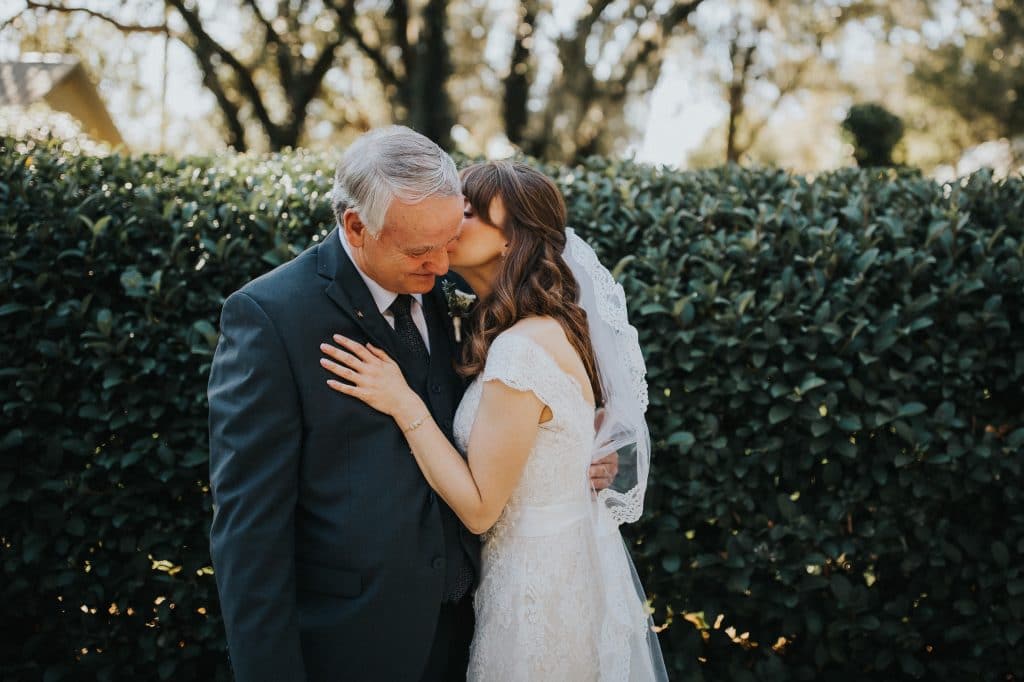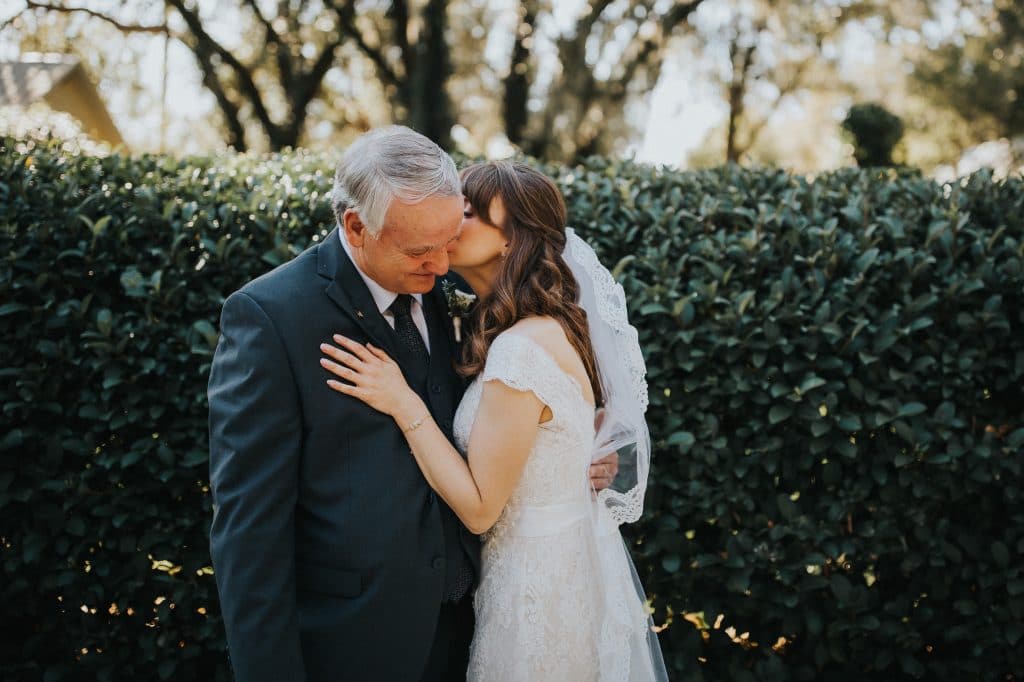 The Ceremony
Directly after the first look with my dad, our bridal party lined up to enter the chapel for the ceremony. A car picked my dad and I up and drove us around the back so nobody could see my dress while waiting to walk down the aisle.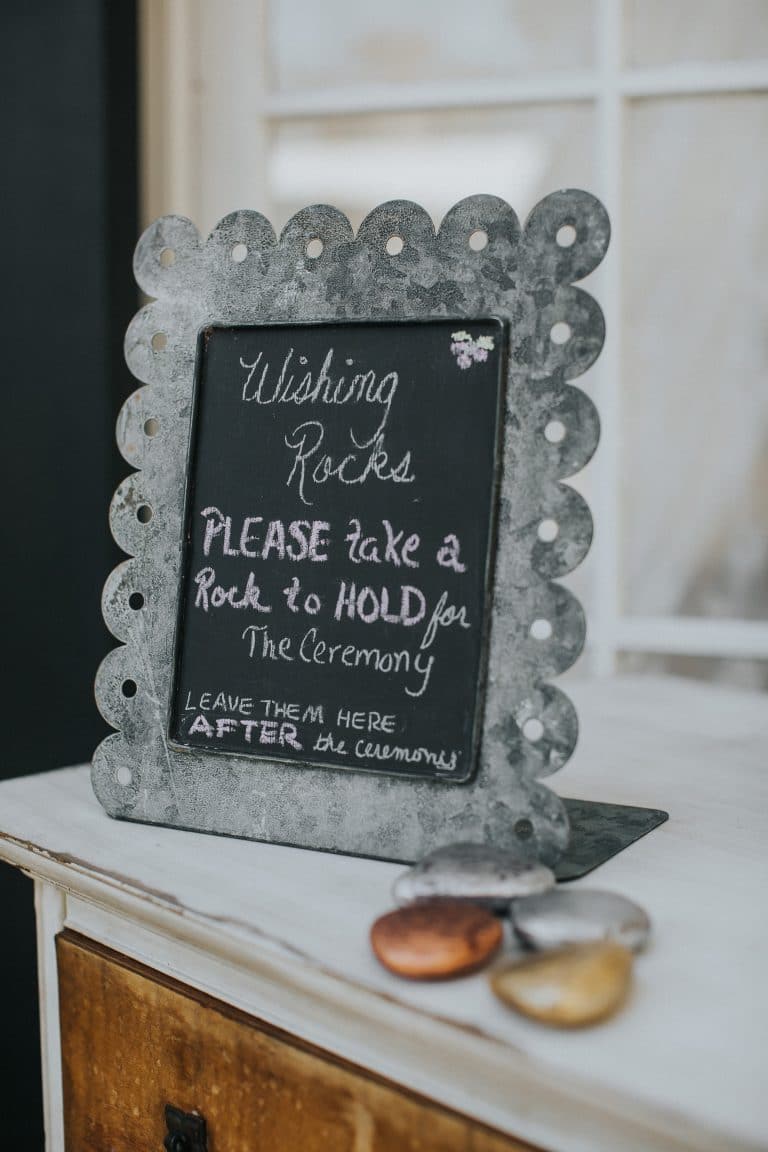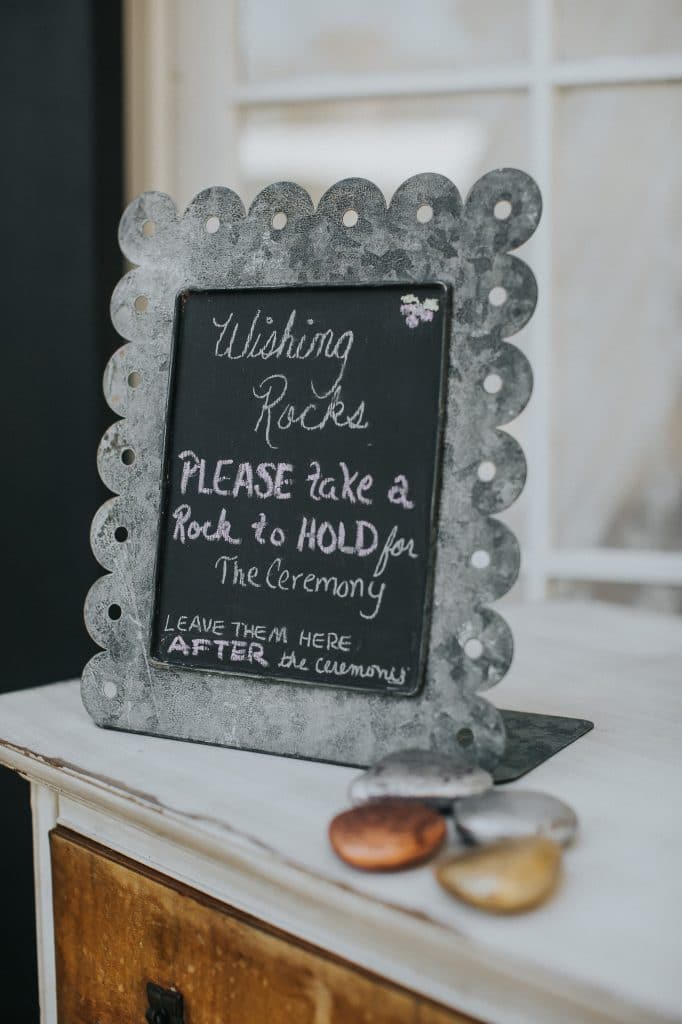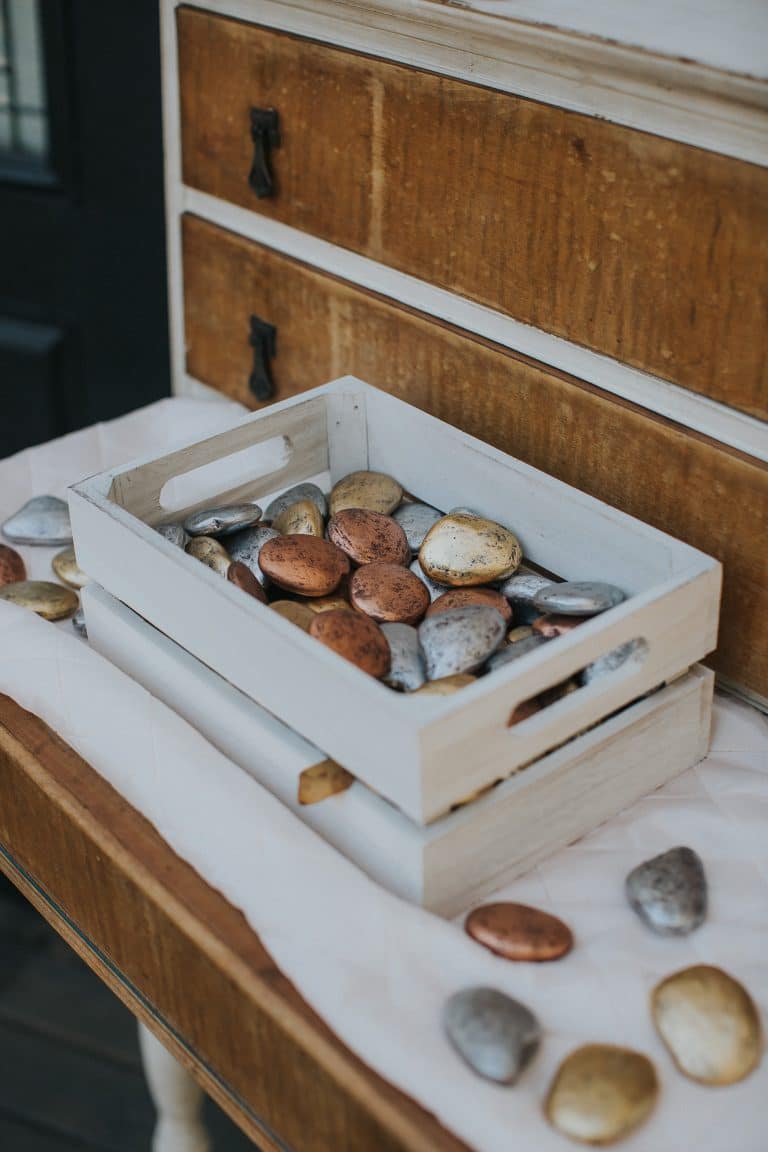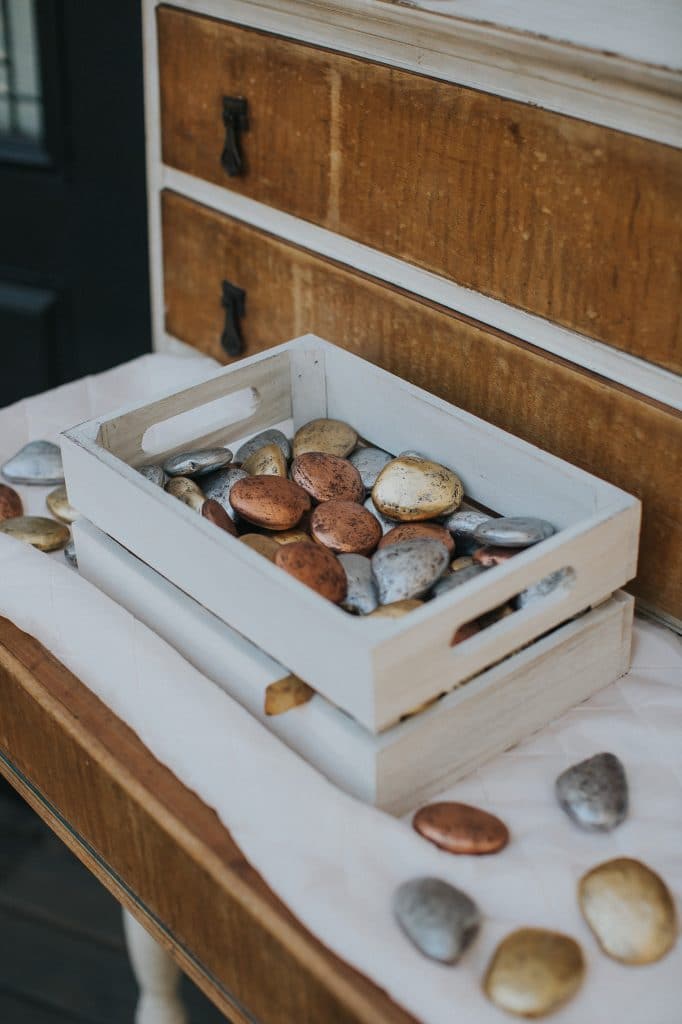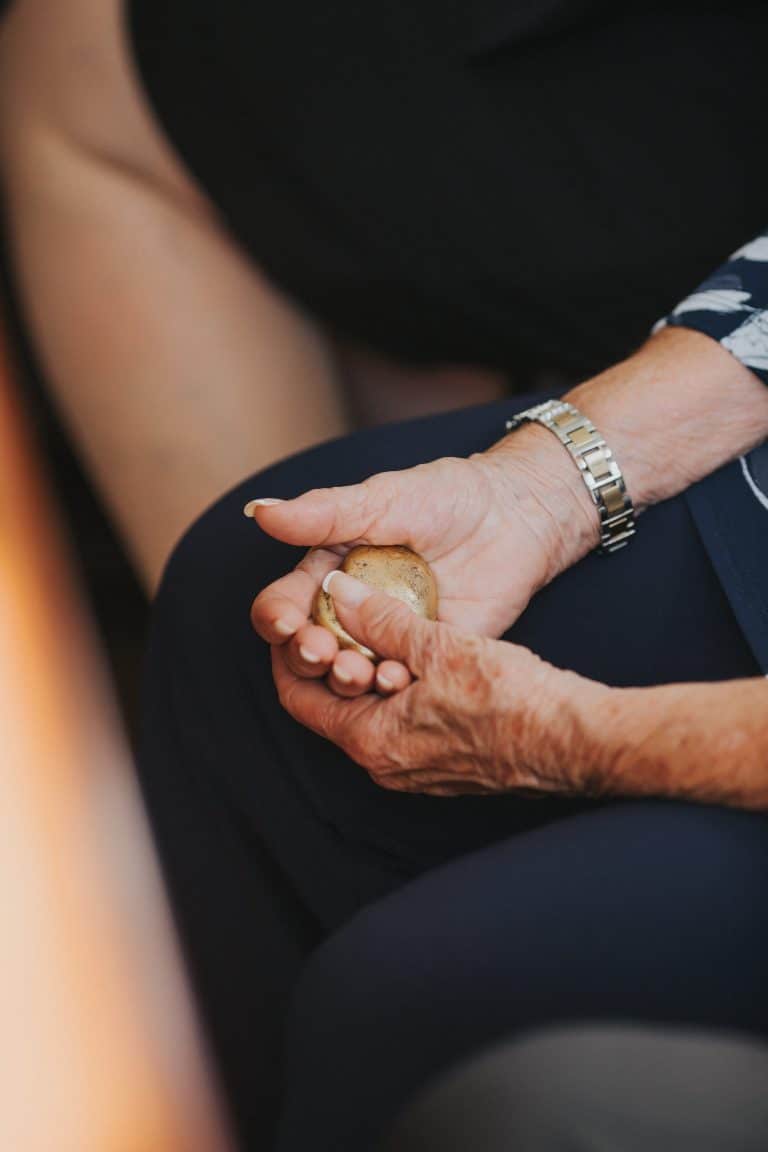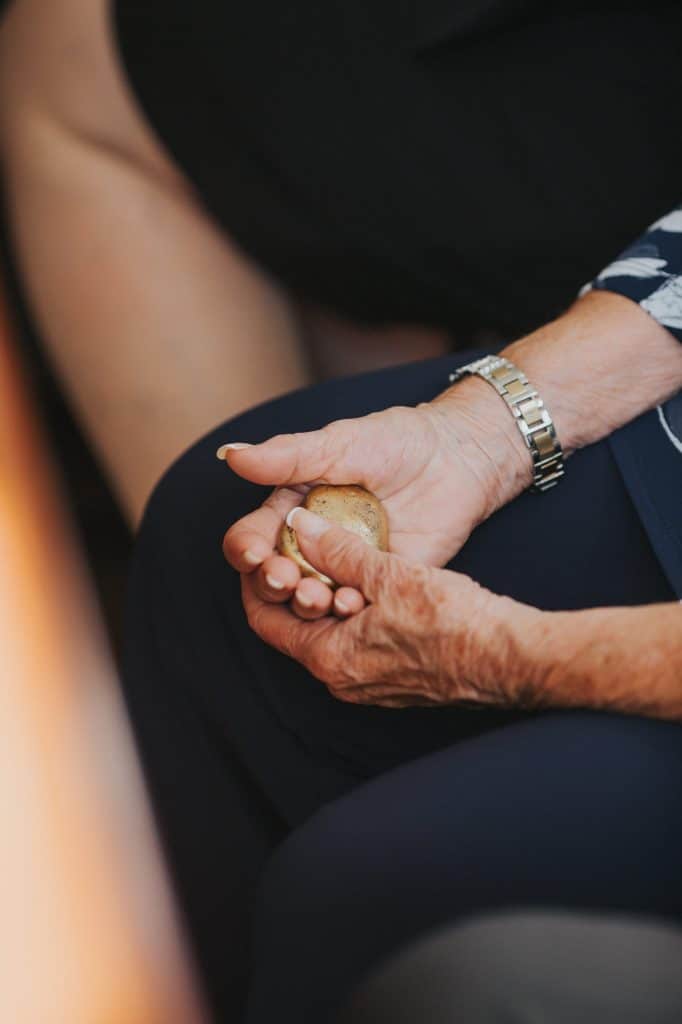 As our guests entered the chapel, my brother, Brian, handed them a wishing rock to hold and make a happy wish for us during the ceremony. After the wedding, we put the rocks in a vase in our home.
While our friends and family were waiting for the ceremony to begin, they listened to our favorite instrumental Disney songs.
Our mothers and bridal parties walked down the aisle to the acoustic version of  "A Whole New World" from (my favorite Disney movie) Aladdin.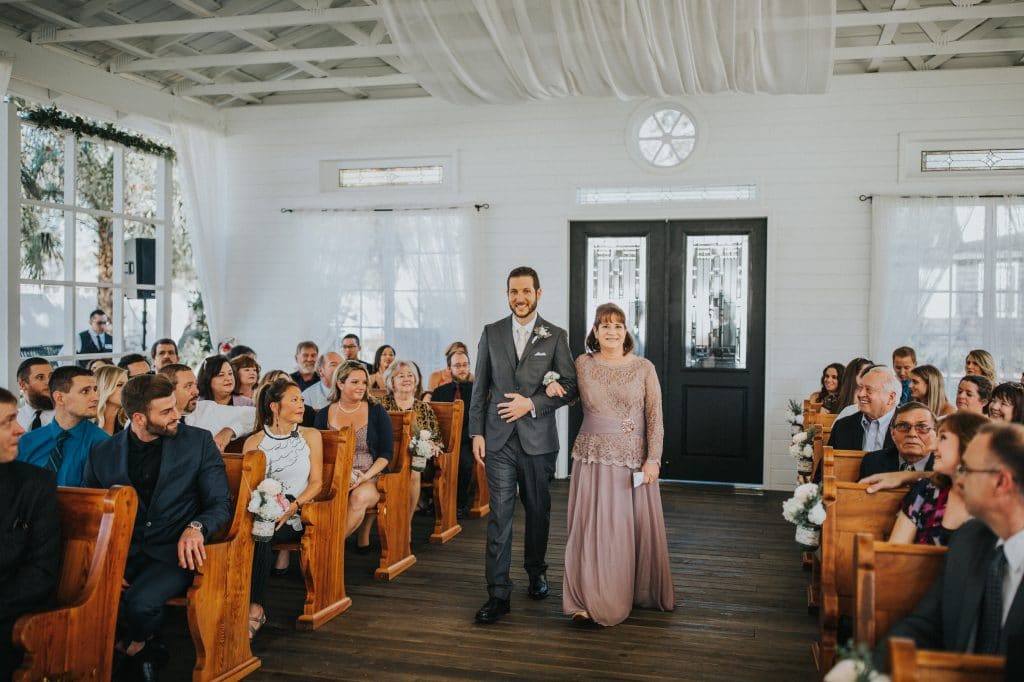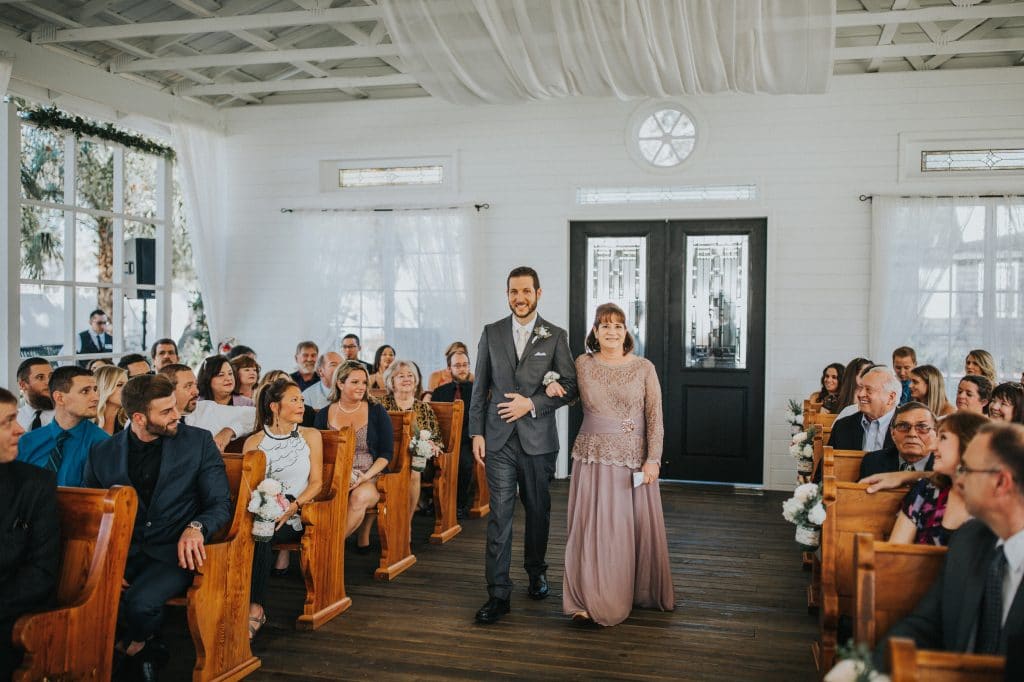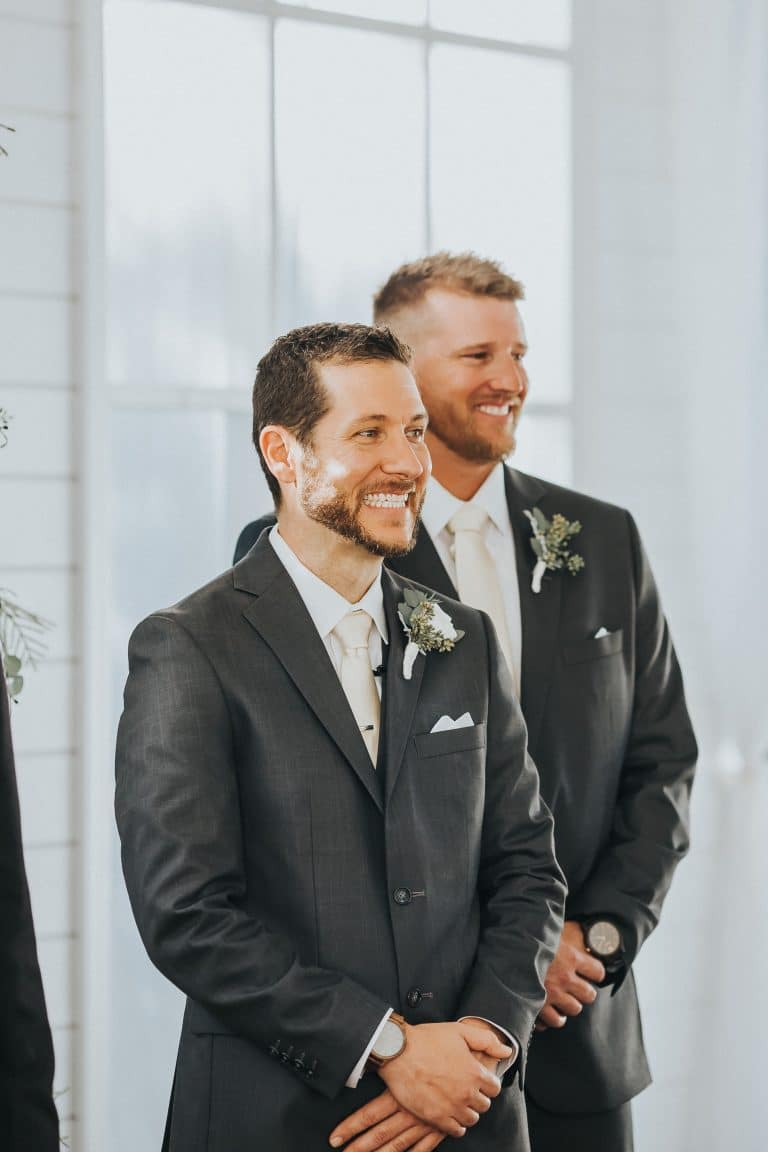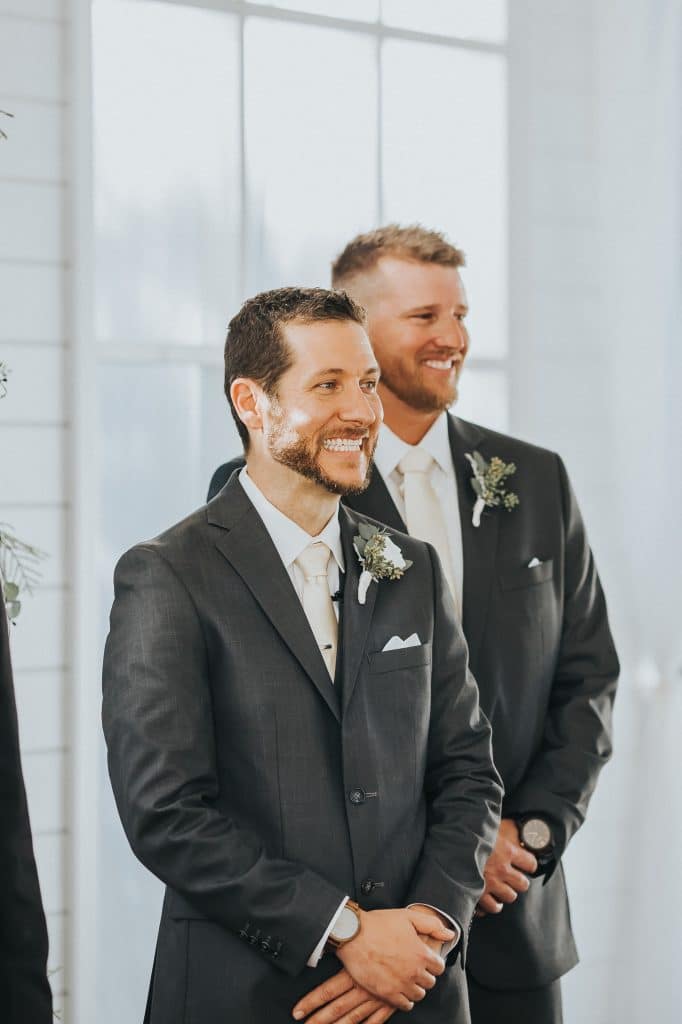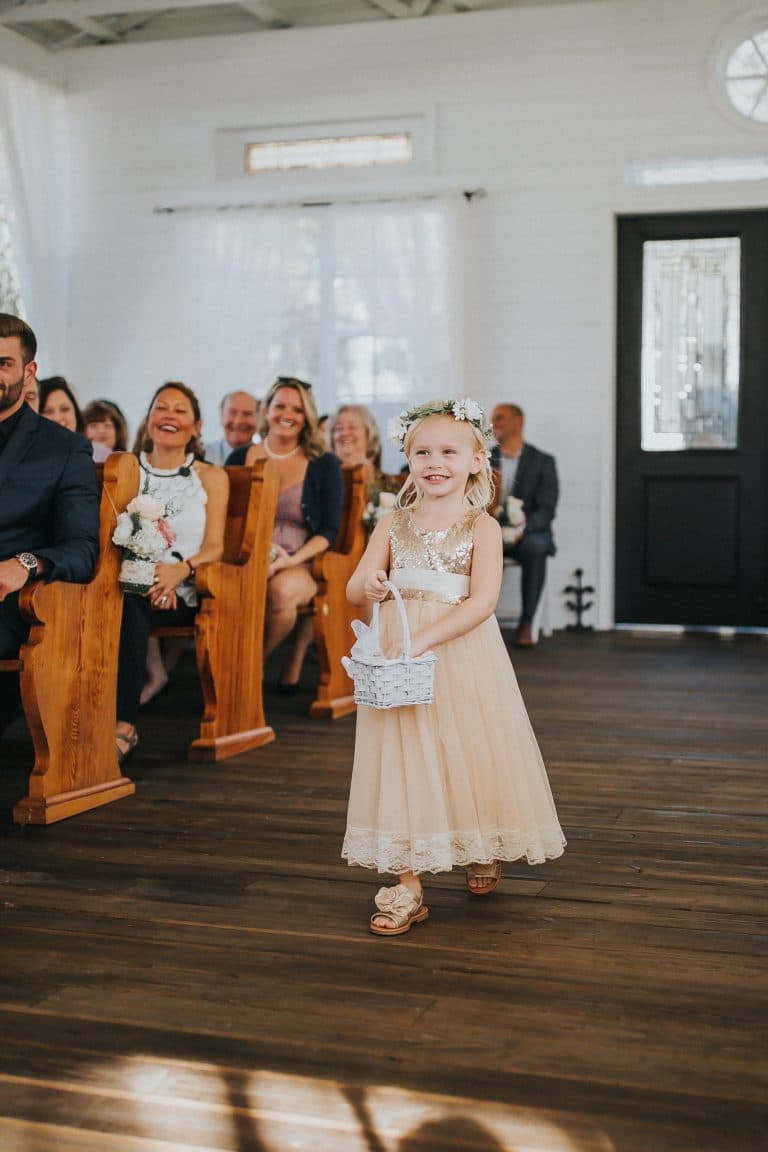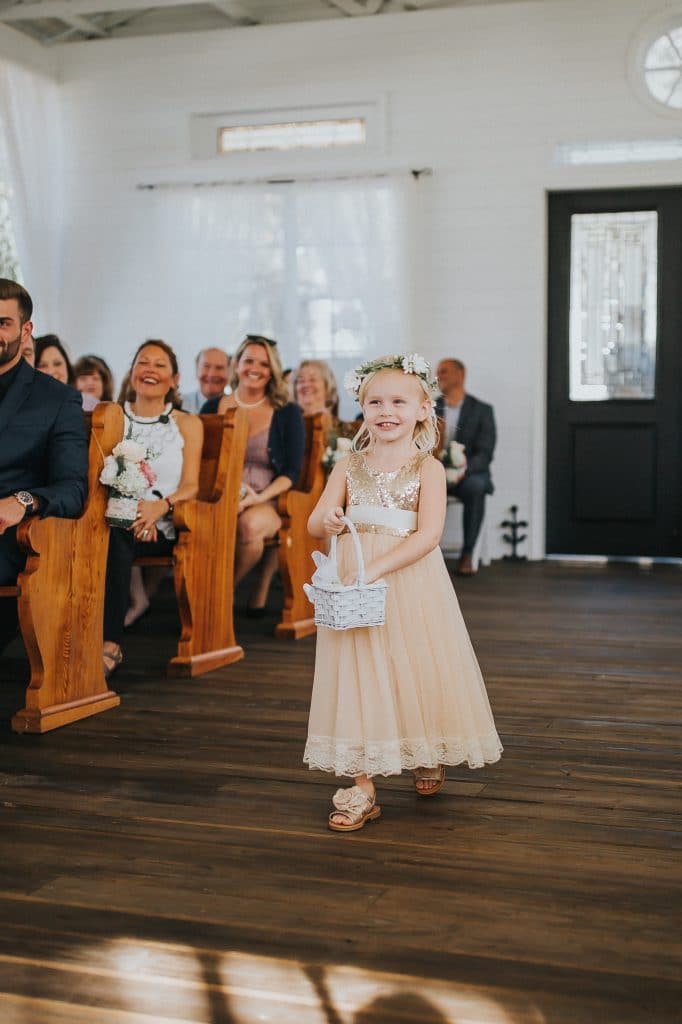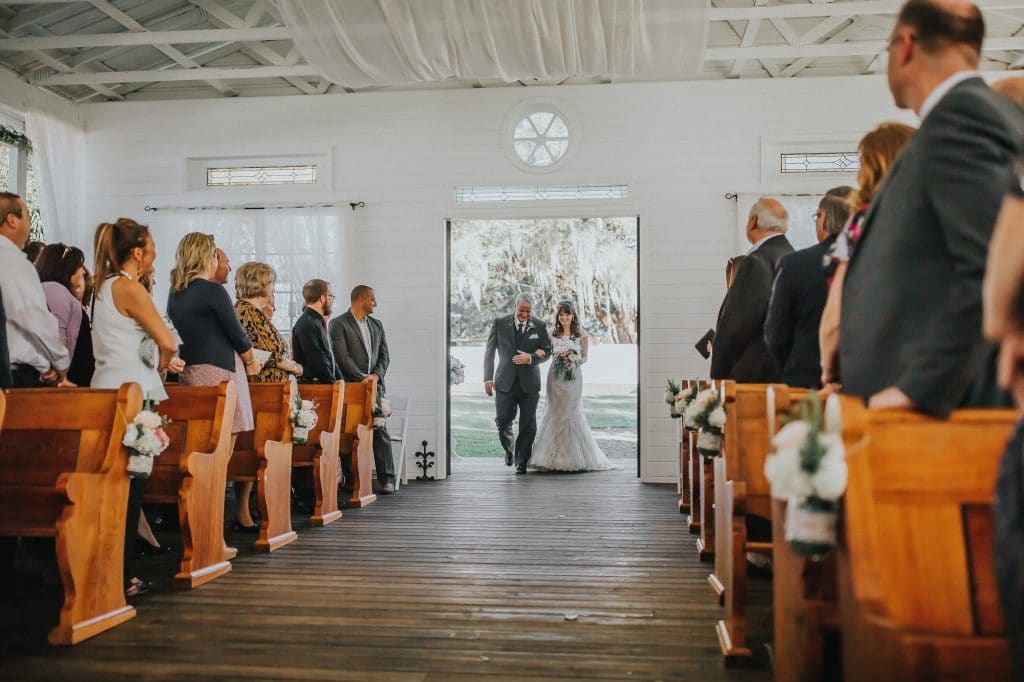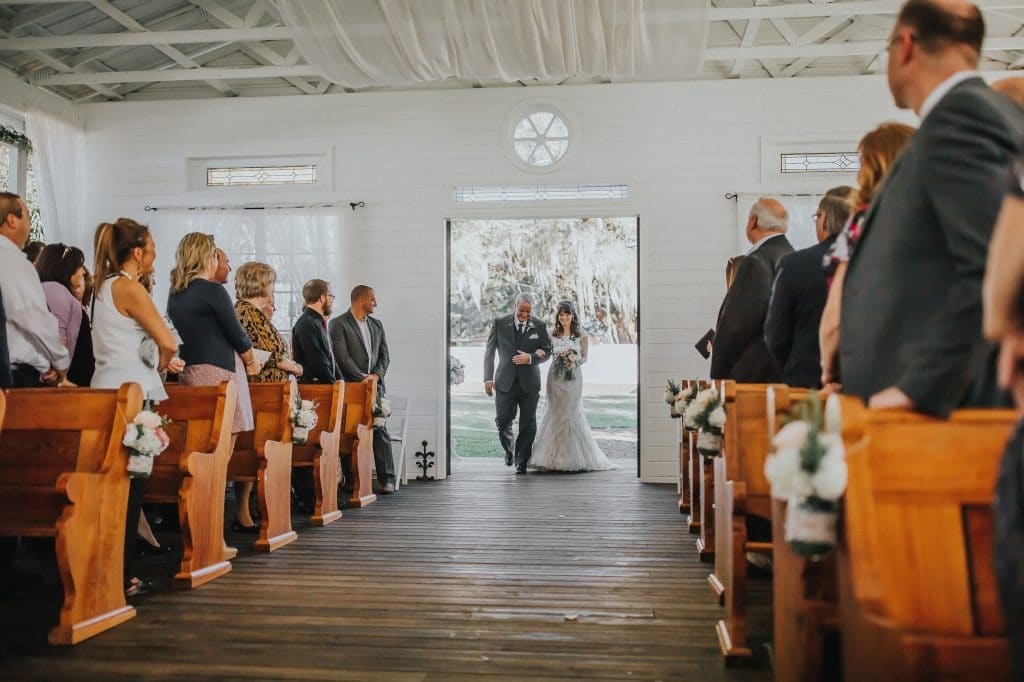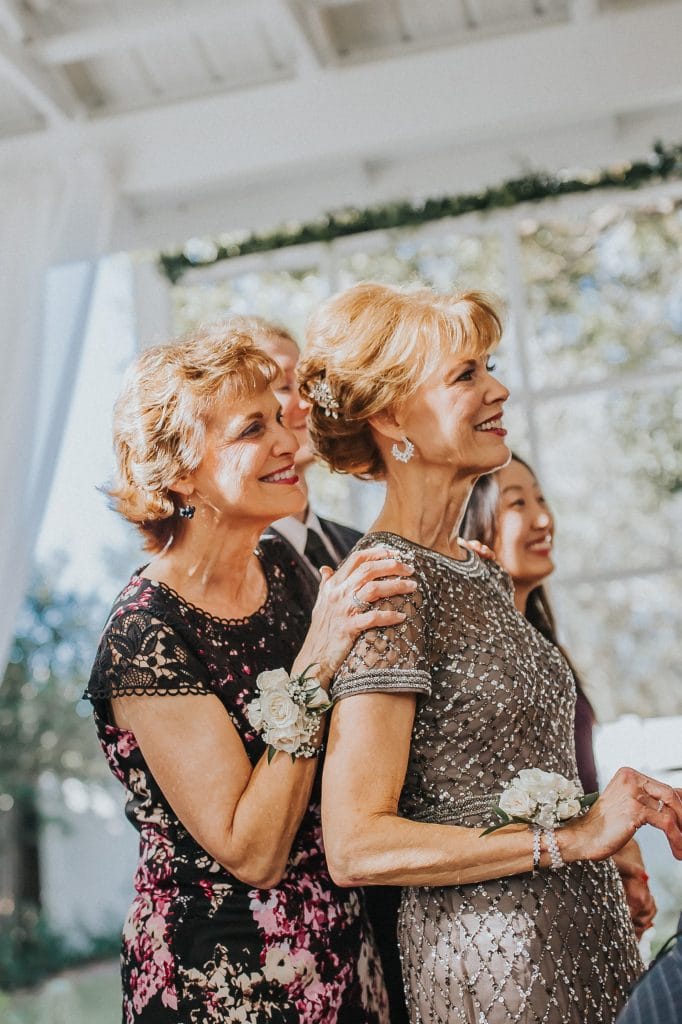 I love this picture of my mom and aunty, it depicts them perfectly!
I walked down the aisle with my dad to the song Travis and I got engaged to, "When You Wish Upon a Star," by Lexi Walker.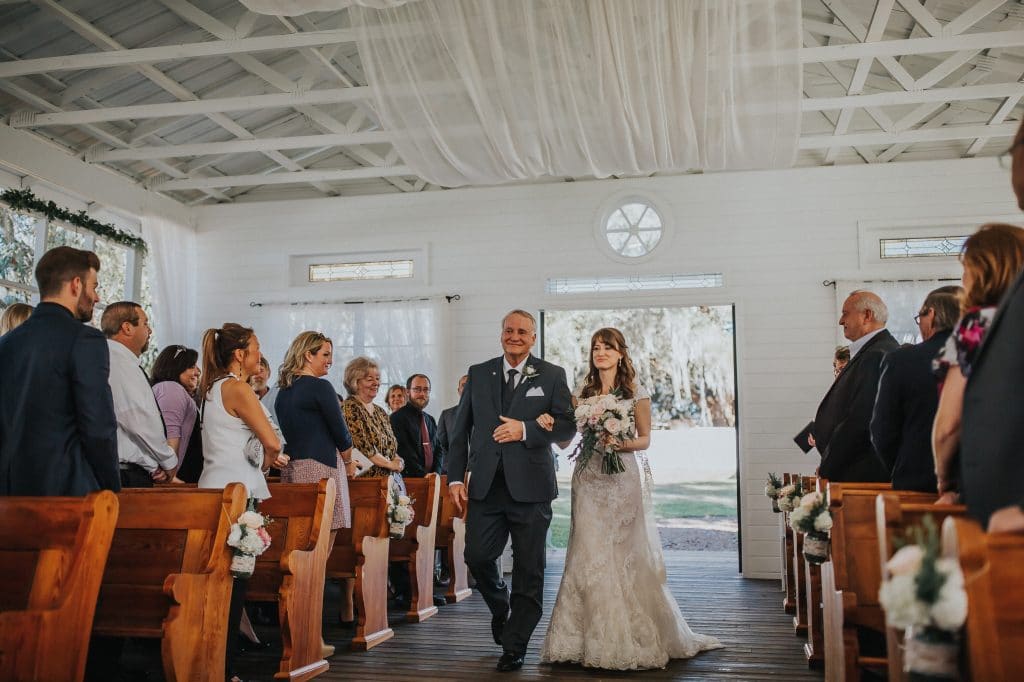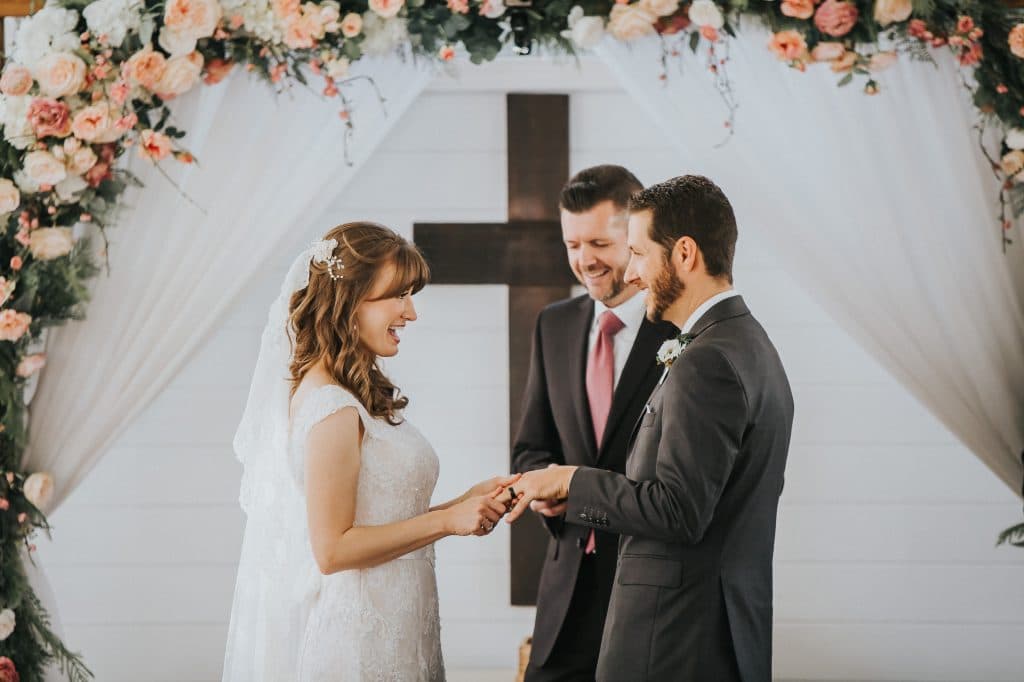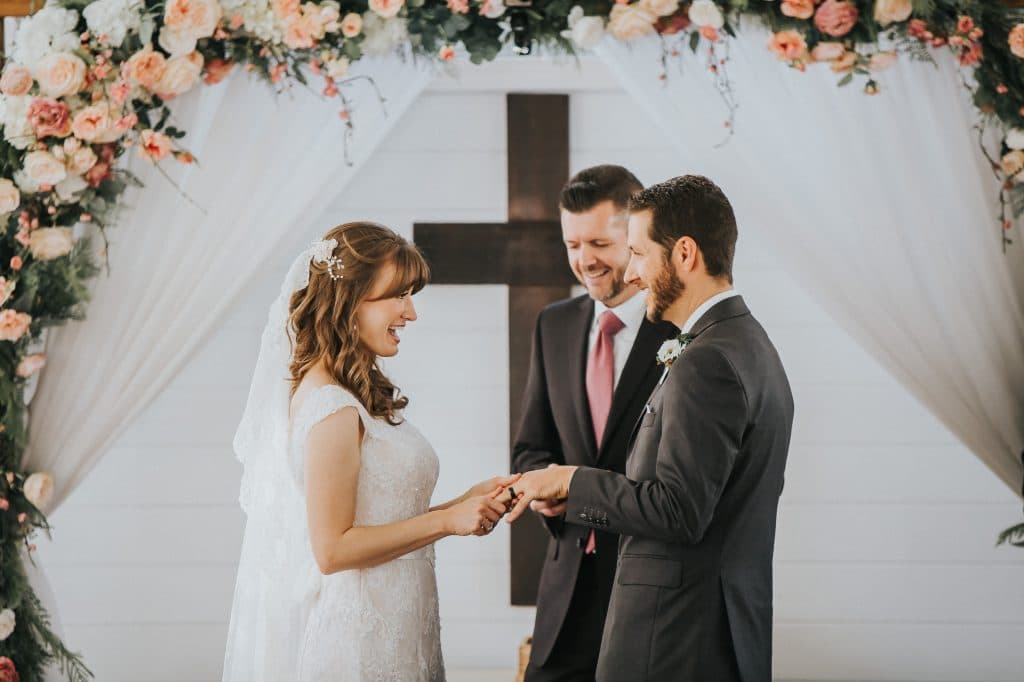 We were a just a little bit excited to exchange rings!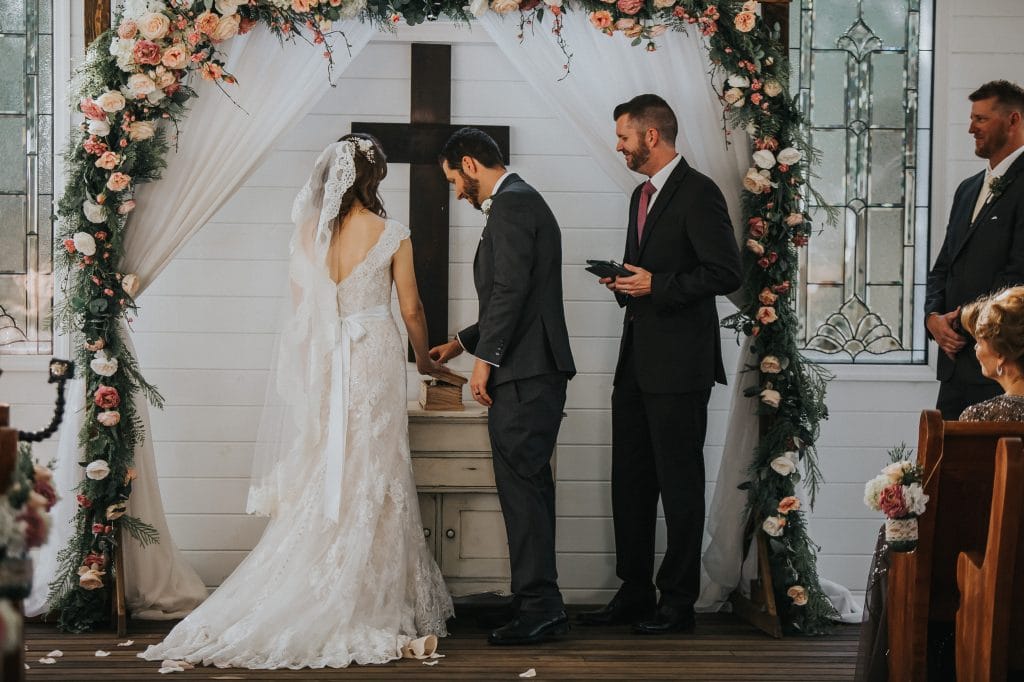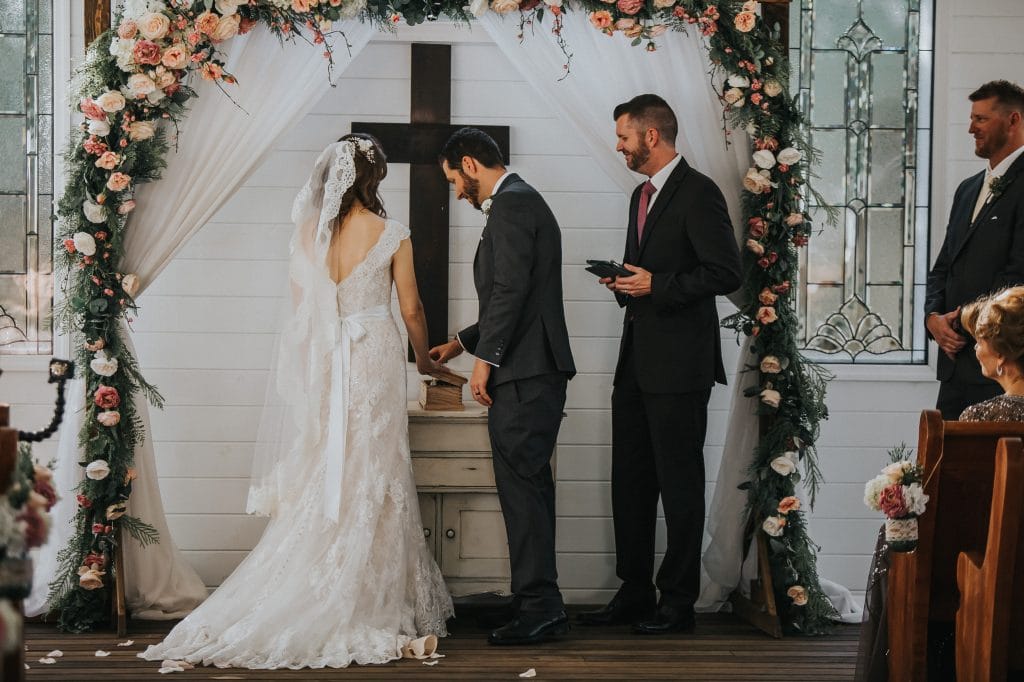 My dad built the wine box for us and my mom wrote the poem that they put on the inside of the lid. Don't you love the double heart detail?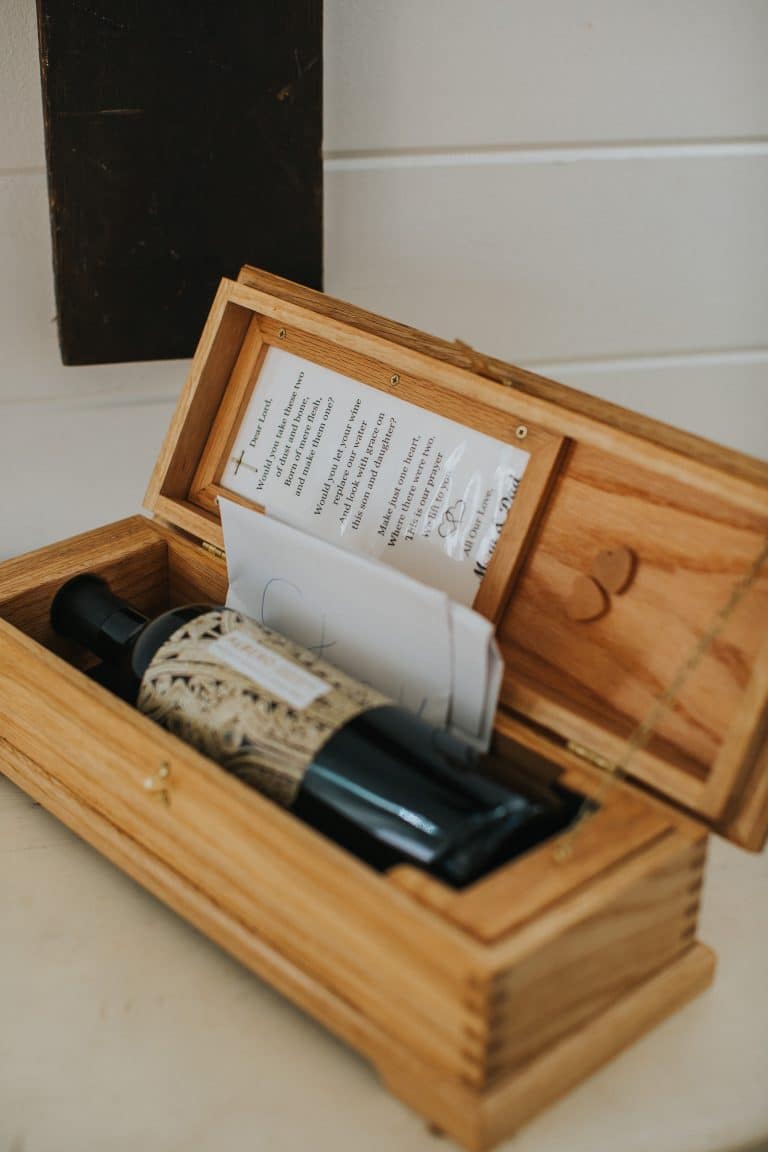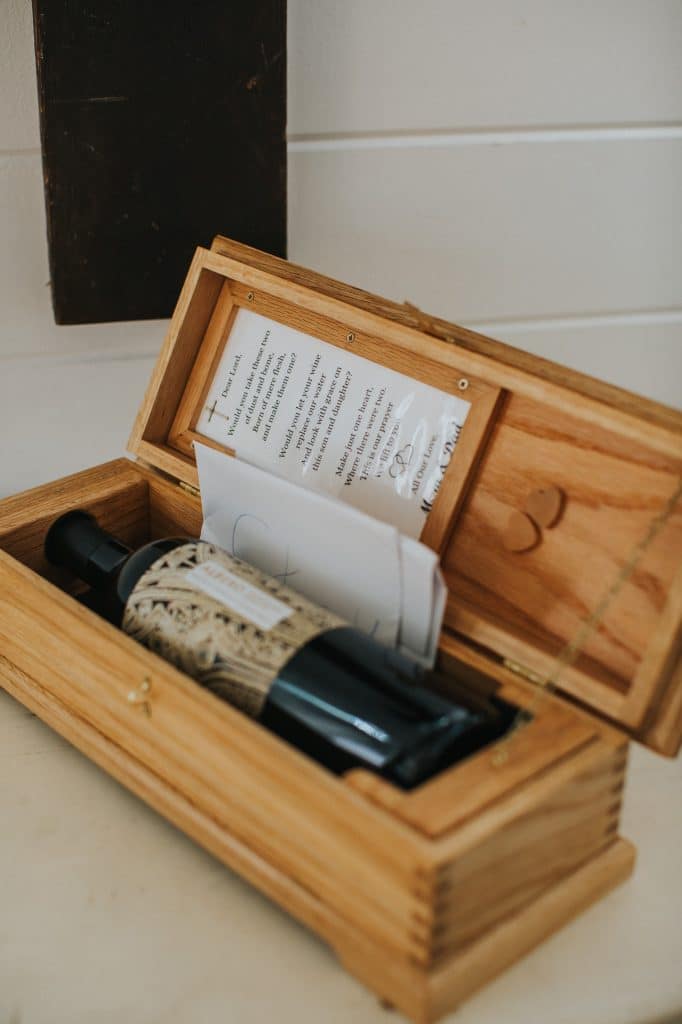 We had a short and sweet ceremony, which is exactly what we wanted. We recited vows (you can hear them in our wedding video), promised our love to each other forever, and sealed our wine box with our letters inside.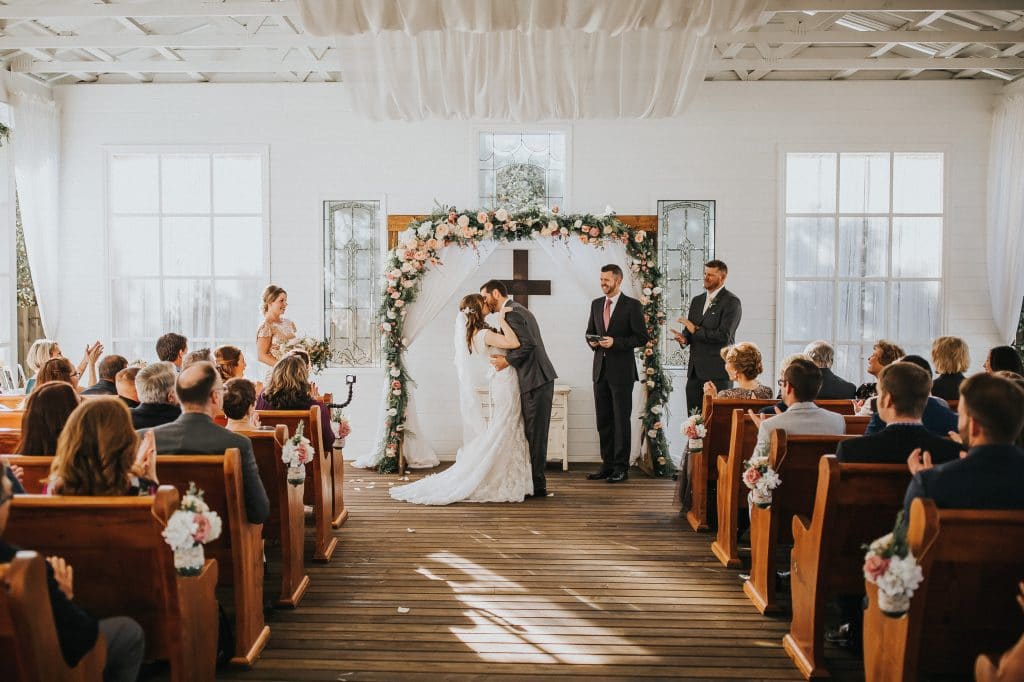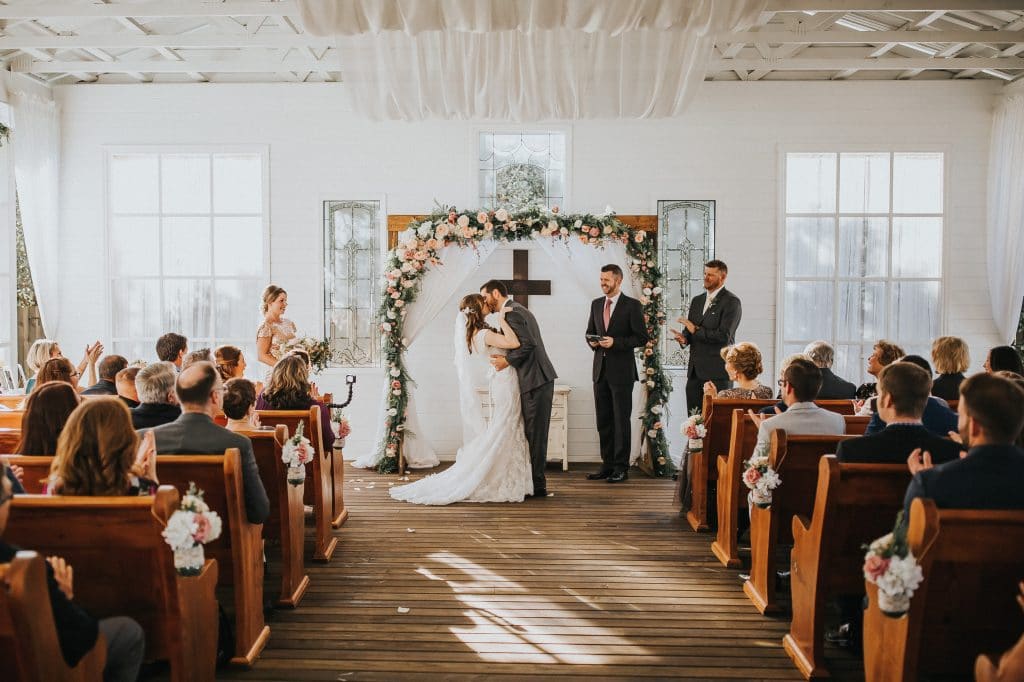 Our first kiss as husband and wife…it's official!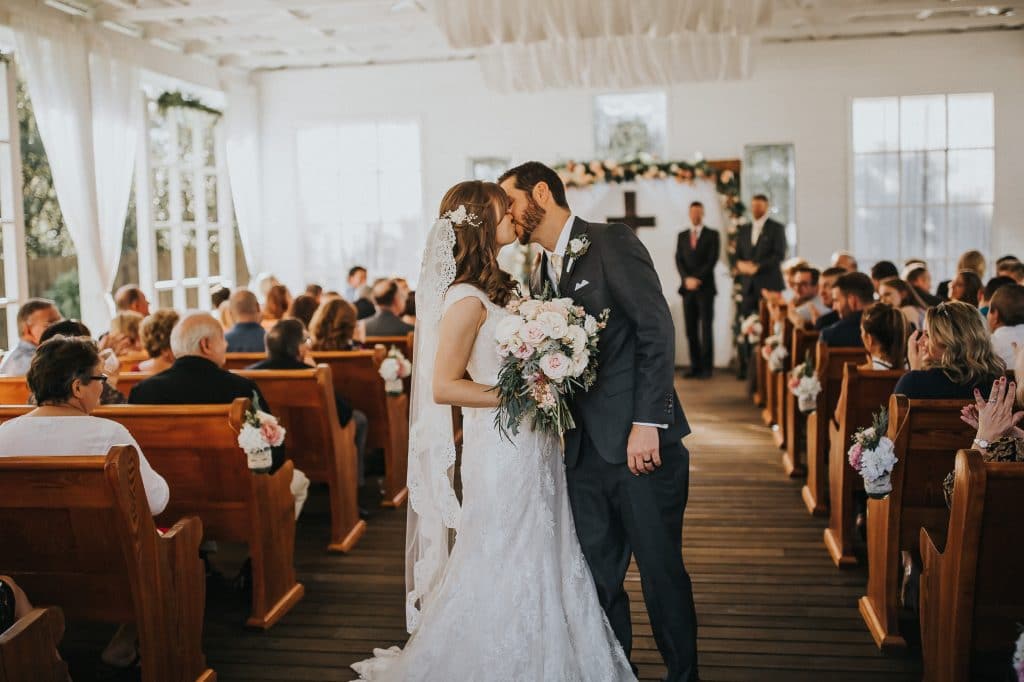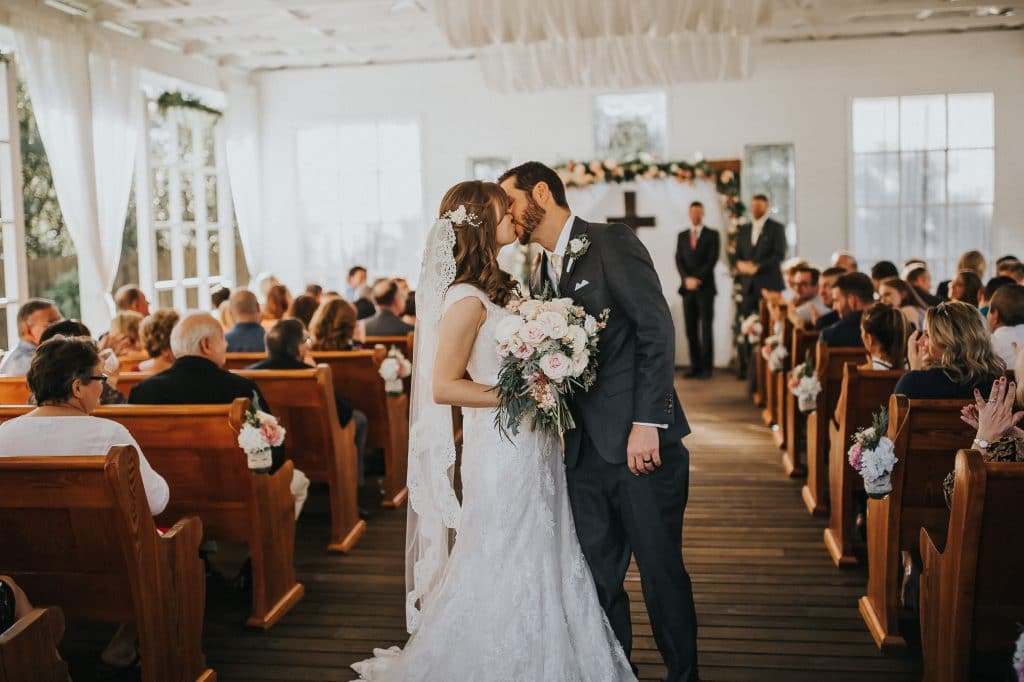 We walked out of the chapel to the song, "I do, I do, I do" by Colbie Caillat.
Unique Family Picture + Remebrance Pictures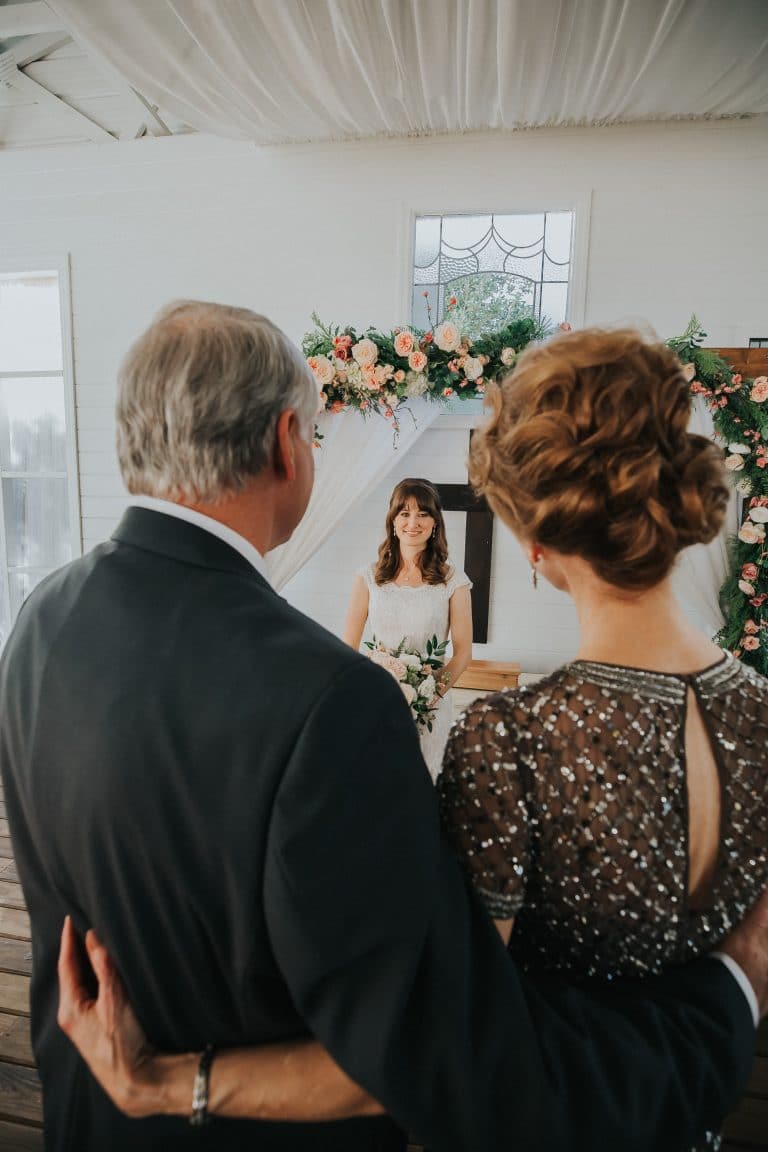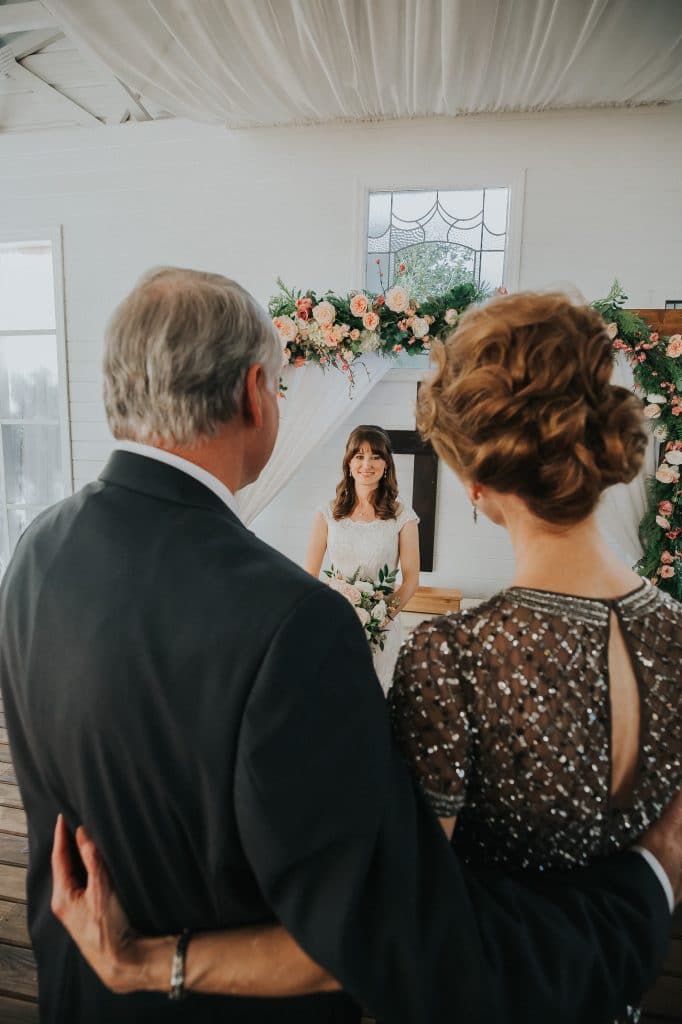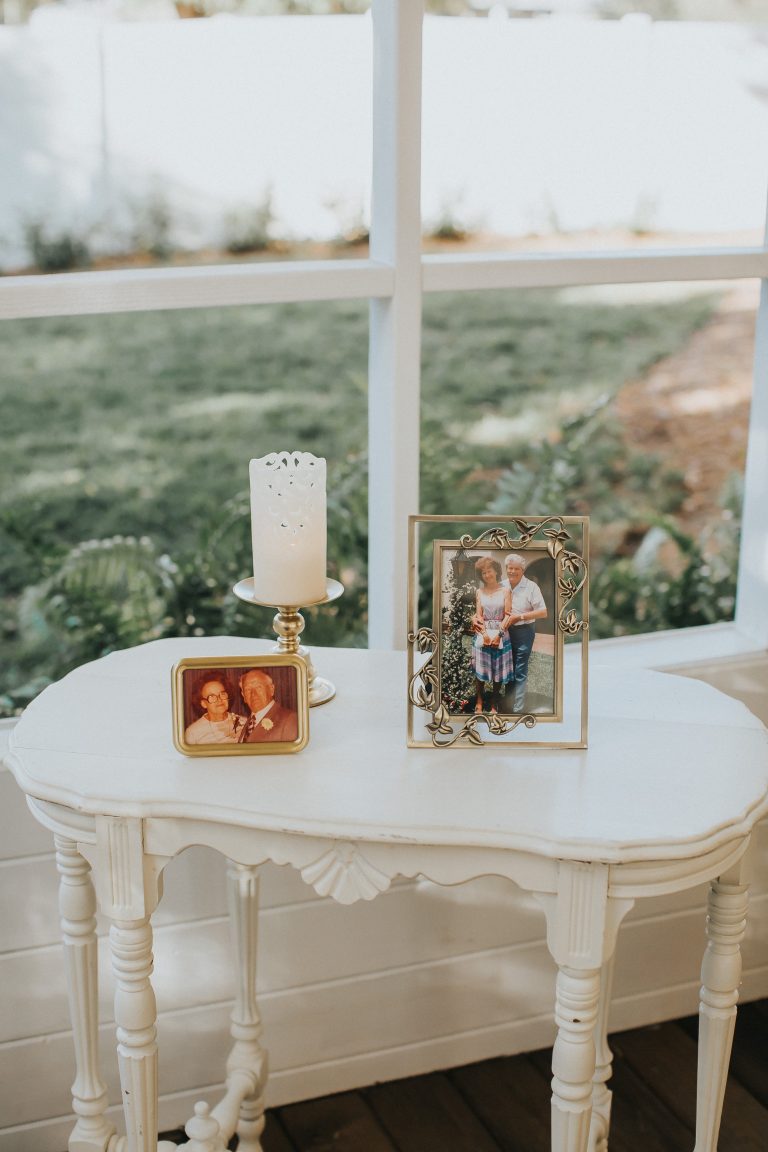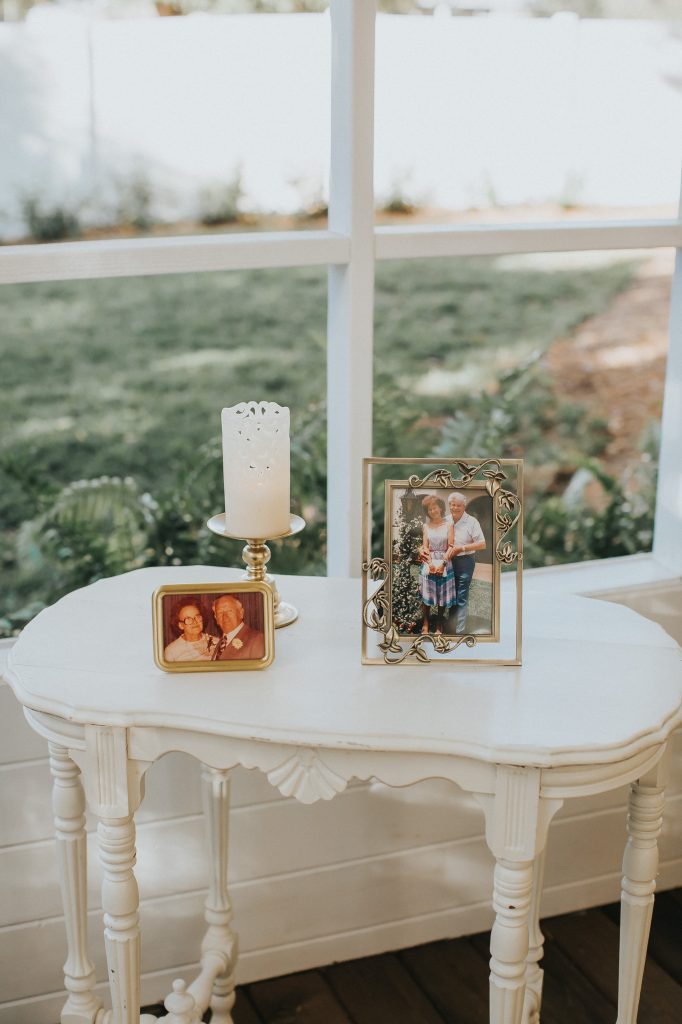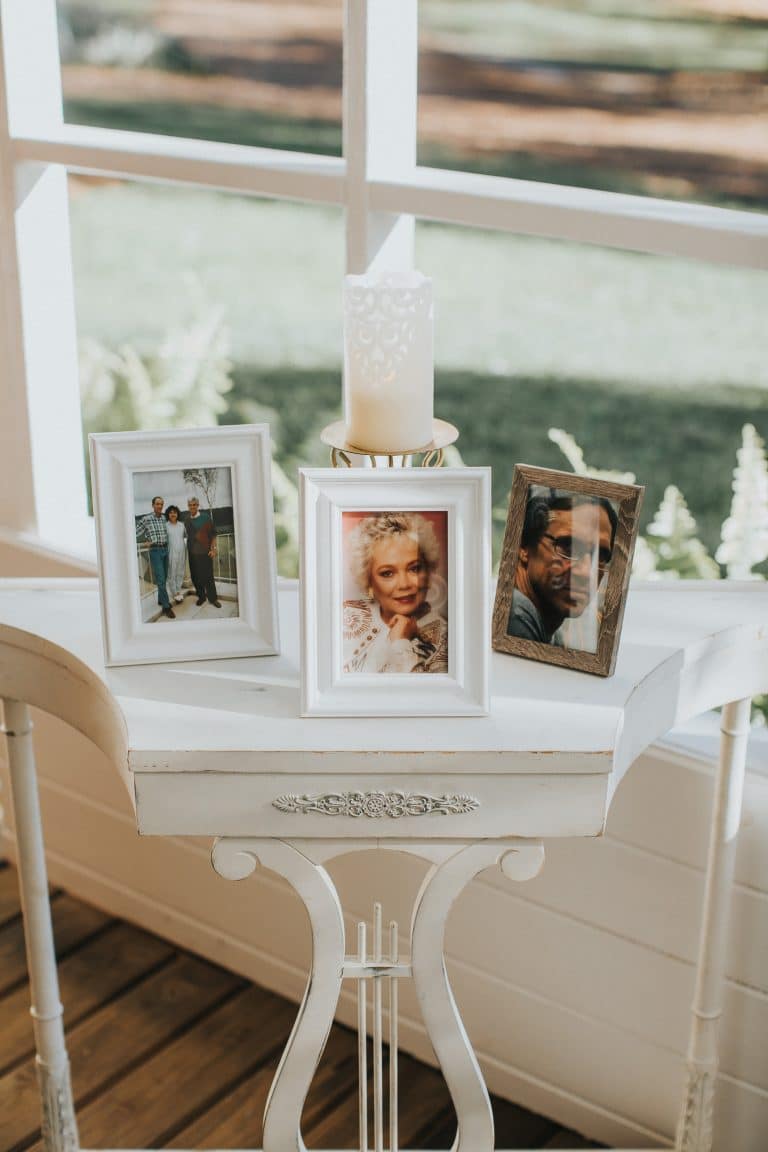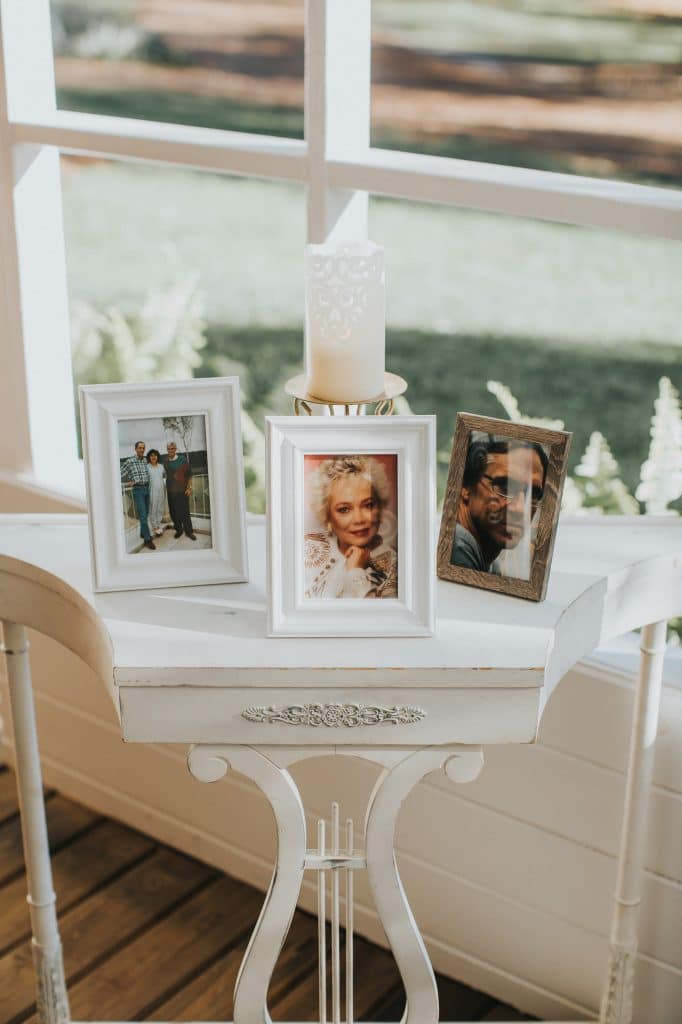 We had family memorial tables at the end of each front row. I felt like it was more personal like they were right up front watching us get married along with the rest of our immediate family.
Sweetheart Portraits
Travis says this is his signature move…LOL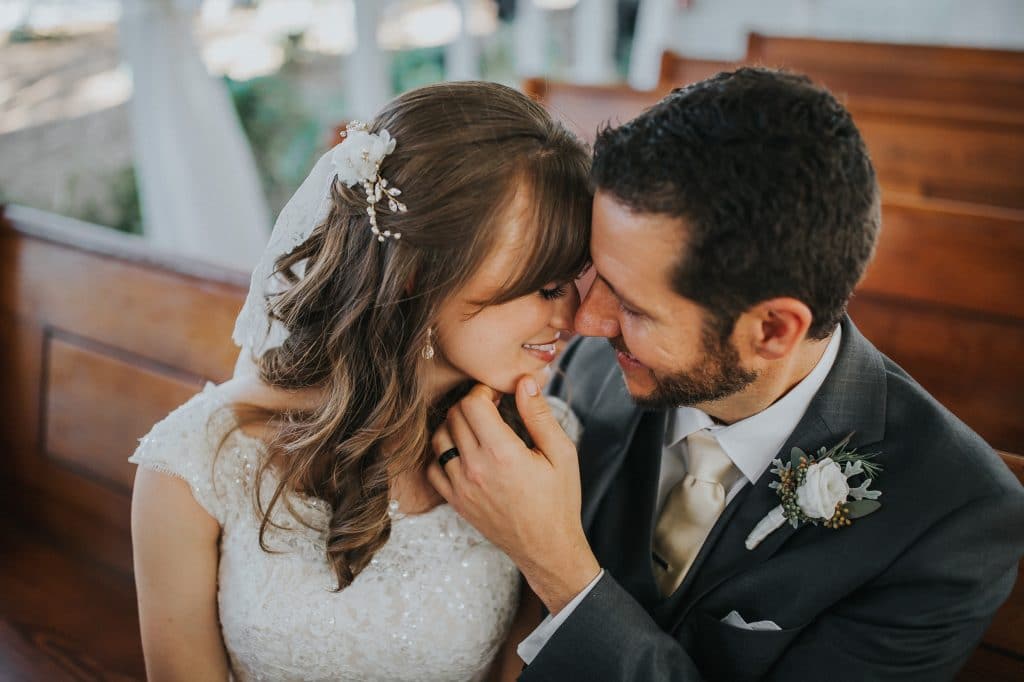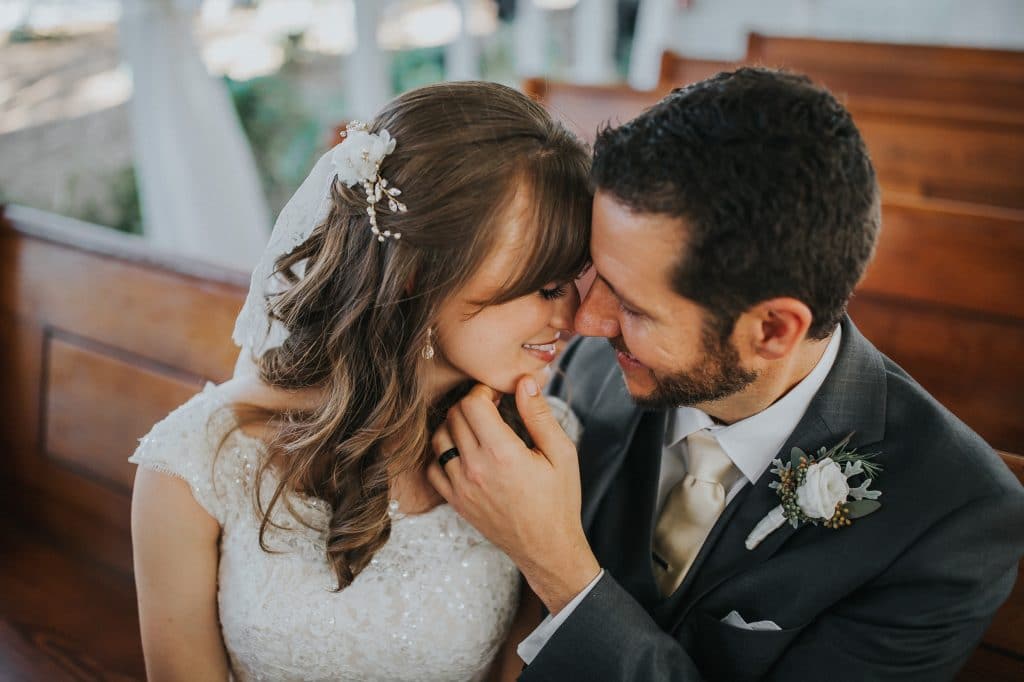 Cross Creek Ranch has the most gorgeous scenery for pictures. They have woods on one side of the venue that catches the sunlight dappling through the tree branches perfectly! It's like the golden hour is on steroids!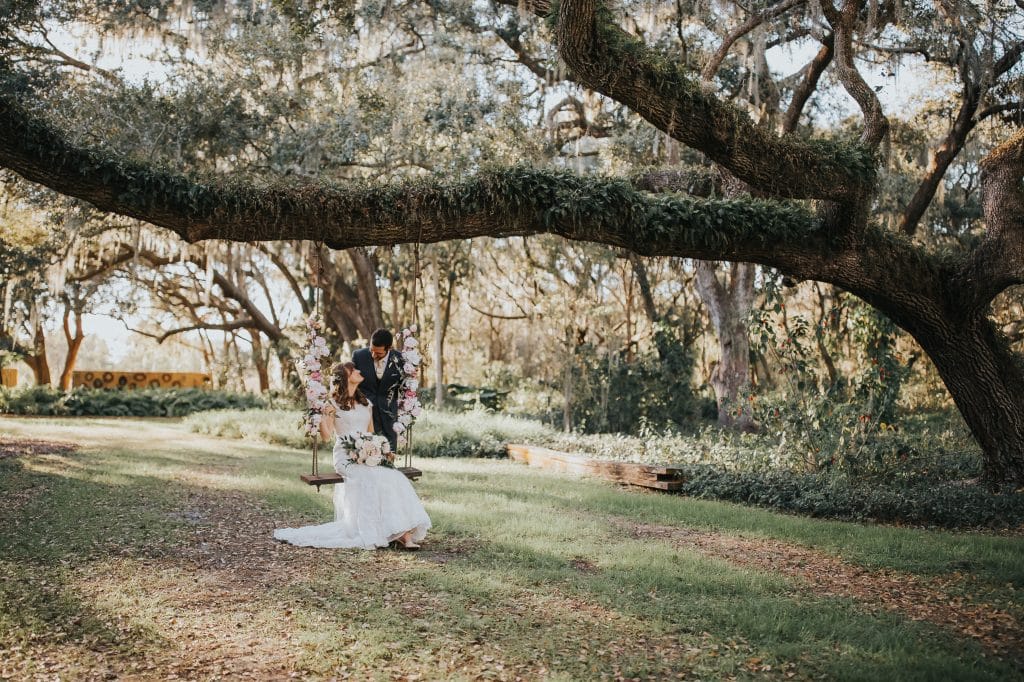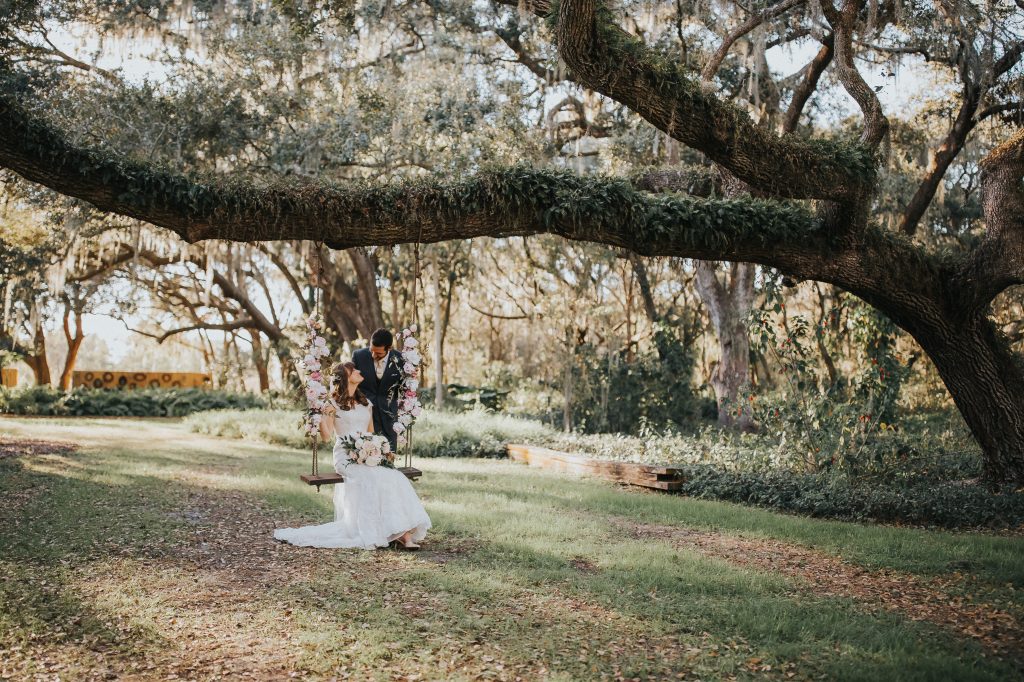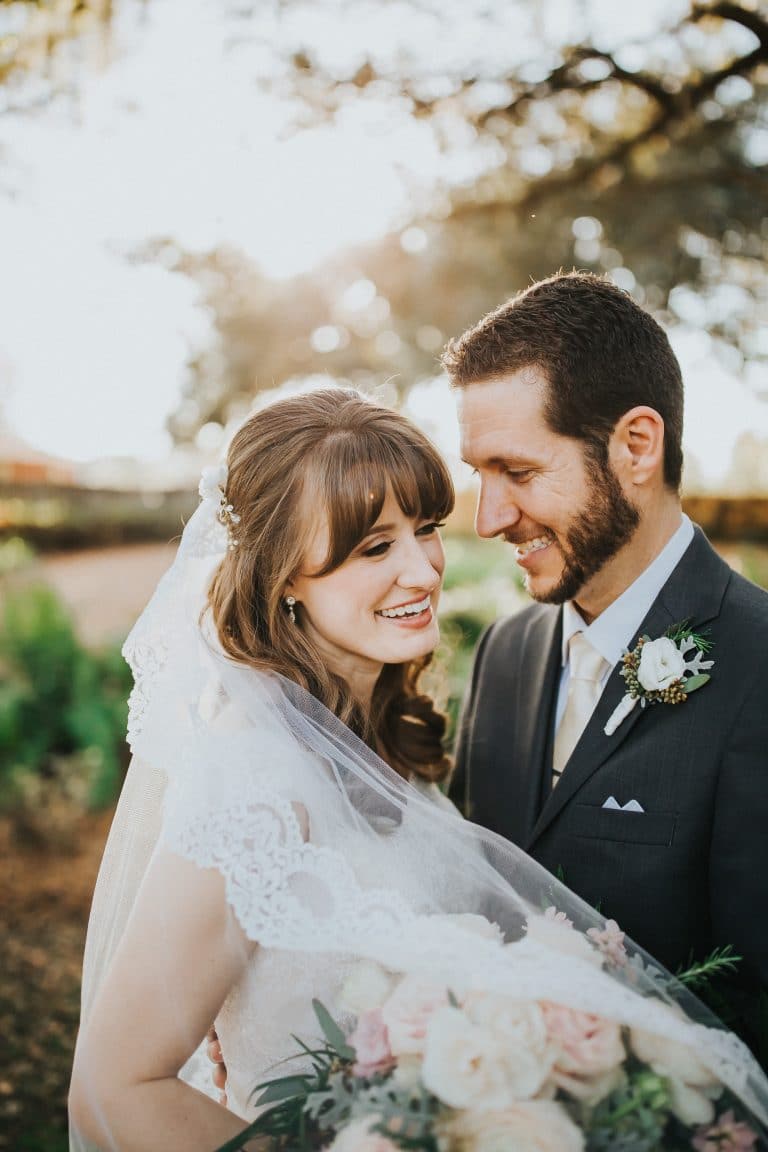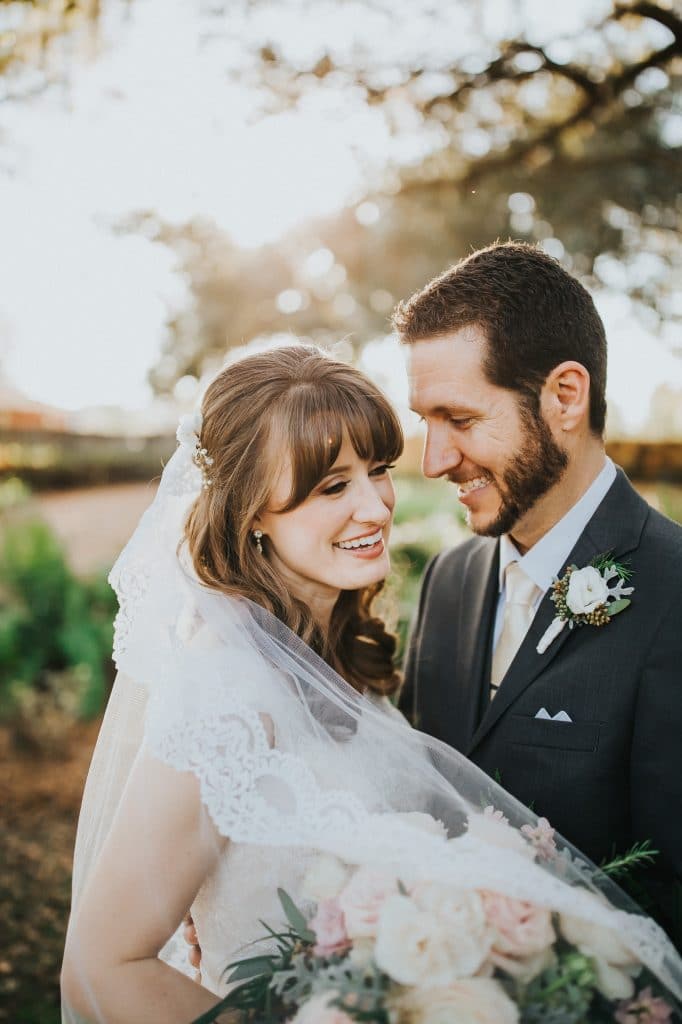 The picture below is one of my favorites because it shows off my mom's beautiful veil. She and her twin sister both wore it on their wedding days, 38 years ago!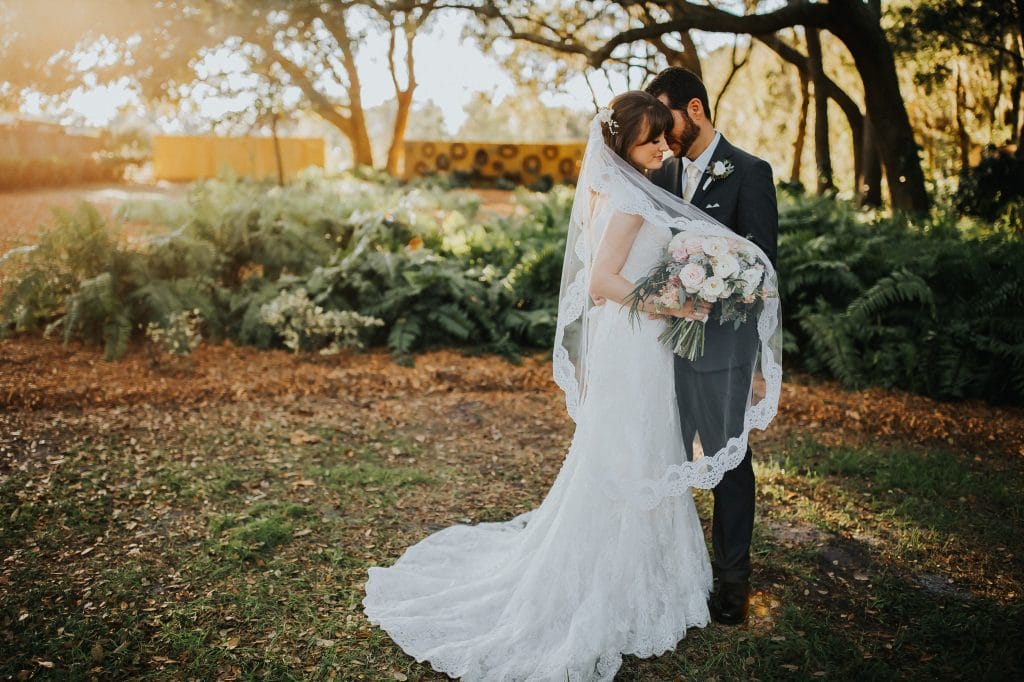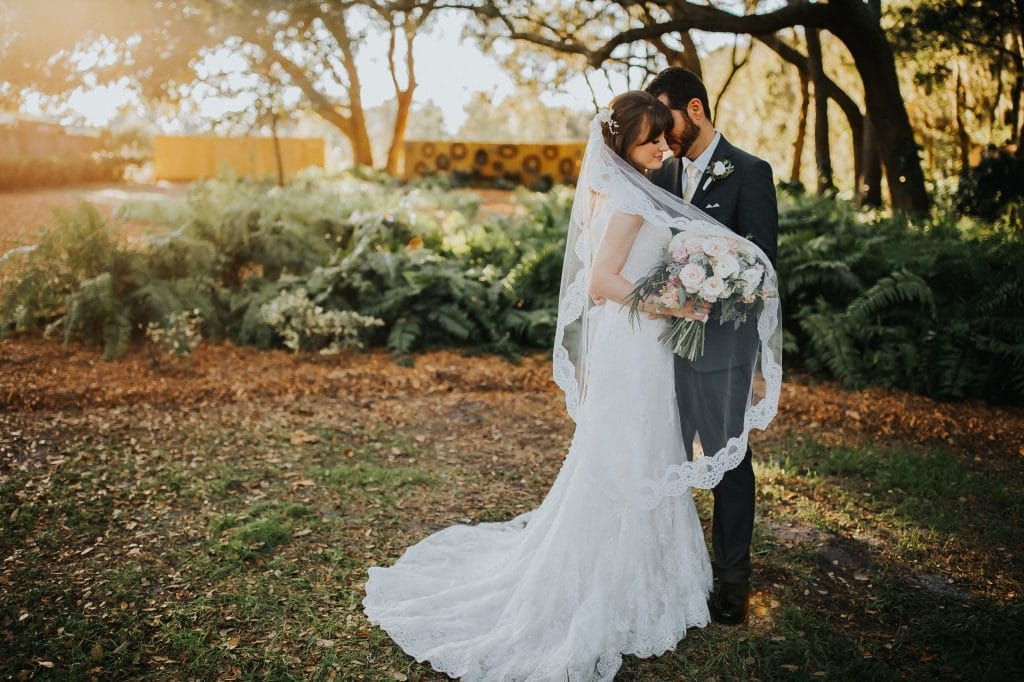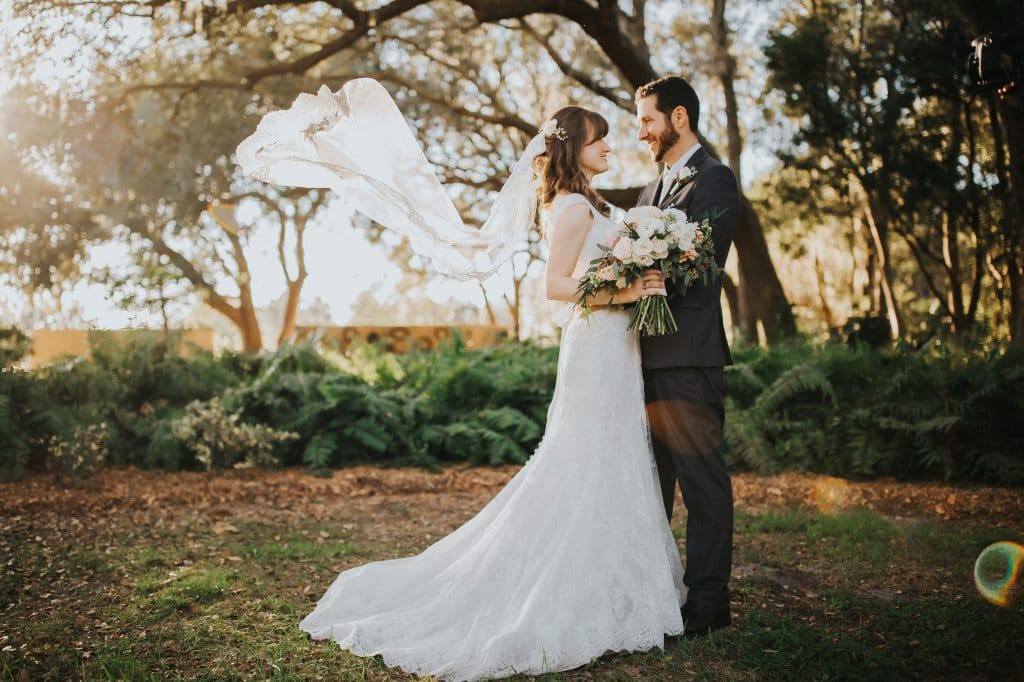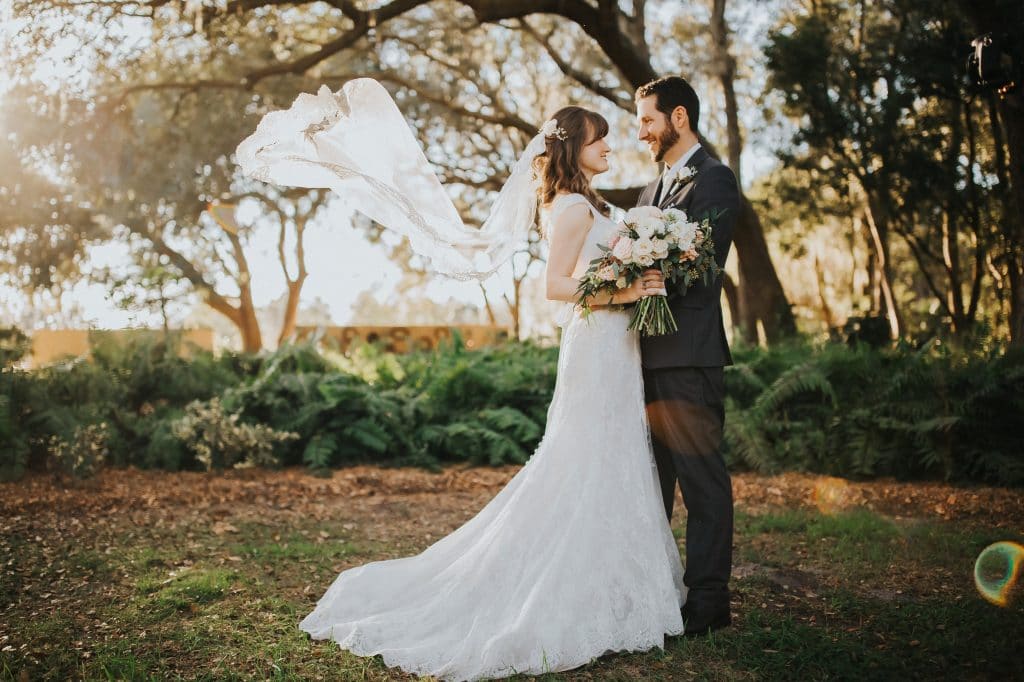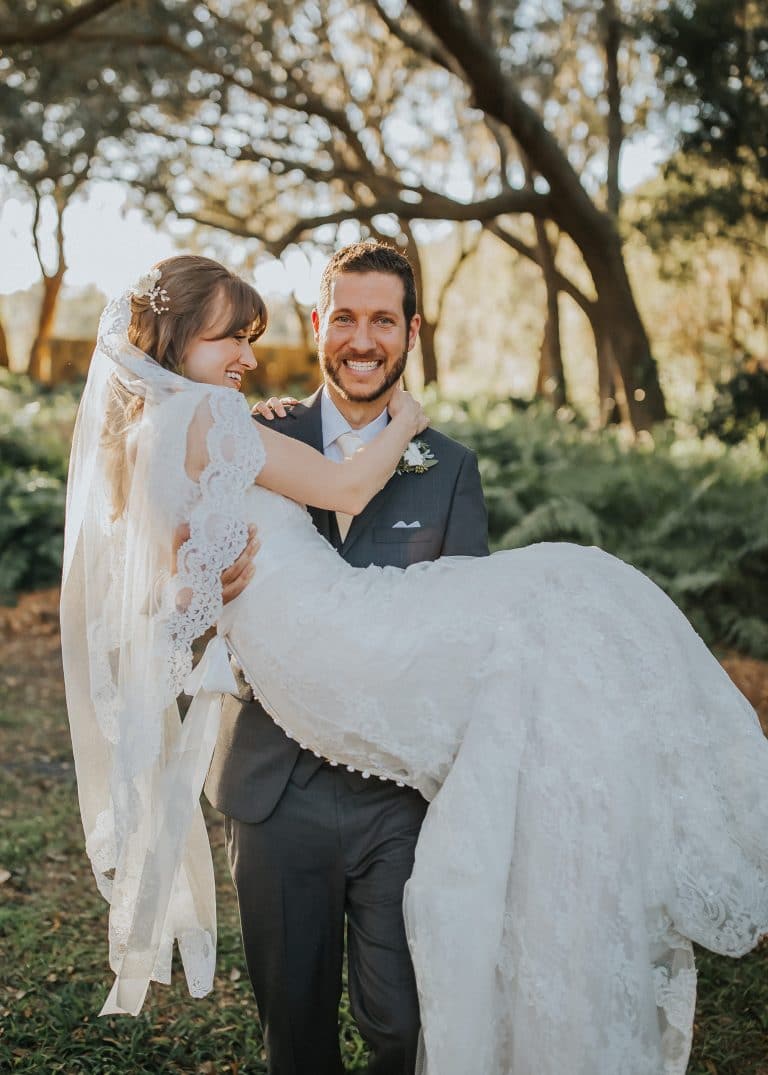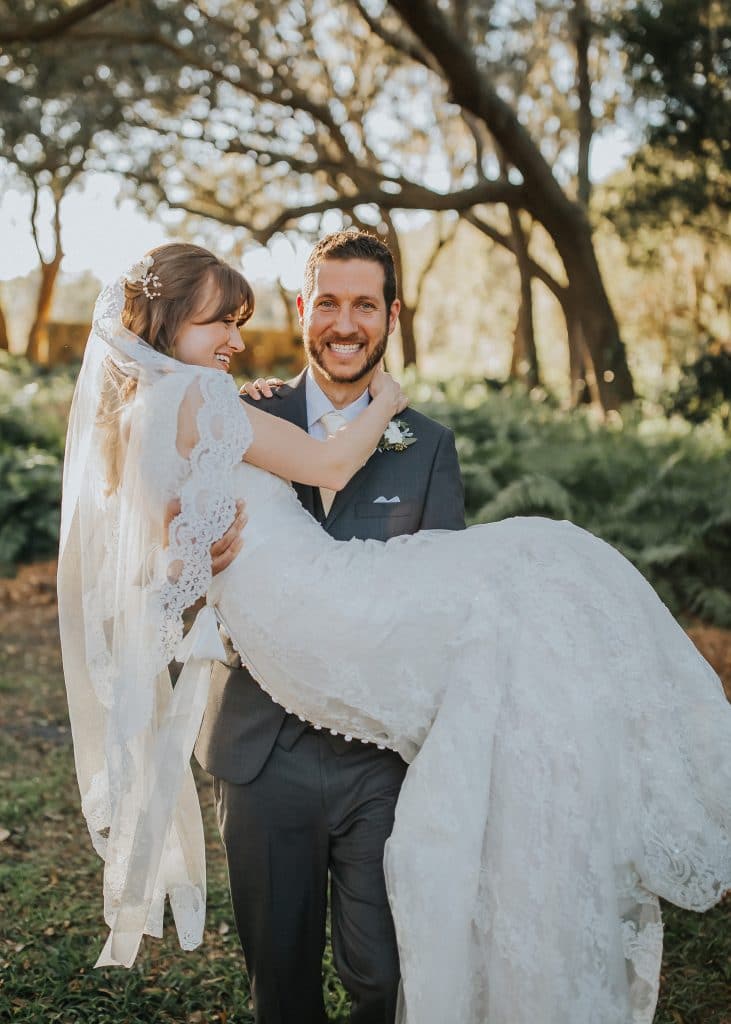 We replicated the picture of my grandparents on their wedding day in 1948!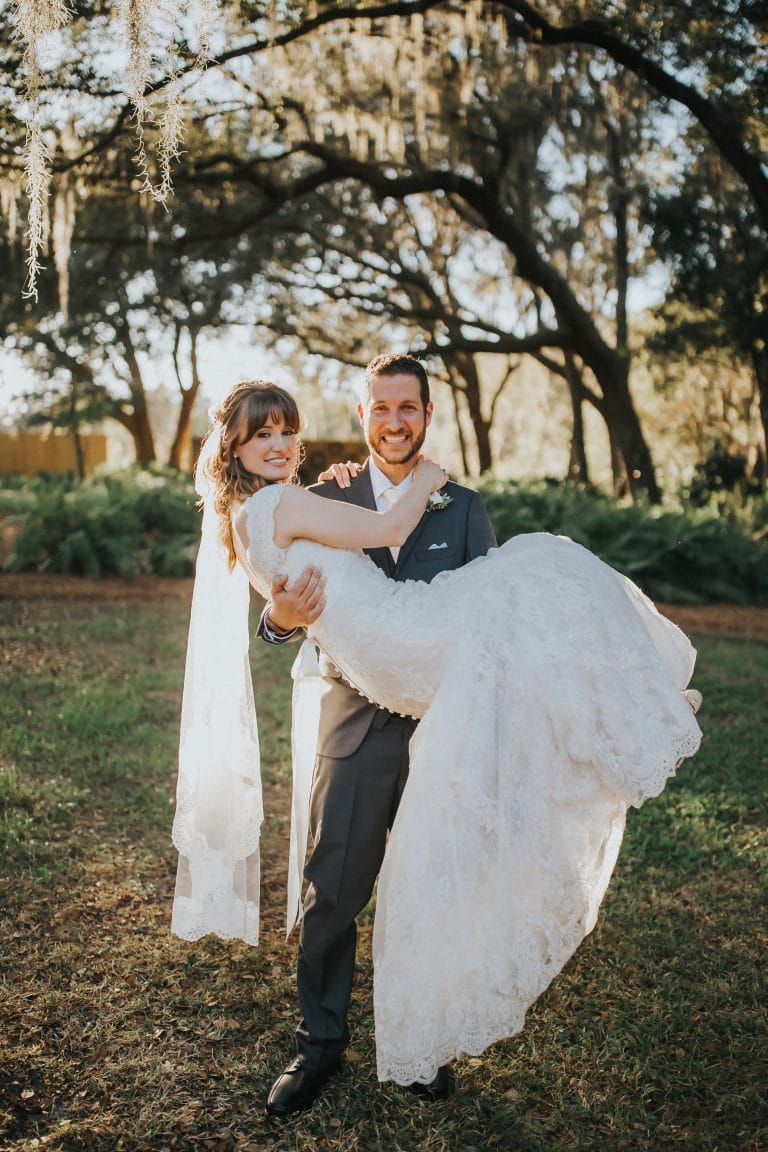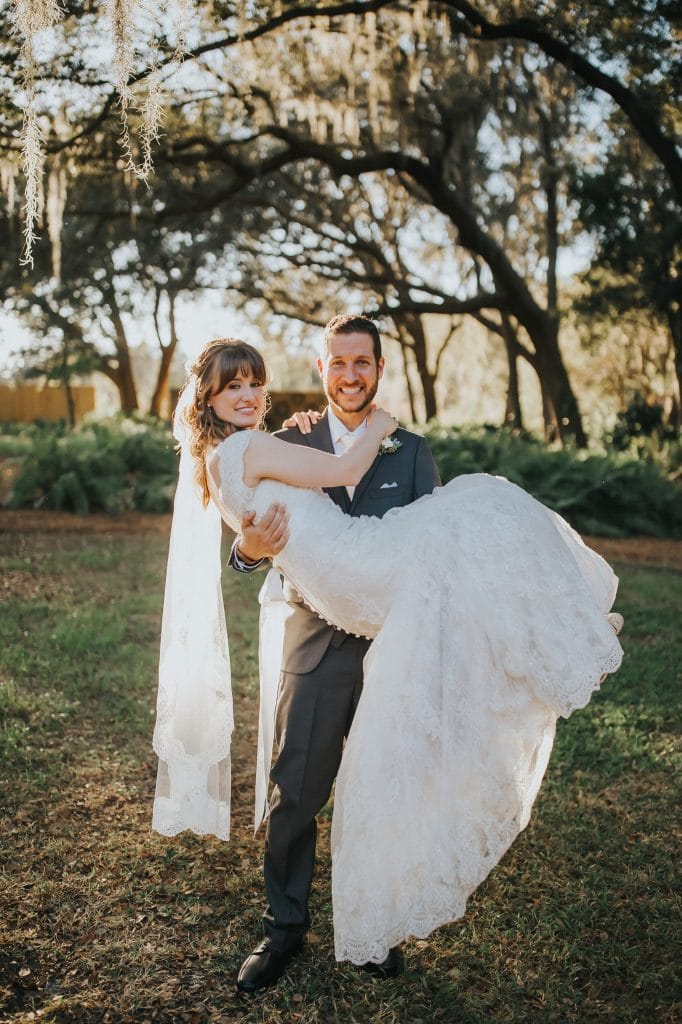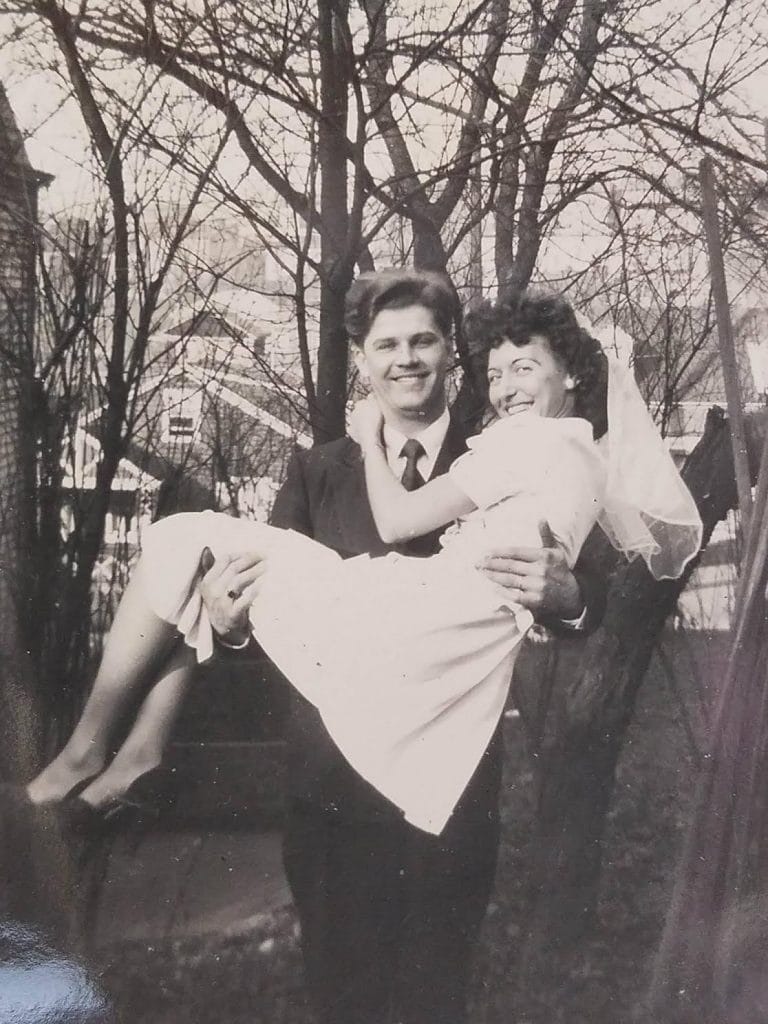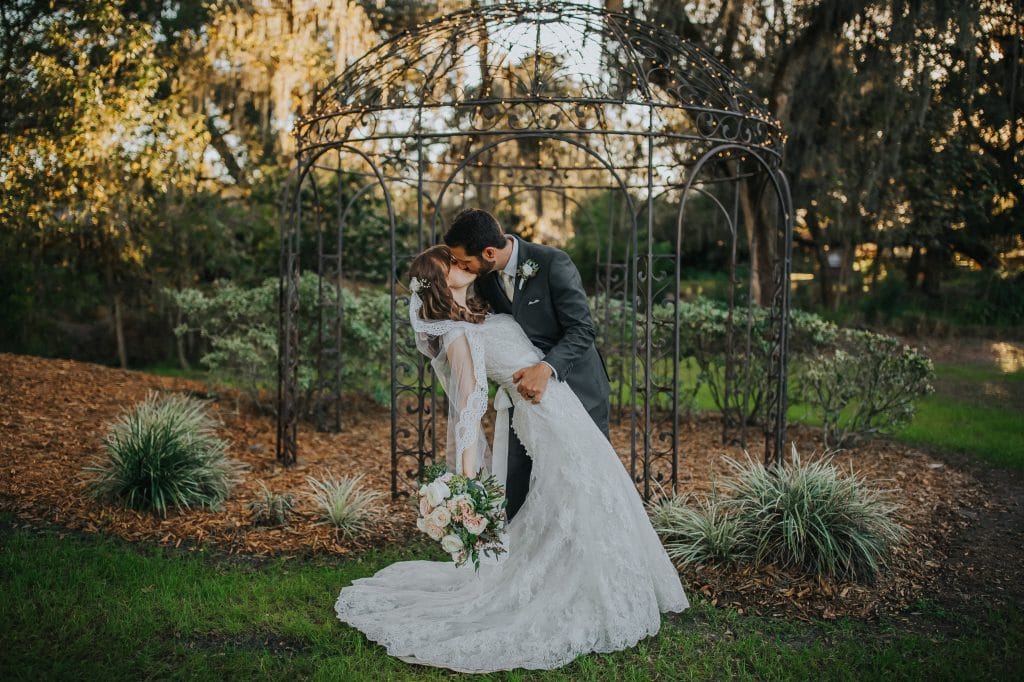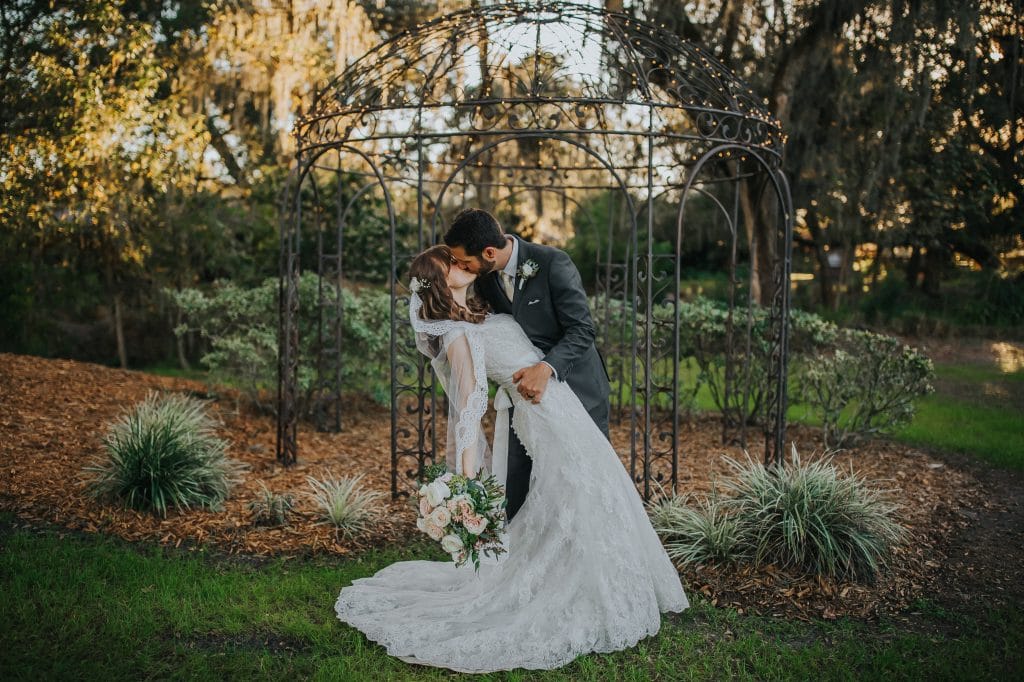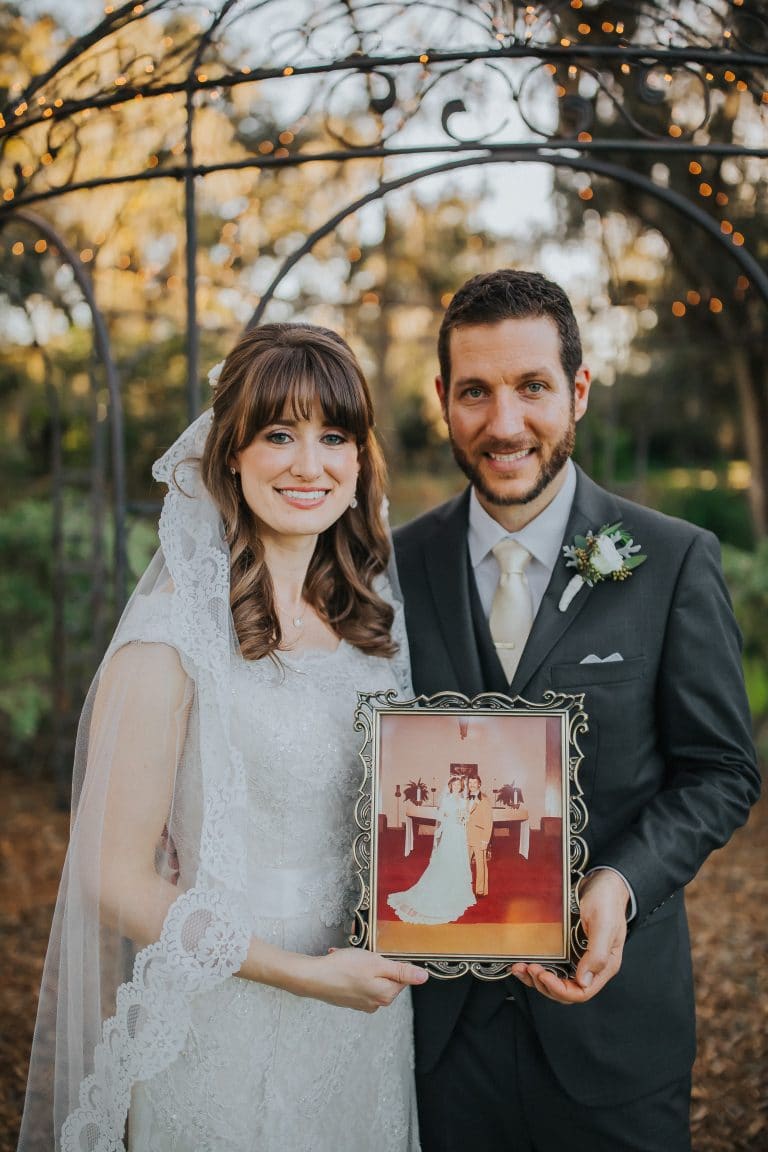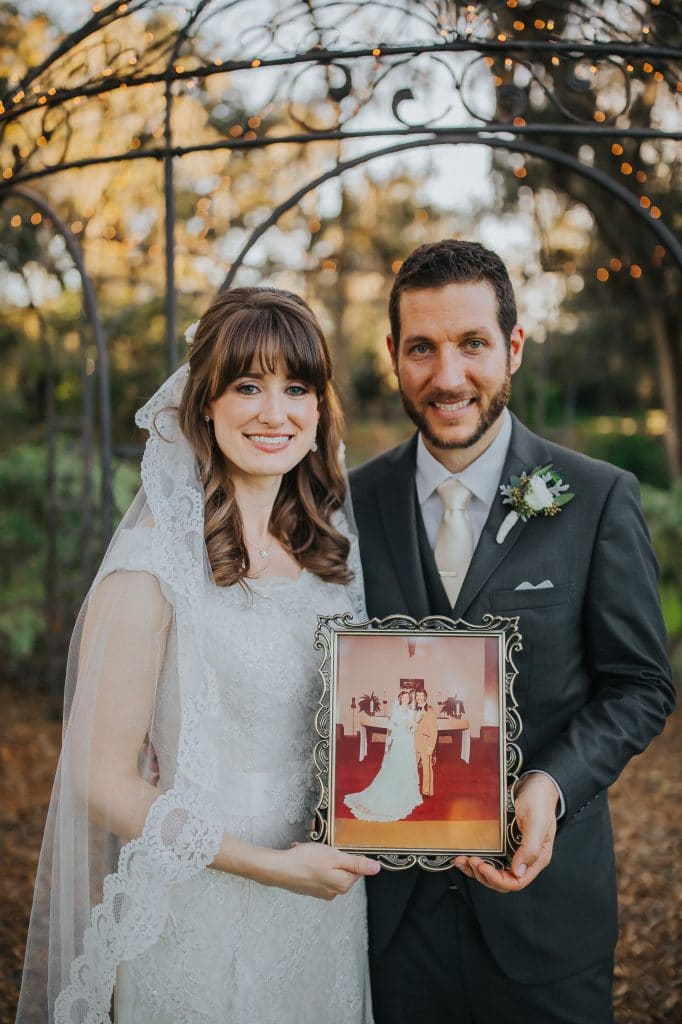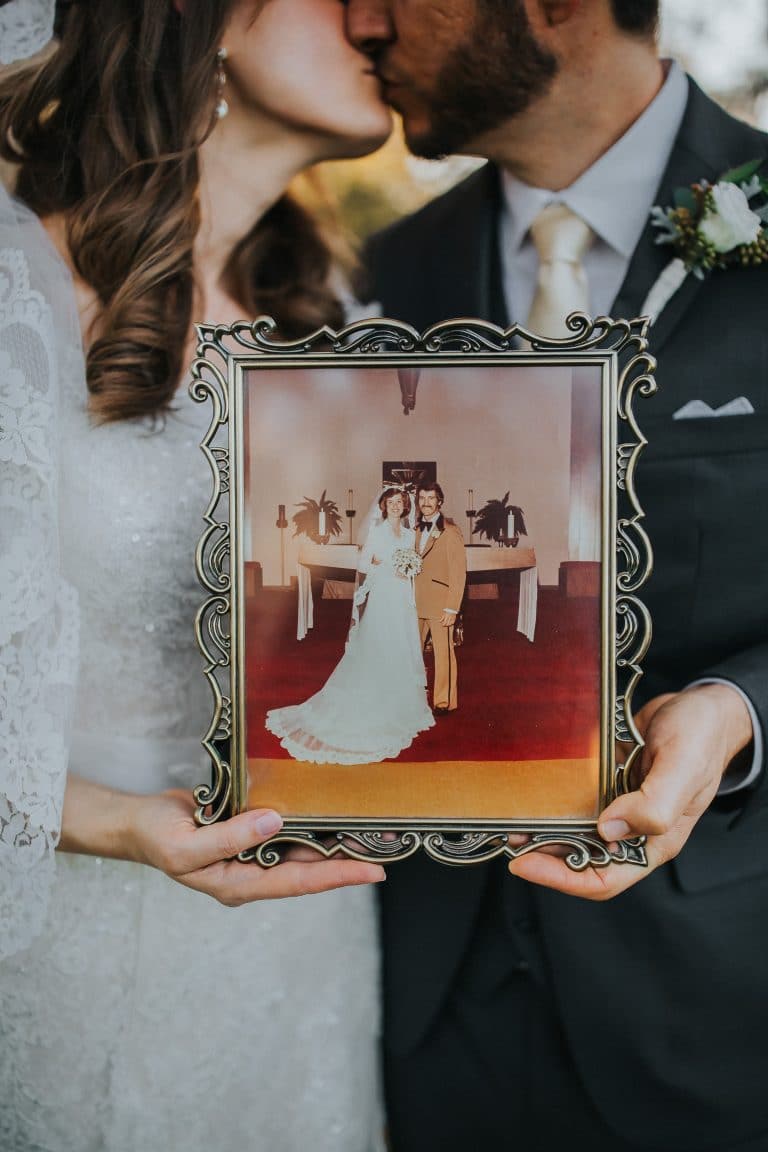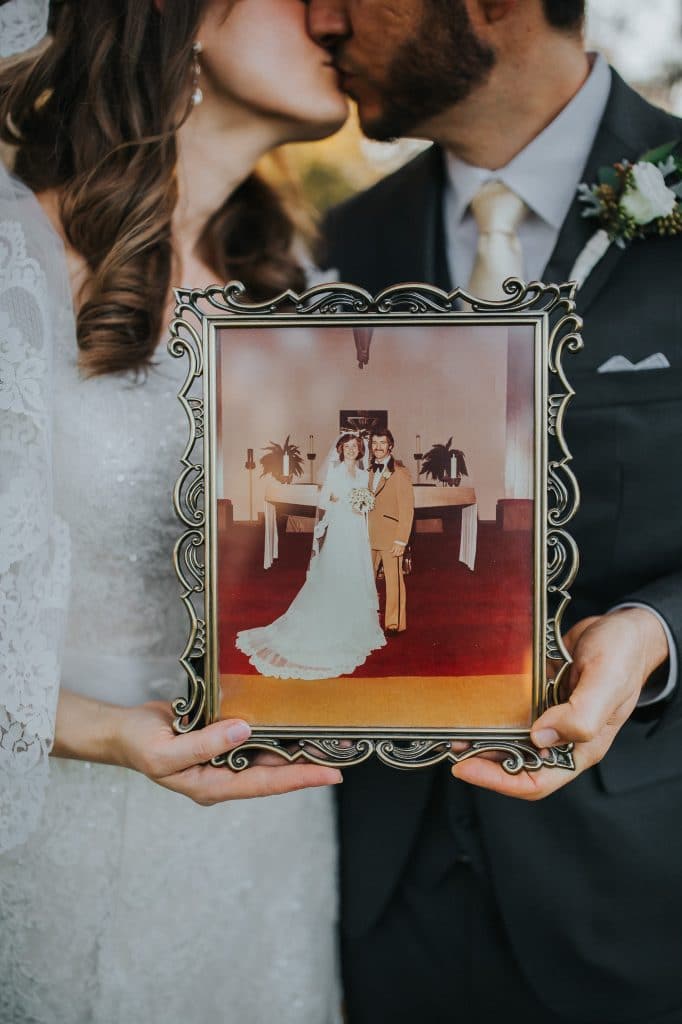 This is a picture of my parents on their wedding day, 38 years ago! Hopefully, one day our kids will hold this picture on their wedding day and it will be a picture within a picture within a picture.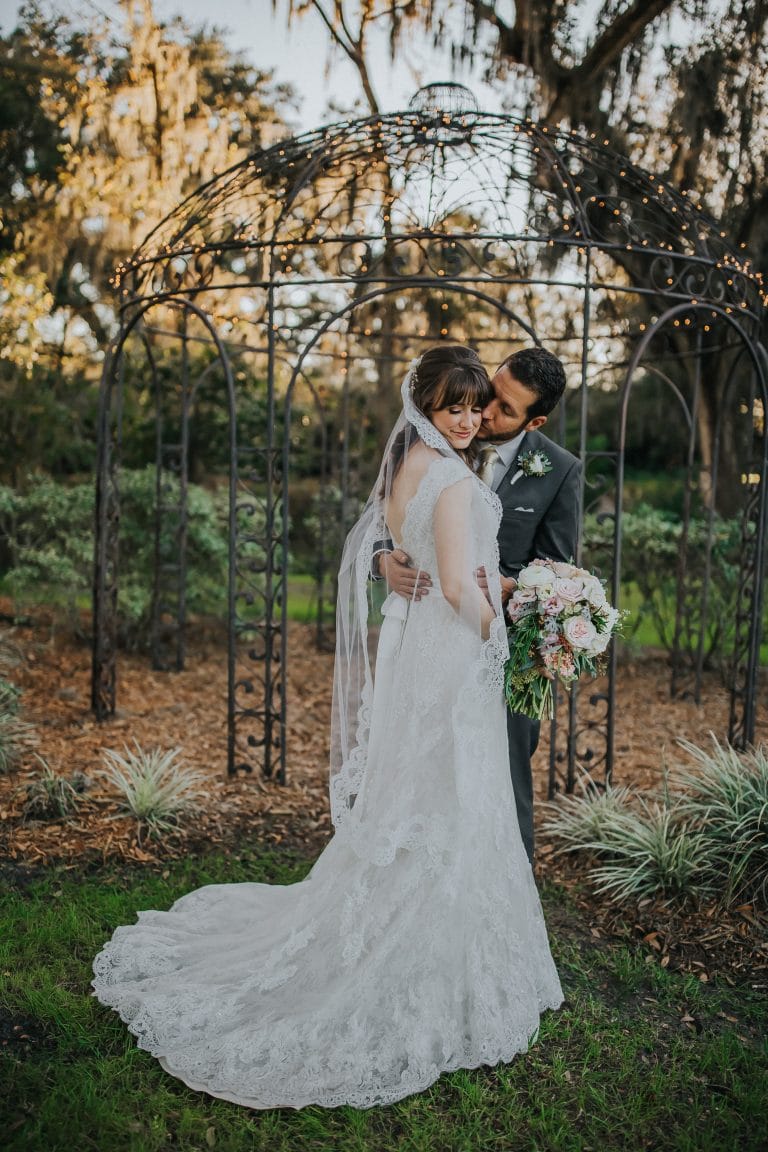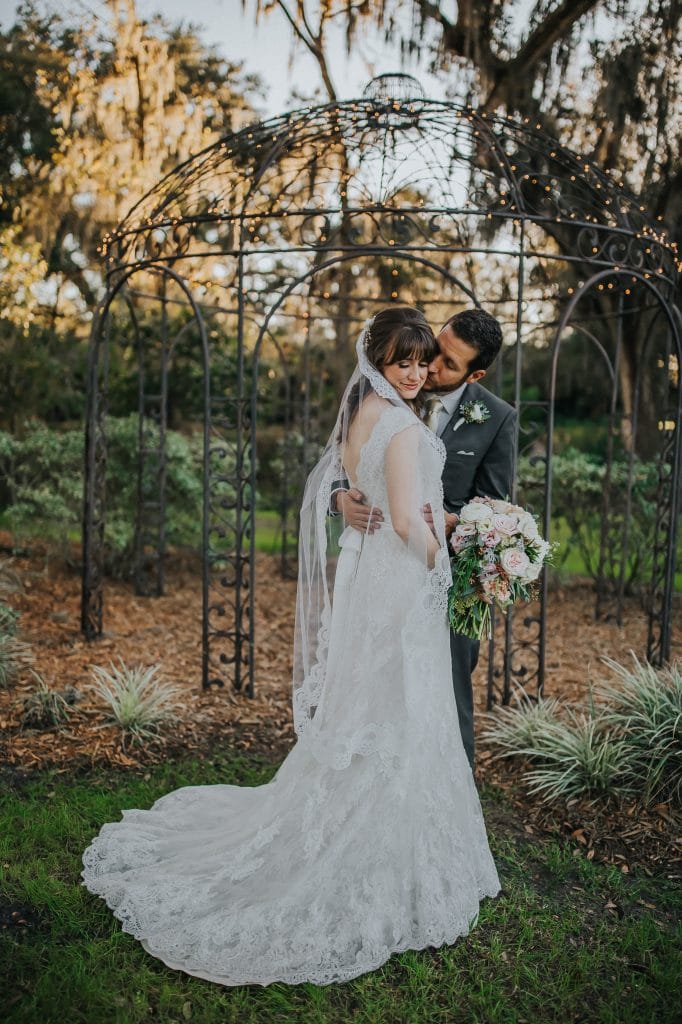 The Reception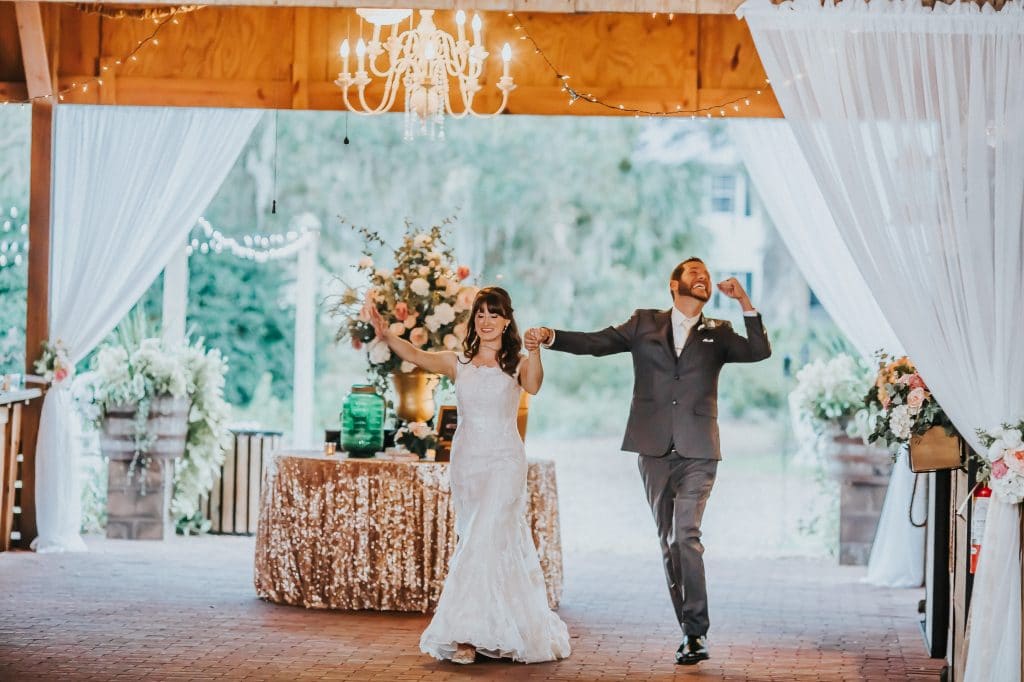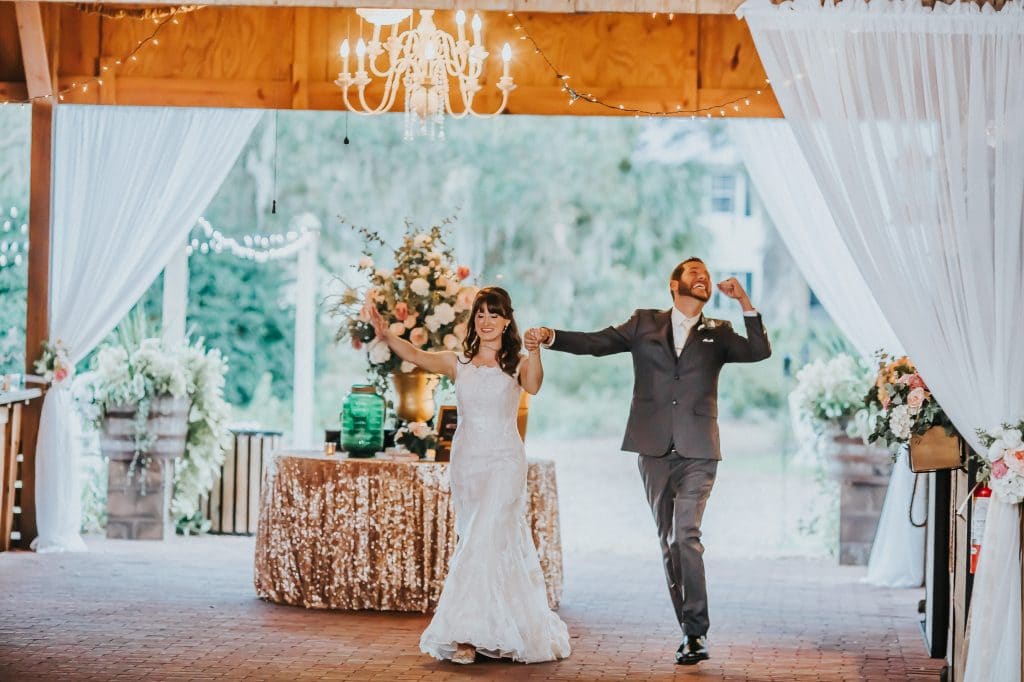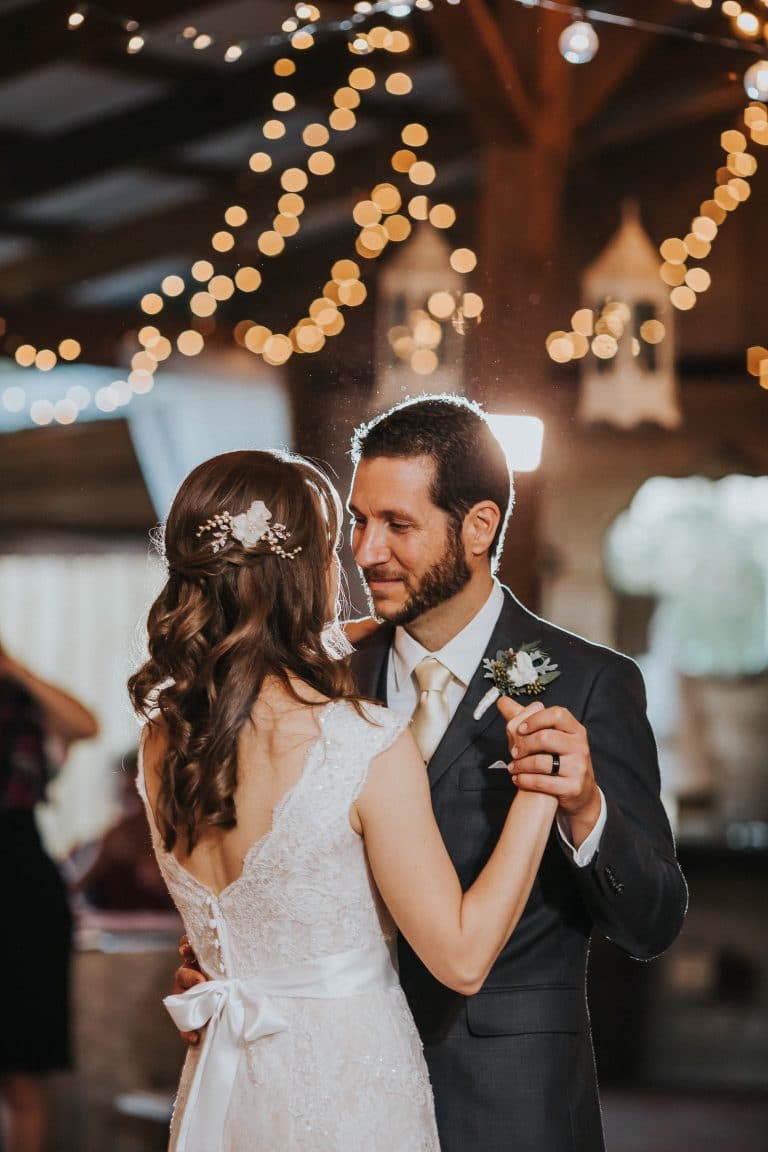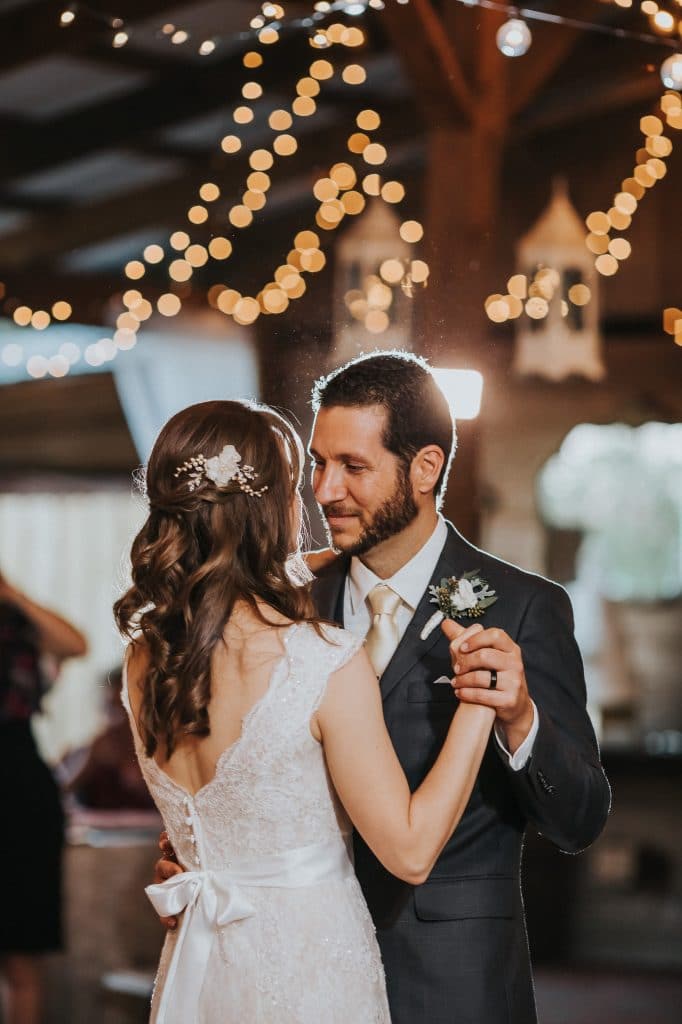 Our first dance as husband and wife! We danced to the song, "Take my hand."
Speeches & Blessings
Our besties killed their speeches! John's speech was funny and Beth's speech was sentimental…perfect.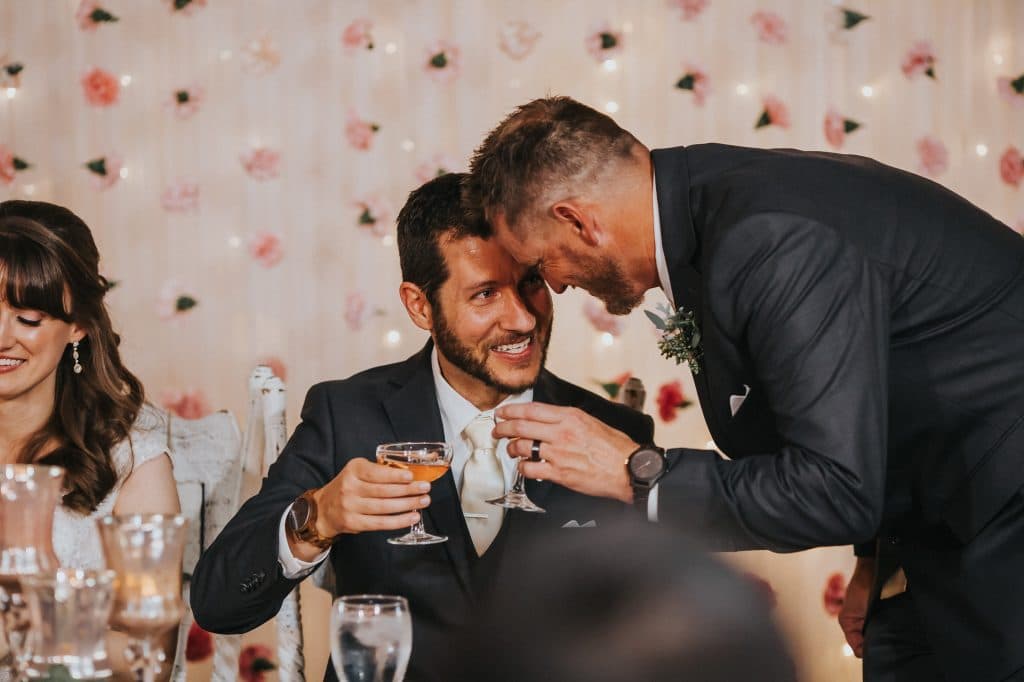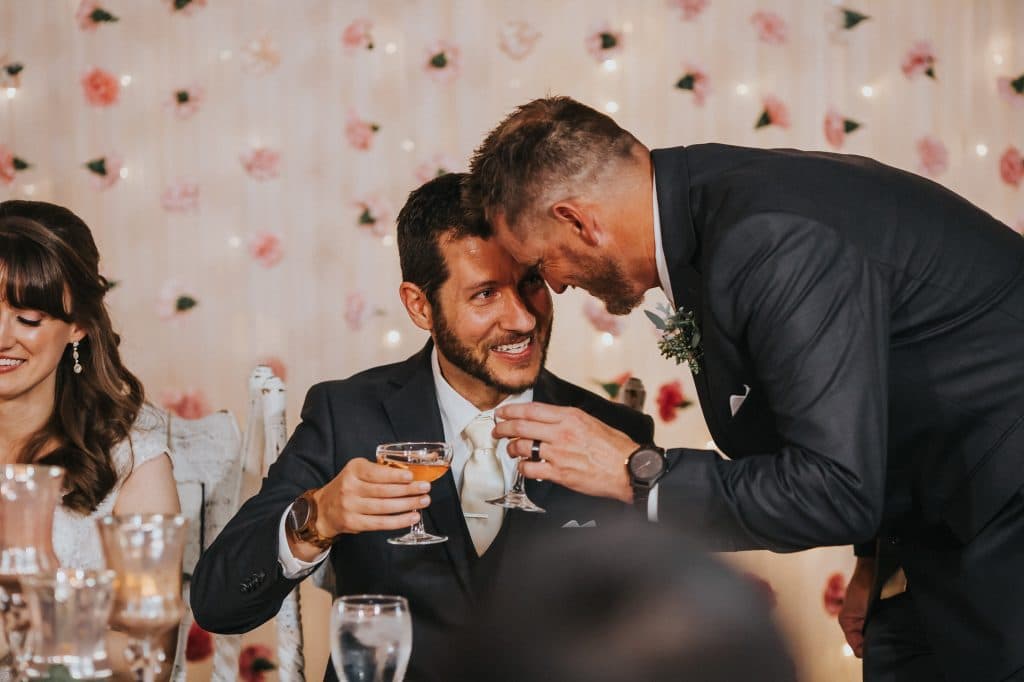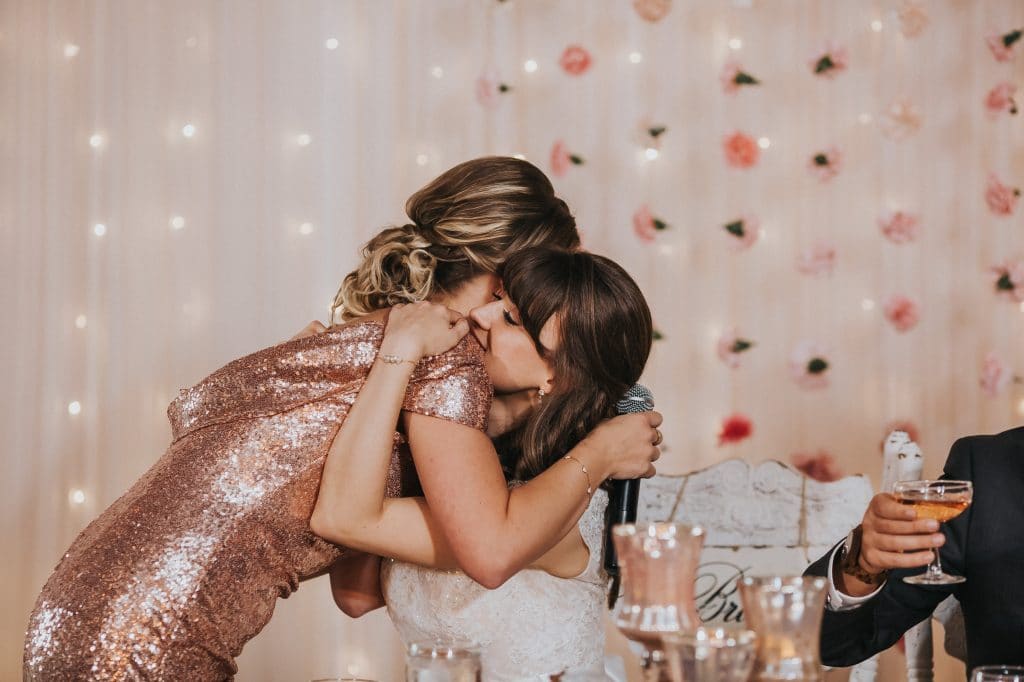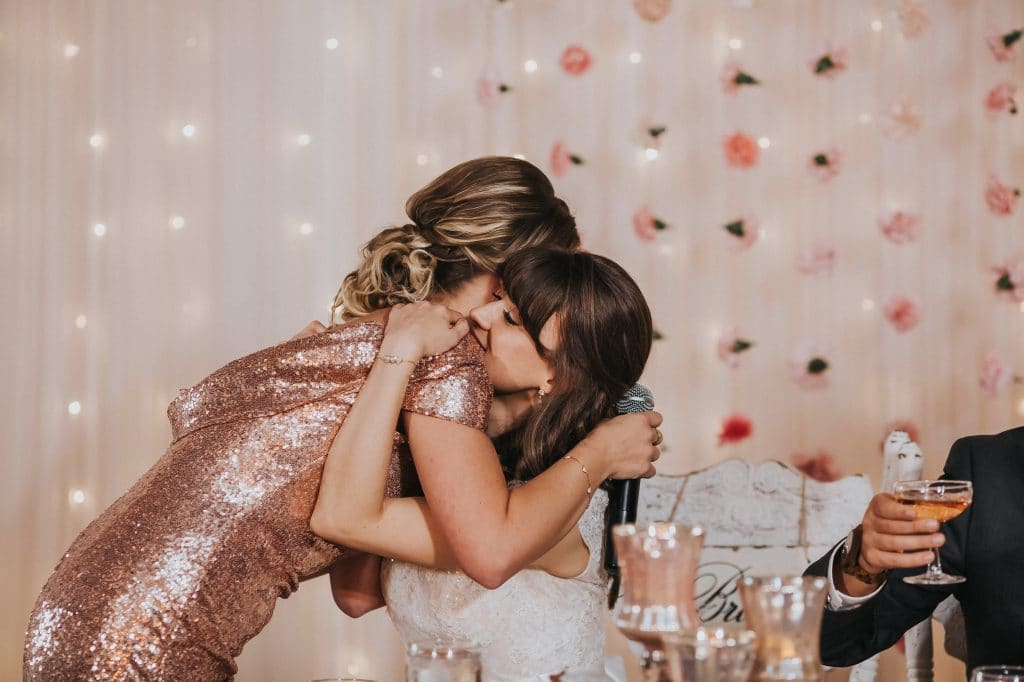 Father Daughter + Mother Son Dance
Father daughter dance song – Butterfly kisses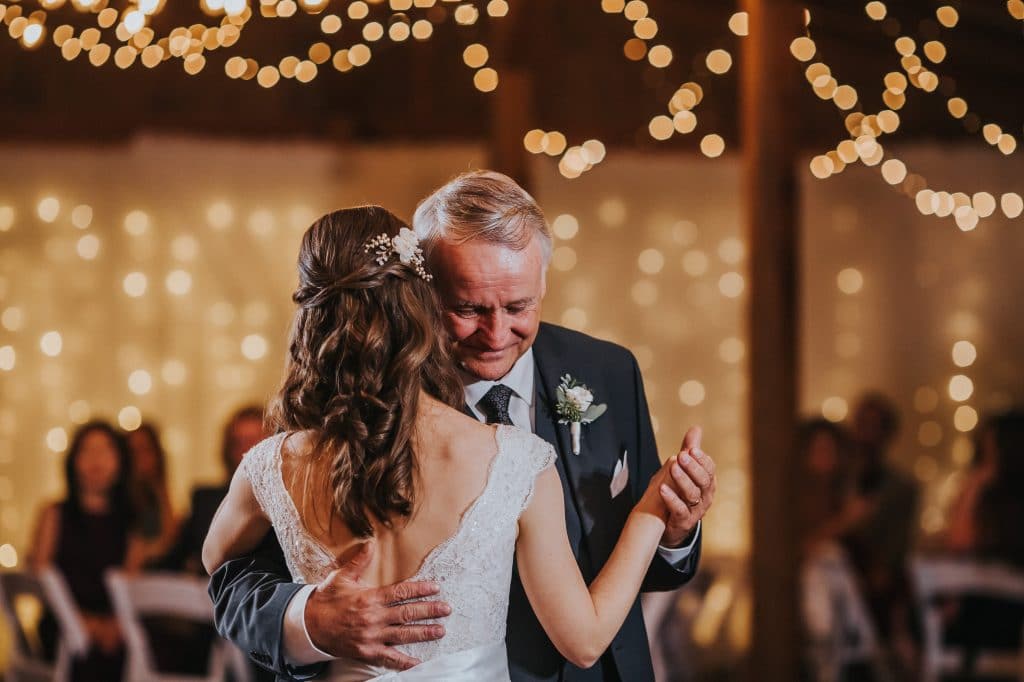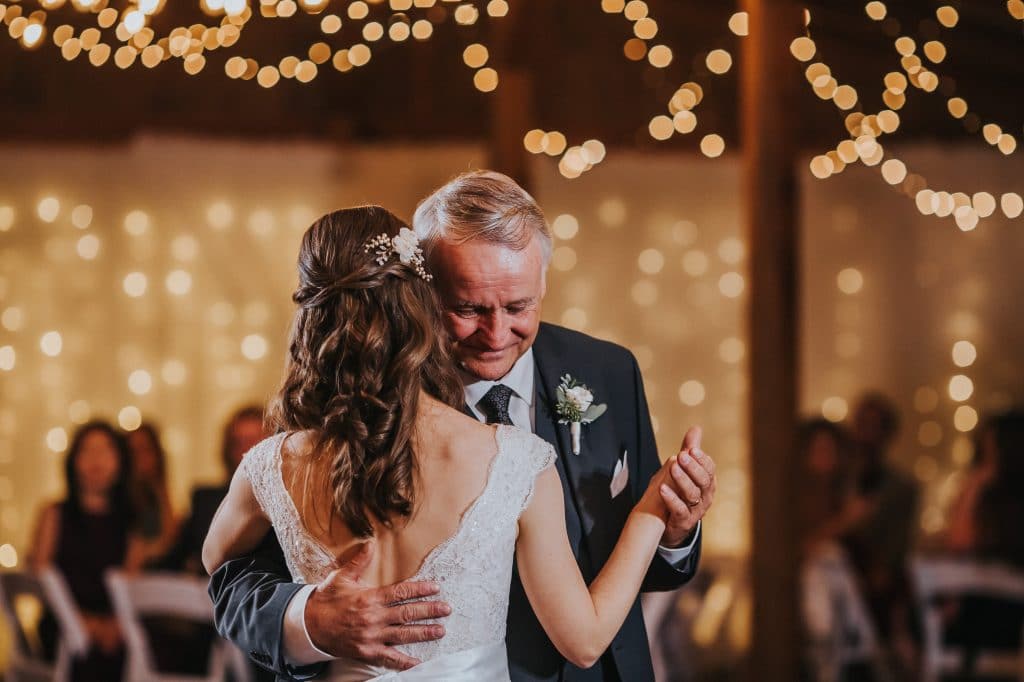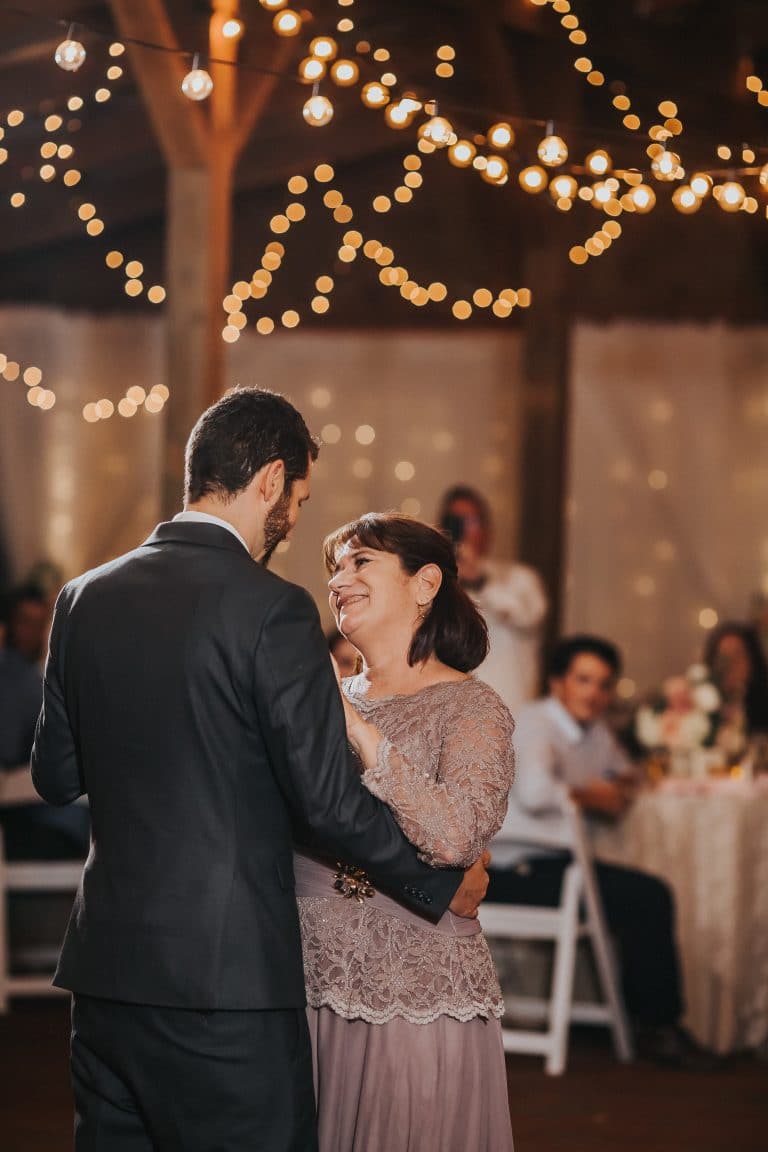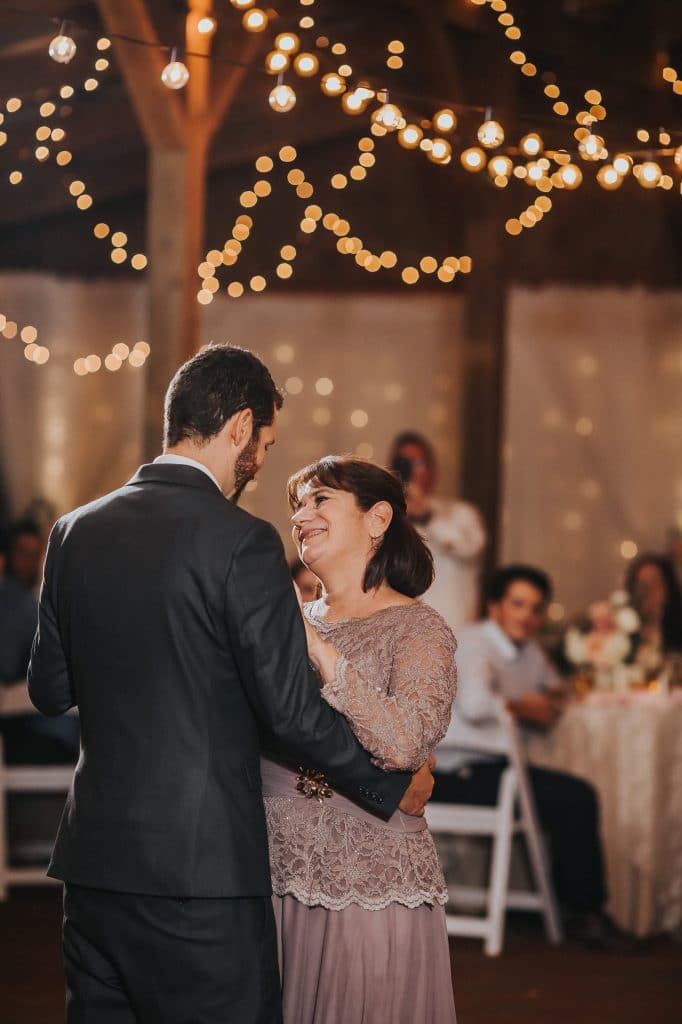 Let's Cut the Cake!
We had the most delicious cake! We chose a 3-tiered almond cake with alternating layers of raspberry preserve and raspberry buttercream filling.
It was so delicious that I couldn't stop myself from eating it right out of the box in our hotel room at 2 am!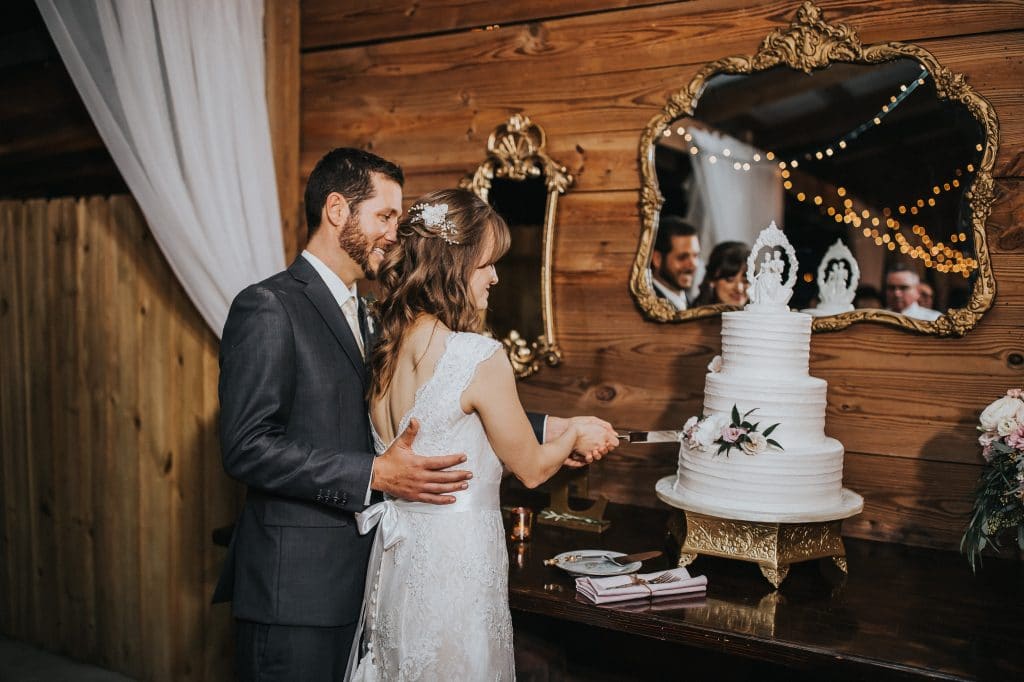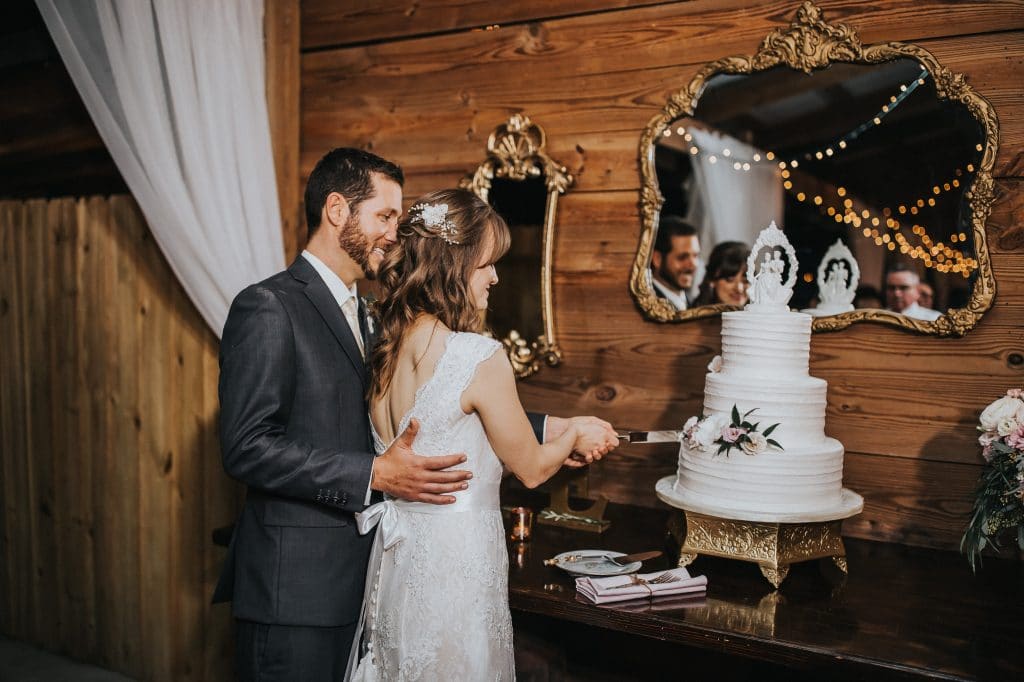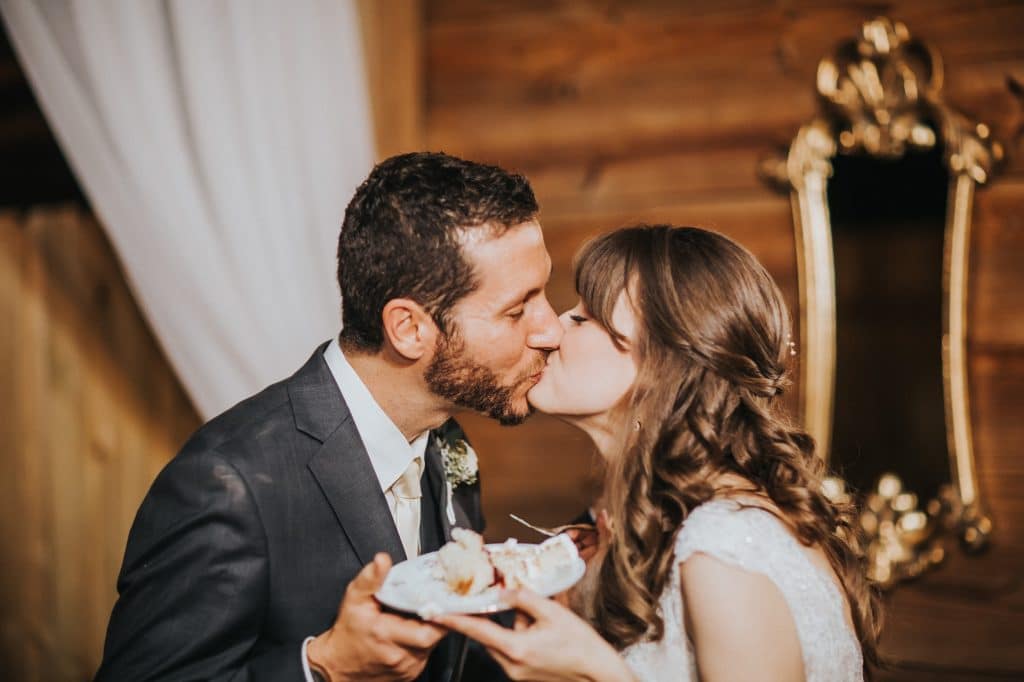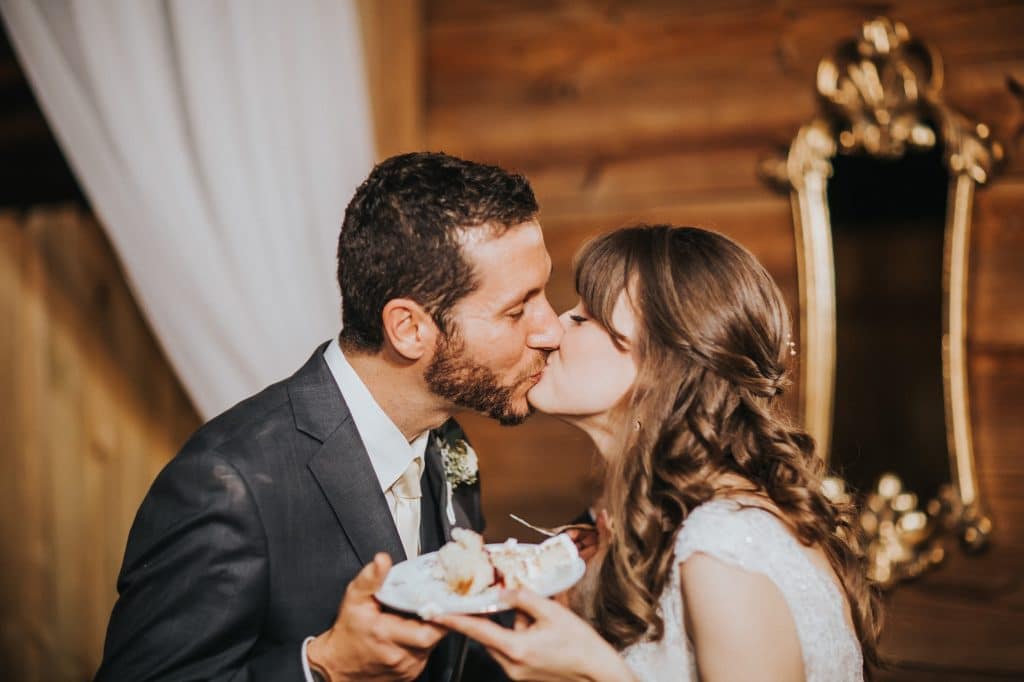 Groom Cake
I wanted the groom cake for Travis to be a surprise! He had no idea that I ordered a paopu fruit shaped cake for us to share.
In case you don't know, the paopu fruit is from one of Travis' favorite video games, Kingdom Hearts. It's believed that when two people share a paopu fruit, their destiny's will be intertwined forever.
Awwwwww.

The Shoe Game
The shoe game was so much fun! We didn't rehearse the questions before hand, they were randomly chosen by the DJ. I guess after 10 years, we kindaaa know each other a little bit =)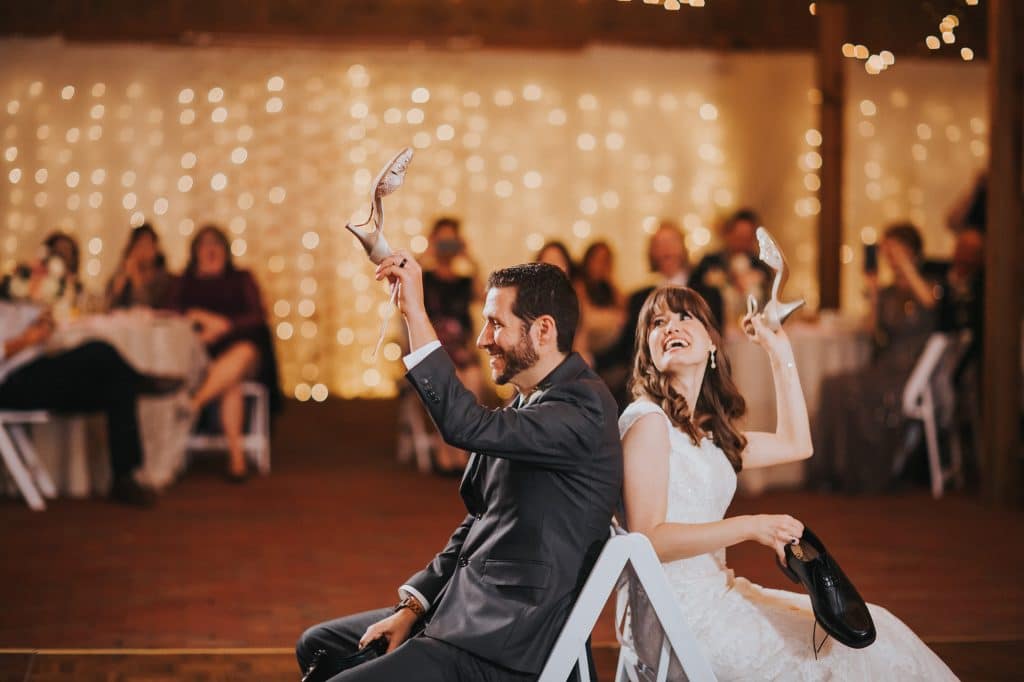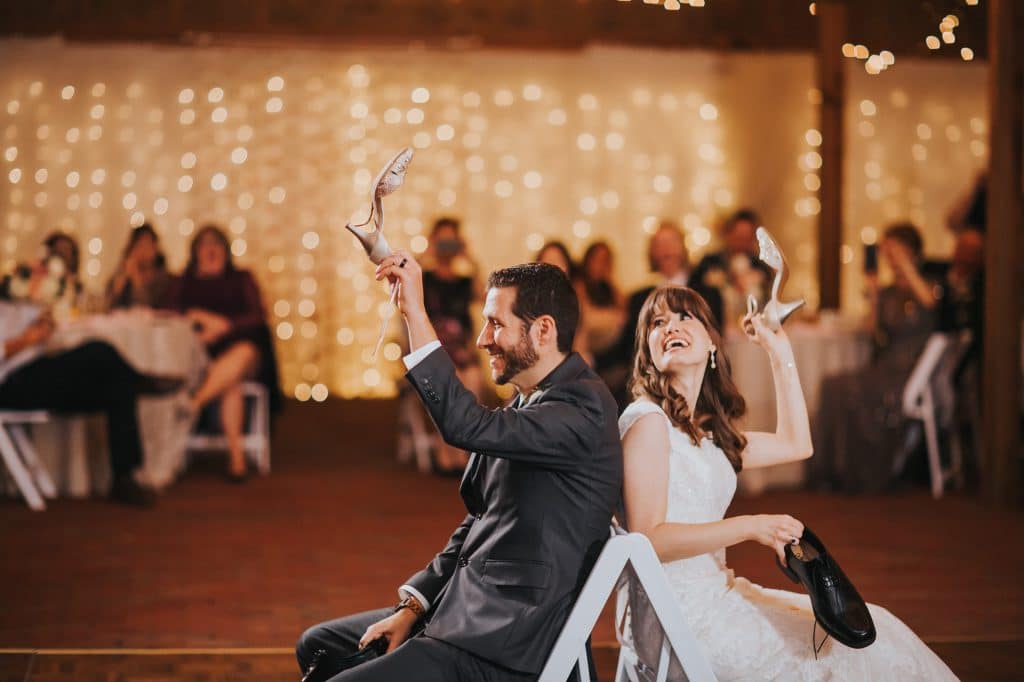 Time to DANCE!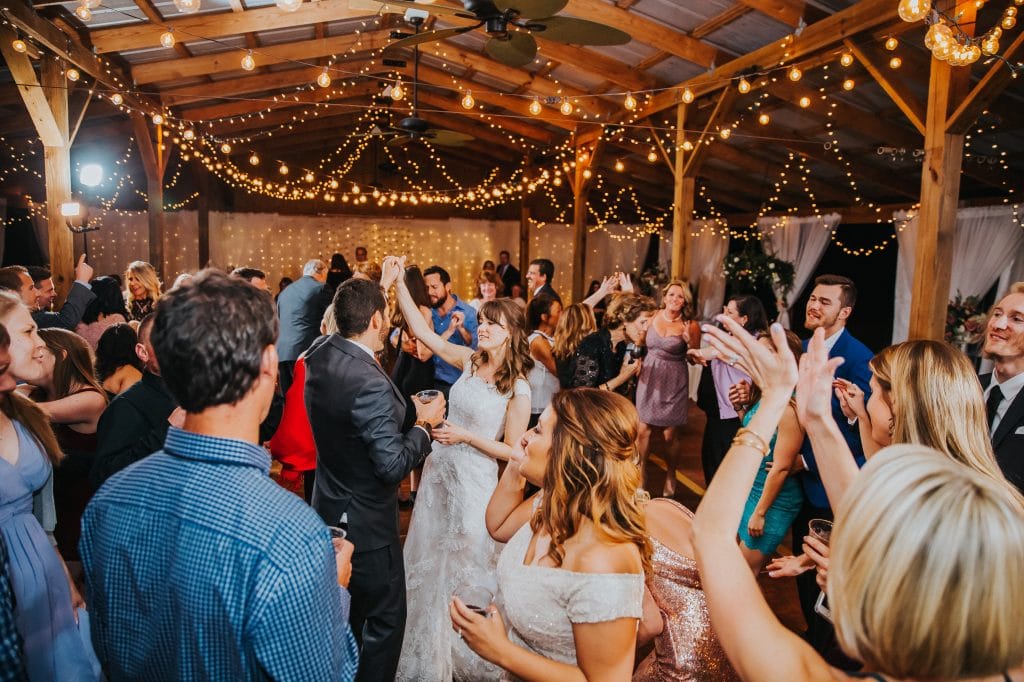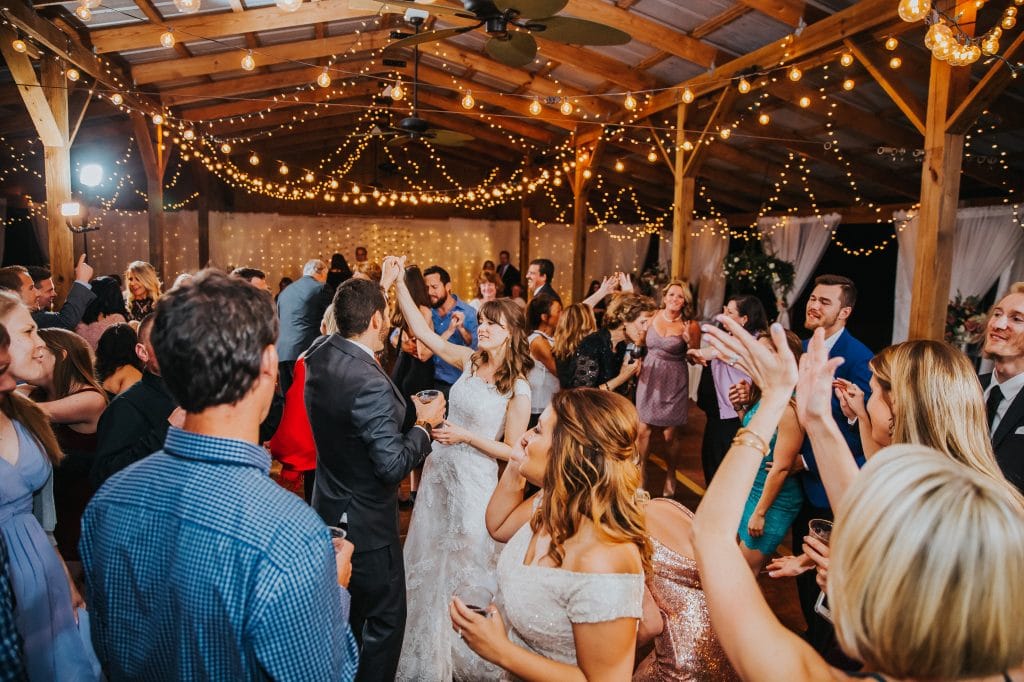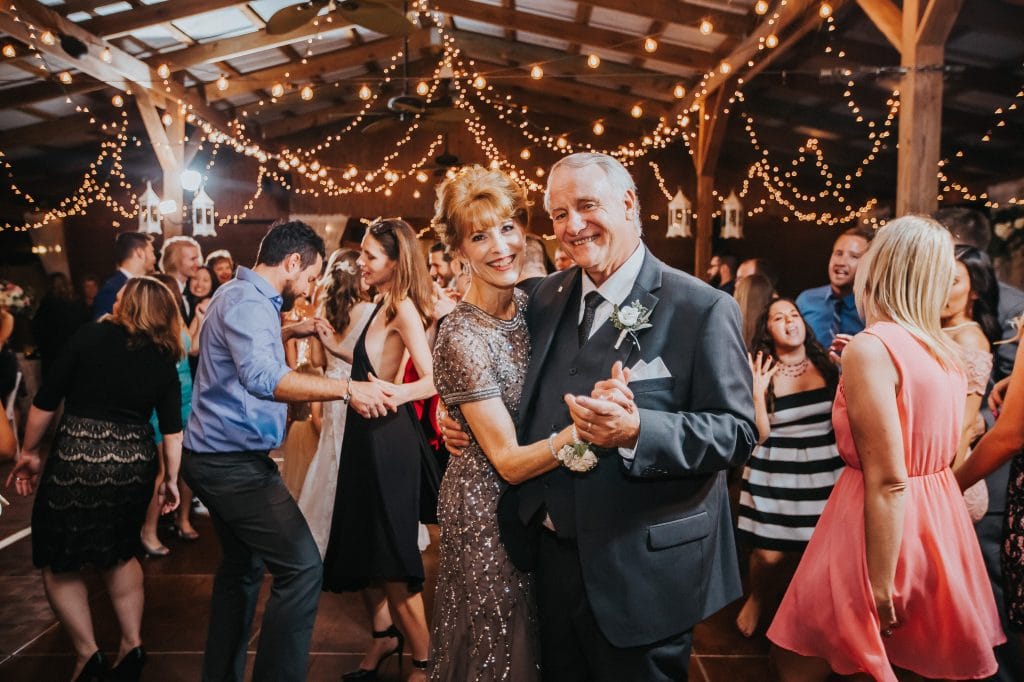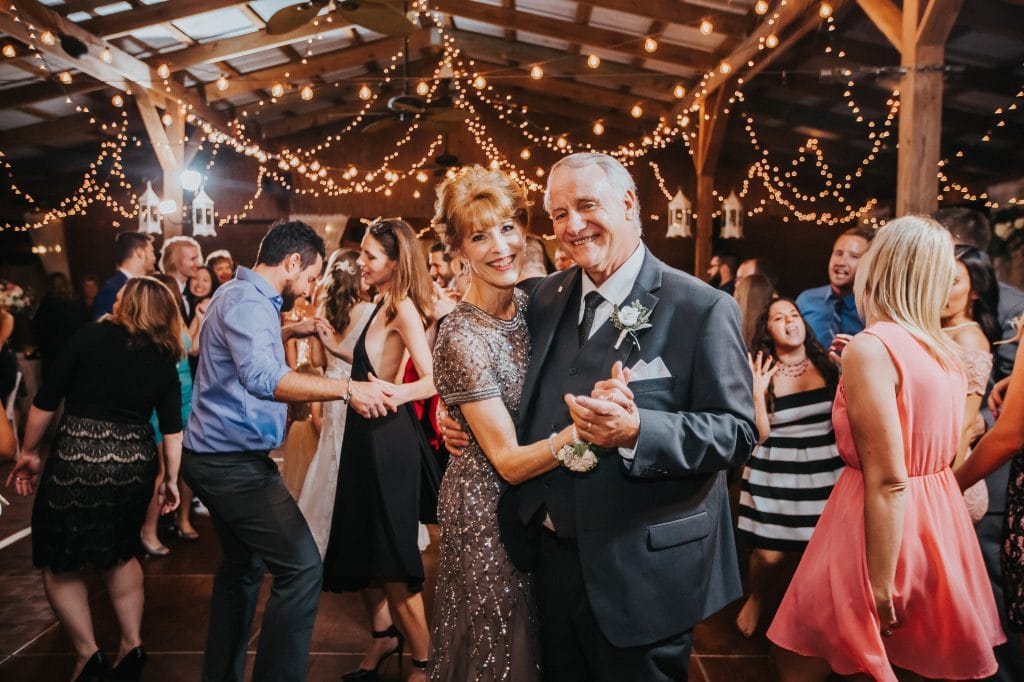 Aren't my parents so cute?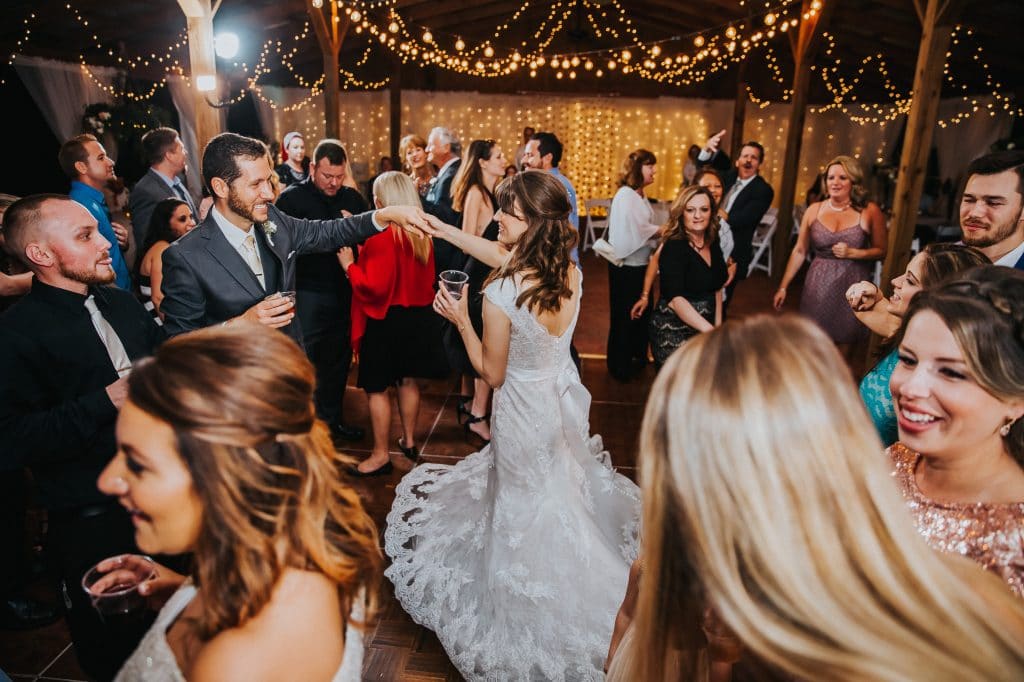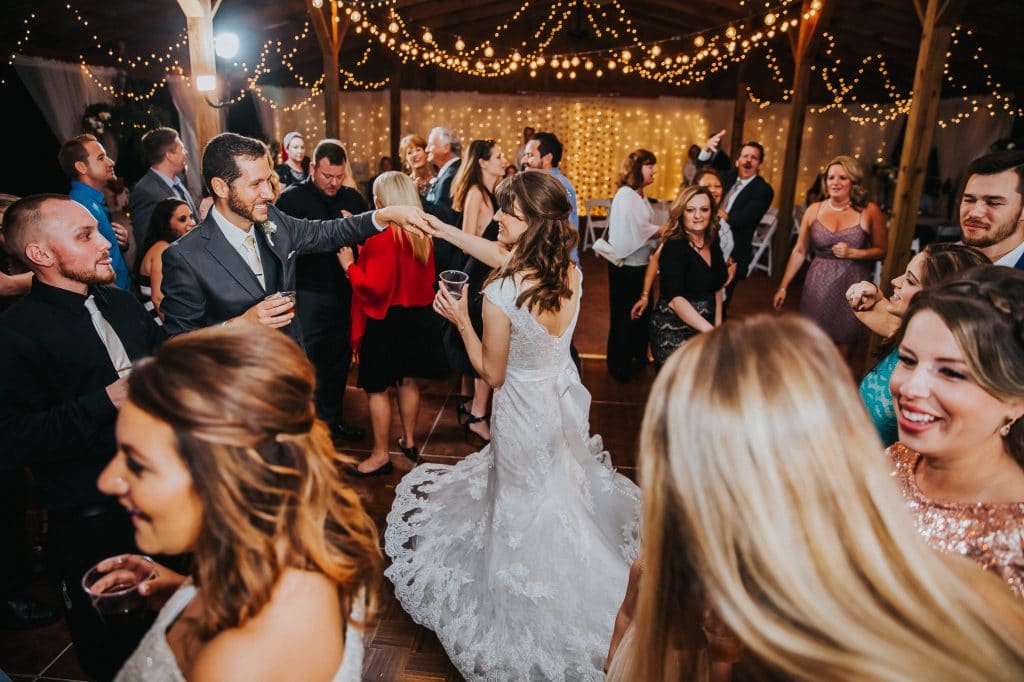 Evening Pictures & Sparkler Exit
The handcrafted LOVE letters on the bridge that Cross Creek Ranch is named after, is the perfect prop for just married couples! It's especially beautiful lit up at night.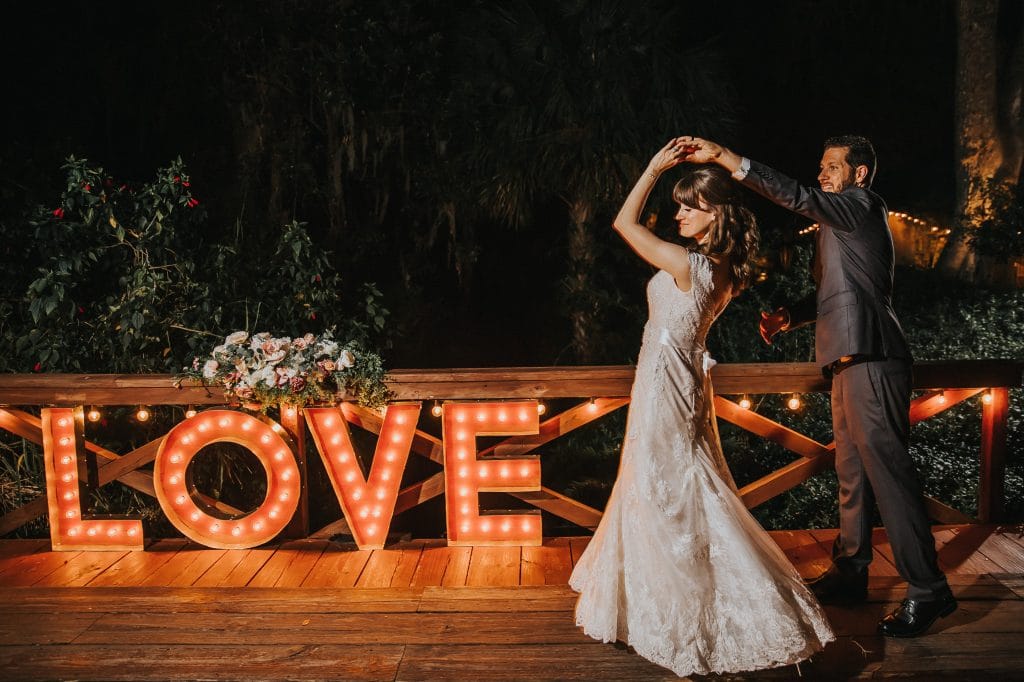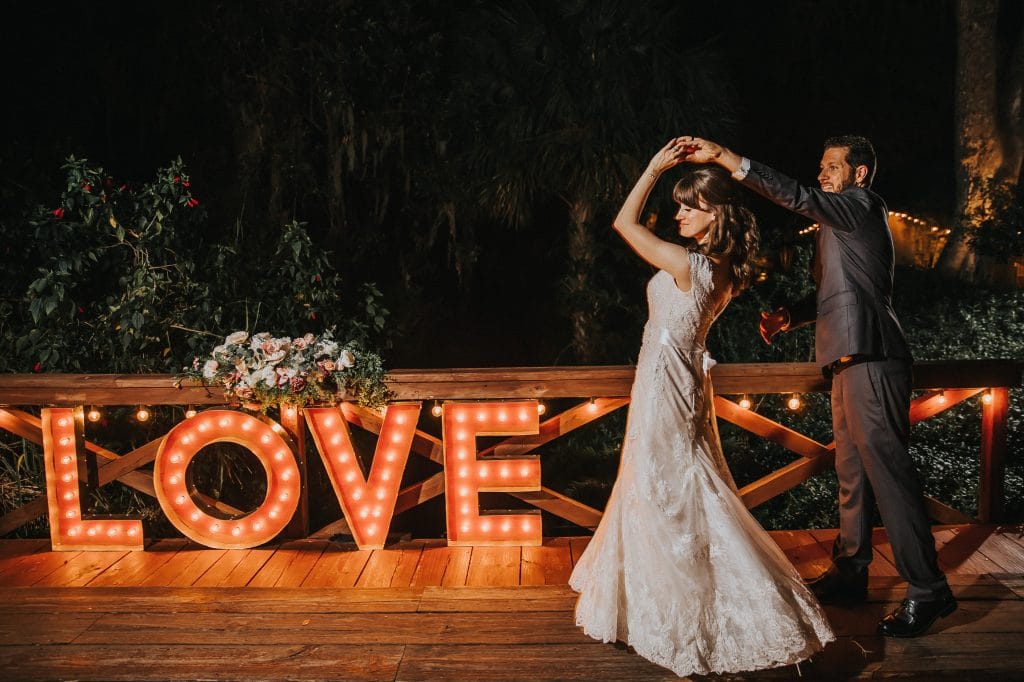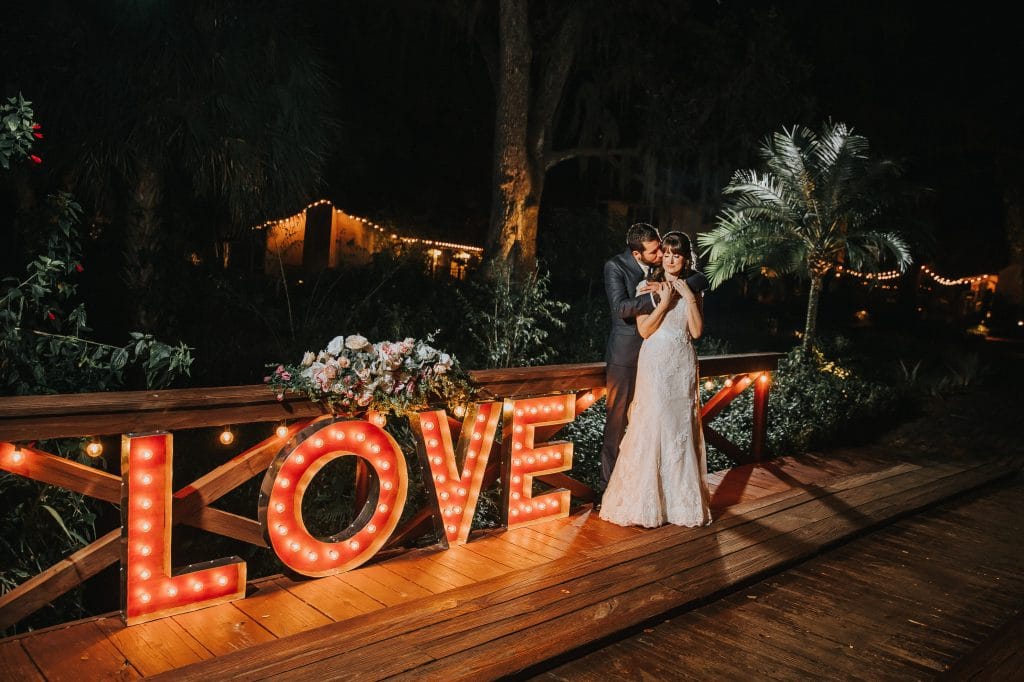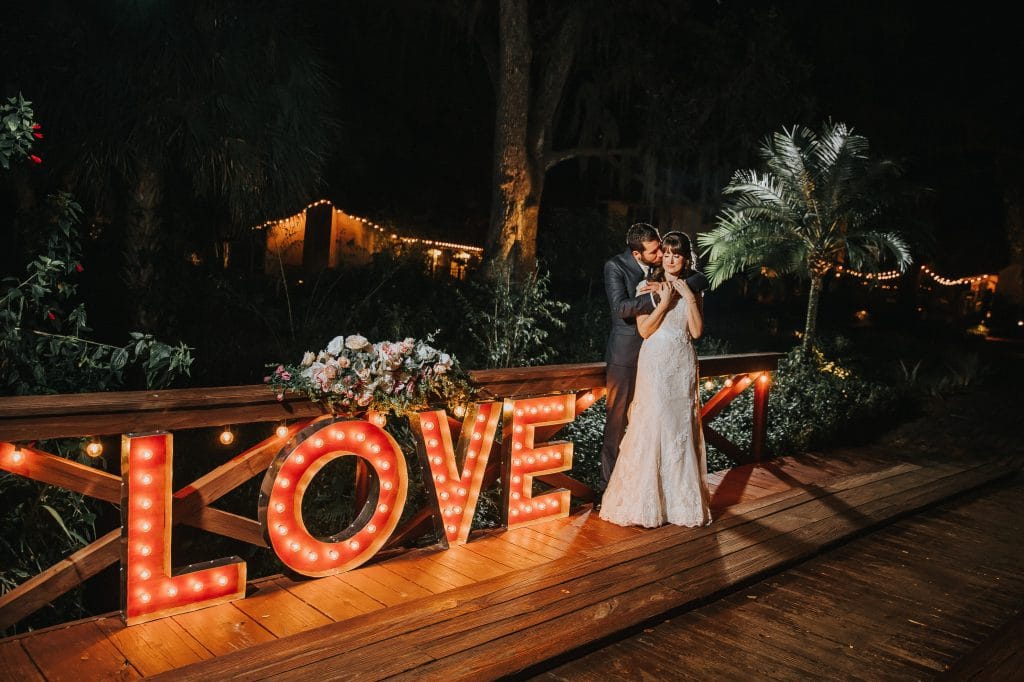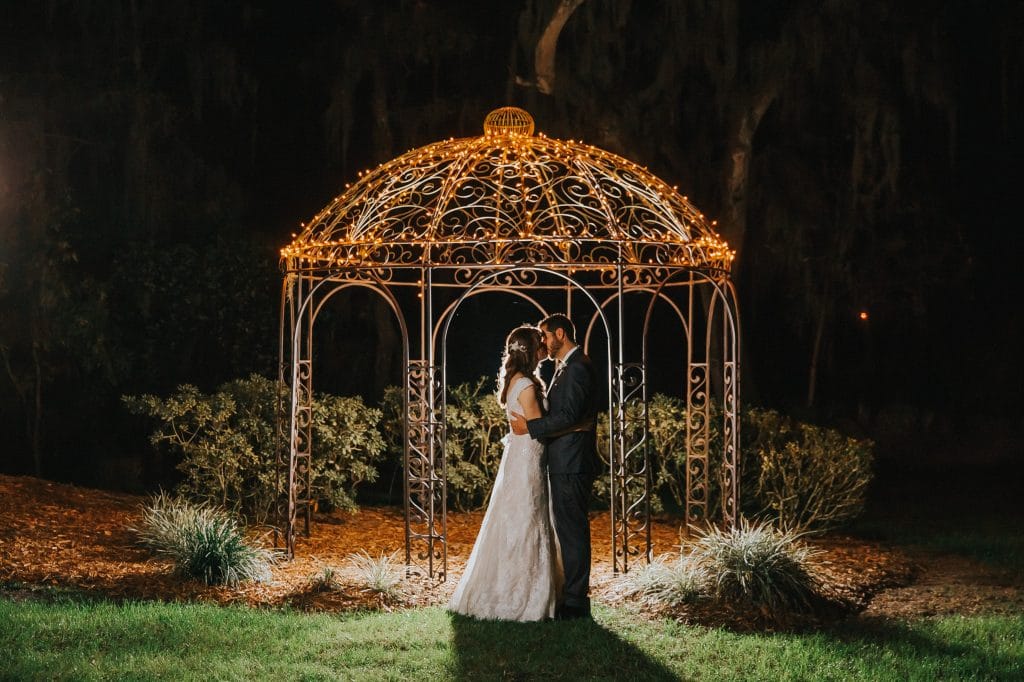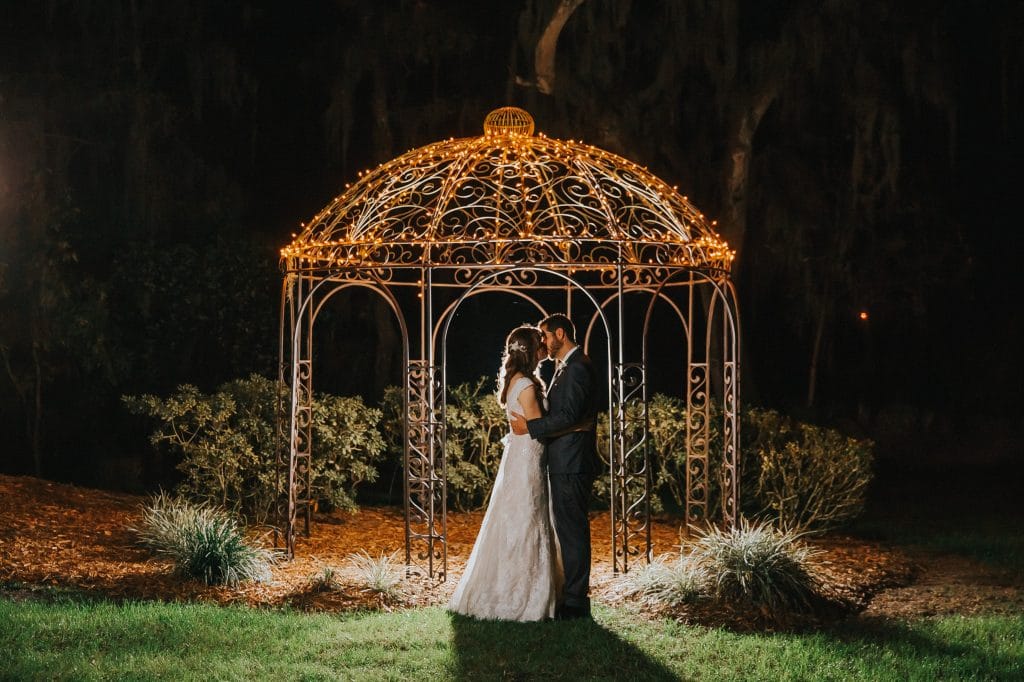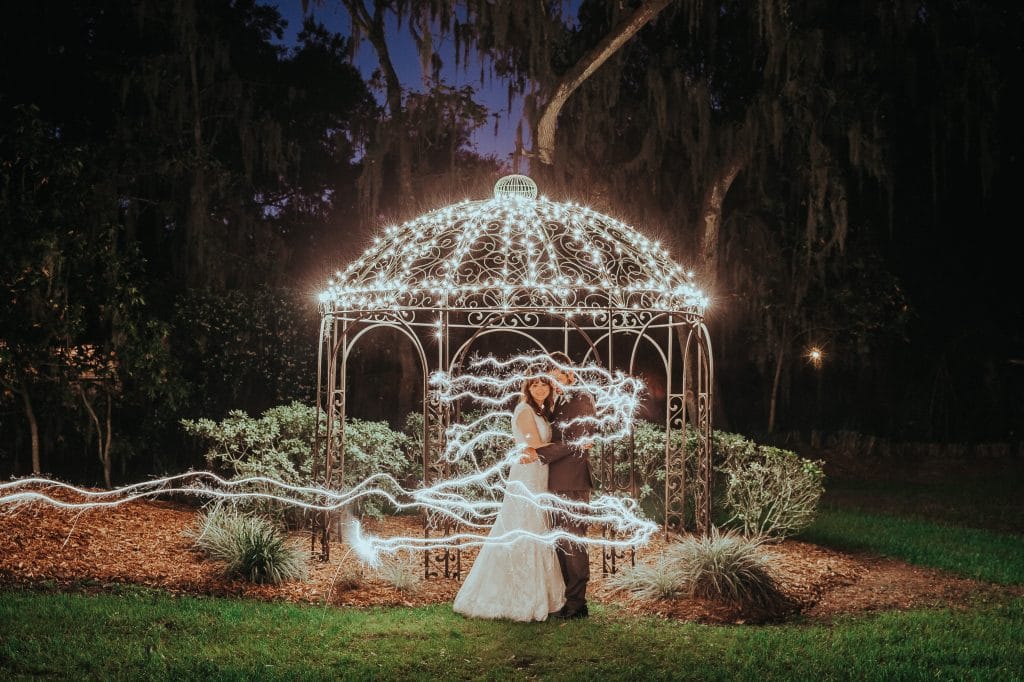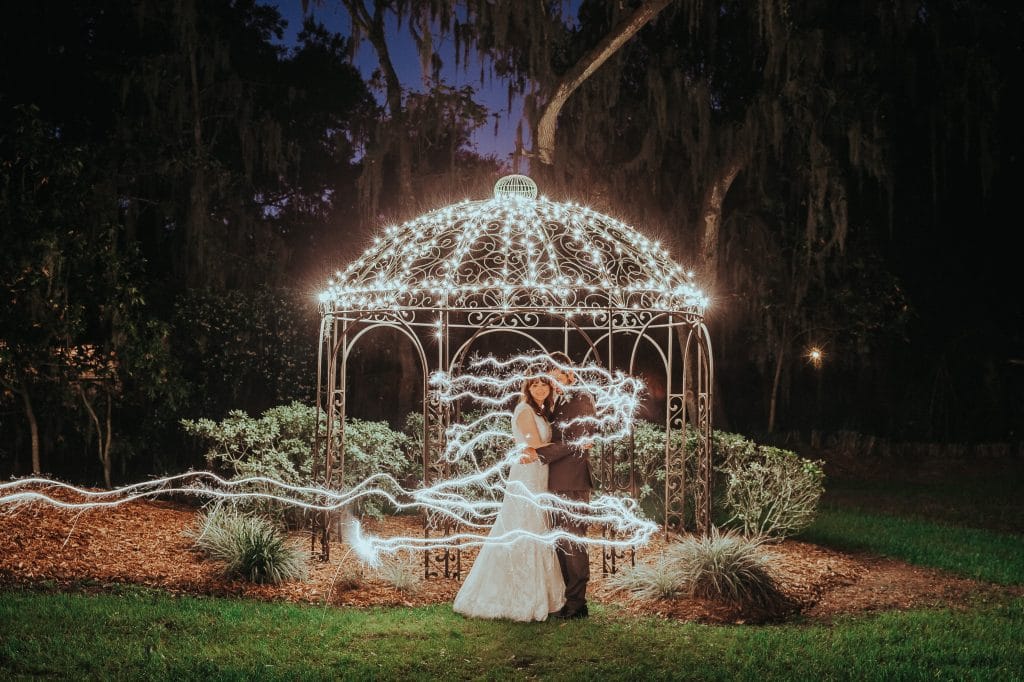 Magical sparkler picture? Yes, please!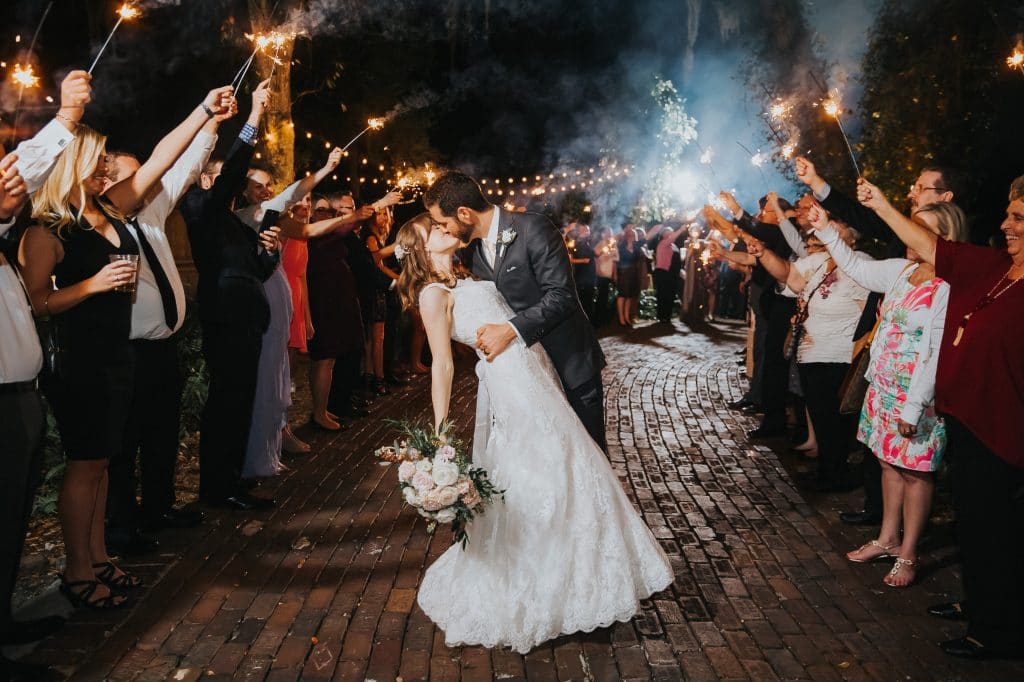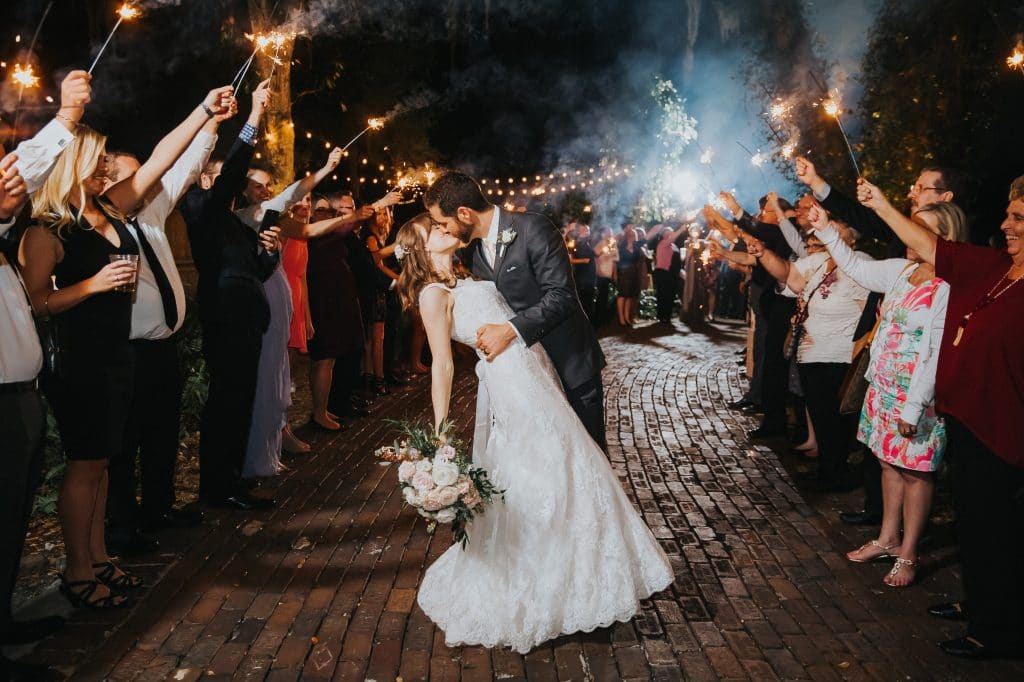 Travis and I want to thank our family, friends, the team at Cross Creek Ranch and every single person that had a hand in our wedding. It was the best day of our lives and you all made it so special for us!
We also want to give a special thank you to our amazing photographers & videographers, Rad Red Creative, for creating the best wedding video and for capturing every single special moment in pictures that we can look at forever.
Thank you from the bottom of our hearts!
Love,
Travis & Stacey Gero
Vendors:
Ceremony + Reception Venue: Cross Creek Ranch
Hair and Makeup: Style Hair and Makeup
Caterer: Catered by Vesh
Coordinator: Mary at Cross Creek Ranch
Videographer: Rad Red Creative
Photographer – Rad Red Creative
Florist: Alta Fleura

Officiant: Wes Morris
Wedding Dress Designer: Oleg Cassini
Wedding Dress Store: David's Bridal
Groom's Apparel: Kohl's
Cake Design: Alessi Bakery
Invitation Designer: Etsy
NEVER MISS A STACEY HOMEMAKER CREATION! 
FACEBOOK / INSTAGRAM / PINTEREST / TWITTER
You may also like…
Our Fairytale Disney Engagement Story