This shop has been compensated by Collective Bias, Inc. and its advertiser. All opinions are mine alone. #FallWithATwist #CollectiveBias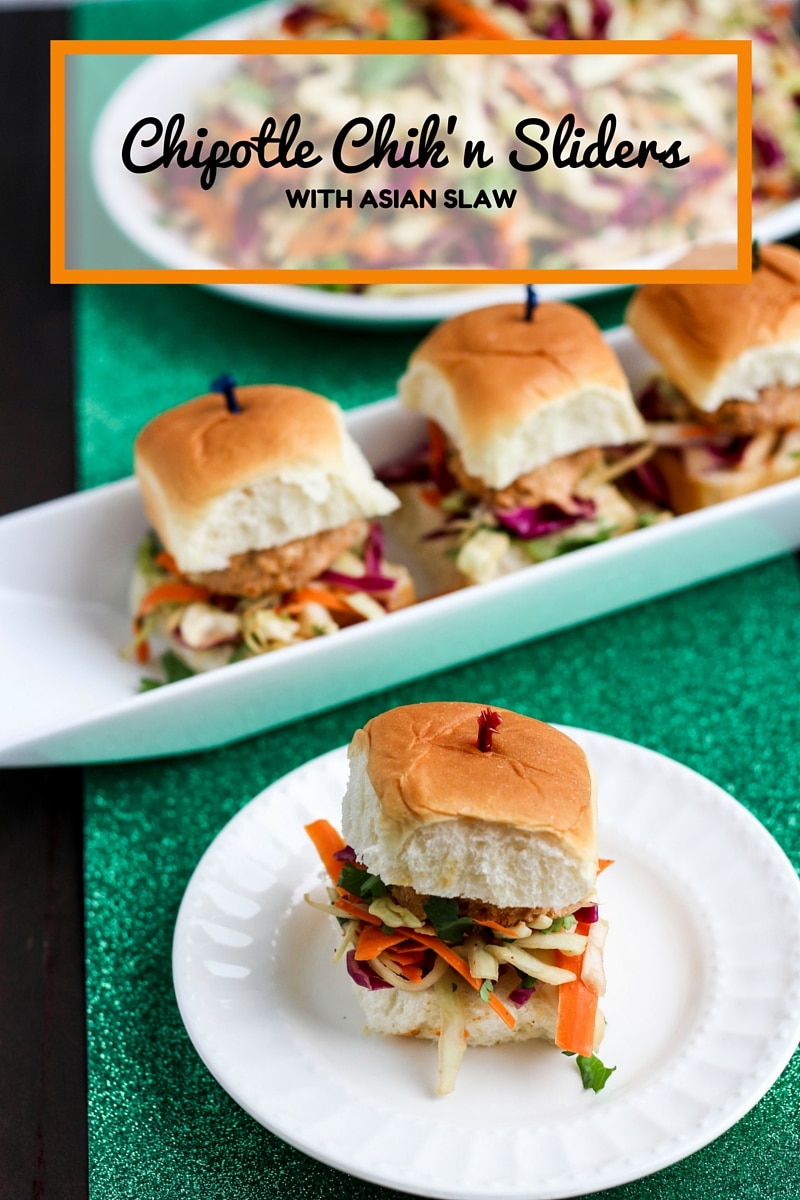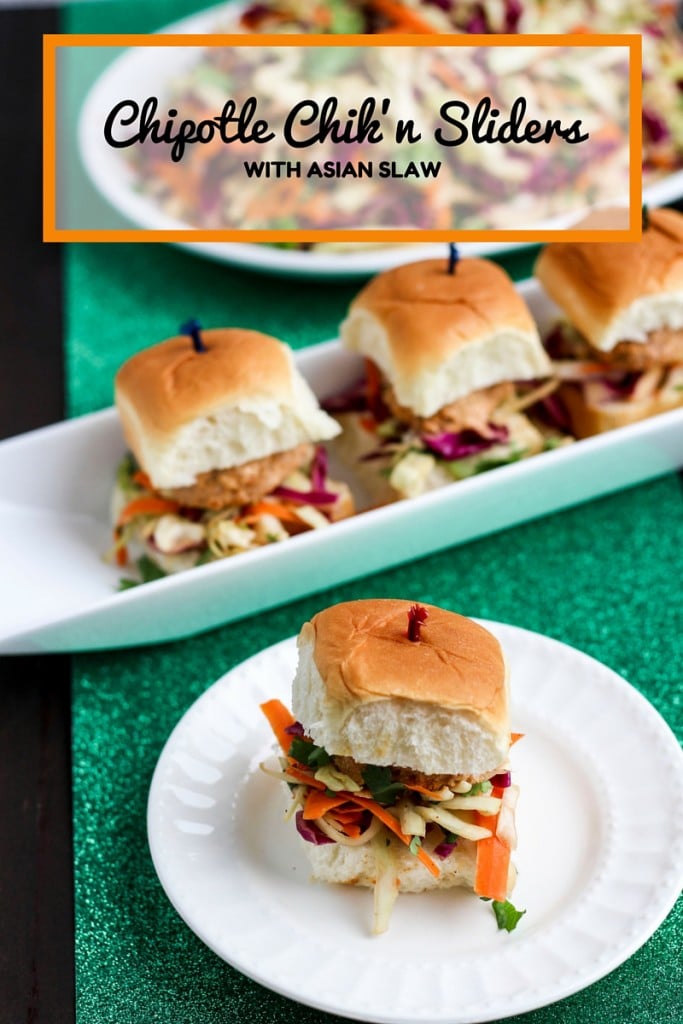 Want more easy vegan recipes? Join our vegan Facebook community below!
Oh fall, how I love you, let me count the ways! Cool weather, Halloween, pumpkins, and football….more specifically, tailgating! Let's be real with each other, as fun as it is to watch the game, it's really about the food, and getting together with friends and family! Am I right?
Whenever I think of activities, holidays, or events, I think of the food that's associated with it. I'm sure most people aren't like this, it's just the way my brain works!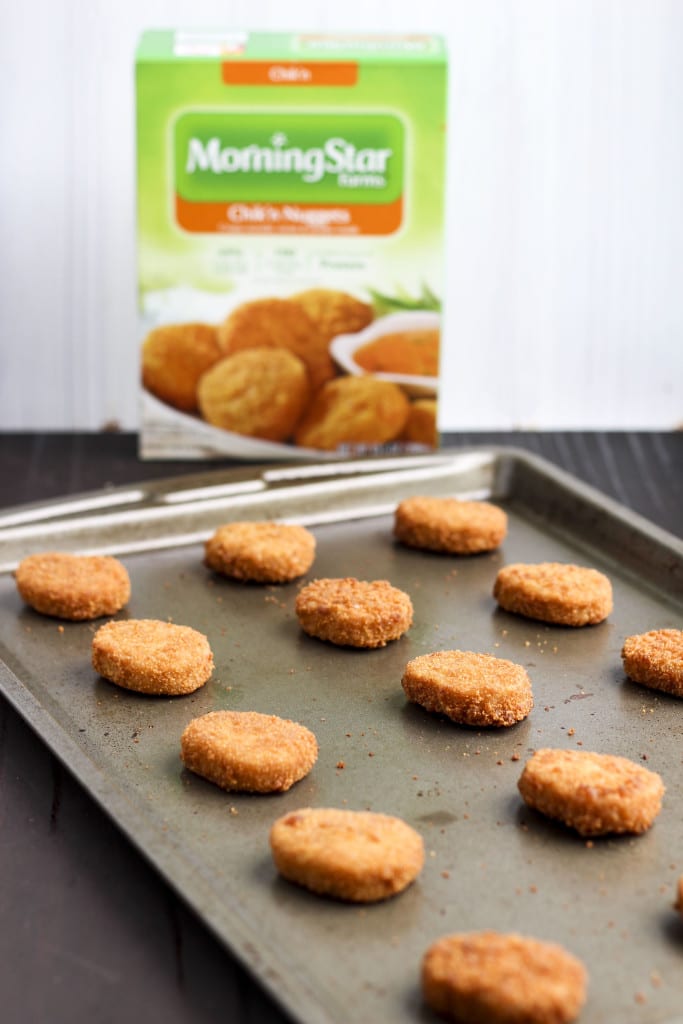 I wanted to make something that vegetarians and meat lovers both would love to snack on while tailgating! I picked up these MorningStar Farms chik'n nuggets from Target to make my chipotle chik'n sliders for the game. They look taste, and feel just like regular chicken nuggets. I really don't think anyone could tell the difference!
This recipe is super simple to assemble but it does take a little bit of prep work to make the coleslaw. I tossed the nuggets in my all-time favorite spicy avocado chipotle sauce, that I made the day before. Anytime I'm making food for a party or bringing food for an event, I try to do as many steps as possible the day before. The sauce will last up to a week in the fridge, but it never makes it past the 3rd day in our house. We put it on everything! Salads, tacos, burritos, sandwiches, burgers…you name it, we've probably tried it.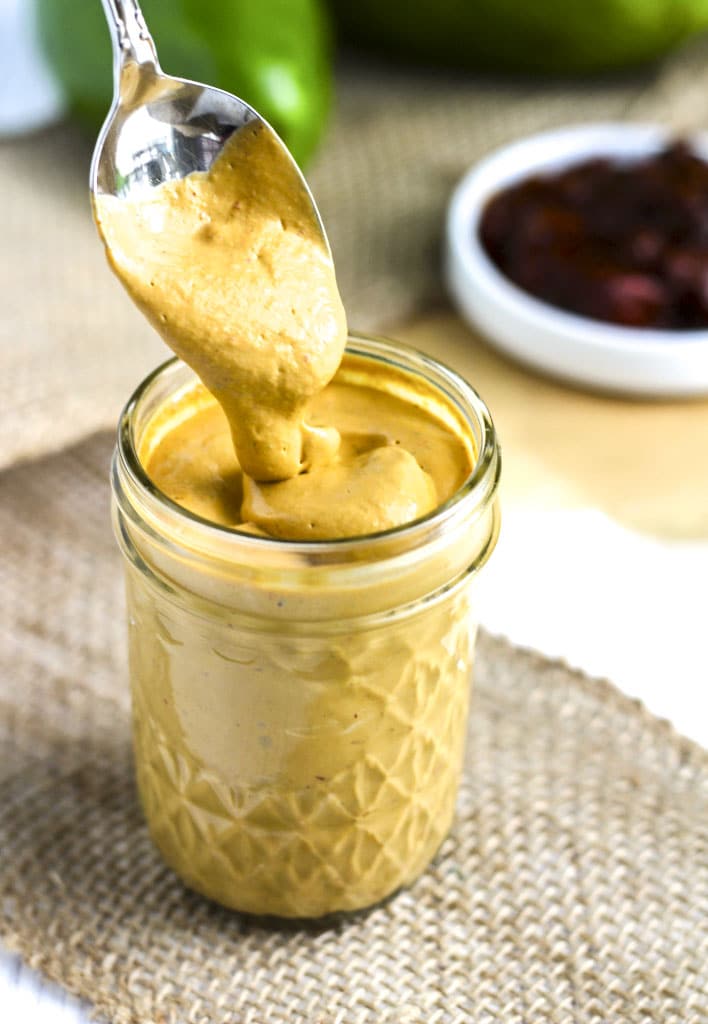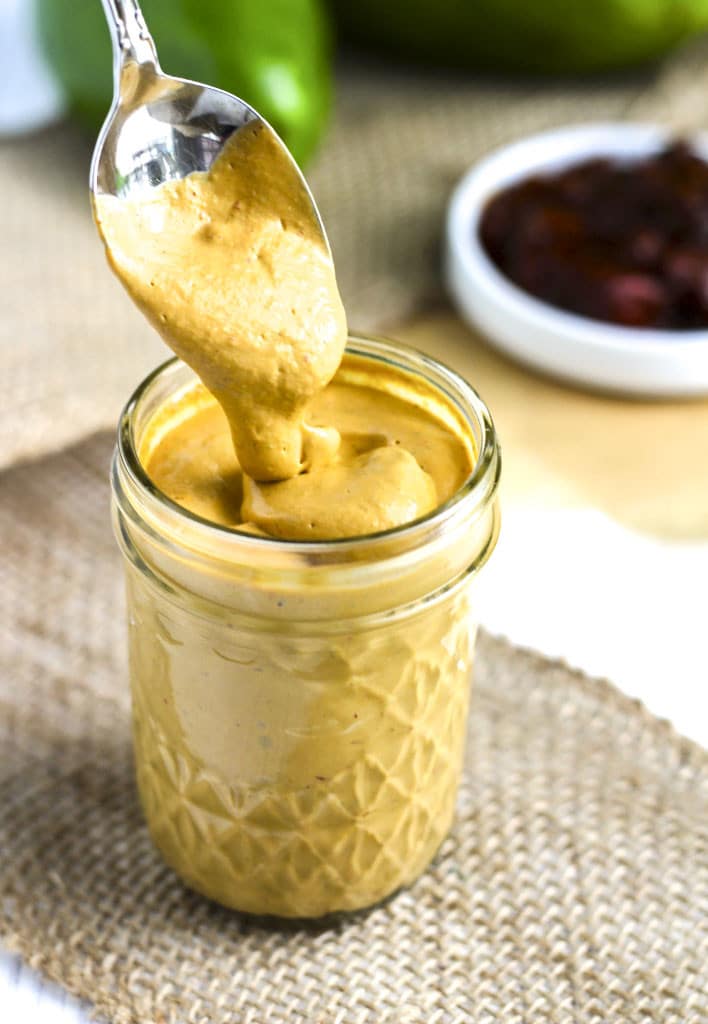 I also made the Asian coleslaw the day before so all I had to do was assemble the sliders before we left for the game. This slaw is loaded with flavor! It has a ton of fresh ginger, garlic, apple cider vinegar to give it a tang, and lots of cilantro. It's sweet and tangy, so it plays perfectly with the spicy chipotle sauce the nuggets are tossed in.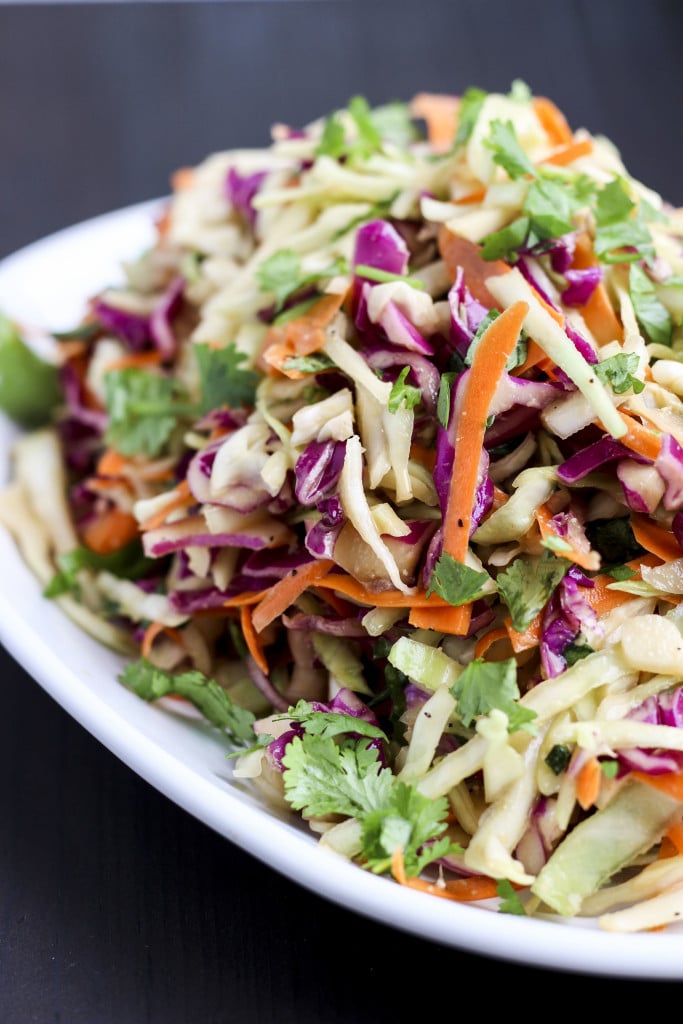 I like to make a big batch of the coleslaw, so I can put it on the sliders and have it as a side too. It always goes fast, it's definitely a crowd pleaser. It doesn't have any mayo or sour cream in the sauce, so you don't have to worry about it going bad when you lay it out with the other food. It's perfect for tailgating!
So if you prep everything the night before, all you have to do the morning of the game, is cook your chik'n nuggets. They will get all toasty browned, and crispy. Let them cool for 5 minutes, and then toss them in the chipotle sauce in a large bowl. I used 1/2 cup of sauce to toss them in, if you don't want them super saucy, only use a 1/4 cup to get a touch of the spicy flavor.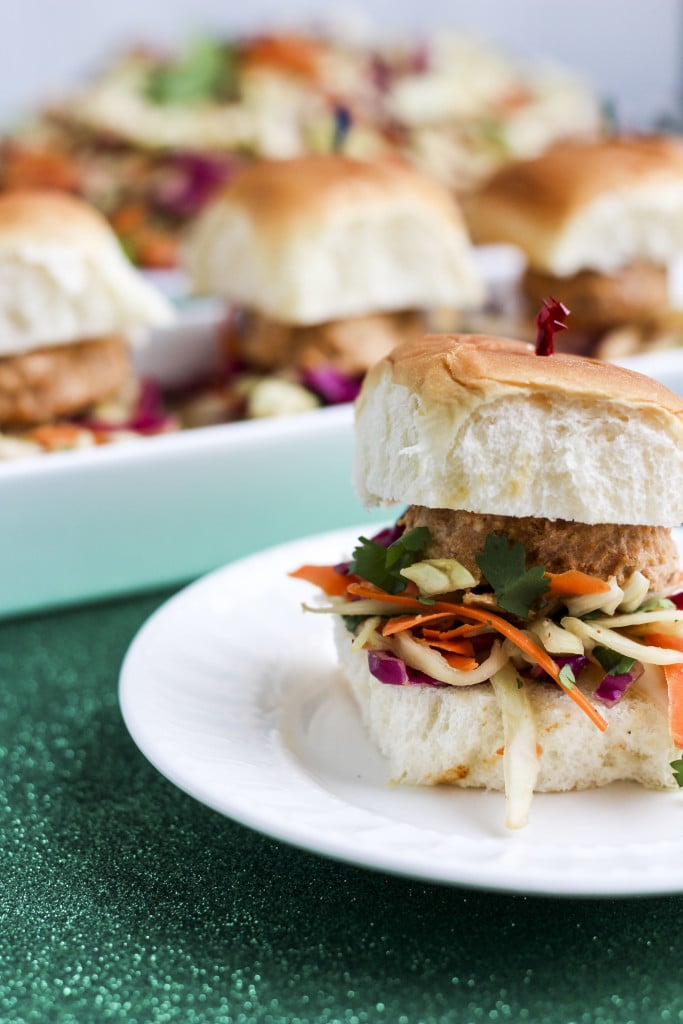 I used soft sweet rolls, but any small rolls will work. Cut them in half, and build your sliders! Usually, I top a sandwich with slaw, but for these, it was easier to put the slaw on the bottom bun and put the chipotle chicken nugget on top of it. It was much sturdier this way, and they transported very well. Just pack them side by side in a container, so they can't move much, and they will make it safely to your destination.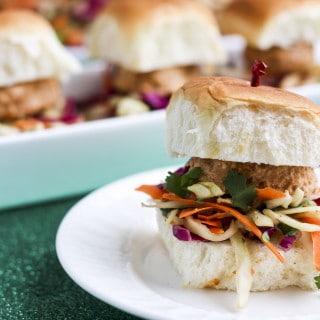 Chipotle Chik'n Sliders with Asian Slaw
Vegan sliders that will please plant-based people and meat eaters alike!
Print
Pin
Rate
Ingredients
Chick'n Nuggets

Asian Slaw

Chipotle Sauce

Small slider buns
Instructions
Toss the chick'n sliders in the chipotle sauce. Put a scoop of coleslaw on the bottom bun and top it with the slider and the top bun.
What's your favorite vegetarian tailgating snack? Let me know in the comments!
Never miss a Stacey Homemaker creation!
FACEBOOK / INSTAGRAM / PINTEREST / TWITTER