If you're thinking about making a reservation at California Grill in Disney World then you need to read this dinner review first! The review includes all the food we ate, tips for watching the fireworks from the observation deck, and answers to all of your questions!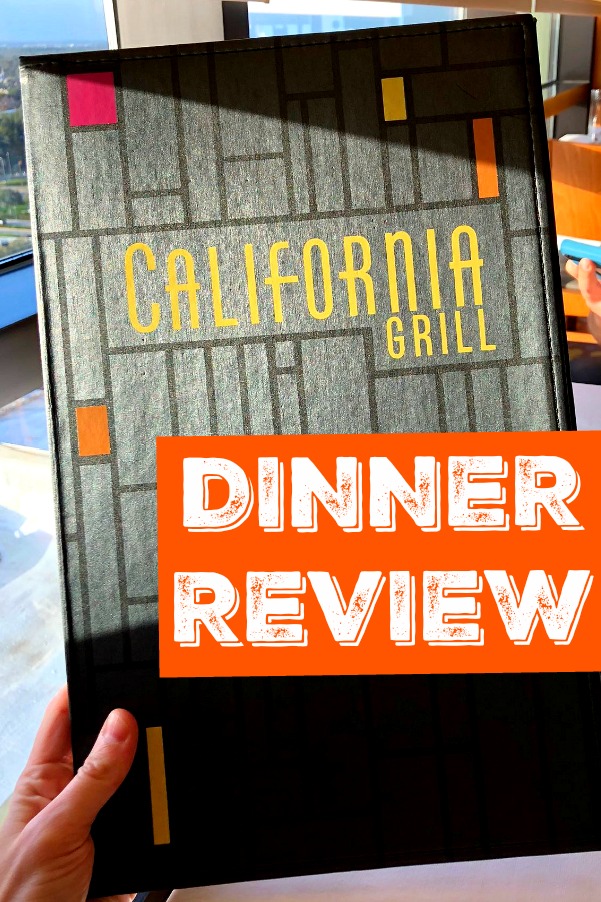 California Grill is our favorite fancy (Signature) restaurant in all of Orlando! We love the sweeping views of the Magic Kingdom, watching the sunset from our table, all the delicious food (even the bread service is fantastic!), top-notch service, and being able to watch the fireworks from the observation deck!
If you want to enjoy a truly special meal or you are celebrating a special occasion then I would highly recommend that you make a reservation at California Grill Disney World!
My husband, Travis, and I have eaten at California Grill twice, once when we weren't vegan and once as vegans. Both meals were equally delicious and we definitely plan on going back again for the next special occasion.
During our first visit to California Grill, I ordered the seared scallops with risotto (Unfortunately, I don't think this is on the menu anymore) and my husband got a filet. During our most recent visit, we both ordered from the vegan unplugged menu. You can watch our whole dining experience here or check out the pictures at the end of this post.
Our friends and family consider us to be "Disney experts" (since we've been visiting WDW for 20+ years!) so we try to answer their questions and offer restaurant suggestions. Here are some of the questions that we get asked the most about California Grill. You might be looking for these answers too!
Is California Grill on the Dining Plan?
Yes, California Grill is on the Disney Dining Plan. It is considered as a signature restaurant so it will cost you two table service credits to eat there. Your meal includes 1 entree, 1 nonalcoholic beverage, and 1 dessert.
Does California Grill Have a Dress Code?
The dress code for California Grill is resort casual. Think dresses for women and a dress shirt and slacks for men. You're not allowed to wear tank tops, T-shirts with offensive language and/or graphics, swimsuits, swimsuit cover-ups, hats, cutoffs, or torn clothing.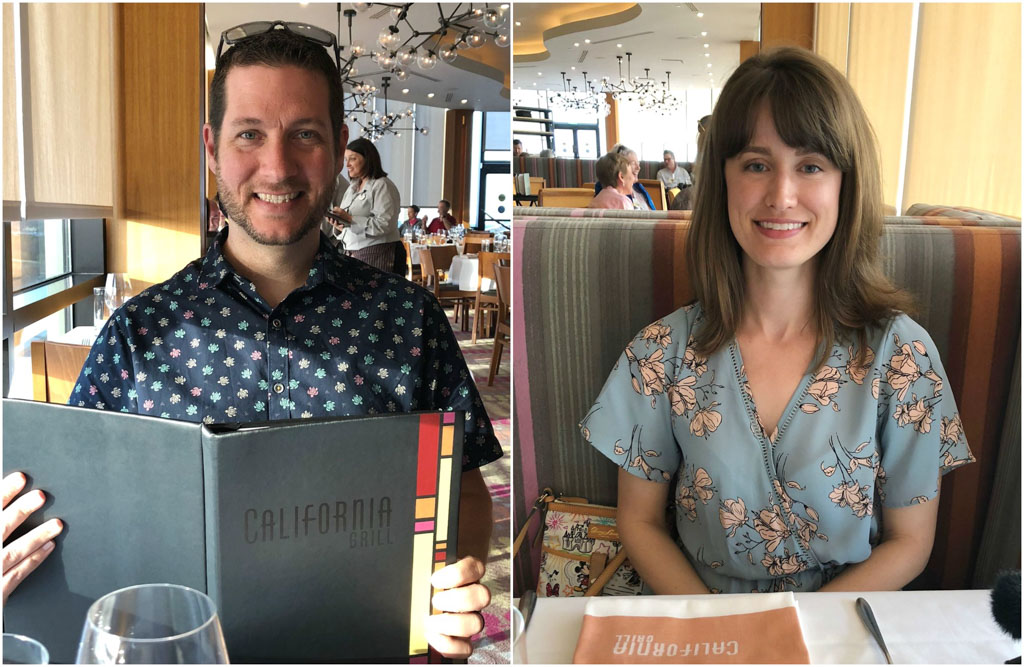 Does California Grill Have a Bar? 
Yes, the California Grill has a lounge and bar located inside the restaurant. The lounge is first come first served and it features the same menu as the restaurant.
How Much is Brunch at California Grill? 
Sunday brunch is served from 10 AM - 1 PM and it costs $80 for adults and $48 for kids (aged 3-11).
What's on the Dinner Menu? 
The dinner menu features artisanal pizzas, sushi, soup, salads, appetizers, mouth-watering entrees like Pacific Seabass and Oak-Fired Filet of Beef, desserts, kids meals, and an entire vegetarian/vegan menu. You can see the complete California Grill dinner menu, here.
What's on the Vegan Menu? 
The vegan unplugged dinner menu at CG is amazing! The separate vegetable-based menu features 6 vegetarian options and 5 vegan options that you choose 4 options from for $36. You can read our complete vegan dinner review below!
Dinner Review 
Once you arrive at the Contemporary resort, go to the 2nd floor and check in at the front desk. Then someone will bring you up to the 15th floor in a special elevator designated just for California Grill guests.
Request a Table By the Window
On our most recent trip to California Grill, we had reservations at 5 PM which worked out perfectly because the sun was setting soon and we arrived just in time for golden hour. We were the first guests in the restaurant so we easily scored a romantic table for two by the window. It's a spectacular view!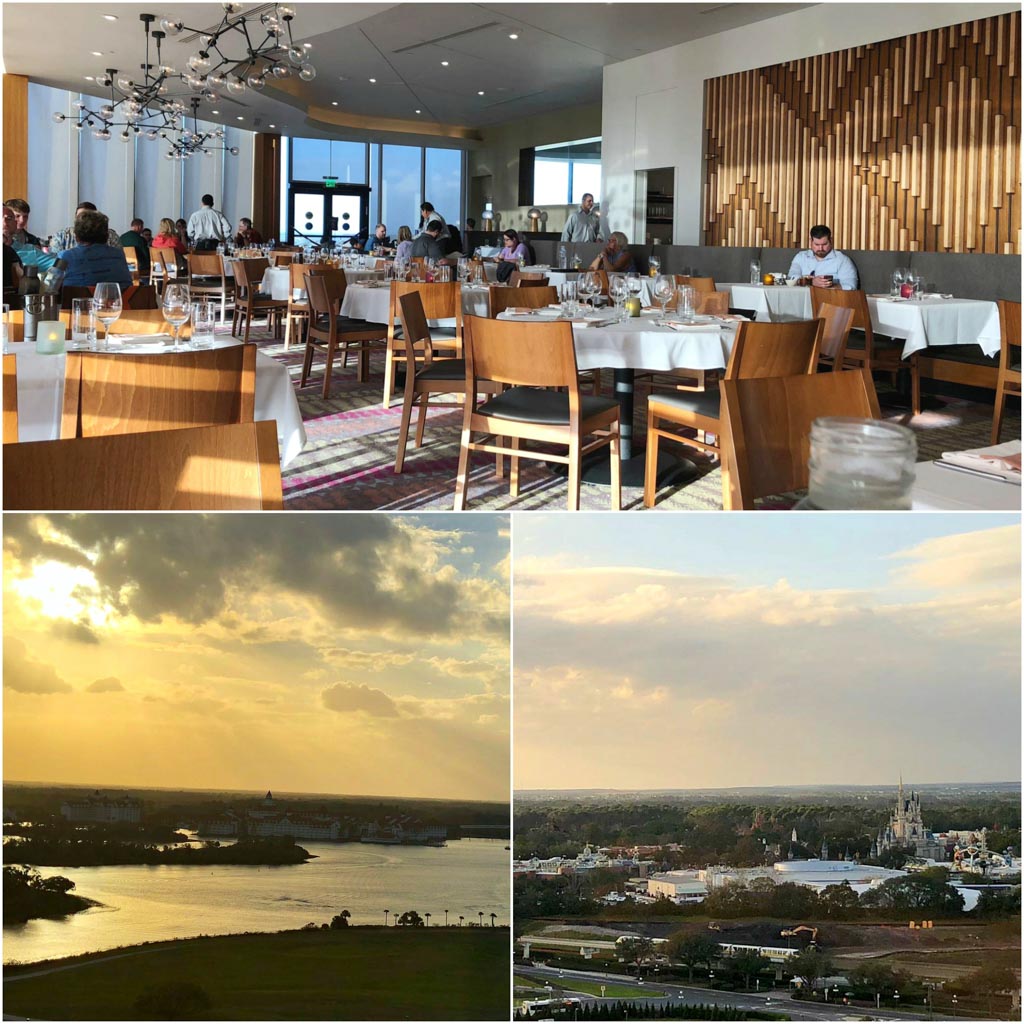 Vegan Unplugged Menu  
Our server was excellent and immediately brought out the separate vegan unplugged menus when we told her our dietary preference. Make sure you make a note on your dinner reservation so they have a heads up!
Bread Service
While we were looking over the menu, we got to munch on the most delicious hot and fresh loaf of sourdough bread that they paired with a herbed garlic tomato dipping oil.
Oh my goodness, that sure hit the spot. I could've made a meal just of the bread! However, we did restrain ourselves and only ate one loaf (even though we wanted more!) because we knew we had a lot of food coming!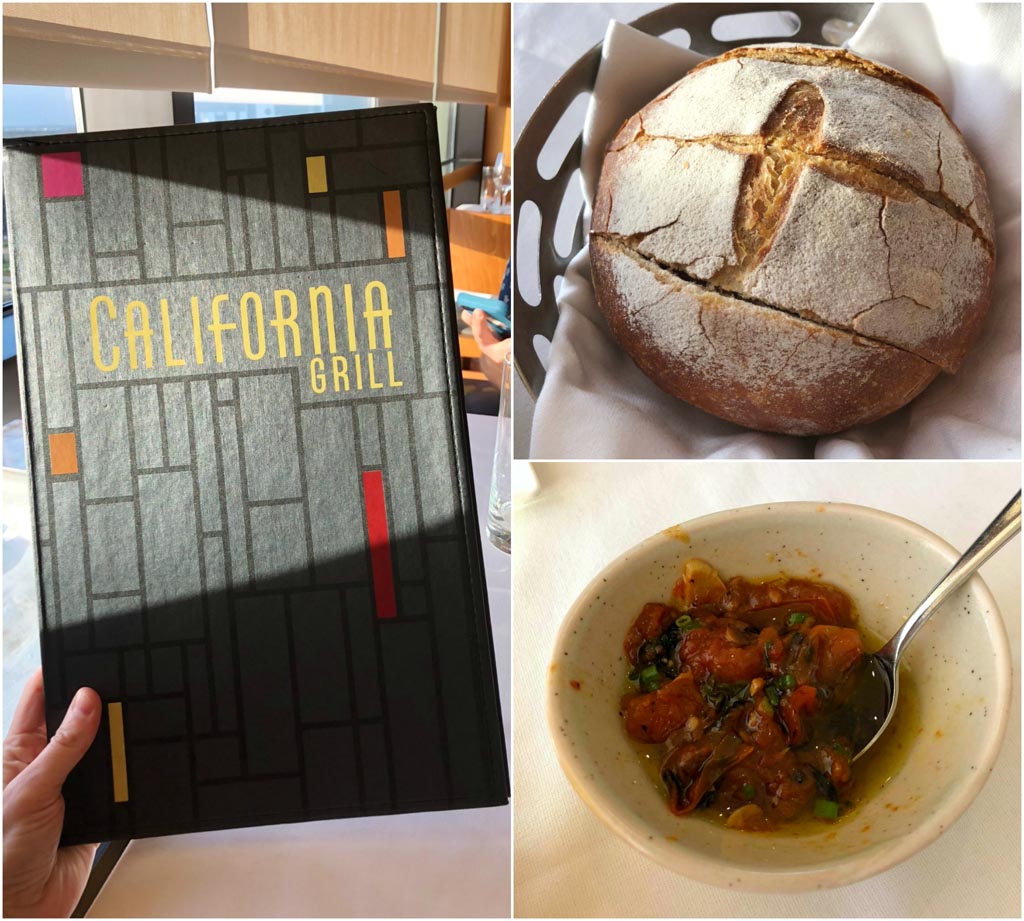 Vegan Dinner Options
My husband and I both ordered our meals from the vegan unplugged dinner menu. My husband ordered the Impossible kafta (It's labeled as vegetarian but it's actually vegan if you order it without the herbed yogurt), forbidden vegan roll, black truffle selezione pasta, and the vegan pizza. I also ordered the black truffle selezione pasta and forbidden vegan roll, as well as the vegan pho, and vegan fried rice.
We both agreed that the Impossible kafta was our favorite item on the vegan unplugged menu, closely followed by the forbidden sushi roll. I've never seen a more artfully prepared sushi roll in my life! It was so colorful and I loved the crispy fried sweet potato topping and smoked paprika aioli that was drizzled on the plate.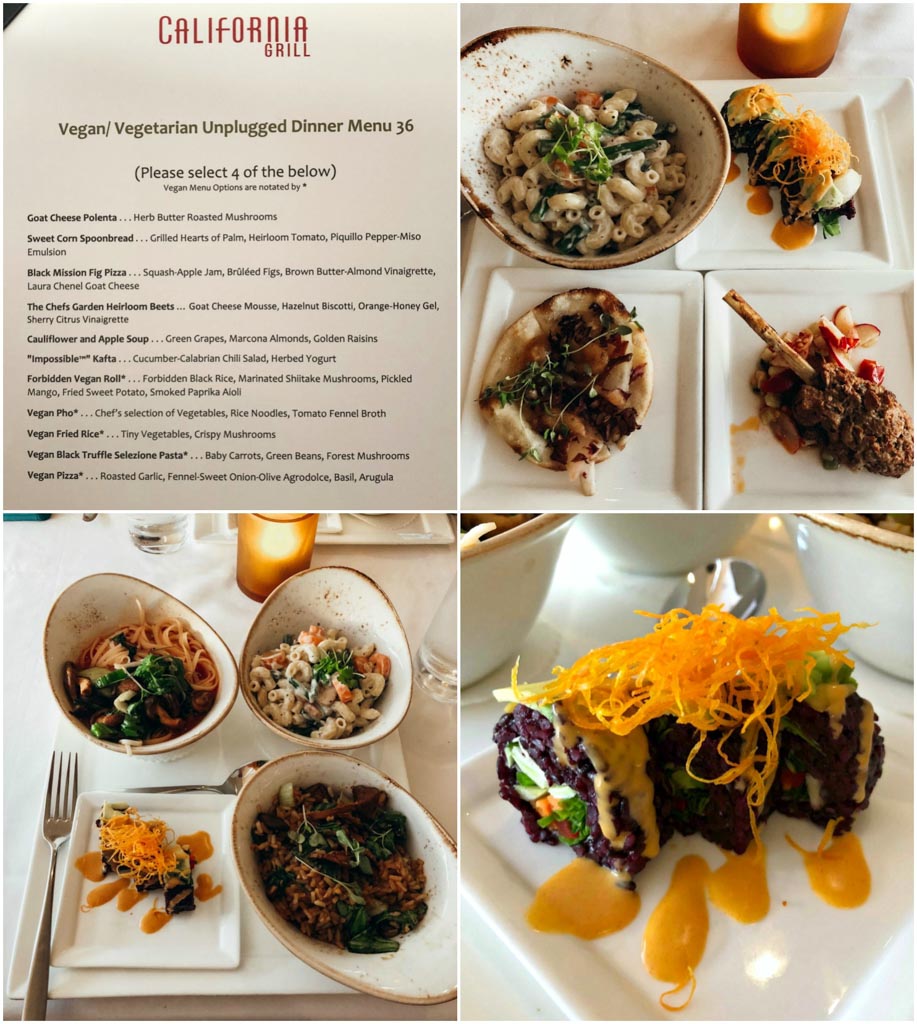 This is how we would rate the menu items that we tried:
Impossible Kafta - Super flavorful and we loved the presentation, it actually looked like a lamb chop!
Forbidden Vegan Roll - Beautiful presentation and it tasted just as good as it looked.
Vegan Fried Rice - We loved the mushrooms and bok choy in this dish, it was very flavorful without being too salty.
Black Truffle Selezione Pasta - This dish was very creamy and it had a lot of vegetables in it but it needed a little bit more flavor.
Vegan Pizza - Unique flavors but it was super tiny.
Vegan Pho - The pho was pretty much linguini noodles in a bland broth, it didn't taste like pho to me. I definitely wouldn't order this dish again.
Save Room For Dessert!
We wanted to order the lavender donuts ($14) with pistachio crumble and blueberry gin jam for dessert but we were just too stuffed. This dessert is on the regular dessert menu and you can make it vegan by ordering it without the blueberry frozen yogurt.
What Time Should You Come Back For the Fireworks? 
We finished dinner around 6:30 PM so we still had a few hours until the Magic Kingdom fireworks were going to happen at 9 PM. We decided to take the monorail over to the other resorts to hang out for a little bit and then we come back to watch the fireworks from the observation deck on the roof of the contemporary.
We cut it a little bit too close and arrived back at the front desk at 8:45 PM along with a million other people. You have to take a special elevator up to the 15th floor so we had to wait for all the other people to go first.
We made it in time for the fireworks but we didn't have a great spot. I would recommend that you come back at least 30 minutes prior to the fireworks starting to get a good spot against the railing.
Would We Go Back?
We thoroughly enjoyed our meal at CG and would highly recommend it to anyone! Even if your taste in restaurants is more along the lines of Trader Sam's Grog Grotto (we love that place too!), I think that everyone should try the California Grill Disney experience at least once!
From the beautiful table by the window, the hot fresh bread, unique vegan entrees, and being able to come back and watch the fireworks from the top deck, it was a fantastic evening!
I remember our first meal at California Grill being excellent too (when we weren't vegan). So whether you're vegan or not it doesn't matter, you really can't go wrong with any of the menu options.
Tips For Dining at California Grill Contemporary Resort 
Make a dinner reservation as soon as your window opens so you can pick the best time for you. We like to book the first reservation at 5 PM when the restaurant opens so we can have our choice of tables (without a wait) because a table because the view of the Magic Kingdom is so stunning.
If you are vegan or have any food allergies, make sure you make a note on your dinner reservation so the restaurant will be notified of your dietary preference.
When you check into the restaurant, ask for a table by the window (you might have to wait for a little longer but it's worth it!) so you can watch the sunset or the fireworks.
Don't skip the bread service! It's the most delicious bread on property!
If you want to watch the fireworks but can't get a dinner reservation at that time-- it's ok! You can come back up to the restaurant later that night to watch the fireworks.
If you do decide to come back later to watch the fireworks, make sure you arrive at least 30 minutes in advance because they have to take you back up the private elevator and there will be a line. 
More Disney World Posts to Help You Plan Your Next Trip! 
Guide to Eating Vegan on a Disney Cruise
Epcot Party for the Senses Review
5 Activities You Don't Want to Miss at MVMCP!
159 Disney Cruise Tips I Wish I Would've Known Before My First Cruise
How to Ride Avatar Without the Wait or a Fastpass!