This vegan sorbet it so flavorful and has no added sugar! It's the perfect treat on a hot summer day. Vegan.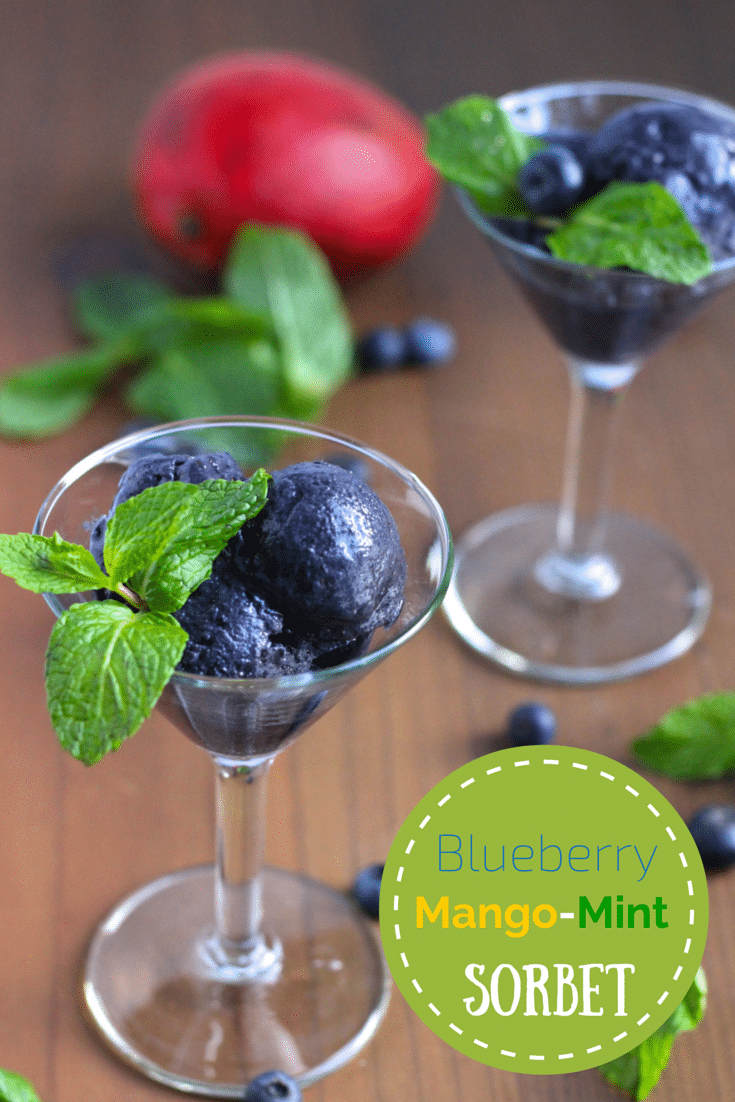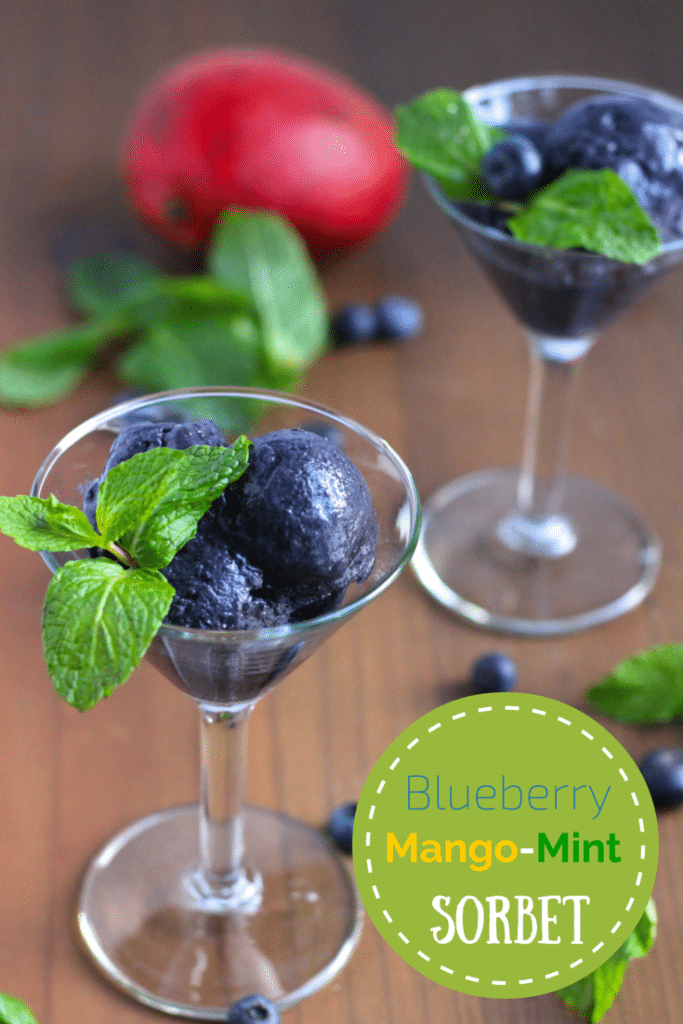 Guys.
This was seriously so easy.
It literally took me less than 5 minutes to make this blueberry mango mint sorbet in my Nutribullet. And I'm counting the time it took me to walk out to the garage to put it in the extra freezer.
YOU HAVE TO TRY IT!!! You will love it.
At the moment, I'm thinking about not writing this post and just going back to the kitchen and making a bunch of different flavors and then making one big glass with different layers of flavors. This is the best treat for a hot summer day. I know it's not summer yet, technically but it has felt like summer since March, here in Florida.
Okay, I got myself under control. I will write this post because I have to share the recipe with you all.
We all know that I love a good deal and fresh organic fruit is barely ever "a good deal." It's one of those items I splurge on if I get a really good sale price on something else or if I save a lot of money with my coupons that week. So, I have found the best price on frozen organic fruit for you. Costco! Anybody else love Costco? (I secretly love buying in bulk and pushing their giant carts around!) They have 3lb bags of organic frozen blueberries for $12, that's an amazing price! I also got my frozen organic mango chunks there too, $10 for 3lb.
Blueberry Mango Mint Sorbet
The prep work is very minimal for this recipe. You put the frozen blueberries, frozen mango, coconut milk and mint leaves into a Nutri bullet o high powered blender and turn it on for about a minute. Pour the purple, frozen, slushy, deliciousness into a dish and that's it!
Of course, I tasted a few spoonfuls. Obviously. Don't worry about the mint being a strong flavor either. I wouldn't describe this sorbet as minty at all. The mint gives it a bright, extra touch of flavor that I don't know how to describe it as other than ah-may-zing!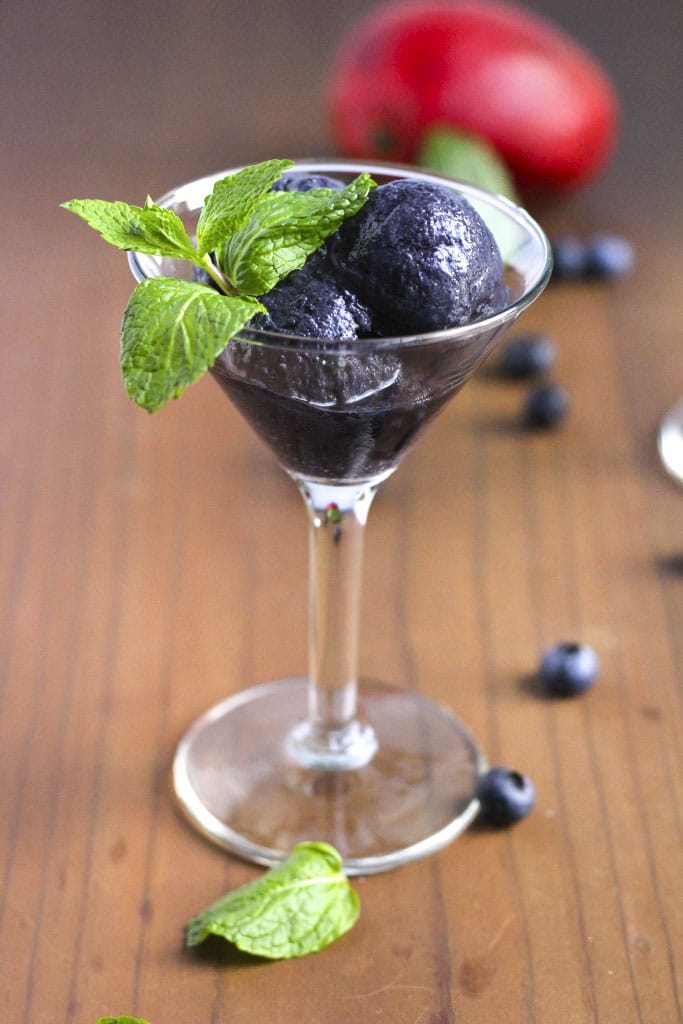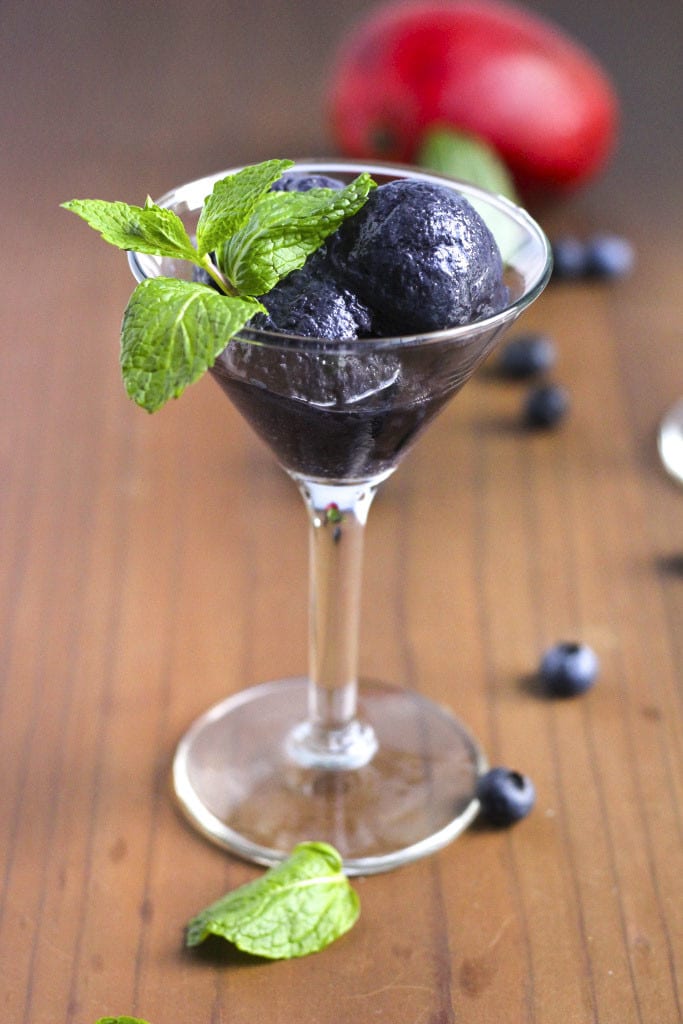 The best part about this sorbet, is that it has NO added sugar or syrup to flavor it. The awesome flavor and sweetness come from the fruit alone. You know what that means, right? Eat as much as you want!!!
Next was the hard part, putting it in the freezer. It has to freeze for 3-4 (Mine took 4 hours to get the consistency I wanted. Don't let it go too long or it will completely freeze but all freezers are different, so check at 3 hours.) hours to set up. I currently have 2 hours and 23 minutes left, not that I'm counting down or anything. I definitely don't have the timer set on my phone to alert me at the exact moment it should be ready at.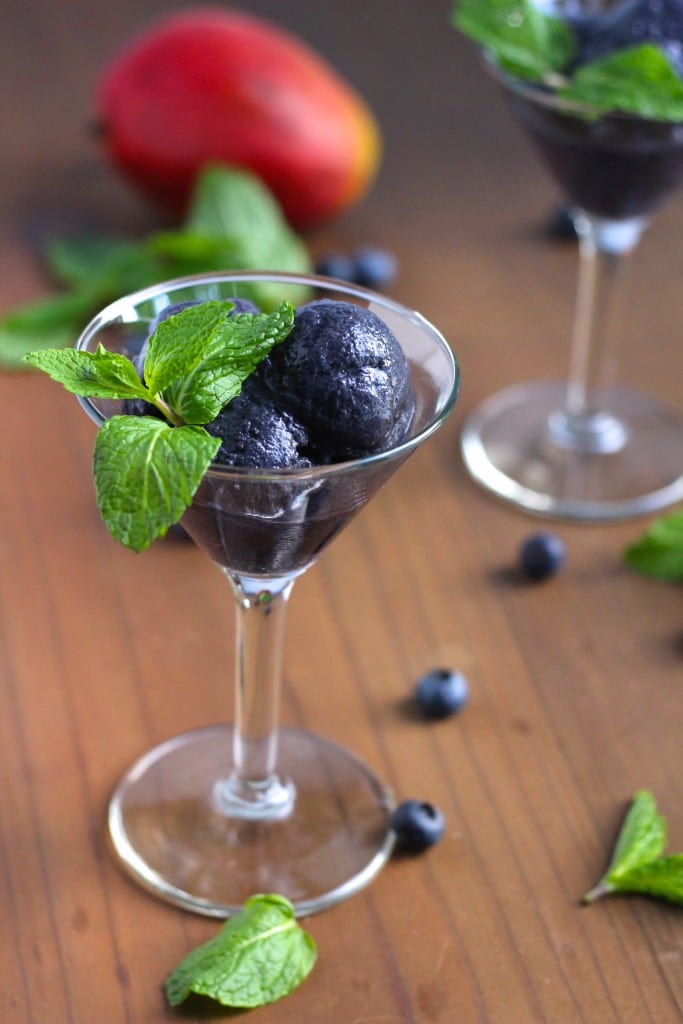 Side note, if you don't have mango or blueberries try subbing in different fruits like strawberry & mango or raspberry & peach.
Strawberry watermelon or blueberry cherry would be great too. Get creative! Just don't leave out the mint! You don't know what you're missing! Let me know if you come up with some awesome new flavor combos, I'll try anything!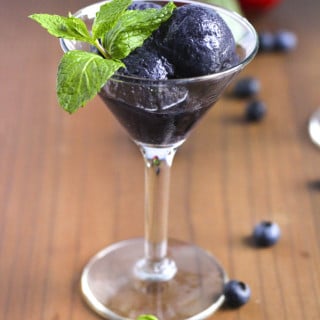 Blueberry Mango Mint Sorbet
Easy blueberry mango mint sorbet. Vegan.
Print
Pin
Rate
Total Time:
4
hours
5
minutes
Instructions
Add all ingredients to a blender and blend until smooth. Pour the filling into a freezer safe dish and freeze for 3-4 hours.