This list of the best Black Friday deals for vegans will make your holiday shopping so much quicker and easier! I also included a list of Christmas gifts for vegans + inexpensive stocking stuffers to fill your vegan stocking with!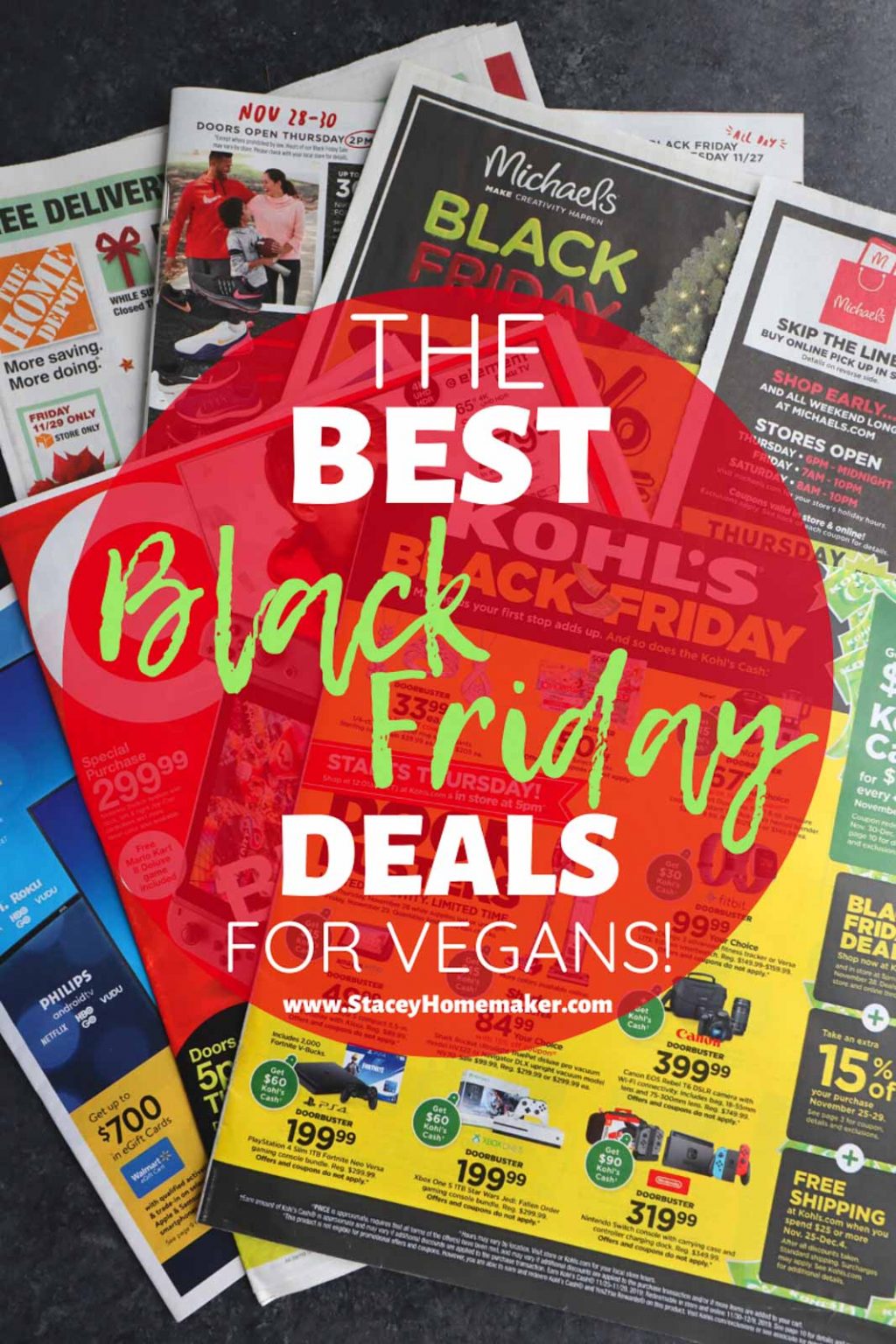 Hi, Friends! Happy Thanksgiving!
I hope that you're spending the day watching the parade, cooking and eating lots of delicious food, and spending quality time with your friends and family!
Just in case you're still cooking and you need one more side dish or easy appetizer to make for your family, here's my complete Vegan Thanksgiving Menu.
My Thanksgiving day tradition is to get up early and watch the turkey trotters, then we go get a newspaper to look at the ads, I always make cinnamon rolls with fruit for breakfast, and we watch the Macy's Thanksgiving Day Parade! What are your Thanksgiving day traditions?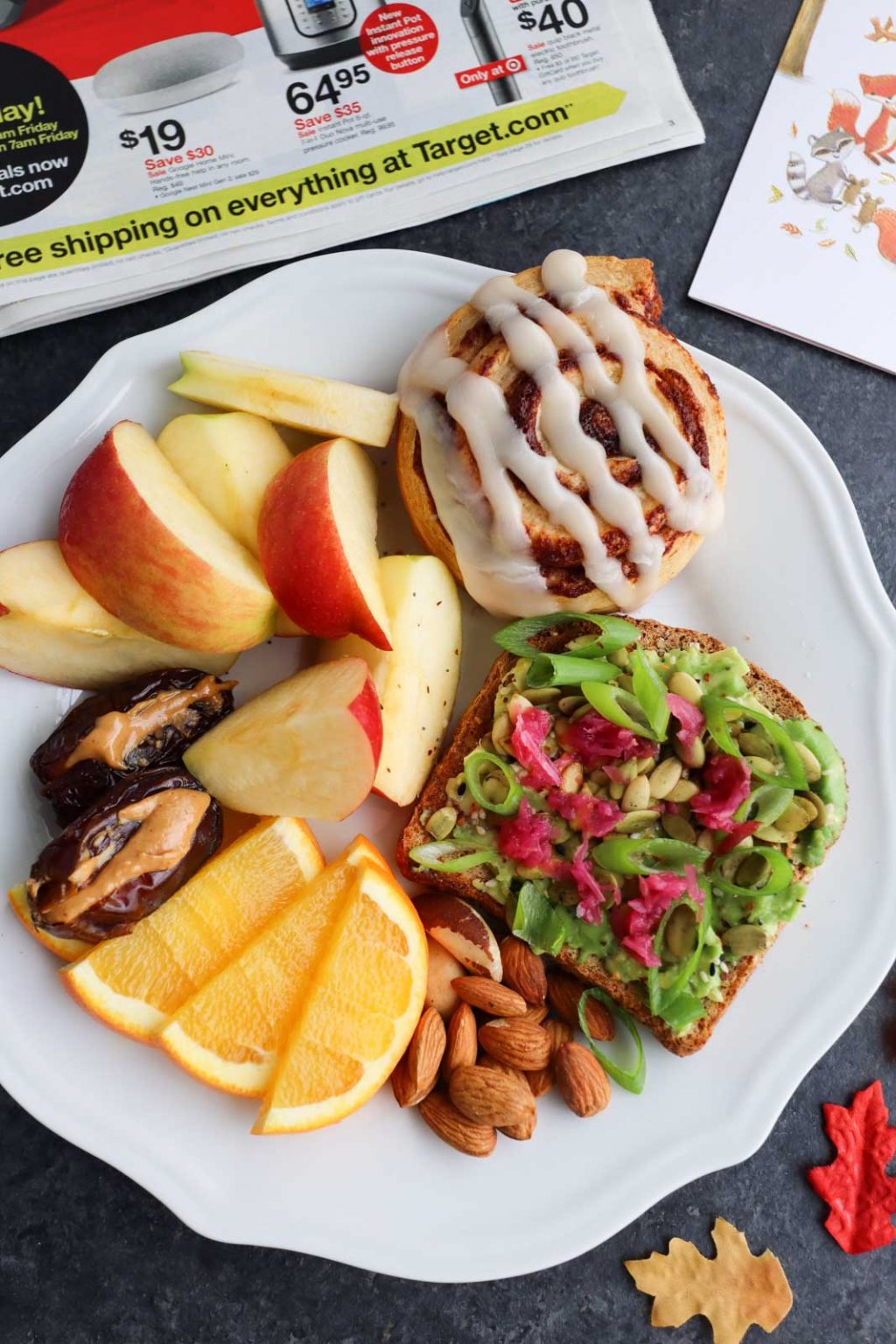 After dinner and dessert with our family (and a nap), my mom and I like to go to the mall or Kohls and do a little bit of Black Friday shopping. We don't go for any big-ticket items, it's mostly just to be together and do something fun that's out of our normal routine.
Like, shopping for earrings at 12 AM at Macy's or chatting and sipping Starbuck's coffee while standing next to the ice skating rink at the mall at 2 AM, because we're trying to force ourselves to stay awake for a few more hours of shopping. It's really fun!
Are you planning on doing any holiday shopping tonight or tomorrow?
I thought it would be helpful to make a master list of all the best deals that I could find at each store (based on the ads) and online.
I went through the Black Friday ads for my favorite stores to shop at and I browsed Amazon for you and picked out all of the best deals that a vegan might be interested in. That means any products that might be helpful to a vegan, like cooking utensils, kitchen appliances, or specific vegan products.
This list is also great if you are shopping for a vegan and are looking for gifts to give them for Christmas. I also included a bunch of my favorite vegan products on the Amazon list, so I personally guarantee that the products that I linked to are the best!
In addition to the list of best vegan Black Friday deals at each store, I also included a list of gifts that any vegan would love to receive for Christmas + a list of inexpensive vegan stocking stuffers.
Best Vegan Black Friday Deals!
I went through all of the Black Friday sales flyers and picked out the best deals for you! All of the following deals would make great gifts for yourself or the vegan in your life.
Kohls Black Friday Deals
You can view the full Kohl's Black Friday ad, here.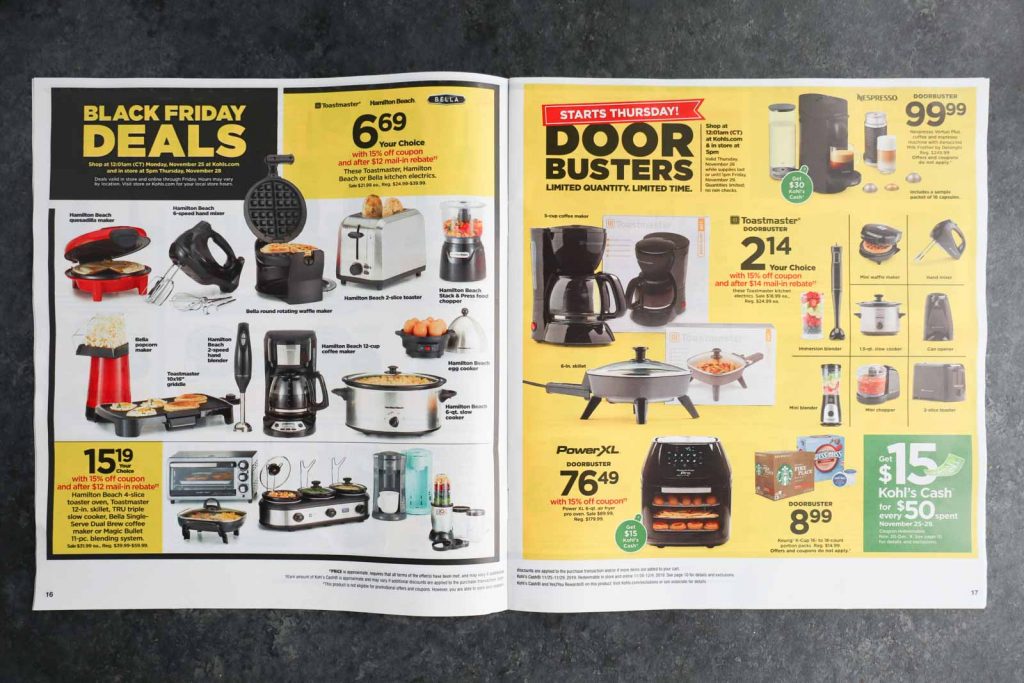 Doorbuster Deals!
7-in-1 6-Quart Dutch Oven – $67.99
Great Deals After 15% Coupon and $12 Mail-in Rebate
Hamilton Beach 6-Quart Slow Cooker – $6.69
Toastmaster 10×16″ Griddle – $6.69
Hamilton Beach 2-Speed Hand Blender – $6.69
Hamilton Beach 4-Slice Toaster Oven – $15.19
Great Deals With 15% Coupon
Instant Pot Duo Nova 7-1 8-Quart Pressure Cooker – $76.49
Ninja Kitchen System (Blender & Food Processor) – $101.99
Food Network Enameled Cast Iron 5-Quart Dutch Oven – $33.99
More Great Deals!
Best Target Black Friday Deals
You can view the full Target Black Friday ad, here.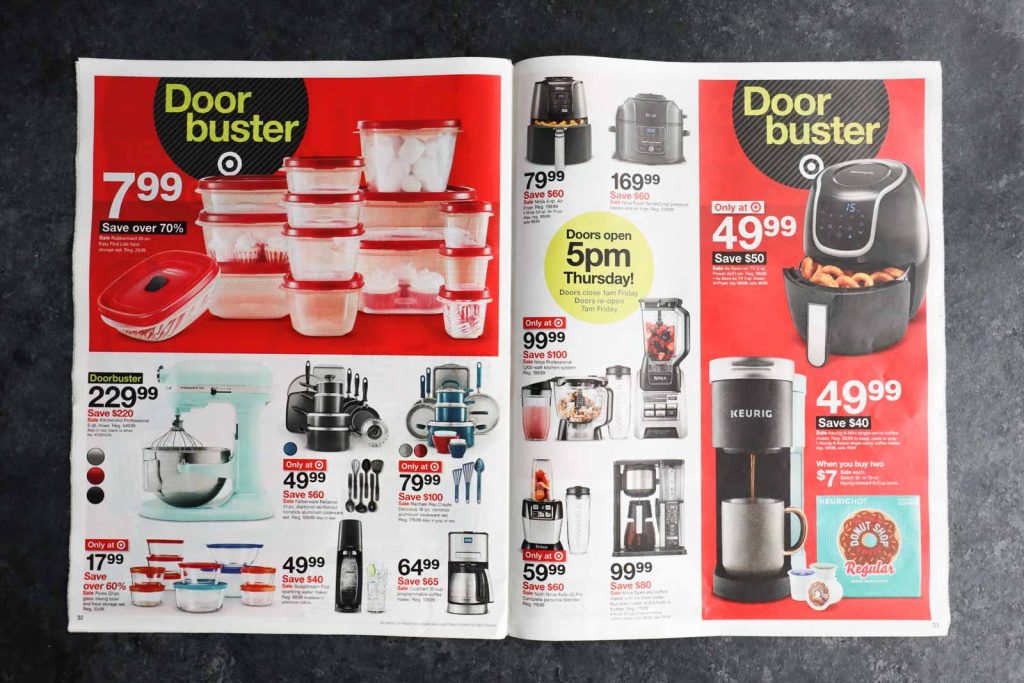 Best Costco Black Friday Deals
Cuisinart 13-Cup Food Processor – $99.99
Pyrex 4-Piece Glass Mixing Bowls – $11.99
Silicone Baking Mats – $9.99
T3 SinglePass 1 Hair Straightening Iron – $44.99 (Not exactly vegan-specific but I have this straightener and I love it!)
Gourmia Digital 6-Quart Air Fryer – $59.99
Cuisinart Immersion Blender – $19.99
Best Walmart Black Friday Deals
You can view the full Walmart Black Friday ad, here.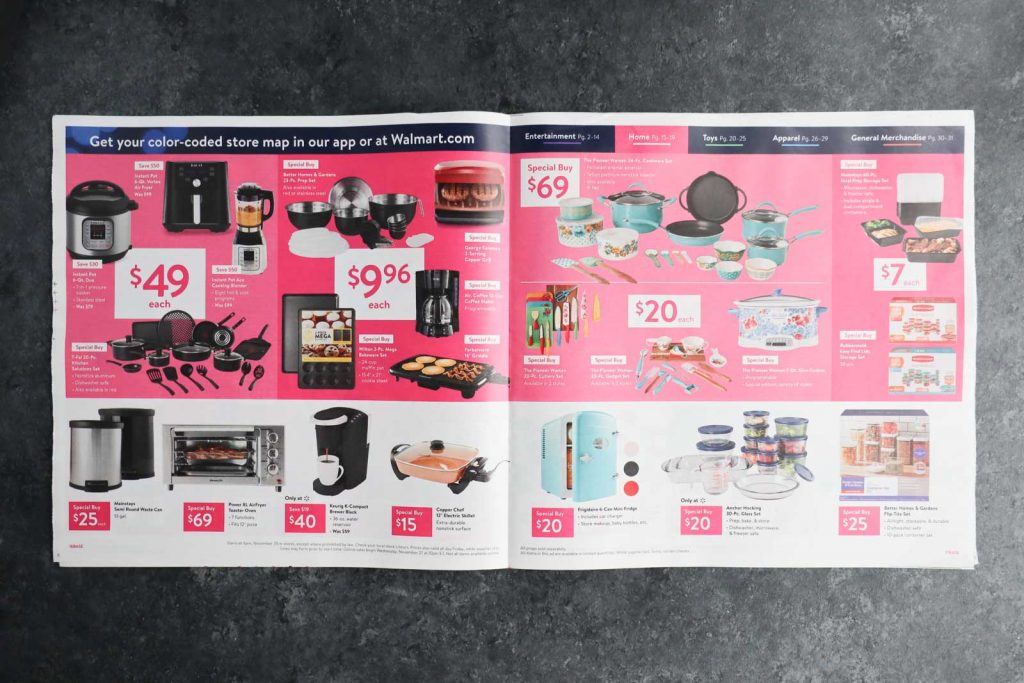 Better Homes and Garden 23-Piece Prep Set – $9.96
8-Quart Instant Pot – $59
Pyrex 28 Piece Glass Storage Set – $19.92
Pioneer Women Crockpot – $15
Pioneer Women 17-Piece Cookware Set – $59
Avocado Green Mattress Black Friday Sales
After extensive research, this is the vegan mattress that I finally decided on and recently ordered! It's on its way to my house as we speak! The Avocado green vegan mattress is made with organic cotton and organic latex, and it contains no polyurethane foams, polyester, wool, or toxic fire retardants.
If you're like me, then you probably put a lot of effort into living a clean and healthy lifestyle. Shouldn't that concept also apply to the mattress that you sleep on? I think so. Think about how many hours you spend in your bed! Sleeping on an eco-friendly mattress that is super comfortable, chemical-free, and cruelty-free is finally possible!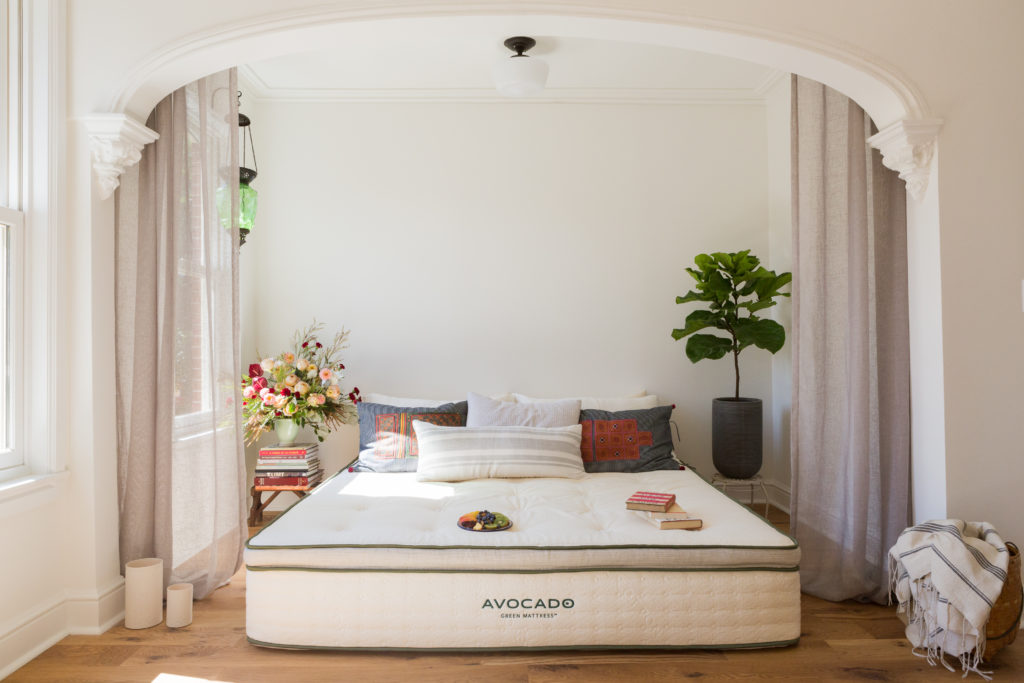 Avocado Green Mattress is running its biggest Black Friday sales ever today through December 9, 2019!
Use code: MERRY200 to save $200 on your purchase of a mattress! Military, teachers, firefighters, and law enforcement (with verification) will save an additional $50 off of the price of a mattress!
Use code: BED150 to save $150 off your purchase of a mattress and natural wood or eco wood bed frame.
Use code: PILLOWS20 to save 20% on your purchase of a green pillow, yoga meditation pillow, or molded latex pillow.
Use code: TOP50 to save $50 on your purchase of a vegan mattress topper!
Use code: PROTECT50 to save $50 on your purchase of an organic cotton mattress pad protector or waterproof mattress protector
Amazon Vegan Christmas Gift Ideas
The following items are all products that I own and love! Any of these items would make a great gift for yourself or a Christmas gift to give to a fellow vegan!
You can find all of the latest Amazon Black Friday kitchen-related deals, here.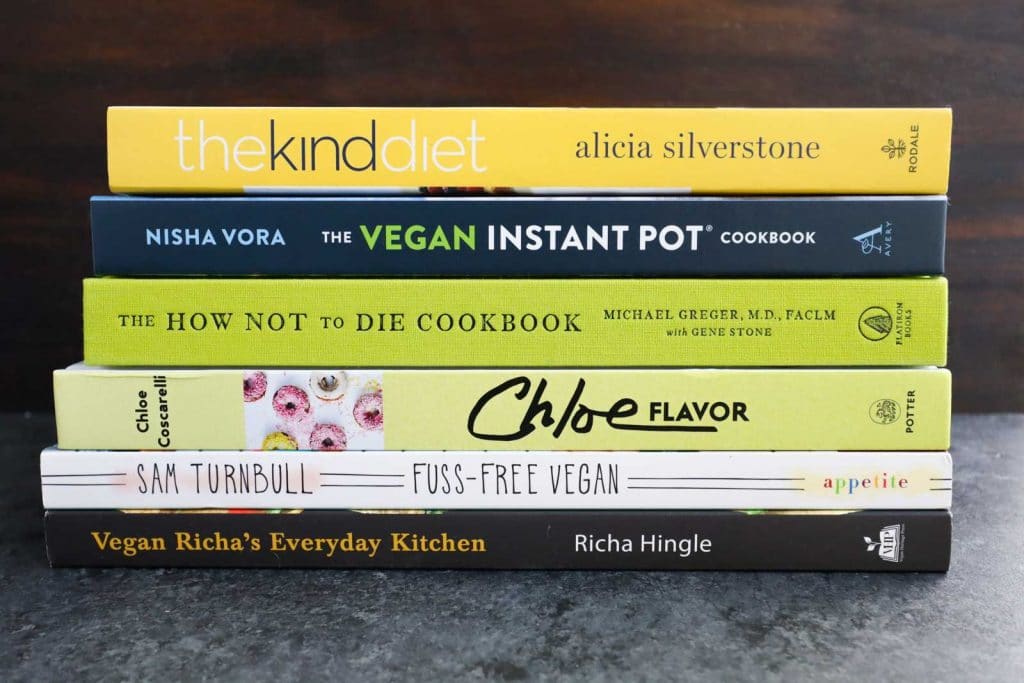 Vitamix 7500 Blender – This is the blender that I have and I love it! I use it almost every day. I use it to make vegan alfredo sauce, vegan broccoli cheese soup, and scalloped potatoes florentine.
Glass Snapware Containers

– I've been using these glass storage containers for 5+ years and I'll never go back to plastic! If you have a Costco close to you, they have a great deal on a 20+ piece set!



Reusable Ziploc Bags

– These bags are 15% off right now!

Tofu Press

– A tofu press makes it so much easier to make the best crispy baked tofu and almond butter ginger tofu!

Spiralizer

– I love this spiralizer because it has a huge suction cup that secures it to the counter + multiple sharp blades that make different shaped noodles.
Dutch Oven – This is my favorite

dutch oven

but if that's a little out of your budget, this

dutch oven

is on sale right now (22% off!) and it's very good quality too.
13-Cup Food Processor

– This processor is 6% off right now but the best deal is at Costco for $99!

Braiser Pan – This is my favorite

braiser pan

, but I also have this

braiser pan

, it's a little more affordable (it's 15% off right now!) and it's good quality too.

Coconut Bowls

– These bowls are great for any vegans that are eco-friendly and love a rustic looking bowl. These bowls are especially great for smoothie-bowl fanatics!
Reusable Mesh Produce Bags

– These are the produce bags that I have and use every time I go shopping! I've had my set for 2 years and they're still in great condition. The bags are super strong and extremely durable + they're 5% off right now!
Vegan Stocking Stuffer Ideas
Any of the following items would make great stocking stuffers! These items are inexpensive, small enough to fit in a stocking, and any vegan would be happy to receive these goodies on Christmas morning.
Personal Care Items (I listed all of my favorite vegan and cruelty-free personal items on this list.)
Mushroom Brush – I love using this brush to clean my mushrooms! It makes it so easy to get the dirt off without damaging the delicate mushroom and you don't waste any paper towels.

Vegan Candy

– I like to fill stockings with candy and small treats that I normally don't buy on a regular basis. You can find all of my favorite vegan candy and treats on

this list

.

Vegan Jerky

– My husband loves this

vegan jerky!

He doesn't know it yet but he'll be getting this jerky multi-pack in his stocking this year!

Medjool Dates

– Medjool dates are my all-time favorite treat, these dates taste like pure caramel! Any vegan would be love to receive these dates in their stocking, I know I would!

Dried Mango

– If you haven't tried dried mango yet, what are you waiting for? I'm obsessed! Dried mango is soft, sweet, and chewy, and it has no added sugar! It's the perfect healthy sweet snack and it makes a great stocking stuffer!

Resuable Portable Straws

– These straws are great for reducing your plastic consumption while you're out and about! The straw folds up perfectly in its little travel container and it's easy to clean.

Bamboo Travel Utensils

– This portable set of bamboo utensils is great to keep at your desk at work or to throw in your backpack before you head to Disney World. I always keep a set in my bag and it has saved me from using plastic utensils so many times!

B12 Spray

– My mom always used to put something practical in my stocking when I was a kid and that has stuck with me to this day. This is the B12 spray that I use every day and it would make a great stocking stuffer since it's small and all vegans need to take it.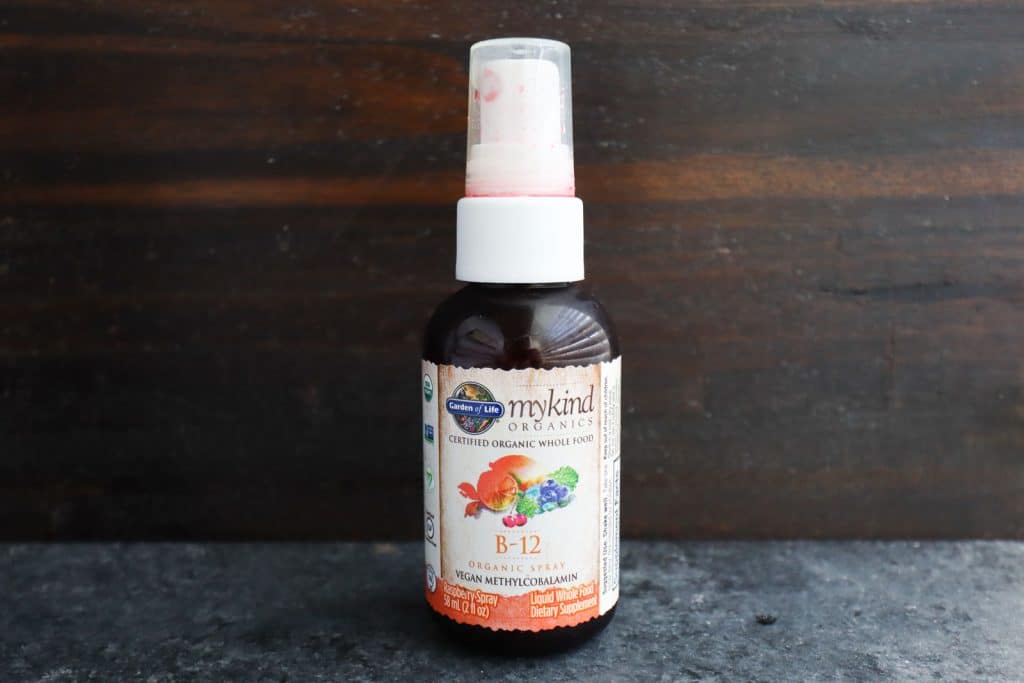 I hope this list of the best Black Friday deals for vegans helps to make your holiday shopping easier! Did I miss any screamin' deals? If so, please leave me a comment below, tell me about the item, and I'll add it to the list!
Also, if I see any great Cyber Monday Deals, I'll post them in my Instagram stories. Make sure that you're following me on Instagram (@Stacey_Homemaker) so you don't miss anything!
Happy Holidays, friends!