We tried alcoholic drinks from many of the booths to find the best drinks at the Epcot Flower and Garden Festival for you! Check this list before you go, so you know what the best drinks are!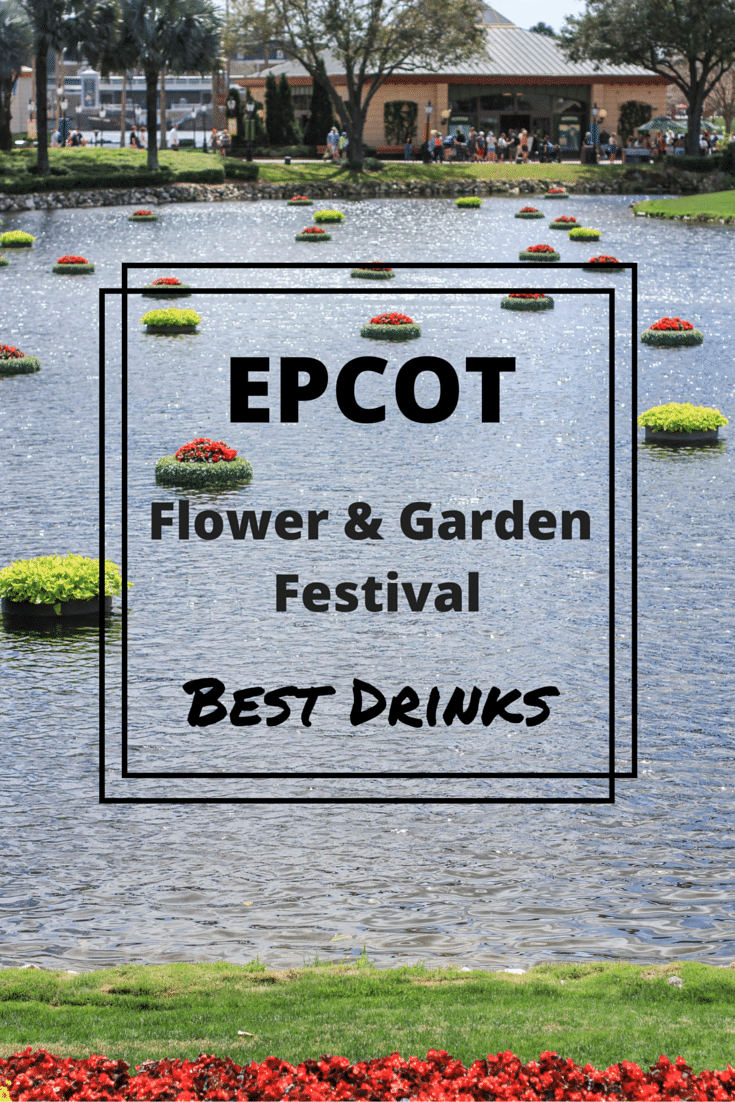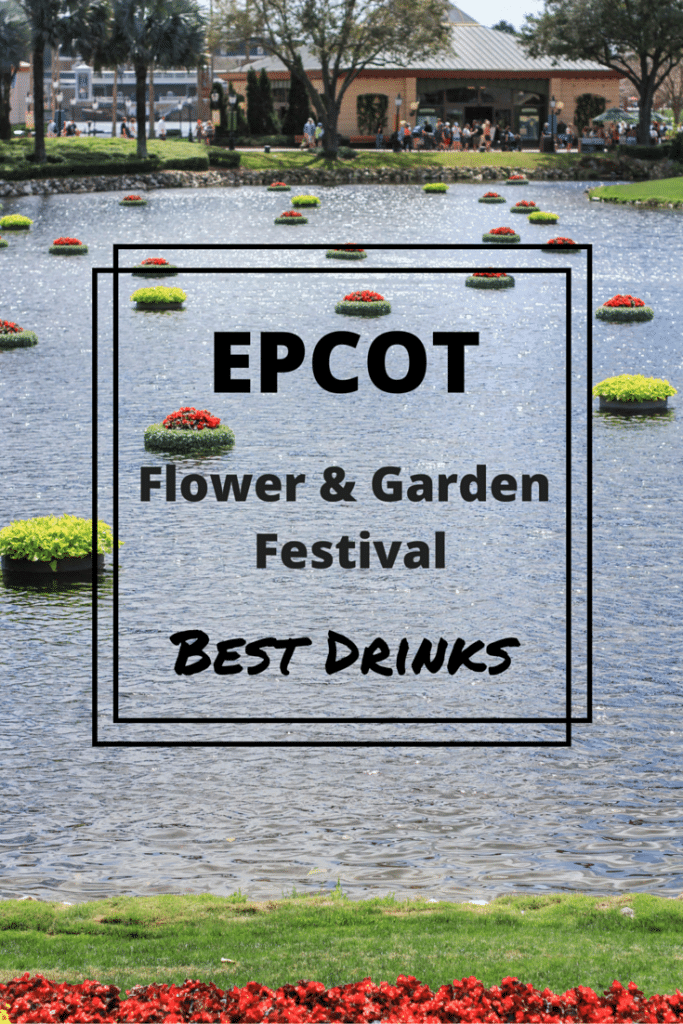 We love going to the Epcot Flower and Garden festival every year, especially since they started having food and drink booths like they do for the Food & Wine festival that runs September-Novemeber.
We try food from each of the booths, you can see the food review and pictures here.
We love trying the food samples at each booth, but we also enjoy trying new drinks from each countries booth too! We try to find the best deals on the drinks because it can get pretty expensive, so we always find out the ounces before we buy it. If you go to the window where they pas out the food, you can ask the person pouring the drinks, unless you absolutely have to try it and don't care how small and expensive it is.
I usually try a wine at each booth, but there weren't too many new options this year for wine, so I tried a few new mixed drinks instead.
Best Drinks at the Epcot Flower and Garden Festival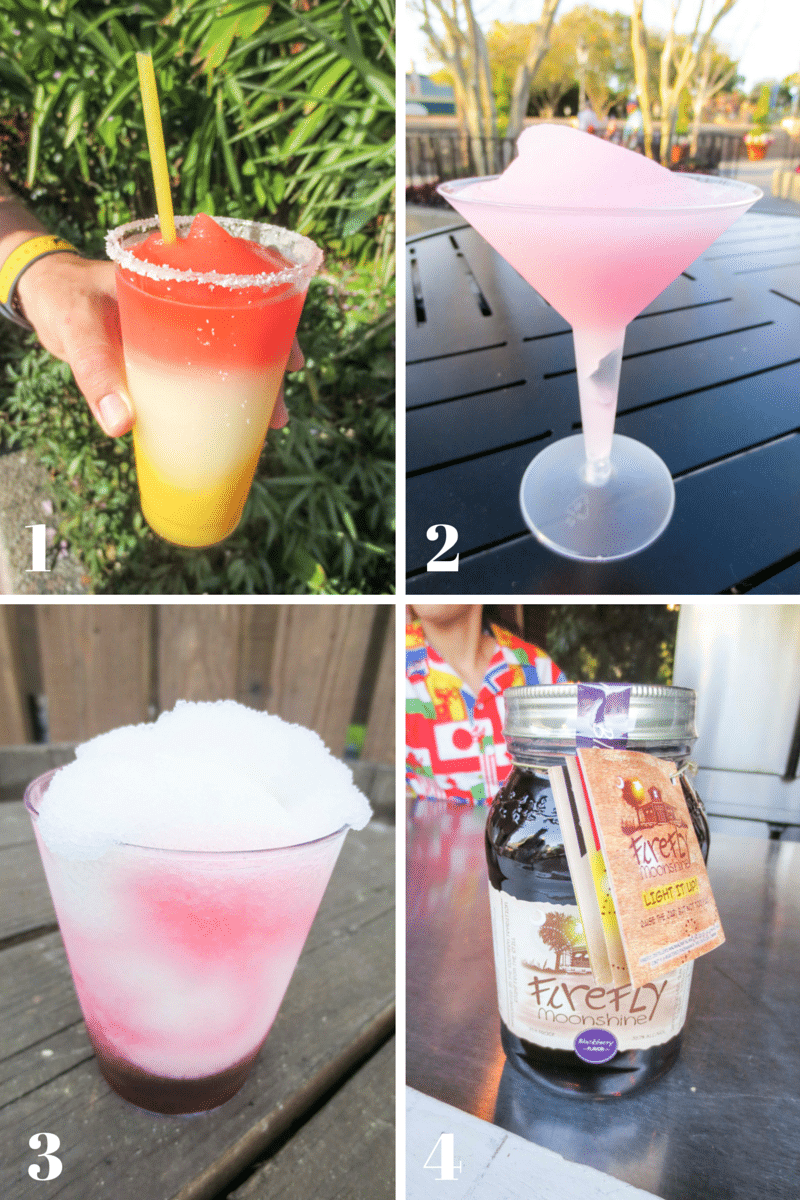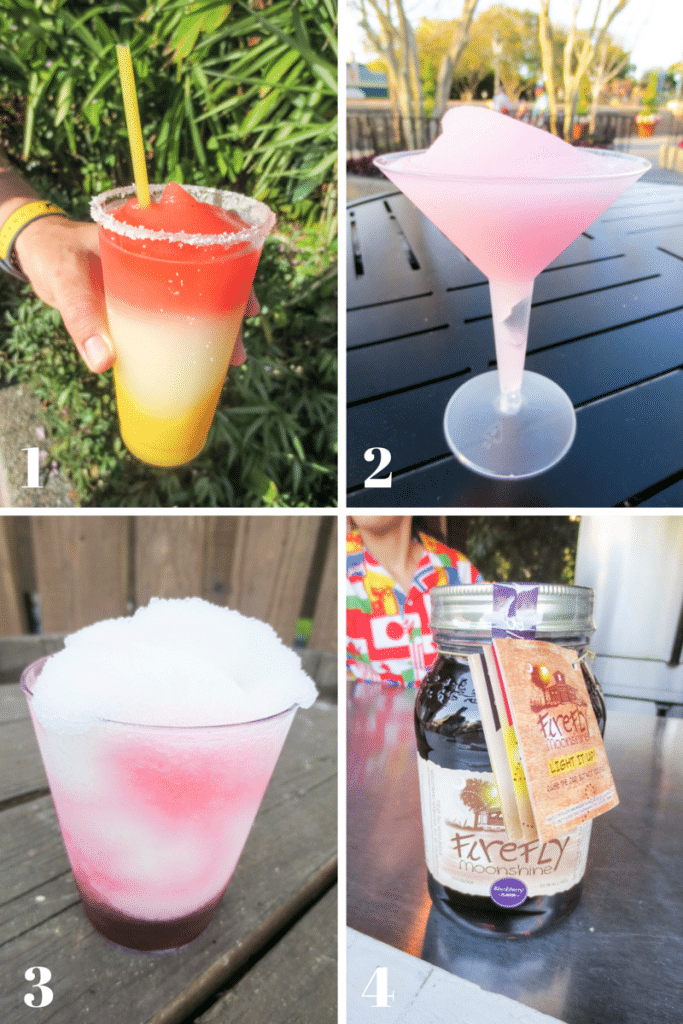 1.Frozen Fiesta Margarita – $9.75
Our favorite way to start a festival day is to stop by the (year round) drink stand that's just outside of the Mexican pavilion, and grab a frozen fiesta margarita.
It's a full size drink for around $10, and it has a good amount of alcohol in it. It's a much better value and pour, compared to most of the drinks you get from the festival booths. Plus, it's delicious! Especially on a hot day, which is basically every day in Florida.
[tweetthis]Start you #Disney vacation off right with a frozen fiesta #margarita at #Epcot! #WDW [/tweetthis]
Tip – Skip the margaritas at La Cantina de San Angel (the quick service counter in Mexico), they are watered down, and mostly sour mix. It's not worth the money!
2. La Vie en Rose Frozen Slush Grey Goose Vodka Orange, St. Germain Liquor, White and Red Cranberry Juice – $9.95 – (Fleur de lys booth in France)
This was my second favorite drink we tried at the flower and garden festival this year. It was just lightly sweetened from a splash of cranberry juice, which also gave it the lovely rose color.
It was close to overflowing when they handed me the plastic martini glass, so I felt it was definitely worth the price. I could just barely taste the alcohol in it, but it wasn't overpowering at all. I really enjoyed it and would get it again!
3 & 4. Frozen Lemonade with Firefly Blackberry Moonshine – $11.50 – (The Smokehouse booth in America)
This frozen lemonade with firefly blackberry moonshine was our #1 favorite drink at the festival. It was so delicious, and I loved the blackberry moonshine. Isn't the presentation so pretty? They poured the blackberry moonshine in first, and topped it with a swirl of frozen lemonade.
The only negative was that it was a little bit on the small side, but I overlooked that because I really enjoyed the sweet blackberry flavor and tangy lemonade. The perfect combo! Just don't put your straw at the bottom of the cup, and take a big sip because you're going to suck up all the moonshine at once!
[tweetthis]The frozen blackberry lemonade w/moonshine is my #1 drink from #Epcot Flower & Garden Festival! [/tweetthis]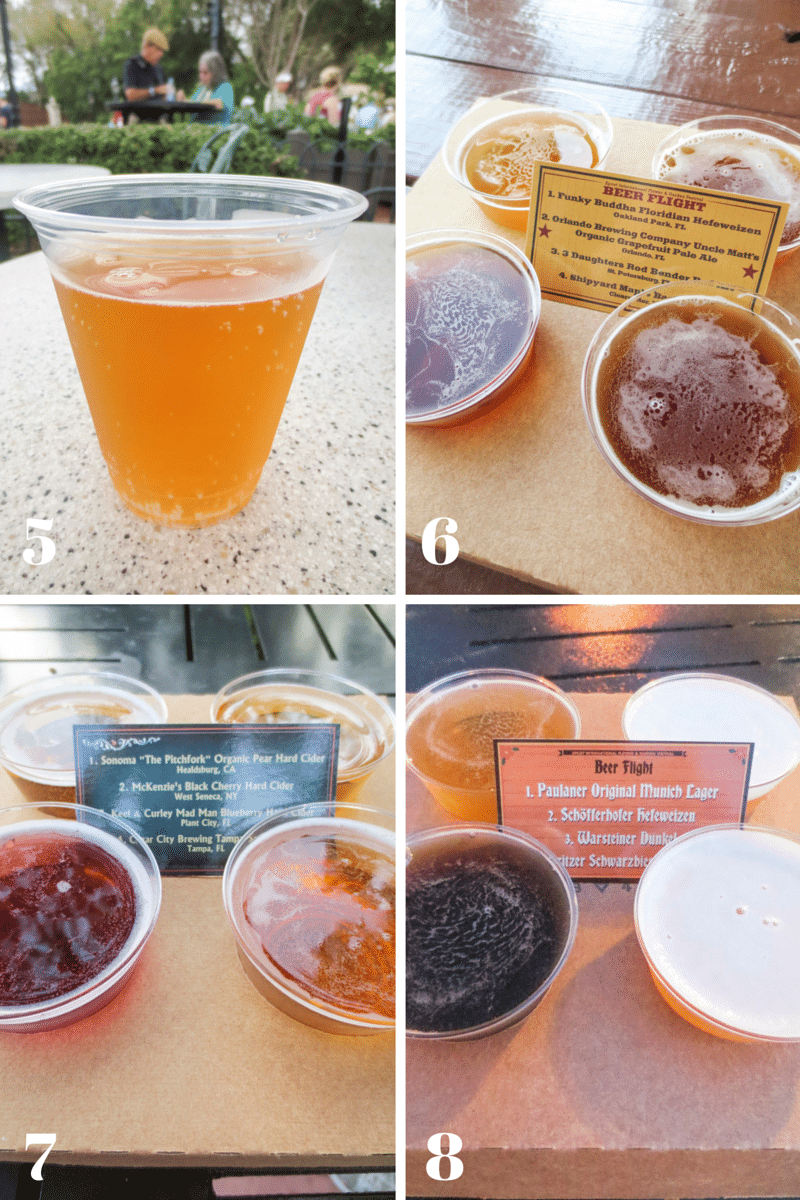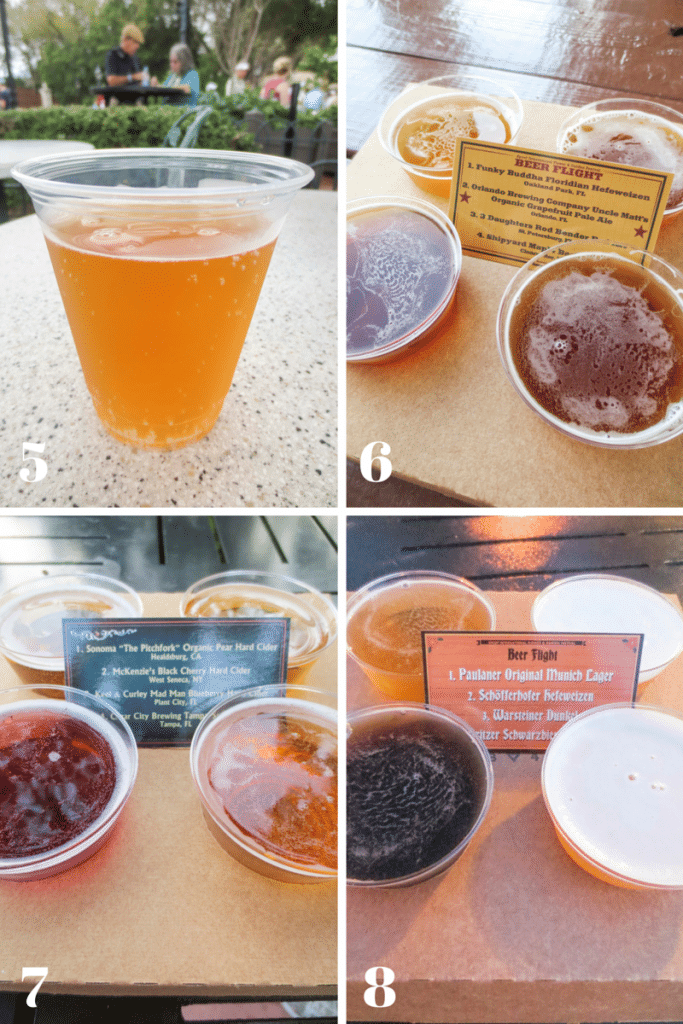 I'm not really a beer drinker, so Travis was happy to taste test all these beers for us! Each flight had (4) 4 oz beers. If you really liked one, you could go back and purchase a 12 oz beer of that flavor.
5. Sonoma "The Pitchfork" Organic Pear Hard Cider – $9 (The Cider House booth in United Kingdom)
This pear hard cider was his #1 favorite beer out of all the booths at the Flower and Garden festival. He said it was crisp, balanced, and had a nice flavor that wasn't overly sweet, as you might be worried the pear flavor might be. Very refreshing in his opinion. He first tried it in one of the flights, and liked it so much that he went back and got the 12 oz pour.
6. Beer Flight – $11.50 (The Smokehouse booth in America)
Funky Buddha Floridian Hefeweizen
Orlando Brewing Company Uncle Matt's Organic Grapefruit Pale Ale
3 Daughters Rod Bender Red Ale
Shipyard Maple Bacon Stout
Travis doesn't like dark beers so much, so he asked to swap out the maple bacon stout for an extra grapefruit pale ale. He thought the Funky Buddha was good, but pretty regular. He liked the grapefruit pale ale, it had a light hint of grapefruit but it wasn't overpowering. It's similar to the grapefruit beer they have in Germany at the Food & Wine Festival, but this one has a higher alcohol content. The 3 Daughters red ale had a stronger flavor that he enjoyed but it wasn't his favorite.
7. Hard Cider Beer Flight – $12.50 (The Cider House booth in United Kingdom)
Sonoma "The Pitchfork" Organic Pear Hard Cider
McKenzie's Black Cherry Hard Cider
Keel & Curley Mad Man Blueberry Hard Cider
Cigar City Brewing Tampa-style Lager
Travis swapped out the Cigar City brew for an extra pear cider, which he really enjoyed. The black cherry cider was another favorite, he said it's sweet with a strong cherry flavor. The blueberry cider was light in flavor, and didn't taste too much like blueberries, it wasn't his favorite. Overall, the flight of hard ciders was Travis' top pick for best flight at the Flower and Garden Festival.
8. Beer Flight – $11.50 (Bauernmarrt Farmers Market booth in Germany)
Paulaner Original Munich Lager
Schöfferhofer Hefeweizen
Warsteiner Dunkel
Köstritzer Schwarzbier Black Lager
Travis thought the Paulaner Munich lager had a nice light bodied flavor. He loved the grapefruit Schöfferhofer Hefeweizen beer, it tasted like tangy grapefruit juice, but we later found out it's only 2% alcohol, so it's like you're basically drinking juice. He didn't like the Dunkel, it was very bitter. Surprisingly, the black lager had a light and crisp taste, even though you wouldn't think so due to its name.
Overall, we thought the drink selections were very good. Lots of fruity, flowery, spring-like flavors, and new drinks to try. I hope you enjoy our list of the Best Drinks at the Epcot Flower and Garden Festival! Hopefully we get to go back for round 2 before the festival is over in May.
If you want to see the food we tried, you can see my pictures and review of the Flower and Garden Festival food here.
If you go to the Flower and Garden Festival, and find something you love, tag (@Stacey_Homemaker or #StaceyHomemaker) me in it! I'd love to see what you tried!