Creamy roasted red pepper tomato soup with a protein and flavor-packed scoop of basil pesto quinoa in the middle. Gluten-free and vegan.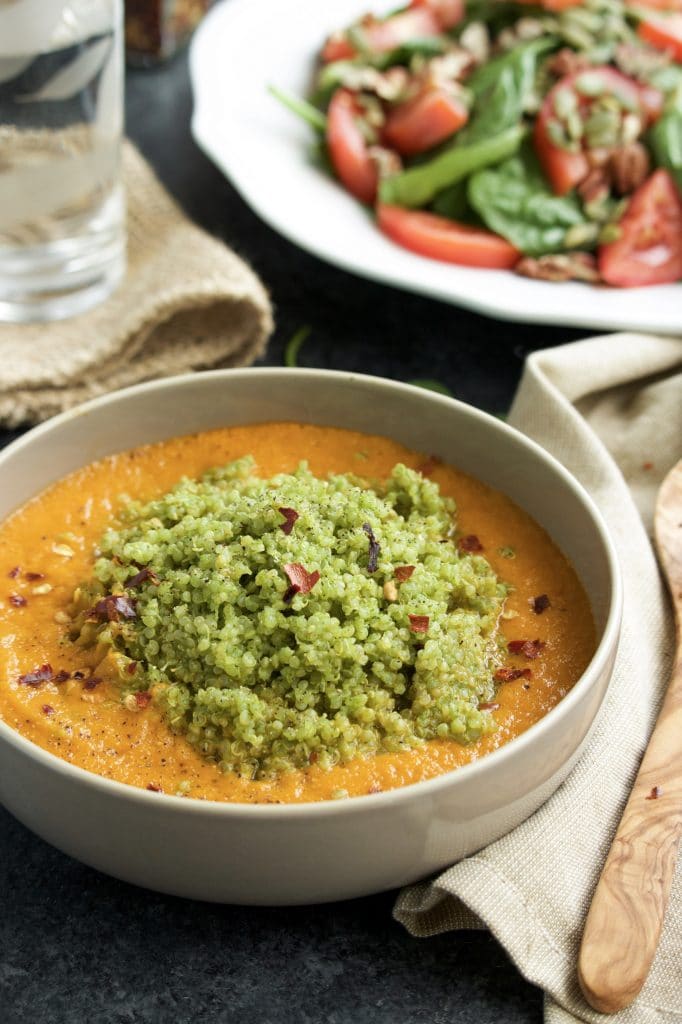 Go figure, this delicious recipe actually came to be because I didn't feel like cooking dinner. Let me explain.
I got sucked into the Pinterest black hole looking for front porch fall inspiration right until Travis was on his way home for dinner. I didn't have time to cook up a new meal and I really didn't feel like doing that either. I rummaged through the fridge looking for something filling that I could throw together easily.
Hmmm…I could make tempeh wraps, pb&j sammies, or I could combine the leftover roasted red pepper tomato soup and plain quinoa that I had from the mandarin orange spinach quinoa salad that we had for lunch.
One of my favorite ways to meal prep for the week is to cook two cups of dry plain quinoa on Sunday so I can use it throughout the week for quick meals just like this one.
Using plain quinoa as a base is important because you can portion it out and flavor it differently. I usually make cilantro lime quinoa because Travis is obsessed with cilantro but I was fresh out of cilantro and I definitely wasn't making a run to the store. However, I did have fresh basil on the counter.
What goes better together than basil and tomatoes? Pretty much nothing!
Basil Pesto Quinoa Flavor
The flavor of the fresh pesto sauce is so potent and it turns bland quinoa into a majorly delicious flavor bomb! After you try this basil pesto quinoa or the cilantro lime version, you'll never want to eat plain quinoa again. Promise.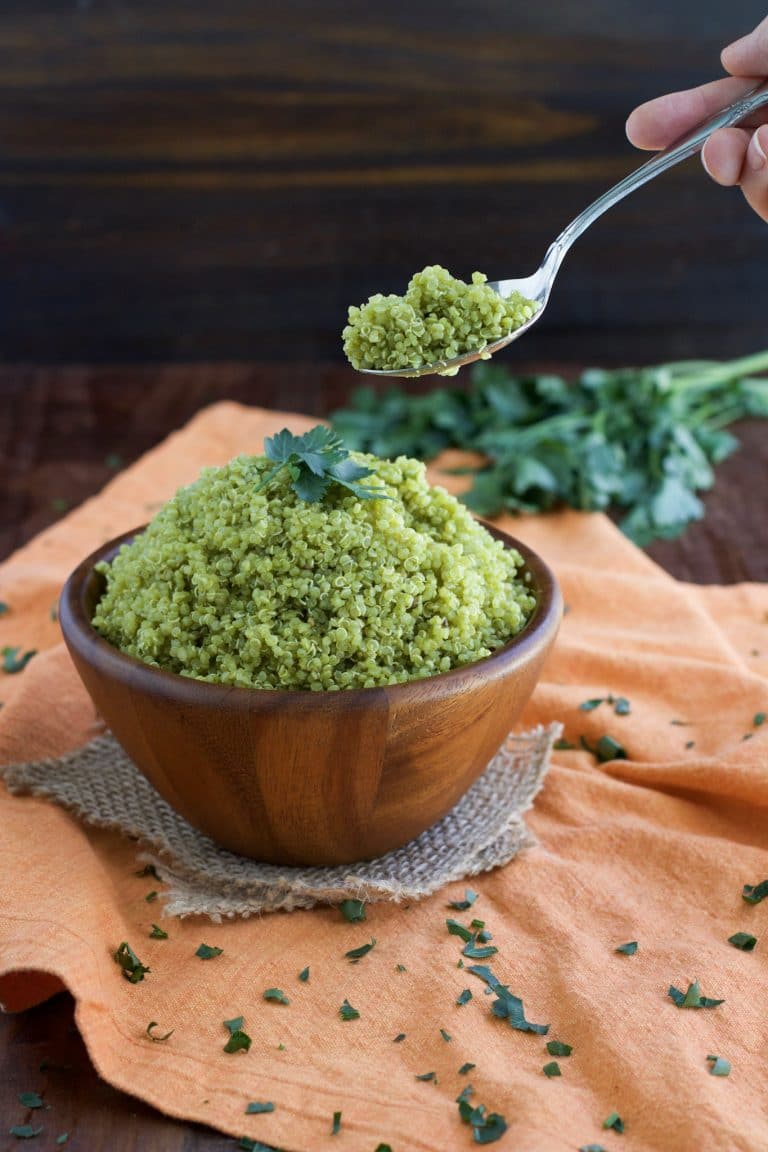 Is the Basil Pesto Quinoa Hard to Make?
No, it's seriously one of the easiest recipes on my blog. You can use leftover or fresh quinoa, it doesn't matter. You can even eat the quinoa cold, it's that tasty! I don't use microwaves so flavored quinoa is one of my favorite lunches that I pack for work.
All you have to do is:
Put all the sauce ingredients into a blender.
Blend the sauce on high until completely smooth.
Pour the sauce over the quinoa,
Mix together until combined and enjoy!
What Can You Serve it With?
I could have served the basil pesto quinoa on the side with the soup but tomatoes and basil go so well together that I thought a big scoop of basil pesto quinoa would be 100% delicious in the soup. The flavors melded together and it was legit so yummy.
If you don't want to serve the basil pesto quinoa with soup, you could serve it with vegan crab cake burgers, mixed in a salad, or with lemon cauliflower steaks.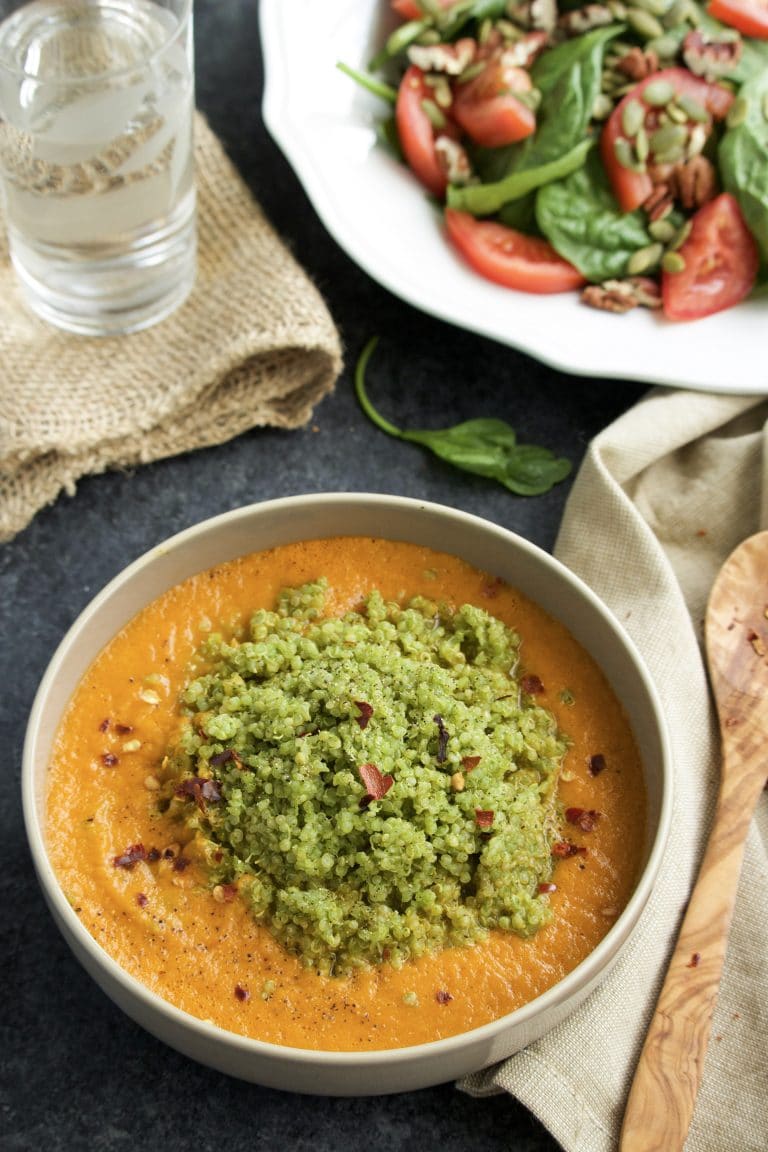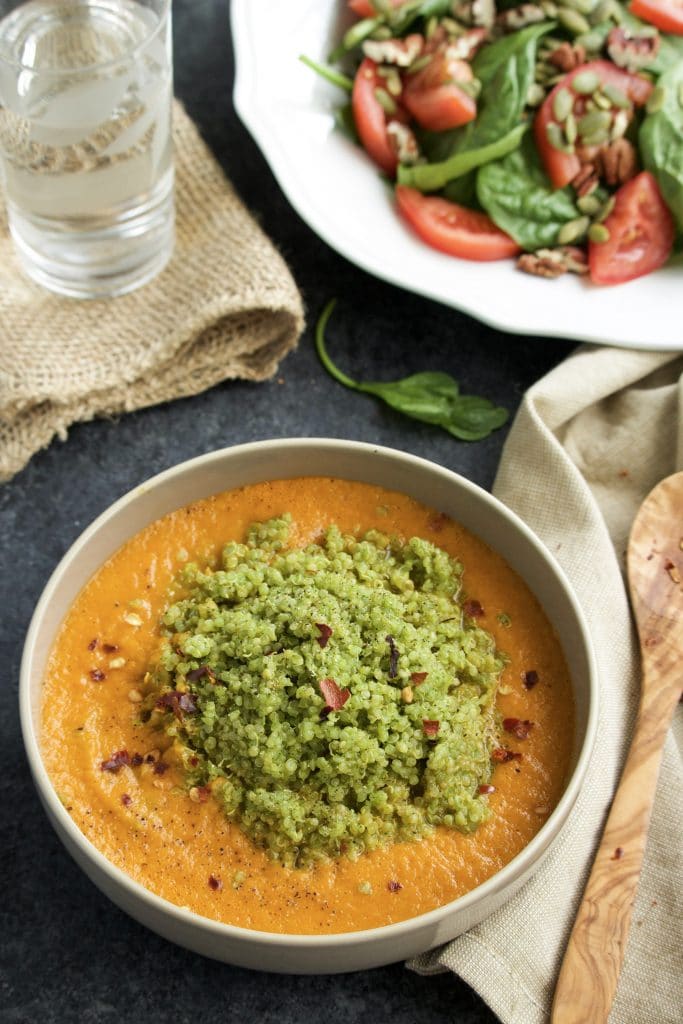 Something else I noticed: after finishing my soup and basil pesto quinoa, I realized that I had forgotten to toast some bread to go with the soup. But I didn't miss the bread because I was filled up from the quinoa which is lower in carbs and has more protein. Score!
More Quinoa Recipes You'll Love!
Pesto Spinach Quinoa Stuffed Tomatoes
Mandarin Orange Spinach Salad with Kiwi Mango Dressing
If you make this basil pesto quinoa recipe, please share your picture on Instagram and tag @Stacey_Homemaker so I can see your delicious creation!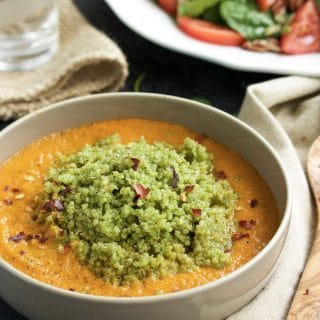 Roasted Red Pepper Tomato Soup with Basil Pesto Quinoa
Creamy roasted red pepper tomato soup with a protein and flavor-packed scoop of basil pesto quinoa in the middle. Gluten-free and vegan.  
Print
Pin
Rate
Ingredients
Basil Pesto Sauce -
1

cup

fresh basil leaves

1

Tbsp

lemon juice

2

Tbsps

olive oil

1

garlic clove
Instructions
Get the recipe for the red pepper tomato soup

HERE

.

Cook quinoa according to package instructions and set aside.

Basil Pesto Sauce -

Put basil, lemon juice, olive oil, garlic, salt, and pepper into a

high-powered blender

and blend until smooth.

Pour the sauce over the quinoa.

Fill the bowl with soup and then scoop 1/2 cup portions into each bowl.

Sprinkle red chili flakes over the top.
Notes
Get the recipe for roasted red pepper tomato soup, HERE.
Depending on how many basil leaves you pack into the cup, you might need to add additional olive oil (or water) to loosen the sauce a bit.
If you're oil-free, you can use water instead.
If you don't want to make the pesto yourself, you can substitute store-bought basil pesto. Add a little bit of water (to make it more sauce-like) to 1/3 cup of the sauce and mix it into the quinoa.
If you don't have a high powered blender then you need to blanch and peel the tomatoes before you cook them for the soup. If you don't peel them first, you'll have hard pieces of tomato skin in your soup.