This post may contain affiliate links.
Please read my disclosure.
Avocado Caprese salad is a simple side dish that's loaded with flavor! The avocado slices add an extra layer of creaminess, and the balsamic glaze gives a tangy touch that everyone will love.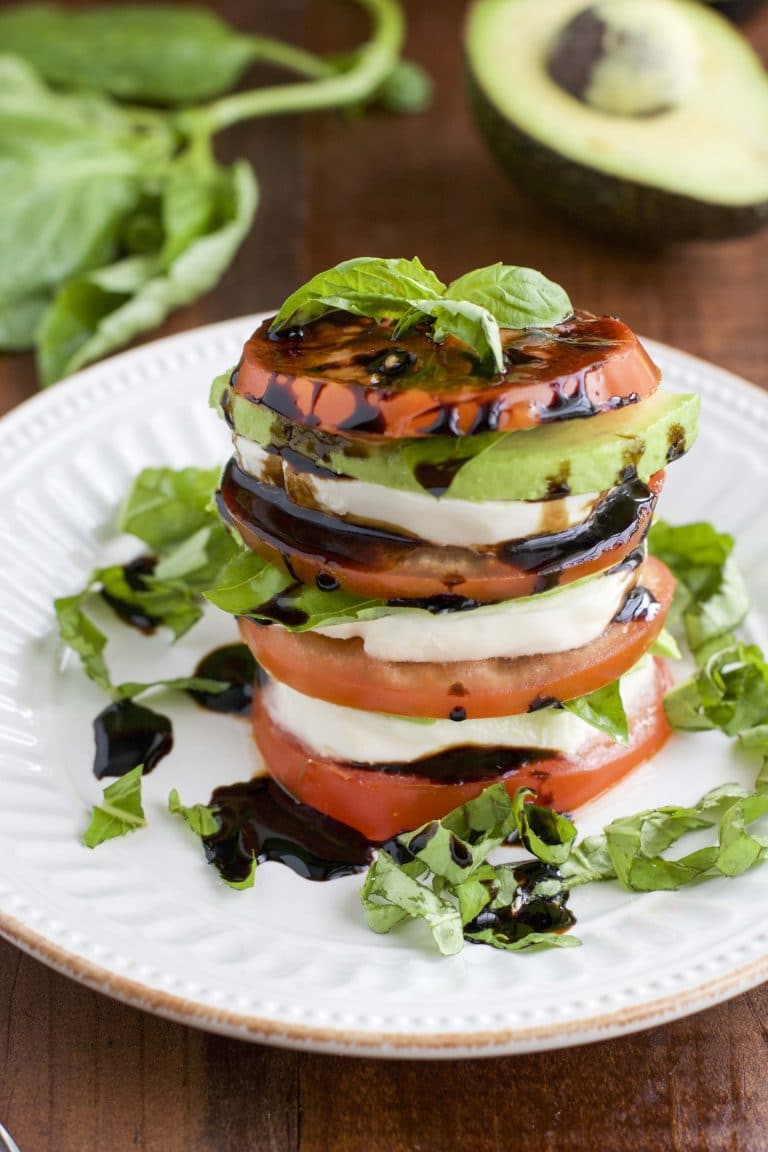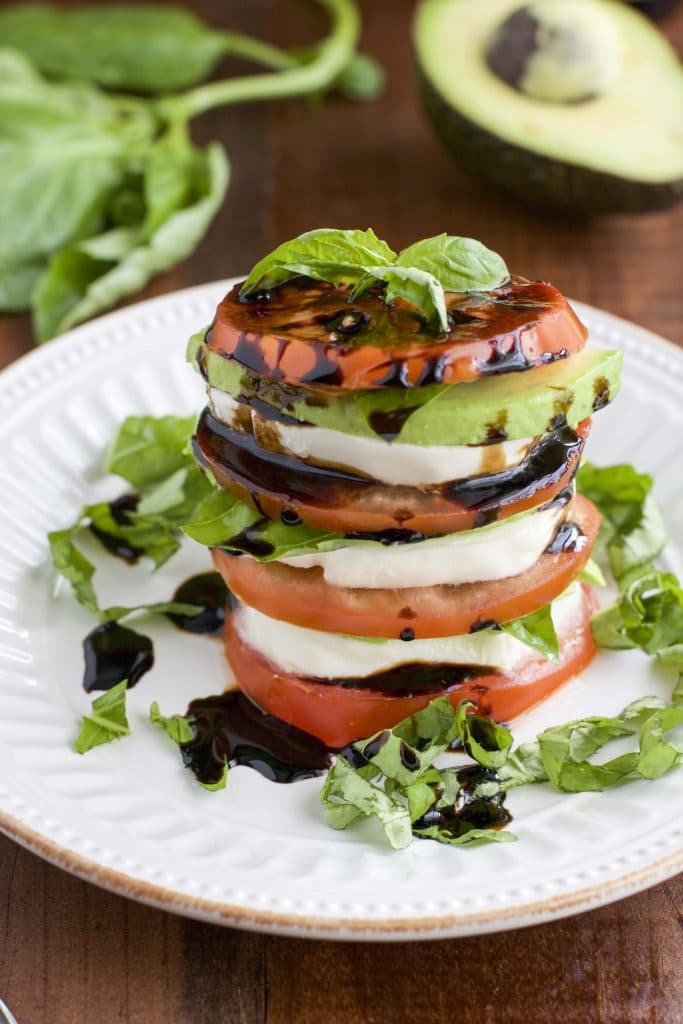 Don't you love avocados? We do too!
I'm always trying new ways to work them into our meals, like with this avocado chipotle sauce or in zucchini avocado grilled cheese sandwiches. Avocados are so creamy and they accent the flavors of whatever you're cooking so well! Plus they're full of heart-healthy fats that we all need!
Did you know that health experts use to tell us that avocados were full of fat so they weren't good for you? My mom told me that's why she never used to eat them. Now she eats one every morning mashed up on her toast. Your body and brain need good fats to keep everything functioning.
Caprese salad is such an easy appetizer or side dish to prepare. Just slice, stack, drizzle and you are done! So as I was slicing, stacking and drizzling, I was also eyeing the perfectly ripe avocado that was sitting in the fruit bowl on the counter. Hmmm, should I slice it thin and add to the stack? Yes, the answer to avocado or not to avocado should always be YES.
[tweetthis]Is it possible to make #caprese salad better? Yep, just add #avocado! #HuffPostTatse #ForkYeah[/tweetthis]
I sliced it thinly and slipped in slices after each piece of mozzarella. It made it so creamy and added an extra flavor layer that you wouldn't expect. Before I added the avocado slices to the stacks, I laid them all out flat and lightly sprinkled Himalayan sea salt over each slice. I think it really helped to accentuate the flavor in each bite.
Tomato –> Mozarella –> Avocado –> Basil –> Repeat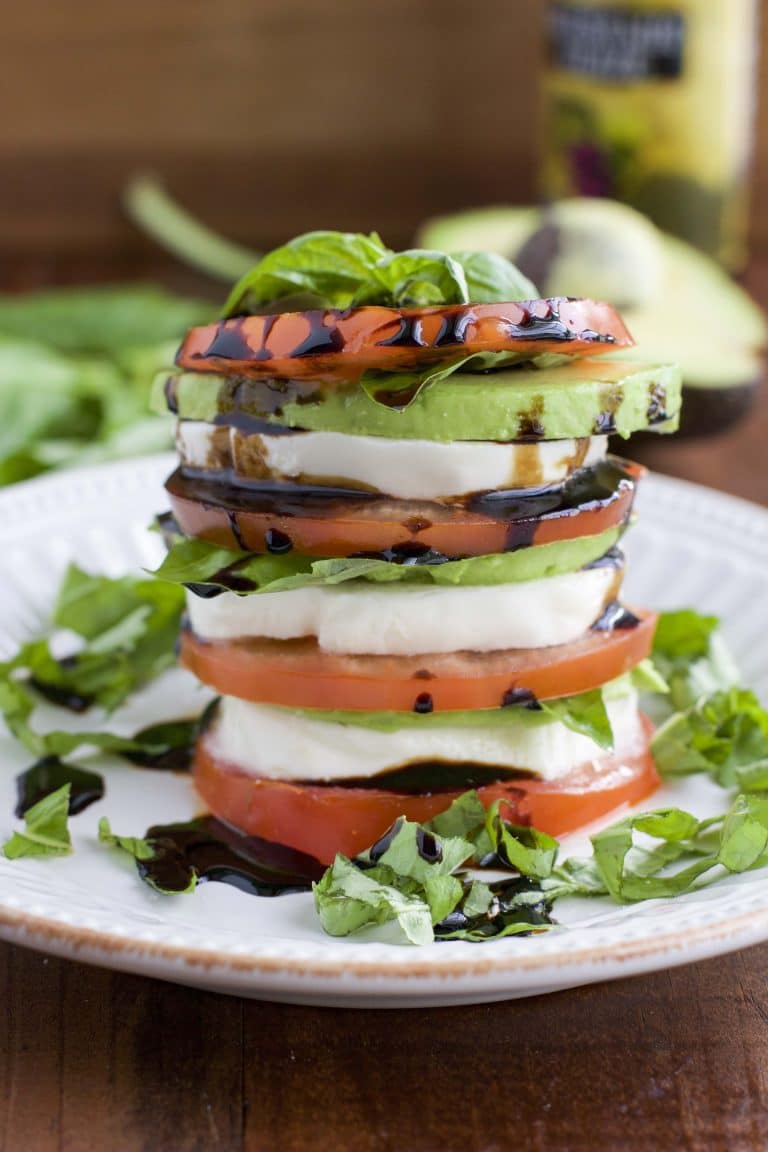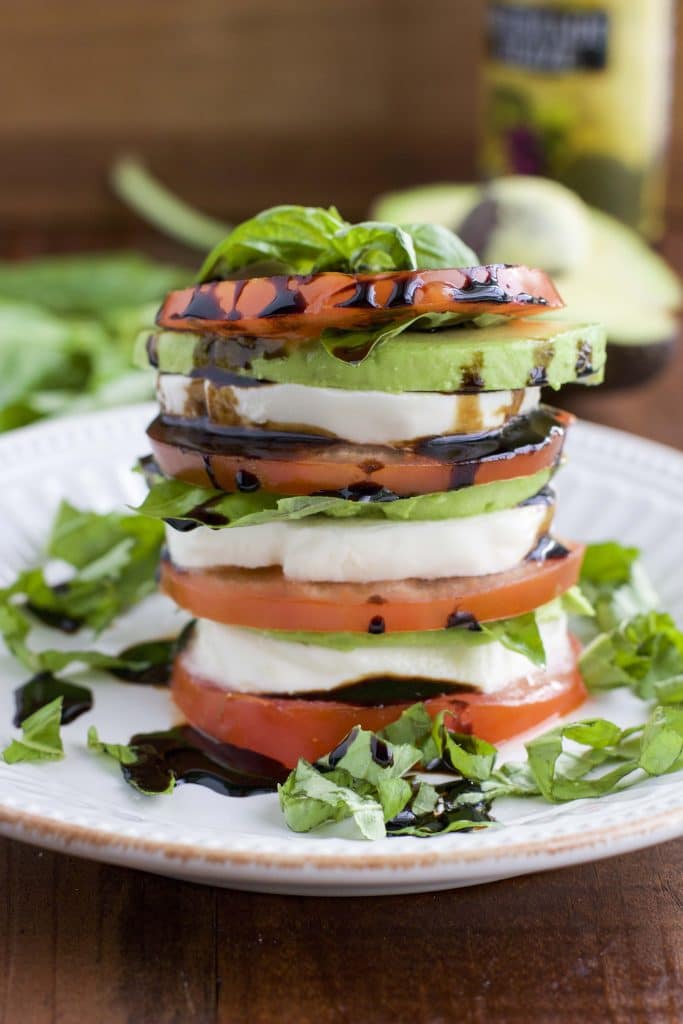 Key Ingredients for Avocado Caprese Salad
I put a full fresh basil leaf in between each layer, but I also thinly sliced ribbons of basil to sprinkle on top of each stack for extra flavor. Please don't try to sub dried basil, it won't turn out the same way!
The key ingredient for a truly flavorful avocado Caprese salad is quality mozzarella cheese. I personally like to use Belgioso mozzarella for this Caprese salad, or when I make Margherita pizza. It's just so creamy and it pretty much melts in your mouth. If you have a local cheese shop, go there and ask for their favorite mozzarella.
Another important ingredient is the balsamic glaze that you drizzle on at the end. I've seen some people use balsamic vinegar for caprese salad but I prefer to use balsamic glaze instead because it's thicker and more flavorful. You can easily make your own glaze by boiling and cooking it down until it reduces but I think it's more convenient to just buy a bottle of balsamic glaze.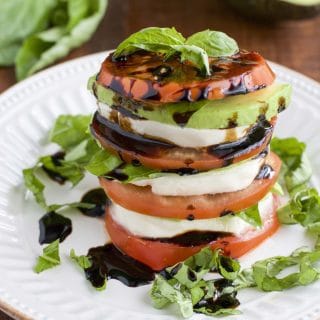 Avocado Caprese Salad
Avocado caprese salad that's loaded with flavor! The avocado slices add an extra layer of creaminess, and the balsamic glaze gives a tangy touch that everyone will love.
Print
Pin
Rate
Ingredients
16

oz

log mozzarella cheese,

sliced

3

large tomatoes,

sliced

2

avocados,

sliced

15

whole basil leaves + 5 for slicing and garnishing

5

tsp

balsamic glaze

Himalayan pink sea salt to taste
Instructions
Slice the avocado and scoop it out of the shell. Lay it out flat on the plate and sprinkle a pinch of sea salt over the top. I matched up 2 slices to make a circular shape so it's stable when you stack them.

Layer tomato --> mozarella --> avocado --> basil. Repeat. Garnish with basil.
Nutrition
Serving:
6
g
|
Calories:
352
kcal
|
Carbohydrates:
11
g
|
Protein:
18
g
|
Fat:
26
g
|
Saturated Fat:
11
g
|
Cholesterol:
59
mg
|
Sodium:
481
mg
|
Potassium:
528
mg
|
Fiber:
5
g
|
Sugar:
3
g
|
Vitamin A:
1175
IU
|
Vitamin C:
15.3
mg
|
Calcium:
398
mg
|
Iron:
0.9
mg

You can use small grape tomatoes to make this bite-sized, serve it in stacks as a side dish, layer it in a big casserole dish for a party size or top chicken with it for baked Caprese chicken. Yum! It's delicious so many ways!
If you make this cilantro lime quinoa side dish, please share it on Instagram and tag @StaceyHomemaker so I can see your delicious creation! 
Want to start your own healthy food blog and share all of your delicious recipes?
Learn how to do it in just 3 easy steps + check out the 10 tools that all new bloggers need to be successful!
What's your favorite way to eat avocado Caprese salad? Let me know in the comments!


NEVER MISS A STACEY HOMEMAKER CREATION!
FACEBOOK / INSTAGRAM / PINTEREST / TWITTER
You may also like…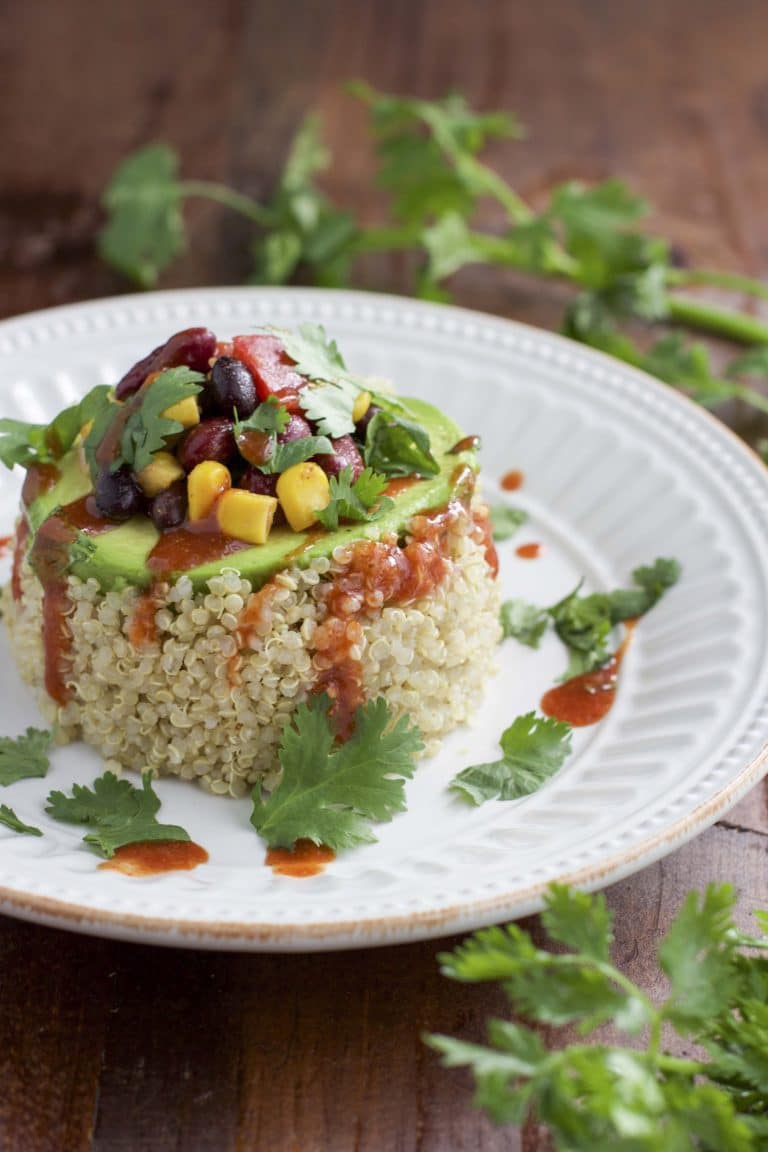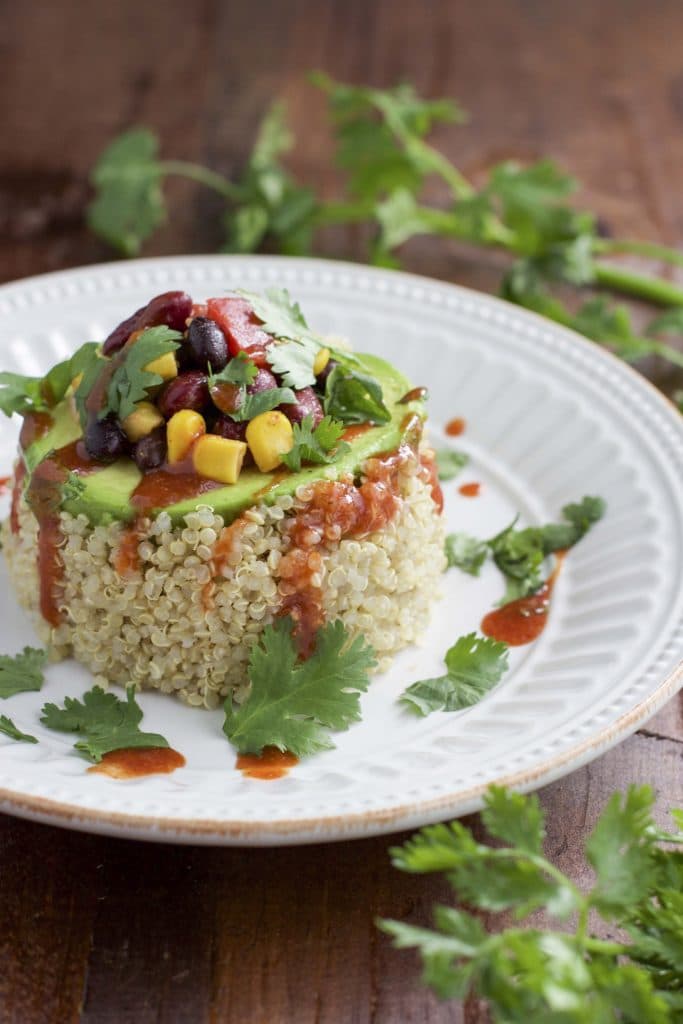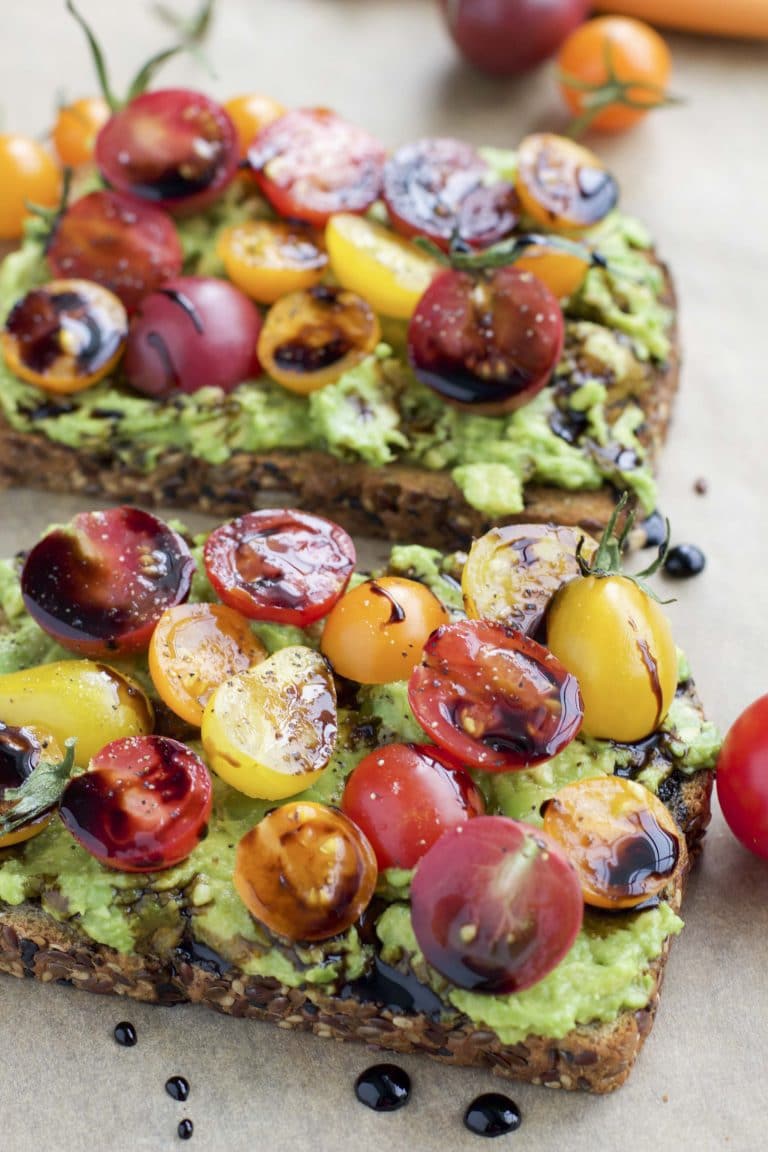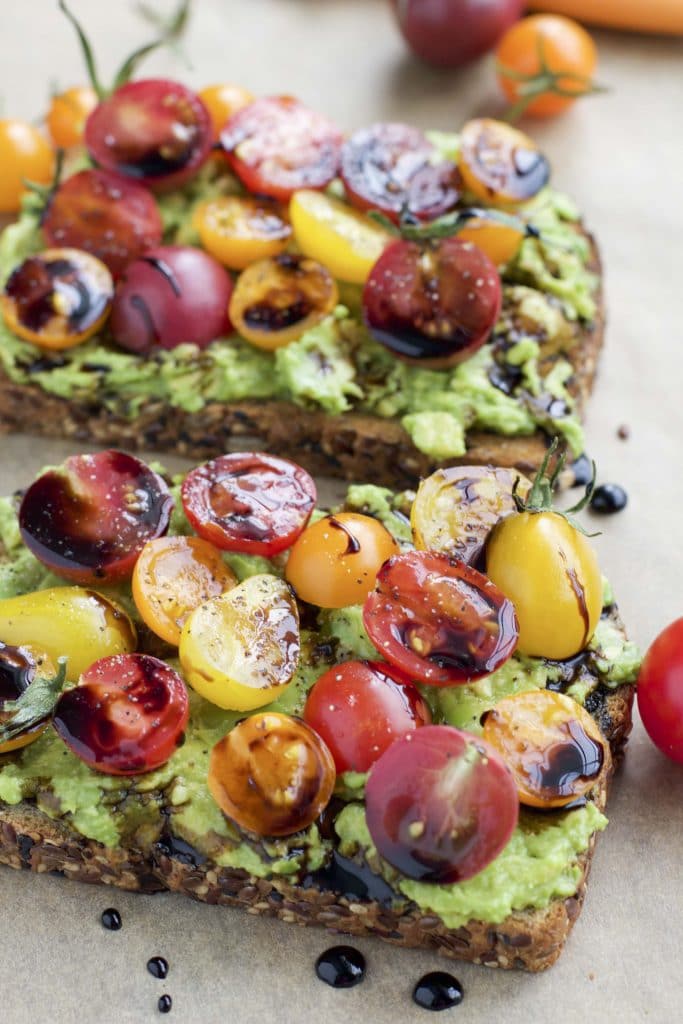 Skinny Quinoa Bowls with Pistachio Kale Sauce