This shop has been compensated by Collective Bias, Inc. and its advertiser. All opinions are mine alone. #BPPatties #CollectiveBias
Who doesn't love the taste of flame grilled burgers?! Sometimes, you just don't have the time to fire up the grill, right? I love the idea of cooking out and grilling but we have one little problem. I'm going to tell you a secret, my fiancé will be so mad I spilled the beans, but I have too! I know other people have the same problem! Okay, here goes…
My fiancé, Travis, wants to be a master griller but he just can't grill.
Last summer, we had a pool day. and he tried to grill some turkey burgers. Lets just say, we were lucky the house didn't burn down. Okay, maybe it wasn't that bad, but the turkey burgers were burnt beyond recognition and I still had to choke one down, so I didn't hurt his feelings. Needles to say, we haven't grilled out since that turkey burger disaster!
So, what's a girl to do? I don't want to hurt his feelings by taking over the grill but Travis loves burgers and I really want to make them for him. I'll take the next best thing! Ball Park® Flame Grilled Patties are fully cooked burgers that have the delicious, juicy, flame-grilled taste, that we both want! Best part? Nobody is going to burn anything on the grill! Woot, Woot! I'm doing my happy dance!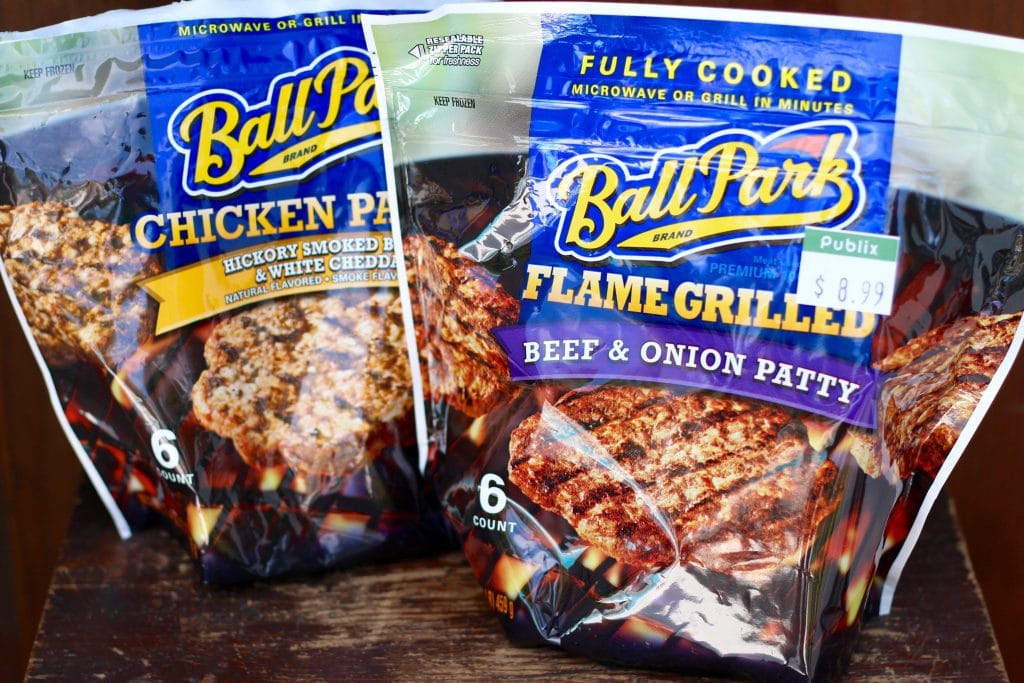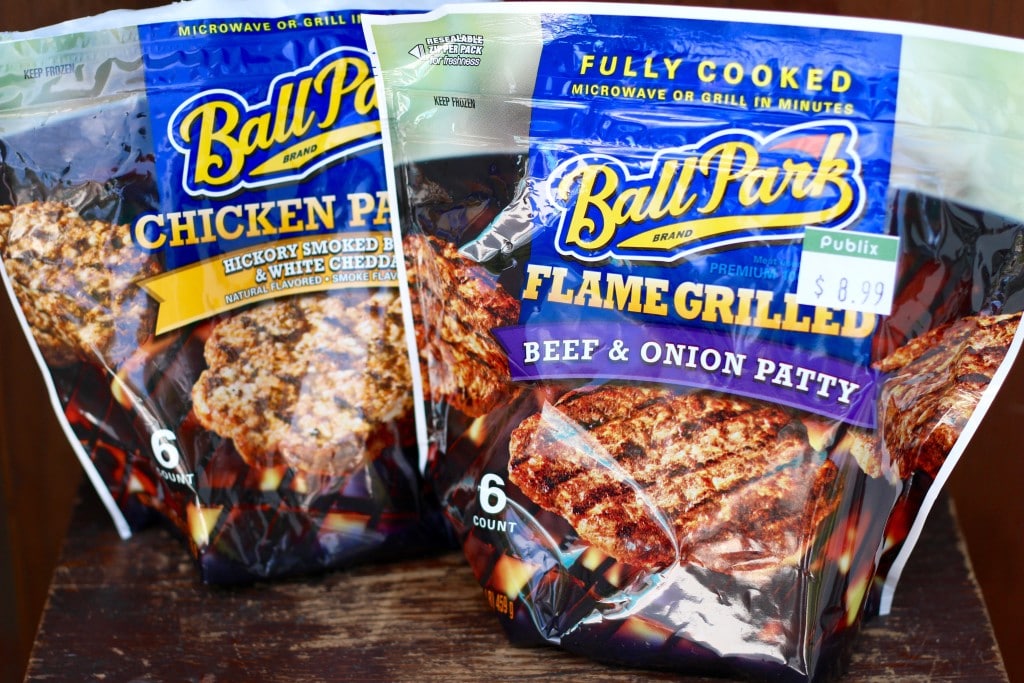 On my last trip to Publix, I found these little gems in the frozen food aisle. The Ball Park® Hickory Smoked Bacon & White Cheddar Chicken patties is the newest flavor and they were on sale, score! You know I love a good deal! I got a bag of each, so I could taste test. Both were delicious! Next time I'm shopping, I'll pick up another one of the 7 different varieties.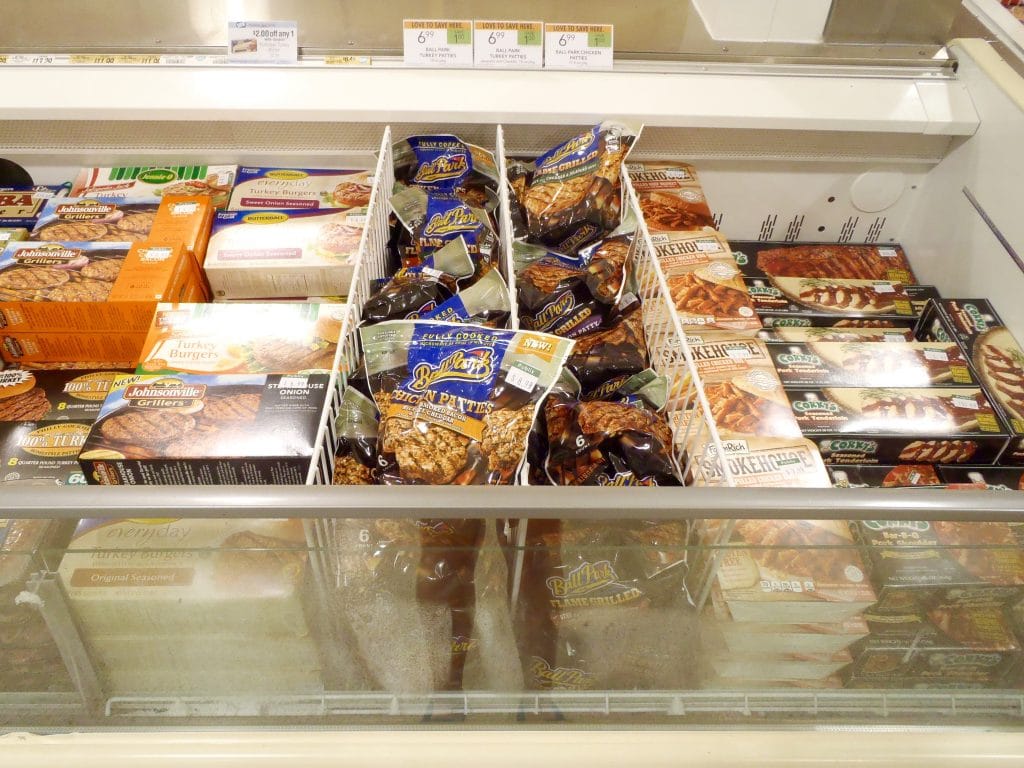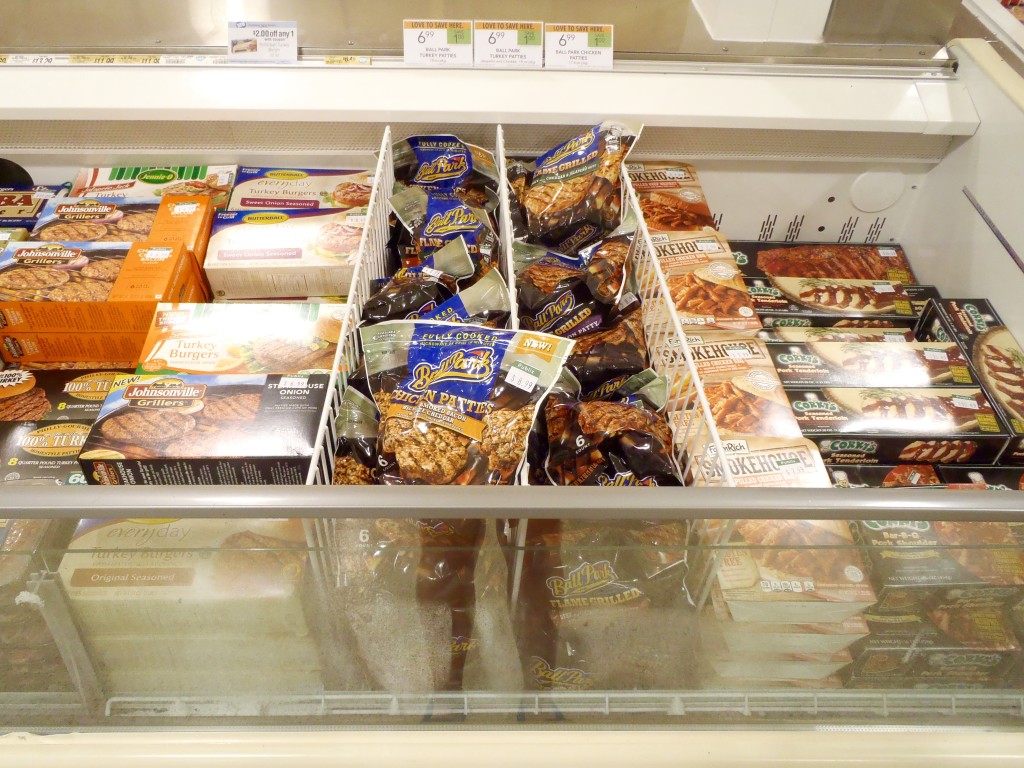 Besides the flavor, the best part about these Ball Park® flame grilled patties is how easy they are to make. Travis "helped" me make dinner, so he popped them in the microwave for me. He did his part and then found his way back to the couch, where he usually waits until he's called for dinner. Are all guys like that, or just mine? The jokes on him though, because now I know he can make them for himself! On nights, that I don't have time to cook or I'm not home, he can prepare dinner for himself, and it only takes about a minute to cook them in the microwave!
Travis is always hungry and wants huge portions but somehow stays really thin. How is that possible? I have no idea. So, he requested double decker chicken burgers! That actually sounded pretty good to me so, I made him a double decker, 2 patty, chicken burger and let him add his own toppings. I made a double decker for me too, except I had one chicken patty and a huge portobello mushroom cap as my second layer, yum.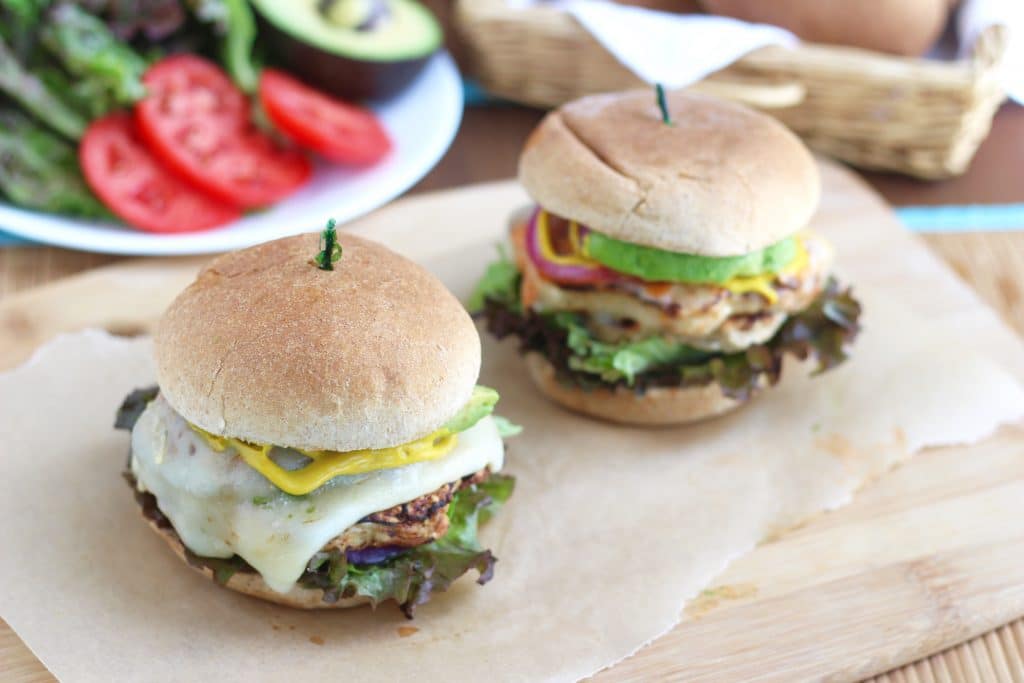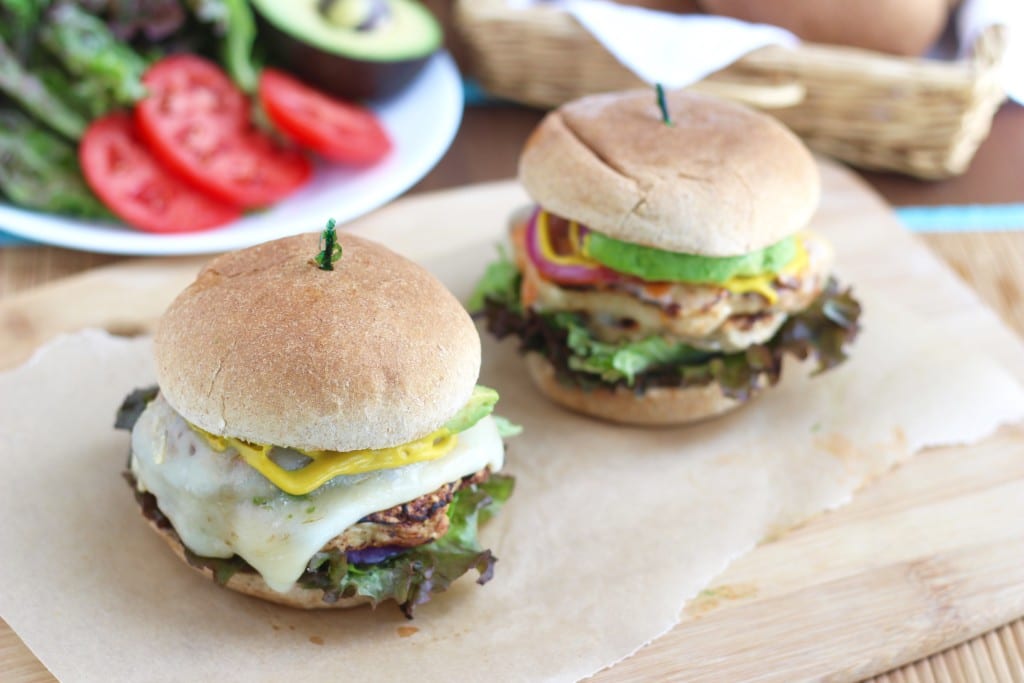 The one on the right is Travis's burger and mine is on the left. Don't you just want to reach through the screen, and take a bite? My balsamic portobello mushroom cap is hiding underneath all that delicious havarti cheese…yum!
I added one simple, extra step to make the mushroom cap super flavorful. While I was preparing all the toppings, I removed the stem, put the mushroom cap in a bowl and poured balsamic vinegar all over it. I let it soak for 10 minutes, so it would absorb the vinegar flavor, and then I put it in my George Forman press to cook it and give it that "grilled" flavor, without actually having to grill it. At the last minute, I put 2 pieces of cheese on top of the mushroom, closed the lid for 10 seconds and then put the mushroom on top of my Ball Park® chicken patty. The cheese has to be melted, it's the best part!
Don't forget to toast your burger buns, and have a bunch of toppings to choose from! I love to pile on the lettuce, tomatoes, avocado, red onions and a squirt of mustard. Baked beans, pasta salad or slices of watermelon would be great side dish choices. You get the cook out experience without having to deal with the grill, or the mosquitos. Works for us!
Double Decker Chicken Burger
Flame grilled, double decker burgers with a balsamic portobello mushroom, havarti cheese and lots of avocado slices!
Print
Pin
Rate
Ingredients
1

Package of Ball Park® patties

6 count

1

Portobello mushroom cap

1

Tbsp

Balsamic vinegar

1

Burger bun

1

Romaine lettuce leaf

2

Slices

havarti cheese

1

Slice

tomato

2-3

Slices

red onion

3-4

Wedges of avocado

Optional: Mustard
Instructions
Put portobello mushroom cap in a bowl. Pour balsamic vinegar over the top. Flip it around a few times to coat it. Let it soak for 10 minutes.

Wash and prepare the lettuce, tomato, avocado and onion. Set aside.

Put the chicken patty in the microwave for 90 seconds. Remove and add to burger bun.

Put the mushroom cap on the press for 1-2 minutes, or until lightly browned, Add a piece of cheese and leave it on the press to melt it, about 10-15 seconds. Remove and place on top of chicken patty.

Top with your favorite toppings, enjoy!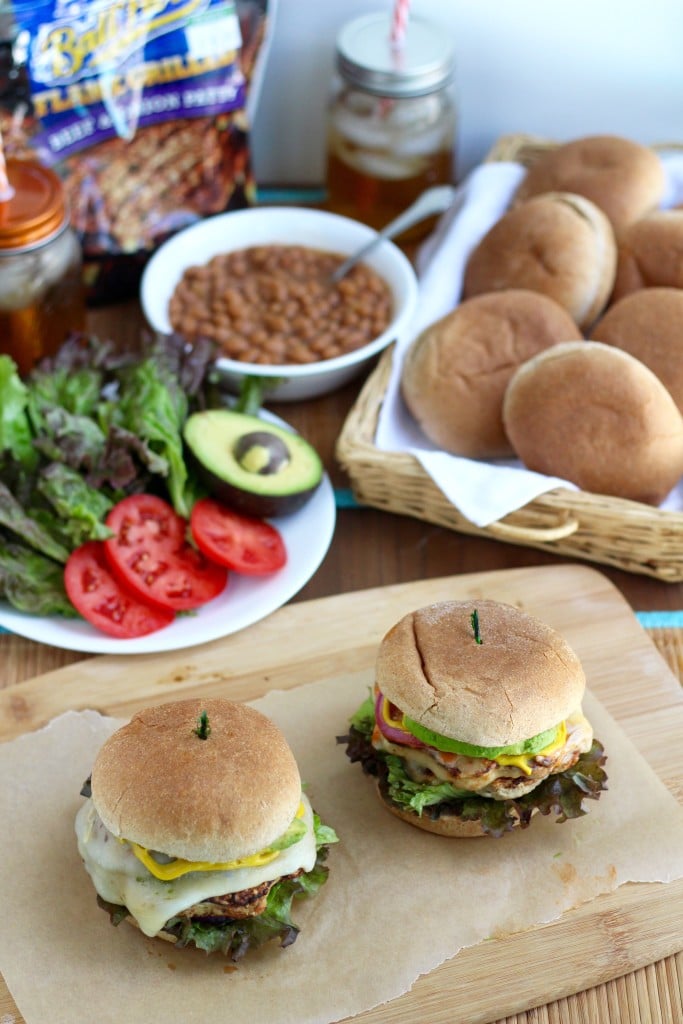 After you finish dinner, go check out the Hall of Flame Sweepstakes. It's super easy to enter and the grand prize is a $1,000 Publix gift card!! I could do some serious grocery shopping with that!
What are your favorite burger combos? Savory, sweet and spicy, or classic? Let me know in the comments!