I'm a huge pug lover and I would LOVE to get any one of these special pug-themed gifts for Christmas!
I think being a pug lover is in my blood.
My grandma had a girl pug named Suzie. Even though Suzie passed before I was born, I've always felt a connection to them. I just feel drawn to them!
Now that Travis and I have our own home, I've been dropping hints to him like crazy that I think it's time for us to add a dog to our family. At first, he said, "no, absolutely not." He's softened up a little bit after watching the millions of cute pug videos and the daily pics of Doug the Pug that I've shown to him.
BTW if you're not following Doug the Pug by now and you love pugs as I do, where have you been, hiding under a rock? Doug is everywhere! He will make you smile and giggle even when you're having the worst day ever.
Travis says we can start looking after we get married in February, so that's what I'm counting on. I just know my little "Pudge" or "Willis" the pug is out there waiting for me to scoop him/her up and love them forever!
I was shopping last week at HomeGoods with my mom and I found the most adorable Christmas pug coffee cup or as I like to call it, my Christmas puggy muggy! I excitedly searched the store for other pug-themed things but didn't find anything else.
Don't get me wrong, I was very happy to find the Christmas puggy muggy but it made me think that there must be other people out there who would appreciate pug-themed items just as much as I do! Right?
So, I've compiled a list of pug-themed gifts that any pug lover would adore!
Sometimes it's easier to just make a list for your significant other instead of letting them guess. Tag your special someone and tweet them this list to make it easy for them!
**This list contains affiliate links.
23 Fabulous Gifts For A Pug Lover
Can't you picture yourself on the couch in your jammies with your pug socks on, watching Netflix, with a glass of wine in one hand and some snacks in the other? I sure can!
My brother's girlfriend got this figurine for me for my birthday. It's the cutest little puggy I've ever seen, I just love watching it sparkle in the sunlight! It's the perfect size to put on your desk shelf or in a curio cabinet. It would be a very special Christmas gift for any pug lover!
I don't get to wear scarves that often because it rarely gets cold enough here but I like to get them for when I visit NYC! This one would be perfect with my long black coat!
4. Pug Handbag

Okay, isn't this purse the cutest bag you've ever seen?! I absolutely need this in my life!
6. "Ugly" Pug Christmas Sweater

This one might be a stretch for some people, but if you're a pug and Christmas lover like me, then this sweater is perfect to wear to all of those ugly Christmas sweater parties you'll be going to this year! Except, this sweater isn't ugly, it's adorable! I can guarantee everyone one will be asking where can they get one!
Obviously, I need a Doug the Pug calendar too. Looking at his pictures on Instagram every day just isn't enough! I mean, look at that little face!
If you get the Doug the Pug calendar, you might as well get the book too. They go together like peanut butter and jelly! I never get tired of looking at his sweet little face, he's such a ham for the camera!
Any real pug-lover has some type of cup with pugs all over it! At least I think they all should!
I love BOBS, they're so comfy and easy to slip on when you're running out the door. I have three pairs but not in pug print, I need these! Obviously, these are a necessity for any pug fan!
My mom got these for me for my pug-themed birthday last year, I love them! They're so adorable! They're light and comfortable to wear, I love that they dangle when I move.
Who knew pug rings were a thing?! This girl right here! Don't you love how the little paws can adjust to fit your finger? So adorable.
13. Pug Mini Bluetooth Wireless Speaker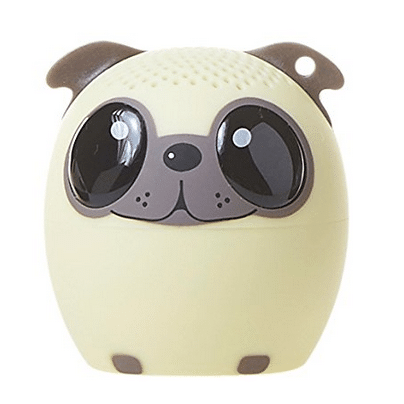 Who else needs this for their work desk, like yesterday?
14. Pug Coffee Mug
I'll drink out of Christmas puggy muggy for the next two months but having an everyday pug mug is definitely important!
15. The Pug List

My mom gave me this book as a gift at my pug birthday party last year. I haven't had a chance to read it yet but it got high reviews so I'm sure it's a great story!
Okay, this is flippin' genius! I just might switch to tea if I could make it with this pug tea infuser!
17. Pug-opoly

Who wants to monopoly when you can play pug-opoly!?
I've been looking everywhere for a cute pug ornament for our Christmas tree, this one is perfect!
19. Magnetic Pug Salt & Pepper Shakers

Now, I'm not saying to decorate your whole house with pug decor, that would be too much. A few special touches here and there is perfect!
20. A Pug's Guide to Etiquette

This book is hilarious, I love all the drawings! It's the perfect coffee table book to share with your friends and guests.
21. Pug Lounge Pants
I don't know about you but I love comfy sweat pants. I just want to be comfortable all the time! The only thing that could make sweat pants better would be to put a pug on it!
22. Pug Camera Case

23. Pug Backpack

I hope you enjoyed this round-up of pug presents! I'm sure you found a few things you like for yourself or for a pug-loving friend! I'm hoping to see a few of these goodies under our tree this year too!


Which pug gift is your favorite for the pug lover in your life? Let me know in the comments!