Read this honest review of the 1900 Park Fare dinner buffet before you make a reservation! I discuss what the characters are like, what food is offered on the buffet + vegan options, the best spots at the Grand Floridian to watch the Magic Kingdom fireworks from after you eat dinner and tips to get a reservation last minute!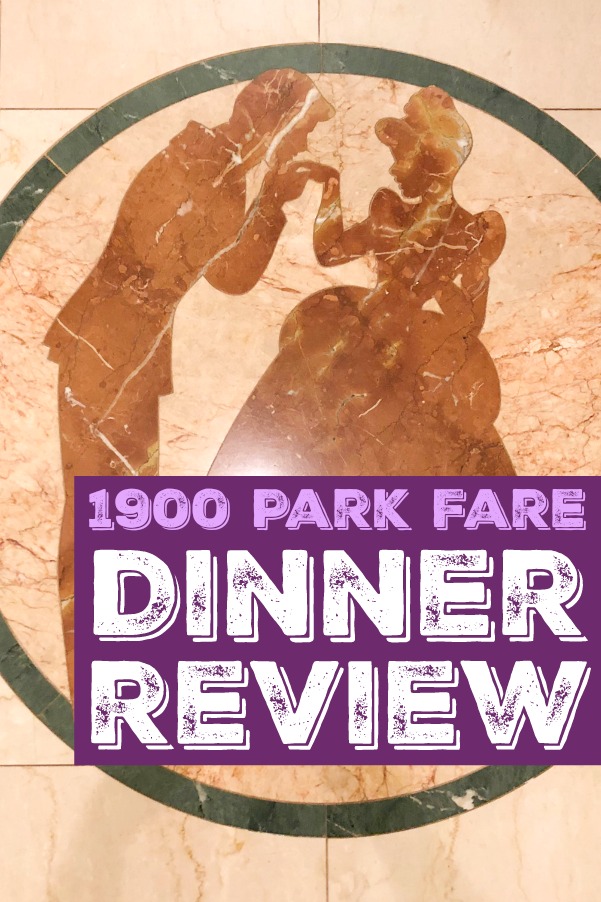 If you're looking for a delicious dinner buffet to try that's inside of the Disney bubble, 1900 Park Fare is a great option! If you have a little prince and princess than this Cinderella dinner is perfect for them too, it's very kid-friendly. The restaurant is located on the first floor of The Grand Floridian Resort in Walt Disney World. It's a beautiful Cinderella-themed restaurant and the food is delicious!
This review is for Disney's 1900 Park Fare dinner but the Supercalifragilistic breakfast is very popular too. It features traditional breakfast fare with characters like Mary Poppins, Alice, the Mad Hatter, Tigger, and Pooh.
Is it a Buffet?
Yes, dinner is served buffet-style at 1900 Park Fare. The dinner buffet features global-inspired cuisine from different "kingdoms" around the world! You can expect to find an assortment of specialty salads, seafood, pasta, and beef selections on the buffet along with multiple options for the kids.
1900 Park Fare is also allergy and vegan-friendly. The chefs will create special allergy-safe dishes just for you! You can read our full vegan dinner review below or watch our 1900 Park Fare dinner experience video.
Is 1900 Park Fare in Magic Kingdom? 
No, 1900 Park Fare is located inside of The Grand Floridian Resort in Walt Disney World.
Which Characters Are at 1900 Park Fare For Dinner?  
As of January 2019, the theme of the dinner buffet is Cinderella's Happily Ever After. The 1900 Park Fare characters are Cinderella, Prince Charming, Lady Tremaine, Anastasia, and Drizella. Cinderella and Prince Charming have their own area set up for pictures away from the tables but Lady Tremaine, Anastasia and Drizella walk around the restaurant and will they visit with you at your table.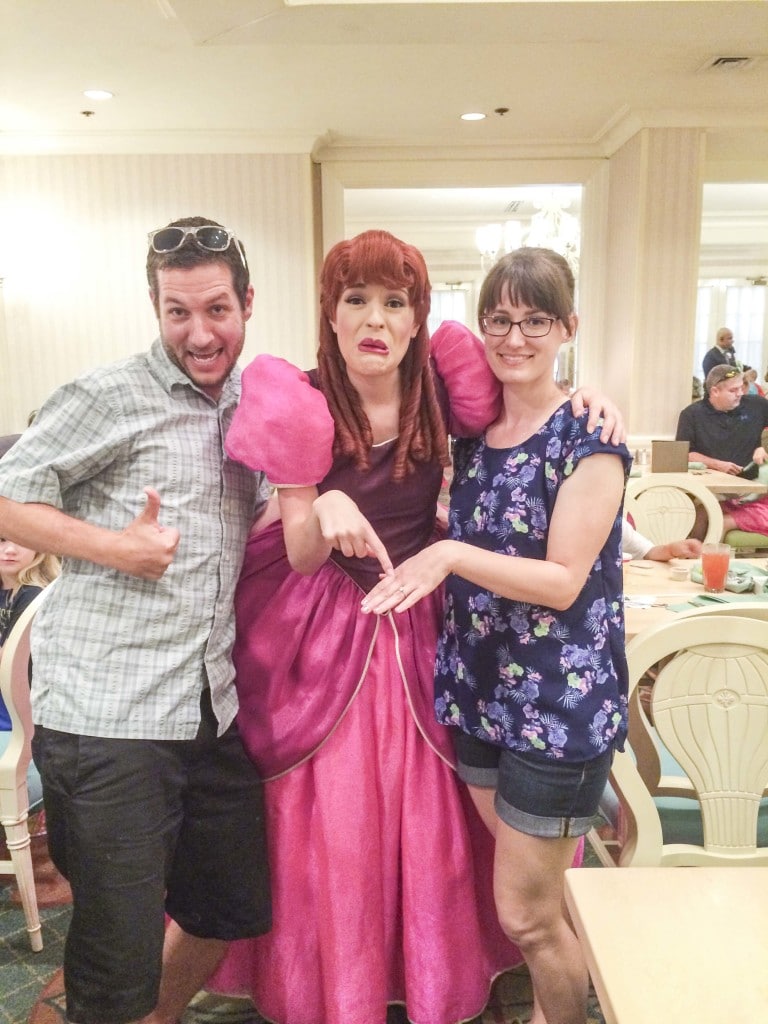 (This picture was taken in 2014 a few months after Travis and I were engaged, Anastasia was upset that she didn't have a fiance yet! LOL) 
Does 1900 Park Fare Have a Dress Code? 
The dress code at 1900 Park Fare is resort casual. No bathing suits, torn clothing, or inappropriate graphic shirts are allowed.
Menu 
The 1900 Park Fare menu for dinner features global cuisine like seafood, specialty salads, pasta, beef, and a carving station. You can view the full breakfast and dinner menus, here.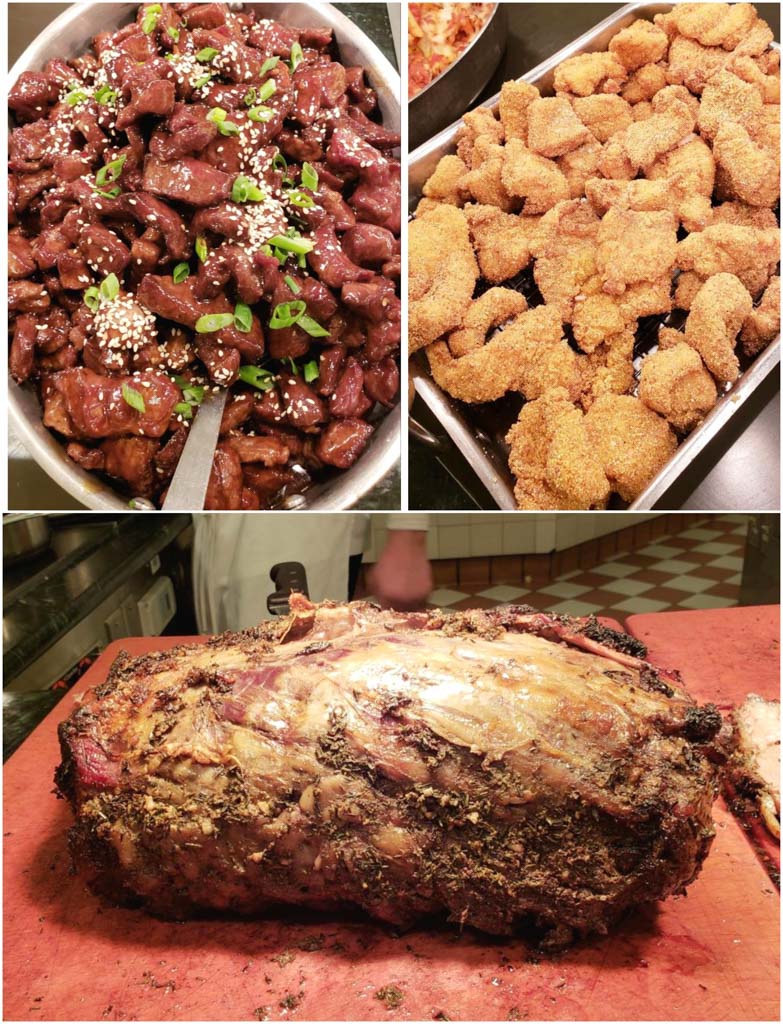 Is 1900 Park fare Vegan-Friendly?
Yes! 1900 Park Fare is extremely vegan and allergy friendly! They don't have a separate vegan menu like California Grill does (check out our California Grill dinner video) and the only vegan option on the buffet is a plain salad but the chefs are very accommodating! Read our full dinner review below.
1900 Park Fare Dinner Review
I've been visiting 1900 Park Fare for the last 25 years, since my 5th birthday! I think it's safe to say that I like the restaurant! Over the years, the 1900 Park Fare dinner menu has been scaled back a little bit (Does anyone else remember the buffet being extended outside of the restaurant for the 4th of July in the '90s?!), but it's still one of my favorite options-- especially if you want a character dinner. The characters have changed since I was younger, I remember Belle and Beast being there at one point, as well as Pooh and the gang from the Hundred Acre Wood.
However, for this dinner review, I'm going to base my opinion of the food from our most recent visit when we went for New Year's Eve (watch our 2019 New Year's Eve celebration at The Grand Floridian video) 2019!
Vegan Options 
My husband and I are both vegan so the only option on the buffet for us was a salad. However, the chef came over to our table and told us that they could make us vegan pizza, vegetable pasta, and a vegan version of the Mongolian Stir-Fry that is on the buffet. I've also seen other vegans order vegan chicken and vegan macaroni and cheese.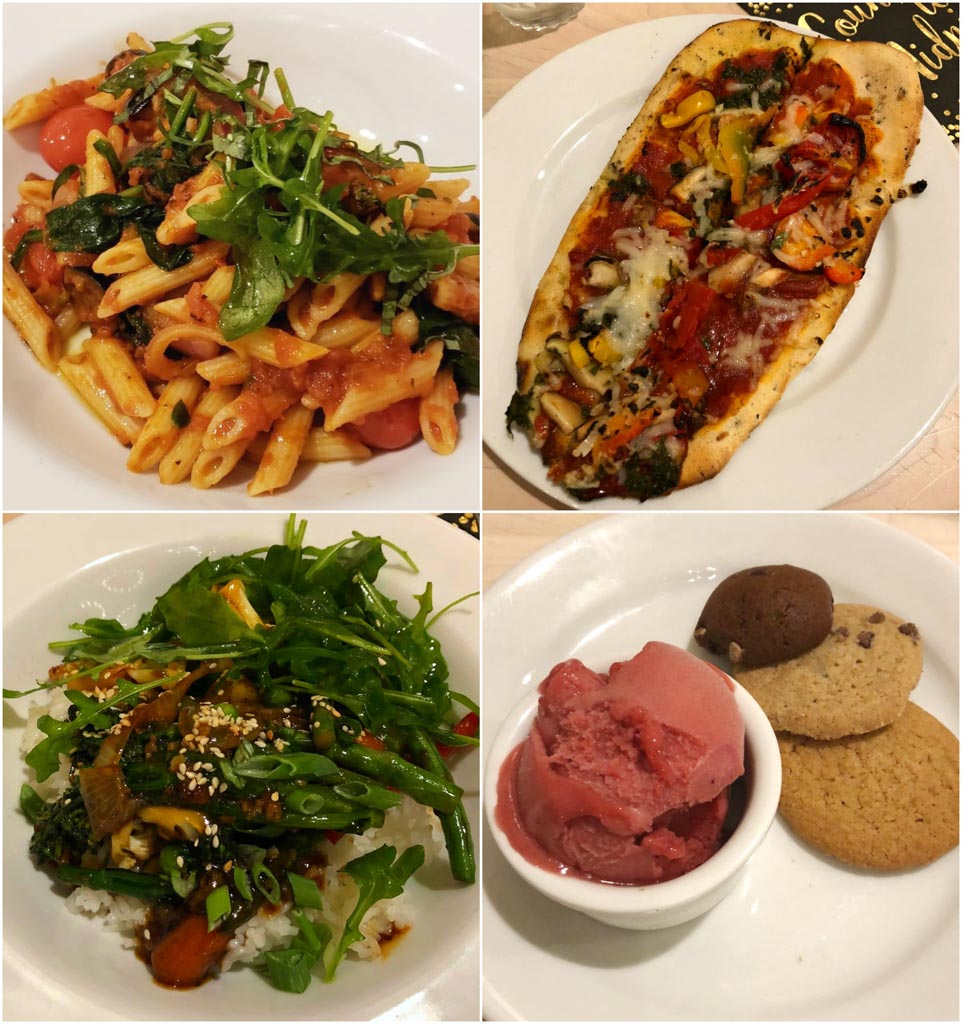 We were very pleased with the food that they brought to the table! We both liked the vegetable Mongolian Stir Fry the best so we got seconds of that but the pizza and vegetable pasta were both tasty too!
Dinner Buffet Food
There are a wide variety of options on the buffet, from honey siracha salmon to clam chowder and lemon pepper chicken wings. We ate dinner with my parents (who aren't vegan) and their favorite options on the buffet was the kale salad, butternut squash ravioli, curried chicken, Mongolian beef, strawberry soup, and the fried catfish.
Should You Save Room For Dessert?
You should definitely save room for dessert, there are so many options! My parents especially loved the bread pudding, key lime tart, and cheesecake on the dessert buffet. We really liked how they decorated the desserts for the holiday, most of them had little picks or chocolate 2019 signs on top.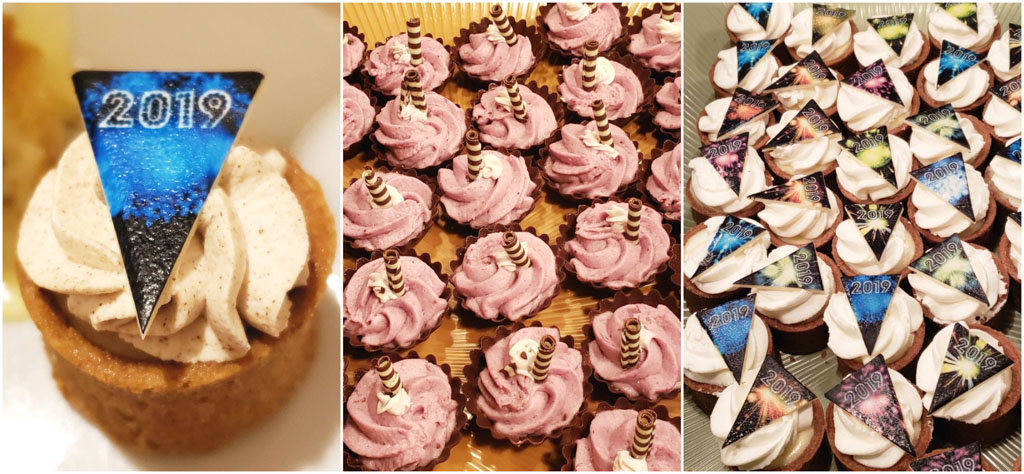 There were no vegan dessert options on the buffet, so we were a little bit disappointed with the dessert. They did bring out vegan raspberry sorbet and very dry Erin Mckennas tea cakes for us but it was not very good.
Overall, we really love going to 1900 Park Fare and would highly recommend it! It's a delicious dinner and if you plan it right you can turn it into a whole night of entertainment!
Where Should You Watch the Fireworks?
First of all, you need to check what time the Magic Kingdom fireworks are at before you make your 1900 Park Fare dinner reservation. If the fireworks are at 8 PM then I would recommend making a dinner reservation around 6 PM so you have plenty of time to eat and then get your spot to watch the fireworks. Give yourself at least 2 hours to eat just in case.
You can watch the fireworks from two spots at The Grand Floridian Resort. My personal favorite spot is to grab a table in front of The Gasparilla Island Grill and watch comfortably from there. Or you can also watch the fireworks from the boat dock.
Tips for Dining at 1900 Park Fare Dinner Buffet
Find out what time the fireworks are happening at the Magic Kingdom the night that you want to eat at 1900 Park Fare and plan your dinner reservations accordingly.
Try to make a dinner reservation as soon as your dining window opens up (6 months in advance) because the best times fill up quickly. If you can't book that far in advance and can't get a reservation, don't worry! Check the reservations again the day before and the morning of the day you want to eat there. People often overbook and have to cancel the reservation so they won't be charged a fee. I've gotten lots of last minute reservations at popular WDW restaurants this way!
Arrive at The Grand Floridian one hour prior to your reservation so you have some time to go to the gift shops or relax in the lobby and listen to the pianist.
If you visit The Grand Floridian during Christmas, try to arrive even earlier than one hour prior because there are so many festive decorations that you'll want to take time to look at! If you're like me, you'll want to just sit in the lobby and look at the tree while smelling the fresh gingerbread and listening to the Christmas music. It's magical.
Once you're seated at your table, get your cameras and autograph book prepped and ready to go. Last time we were there, the characters started coming to our table before we even got our food so you gotta be ready for them!
The 1900 Park Fare characters, especially the stepsisters, are awesome! The stepsisters are both hilarious and they really get into their characters so be prepared because they're very dramatic. We like to come up with questions to ask them because they always come up with the funniest answers!
Your meal comes with a drink so if you order tea with dinner, remember that you can switch to coffee when you're ready for dessert.
If you get out of dinner early enough, you might catch some of the Disney movie that they play on the beach every night. When you first arrive at the resort, you can ask what time and which movie is playing that night.
If you have time to spare after the fireworks, it's always fun to ride the monorail around and visit the other hotels on the loop.